The 2003 Pro Kart Endurance Championship

Round 3 - Daytona Sandown Park - 11 May
A beautiful morning, with an ominous forecast, greeted an excellent turnout of teams for this, the 3rd round of the Championship.
Qualifying went the way of AJB Racing with Spencer Motorsport along side. DRBX and Grilli Corse made up the second row, and the top 23 teams were all covered by less than a second.

Within 30 minutes of the start, AJB had built up a 7 second lead over Spencers, with DRBX and Grilli-Corse still in close attendance. Hot favourites Game-Race-TV and Grassroots both suffered mechanical failures and were already out of contention, whilst both the CJV and CSF teams were having a torrid start. A tactical early stop by AJB, also incurred them an additional stop-go penalty for a pit-lane infringement, leaving Spencers, DRBX and Grilli-Corse contesting the lead. SABL, Focus, Lakeside and Eau-Rouge were all scrapping over 5th place and good midfield battle was ongoing between Box-Tech, Spin Doctors and Appliance Maintenance. Front runners Grilli-Corse were the next casualties, dropping them back to 30th place, whilst the leaders, Spencer Motorsport had now stretched a one lap lead over second place AJB.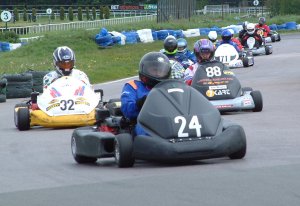 As the 2-hour mark past, DRBX moved up into 2nd place and closed to within 17 seconds of the leaders, but AJB now had a stop in hand. SABL now occupied 4th position, with Lakeside and Focus making up the top six and Eau-Rouge along with SZR were still not out the frame.
Little changed over the next hour or so, and then a red flag incident brought proceedings to a halt. CJV's driver had been launched out of his kart after an incident force him into the tyre wall at the fastest point on the track. After 10 minutes or so under the control of the paramedic, the race was allowed to be restarted as a rolling train, single file, and then it rained. There was chaos for the next 15 minutes, as the team were eventually forced to pit for wet tyres, when it became obvious that this was not just a short sharp shower.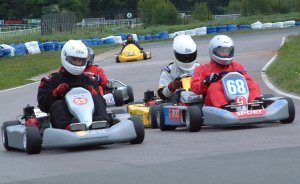 When the leader board settled back down, Spencers were still leading from DRBX and AJB, however the rain continued to fall and Spencers had gone for an intermediate tyre, which was now slowing their lap times considerably.
Eventually they had to pit again for a full wet set, as did some of the other teams, when it became quite clear that the remaining hours racing would be completed in totally wet conditions.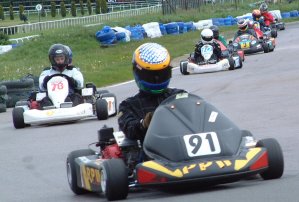 This left DRBX in the lead by about a lap from Spencers, with AJB in third, but with all their stops completed. As Spencers made their last stop, AJB slipped through to take second place and with time running out, the top three positions looked set.
SZR, another team who had made all their fuel stops early, where now reaping the benefits. They had been lurking just outside the top six, but now moved in front of TGSR and JM Sport to take 5th spot in the closing stages. As DRBX took the victory flag, SZR then stole fourth place from Eau-Rouge right on the line, to conclude a fascinating days racing.
RESULTS
Overall Results
1st DRBX Racing
2nd AJB Racing
3rd Spencer Motorsport

Clubman Results
1st Hairy Karts
2nd Europelaw
3rd Lakeside
Report & Photos by Paul Bowler.