| | | | |
| --- | --- | --- | --- |
| | | From The Drivers: Jonny Walker | |
From The Drivers: Jonny Walker
#2 - Back In The Saddle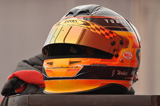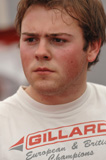 British and European KF1 star Jonathan Walker is UK Kartingís roving columnist. Over the course of the season, heís bringing his unique insight of paddock life and the on-track action.

The second round of the Super 1 Championship took place last weekend - and as you will have seen elsewhere on UK Karting, it went quite well in the end for me. It felt good to be competing again after the break between the races (the opening S1 round was back in April). After the first round - in which I injured my wrist in a testing accident and was forced to retire from the main final - I just wanted to get out, prove that I can still compete at the front, and convert the testing we've done into a positive result.

The team and I still have a bit of work to do, but weíre getting there. My 3rd place was a big boost for all of us. It has also given me renewed focus on my ambition to finish in the top 3 of the Super 1 Championship, and get a few race wins under my belt.

Internationally, I want to perform well in the two remaining European Championship races (at Mariembourg, Belgium - 29 June and Braga, Portugal - 3 August) and in the World Championships (La Conca, near Muro Leccese in Puglia - 21 September).

Having competed in the opening rounds of the WSK and European champs, I can tell you that the standard of the competition in European KF1 is phenomenal - so I'm trying to be realistic about my hopes when I say that I'd like to get a top 10 in the Europeans and finish inside the first 15 at the Worlds!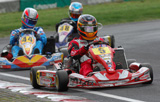 My next race is the third round of Super 1 on 15 June. Rowrah's a fantastic circuit and last year, I was challenging for the win, so I'm looking forward to going back there again.

A local BBC journalist asked me recently if I was interested in making the switch to cars, and before Iíd never really thought about it before but after a chat with Oli Oakes (the 2005 World Kart Champion who now races in Formula 3). I think Iíd like to test a Formula Renault at the end of the year and might do the Winter Series, but we'll have to see. I'm committed to karting for now and will concentrate on doing my best in the British, Euro and World Championships.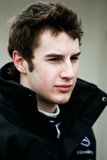 Talking of Oli, he came up to Lancashire and joined me as a guest at a family party. We had a right laugh. He kept having to dodge girlsí boyfriends as, heíd be chatting one of them up and suddenly a big lad from Blackburn would say ĎHi, Iím her boyfriendí. He kept having to make excuses before sidling off, either giggling or looking frightened for his life!

The party was held also held right in the middle of the Super 1 weekend. We left PFi on Saturday evening and drove to Blackburn, partied, stayed at my house - and then rocked up back at the circuit on Sunday morning. Oli drove there and back and he is definitely, the fastest taxi driver on the planet!

When Iím not racing, I often help out at my sponsorís bar and restaurant, ĎYu and Youí. Iím developing my cocktail making skills, and my most popular one at the moment is the Tropical Southern Sling. Itís made with Southern Comfort, passion fruit, fresh lime, sugar gomme (which is pure sugar cane syrup) and fresh mint leaves. On a warm summer evening, itís fantastic.

Unlike Oliís pulling technique.

If you can, please do come along and shout for me at Rowrah. And my website has a fantastic new look, visit www.jonathanwalkerracing.com.

Cheers,

Jonny.
[ Karts & Karting ]
[ UK Karting Main Index ]

---