Results & Reports
The Open Endurance Championship 2004
The Open Endurance Championship 2004
Round 1 - 14th March 2004 - Daytona Milton Keynes
A wet and windy day greeted the teams for the first round of the championship, with a track that promised to dry by mid-morning, but with heavy rain forecast for the end of the day.
Qualifying saw Special Racing Project's, Biland on pole by some considerable margin with the Pro Max of Auctionmyigloo alongside. No Cigar's Biland and Box Tech's Pro Max made up the second row.

Within a few laps of the start, Spencer Motorsport's World Engine kart was granted the obligatory 7 lap advantage, whilst SRP led the ensuing pack of Mister Igloo, Box Tech and Lakeside. Notable absentees were SRT, Le Maverick and No Cigar who, although all qualified well, failed to make the grid, obviously suffering from start of season blues. As the race settled down, SRP were starting to pull out a considerable lead over Mister Igloo who in turn was pulling away from Lakeside and Box Tech with Team Slick, the first of the Thunder Karts now lying in 6th place. The next four places were occupied by more Thunder Karts namely Team Oblivion, RJB, Bad News and Team G. At the back end of the field SRT had now joined the race whilst Auctionmyigloo were force to pit with what looked to be a terminal problem and unfortunately Le Maverick were yet to start. No Cigar were to retire with a brake problem having completed zero laps.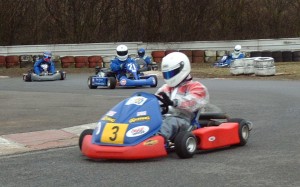 Meanwhile SRP were lapping some 3 seconds quicker than anyone else on circuit and with an hour plus of racing completed, had already shaved nearly 3 laps off the leader-boards leader Spencer Motorsport. Lakeside were still in 3rd place closely followed by Box Tech and the Thunder Karts of Team Slick and Team Oblivion who had now moved in front of the Pro Max of Mister Igloo. With 1 hour and 45 minutes racing completed, the track had a definite dry line and many teams were struggling with badly worn wets until another heavy shower proved timely for race leaders Spencer Motorsport, who pitted for a driver change, fuel and a new set of wets. This meant that, by the half way stage SRP had now caught Spencer's World Engine kart but were only lapping in the same time, as they too were looking for new tyres and fuel. Four Thunder Karts namely Team Slick, Team Oblivion, RJB and Bad News had all moved up into the top six and were now well clear of the Pro Max's of Box Tech and Mister Igloo who both had made unscheduled stops.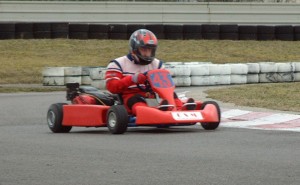 Disaster then struck the leaders, Spencer Motorsport, with the heavy rain producing a notable power drop in the engine forcing them to come in and exchange it for a spare which subsequently dropped them down to 4th place. With an hour and a half to run SRP now had a huge lead over the Thunder Karts of RJB and Bad News with Spencer's still lying in 4th place until engine number two went the same way as engine number one, forcing them to pit once again. This now left four Thunder Karts in 2nd, 3rd , 4th and 5th places, all fighting for position with less than half an hour to run. With the chequered flag now in sight Special Racing Projects would cruise home with a substantial lead leaving the Thunder Kart of Team Slick to pip Bad News for 2nd place by a matter of a few seconds.
Results
Best in Class
Biland – Special Racing Projects
Pro Max – Box Tech
World Formula Engine – Spencer Motorsport
Thunder Kart – Team Slick
Overall
1st – Special Racing Projects
2nd – Team Slick
3rd – Bad News