Results & Reports
The 2004 Daytona ProKart Championship
The 2004 Daytona ProKart Championship
Round 5 - 18th July 2004 - Daytona Sandown Park
A maximum grid of 40 teams lined up for the start of Round 5 of the championship.

Qualifying proved to be a tricky affair with a light shower, and the only rain of the day, leaving the circuit damp for the first part of qualifying, but favouring slicks in the closing stages. Team X eventually took the pole from Kartoon, with Baron Racing and Team X2 making up the second row.
With race on, Kartoon, Baron and Team Zaremba amongst others, managed to get the jump on Team X at the start, but after 10 minutes or so, Team X regained the lead with Team X2 right behind them, from Zaremba and Baron Racing.
Shortly afterwards a red flag incident brought proceedings to a halt, leaving Focus Racing and Gas'n'Go with damaged karts and now at the bottom of the leader board.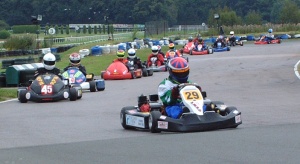 Team X led the restart and built up a ten second lead over Team X2 during the course of the next hour, with Zaremba and Baron a further seven seconds adrift. Kartoon were locked in battle with AJ Bayliss for fifth place, with Eau Rouge just behind and then Ambrose, Pogue Mahone and Appliance making up the top ten with a great showing for the Clubman's class. After the first of the three mandatory fuel stops, Team X were now 25 seconds clear of Team X2 with Zaremba now heading the chasing pack. Teamtec had moved steadily up to 6th place and a brief showing up into the top ten from Misfits, Spin Doctors and Chatburn Challengers, as the varying fuel strategies unfolded.
With the half way stage now behind them, Team X had built an impressive lead of a lap and a half from Team X2, with Team Zaremba pushing hard in 3rd place. Kartoon were holding station in 4th place with Teamtec just behind, whilst the Clubman teams of Pogue Mahone, Appliance and Chatburn's were all maintaining top dozen slots. Baron pitted with a mechanical problem dropping them down to 15th whilst Clubman team Pogue Mahone had worked their way up to a creditable 5th place overall, in front of many of the Pro teams.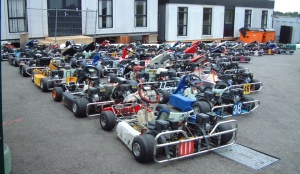 Parc Ferme
Whilst Team X had scampered off into the distance, Zaremba and Team X2 were now both on the same lap and pushing hard for 2nd place. Eau Rouge had worked their way up to 6th place in front of AJ Bayliss and Teamtec, whilst Chatburns and Misfits were hanging on to their top 10 positions. In the closing stages of the race Team X were now two laps clear of their nearest rivals, Team X2, with Team Zaremba looking safe for the final podium position. Kartoon were still in 4th place, just clear of Pogue Mahone with a last minute scrap going on between Eau Rouge, AJ Bayliss, Teamtec and Misfits.
With the chequered flag in sight, Team X cruised home to victory in a masterclass display, with Team X2 and Team Zaremba finishing in that order and on the same lap. Kartoon finished in a creditable 4th place from Pogue Mahone who stole the Clubmans class with an impressive display.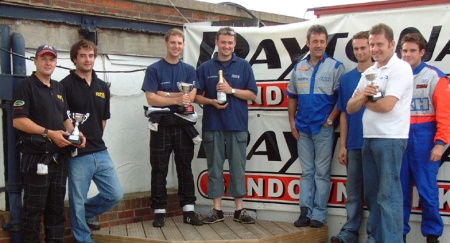 Overall winners
Results
Overall
1st Team X
2nd Team X2
3rd Team Zaremba
4th Kartoon
5th Eau Rouge
6th Pogue Mahone
Clubmans
1st Pogue Mahone
2nd Appliance
3rd Chatburn Challengers
Championship Standings
Team X 236, Lakeside 191, Fabcar.co.uk 188, Chatburn Challengers 184, Eau Rouge 183, Misfits 183