Results & Reports
The 2004 Daytona ProKart Championship
The 2004 Daytona ProKart Championship
Round 6 - 8th August 2004 - Daytona Sandown Park
Round 6 of the championship turned out to be very hot and humid, presenting the teams with a physically challenging days racing.

No surprises, Team X took pole position, but only by 7 hundreths of a second from Fabcar.co.uk with Kartoon and Misfits making up the second row.
As the race settled down, it was Kartoon that lead the field from Team X with GTR in a more than creditable 3rd place. Fabcar had an engine failure in the first few laps dropping them down to 30th place whilst Ambrose and Rogue Racing were the first casualties of the day. Team Zaremba then moved up to 4th place before an unscheduled stop dropped them back to midfield.
With 1 hours racing completed Kartoon still led Team X by a whisker with GTR still leading the pursuing pack, but now some 20 seconds adrift. JM Sport had moved up to 4th from Bizzin Hornets and Chatburn Challengers with SZR, Eau Rouge, Pogue Mahone and Focus Racing making up the top ten.
A computer glitch on the timing system forced a full course yellow and it soon became apparent that the problem was worsening and likely to be terminal. Eventually the red flag was brought out and after a team a managers meeting it was agreed to re-run the event as a 4 hour race.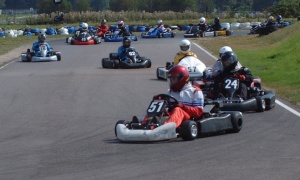 Team X led the re-run from Kartoon with Zaremba in 3rd place followed by Pogue Mahone, GTR and JM Sport. Within 40 minutes of the start Fabcar had moved into the top six and Kartoon made a strategically early fuel stop, temporarily dropping them to midfield. This left Team X clear of Zaremba and GTR, with Fabcar now up to 4th just in front of Grassroots and SZR. With the first of the two mandatory fuel stops completed, Team X were now a lap clear of Kartoon, with GTR still in 3rd place but slowly being caught by Fabcar. Misfits were fighting with Bizzin Hornets, Grassroots and Chatburn Challengers for 5th place, with Spin Doctors and Gas'n'Go making up the top ten. Zaremba then encountered a mechanical problem which dropped them back to 24th, and effectively put paid to their day, however they did recover to a creditable 13th place by the end of the race. With half distance now behind them Fabcar had displaced GTR for 3rd place and then Kartoon had a minor hiccup dropping them back to 4th place making the running order Team X, Fabcar, GTR and Kartoon. In the closing stages of the race Team X were the only team not to have made their final fuel stop, but with 3 laps in hand, they looked likely to keep their lead. Fabcar then stole the final podium place from GTR who did well to hold on to overall 4th place and the Clubman win, after a coming together gave them a puncture and a bent steering column forcing them to limp home to the finish. Team X made their last minute fuel stop and rejoined to take the chequered flag and their 4th win of the 2004 championship with Kartoon regaining 2nd place and Fabcar making up the final podium place.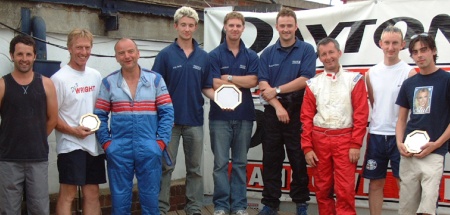 Overall winners
Results
Overall
1st Team X
2nd Kartoon
3rd Fabcar.co.uk
Clubmans
1st GTR
2nd Chatburn Challengers
3rd Spin Doctors
Championship Standing
Team X 276, Fabcar.co.uk 225, Misfits 217, Chatburn Challengers 215, Gas'n'Go 208, Eau Rouge 207, Lakeside Karting 207