This page contains older news items. For the latest news be sure to visit the home page of UK Karting.
[ News Summary / Site Index | Current News ]

News Archives : [ 2000 ] [ 2001 ] [ 2002 ] [ 2003 ] [ 2004 ] [ 2005 ] [ 2006 ] [ 2007 ] [ 2008 ] [ 2009 ] [ 2010 ]
News Archive
2003 News Items
Join The Forest Edge Party (23/12)
Want to join the FEKC party? Of course you do, so here are the details. There will be a work party at the new circuit at Barton Stacey on Monday 29th December from 9.00am and Forest Edge Kart Club are looking for as many hands as they can get to help. The focus will be on tree/shrub clearance on the run off areas and giving the site a general tidy in readiness for the tarmac guys coming in. If you have chainsaws, forks, shovels, etc., please bring these with you. Refreshments will be provided.
This is an ideal opportunity for you to see the new track and to work off some of those Christmas calories. So if you can spare the day or just a few hours the club would really love to see you. You can contact Dave Trueman or Peter Bryceson if you want more information or just come along on the 29th. Contact telephone numbers and directions on how to get to the circuit can be found at www.fekc.co.uk
[ Top ]
---
Ross Curnow Signs (23/12)
Panther Motorsport have signed Ross Curnow for the 2004 UK BMW Championship, Ross came 2nd in the Stars of Tomorrow Junior Rotax Championship this year and 5th in Super 1, and in 2002 came 3rd in Super 1. In November at a BMW licence course in Valencia - Spain, he was one of the leading participants of the 21 who took part from around the world, he now goes back to Valencia on the 10th January to be considered for a BMW scholarship.
[ Top ]
---
CIK-FIA Communication (22/12)
From meetings in Monaco earlier this month comes a communiqué concerning the latest decisions of the Executive Committee of the CIK-FIA, and the World Motor Sport Council of the FIA regarding Karting, click here for a full transcript.
A list of the 2003 CIK-FIA results can be found here.
[ Top ]
---
Rye House Prokarts (19/12)
To further promote the Rye House championship, any new team wishing to enter the Prokart Winter Series 2004 will be given a free set of slicks and wets. 3 out of 4 rounds count so any teams that missed December's Round 1 can still compete. The race dates are on Saturdays, 10th January, 14th February and 6th March. Contact John for entry details on 01992 460895. The Rye House Summer Series 2004 dates can be found here.
[ Top ]
---
No Need for Rudolph (19/12)

Taking a break from preparations for Christmas Eve, Santa and one of his elves dropped into Lakeside Karting last Sunday. The visit coincided with the last round of the venue's Prokart Endurance Championship and Santa took the opportunity to shakedown a potential new delivery vehicle. Santa commented that he was unlikely to use the kart as it lacked space for all the presents and was concerned about his coordination bearing in mind the brandy often consumed on the night. An extra treat for all the boys and girls (good and bad) was Santa, without elf, performing pace kart duties for the rolling race start. Expect Santa to be resort to his usual transport for the big night and if you've been good drivers this year there may be a surprise or two for you on Christmas Day.
[ Top ]
---
Prokart Engineering (18/12)
Ted Poole of Prokart Engineering will be at Clay Pigeon Raceway on Friday 2nd January 2004 with his new Briggs & Stratton powered endurance chassis and the 2004 R2 Prokart. Both karts will be available for demonstration and testing. All interested should telephone Ted on 02380 463467 to advise on attendance.
[ Top ]
---
Warden Law (17/12)
With the Rotax "O" plate, Stars of Tomorrow and Super 2 coming to Warden Law in 2004, the Warden Law Kart Club is pushing forward with circuit improvements which include extended paddock space and a new circuit exit lane, plus a new Scrutineering building that will be erected on the new exit lane. These improvements will speed up race meetings and also remove the advantage of being 'set up' close to the grid. Spectating will also be improved by making more use of the bank to the west end of the circuit. The club is also looking at an enlarged two storey Race Control and starters gantry for the 2004 season, and the busy WLKC committee has decided to reduce the number of classes offered but to increase the number of races for each class next year. Every class will enjoy 3 heats, a Pre Final and Final. Each heat will be a minimum of 8 laps with 12 lap finals. The five classes are: Honda Cadet (open), WTP, Mini Max, Junior Max, Senior Max. Further details from Anne Laws on 0191 273 0830.
[ Top ]
---
Karting North East (17/12)
On Sunday 28th December, KNE are organising a 4.5 hour Christmas endurance race for standard unmodified Prokarts. Cost per team (min 2 drivers) is £120 in advance or £140 on the day with fuel provided. Full details and regulations from 0191 521 4050. In addition there will be a separate class for the new Briggs World Formula powered karts run alongside the Honda Prokarts.
[ Top ]
---
Buckmore Open Practice (12/12)
Buckmore Park have just announced extra open practice dates over the Christmas & New Year period. As well as the previously published dates on Wednesday 17th & Saturday 20th December, further dates are available as follows: Saturday 27th December, Tuesday 30th December and Sunday 4th January 2004. All two and four stroke classes are welcome. Karts must comply with MSA regulations as must drivers' safety wear. All dates will run from 10am to 4pm. The cost is £40 per kart (BPKC & RMCF6 members are entitled to 10% discount).
Sunday 21st December is the last round of the Summer Race series and attracts double points. This round sold out last year and several competitors were turned away. Entries should be sent to Sheila Rose (club secretary), phone: 01634 201562 or fax: 01634 686104. Entry forms can be downloaded from the Buckmore Park website - Click here.
[ Top ]
---
24 Hour Endurance Racing (10/12)
The sun, the sea and a 24 hour kart race. What more could anyone want? That prospect appeals and many are putting together teams to fly out to the Gulf States to compete in one of three forthcoming 24 hour kart endurance races. On 29th & 30th January, and again in February (12th & 13th) and March (11th & 12th), rounds of the popular Middle East Endurance Challenge 2004 are taking place and for the past 8 years these events have attracted both corporate and individually funded teams from the UK, Europe and the Middle East all hoping to bring back the spoils.
These events are supported by local media including TV coverage and Playscape Pro Racing in London have a few places still available for those wanting to compete in a 24 hour pro-kart race with all equipment supplied, and also enjoy a holiday in one of the world's fastest growing tourist destinations. Further information is available here or by telephoning 020 8677 8677.
[ Top ]
---
2004 Southern Pro-Max (10/12)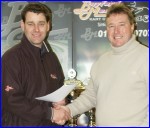 The popular Pro-Max endurance series received a boost recently with the announcement that Bill Meeks, of 'Allied' fame has agreed on a sponsorship package for the Summer 2004 Championship. Bill's support and enthusiasm will no doubt enhance the already popular championship. The Summer 2004 Championship will be contested over six rounds and will be based at Bayford Meadows with away rounds at Buckmore Park and Clay Pigeon.
Teams wishing to contest the championship can receive full championship regulations by contacting Sarah Collins at Bayford Meadows on 01795 410707.
[ Top ]
---
Cumbria KRC AGM (09/12)
The Cumbria KRC Annual General Meeting will be held at the circuit on Monday 15th December at 7:30pm. All are invited to have an input in how your club is run, but votes can only be taken from race members and existing committee members. Don't know the way? No excuse, click here!
[ Top ]
---
Karting Caught On Camera (08/12)
Karting enthusiasts will be delighted to see their favourite sport highlighted when Channel 4 film the last round of the Prokart Championship live from Lakeside Karting, Thurrock on Sunday, 14th December. Director of Lakeside Karting, Mr Giles Murray, said: "The Lakeside Prokart Championship is one of the South of England's premier endurance series and features prominently in the national karting press and national press. We are delighted that the excitement of this event will be captured on film and broadcast on Channel Four in the New Year as part of a series of programmes with the theme 'Rivals'. The last round of this season's owner/driver championship is very close and the TV production team are very keen to record the exploits of the top two teams, namely Teamtec and FAB Kartsport.
Gates open at 7.30am for this event and drivers should sign on from 8am. Practice starts at 10am with the 3 hour event starting at 11am. More information is available by telephone to 01708 863070 or at www.lakeside-karting.co.uk
[ Top ]
---
F6 Awards at Brands Hatch (04/12)
The number of competitions won by Martin Hines could possibly be matched by the seemingly endless array of shining trophies for the UK's 2003 Formula 6 South East Karting Championships Awards held recently at the John Foulston Centre, Brands Hatch. Martin, with three World, six British and five European Championships in each of the last five decades under his belt, was at the venue with his son Luke to present the awards on behalf of the Formula 6 Association.
Before the evening began, Formula 6 members watched (some from the fully glass-fronted presentation venue that provides outstanding views of the circuit), Luke's drive in the last race of day with bated breath as he fittingly earned another first place trophy for his cabinet. Following Luke's own presentation, they moved in with Formula 6 at the John Foulston Centre where Martin and Luke took turns to present the awards to the delight of the drivers; although it appeared that Luke was favoured by the young lady award winners and the "F6 Girlies" (as they are known) in particular. As many of the younger Formula 6 drivers queued up for last-minute autographs and photographs with the sharply dressed Luke, Martin paternally acknowledged the symbolic passing of the batten when he quietly confided with a grin "It used to be my signature they were after" but then the youngsters turned to him - his wins in 2003 mean he is still Mr Karting and he can't hang up his hat just yet.
Martin has generously donated a very special prize to help a lucky driver with a day's single-seater training in the ZipFord. The lucky winner will be announced at the London Kart Show 13th December 2003 by Formula 6.
The huge 2003 Biland Championship trophies were kindly provided and presented separately by Nick Barrow of Saxon Motorsport.
On behalf of the Members, and over three hundred members, family and friends who were present, the last awards were to Roger Sheffield and as a very special thank you to Ellisa Munns (the retiring Competition and Entries Secretary) together with her husband Jim Munns (Club photographer) after more than ten years of hard work and dedication. However, their energy levels appeared to be anything but consistent with retirement as they danced through to midnight. For further information on Formula 6 click here.
A list of Championship Awards for the various classes can be found here.
[ Top ]
---
HRH at NEC (04/12)
It was confirmed by Buckingham Palace yesterday that His Royal Highness The Duke of York, as Special Representative for International Trade and Investment, will make an opening speech at 10:30am on the first day of the Autosport International Show, Thursday 8 January 2004 at the NEC, Birmingham.
Since leaving the Royal Navy in 2001, His Royal Highness has worked in support of UK Trade & Investment, the government body which supports UK companies trading internationally for the encouragement of foreign investment. UK Trade & Investment will be exhibiting for the fourth year at this, the world's most important motorsport show, bringing specialist companies to benefit from business to business with more than 22,000 international buyers who attend the first two days of the show (Thursday & Friday).
His Royal Highness's role officially began in October 2001 and he currently undertakes a programme of visits both within the UK and overseas devoting 120 days annually to the support of UK trade. During his two-hour visit to the show, His Royal Highness will meet companies within the UK Trade and Investment Pavilion; tour the Careers in Motorsport section where he will meet students and graduates from universities across the UK; will visit the focal point of this year's show, the Galleria Ferrari feature, which is gathering together the most exotic official display of Ferraris ever seen outside Italy; will take a tour of the Formula One pitlane under the expert guidance of Louise Goodman; and will meet young national karting champions, who may prove to be our motorsport champions of the future.
With the government's recent announcement for a £16 million pound strategy for developing the UK's motorsport and high performance engineering industry over the next five years, the importance of Autosport International as the world's most influential motorsport show is now firmly in the media spotlight. The attendance by His Royal Highness at the show is sure to give a boost to the future of British Motorsport.
[ Top ]
---
Karts, Engines and Go-Peds Stolen (03/12)
The Campfield family are appealing for help in recovering three karts and junior/minimax engines that were stolen early last Monday morning from their garage in Surrey. Also taken were two brand new go-peds, (aeroscoot). Anyone with information on the whereabouts of this equipment can ring the Campfields on 01483 420515 or e-mail: paul@celre.co.uk or call Crimestoppers free on 0500 555 111. Chassis numbers are LRG 03189, LRG 03188 and LRG 02186; Engine numbers are 781868, 781871, 781869.
[ Top ]
---
125 Europa 2004 (01/12)
RPM Motorsport have announced that there will be a Super Four British Championship Series for the new 125 Europa Karts in 2004. Venues, though still to be officially confirmed, are likely to be: Lydd, Three Sisters, Fulbeck, Whilton Mill, Rissington and Shenington. Additional sponsored Europa events will be organised throughout the year. Further details are available from RPM Motorsport Ltd on 01920 460800.
[ Top ]
---
Daytona To Host Super 2 Rounds (28/11)
Daytona is proud to be hosting rounds of the 2004 Super Two Championship at its circuits. Milton Keynes is hosting the Easter 2004 round of the Super Two 2004 Championship. Daytona Sandown Park is hosting the round on 2nd May.
Drivers will be pleased to learn that Milton Keynes will be holding dedicated sessioned test days, for Super Two competitors only, from 9am to 4pm on 7th December, 18th January, 15th February, 7th March and from 9am to 6pm on Good Friday 9th April. There will be sessions for Honda Cadet, Honda Junior, Honda Senior (including World Formula) and for Libre Invitation (Biland, Ecomoto, Rotax Max heavyweights). The price will be £30 per kart plus £1 per driver for insurance.
You can call the circuit on 0845 644 5503 for more details. Daytona Sandown Park will confirm their test days soon.
[ Top ]
---
Help Some Girls In Need (27/11)
This weekend sees the International Kart Show taking place in Telford and the Sandbach High School Girls Karting Team will again participate representing NatSKA. The generosity shown last year by exhibitors donating parts enabled the team to achieve their goal of building a Kart. This year their objectives remain to look for new innovative ways to develop the team, which is the essence of Schools Karting.
Team leader Nick Dye says, "We realise it is not always possible for business to donate new parts for obvious commercial reasons, therefore our appeal this year is for the exhibitors to donate to the team the parts they might have lying around their facilities, parts that may have been used and are no longer required or items unable to be sold as new parts for whatever reason." Having written to many exhibitors already, the Sandbach High School Girls Karting Team undertake to promote each Company that donates parts to the team at the exhibition are hopeful of a productive weekend. Nick finishes with the plea; "Don't throw it out, we can use it!"
[ Top ]
---
Win A Season's Racing Worth £35,000 (25/11)
The world famous Silverstone Racing School has released details of the SRS Scholarship 2004. This is a talent searching competition where for a one-off entry fee of £1250 inc vat drivers will undergo two full days of coaching and assessment. Entrants will take part in a range of different driving activities using the various circuits and vehicles available at Silverstone. Entries to the scholarship will be capped at 120 drivers, with a realistic 1 in 5 chance of making it to the free of charge final stage. The eventual winner will receive a full season's racing in the 2004 BRDC Single Seater Championship, a prize worth £35,000! The competition is open to anyone who will be 16 or older as of 1st March 2004. The first Round 1 has been scheduled for the weekend of 13th-14th December 2003 and to reserve a place or request further information call SRS on 01327 320412.
[ Top ]
---
Manufacturers Launch 2004 Equipment (19/11)
The International Kart Show will be the first opportunity for many to view next seasons equipment with the following launching new karts/chassis;
Andy Cox will exhibit the New Birel 2004 range, including the R, & Q series, while the British Superkart Association, will reveal the full details of next seasons championship. Paul Carr will unveil the 2004 Venom TKM, & the New CIK Intrepid Karts and Tal-Ko will launch the ALL NEW Formula TKM 2004 Karts, and the New Formula TKM Jnr' & Snr' Spec 2-stroke engines. Jade Karts will reveal the New Jade TKM, & New Jade ICC, Swiss Hutless UK will have the 2004 homologated Cadet Kart on display, and Modus Motorsport will Launch the New HASSE Cadet, the New Vixen VB6 TKM chassis, & the New HASSE future CIK chassis. Finally, Strawberry Racing will have the New 2004 Cadet chassis, also the New Venox 2004 and Walker Racing will unveil the New Arrow AX8 Cadet kart.
Make sure you don't miss it. Click Here for details and a money-saving voucher!
[ Top ]
---
New Open Honda Cadet Class? (19/11)
Billed as a sensible use of resources and not another way of splitting grids, a new cadet class has been suggested. Due to the introduction of the new 'T' series engine in Honda cadet next year a new NKF class called Honda Cadet Northern is looking for expressions of interest and support.
The new class would be the same as normal Honda Cadet but using the 'E' and 'K' series engines currently in use but taking the seals off. This would eliminate most of the perceived cheating as the scruitineers can do the same checks they run with the senior honda engines. Regulations would be the same as Super 2 Honda Cadets (i.e. one jet for the carb, same tyres, same exhaust, same fuel same chassis etc) and all clubs affiliated to NKF could run the class so if you don't want to run the new 'T' engines in cadets you could run this. You can still run in Super 2 by buying a new 'T' engine as you would have to do. It would also allow those drivers who only want to run clubbies to continue as they are, without any further expense. There would also be a National Championship in the shape of the NKF. If successful, this could introduce a budget cadet class (if there is such a beast).
To progress the proposals further the organisers want to know if Dads out there are willing to support the class, and as you already have the equipment there is no reason why you couldn't. Emails and letters of support are needed and should be sent to Dave Hunter (BSR@eastwestworld.co.uk) or to Malcolm Fell (technical@cumbriakrc.co.uk).
[ Top ]
---
Anderson Pro-Kart Theft (19/11)
A reward is offered for the recovery of a kart chassis and trailer that were taken on Saturday 15th November between 2:30-4:00pm from a workshop in Rossendale (North-Manchester). The kart chassis is very distinctive with orange and blue livery, an Alfano pro steering wheel and new "futura" spoked wheels as well as many spares including tyres, wheels & engines. The kart was also fitted with unusually large floor pans which are painted orange. If you have any information speak to Jonathan or Ernie on telephone 01706 222662.
[ Top ]
---
Hanley Heads for Japan and Monte Carlo (19/11)
BRDC rising star, Ben Hanley flies out to Japan this week to compete in the Asia pacific championship held at the suzuka circuit this weekend. Having declined to race in the event over the past two years, Hanley is now hoping to win the biggest kart event in Asia on his debut outing at suzuka.
Hanley said "we have accepted the invitation to race this year because myself and the team feel we are in a very strong position to win the event, Japan is a long way to go just to make up the numbers". "the costs to race in Japan are high, and I am fortunate to have sponsors with great belief in me to finance the trip"
Shortly after returning from Japan Ben will be travelling to Monte Carlo when he attends the 2003 champions of world motorsport prize giving gala on December 12th.
On receiving the invite last week Ben was quoted as saying "it will be fantastic to spend the evening with motorsports biggest teams and drivers, and maybe I will get to sit on the same table as Schumacher"
At the gala evening Ben will receive his trophy for finishing third in this years world karting championship. Formula one drivers Michael Schumacher, Kimi Raikkonen and Pablo Montoya will attend the gala to collect their respective championship trophy's, with Petter Solberg collecting his world rally championship prize.
The following evening(13th December) Ben will attend the CIK-FIA champions of karting prize giving gala also taking place in Monte Carlo, to receive awards for his achievements this year. The event will incorporate celebrations for the 40th anniversary of the CIK-FIA.
[ Top ]
---
The London Kart Show (10/11)

Set in the 23 million pound refurbished Sandown Exhibition Centre, this exciting new show that is being held over the weekend of 13th & 14th December 2003 will guide drivers through the transition from cadet racing into single seater and saloon car racing.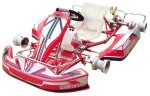 The show will appeal to those wanting to start Karting with advice, feature areas and Master Classes as well as those experienced racers who want to see the latest homologations and buy equipment for next season. It is of course the perfect place to buy Christmas presents and the only opportunity to talk to manufacturers about their equipment in a comfortable environment under one roof. The first year will boast a number of brand new product launches including new chassis' and data equipment. There is a whole host of championship presentations during the weekend including F6, British Endurance Kart Championships and Club 100.
A list of exhibitors and details of the Master Classes can be found here.
[ Top ]
---
Wilson At NEC (05/11)
Britain's latest F1 star Jaguar driver Justin Wilson, who started racing karts when 9 years of age in 1987, will be opening the Autosport International Show at the NEC in January, and he's delighted. "I know how difficult it can be for the public, especially in F1, to get close to the action but this show allows visitors unrivalled access. I can't wait to meet and thank those people who have supported me in my first season in F1" said the 25 year old, who has attended the show on a number of occasions previously.
Autosport International at the National Exhibition Centre, Birmingham is Europe's largest dedicated motor sport exhibition and runs from 08-11 January 2004.
[ Top ]
---
Vision Racer (31/10)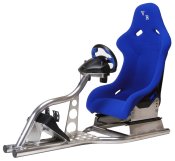 For a guy that produces exquisite components for some of the leading members of the motorsport community, cutting corners is not an option. The guy is Geoff Turton the company is GNT Engineering, every day is different in their workshop, you may find Geoff fabricating suspension components and intercoolers for WRC cars, next time you go in its gurney flaps in carbon fibre for a FIA GT.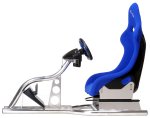 After playing a few driving games Geoff felt that the experience could be a lot better and set about building the first Vision Racer the only way he knew, the same way he fabricates for motorsport. The finest materials, precision engineering, design and attention to detail that is an obsession. These skills and attention to detail you will find in your Vision Racer.
With its full competition spec seat available in a variety of colours and sizes mounted on an aircraft grade super light cold formed alloy frame, using fully adjustable laser cut aluminium seat brackets, Vision Racer is a must have for motorsport professionals and gamers alike, providing you with the ultimate driving experience from the comfort of your own home. Compatible with Playstation2, X-Box and PC. For further information visit www.visionracer.com or alternatively you can contact Geoff himself on 0151 420 3420.
[ Top ]
---
Saxon Test Days (28/10)
Wednesday 29th October - Whilton Mill
Saturday 15th November - Buckmore Park
Saxon Motorsport will be running two test days as above for drivers interested in joining the fastest growing 4-stroke class in Europe. Mini, Junior and Senior karts will be available. Pre booking is advisable but not essential. E-mail: n.barrow@talk21.com or telephone: 01432 350157 for more information.
[ Top ]
---
Riki Christodoulou Interview (28/10)
After just two seasons scrapping with the best young racing talent in Britain Riki Christodoulou is now one of the hottest driving prospects in the UK thanks to a series of comprehensive performances and his first Karting National Championship win during 2003. The 15 year old from the Midlands hails from a family with a strong Karting background and with only two years experience competing at National and European level has already emerged as a promising star of tomorrow.
From the 12 races as part of the JICA National Championship the Tony Kart backed driver won 5, finished second in 2, third in 2, and crossed the line fourth in just one final. Riki topped the overall classification by two points after his two worst results were dropped according to the scoring system. He was also victorious in a round of the Belgian Championships held at Spa Francorchamps and now, despite his tender years, plans to move up the ICA senior class and branch out further to participate in more European Internationals such as the respected Belgian and French competitions.
Now starting to gain recognition for his achievements and skills, the team's press office have issued the following interview for people to become more acquainted with 'Christo', hopefully a name they will be hearing a lot more of in the not too distant future. Interview can be found here.
[ Top ]
---
World Karting Champs (27/10)
Young British Formula 'A' karter Martin Plowman, from Tamworth in Staffordshire, finished sixth in the FIA World Karting Championships, at Sarno, Italy yesterday, Sunday 26th October. Plowman, aged just 16 years and in only his first attempt competing in this prestigious trophy qualified 25th fastest out of 120 drivers representing the cream of World-class karters. Plowman was placed 16th on the grid for the 13-lap Pre Final and finished 14th. A good start in the 20-lap final race saw him up to tenth by the half way mark and a masterful move saw the Brit charge past both Teemu Nyman (Finland) and Bas Lammers (Netherlands) to clinch sixth place on his way to the chequered flag, joining third-placed Ben Hanley to be the second Brit in the top six, with another British driver, David Gregory, finishing in 12th place.
Pleased with his form, Plowman commented: "I am happy with my result especially as this is my first attempt at the World Championships, but I always want to do better. It was a great weekend overall with some good finishes in the heats, although I had to fight tirelessly for each and every place in the Pre Final and Final. Huge thanks go to Dino Chiesa and everyone at DC One who have all worked so hard this weekend."
CIK/FIA World Karting Championship, Sarno, Italy.
1. Wade Grant Cunningham (NZ) 2. Arnaud Kozlinski (F) 3. Ben Hanley (GB) 4. Ronnie Quintarelli (I) 5. Markus Niemelä (FIN) 6. Martin Plowman (GB)
[ Top ]
---
125 British Superkarts (27/10)
Nathan Freke confirmed his position as top 125 driver in the UK by winning the 125 Open British Superkart Championship. Needing to finish only 4th in one of the 2 races to confirm the title at Mallory Park yesterday (26th October) he finished with 2 second places to add this title to his O Plate / UK Cup win earlier in the year. Nathan would like to thank Andy Martin from Formula One Karts for all his help during the year, and Ian Beaumont for supplying the Pavesi engines, and Century Race Preparation for the race support.
[ Top ]
---
Beggio At PF International Again (24/10)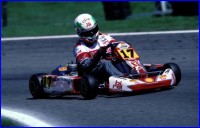 Sole UK Birel importer Andy Cox Racing is pleased to announce that five times World Champion Gianluca Beggio and members of Birel Motorsport team will return to test at PFI International on the 5th & 6th December 03.
"After a successful PFI test last November, Birel are keen to come back to support existing Birel owners and prospective ones alike" commented Andy Cox, he added "For 2004 we want to concentrate more effort on the Max categories, with superb performances this season from Jon Lancaster, Mark Litchfield and Gary Catt we have proved and will continue to show that the Birel is the kart to have in the MSA classes. It is now important that Max owners can see the Birel as the kart to have in Max classes too. Gianluca Beggio will demonstrate the Birel/Max capabilities at the test as well as Birel Motorsport mechanics being available for technical assistance to current Birel owners. John Gravett of JAG will also in attendance to personally assist Beggio with engine set up, as it will be the first time for the Italian in driving the Rotax Fr125 engine. Our regional Birel dealers ProSport, WGP Motorsport, Innis Motorsport and Kart Tek will also support the test. 2003 has been an important and successful year for Birel in the UK, our share of the market continues to grow and the factory's attendance in PFI should indicate to drivers that Birel are committed to the UK market and more importantly their specific needs." For more information contact Andy Cox Racing: Tel and Fax 01527 63984 or andycox@andycoxracing.co.uk
[ Top ]
---
Winter Testing In The Sun (24/10)
January 2004 will see the return of the Team Simpson and friends' winter testing programme in Palma, Mallorca. Michael Simpson comments: "You know the feeling on Boxing Day when you're bored and stuffed full of turkey; you wish you could be karting but the weather in the UK is just not suitable. We will be jetting off to the sun for some vital dry weather driver and equipment training prior to the 2004 season"
The equipment will be at the first class Palma International Circuit for three weeks from 26th December to 19th Jan 2004 and drivers will be able to come and go as they please over that period. With numerous low cost airlines serving Palma on a daily basis and a very preferential rate negotiated with 4* hotel nearby, this will be more economical and a lot more productive than racing in the UK in January. A few places are still available for this relaxed testing programme. Interested drivers can contact www.kartingmallorca.com or Michael Simpson on 0113 278 0435 for more information.
[ Top ]
---
Fancy A Go At Long Circuit? (23/10)
A Donington Gearbox Kart Track day is being held on Saturday 8th November between 9am and 5pm. Contact Ian Rushforth on 01509 620702 or e-mail i.rushforth@btinternet.com for details. Donington is perhaps the finest long circuit for karts in the country, it has everything. Pit garages are also available for use.
[ Top ]
---
Omegaland Revived (17/10)
Former Formula 3000 team boss Roger Orgee is reviving his Omegaland outfit to contest the 2004 Formula BMW UK Championship.
Having spent recent years overseeing the karting career of his son Roger Jr, Orgee will be running a Kart team alongside his FBMW squad to help drivers make the switch to circuit racing. "FBMW offers a level playing field and straightforward, safe, cars," said Orgee. "So it's an ideal and reasonably-priced way for karters to move into single-seaters without experiencing the usual culture shock."
Omegaland has four seats available, and interested drivers can get in touch via www.TeamOmegaland.com or call Roger Orgee on 07747 014659.
[ Top ]
---
Formula A World Championship (15/10)
A decision taken at the beginning of the season by the CIK-FIA Executive Committee means that a single event at an Italian kart circuit later this month will decide the CIK-FIA Formula A Karting World Champion for 2003. The event is being held on 24th, 25th & 26th October at the 1356 metre Sarno circuit in the Campania region of southern Italy, and whilst the winner of the event will be awarded the title of World Champion, the team achieving the best finish with its two designated drivers will win the CIK-FIA Karting World Cup for Teams. In total, 111 drivers of 22 different nationalities are entered in the World Championship and 15 teams will do battle to win the World Cup for Teams.
The World Championship will be the climax of the Formula A season, of which the four event European Championship was won by the Dutch driver Bas Lammers, ahead of Italy's Davide Fore, the Finn Teemu Nyman and Britain's Ben Hanley. This year's World Championship entry list also includes some drivers who are currently competing in other areas of motor sport but will return to Karting for the weekend, they include 2001 Karting World Champion Vitantonio Liuzzi, now 22 years of age and currently driving in F3000, Giorgio Pantano (also driving in F3000 this year), Ronnie Quintarelli (who drives in the 2003 Japanese F3 Championship) and Jan Heylen (driving in the 2003 F3 Euro series).
After free practice and scrutineering on Thursday and Friday, the World Championship will start proper on Saturday 25th October with qualifying practice and the first eight qualifying heats. The last four qualifying heats and the second chance heat will be held on the morning of Sunday 26th October. In the afternoon there will be a consolation final and the World Championship pre-final and final.
Results from the 2003 CIK-FIA Karting World Championship will be available during the event on the CIK-FIA website.
[ Top ]
---
Super Two in 2004 (13/10)
The MSA Kart Championship Control Panel has granted outline approval to the ABkC and Ratpro to run the Super Two ABkC Four Stroke Championship for the Honda Cadet, Junior and Senior classes and the Senior Libre invitation Class (including Senior Biland Class). In addition, Ratpro has been granted approval for the Super Two Four Stroke Championship for the TKM 4-Stroke Junior and Senior classes and Formula Mondial (World Formula). The MSA has also approved a new national series for the Formula Rotax Max 175 Clubman Championship which will form part of the Ratpro package.
[ Top ]
---
Cox Secures Title (13/10)
Young Michael Cox was crowned Junior TKM 4-Stroke Champion at the concluding Super 1 round at Whilton Mill yesterday after a third place finish in the final was enough to secure the title. This title followed wins in Super 2 and the O Plate last month. Congratulations on a hat-trick Michael.
[ Top ]
---
Formula TKM S1 Championship (08/10)
The UK's top Formula TKM drivers head to Whilton Mill in Northants this weekend for the finale of the Elf Hill House Hammond S1 championships. With all five classes to be decided on the track over the weekend it will be a fitting season end to a championship that has seen outstandingly close racing in all classes.
It is the first time that a S1 race meeting has been held at the circuit developed three years ago. It will also mark an important point for the new Formula TKM 4-stroke engine which was first run on a track at the circuit and which this weekend will see its first S1 national champion.
This last meeting of the year in the series comes at a time when important price and power boosts have just been announced for the Formula TKM classes in 2004 and hot on the heels of confirmation of the series moving forward into next year with another six round Formula TKM championship.
[ Top ]
---
European Championship Winners (08/10)
Swiss Hutless UK congratulate the factory race team - Swiss Hutless International and Blanken Race Engines on a fine performance in winning one of the most important Formula A championship titles over the weekend of the 19th -21st September taking the 2003 European Championship title with a number of European Championship final race wins whilst on route to this title.
[ Top ]
---
Super 2 Championship Awards (07/10)
The BAR Honda Formula One team has invited Super Two Awards winners to visit their Brackley headquarters for the Super Two ABkC National Four Stroke Awards Day prize giving, and an opportunity to see their hi-tech facility. Trophy winners collecting their awards on Saturday 8th November will be:

Honda Cadet (Provisional): Lewis Reeves, Ryan Denton, Jordan Chamberlain.
Honda Junior: Jake Clifford, Chris Evans, Matthew Pritchard.
Honda Senior: Paul Wilkins, Garry Meikle, Darren Stacey.
Biland: Liam Clifford, Paul Wilkins, Martin Capenhurst. Best Heavyweight: Duncan Kent.
TKM 4-Stroke Junior: Michael Cox, Tom Griffiths, Tom Bridge.
TKM 4-Stroke Senior: Chris Walsh, Chris Needham, Matthew Parr.
[ Top ]
---
Formula TKM 2-Stroke Changes (07/10)
Tal-Ko has announced a raft of changes to the Formula TKM 2-stroke classes which have been at the forefront of British karting for more than a decade and helped develop top racing names like Jenson Button, Anthony Davidson, Robbie Kerr, Carl Breeze and Gareth Howell.
There's a power boost for the seniors, kart updates for all classes, simplification of some rules - and a price decrease for all classes despite a higher level of specification. Said Tal-Ko Racing Managing Director Alan Turney: "We want the classes to remain at the top and have taken these steps to keep Formula TKM in line with latest developments. I am particularly pleased to be able to reduce costs which will make us by far the best value class and especially help those coming into the class."
The biggest change is in the specification of the senior class engine which in future will be known as the Formula TKM Extreme. The engine gets a bore increase which takes it up to around 115cc, with it gaining around 10 per cent power and torque. The clever bit about the change is that it can all be achieved in a winter-time standard rebuild on an engine costing only around £100. All a driver needs to do is take an engine to be rebuilt at which time it can be re-bored to the new capacity and have a tiny amount of machining to the cylinder head. Any engine tuner can carry out this work, though Tal-Ko will be offering special upgrade packages with the guarantee of original manufacturer quality and precision. The power increase will reduce lap times and because of the extra torque, also help those slightly over the weight limit - which is increased as well.
In future all new senior engines will be known as Extreme units and will come in the large bore format - but at a greatly reduced price, now down to £699 plus VAT. Meanwhile the Junior spec engine gets an upgrade with the fitment of a clutch and chain-guard as standard items - and with the price also reduced down to £775 plus VAT.
New spec Junior engines will be available November 2003 onwards, the senior Extreme spec units can be ordered now ready for delivery early next year. They can be raced from February onwards. There is no intention that the new Extreme spec engine will form a new class. It is anticipated that very rapidly all drivers will upgrade, though clubs are welcome to split grids in the short term if they feel their mix of drivers needs this.
Other changes include a change of kart specification for the new homologation period which includes freeing up of brake disc spec to include vented units, use of twin hole Ackerman style steering, freeing up of stub axles, use of some lighter materials like magnesium and use of cassette type quick release bearings. All this for exactly the same price karts as before at £1195 plus VAT.
The latest regulations will allow use of new style CIK type bodywork and mounts so long as they meet MSA regulations. Aside from this there is a revision of all weights which change as follows to allow use of the new style sidepods and also to help those drivers on the edge of the weight limits in the face of a general increase in driver size. New weights are: Juniors - 127 Kgs, Intermediates - 138 Kgs & Seniors - 148 Kgs.
Adds Alan Turney: "We have been able to achieve the price cuts as a result of economy of scale. We want to help and encourage drivers and aside from adding to the appeal of the class we make the whole package more manageable overall." Visit the new Tal-Ko website now.
[ Top ]
---
Staffordshire Teenager Crowned Champ (06/10)
Martin Plowman, from Tamworth in Staffordshire, went down in the annals of motor racing history yesterday (Sunday 5th October) when he sealed the prestigious CIK-FIA French International Karting Championship in Angerville, France. In the process the teenager, who only celebrated his 16th birthday last week, was not only crowned the first British driver to ever clinch the honoured spoils but also the youngest.
Martin has been hailed an international karting revelation this season in his first year racing in the elite Formula A category, against some of the best karters in the world. The GCSE student from the Rawlett School in Tamworth, scored four victories and several podium finishes to secure the title and enjoyed a lead of more than 90 points going into the final round.
Martin will receive his winner's prize at a star-studded awards ceremony at Euro Disney, Paris, in December. Martin will also be chatting with visitors about how to get started in Karting at Autosport International, 10th & 11th January 2004 at the NEC, Birmingham.
CIK-FIA French International Karting Championship. Final Points: 1st - Martin Plowman (GB) 318 points; 2nd - Pierre Combot (F) 223; 3rd - Damien Claverie (F) 213; 4th - Bas Lammers (F) 186.
[ Top ]
---
British 24hr Race Update (02/10)
This inaugural 24hr event organised by Paul Bowler and Ted Poole for International Kart Promotions Ltd. will take place at Rowrah in Cumbria on the weekend of the 21st/22nd August 2004, with practice on Friday 20th August 2004. The venue was chosen not only for its superb facilities, but also for its ability to host 24hr events, on a track which will be able to accommodate the anticipated grid size. A dedicated website is now under construction and full details of the site will be announced shortly. Make a note of the dates in your diary now but bookings will not be accepted until the website is live.
[ Top ]
---
A Ladies Only Event (01/10)
Buckmore Park is to hold its first ever hire kart event for ladies only. The fairer sex are invited to compete in a Prokart sprint event consisting of practice, 3 heats and a final, commencing at 6.30pm on the evening of 16th October. Interested? Telephone 01634 201562 Ext. 201 for more details.
[ Top ]
---
Saxon Theft (30/09)
A £250 reward is being offered by Saxon Motorsport for information leading to a conviction of persons responsible for the theft of the following:
Biland SA250 Engine No. AO2477
Biland SA250 Engine No. AO2479
Biland SA250 Engine No. AO2577
Biland SA250 Engine No. AO00390
Note: Biland engine no's are on the front right bottom of the engine behind the front engine mount, stamped on a machined face. Do not confuse with the casting number directly on the cast block further up on the left.

Mike Wilson (Blue) Chassis No. 1124
Mike Wilson (Blue) Chassis No. 995
Birel R32 Chassis No. 261831
Please contact Saxon Motorsport with any information on tel: 01432 350157 or by fax: 01432 354448, or call Crimestoppers on 0800 555 111.
[ Top ]
---
MSA British Endurance Kart Championship (26/09)
Annual Trophy presentations for the 2003 British Endurance Kart Championship will take place at the London Kart Show at Sandown Exhibition Centre on Saturday 13th December at 4pm. This will be followed by an informal gathering and celebration in one of the Sandown hospitality areas.
[ Top ]
---
British Motor Sport Boost (25/09)
Three of the biggest supporters of British motorsport have joined forces to create a powerful alliance which will benefit drivers and teams in both karting and car racing. ELF, Hill House Hammond and Renault have linked together in a move unprecedented in national motor racing. The alliance will see Renault joining Hill House Hammond as sponsor of three of karting racing's premier categories - Formula A, ICA and JICA - bringing Britain's top emerging young drivers closer to this country's leading junior single-seater series, Formula Renault UK. Formula A and Formula JICA are the elite MSA British Championships in the ELF/Hill House Hammond Super One Series, whilst Formula ICA is this country's leading national kart championship.
British kart racing's hot shots will now receive the following benefits as a direct result of the ELF/Hill House Hammond/Renault partnership:
Two prizes for free of charge entry into the 2004 Formula Renault Winter Championship
Exposure for drivers on the prestigious www.renaultsport.co.uk official website
Championship front-runners invited to Renault F1 Team testing
Invitations to 2004 Formula Renault UK Championship races
Championship awards ceremony at Renault F1 Team HQ
Hill House Hammond will also become joint title sponsor with ELF of the Clio Cup championship and as result the prize fund for Britain's best one-make saloon series has been boosted to £75,000. The insurance specialist will also be offering Renault teams preferential rates for commercial and public liability cover.
Commenting on the formation of the ELF, Hill House Hammond and Renault alliance, Renault UK Director of Press and PR Tim Jackson said: "The three companies are major forces in British motor sport and by joining forces can bring unprecedented support to both top level karting and the Clio Cup. Kart drivers will benefit enormously from getting closer links to both Renault UK and our Formula Renault teams at a crucial stage of their careers." "For Hill House Hammond this alliance makes perfect sense as it brings together three brands who are dedicated and passionate about racing", commented Hill House Hammond's Head of Partnership Development Tony Instrall. Whilst ELF's Director of Communications Andrew Ward added: "ELF has worked as partners with both Hill House Hammond and Renault for many years but to bring all three of us together is a very exciting prospect for everyone involved in karting and car racing."
The three karting series involved will now be known as Hill House Hammond/Renault Formula A and Hill House Hammond/Renault Formula JICA MSA British Championships and Hill House Hammond/Renault Formula ICA Championship. Starting at the forthcoming winter series Renault's saloon championship will be known as the ELF Renault Clio Hill House Hammond Cup.
[ Top ]
---
NWF joins in Clay Endurance (24/09)
The new Briggs and Stratton World Formula Engine took its place alongside the Prokarts for the first time at Clay Pigeon Endurance Kart Championship in September. The MSA have approved the formula to run with the Prokarts and with just a few days notice 2 teams managed to enter the event. Special Racing Projects had been at Clay for the British Championship Promax final round on Friday, self confessed kart addict Jason Jones borrowed an engine from Zoom Karts, built the WF on Saturday and competed on Sunday. The 2nd team used Ted Poole's WF demonstrator and entered as Legs and Co. The two WF karts performed well in the 6 hour race and proved to be a worthy and equal opponent to the Honda Prokart.
Testing and evaluation will continue but from what we have seen so far we have to pose the question: Is this the way to go?
[ Top ]
---
Right Result For Bean & Hanley (24/09)
Success came for two youngsters competing in different parts of Europe at the weekend with James Bean enjoying success in TKM Super 1 Seniors at Lydd on the south coast of England, and Ben Hanley enjoyed a fantastic weekend In the European Formula A Championship at Mariembourg in Belgium.
James was driving a TKM Raider R3 and dominated the Formula TKM Senior class at the Lydd round of the Elf Hill House Hammond Super 1 TKM series. The youngster, up into the senior class for the first time this year, won a heat along with a second and eighth to gain pole position for the final and was never headed throughout the race. "We were quick all weekend with a great kart and engine from Tal-Ko," he said afterwards. "I was able to get into the lead and keep an eye on the rest." In the course of the heats he also set the fastest lap of the class for the weekend at 40.72 secs.
British driver Ben Hanley secured 4th place overall in the European formula A Championship after a stunning weekends racing at the Belgian circuit of Mariembourg. After setting the pace in open testing early in the week, Ben suffered engine failure during qualifying on lap 5 but his time was still good enough for sixth position overall. He followed this with two wins, one second place and a fourth place in the heats, placing him on pole position for the first final. Ben finished off a great weekend with a win in the first final and second place in final 2.
[ Top ]
---
Stars of Tomorrow Competitors (23/09)
The following statement was issued today by Carolynn Hoy - Championship Director.
Most of you are aware that Brooklands circuit were not issued with their Licence by the MSA in time to host Round 7 despite their repeated assurances that works requested by the MSA would be completed in time.
Without the written support of ALL competitors signed up for the Championship it will not be possible to move to an alternative circuit. This is not feasible and we have to advise that the meeting scheduled for this Sunday 28 September, will not take place and there will be no further rounds of the 2003 Championship.
Championship standings will remain as per results for Round 6 held at Nutts Corner (subject to appeals). Confirmation of points and placings will be sent to competitors in due course as will a letter with details of concessions for those of you who entered for this cancelled round.
I cannot put into words just how disappointed I am to have the Championship finish in this way, especially having received so much support from our team of officials, so many of the competitors and their families, and from Rye House - who literally 'moved Heaven and earth' to fit us in.
There is nothing else I can say at this time, but thank those of you who have supported the Championship.
[ Top ]
---
Roy Mortara Memorial Meeting (18/09)
The annual Roy Mortara Memorial meeting is being held at Blackbushe on Saturday the 27th September. This year the Roy Mortara Perptual Trophy will be awarded to the winner in the 250cc Gearbox class, with special trophies going to all other classes. All classes are invited to take part in this annual event.
The club are expecting good grids at this popular annual meeting and for further information and entry forms please visit the Camberley website at www.camberley-kartclub.co.uk
[ Top ]
---
Super 1 - MSA Series Champions (17/09)
Following the final rounds at PF International last weekend, the ELF-Hill House Hammond supported Super 1 championships for MSA classes were decided. Congratulations go to...

Gary Catt - Formula A
Jason Edgar - Formula ICA
Riki Christodoulou - Formula JICA
Oliver Rowland - Formula Cadet
Justin Edgar - Formula 100 National
Click here for Formula A and JICA race reports.
[ Top ]
---
Autosport International Joins Forces With MSA (16/09)
Haymarket Exhibitions is pleased to welcome the Motor Sports Association - the governing body of motor sport in the UK - once again to Autosport International, at the NEC in Birmingham, 8-11 January 2004. The MSA has been a leading exhibitor since the Show's inception 13 years ago, this year Autosport International will work more closely with the MSA, supporting initiatives within and outside the Show, with the aim of encouraging more people - of all ages - into motorsport. From karting, to co-driving, to autotests and off-road motorsport, any aspiring competitor can find all the information they need to know, from how to get started and meeting experts in the field in the National Motorsport area of the Show. An active pre event marketing and public relations campaign to media outside motor sport will aim to raise awareness of how easy and inexpensive it is to get started.
The opportunity to use promotion and publicity tools via the MSA's established communication channels will be vital to help ASI reach thousands of MSA licence holders. Recognising that encouraging young karters is an essential element in safeguarding the future our the sport, Autosport International has already sliced its ticket prices for MSA Kart National A & B licence holders from £20.00 to just £6.00 on Saturday and Sunday.
Gavin Brown, Managing Director of Haymarket Exhibitions Ltd, commented: "This year at Autosport International we are increasing the specialist areas of the show which will cover more than one million square feet of exhibitor space. Working with the MSA we will be offering the total spectrum of motorsport under one roof, and this is an ideal opportunity to encourage new people to the sport as well as helping current licence holders. Autosport International will be 'THE' place for the start of the motorsport season in 2004."
[ Top ]
---
The InterNations Karting Challenge (15/09)
This weekend, 20th & 21st September, sees the 7th annual team Challenge organised by the Association of British Kart Clubs and their colleagues in Motorsports Ireland. It's also the second time the event has been staged in England, with both events taking place at Rowrah on the edge of the Lake District. This hugely popular event is a social occasion as well, with a dinner on Friday evening for the teams to foster the spirit of friendly competition.
Unusually, for a motor racing event, individual performances take second place. The prime concern is the performance of the team. There are six classes, each with up to six drivers from each country running in them. The classes are:
Junior Cadet - for drivers between 8 and 12 years old.
Junior 125 - drivers aged 11 to 16 driving Rotax engined outfits.
Senior Twin - drivers 16 plus driving twin Honda engine karts.
Senior Gearbox - drivers again 16 plus, but driving 125cc six-speed gearbox engined karts.
Senior 125 - drivers 16 plus but driving higher performance Rotax outfits.
Senior 100 - drivers are 16 plus and drive highly tuned 100cc karts.
Timed practice determines the grid order for the heats, heat performances determine the grid position for the final.
Team tactics are everything in this event. For example, the quickest driver in timed practice may be allocated a lower grid position by the team manager in order to make up places and thus gain the team more points, with a slower driver allocated the top slot and asked to maintain the place until the quicker drivers join him or her. The team with the highest number of points at the end of the meeting, takes home the Challenge Trophy. The previous six events have all been won by England, but the other teams are now closing the gap and Scotland in particular are aiming to give the old enemy a run for their money.
The event is sponsored by Fathom Debt Recovery Software, who are financing the TV coverage, with Cumbria Kart Racing Club sponsored by Rural Regeneration Cumbria. Spectators wishing to watch the racing this weekend can find a location map here.
[ Top ]
---
Super One Finale (11/09)
One of the UK's premier karting venues, PF International near Grantham, will be the fitting venue for this weekend's final meeting of the 2003 ELF-Hill House Hammond Super One MSA British Championships - with both the Formula A and Formula JICA titles resting on a knife edge.
In Formula A only an eight-point gap exists between championship leader Mark Litchfield (Marston Montgomery) and team-mate Gary Catt (Thruxton) but with the double 'drop score' ruling taken into account that difference is down to a single point - meaning the title really will go down to the wire on Sunday. There has been some superb racing in Formula A this season and with four wins Litchfield's consistency underlines just why he currently leads the championship. Catt has taken two victories, one at Clay Pigeon and the other at Three Sisters, with Benjy Russell (Wisbech) also visiting the top step of the podium this season. David Gregory (Sheffield), meanwhile, has taken a total of three wins including a superb double at Shenington last time out.
The situation in Formula JICA sees Riki Christodoulou (Sutton Coldfield) currently leading the standings by four points from Freddie Martin-Dye (Shamley Green). This gap, however, increases by two points when drop scores are taken into consideration. Christodoulou has looked to be the class of the field throughout the year with five race wins to his credit but that doesn't tell the full story. Martin-Dye has only ever been a whisker behind the West Midlander all season and during the most recent round at Shenington the Guildford ace achieved an excellent double win to put the pressure back on Christodoulou ahead of this weekend's event. But while the championship may well be a straight fight between Christodoulou and Martin-Dye, there are still a number of other drivers in JICA more than capable of taking race wins at PF International including the likes of Jon Lancaster (Pudsey), Jason Parrott (Crowland), Daniel Rowbottom (Mamble) and Jonathan Legris - the latter having taken a superb victory at Clay Pigeon earlier in the year.
Provisional dates and venues for the 2004 Elf-Hill House Hammond Super One MSA British Karting Championships have been announced and see the series scheduled to get underway at Three Sisters, near Wigan on 7th March. From there the championships will visit PF International on 4th April, Lydd on 9th May, Clay Pigeon on 20th June and Shenington on 25th July. The season will then come to a close at Larkhall, near Glasgow, on 12th September.
[ Top ]
---
Superbike Champ To Race (10/09)
British Superbike Champion Shane "Shakey" Byrne will be racing in Senior Rotax Max at the Buckmore Park 40th Anniversary meeting on the 21st September. The meeting is being sponsored by the Kent Messenger group who publish many newspapers in the South East as well as owning the FM radio station KMfm. KM have promised both radio and newspaper coverage of this milestone event. Contact Sheila Rose for details and entry forms 01634 201562 ext 210.
[ Top ]
---
Maxxis Formula TKM Festival (09/09)
TV coverage of the Maxxis Formula TKM Festival starts on Sky TV today as part of the Sports Unlimited programme.
Three separate shows will go out covering all classes starting on September 9, with the next programmes starting on September 23 and October 7. Each programme will have multi repeats across the Sky Sports 2, 3 and Xtra channels. Further worldwide coverage of the event - the largest one make karting event in the UK - will start later in the year, in total going to more than 200m homes.
[ Top ]
---
Indikart Of Colchester (05/09)
The long established Indikart indoor circuit has changed hands and is now under new ownership. The new owners have considerable experience in corporate karting and kart circuit operations and are already welcoming customers both old and new. It is their intention to bring the venue back to its former glory and refurbishment is to commence this month, with a first class facility in prospect. Further information will be displayed at www.indikart.com when available, or call 01206 799511 now.
[ Top ]
---
Ecclestone Opens New Clubhouse (03/09)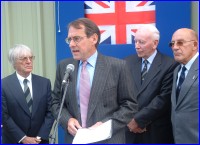 Bernie Ecclestone today opened the new clubhouse at Buckmore Park Kart Circuit, and John Surtees MBE announced his vision of widening the opportunity for youngsters with the development of a Motor Sport Training and Technology Centre.
Bernie Ecclestone joined former Motorcycle and F1 World Champion John Surtees MBE, co-owner with Bill Sisley of the Buckmore Park Kart Circuit, for the opening of the new £1 million clubhouse. The new state of the art facility will be the operational centre for the karting school, club and championship racing, corporate events and promotional activities.
The clubhouse has been designed so as to be able to link in a new Motor Sport Training and Technology Centre sharing some common facilities with the new Clubhouse. It is hoped that the new Centre will bring together the motor sport industry and teams with schools, colleges and local authorities to introduce more opportunity for youngsters to be involved in motor sport - from driving to engineering and design.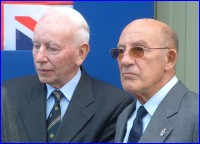 The launch at Buckmore highlighted the strong link between karting and Formula One. Bernie Ecclestone said, "I am very pleased that John has got behind karting, which is a very important part of motor sport. I am also pushing Formula 1 circuits to build kart circuits where we could include a series in F1 weekends."
Ferrari Technical Director, Ross Brawn said, "The British Motor Sport Industry must continue to lead the world and to do that we need to develop our greatest asset - people; and ultimately, I truly believe that the involvement of young people in such projects, even if they decide not to continue to pursue the challenge of motor sport, will still be of huge benefit to them in their chosen fields and to their future lives."
The development is part of a dream held by John Surtees, the only man in the history of motor sport to hold world titles on two and four wheels, to widen the reach of his beloved sport. "Karting is the very grass roots of motor sport. What I would like to see is a wider opportunity given to youngsters to participate in an exciting learning programme. There may be another Michael Schumacher or Valentino Rossi out there, as for too long we have not had a British World Champion Grand Prix driver or rider. Or it may lead to a career in our thriving motor sport industry. Or just a safer driver when the time comes to get a licence. It is a dream, but dreams can come true."
Guests at the launch included, Minister of Sport, Richard Caborn, Chris Aylett of the MIA, John Grant and Colin Hilton of the MSA, Pat Symonds of Renault F1, Sir Stirling Moss and ITV's F1 presenter Jim Rosenthal.
The BMW Williams Formula One team provided its latest Grand Prix race car for display and was represented by Jonathan Williams. Ron Dennis, CEO of the TAG McLaren Group, said on the eve of the launch, "The experience a young driver gains and the race craft they develop in karting is invaluable. As the grass roots of motor racing, karting is almost an essential part of being a grand prix driver."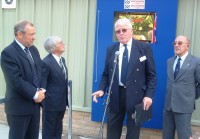 The influence of karting also feeds the UK motor sport industry with technicians, designers and engineers. The UK motor sport industry has an annual turnover of £4.6 billion, 50% of which relates to export sales and directly employs 38,500 people.
The Buckmore Park circuit has enjoyed several years of development since Bill Sisley took over management of the dilapidated track in the mid-80s. The track was extended in stages to its current 1200m. John Surtees and Bill Sisley, having come together for the creation of the new Clubhouse, and with a new Paddock facility planned for later this year, now have the vision of creating the new Motor Sport Training and Technology Centre. The planned Motor Sport Training and Technology Centre would feature a fully fitted workshop and servicing areas, study and lecture rooms and a selection of karts and components. The development of the circuit to date and the new Clubhouse, have come from existing resources at Buckmore Park. Now the search is on for the funds to establish Britain's first karting Motor Sport Training and Technology Centre and to make motor sport and its exciting industry truly accessible to more youngsters in our communities. "The British motor sport industry is the envy of the world - let's keep it that way, and add a British World Champion as well if possible" said John Surtees.
[ Top ]
---
Kart Circuit Guide (03/09)
For the month of September What's On Motorsport have introduced a special discount price for their Karting Circuit Guide. The Karting Circuit Guide shows corner-by-corner breakdowns of all the UK and Europe's major circuits. Contact, travel and accommodation information make it the perfect companion to any professional or amateur Karting enthusiast. With a 20% discount for September, The Guide is now available for £23.99 plus p+p.
For more information visit http://www.circuitdriver.com/circuitguides/default.asp
[ Top ]
---
On Track To A Fortune (01/09)
Fifteen year old Alexander Sims from Pinchbeck in Lincolnshire is the only racing driver on the Royal Bank of Scotland's projected 2020 'Rich-List' top twenty and the top rated sportsman. Philip Beresford, who compiles the Sunday Times Rich List, researched young people under 21 who could be among the UK's biggest earners by 2020. Sims is placed fifth, with projected £30M earnings, whilst footballer Wayne Rooney is put at eighth with £25M. Fifteen year old Alexander Sims, who has the backing of the Californian company Medjool Dates, said: "I've got mixed feelings about this, which came completely out of the blue and rather caught me by surprise. We'll carry on with our plan regardless but it does make me think that people are watching my progress." Sims started kart racing at age ten, and has had numerous successes at both national and International level. Having become the MSA British Junior Kart Champion in 2002 and winning the prestigious Monaco Cup International race against the cream of Europe and the world's junior kart racers, he moved up to the adult category this year, to drive for the works World Championship winning CRG-Maxter team, based in Italy.
Paul Thwaite, the Royal Bank's Head of Youth Banking, said: "All the members of the list clearly have the X-factor, an exceptional talent or perception for opportunity. However, what these young people have in common is the ability to couple a natural talent with a sound understanding of how to make the most of it and make their financial success last." Topping the list is Internet entrepreneur Carl Churchill, with £100M.
Sims raced at the Super 1 British Championships at Shenington last weekend, and topped timed qualifying at this penultimate round. After a fourth and fifth in the heats, he was well placed for the finals until an errant flying kart took off the top of his spark plug at the second corner. Starting from the back in the second final, he reached sixth place. Sims was philosophical about the crash. "There wasn't much I could have done about it, but we are definitely fast enough to win. It was a promising weekend, but we need results," the Pinchbeck youngster stated. The last round of the British series is at the PF International circuit near Newark on 14th September, but Alexander was forced to wait for his fifteenth birthday and missed the first round of the series. After that he will race at the last round of the European Championships, to be held at Mariembourg in Belgium.
[ Top ]
---
Fund Raising Kart Racing (01/09)
Rissington Kart Club is set to raise money for a local cancer charity next weekend, September 6th-7th, as part of one of the largest kart racing events of the year. The Cheltenham-based Cobalt Unit Appeal Fund is the nominated charity at this year's Midland Championships. During the race weekend, there will be a number of events to raise money for the Cobalt Unit Appeal Fund. The charity offers a range of cancer prevention services, including Stop Smoking Courses, Women and Health Workshops and Breast Awareness Clinics. Last year, the Appeal - which was launched in 1964 - contributed £25,000 to help provide Brachytherapy treatment for early prostate cancer at Cheltenham General Hospital.
One of the fund-raising events will give drivers and mechanics the opportunity to get their own back on Rissington's race officials, who will be placed in stocks and pelted by some seriously wet sponges. There will also be a special remote control car track, where children are invited to bring along their own radio-controlled cars to race against the clock. In addition to the high quality racing on display, spectators can enjoy track demonstrations from 130bhp saloon cars, pocket racing bikes and vintage karts. In the paddock there will be a bouncy castle, stands and food stalls. For further event details, visit www.rissykartclub.com. For further information on the Cobalt Unit Appeal Fund, call 01242 535900.
[ Top ]
---
Defending Champ Stars (01/09)
Lichfield's Adam Christodoulou the defending champion in Junior Rotax Max and Mini-Max classes stamped his mark on the penultimate round of the Stars of Tomorrow series, and Ross Curnow and Oliver Rowland dominated the Junior Rotax Max and Cadet classes. Race reports can be found here.
The Ulster Karting Club promoted meeting went off without any real incidents and with support from Northern Ireland Events Company, Sports Council for Northern Ireland and StenaLine was undoubtedly one of the highlights in the province's motorsport calendar. Feedback from drivers and the championship organisation team seemed positive and will hopefully see the series return to the circuit.
[ Top ]
---
Finnish Star At Midland Champs (26/08)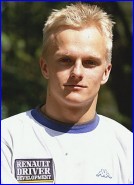 Heikki Kovalainen, a member of the Renault Driver Development programme, is to be the guest of honour at next month's Midland Championships.
With past winners including Formula 1 ace, Jenson Button, the Midland Championships is one of the most prestigious events on the national karting calendar. A variety of breathtakingly quick machines will be in action, from the 60cc Cadet karts for 8-12 year olds to the awesome 250cc machines, which can hit top speeds in excess of 140mph.
A former kart racer, Kovalainen has been earmarked as Finland's next racing star. Having finished fourth in the British Formula Renault championship in 2001, the 21 year old joined the Renault Driver Development Programme at the start of 2002. His season in British F3 last year yielded third place in the championship, including an impressive victory at the International F3 Challenge at Silverstone. Kovalainen will be available to share his experiences with the rising stars of British kart-racing at the second day of the event, which runs from September 6th-7th. He will also be presenting trophies to successful drivers on the day.
Event promoter, Chris Hartley, commented: "We're absolutely thrilled to have Heikki as our guest of honour. As anybody involved in motorsport will tell you, he's an immensely quick racing driver with a very bright future ahead of him. The fact that he's taking the time to meet and encourage some of our young kart racers is terrific. Having Heikki there will certainly make it a day to remember."
Held at the super-fast Rissington circuit, near Stow-on-the-Wold in Gloucestershire, the 2003 Midland Championships is expected to attract over 300 of the quickest kart racers from across the country, and with this year's event being filmed for Sky Sports television, the racing promises to be more explosive than ever.
In addition to the high quality racing on display, there will also be track demonstrations from saloon cars, pocket racing bikes and vintage karts. In the paddock there will be a bouncy castle, stalls and a special remote control car track, where children are invited to bring along their own radio-controlled cars to race against the clock for prizes.
Racing starts at 1.30pm on Saturday 6th and 10.30am on Sunday 7th September. Admission is just £10 per vehicle per day, or £15 for a weekend pass. No pets allowed. For further event details, visit www.rissykartclub.com
[ Top ]
---
Memorial Kart Race & Fun Day (26/08)
A memorial race to celebrate the life of David Benson is to take place at Lakeside Karting, in Thurrock, Essex. Many will know that David tragically died in a motorcycle accident earlier this year. He was well known in Prokart circles racing with brothers Mark & Andrew as FAB Kartsport, and the Benson family would love to see some of their old rivals at the event.
Entry is limited to 18 teams and although any number of drivers per team is acceptable it's aimed at being a fun day so a recommendation is made of no less than four. If you cannot make up a team, don't worry just contact Sue Oakley via phone and she'll see what can be arranged. Free BBQ food and refreshments will be available, so you just need to arrive ready for an afternoon of fun and enjoyment, and feel free to bring spectators too, the more the merrier! 400cc Prokarts and equipment supplied at £235 per team for this 3-hour endurance race in a celebration of the life of David Benson.
This first memorial kart race is at the Lakeside Karting circuit between 12pm and 5pm on Saturday 13th September. Interested? Then telephone Sue Oakley on 01375 361356 for an entry form.
[ Top ]
---
Master Classes At London Kart Show (21/08)
An exciting line up of free masterclasses has now been confirmed at The London Kart Show featuring well-known figures within the karting industry. Visitors will have the chance to gain knowledge of the sport whether they are starting out or experienced kart racers with all designed to help their success in kart racing if they attend. Speakers already confirmed at the Show and further information can be found here.
In addition to the free classes visitors can expect to see over 60 exhibitors, where they can buy all their karting requirements for the 2004 season. The dates of the show are Saturday 13th and Sunday 14th of December 2003. Opening times are 10am to 5.30pm daily. Free stickers, posters and ticket application forms are available by e-mail to info@londonkartshow.co.uk or by phone on 01273 833884.
[ Top ]
---
Are Karters Tough Enough? (20/08)
Channel 4 are looking for 21-35 year old men to take part in a really tough challenge that they will be filming in October this year for an exciting new series to be screened over three 60 minute episodes during the early part of 2004. We have managed to convince them that kart racers are a tough bunch and always up for a challenge so now it's up to you.
Can you handle military training? Do you need a boot up the backside? Have you got what it takes to become an all-round hero? If you think you could handle a challenge that will sort the men from the boys and are available for filming in October then contact the team at Channel 4 now on tel. no. 020 7013 4283 or e-mail: heroes@rdfmedia.com for more information.
[ Top ]
---
Jaguar Racing To Invite Karters (19/08)
Jaguar Racing is set to give young motor racing talent a unique chance to step inside the world of Formula One at this year's ultimate karting challenge: the 2003 Midland Championships, and more than 300 drivers from across the UK will be in attendance.
Both of Jaguar Racing's current Formula One team drivers, Mark Webber and Justin Wilson, began their motor racing careers in karting and many of this year's competitors will be looking to follow in the very rapid footsteps of their heroes. As part of their support for the event, Jaguar Racing will be inviting winning drivers to tour their state-of-the-art Milton Keynes facility, to gain a rare behind-the-scenes insight into the running of a Formula 1 team. Event promoter, Chris Hartley, commented; "We're incredibly grateful to Jaguar Racing - this is a dream prize for the drivers. Few people get to see a Formula One team working at close quarters and I can't think of a more fitting reward for the race winners. As you might imagine, the drivers are all Formula One fanatics and no doubt some of the young, ambitious drivers will be hoping that it's the taste of things to come!"
In addition, Jaguar Racing will also be providing successful drivers at the event with an array of team-branded merchandise, and for the first time ever, the September 6th-7th event is being filmed for Sky Sports television, giving the drivers and teams welcome national exposure.
Racing starts at 1.30pm on Saturday 6th and 10.30am on Sunday 7th September. Admission is charged at just £10 per vehicle per day, or £15 for a full weekend pass. No pets allowed. For further details visit www.rissykartclub.com
[ Top ]
---
Masters Of The Dragon (19/08)
Century Race Preparation would like to congratulate their 3 Dragon Masters at GYG last weekend. Nathan Freke in Rotax Max and Roger Holding in Rotax Max Heavy both on TopKart / Century prepared Rotax Max engines, and Lee Morgan in Junior TKM on his Project 1 chassis and Century prepared BT82. Congratulations also to Michael Lennon for 3rd in Junior TKM on his P1 / Century BT82, Gemma Wainwright 2nd in J TKM Inters on her Century pepared BT82, and Rob Parry 2nd in 125 on a TopKart / Century Pavesi in his first ever gearbox race. Interested drivers can contact Century on 01562 632032 or 07710 232813. Also well done to Dragon KC and Eddie at GYG for an excellent meeting and stunning trophies.
[ Top ]
---
Blistering Irish Grand Prix (19/08)
A superb turnout of kart racers helped make Ireland's largest meeting a huge success over the weekend of 9/10 August. The Chambers Coach Hire sponsored Irish Kart GP saw large entries in every class, and together with enthusiastic spectators and hot sunny weather it was a recipe for an excellent weekend with lots of exciting racing. Race report here.
[ Top ]
---
Stars Brooklands Switch (14/08)
Brooklands have agreed to run Round 7 of the Stars of Tomorrow Championship on 27th & 28th September instead of Kimbolton, and rather than the Championship lose momentum by waiting until the originally scheduled October date for what would have been Round 8, the Surrey circuit will now become the final round of the Championship. The official test day will be on Friday 19th September with all the action taking place the following weekend.
Brooklands is currently open for bookings, owner-drivers, etc., but at this moment in time the track is due to shut down at the end of October, with plans for the land to be used as Country Park following the sale of Brooklands to Mercedes-Benz. Discussions are however still continuing with the local council and everyone involved are hopeful of a stay of execution.
[ Top ]
---
100mph Cars At Karting Event (11/08)
Powerful 130bhp saloon cars will be in action at Stow-on-the-Wold's Rissington kart circuit next month, as part of this year's ultimate karting challenge: the 2003 Midland Championships.
One of the most prestigious events on the annual kart racing calendar, the event - which runs across the weekend of 6th-7th September - is set to attract an enormous entry of over 300 drivers from all corners of the country, and this year, the racing is expected to be more frenetic than ever as the drivers try to give a good account of themselves in front of the Sky Sports TV cameras, which are filming the event for the first time in its history.
In between the racing, spectators will be treated to a number of on-track demonstrations, including the 100mph, 130bhp saloons from the T-Car championship. A ground-breaking series, T Cars is the only championship that enables 14-16 year old drivers to go wheel-to-wheel at some of the UK's best race circuits, including Brands Hatch and Donington Park. With intensive track tuition and media skills training available to the competitors, the series organisers aim to hone the skills of up-and-coming racing talents. Current British Touring Car drivers, Tom Chilton and Tom Boardman both graduated from T Cars, as did current British Formula Ford championship leader, Tom Kimber-Smith. As a front-running team in the T Cars, Kent-based outfit, Advent Motorsport, is bringing some of its cars to the 2003 Midland Championships for the crowd-pleasing on-track demonstrations. In addition, there will be a static display in the paddock where spectators can inspect the 1600cc machines at close quarters.
In addition, spectators can look forward to track demonstrations from the pocket-sized minimoto racing bikes and 1960's vintage karts. In the paddock there will be a bouncy castle, stalls and a special remote control car track, where children can bring along their own radio-controlled cars to race against the clock. Admission will be charged at just £10 per vehicle per day, or £15 for a weekend pass. No pets allowed. For further event details, visit www.rissykartclub.com
[ Top ]
---
TKM Racers Head For Kimbolton (07/08)
More than 230 top racers from all over the UK and some from overseas, will merge on the Kimbolton kart racing circuit this weekend, 9th & 10th August, for the country's biggest single make kart race meeting of the year.
The MAXXIS Formula TKM Festival brings together drivers of all ages and abilities racing for top honours in the country's most closely contested categories. The drivers all use race karts powered by the same TKM engines, so finding extra fractions of a second in performance really counts. That's a formula that adds up to incredibly close and competitive racing. Not surprising therefore that top racing drivers like Jenson Button from F1, Carl Breeze from Touring Cars and Robbie Kerr from Formula 3000, are all ex top drivers in the class.
With five main classes across all ages from juniors through to veterans, the action starts Saturday morning and will run right through to the finals on Sunday afternoon - all covered by Sky TV for three programmes within Sports Unlimited. With more than 40 TKM 4-strokes and over 190 TKM 2-strokes the grids will be packed with a minimum of six sessions on the circuit for every driver counting towards the final trophies.
The event is organised by the Hunts Kart Racing Club and backed by MAXXIS, a world leader in the manufacture of specialist tyres, and Tal-Ko Racing the UK's largest manufacturer of kart race engines. Spectators are welcome at the track, located just outside Kimbolton towards Stow Longa.
[ Top ]
---
Southern L/C Kart Club (06/08)
A group of enthusiasts are looking into forming a southern long circuit kart club similar to the one at Darley Moor. The club would be based at Lydden International Race Circuit near Canterbury in Kent and offer just two classes, allowing for anything 125 to be raced i.e. 125 National, Open or ICC in the 125cc class, and 250 National / International or E could race in the 250cc class.
The circuit would be shared with a car club called SEMSEC (South East Motor Sports Enthusiasts Club) and although still in the formative stages the idea was put to Lydden International Race Circuit and SEMSEC and both have indicated their willingness to help put on such meetings.
As much interest as possible is needed to get this club off the ground and the more people they can get to race the cheaper the entry cost will ultimately be. With 20 drivers per class the normal long circuit entry fees could be halved. If you are interested then don't delay, e-mail: chris@audanet.com now to register your interest.
[ Top ]
---
Donington Superkarts (06/08)
The second round of the Division 2 event in the CIK European Superkart Championship this weekend on the full GP circuit at Donington will have young Nathan Freke on the grid. At the age of 19 he will be the youngest driver there and will be the first driver to race a 250 in the Europeans as his first race in a 250! Nathan is also the only driver in the UK to race 100cc, Rotax Max, 125cc short circuit, 125cc long circuit and now 250cc Superkart at National level in the same season. He will be ably assisted by the experienced Andy Martin of F1 Karts who has also supplied the kart.
[ Top ]
---
Bernie Ecclestone At Buckmore (05/08)
Bernie Ecclestone is to join former Motorcycle and F1 World Champion, John Surtees MBE and Bill Sisley, owners of the Buckmore Park Kart Circuit, for the opening of the new £1 million clubhouse next month. The new state of the art facility will be the operational centre for the school, club and championship racing and corporate activities for which Buckmore is famous. The clubhouse has been designed so as to be able to link in a new Motor Sport Training and Technology Centre. It is hoped that the planned Motor Sport Training and Technology Centre will run in conjunction with schools, colleges and local authorities to introduce more youngsters into motor sport - from driving to engineering and design.
The development is part of a dream held by John Surtees, the only man in the history of motor sport to hold world titles on two and four wheels, to widen the reach of his beloved sport. "Karting is the very grass roots of motor sport. What I would like to see is a wider opportunity given to youngsters to participate in an exciting learning programme. There may be another Michael Schumacher out there or it may lead to a career in our thriving motor sport industry, or just a safer driver when the time comes to get a licence. It is a dream, but dreams can come true."
Members of Parliament, local authorities and heads of the motor sport and motoring industries are to be invited. The Motor Sport Training and Technology Centre will feature a fully fitted workshop and servicing areas, study and lecture rooms and a selection of karts and components. The development of the circuit to date and the new Clubhouse, have come from existing resources at Buckmore Park. Now the search is on for the funds to establish Britain's first karting Motor Sport Training and Technology Centre and to make motor sport truly accessible to more youngsters in our communities.
[ Top ]
---
Stolen Equipment (04/08)
Martin Pattison of Revolution Karts in Matching Green, Essex, asks all karters and kart circuit owners to look out for equipment that was stolen last Thursday evening, 31st July. His fledgling company suffered a break-in and the theft of 3 Pro Karts, their van and all tools. All three karts are of a design by Doug Shepard (late of Swift Karts) and have been refined. The front stub assembly is unique to Revolution Karts, having adjustable camber/caster connection rods, with lower rose joints attached to the chassis. A reward is offered in return for information leading to the return of these karts and a prosecution. Please contact Martin Pattison or David Toynton on 07774 988556 with any information.
[ Top ]
---
GoKart From France (04/08)
Dreamkarts International the UK's sole importer of the French GoKart racing chassis will be running a test day at Rye House for the new TXRM Champion Rotax Max kart on Wednesday the 13th of August. Anyone who wants to try it out should contact them on 0208 518 7744 or 07870 564 503/2 or just turn up on the day.
Dreamkarts International are also looking agents for GoKart racing chassis in the north and other areas of the country, anyone interested should contact them on the above number. All enquires will be treated with complete confidentiality.
[ Top ]
---
The UK F1 Drivers Challenge (31/07)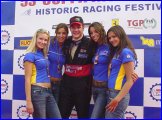 For Mark Johnson, the 2003 winner of the Exchange & Mart backed UK F1 Drivers' Challenge, it was a dream come true. His prize was a drive in the FIA European Thoroughbred Grand Prix, for historic F1 cars, at Monza in Italy earlier this year, and starting from the back of the grid Mark drove a fantastic race and in doing so secured a seven-year management contract with Essentially Sport and is now looking forward to a career in motorsport.
Want to follow in Mark's footsteps? If you believe you can then read on. More...
[ Top ]
---
Bridgestone YDS DR5 Tyres (30/07)
Biz Karts have advised that they now have large stocks of Bridgestone YDS DR5 tyres available to competitors. The N4SKRA have confirmed that currently competitors are free to use these non-NFA marked tyres. Contact Biz on 020 8443 3300 for further information.
[ Top ]
---
Rowrah's 40th Anniversary (30/07)
Rowrah celebrates its 40th anniversary on the 9th/10th August with an exciting schedule. Saturday will be given over to static displays including a classic Williams F1 car, a World Rally Ford Focus courtesy of M Sport, the leading car in this year's Alfa Romeo championship, classic rally machinery and a factory racing car from TVR at Blackpool. On track displays will come from MiniMoto and SuperMoto bikes and various racing machinery, as well as the normal club kart practice that includes the WTP Challenge, and might even feature a grid of junior gearbox drivers. There will also be a VIP opening on Saturday of the new clubhouse which has now been completed, and which went down very well at the recent Stars of Tomorrow meeting.
Sunday will be the WTP Challenge raceday in conjunction with the normal race meeting, although special trophies will be awarded to the winner in all classes!
Admission is £4 per day for adults, children under 16 free. Entries available from Marion Fell on 01229 463748 and the usual address.
[ Top ]
---
European Superkart Championship (29/07)
The 2003 CIK-FIA European Superkart Championship, which began in Spring in the Moravian city of Brno in the Czech Republic, has its second and concluding round at Donington Park on 8, 9 & 10 August 2003, with free practice sessions for the Superkarts on Friday, qualifying on Saturday and the main action on Sunday. The meeting also includes a round of the FIA Sportscar Championship with a 2.5 hour race on Saturday afternoon, and on Sunday there's a round of the FIA Championship for Thoroughbred Grand Prix Cars (historic F1) and a round of the Euro 3000 (F3000).
The entry lists for Donington comprise of 59 drivers (27 in Division 1 and 32 in Division 2), and seven different nationalities are represented (Great Britain, France, Germany, Sweden, Denmark, Norway and the Czech Republic). Frenchman Damien Payart, twice the winner in Brno, is in with the best chance of winning the title in Division 1 (twin-cylinder Superkart category), but expects stiff competition from his fellow countryman François Vinualès and from Britain's Martin Hines - the four times World Champion and reigning European Champion, as well as Mark Owens who still has an outside chance of the title. There's some good racing in prospect with many Championship outsiders keen to achieve at least one victory, including 60 year old Swedish veteran Bobo Westman (currently lying 5th in the Championship), British driver Graham Barker, the Dane Poul Petersen and Sweden's Thomas Johansson, as well as the Franco-British driver Steve Edwards.
In Division 2 (single-cylinder engines), it should be a straight fight for the title between Andrew Agnew from Northern Ireland (twice the winner in Brno) and the Czech Michal Bartak, although several front runners of the 2002 European Championship who were absent in Brno are also likely to feature prominently, namely John Riley, Peter Lazzari and Malcolm Crowe, and if they cannot win the 2003 European crown they will at least want to do well in front of their home crowd and race for the full 13 laps, unlike in 2002 which had a premature end for many involved in a pile-up at the very first corner!
The results of the Donington event will be available during the event on the CIK-FIA website.
[ Top ]
---
Swiss Hutless (23/07)
The new Swiss Hutless website is now fully operational, containing information on the Swiss Hutless chassis, spares and equipment, including a catalogue available as a PDF file. Visit www.swisshutless.com for further details.
Swiss Hutless UK have also announced the appointment of DF Motorsport as south of England agent for the full range of Swiss Hutless Kart chassis's, spares and equipment, including Swiss Hutless clothing. A full comprehensive stock of spares will be carried to most major UK races. For further details and a free brochure contact DF Motorsport directly on 07789 640184 or 01189 470426.
[ Top ]
---
Midland Championships (22/07)
The Renault F1 Team is to offer prizes to rising British motor racing talents at this year's ultimate karting challenge: the 2003 Midland Championships. This prestigious annual race meeting, held at Rissington circuit, near Stow-on-the-Wold, is set to attract over 300 of the quickest kart racers from across the country. Past winners of the event include Jenson Button and many of this year's competitors will have the same burning desire become the next British F1 world champion.
The Renault F1 Team is set to encourage success by offering a healthy selection of branded team merchandise to the best drivers at this September's event. The Enstone-based outfit currently lies fourth in the World Constructor's Championship with drivers Fernando Alonso and Jarno Trulli - both of whom are former kart racers - is to encourage success by offering a selection of branded team merchandise to the best drivers at the event.
Event promoter, Chris Hartley, commented; "It's terrific that the Renault F1 Team are supporting young talent in this way. There will be an abundance of skilled racers contesting the 2003 Midland Championships, many of whom have the necessary drive and ability to progress to the top of the motorsport ladder."
For the first time ever, the September 6th-7th event is being filmed for SKY Sports television, giving the drivers and teams welcome national exposure. In addition to the high quality racing, there will also be a variety of track demonstrations, paddock displays and family entertainment to keep the spectators happy. Admission will be charged at just £10 per vehicle per day, or £15 for a weekend pass. For further event details, visit www.rissykartclub.com
[ Top ]
---
A Double & A Perfect Haul (22/07)
Mark Litchfield regained the Championship lead in Formula A following a double win at the weekend, whilst Riki Christodoulou kept himself firmly in the driving seat in the Formula JICA Championship after a perfect points haul, all at Little Rissington in the 4th round of the ELF-Hill House Hammond Super One MSA British Karting Championships. More...
[ Top ]
---
The Treehouse Trust (21/07)
Registered charity The TreeHouse Trust have organised a 3 hour pro-kart endurance race to take place at the Lakeside Karting circuit in Thurrock, Essex on Sunday 31st August. The cost per team for up to 6 drivers is £235, and after registration each driver will receive a sponsorship form and must commit to raising a minimum of £30. All equipment is supplied and up to 20 teams will be competing. The minimum number of drivers per team for this event is three, and the maximum six.
The TreeHouse Trust is an educational charity established in 1997 by a group of parents who all had children recently diagnosed with severe autism. Autism is a serious neurological disorder, which affects 1 in 110 children. It is still not known what causes autism and there is no cure.
If you would like to have some fun and at the same time help TreeHouse to help thousands of children with autism across the country then contact Simon for more information and bookings; tel: 01708 863070.
[ Top ]
---
UK Distributors Sought (21/07)
Following successful summers in France over the past 3 years French chassis manufacturer GMD Kart Racing are looking to expand into the UK market and are seeking an importer. Although not homologated for any MSA Championships, GMD Racing France would like to hear from businesses that can help them market their GMD marked chassis' for Rotax Max and Biland in the UK. Contact R.Malinconi on telephone number 0033 5633 833 26 or e-mail: r.malinconi@free.fr
[ Top ]
---
Selena Cup, Romania (18/07)
On the brand new Bacau racing track in Romania, the most modern circuit in Eastern Europe, the "Selena Cup" will be held on 15 -17 August 2003. It will be entered onto the CIK-FIA International Sporting Calendar and organised by AS Selena Motor Sport in cooperation with the Romanian Automobile Club - Romanian Federation of Automobile and Karting.
The following three categories will be eligible: ICA-J, FA and FC, and for this first event the organisers are offering some of the most valuable prizes in the history of Karting. The winners of each category will receive 5,000 Euros (€) and Drivers finishing in the following positions: 3,000 €, 1,500 €, 700 €, 500 € and 300 €, plus 500 € to the Driver achieving the fastest lap. With approximately 1.42 Euros to 1 Pound Sterling, it means there's over £3,500 up for grabs by our reckoning.
But that's not all, to encourage a high level of participation, the organisers have decided to offer start money to Drivers, which will cover their travelling expenses (fuel expenses), as well as accommodation and meals for the Driver and a Mechanic, for four nights beginning on Thursday 14 August. Since the number of participants is limited, the organisers reserve the right to select Drivers dependant upon their list of results. It's free of charge to enter and you have until 06 August 2003 to do so. For further information and for entries, please apply to the Organisers: Selena Motor Sport - Bacau. Tel: 0040 234 585 695, Fax: 0040 234 585 590, E-mail: selena_ms@rdslink.ro or to the Romanian Federation of Automobile and Karting (FRAK) Tel: 0040 21 2224 124, Fax: 0040 21 2224 123, E-mail: frak@dnt.ro
[ Top ]
---
Super One Visits Rissington (17/07)
Little Rissington, near Stow on the Wold in Gloucestershire, hosts the fourth round of the ELF-Hill House Hammond Super One MSA British Karting Championships this Sunday, 20th July, as the Formula One stars of the future battle for title glory, and while current karting sensations Riki Christodoulou (Sutton Coldfield) and Gary Catt (Thruxton) bid to hang on to their respective Formula JICA and Formula A series leads, on the very same day a few miles up the road at Silverstone the British Grand Prix will be taking place where the current crop of Super One karters hope to one day be racing.
In Formula JICA Christodoulou in particular has been on fire this season having only dropped 10 points from a potential 300. The West Midlander has shown his class at every circuit so far this season but he's being closely followed by Guildford ace Freddie Martin-Dye who is only 12 points adrift in second position. Jason Parrott (Crowland) has moved up to third in the standings following a very good weekend's work last time out at Three Sisters, near Wigan, but is only six points clear of Clay Pigeon race winner Jonathan Legris (Bournemouth).
Formula A was a tense affair during round three of the season at Three Sisters with arch rivals Mark Litchfield (Marston Montgomery) and Mark Rochford (Wincanton) renewing their heated battles from last season with a collision that ultimately handed the lead in the title chase to Catt. The Hampshire karter heads the standings 10 points clear of Litchfield with Ian Johnstone (Carluke) in third place a further six points shy. Benjy Russell (Wisbech), who had a very positive outing at Three Sisters, has moved up to fourth in the championship ahead of James Sutton (Corringham).
Practice ahead of the fourth round of the championships takes place on Saturday, 19th July, with qualifying scheduled to begin at 17.00. Sunday's on-track action gets underway at around 10.00.
Formula A points (provisional): 1st Gary Catt, 270pts; 2nd Mark Litchfield, 260pts; 3rd Ian Johnstone, 254pts; 4th Benjy Russell, 252pts; 5th James Sutton, 251pts; 6th Duncan Tappy, 249pts.
Formula JICA points (provisional): 1st Riki Christodoulou, 290pts; 2nd Freddie Martin-Dye, 278pts; 3rd Jason Parrott, 261pts; 4th Jonathan Legris, 255pts; 5th Jon Lancaster, 253pts; 6th James McCarthy, 249pts.
[ Top ]
---
Stars At Nutts (17/07)
Stars of Tomorrow drivers intending to race at Nutts Corner over the August Bank Holiday weekend are reminded that the Ulster Karting Club has organised special ferry fares for visiting teams using Stena Line. The special offers are not available through agents or directly from the ferry company. All details can be obtained on the club's web site www.ulsterkartingclub.com
[ Top ]
---
British 24 Hour (16/07)
Paul Bowler and Ted Poole have confirmed that arrangements are currently underway to stage The British 24 hour ProKart Endurance Race in late summer 2004. This will be a joint venture between PB Promotions Ltd and the EKC Ltd, supported by the N4SKRA. The joint organisational abilities will establish this event as the UK's premier endurance race and one, not to be missed. Information regarding the venue, date, entry fee and format, will be announced shortly.
[ Top ]
---
Practice & Race Before S1 (10/07)
As there is no August two stroke meeting at Buckmore Park, the BPKC Summer Championship Round over the weekend of Saturday/Sunday 19th & 20th July will be the last chance for Super One and Rotax Challenge competitors to race at Buckmore before the Super One Round on the 6th and 7th September and the Rotax Challenge Round on the 21st September. The 21st September also marks the 40th anniversary of the circuit and a special BPKC race meeting will be promoted, backed by the Kent Messenger Group.
Practice is available on Wednesday 16th July and Saturday 19th July between 10am and 4pm at £40 per Kart. BPKC members are entitled to a 10% discount! Overnight parking is available on Saturday 19th July at £10 per vehicle.
The Circuit's new Clubhouse is now fully operational and all competitors and their families are welcome to use its ground floor facilities including the cafeteria, showers and toilets. For further information contact Sheila Rose on 01634 201562, extension 210. The BPKC now has on-line race entry and membership forms available by clicking here.
[ Top ]
---
Rowrah's August Extra (10/07)
Cumbria Kart Racing Club are putting on a support race for the mixed Cadet classes during the Super 4 meeting on 16th & 17th August.
The races will not count towards the Club Championship and are aimed at the newer people into the sport as many of the 'old hands' will be at the Whilton Mill O Plate. The first 30 cadets entered will have three heats and a final and race for some special prizes rather like the mountain bikes and remote control cars we had last year. Entry will be a special one-off fee of £25, with a once only and never to be repeated pre-race practice rate on Saturday 16th. Entries to Marion Fell, 50 Newton Road, Dalton-in-Furness, LA15 8NF please.
[ Top ]
---
MAXXIS Formula TKM Festival (09/07)
Regulation packs for the MAXXIS Formula TKM Festival commencing August 09 at Kimbolton have now been posted to more than 400 karters for what looks sent to be another bumper event. The regulation booklets have been sent to all of this year's S1 TKM competitors as well as those who took part in the festival last year. Further packs have also been sent to those requesting them.
Any other drivers wanting packs should send a 42p stamped addressed large envelope to Alison Parker, 17 Sandy Close, Wellingborough, Northants, NN8 5AY. Entries should also be sent to this address.
This year's event takes a slightly revised format and includes timed qualifying for all drivers counting for points, three heats and a pre-final and final. Drivers will get extra time on track with the most racing ever at the Festival. The prize fund tops £5000 and the event will be featured on Sky TV and around the world to more than 200m homes. Classes racing include the three main 2-stroke classes as well as veterans and heavyweights. Four-strokes will also race in Junior and Senior sections.
[ Top ]
---
Sizzling Summer at 3 Sisters (07/07)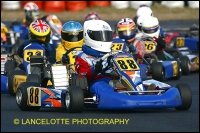 This summer, MBKC welcomes a panoply of visitors to 3 Sisters, Wigan the fastest kart circuit in Britain. Events kick off July 27 with the Gold Cup, and continue with the Rotax Max Cup on August 31 and the ABkC Open Championship for Gearbox classes on September 28. All club championship classes are catered for at each meeting.
The prestigious Gold Cup will see Comer Cadet, all Rotax Max classes (including the heavy 175), TKM classes and 100 National racing on the awesome Valley circuit, whilst the gearbox classes (125 and 250) get their only opportunity in 2003 to race on the full 1500m international circuit - longest short circuit in Britain.
In August all four Rotax Max classes compete in the largest Rotax Max event in the North for the largest cups you have ever seen! Super 4 visits with the final round of the short circuit 250 championships. Races for all regular MBKC classes as well.
September 28 brings the ABkC Open Championship to 3 Sisters with events for 125 Open, National 125 and 250 National. 250E also visit to compete for the Hesketh O plate and the 210 Challenge visit as well for a feast of short circuit gearbox karting round the Perimeter circuit. Races for regular MBKC classes on the Valley circuit as well.
A sizzling summer at 3 Sisters for gearbox classes, 3 races on 3 different circuits. A sizzling summer at 3 Sisters for direct driver classes, with the best of competition in 3 races on 2 different circuits. For more information, regulations and entry forms see http://mbkartclub.com
[ Top ]
---
A Better Deal For Karters (04/07)
Autosport International 2004 will open its doors on 8-11 January at the NEC in Birmingham, bringing further support and more good news for karting and the grassroots of motorsport. The National Motorsport area will return in 2004 to build on the foundations of last year's success, with some exciting changes in store. The area will introduce a "try and buy" initiative, allowing karters to try out equipment on the indoor kart track before they part with their cash. Kart manufacturers will also have the opportunity to showcase their newest machines in the Kart Manufacturers Pavilion for the first time.
A unique karting display, adjacent to the indoor karting track - linking the karting area and the track in Halls 11 and 12, will be another new attraction to National Motorsport. More details will follow soon. Motorsport News will once again enhance this area with a platform and focal point for National Motorsport. Set to star celebrity drivers from both national and international arenas, visitors will enjoy chatting with experienced drivers and future stars alike.
To help the pockets of future racing stars, Autosport International 2004 will be offering an exclusive reduced entry price for karters. Kart National and International A&B licence holders will pay just £6.00 to get in on Saturday or Sunday. Further special ticket offers will be leafleted at kart circuits and via trackside banner advertising.
There's even more good news for karting companies, with the introduction of new sales packages, allowing exhibitors to choose between showcasing on just the two consumer days on Saturday and Sunday or all four days, including trade on Thursday and Friday. Contact Haymarket Exhibitions for further information about special karting rates for two or four days, or the Kart Manufacturers Pavilion.
Once again, National Motorsport will feature the Constructors Pavilion and Club Motorsport - these areas will highlight possible paths of opportunity, especially for karters looking for career guidance and support as they graduate from the junior ranks into both national and international arenas. Club representatives from across the national championships will be on hand.
The Karting area and National Motorsport will continue to be promoted as 'the' place to find out how to get started in motorsport - at all levels.
[ Top ]
---
CIK-FIA Committee Meeting (01/07)
The Executive Committee of the CIK-FIA met on 24 June 2003 in Paris and in view of the current world economic downturn decided to reduce the number of meetings for 2004 by grouping several Championships together, as shown below. It will be mid October 2003 before circuits and organisers are known.
The Formula A World Championship will be one single event run over the weekend of 24-26 September 2004. The Formula A European Championship will be reduced to three events with the first two rounds run at meetings also hosting the 125cc Gearbox European Championships (ICC & Super ICC) on 14-16 May and 25-27 June 2004, and the third and final round topping the bill with the European Junior Championship Final on 20-22 August 2004. The European ICA Championship Final has been scheduled for 03-05 September along with the Super ICC World Cup and the final round of the European ICC Championship. The three European ICA and Junior Championship regional qualifiers that were introduced in 2001 will continue as before and will take place on 10-11 July 2004.
It is expected that other CIK-FIA Championships, Cups and Trophies (Asia-Pacific & PanAmerican Championships, Viking Trophy and Monaco Kart Cup) will continue as before.
The Executive Committee also rejected a proposal from the Manufacturers' and Technical Committees to modify the regulations from 01 January 2004 of the Formula A, ICA and JICA classes and in doing so reconsidered its decision earlier this year to introduce rev limiters in ICA and JICA and to impose on-board starters in JICA.
There'll be no changes for 2-stroke engines technically due to the imminent appearance of 4-stroke engines. The homologation of these 4-stroke engines will begin at the end of May 2004, with their introduction into the World Championship scheduled for 2005.
The Committee also unanimously voted for the updating of Circuit Regulations and the introduction of a grade D licence in addition to the current A, B and C licences. The grade D circuit licence is designed to meet the requests of countries emerging in Karting, in order that they may initially launch and develop with less powerful karts, 15HP or under.
[ Top ]
---
Superb New Clubhouse (30/06)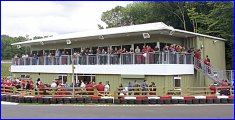 Buckmore Park Kart Circuit's new Clubhouse features the very latest in design technology. Both floors of the spacious, multi-functional building are packed with state-of-the-art equipment. Facilities on the ground floor include an 85-seat cafeteria/restaurant, product display arena for up to 180 guests, toilets, disabled facilities, showers, changing rooms, medical centre, lift, outside viewing terrace and access to the circuit via a corporate pit lane. Audio-visual facilities include a terrestrial/satellite TV and a bank of monitors displaying lap-by-lap race action.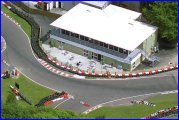 Designed primarily for corporate and group use, the first floor incorporates a 200-seat conference/briefing room, toilets, full corporate catering facilities and a bar. Large folding acoustic screens allow the area to be divided into smaller hospitality suites or meeting rooms, each of which is bathed in natural light and has independent access to a balcony offering outstanding panoramic views of the circuit. Audio-visual equipment on the first floor includes a large plasma screen, TV, VCR and DVD units, a built-in light and sound system. There is also the facility for access to the Internet.
The new venue offers the opportunity to combine a business meeting, product launch or conference with a karting or multi-activity event, and is also ideal for stand-alone events. For further details, please contact Dawn Wymark on 01634 201562 ext. 203 or e-mail: dawn@buckmore.co.uk

This is the first of many exciting developments at Buckmore Park that are scheduled to begin later this year and next. Further information will be available in about two months time, so watch this space.
[ Top ]
---
Chassis Setup Book (24/06)
With the Kart Chassis Setup Technology book continuing to be their best-selling kart publication, Steve Smith Autosports the California based publisher is now planning to start work on a new karting publication and series of videos with Jim Hall, author of the Kart Driving Techniques book and owner of the highly respected Jim Hall Kart Racing School, the longest running kart racing school in America. For more information on Steve Smith Autosports popular Chassis Setup and Driving Techniques books and other auto racing publications click here.
[ Top ]
---
NFA Championship (20/06)
Zip Kart are supporting NFA Championship drivers by reducing the cost of Bridgestone NFA YDS Slicks and Bridgestone YDK Wets.
Martin Hines stated, "The 4-stroke arena is a very valuable market for us, and indeed, the Bridgestone YDS and YDK tyres were developed for Zip Kart specifically for this type of market, where quality, performance and durability are the premier ingredients. To ensure that our support for this arena of karting goes directly to the competitor we have reduced the price by £6 on a set of slicks and £10 on a set of wets."
[ Top ]
---
Engineers, Designers, Petrol Heads (19/06)
Do you have what it takes to transform a 25 year old banger into an awesome 25 foot long stretched car and then race it around a 5 mile track? If the answer is yes then you might be needed as Leopard Films are seeking contestants for a new Thunder Races series they are making. Thunder Races is a high adrenaline engineering challenge television series for Discovery and Channel 4 and they are looking for teams of 3 to apply now.
Series 1 was shown on Discovery last year and was a storming success worldwide and filming is about to start on series 2, so if you want to apply you need to do so immediately. Call Andy on 020 8233 2924 or e-mail andyclarke@leopardfilms.com for more information.
[ Top ]
---
Super Two at Warden Law (18/06)
Paul Wilkins did the double last weekend by winning the Honda Senior class and also taking the Libre with his Biland. Other winners were Jordan Chamberlain in Honda Cadet and Jake Clifford in Honda Junior. The TKM 4-Stroke victors were Michael Cox in Juniors and Chris Needham in Seniors.
[ Top ]
---
Rogues Help Cancer Charity (17/06)
Rogue Racing are a Pro Kart team currently racing in Paul Bowler's Pro Kart Endurance Championship at Sandown Park and Daytona International, but next month they are venturing across the channel to take part in the Le Mans 24hr Kart race on 5th & 6th July 2003 in an effort to raise as much money as they can for Cancer Research UK. "This will be the first time we have taken part in this event" said Aidan Kirwan (team principal), who along with the rest of the team is very proud to be racing on behalf of such a worthwhile charity. "We are a clubman's team who still enjoy the fun element of karting and would like to thank all those who have supported us including Zip Kart, Kart Smart, HIFX Windsor and Waitrose" added Aidan. Anyone wishing to help the team to reach their target for Cancer Research UK can e-mail Aidan at kirwan@waitrose.com
[ Top ]
---
Cadet & Junior Manx Kart GP (16/06)
As a follow-on to the 2003 Manx Kart Grand Prix being held at the legendary Peel 'round-the-houses' circuit, the Isle of Man Kart Racing Association are staging the 2nd Cadet & Junior Manx Kart Grand Prix. The event is being held at the Jurby Race Circuit on Sunday 29 June.
The event will be a tremendous opportunity to see some of the racing stars of the future take to the track, racing at speeds of in excess of 60mph. With over 30 young competitors taking part from both the Isle of Man and the UK, it promises to be a great day. In fact, the racing is often so close that it makes Formula 1 look positively boring! The action starts at 11am, light refreshments are available and best of all, entry is free.
Finally, the organisers would like to remind competitors that entries must be received by no later than 22 June. If you would like any further information, please call Steve Graves on 01624 817353 or 07624 498818.
[ Top ]
---
Christodoulou's F1 Test Visit (12/06)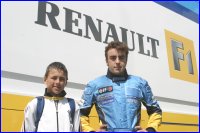 Sutton Coldfield karting ace Riki Christodoulou was one of a handful of special guests invited by Renault UK to join the Renault F1 Team at an official Formula One tyre test at Silverstone last week. The rare opportunity for the 14-year old to see behind the scenes of a top Formula One team in action was made possible by Renault UK's Director of Press & PR Tim Jackson who also invited leading drivers from the Formula Renault UK Championship and ELF Clio Renaultsport UK Cup.
Riki currently leads the Formula JICA category of the ELF-Hill House Hammond MSA Super One British Karting Championships, having only dropped 10 points from a maximum 300 so far this season, and he's seen as one of the true potential stars of the future. Not only did Christodoulou get an opportunity to see behind the scenes of the Renault F1 Team in action, he also received a full guided tour of the pit garages and had the chance to meet Renault F1's Spanish star Fernando Alonso.
Commenting on his exclusive day out with the Renault F1 Team, Riki said: "I had a really fantastic time at the test and it was excellent getting to see so closely behind the scenes of a leading team like Renault F1. I was surprised at how close we were allowed near to the cars while they were in the garages and it was brilliant being able to meet a top driver like Fernando Alonso."
Formula Renault UK Championship Manager Simon North said: "The entire day with the Renault F1 Team was superb and I'm delighted that all of the drivers we invited enjoyed themselves and found the day a real benefit. We're pleased to be able to allow opportunities such as this for some of our competitors, and also for young karters such as Riki, as Formula One is obviously the pinnacle of motorsport and where most young drivers aim to progress to." The picture shows Riki Christodoulou with Renault F1 Team driver Fernando Alonso at the recent Silverstone F1 test day.
[ Top ]
---
Stars of Tomorrow Round (11/06)
The Hunts Kart Racing Club (HKRC) have confirmed they advised Stars of Tomorrow at the beginning of April that it would not be able to fulfil its obligation to run the scheduled event, thus giving Stars of Tomorrow 5 months notice of the facts, and 5 months to re-arrange the event.
"Due to a Huntingdon District Council Local Authority Planning issue HKRC would not be able to run the Round and at no time since has the answer been any different" said HRKC Competition Secretary Gary Parker. The HKRC have always wished to run the Round but were not aware of the planning issues when Round 7 of the Stars of Tomorrow Championship was accepted, and they say they still would have organised it if planning issues had been resolved. However, as it stands at present HKRC would be breaking the law and run the risk of being closed down if they were to run the Round now.
Gary Parker further commented; "It is an unfortunate situation but one that has been unavoidable and the notice issued in the club program was done in the knowledge that Stars of Tomorrow had been advised on 2nd April regarding this issue," and he added that "the forthcoming TKM Festival in August was agreed 12 months ago and does not in any way conflict with the planning issues that we are dealing with due to the fact that it takes place on the 2nd Sunday of the month which is when we race each month, unlike Stars and S4."
[ Top ]
---
Stars Round Date Change? (09/06)
Round 7 of the Stars of Tomorrow Championship due to take place at Kimbolton over the weekend of 27th & 28th September will not take place and Championship Director Carolynn Hoy is seeking legal advice over the postponement.
After receiving notification recently from Kimbolton saying that it was no longer possible to run on these dates Hoy said; "Stars of Tomorrow have a signed contract with Kimbolton and we are currently negotiating with the circuit as the round is important to us. We are therefore extremely distressed that a notice appeared in the programme of the Kimbolton Club meeting at the weekend which informed 'drivers concerned' that the Stars of Tomorrow September meeting (and Super 4 August meeting) has been cancelled."
Hoy was appalled at the insensitivity of the 'cancellation notice' appearing in the Club's programme, effectively advising competitors of changes in her Championship, and she questioned why Kimbolton ran Super 1 and intends to run the TKM Festival when a club spokesman advised that a long standing planning problem made it necessary to cancel all meetings except Clubbies.
Hoy concluded; "If, and when, there are to be any changes to Round 7, I will notify our competitors accordingly and in a professional manner. In the meantime, I am consulting my lawyer."
[ Top ]
---
Summer Kart School (05/06)
Playscape Racing are launching a weekly summer kart school at their popular indoor track in south west London for 8 to 16 year olds, led by Martin Howell, their Managing Director and Senior Instructor who reports that many youngsters have already signed on.
Commencing on 30th July, visits from stars such as 2000 World Kart Champion Colin Brown, former European Formula A Kart Champion and McLaren rising star Lewis Hamilton, and Motorsports Motor TV commentator and Atomic Kitten Touring Car Driver Gareth Howell are expected. Scheduled to run on six Wednesday mornings during the school holidays, those attending will be able to put into practice on the track what they learn in the karting classroom and further information can be found on the Playscape Pro Racing website.
[ Top ]
---
Surrey Karting Ace At Thruxton (30/05)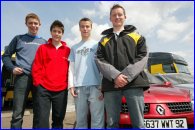 Formula JICA karting sensation Freddie Martin-Dye (Shamley Green) took a glimpse into his future during the Bank Holiday weekend when he was invited as a guest of the Formula Renault UK Championship to attend round four of the series at his local track, Thruxton.
The 14-year old, who at the halfway point of the 2003 ELF-Hill House Hammond MSA Super One British Karting Championships is a comfortable second in the JICA category, visited the Hampshire circuit to get a first-hand look at the UK's premier junior single-seater category and also meet some of the championship's top drivers. Martin-Dye watched as Fortec Motorsport's James Rossiter (Oxford) took his first win of the season to move into third in the championship and Freddie also got the opportunity to meet ex-karting stars, and current Formula Renault frontrunners, Paul Di Resta (Bathgate, West Lothian), Alex Lloyd (Port Soderick) and series leader Mike Conway (Sevenoaks).
Speaking on his exclusive day out at the races, Freddie said: "I had a really great time as a guest of Renault and it was fantastic meeting up with Paul, Alex and Mike who all started their careers racing in karts like I am now. "It was a very exciting race to watch and Formula Renault is where I'd like to be when I'm old enough. It's the best single-seater category in the country and it's the ideal step up for karters, like me, who would like to eventually race in Formula 3 or even Formula One which is what I'm aiming for."
Simon North, Formula Renault UK Championship Manager, commented: "We were delighted to welcome Freddie to Thruxton as our guest and it's always good to give talented karters an inside look at a category like Formula Renault. We recognise that people like Freddie are the Formula Renault champions of the future and as such it was a pleasure to give him this opportunity."
Picture shows Freddie Martin-Dye (second left) meeting Formula Renault UK hotshots Paul Di Resta (left), Alex Lloyd (second right) and championship leader Mike Conway during round four of the series at Thruxton.
[ Top ]
---
Super Two At Llandow (28/05)
The Super Two double header took place in south Wales at the Llandow circuit over the May Bank Holiday weekend and resulted in Paul Wilkins (Wright) winning both Honda Senior finals, Simon Mills (MS) cleaning up in Honda Juniors, Liam Clifford (MS Biland) won both Libre Invitation races and Chris Needham (CRG) won the TKM 4-Stroke Senior finals on both days. In Honda Cadet the winners were Lewis Reeves (LRG) and Ryan Denton (Bowman) and in the TKM 4-Stroke Junior class the victories went to Tom Griffiths (KCR Jade) and Michael Cox (KCR Jade).
[ Top ]
---
Formula TKM 4-Strokes (23/05)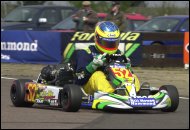 Tal-Ko Racing are organising more test days for those wanting to try their trend setting 4-stroke engine. Juniors and Seniors will be able to test during July at various venues. Details of venues are currently being finalised and will be decided in line with where most people are coming from. A nominal charge of £30 will be put on the tests - refundable against the cost of buying equipment.
Says Tal-Ko Racing MD Alan Turney: "The last time we did such days they were very successful and we have plenty more requests from drivers wanting to sit in the karts." Those interested should register their requests to Tal-Ko Racing at email info@tal-ko.com or tel: 01767 682020 / fax: 01767 691622.
Tests for the new 2004 style TKM 2-stroke outfits will be scheduled for later in the year.
[ Top ]
---
Catt & Christodoulou Ahead (20/05)
Gary Catt and Riki Christodoulou lead the Formula A and JICA classes respectively of MSA Super One championships after the weekend's action at Three Sisters, near Wigan and in doing so have won a visit to a forthcoming Formula One test at Silverstone as guests of Renault UK. Catt now leads FA by 10 points from Mark Litchfield whilst Christodoulou maintains a 12 point lead over nearest rival Freddie Martin-Dye. More...
[ Top ]
---
Surtees Visits Rowrah (14/05)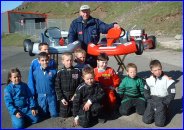 The only man ever to win World Drivers' Championships on two and four wheels, former Formula 1 star and bike legend John Surtees was in attendance at Rowrah last Sunday, watching his son Henry race in advance of the Stars of Tomorrow meeting in July.
He was also interested and impressed with the new karts bought with grant aid on behalf of the Racing for Buttons scheme. John has been looking at introducing a similar scheme at Buckmore Park, as he has been impressed with the standard of driver coming through the ranks at Rowrah. He sees it as an ideal opportunity to get parents involved in the sport in order to protect its future against environmental pressures.
John is pictured with some of the Racing for Buttons drivers and the two new machines.
[ Top ]
---
European Formula A Round 1 (14/05)
Team Simpson International driver, Ian Johnstone (16) from Carluke had a fantastic start to his European Championship season on Sunday, beating stiff competition from some of the world's top international kart drivers. With 85 drivers from 4 continents competing, Ian took well to the French circuit of Angerville just south of Paris, qualifying fastest in group and 5th overall with a time of 48.917.
After 4 gruelling heats he lined up grid 8 for race one. Paul Lemmens (karting mentor for Jenson Button and Jos Verstappen) commented "he used his head well and kept calm, he has good tyres for the final." Two long finals followed over 50km with the young East Lothian driver coming in strongly 12th and 11th respectively. Johnstone is now ranked 10th in Europe.
Ian said after the finals "The Birel - TM - Bridgestone combination worked well all weekend. It was so easy to drive and we could get our tyres to last so well. I feel so much more confident after this result and I will be looking for a podium position in Finland." Team Manager Michael Simpson comments "I am very pleased with Ian's performance this weekend, he has showed maturity beyond his years". He went on to say "Now the professional drivers from Super A are racing in the same class it makes things much harder for the young guys. This result must now put Ian up with Europe's elite young drivers." Rounds 3 and 4 are to be held in Alaharama, Finland on 6-8th June.
[ Top ]
---
Southern Championships (13/05)
FEKC host the Southern Championships this year over the weekend of 31st May & 1st June. The format will be the same as last year with practice on the Saturday morning, 2 heats and a Final on the Saturday, then 3 heats and a Final on the Sunday. The overall result of the 2 Finals will determine the Champions for 2003. Get your entries in quickly as it's reported that places are going fast. Check out the website www.fekc.co.uk or telephone the Competition Secretary Joy Bryceson on 01256 893663 for details. All entries should be sent to FEKC Comp Sec. by 24th May.
[ Top ]
---
Super Two At Larkhall (07/05)
The Summerlee Raceway in Scotland hosted the opening round of the Super Two championships on 4th May which saw some fine racing in unpredictable weather. More...
[ Top ]
---
Attention Stars of Tomorrow Drivers (06/05)
Round two of the BPKC Summer Series at Buckmore Park on 18th May will be the last chance for Stars of Tomorrow drivers to race at the circuit before their round in early July (due to clashing dates in June). Practice is available on Wednesday 14th and Saturday 17th May. For further information, contact BPKC secretary Sheila Rose on 01634 201562 ext 210, or via email to chris@buckmore.co.uk
[ Top ]
---
Wins for Catt, Litchfield, Legris & Christodoulou (28/04)
Inclement weather and unpredictable action made for an enthralling weekend of karting at Clay Pigeon, Dorset, on Sunday as the ELF-Hill House Hammond MSA Super One Championship resumed for its second outing of 2003. More...
[ Top ]
---
MSA S1 Returns To Dorset (22/04)
Mark Litchfield (Marston Montgomery) and Jon Lancaster (Pudsey) will be looking to extend their respective Formula A and Formula JICA championship leads when the 2003 ELF-Hill House Hammond Super One MSA British Karting series resumes at Clay Pigeon, Dorset, on Sunday, 27th April.
During an action-packed first Formula A round at a damp and overcast Larkhall in Scotland last month, a hard-charging Litchfield overcame a first corner incident in the initial points scoring final to claim third position before taking a welcome victory in final two. Final one race winner David Gregory (Sheffield) will be hoping to continue the good form he enjoyed during the first round of the season while local interest will centre on reigning Formula A Champion Mark Rochford (Wincanton). Rochford will be aiming for a reversal in fortunes at Clay Pigeon after enduring a difficult weekend north of the border last time out. Sixth position in race two was the best he could manage during round one and he currently sits in 12th position in the standings.
In Formula JICA it was Jon Lancaster who was the most consistent driver of the day at Larkhall having backed up his second place in final one with a win in final two. However, going into the second round of the season his championship lead is a mere two points from Sutton Coldfield's Riki Christodoulou after the latter's win and third place. Jonathan Legris (Bournemouth) is currently third in the Formula JICA championship, seven points shy of Lancaster, after taking a fifth place and a second last time out while Dorset's own Richard Puddle (Wimborne) will be aiming to build on 16th position in the standings.
[ Top ]
---
To Find An F1 Racing Driver (19/04)
Some months ago the Exchange & Mart publication launched their 2003 UK F1 Drivers' Challenge, designed to test competitors skills in all that is required of a Formula 1 driver with the aim of finding a potential Formula 1 champion of the future. From the thousands that registered their interest, 1000 were selected to contest the first stage and on Easter Monday evening, 21st April at 20.30 (8.30pm) the first of a six part series is being screened on Channel 5.
Be A Grand Prix Driver follows the action, the joy and the heartache of F1 wannabees as the thousand are whittled down over 6 rounds to leave one winner who will get a drive in a Tyrrell 012 in the FIA European Thoroughbred Grand Prix (for historic F1 cars) at Monza in Italy on 25th May 2003. The judges included Tiff Needell, Tim Matthews and Martin Stretton and the programme will be presented by Vicki Butler-Henderson and current Formula 1 driver for B.A.R. and former British kart champion Jenson Button.
[ Top ]
---
2003 Ulster Cup (17/04)
Kart racings Ulster Cup series of races at Nutts Corner Motorsports Centre has got off to a rapid start this season with three rounds of the championship already over. With capacity grids in some classes, the series looks likely to be the best supported Ulster Karting Club championship in recent times. Click here for Championship reports.
[ Top ]
---
Lyell Has The Drive (17/04)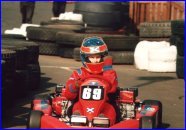 Young Scottish Pro-Kart racer Martyn Lyell (13) named in works team line-up for 7Kart had his debut race in early February in his 7TDB Junior Pro-kart and certainly appears to have the drive for success after putting together a string of impressive results, including winning his first ever MSA race, and some impressive front-running performances against the established front runners and works stars in the S2 warm-up meetings at Larkhall and Warden Law, and all this while he was a novice and starting from the back of the grid.
His performances impressed Neil Dodson of 7Kart so much that Martyn will now join the 7Kart team as a works driver for the S2 Championships this year. Martyn joins the team as number two to current junior Pro-Kart star Chris Lipscomb, who finished 6th in last year's series.
Neil Dodson of 7Kart explained, "With Chris's talent and experience, I believe we have a very good possibility of winning the championship. What we see in Martyn however, is a talent that we want to help develop this year, working with the team; we think it is a realistic proposition for Martyn to join Chris at the front of the field." Martyn is really excited to join the 7Kart team and says he is looking forward to racing on lots of different circuits.
[ Top ]
---
2003 European Superkart Championship (16/04)
Successfully revived in 2002, the CIK-FIA European Superkart Championship will comprise of two events this year, at the prestigious Brno and Donington Park circuits. The first visit is to Brno, the second largest city in the Czech Republic (25-27 April), then it's on to Donington Park in Derbyshire, England (8-10 August).
The long Brno circuit (5.4 km) has become a Mecca for motorcycle Grand Prix racing and has hosted several FIA motor sport championships; it will surely be unanimously praised by those Superkart drivers soon to discover it. At Donington (4 km), the European Superkart Championship will be integrated in a resolutely international competition that includes a round of the FIA Sportscar Championship, a round of the Thoroughbred Championship (historic F1) and a round of the Euro 3000 (F3000).
As in 2002, Superkarts are divided up into two categories: Division 1 groups together 250cc twin-cylinder karts (power of approximately 95 HP, for a total weight of 210 kg, driver included), and Division 2 brings together 250cc single- cylinder karts (power of approximately 70 HP, for a weight of 200 kg). 53 drivers representing 9 nationalities are entered in the first Championship round, 31 of whom in the top category. World Champion four times over in the 1980-90's (when Superkart was still called Formula E), the British driver Martin Hines celebrated his return to competition in 2002 with a European Champion title after nine years in retirement. Aged 56, Hines has proved that he's still the role model in that category and fully deserves his No.1 this season. However, his competitors are determined to give him a hard time. He's facing two generations; the older ones, whom he has known for at least 20 years, are led by the indefatigable Bobo Westman (60 years old!) and the former twice World Champion Poul Petersen (54 years old), and the younger generation, led by Britain's Mark Owens and the double French Champion Damien Payart, both of whom are 28 years old. For top positions or even a win, the Swede Johansson, French drivers Vinualès and Lozza, the Briton Barker and Germany's Huber and Breckwoldt must also be reckoned with. In the absence of the Englishmen who dominated the 2002 championship in Division 2, the continental drivers, in particular Germans' Wagner (the outgoing Vice-Champion), Kracht and Beck, or the Czech Michal Bartak on his home soil, seem to be the most likely competitors who will fight for victory. Finally, the fairer sex will rely on two representatives, with Sweden's Monica Strath in Division 1 and Germany's Kristin Breckwoldt in Division 2.
The results of the Brno event will be available on the CIK-FIA website at www.cikfia.com during the event.
[ Top ]
---
Clubman Drivers' Association (15/04)
The UKCDA (UKC Drivers Association) are currently putting together a database of drivers who may wish to join their own association and have some input as to how Karting is run rather than leave it all to the manufacturers.
As there are thousands of drivers in the UK an enormous volume of enquiries are expected, so please be patient as it may take a little while to process them.
It's requested that an email is sent to; ukcda@kemara.co.uk with the following information included: Name, email address, place of residence (town/city), engine and normal race venue(s). If you want to include your full address and contact phone number please do so but initial contact will only be made by email due to the number of drivers showing an interest, and also the fact that the cost of telephoning or writing via normal mail would be prohibitive and very time consuming.
It is intended that the UKCDA will send information by email within 28 days of receiving your enquiry, but they ask for you to please bear with them if there is a slight delay.
[ Top ]
---
David Lloyd Helps Youngster (15/04)
Andrew Potter, aged 11 from Westhoughton, near Bolton, is competing for the first time in this year's National Kart Championship, a series of six races at venues throughout the UK. To help build his strength and stamina, Andrew has secured the help of the David Lloyd Fitness & Racquets Club, Manchester who have provided a personal trainer who will work with him on a one to one basis to improve his overall fitness, and increase his chance of success.
Many kart racing teams and drivers spend considerable amounts of money, time and effort on equipment and testing, relying on these factors alone to find those extra fractions of a second per lap which can make a difference of several places by the end of a race. Fitness is often taken for granted, with the result that the benefits to be gained by seriously developing a personal health and fitness strategy are invariably overlooked. Simon Pritchard, the General Manager of the David Lloyd Club, Manchester was keen to help, "we were delighted that Andrew recognised the need to work at the less glamorous, yet essential, fitness regime required by a sportsman who strives for success, whatever his, or her, particular discipline."
[ Top ]
---
Kart Championships on TV (14/04)
TV coverage of the opening round of the Formula TKM National Championships held at Rowrah commences this week (14th April) on Sky Sports 2 & 3 within the Sports Unlimited programme, and there's many thrilling finals to be seen. As part of the Elf Hill House Hammond S1 series, every round of the TKM series is being screened on SkySports as part of an exclusive deal that will take coverage to more than 200million homes around the world.
On Channel 4 on Saturday 19th April, there's about 30 minutes of action from round 1 of the MSA Super 1 Championships that took place at the Summerlee Raceway, Larkhall, Scotland last month. Although there likely to be a few less than 200million tuning in this Saturday morning, those that do will witness some exciting racing, and except for you early birds, be sure to set the alarm clock or the video as the scheduled screening is at 07.00!
[ Top ]
---
Top Karters Converge On Kimbolton (14/04)
Many of Britain's top kart racing drivers will be heading for the Kimbolton race track near Huntingdon, Cambridgeshire this weekend, 19th & 20th April.
The Formula TKM National Championships are the closest fought part of the Elf Hill House Hammond S1 championships and more than 150 drivers will be competing over the Easter weekend at the Kimbolton circuit, one of the oldest in the UK but recently re-designed and upgraded. The drivers range from just 11 years upwards through to seniors - with most of them set on making motorsport their career.
The Formula TKM karts are entirely UK built using identical engines made 'just down the road' by Tal-Ko Racing at Sandy, Bedfordshire and as a result it has a reputation of nurturing the very finest drivers. The expanded race series this year has the added attraction of the ultra quick and reliable new TKM 4-stroke engine being included, marking a new path for racing.
The six round Championship will again have cameras from Sky Sports capturing the action. Commented Formula TKM organiser Grahame Butterworth: "The first round saw some fantastic racing and I'm sure the same pattern will be continued at Kimbolton." Qualifying takes place on Saturday with the main racing on Sunday.
[ Top ]
---
Buckmore Summer Series (10/04)
The 8 round summer series starts at Buckmore Park on the 20th April. Run to ABkC regulations, all classes are welcome and this year additional classes have been added for WTP cadet and Senior TKM 4/. Entry forms are available from club secretary Sheila Rose on 01634 201562 ext 210 or by email to chris@buckmore.co.uk Open practice is available on the Wednesday and Saturday preceding the meeting.
[ Top ]
---
London Kart Show (09/04)
A steering committee has been formed by four well known and like minded individuals, all with a common goal of providing an international shop window for Karting in the UK. The four are; Roger Sheffield - Chairman of Formula Six, ARKS Examiner and CoC; Ian Ward - Managing Director of Bayford Meadows Kart Circuit Ltd; Gerard Cox - Chassis manufacturer and race team director, and Philip Bunn - Managing Director of Primary Sport Management Ltd - Organiser.
To host the first exhibition Sandown Park Exhibition Centre has been selected, not only for its state of the art facilities, but also its location within the M25 and its close proximity to the M3, M4, central London and both major London airports. Waterloo is only 20 minutes away by train. It is expected there will be in excess of 70 exhibitors including Kart manufacturers, clothing and accessory suppliers, and with a chassis homologation due in January 2004, there will be plenty of new products on display.
In addition to the exhibitors, there will be a series of free hosted master classes specialising in different subjects. Topics will include chassis set-up, sports psychology, sponsorship, driving techniques as well as presentations on 'Taking the Myth and Mystery out of Engine Maintenance', and other thought provoking subjects! There are plans to build a themed area for clubs and championships to stage their award presentations from the summer season.
Philip Bunn, Managing Director of Primary Sport Management and principle organiser said, "Having spent a number of years involved in Karting, I believe that a professional exhibition is needed to consolidate and develop the sport. After all, it is common knowledge that many of our top drivers start in Karting and putting the message out on the street that it is fun and affordable can only help to bring more people into what is best described as an exciting way to spend your leisure time."
For further information on either visiting or exhibiting, telephone 01273 833884 or e-mail: info@londonkartshow.co.uk The London Kart Show at the Sandown Park Exhibition Centre, near Esher in Surrey will be held over the weekend of 13th & 14th December 2003.
[ Top ]
---
Buckmore Park Kart Circuit (02/04)
The recent unexpected closure of The Scout Association facility at Buckmore Park does not affect the circuit in any way. Buckmore Park Kart Karting Ltd. is a totally separate concern and the temporary closure of its neighbour is not an issue for them. So it's business as usual for the circuit who hope to have their superb new clubhouse open early next month.
[ Top ]
---
Shenington Winter Finale (01/04)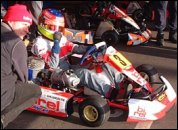 The sun shone for Sunday's final round of the Winter Series at the Shenington circuit near Banbury in Oxfordshire and Maranello racing karts & Maxter engines proved to be a winning combination for JICA and Super Libre with Freddie Martin Dye successful in the JICA final, and Jamie Croxford leading the pack home in Super Libre despite starting from grid fifteen, taking the win from Mark Litchfield on the last lap.
Congratulations too to Jon Lancaster on winning the JICA Winter Series championship, Jon tied up the championship on Sunday with a fifth place. "It has been a good start to the year for Jon, considering he only changed to the Birel chassis last November, a lot of time and effort has been put in by Jon and his team with intense testing over the winter months, but it is all now starting to pay dividends" commented Andy Cox, further adding that "a special thanks should go to Mark Rose, as not only did he do a fantastic job as Jon's mechanic but also was the brains and co-ordinator who organised the Winter Series for the all the JICA drivers and their associated teams."
[ Top ]
---
European Formula A (31/03)
11 kart racers from Gt. Britain and 1 from Ireland have entered to contest the first round of this year's CIK-FIA European Formula A Championship. Pippa Mann is the sole British female pilot and is joined by Ian Johnstone, James Miller, David Gregory, Ben Hanley, Alexander Sims, John Lockhart, Mark Litchfield, Gary Catt, Sam Quinlan and Martin Plowman, along with Niall Breen from Ireland. Click here for the 2003 CIK-FIA race calendar.
[ Top ]
---
Matchams Kart Club (31/03)
Despite many rumours to the contrary, Matchams Kart Club will be running race meetings in the upcoming season. Dwindling attendances, circuit surface deterioration, crippling increases in insurance costs and changes in the business organisation of the circuit owners, were all reasons thought to spell the end for this 'grass roots' club that has introduced so many new drivers to the sport. However, a meeting held last week addressed all the issues, and the outcome was a co-operative formed between the circuit owners and drivers which will organise the continuation of both racing and practice days, at least up until November when current insurance expires. Arrangements are progressing to commence activities again in April.
[ Top ]
---
IOM Award (26/03)
Isle of Man junior Honda driver, 15 year old Wesley Dowling, has been awarded the Tarlton Hodgson Scholarship by the Isle of Man Sports Council to help with his Kart racing in the Super Two National Championships in 2003. The awards will be presented by Steve Cram MBE, Chairman of the English Institute of Sport at The Hilton Hotel in the Isle of Man on 24th April, 2003.
Wesley will be in the best of company with Neil Hodgson (World Superbikes), Steve Hislop (British Superbikes), Doug Lampkin (World Trials Bikes), Steve Colley (World Trials Bikes), David Knight (World Enduro Champs), Alex Lloyd (Formula Renault Champs) plus dozens of top athletes that either were born on the Isle of Man or live there and represent the Island at top level sport all over the world. Wesley would like to thank everybody who has helped him up to now including LRG Karts, ASM Engines, G & C Motorsport and JAK's Bar and Restaurant on the Isle of Man and all the other junior Honda competitors he has got to know in the UK.
[ Top ]
---
Midland Championships (24/03)
This September, Rissington Kart Club is set to stage the biggest, most ambitious event in its 40-year history, with the first ever-televised Midland Championships.
During the winter break, the club has been working on plans to film the event, which runs over the weekend of 6th & 7th September, with Frank Johns Associates and their production associates Pro-Active Television. As the largest producer of televised karting in the UK, Frank Johns Associates is an expert in the field and already has ongoing commitments to the Super One Championship and the AbkC Formula TKM Championship, amongst others. The end result of the project will be a thirty-minute highlights show, to be aired on SKY Sports television, with the programme set to feature the best of the weekend's action, driver interviews and some behind-the-scenes footage.
A spokesperson for the club commented; "Securing national TV coverage of this year's event is a major coup for Rissington. It's part of an ongoing effort to reinvest in the club for the benefit of members and to raise our profile, so that we can continue to attract new members and new sponsors. The championship has already developed into a major, national karting event over the past few years, but televising this year's contest will really boost its status to the level it deserves. Ultimately, we want this event to be regarded as the one unmissable race meeting on the British karting calendar."
The club is confident that, together with several other plans that are being worked on, the presence of TV cameras at Rissington will help to attract a record number of entries and spectators. The club is also working to secure sponsors for the 2003 event, and is offering businesses a variety of options, including full event sponsorship, class sponsorship, trackside banners/hoardings and advertising space in a special full-colour race programme. To discuss sponsorship opportunities, please call Chris Hartley on 07730 420812, or e-mail chris@connect-group.com
For further information on this year's televised championship, look out for regular updates on www.rissykartclub.com
[ Top ]
---
Free Club Membership (20/03)
With the summer championships approaching, Lydd International Raceway and Kent Kart Racing Club are giving Gearbox drivers free membership for the 2003 season in order to promote their classes at the circuit and the club. The Club's race dates and contact information can be found here.
[ Top ]
---
Monaco Kart Cup (20/03)
Due to redevelopment work that will be taking place around the harbour area affecting the Formula One circuit, the scheduled 9th running of the Monaco Kart Cup in October 2003 has been cancelled. It'll be sad news for the Brits as this popular event had 9 GB teams running in last year's endurance race, won in 2002 by an Italian team that included current Club 100 racers Luigi Mazza and Giuseppe Ferro in their line-up. The next Monaco Kart Cup event will be held in October 2004.
[ Top ]
---
Top Kart Racers Head For Cumbria (19/03)
Many of Britain's top karting racing drivers are heading to Cumbria this weekend for the opening round of the race series that could lead them on the route to Formula 1 stardom. The Formula TKM National Championships are the closest fought part of the Elf Hill House Hammond S1 championships, the series which has produced F1 drivers like David Coulthard and Jenson Button. More than 150 drivers will be competing over the weekend of 23rd & 24th March at the Rowrah kart track in junior and senior classes starting from just 11 years old.
The Formula TKM karts are entirely UK built using identical engines which puts real pressure on the drivers to get the very best from their equipment and from their driving. As a result it has a reputation of nurturing the very finest drivers, and for the first time, this year the expanded race series has the added attraction of a new TKM class - this one using the ultra quick and reliable new TKM 4-stroke engine which marks a new path for racing.
The six round championship sees races spread throughout the UK, the last of which is in Northamptonshire in October. Cameras from Sky Sports will be at Rowrah and all rounds to capture this high powered close action. Commented Formula TKM organiser Grahame Butterworth: "This is a class well known for its close racing. With top national titles at stake the action is going to be red hot." Qualifying takes place on Saturday with the main racing on Sunday.
[ Top ]
---
FAI Kartline (18/03)
A new company dedicated to the supply of spare parts to commercial indoor and outdoor circuit operators has launched. Run by ex Stratos and Zip Kart man Martin Gilbert, Kartline's range comprises all of the day to day consumable items that operators need, and even Kartline's own brand of tyre and chain which is available in both 219 & 428 pitch. "This sector of karting has now had a decade to mature. Much of the product has traditionally been sourced from the race kart parts bin and adapted. We felt that it was time to bring the whole thing together, manufacture dedicated product where necessary and illustrate it all in a nice, colour price list," said Martin. An online shopping site is under development, but those too eager to wait can call 01525 370752 or e-mail martin.gilbert@kartline.co.uk for a price list.
[ Top ]
---
Daytona & P B Promotions (17/03)
It was announced today that Daytona Karting and P B Promotions have signed a new 2 year contract in respect of 'The Prokart Championship' at Daytona's Sandown Park and Milton Keynes circuits, and for the multi-formula 'Open Championship' at Milton Keynes. This now allows for the continuing success of both Championships and ensures continuity for the contesting teams.
[ Top ]
---
Karting Boss Ready For The Off (14/03)
The Managing Director of Brentwood Park Karting Centre at Warley Gap will be switching from four wheels to two skis for a 48 hour endurance challenge when he flies out to Austria on Thursday, 20th March.
Director of Brentwood Park Karting Centre, Mr Giles Murray, said; "For three days in March I am aiming to ski 24 white peaks in Austria to raise money for the charity SCOPE, but it is some time since I have been skiing so some extra training has been necessary. Thanks to the team at the Brentwood Ski and Snowboard Centre at Warley Gap in Brentwood I have been able to perfect my technique as when they heard about this charity challenge they offered me free skiing time." Giles added; "The real test will be when we start on the first of the 24 peaks which is the 2096 metre high Saalbach Hinterglemm Ski Circus in the Austrian Alps. I am hoping that by completing this 24 peak challenge in the 48 hour period I will raise around £2,400 for SCOPE, money that is much needed by the charity to help finance further research."
Pledges are continuing to arrive and anyone wishing to help by sponsoring Giles for this event, whether it be a few pennies or a few pounds, can contact him on 01277 260001 for more details. SCOPE is the charity which helps people suffering from cerebral palsy; a physical impairment that most commonly occurs as a result of a part of the brain failing to develop, often resulting in extreme difficulty in movement for the affected person.
[ Top ]
---
BMKC Amend Format (14/03)
Bayford Meadows Kart Club have amended the format of its summer 2003 club sprint championship. The championship will be divided into the 'Challenge Championship' to be held on the 2nd Sunday monthly commencing 11th May for competitors in Junior/Senior Pro-karts, Honda Cadet Rookies, Junior Royale and Standard, and the 'Clubman Championship' on the 4th Sunday of every month for competitors in all other classes. Both series will use the existing timed qualifying format. Further details, regulations and entry forms from the Club on 01795 479599.
[ Top ]
---
Stock Taking (13/03)
Pro-Kart specialists Pedigree have a stock taking surplus sale taking place now. Honda junior heavyweight, and lightweight pro-karts are particular specialities of this Staffordshire based company and some of the bits on offer can be found here. Everything for pro-karts is what they say, you can reach them on 01283 544345.
[ Top ]
---
100 Octane Fuel (12/03)
Nutid Limited, who provide high quality oil based products to the performance market are offering Karters 100 octane MSA legal racing fuel with next day delivery.
The 76 & R racing fuels and lubricants range is being sold to increasing numbers of motor sport enthusiasts, but did you know that 76 is part of Conoco, one of the largest oil companies in the world. R racing fuel is one of the top European racing fuel brands and is blended in the UK, it's also the official fuel for the British F3 and GT Championships. For more information call 01929 551557 or visit their website at www.76racing.co.uk which has an online ordering facility.
[ Top ]
---
Litchfield & Lancaster Ahead (11/03)
Derbyshire's Mark Litchfield leads the 2003 ELF-Hill House Hammond MSA British Formula A Karting Championship after a hard-fought battle during the first two rounds of the season, whilst Jon Lancaster and Riki Christodoulou impressed with a win apiece during their opening rounds of the British Junior Intercontinental A Karting Championship at Larkhall, Scotland, on Sunday, 9th March. Race reports and points can be found here.
[ Top ]
---
Larkhall Super One (10/03)
A delighted Team Botech Motorsport offer congratulations to their official Maranello team driver, Jamie Croxford, on two superb drives in wet and dry conditions at the Scottish Larkhall circuit last weekend in the first round of the 2003 MSA British Championships.
[ Top ]
---
S1 TKM Drivers' Buckmore Practice (05/03)
Due to clashing dates in April, the final round of the BPKC 2 Stroke Winter Championship will be the last opportunity for Super One TKM drivers to practice at Buckmore Park before the first round at the circuit in early May. Open practice is available at the circuit on Wednesday 12th March and Saturday 15th March, with the race meeting on Sunday 16th. For a race entry or other queries, telephone club secretary Sheila Rose on 01634 201562 ext 210.
[ Top ]
---
Rotax Max L/C Is On (05/03)
BSA series co-ordinator Ian Rushforth has advised that contrary to rumours currently circulating, the British Superkart Association Long Circuit Championship for Rotax Max is definitely on, commencing at Cadwell Park on 30th March. Further details and entry forms can be obtained by contacting Ian on 01509 620702.
[ Top ]
---
Glan Y Gors Test Day (04/03)
Glan y Gors Park have a Test Day for owner drivers this coming Saturday, 8th March 2003 commencing at 10am until 4pm. If you have not previously visited, the circuit has a superb location in north Wales only 25 miles from the English border.
The following classes are all welcome; Cadet, WTP, Junior TKM, Junior Intermediate, Mini Rotax Max, Junior Rotax Max, Senior TKM, Senior Rotax Max, 100 National (water cooled) and 125 Gearbox.
For further information contact Eddie at the circuit on 01490 420770 or 07977462170, or e-mail: edavies@gygkarting.co.uk
[ Top ]
---
F6 Practice at Buckmore (03/03)
All those racing in the F6 meeting at the weekend will be pleased to know that a practice session has been arranged on the full international circuit at Buckmore for this Friday (7th March) in preparation for the Formula 6 meeting. Practice will run from 12 noon until 5pm at a special price of £30 per kart. All four stroke classes will be welcomed and marshal and ambulance cover is of course included.
[ Top ]
---
Endurance Racing At Spa (03/03)
A weekend at the Spa Francorchamps Kart circuit in Belgium over the Summer Bank Holiday weekend in August has been organised by Club 100, well known for their 100cc 2-stroke Arrive & Drive racing.
Spa is one of the top European kart circuits and located inside of the F1 circuit. The weekend consists of two 6 hour races and on offer to the winning team are four return flights and an entry into the Minardi F1 24 hour Pro-Kart race in October 2003 in Tuscany, Italy. Interested? Click here for more information.
[ Top ]
---
European & World Championships (28/02)
The closing dates for entries to the 2003 CIK-FIA European Formula A Championship and the 2003 CIK-FIA World Championship have been extended until Friday 07 March. Regulations and homologated equipment information can be found at www.cikfia.com
[ Top ]
---
Tonykart in Kent (27/02)
The Kart Shop at Buckmore has been appointed an exclusive Tonykart agent for the south of England. They will stock both the Venox and Krypton chassis as well as large stocks of spares.
[ Top ]
---
Burt Takes Up The Challenge (26/02)
Former F3 Champion, BTCC Works Driver and former test driver for Jordan and Arrows, Kelvin Burt who started off in Karting at the age of 14 years is set to return to his roots. He is to take up the challenge in the name of charity; Kelvin has kindly agreed to drive a one-off round of the UK Clubman Charity Challenge at Little Rissington in August. The challenge set up this year to run the Junior and Senior Clubman class to raise money for children's charities.
One of the challenge organisers who worked with Kelvin as his Chief Mechanic during his time with the Ford Mondeo BTCC Team in the late 90's, asked Kelvin if he would consider a drive in the charity challenge, Kelvin responded with a positive yes. It had to be worked around his current commitments to Ferrari UK's European GT team for whom he is driving this year. The Rissington round of the charity challenge in August was decided upon, which is also a round of the Wessex Regional Championship.
So if you want to see how the professionals do it then don't miss this meeting, or maybe you want take up the challenge yourself. We would like to wish Kelvin the best of luck in this years' European GT Championship and the Le Mans 24 Hour. For more details go to www.clubmankarting.co.uk
[ Top ]
---
Winning Combination (25/02)
Nathan Freke and a 2003 TopKart Evo powered by a Century Race Prepared Rotax Max was the combination that powered to victory at 3 Sisters last weekend in the presence of most of the Super 1 contenders for the following weekend's 1st round of the National Championships. Winning the final by 150 metres and setting the fastest lap of the day in the 2nd heat Freke commented, "the kart is a real step forward from 2002, and combined with a new carb setup and top class engine preparation made the win achievable," and it followed on from good results and testing at PF International. Max, Junior Max, and Mini Max drivers wanting to increase their chance of winning in 2003 can contact Century on 01562 632032 or 07710 232813, or e-mail: mail@century-karting.co.uk Test drives are available in all classes.
[ Top ]
---
Cadets Roar Into Lakeside (25/02)
The closure of the F1 City Karting circuit at London Docklands has led to a new Cadet Club being launched at the Lakeside Karting centre. Director of Lakeside Karting, Mr. Giles Murray, said; "While we are sad that the F1 City Karting circuit in London Docklands has closed we are delighted to welcome the Cadet Club which was based there and has chosen Lakeside Karting as its new home." The Cadet Club is open to anyone between the ages of 12 and 17 and at least five feet tall and it meets each Sunday from 8.30am.
The first meeting took place with more than 20 Cadets racing their way around an exciting 900 metres long 'Grand Prix' circuit with them encountering camber, undulation, chicanes and hairpins in its 10 corners, as well as the heart stopping Devil's Drop. The Cadet Club allows young would-be drivers to be trained in the skills of Karting, the safety routines that are essential for successful racing and then to put in to action the training they have received and all for just £25 per session.
One aim of the Cadet Club is to start entering teams in inter-club competitions and hopefully compete at regional and national level. Lakeside Karting is based on the A1306 near the Lakeside shopping centre. Those wishing to join or find out more information can do so by visiting www.lakeside-karting.co.uk or telephoning 01708 863070.
[ Top ]
---
David Benson (24/02)
From Tony Benson (Father), Mark (older brother) and Andrew (his twin brother) at FAB Kartsport to the many teams that they raced against at Lydd and Sandown Park and remembering the happy times had by all, comes the sad news that tall, blond David died yesterday 23rd February in a motor-cycle accident. He will be very sadly missed by all.
[ Top ]
---
BKIA Seeks New Chief (24/02)
Motor sport specialist Grahame Butterworth has announced he is stepping down from running the British Kart Industry Association in the wake of ever growing pressures on his time. Grahame took over the BKIA around seven years ago and has dramatically increased the size and scope of the organisation which represents the industry manufacturers and traders. He has played a leading role in helping to set up the new MSA backed Kart Control Board and in establishing the BKIA as a recognised body within the sport. He told the annual meeting of the BKIA: "I am pleased to have been able to move things forward but there is still a long way to go and much that needs refinement within the sport to ensure its continued growth and solidarity."
While he has announced his intention to quit the BKIA, he will remain there until a suitable replacement can be found. Those interested in the post should apply to info@bkia.co.uk Meanwhile Grahame will continue his long-standing involvement with the Formula TKM karting classes and with the MAXXIS Formula TKM Festival, Super 1 series, etc. He added: "Since establishing a major new car race series last year - the Uniroyal Team Challenge - there are increasing requirements on my time. I'm afraid faced with the choice of sitting in long meetings or driving racing cars for the TV cameras, the latter wins every time!"
BKIA Chairman Alan Turney, who at the same meeting agreed to stay in the position for another year, said: "Grahame has done a great deal of work in building the BKIA. It will be difficult to find anyone to be able to replace him."
[ Top ]
---
Kart Club Change Name (24/02)
Kingdom Kart Klub have changed their name to East of Scotland Kart Club to coincide with being registered as a limited Company. The Scottish AbkC member was advised a couple of years ago to change to the status of a company limited by guarantee, (i.e. a non profit making organisation) which they have now done. The club's race dates can be found in the Events Calendar.
[ Top ]
---
Jon Russel Daltrey 1977-2002 (17/02)
I would just like to thank everyone who has shown his or her respect to my father and myself about the passing of my brother Jon Daltrey. It has taken me back to some very fond memories we all had. I could not believe the response by so many people that has been shown, and even though it's a mark of respect it is never nice to have more grievance cards than Christmas cards by the fireplace.
If you would have seen my brother about the pits then I am sure you would have seen me tagging along with him too. Now I have lost my only brother and my best friend and I do not really know what to do with myself. I will carry on racing in Rotax Max at Rissington in March as I know it was what he would have wanted and that I have a slight advantage over the rest of the competitors as I have my brother sitting next to me on the grid and when I race.
It's hard to say how much I appreciate the response that people have shown. So on behalf of the Daltrey family and on behalf of my brother too I would just like to say, thank you!
[ Top ]
---
East of Scotland KC (17/02)
The all new East of Scotland Kart Club website is now online. 2003 promises to be a busy year at the club with a calendar of 10 club events, a round of the Champions of the Future winter series on 16 March 2003, and the ASKC are coming to the circuit on the 18 May 2003 which also sees a round of the NKRA being run on the same day. For £100 per year members of the club can enjoy a practically unlimited amount of practice, the only exception being on race weekends. Access the new site at www.eskc.net
[ Top ]
---
7Kart Components Launch Website (17/02)
The new 7Kart Components website at www.7kartcomponents.com has been launched with some special pricing for those wishing to purchase on-line. The website features the entire 7Kart Components and 7 Racing Kart range and will continuously be added to as new products arrive.
"Supplying quality karting parts and equipment, 7Kart Components is a company run by karters, for karters" said Managing Director Neil Dodson, and added: "Our aim is to provide a quality service and deliver a massive range of components 'on time', at competitive prices throughout the UK and Ireland. Stocked lines are set to include Alfano, Kartsmart, KG, R3, Ridolfi, WildKart and many more."
[ Top ]
---
Forest Edge KC (17/02)
With another winters' work behind them the Forest Edge Club are pleased to invite everyone to see the track improvements that have been carried out. The Gorse and bushes have been removed from Parabolica making it possible to see 99% of the circuit from the spectator area. The barriers at Bus Stop chicane have been renewed and the run off area increased. There is now a much wider run off area all along the back straight too. There have also been various other improvements made to the circuit making it safer for everyone. The FEKC committee would like to thank Qinetic for their assistance. The new season starts on 2nd March.
[ Top ]
---
Advance Leisure (14/02)
Fancy racing a Formula TKM 2-stroke kart in an Arrive & Drive endurance race? If you do then Advance Leisure are on the lookout for additional drivers to join them on Saturday 22nd February at Buckmore Park in Kent. Using Club 100 race prepared 100cc karts, a 30 minute practice session precedes a 3 hour endurance race that will see 30+ karts contesting the event. For more information call Advance on 020 8304 5740 or e-mail: advanceleisure@hotmail.com
[ Top ]
---
Seen This Kart? (14/02)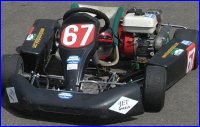 An adapted TKM racing kart fitted with GX160 Honda engine on the left hand side was recently stolen from the Thames Valley area. Described as having a black frame, black plastics all round and a Honda GX160 engine serial no. GOO28048093. A floor tray ali chequer plate, NatSKA full round ss rear bumper, Tillett padded seat off set and a black padded wheel. Stickers when stolen late January 2003 were Hankoe, French Brothers, Jet Wheels, Triumph Digital, racing no's. white 2 on red background. Also taken were 2 sets of rims and tyres penned WF Bridgestone wets MJ Jags Maxxis wets. If you know the whereabouts of the kart or any parts of this equipment please telephone 01784 439626 or 07770 665894, or Thames Valley police on 01753 831990.
[ Top ]
---
2003 Area Distributors (13/02)
Andy Cox Racing (tel: 01527 63984) has announced its network of new Birel sub distributors in the UK and Ireland. "As Sole Importer/Distributor for the Birel brand we feel it is necessary to have better representation for clients in all areas" commented Andy Cox, "we need outlets where new clients can view the product for themselves and also receive trackside support and test drives from a local dealer in their area" he added.
The dealer network for 2003 is: Pro Sport, 0191 4926014 (north of England); WGP Motorsport, 02838 832003 (Northern Ireland); Innis Motorsport, 00 353 868233993 (southern Ireland - Eire; Griffiths Motorsport, 01732 850858 (south east England), and Kart Tek, 01327 349615 (Whilton Mill and Kimbolton circuits).
[ Top ]
---
New Sodikart Models (13/02)
CIK 'crash test' approved pods by Rigetti Ridolfi, the Italian plastics manufacturer, have been incorporated into the new Sodikart SR3 although at present they are not approved by the MSA for racing in the UK. More information on this exciting new addition to Karting can be obtained by e-mailing; george@george-robinson.co.uk
[ Top ]
---
Dragon Kart Club (12/02)
The club has advised that race date and licence information contained in the MSA Gold book (the 2003 Kart Race Yearbook), is basically incorrect. Club events at the Glan-y-Gors circuit in north Wales commence this Sunday 16th February and follow on the third Sunday monthly up until the 'winter warmer' in November. A National B category licence only is required. For a full list of the clubs' dates click here.
[ Top ]
---
Endurance Challenge (07/02)
Eddie Davies has created an 8 round series for Pro-Kart owner-drivers that he's calling 'A real drivers' endurance challenge'. Taking place at the new and exciting 1100 metre MSA circuit at Glan-y-Gors Park, the series commences on 2nd March with following rounds taking place on the first Sunday of each month until 5th October. For further details contact Eddie on 01490 420770 or 07977462170.
[ Top ]
---
2003 Single Seater Launch (07/02)
Silverstone Racing School organisers of the BRDC Single Seater Championship have released details of its 2003 programme. Now firmly established as a sensible and most cost-effective starting place for anyone launching a single seater career. The championship will act as the only single seater support race at the 2003 British F3 & GT events. It will visit all major circuits over the UK, including Grand Prix circuits at both Brands Hatch and Silverstone. Click here for more information.
[ Top ]
---
Shenington Rearranges Test Day (06/02)
As January's test day was cancelled due to snow cover, the Shenington committee has re-arranged it for Thursday 20th February, hopefully in the school holidays for most people. Starting 10 a.m. as usual, the club caters for all 2-stroke classes and Cadet 4-stroke. TKM 4-strokes, Bilands etc are also permitted on practice days, whilst Junior Gearbox are permitted on Thursday test days only. The circuit is over one kilometre in length and test days are operated in sessions with full ambulance cover.
The club thanks everyone who helped to clear the snow and ice off the track last Saturday.
[ Top ]
---
Stunning (04/02)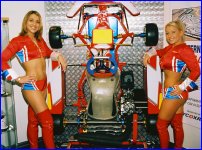 Jon Lancaster cruised home to an important JICA win at the PFI club meeting at the weekend. It was a stunning debut for the 2003 Birel R32SR and a first win aboard the new 2003 chassis, also setting a fastest lap of 47.59 in cold conditions. "The kart was great" commented a jubilant Lancaster.
Other good news for Birel came from the Sarno circuit in Italy where the Winter Constructors's Cup took place. Birel again took the honours in ICA with Todisco, in FA with Salvatore Gatto, and in ICC World Champion Francseco Laudato completed a fantastic weekend for the Lissone based company. 8th place was the reward for recent convert to the Birel chassis, Ian Johnstone.
[ Top ]
---
125 Europa (30/01)
Class promoters RPM Motorsport have announced that Motorsport Engineering will be supporting the class during 2003. Rather than creating yet another championship they will be providing a prize fund for the 125 Europa class at 10 separate club events, which will ensure that the maximum number of competitors benefit from the sponsorship.
RPM are scheduling a number of test days throughout the year. The next date will be Wednesday 12th February at Whilton Mill. Anyone interested in joining one of the friendliest classes in karting should telephone Russell or Lee at RPM on 01920 460800. Information about the class is now at www.europakart.co.uk
[ Top ]
---
MBKC Switch Track (30/01)
MBKC planned to use the new Hairpin track at 3 Sisters for the 23rd February meeting, however the track has not been approved by the MSA. As a result of this and also a lot of interest in further practice opportunities from Super 1 Rotax competitors, the MBKC meeting on the 23rd February and practice on Friday and Saturday will use the Valley circuit as used in Super 1. See http://mbkartclub.com for details.
[ Top ]
---
Lloyd Goes To MRS (29/01)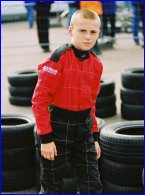 Sussex based MRS Management Ltd. have announced that they have entered into a management association agreement with Buckmore Park Kart Club member Lloyd Biddulph. Paula Hamilton of Paula Hamilton Media Services will be assisting in providing the Biddulph Team with a public relations service and both parties are very much looking forward to their forthcoming association with this talented young driver.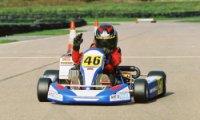 Photos courtesy of Paula Hamilton
[ Top ]
---
New Premises (29/01)
WGPMotorsport, sole agents for Birel Karts in Northern Ireland, have recently moved to a new address in Craigavon, Co. Armagh. The new premises include a shop area, workshop, office and store and allow for an increased range of products to be stocked. WGPMotorsport also offer their congratulations to Gareth Conn on his second place in round 3 of the Winter Series at Nutts Corner.
[ Top ]
---
Top Karters Head For Williams (28/01)
The UK's top karting drivers will be at the Williams Grand Prix Conference Centre at Grove near Wantage this week for the presentation of the 2002 Elf Hill House Hammond S1 Karting Championship awards. So large is the event with around 150 drivers together with their parents and teams, that three separate presentations are being organised together with a special opportunity to look around the superb F1 displays.
This Friday, 31st January, is the date of the event with Cadets and Rotax classes at 11.30am, TKM classes at 1pm and the remainder including the top MSA British Senior and Junior titles at 3pm. Senior representatives from the sponsors will be present to present the awards for this, the UK's largest Karting Championship.
[ Top ]
---
England - Australia Marathon (28/01)
Although nothing to do with karting, motor sport enthusiasts may be interested to know that the famous London to Sydney marathon is on again next year, and novices can take part in showroom cars costing from £12,000.
The London-Sydney Marathon in 1968 made motoring history. It was a full-on competition over 10,000 miles between heroic drivers in the showroom cars of the day. Scotsman Andrew Cowan in a humble Hillman Hunter won it from Ulster rally hero Paddy Hopkirk in a BMC 1800. Ninety-six competitors started and sixty-odd finished. The rough roads through Persia and Afghanistan took their toll, as did the harsh Australian outback.
Now it's on again in June 2004, and not just for seasoned rally drivers, novices can take part in showroom cars under 2-litres - no turbos or 4wd. Event Director Nick Brittan, himself a competitor on the original 1968 event, said: "This new category really does make it possible for an enthusiast to take something like a 2 year old Vauxhall Astra or a Peugeot 307, bring it up to rally specification and do the event. There are people out there who remember the original event and tell me it's their dream to be able to do it. For £12,000 it's easily possible to put a car together that will do the job."
Brittan's TWE company has organised many marathon re-enactments over the past ten years and a recent personal message from Tony Blair to Brittan wished him and competitors well, and recognised the event as one of the great motoring adventures.
It's a 30-day, 10,000-mile blast through France, Italy, Greece, Turkey, India and Australia with up to 3 timed racing stages over closed roads each day. Some are gravel, some tarmac, anything from 10 miles to 40 miles in length. Sensibly, the route in 2004 avoids the places that were exciting 36 years ago. "I'm sure Iran and the Khyber Pass would be exciting today, but for different reasons," said Brittan. See www.twerally.com for further information.
Competitors will pay an entry fee of £23,000, which covers two people and the car and includes hotels, air lifts, ferries and shipment of the car home from Australia and a pair of air tickets as well. There are 95 places on the event and 30 of those were snatched up in the first month since the announcement.
"It's still one of the greatest car adventures on the planet," said 1968 winner Andrew Cowan. "I've lost count of the rallies I've done, but the London-Sydney is the one I remember."
[ Top ]
---
4 Stroke Open Practice At Buckmore (25/01)
Buckmore Park have arranged a four stroke only open practice day on Saturday 1st February. This is combined with the Formula 6 warm up day. The cost is just £30 per kart, and as it's a special price no further discounts will apply. All karts must be to current MSA regulations as must all drivers' safety wear. Dependant on numbers, the practice may be run in sessions. As usual, the day will be fully marshalled and medical backup is included. Full details 01634 201562 ext 210 or e-mail: sales@buckmore.co.uk
[ Top ]
---
Team Sprint (24/01)
The inaugural Team Sprint event organised by Martin Capenhurst, England Internations team manager, due to take place at Lydd International Raceway next month has been postponed. Apparently, communication difficulties meant that information on the 3 round series was not publicised as originally intended and a decision was taken to postpone this first event.
A totally new concept to any series ever run before, the first round will now be on 16th March at Llandow, with the postponed Lydd event being rearranged to take place after the second round at Rowrah. Further information can be obtained by telephoning 01162 88 35 06 or visiting www.profilephotography.com/teamsprint.htm
[ Top ]
---
Sheni Restarts (24/01)
Shenington Kart Racing Club restarts for 2003 in January with test days on Thursday 30th January and Saturday 1st February, prior to the Club meeting on Sunday 2nd February. A small increase in costs means that Members will pay £38 and non-Members £48. All entries to Sonja Game as usual. Contact details and further information at www.sheningtonkrc.co.uk
[ Top ]
---
Kart 'n' Parts Appeal (22/01)
The on-going appeal by the F1 Junior Karting Club in Glasgow has progressed well. Aimed mainly as an introduction to the sport for those who do not have the resources to get into karting immediately themselves, enough donations of parts have been received to allow the club to complete three rolling chassis', and thanks to the generosity of many parents up and down the country they now aim to be practicing outdoors at Larkhall in a few months time and gain enough experience to perhaps begin competing in 2004.
Special thanks go to Mrs. Bird of West Byfleet, Surrey for the donation of a complete kart and a spare engine, it will be well used and appreciated. Still required are items such as engines (old or new), all types of spares and parts, and tyres are welcome too. Anyone with an old awning they don't need, or perhaps would sell at a reasonable rate to help keep the kids dry, please get in touch. Contact David O'Neill on 0141 882 4193.
Everyone donating parts will be given a chance to win two tickets to the Westlife concert at the SECC, Glasgow, - all tickets to the 8th July 2003 concert have been sold. If you are willing to travel to Glasgow a free raffle ticket will be sent offering a chance to win two concert tickets, plus a chauffeur driven luxury car ride to and from the concert (from a west or central Scotland collection point only!). The tickets were donated by a local Scottish company keen to support in some way this initiative for the community. The raffle is to be drawn on 18th February at Scotkart in Clydebank.
[ Top ]
---
TKM 4-Stroke National Championships (16/01)
Tal-Ko Racing has joined forces with the organisers of the Super 1 and Super 2 kart championships to create an innovative new triple championship for the fast growing Formula TKM 4-stroke classes. The combination will create a new championship structure to help develop the classes and give drivers the maximum possible amount of racing at all levels.

The Formula TKM 4-Stroke National Championships will race at club and national championship event level to provide three title possibilities and cater for drivers of all abilities.
The Premier Division will race over six events at the Formula TKM rounds of the S1 series. It will use control tyres and fuel and is expected to decide the coveted race 'numbers'.
The First Division will race over eight rounds at the S2 championship events based around club meetings and including the Formula TKM Festival at Kimbolton.
A TKM 4-Stroke Super Champion title will then be decided based on the combined results of both the above series. It will feature major prizes and a special plate for the winner.
Drivers must have a National A licence to compete in any of the championships but will be able to race in both series.
Roger Abbey Taylor, who started the first title for the class last year with the backing of Tal-Ko, said: "We are expanding the opportunities for drivers to race at every level and to do as much or as little as they wish. By splitting the series we can help cater for drivers of every type and pockets of every size." Neil Hann from S1 said: "We are pleased to house the TKM 4-stroke class within our events. We recognise the need to move forward and welcome the developments in the sport." Alan Turney of Tal-Ko Racing added: "We want to support clubs and provide top level racing for the drivers in front of the TV cameras. This novel scheme allows us to do all of those things. We welcome the backing and flexibility of the organisers and MSA in making this possible."
Further details and registration forms are available from Roger Abbey Taylor, 10 Island Close, Staines, Middlesex, TW18 4YZ. Tel: 01784 462624 (First Division) and Sonja Game, 16 Graham Road, Bicester, OX26 2HP, Tel: 01869 320157 (Premier Division). Drivers are urged to register before the end of January to secure their places.
[ Top ]
---
WTP At Rowrah (15/01)
Cumbria Kart Racing Club intend to hold a Cadet WTP Club Championship at Rowrah commencing March, providing there are sufficient numbers. All those interested should contact Mark on 01900 63896 for further details or simply send an entry form into CKRC stating Cadet WTP class. Entries must be in before the end of February!
[ Top ]
---
Live Action (13/01)
Following the success of the karting in the live action arena at the Autosport Show last weekend and the interest shown in the Junior Gearbox class, Midland motorsport team Century Race Preparation are again making the offer of Junior Gearbox test days to any driver who would like to try these very quick karts before deciding whether to compete in the class. Interested competitors should contact Century on either 07710 232813 or e-mail; mail@century-karting.co.uk. Also available for test will be Mini Max, Junior Max, Senior Max and 125 Gearbox.
[ Top ]
---
Talon Sprockets (13/01)
As from January 2003 Zoom Karts have taken over from Kartell Racing in the Worldwide distribution of the famous Talon Kart Racing Sprockets. All enquiries should now be directed to Zoom on telephone no. +44 (0)1482 321753.
[ Top ]
---
Congratulations From FEKC (13/01)
The Committee of Forest Edge Kart Club would like to congratulate all its Club Champions of 2002. The first three in each class will be receiving their Championship trophies at the presentation evening on 1st February.
250 Gearbox - Darren Lewis, 125 Gearbox - Andy Parr, Rotax Max - Nick Strong, Senior TKM - Martin Collins, Junior Clubman - Adam Underhill, Junior TKM - Adam Gale, Honda Cadet - Jack Gover and Comer Cadet - Lee Stibbs.
If you are a Cadet (age 8 to 12) or a Junior (age 11 to 16) and would like to get into Karting go along and visit Forest Edge Kart Club on Barnsfield Heath just outside Bournemouth on 15th February. If you are also interested in a test drive please telephone Peter Bryceson on 01256 893663.
[ Top ]
---
Junior TKM's At Warden Law (13/01)
BOGOF - Buy One Get One Free. If you enter a Warden Law club meeting in 2003 you will receive a free entry for the following meeting. So if you are doing the full 10 club championship rounds you'll only have to pay for 5 of them! Telephone Warden Law Kart Club on 0191 5238390 for further details.
[ Top ]
---
Autosport 2003 (10/01)
The annual Autosport International Exhibition is now in full swing and continues until 6pm on Sunday 12th January. It's still the place to visit for all motor sport aficionados but many will be disappointed this year, especially with the Karting section which has reduced in size and has a number of previous exhibitors missing. The overall area of the exhibition also appears to be much smaller this year.
Here are some of the stands in the Karting area waiting to help...
| | |
| --- | --- |
| Karting Magazine | Gatellie Racewear |
| Supersport Timing | Club 100 |
| Tal-Ko | ROC Timing |
| Andy Cox Racing | 7 Kart |
[ Top ]
---
Buckmore adds WTP & TKM 4 Stroke (08/01)
The Buckmore Park Kart Club has announced that they will now include classes for WTP cadet and TKM 4 stroke (both junior & senior) for the club's winter championship. Round 1 of this three round series is just ten days away on Sunday 19th January, with open practice being held on Wednesday 15th and Saturday 18th. Telephone Sheila Rose on 01634 201562 ext 210 for entry forms.
[ Top ]
---
Win A Season's Racing (08/01)
Team Lovell Racing are coordinating and running a talent search competition that will see the winner receive a fully sponsored drive in the Mini-Max or Junior Rotax Championship.
If you think you can be a winner, here's your chance. By entering the Team Lovell Racing scholarship competition you could win a full season of racing in the National Super One Championship with top class equipment and full team support. Telephone 01202 631 630 for further information.
[ Top ]
---
WTP Grows (07/01)
The new Cadet formula WTP Championship is evolving into what could be one of the largest cadet series in 2003. Following on from 2002, it promises to be bigger and better and will be run over 8 rounds with 7 to count, - none of which clash with Super 1 or Champs.
The circuits to be visited this year are Fulbeck, Warden Law, P.F. International, Little Rissington, Whilton Mill, Dunkeswell, Rowrah and Kimbolton. Race dates can be viewed here. Further details of the championship can be obtained by calling telephone no. 01909 474 633.
[ Top ]
---
Race at Spa Francorchamps (07/01)
Uniroyal, the world famous tyre manufacturer, is launching a nationwide search for motor racing talent in a £25,000 competition being launched at the Autosport International Show (stand 10207). Two top prizes will offer enthusiasts the opportunity to race in the famous Spa 25-hour race. Runner-up prizes offer four more drives in races at circuits in the UK. Prior to that all 18 selected finalists will take part in a special talent trial at a top circuit to determine the six who will go for final training into the race cars. Uniroyal are launching this amazing package of prizes as part of a major promotion for its new Uniroyal Team Challenge race series which made a tremendously successful debut in 2002.
The Uniroyal Team Challenge offers endurance racing for teams of drivers in races usually between 4-6 hours. Every team drives a specially designed mid-engine car fitted with a glass-fibre body looking like the traditional VW Beetle. This type of racing first started in Belgium seven years ago and is now hugely successful there and is now spreading in the UK. Among winners of a similar competition last year were two former top kart racers.
The competition is being run from the Uniroyal Team Challenge stand at Autosport International (Birmingham NEC, 9th-12th January). Says Uniroyal Marketing Manager Tim Bailey: "This is a tremendous opportunity for anyone who has ever wanted to race. Full driver training, an MSA race licence, and the chance to race either in the UK or at the Spa Francorchamps circuit, one of the most famous circuits in the world. "Team Challenge is designed to make motor sports more accessible and affordable so what better way to promote the series than to offer the chance of racing to everyone at the show."
All entrants have to do is complete a simple entry form on the stand. The competition is open to anyone, with or without race experience, but they must hold a full UK car driving licence. Adds Tim Bailey: " We know we are going to give the ride of a life-time to enthusiasts and we hope we may find some budding stars of the future at the same time."
[ Top ]
---
Rising Star Joins Strawberry (07/01)
Edinburgh teenager Daryl McDonald has recently joined the highly successful Strawberry Racing Team based in Sheffield, South Yorkshire. The Trent Valley Kart Club member will be racing junior Max and the new junior gearbox class.
[ Top ]
---
Search For Motor Sport Writers (06/01)
Writers with an interest in motor sport are being given the chance of work within the sport by leading motor sport public relations company, Impact PR.
Impact, who have extensive involvement in karting, motor racing and the motor industry, are looking for writers to help their further increased promotion of motor sport in 2003. Managing Director Grahame Butterworth explained: "We expect a need for several new people to help on a part-time basis. It is an ideal way for relatively inexperienced people to gain experience within the sport." Impact's involvement includes the UK's largest karting class, Formula TKM, the Super 1 kart championships and the Uniroyal Team Challenge car race series.
Potential applicants must have excellent English written skills, good computer literacy, driving licence and a good understanding of and interest in motor sport. Trainee journalists are ideal candidates. Written applications only should be sent to impactpr@btinternet.com
[ Top ]
---
Autosport International (06/01)
The annual Autosport International show is almost upon us and promises to be another excellent exhibition again this year at the National Exhibition Centre, Birmingham. Open from 9th to 12th January between 9am and 6pm on all days, Saturday and Sunday are the designated public entrance days.
Karting is represented by many well know names including 7Kart, Andy Cox Racing, Club 100, Karting magazine, ROC Timing Systems, RPM Racing Engines, Supersport Timing Software Systems and Tal-Ko Racing.
7Kart will be launching its components division and also featuring products from R3 Racing, and Andy Cox Racing will have the new 2003 Birel chassis range on show and TM engines prepared by 2002 FA World Cup winning tuner Paul Lemmans (GKS). You can sign up to the 100cc 2-stroke Arrive & Drive racing with Club 100, and purchase the latest Karting magazine and a host of karting books from Lodgemark Press. ROC Timing will have a special Show price on AMB Personal TranX 160 Transponders, and Supersport Timing will be demonstrating their latest software allowing live updates to the Internet.
[ Top ]
---
New Importer (06/01)
Besides running a successful UK/European race team Botech Motorsport have now been appointed UK importer for Maranello Racing Karts and Lucky Design helmets and paint designs.
[ Top ]
---
Top S1 Kart Drivers at NEC (06/01)
Top drivers from the Elf Hill House Hammond Super 1 kart series will be making a guest appearance at the Autosport International Show to receive awards and be interviewed on the Motorsport News stage at the NEC. The top three drivers in each class have been invited to the events which will be held over two days. Seniors will be on stage on Friday 10th January at 4pm with the Juniors lining up at 1pm on Saturday 11th January.
[ Top ]
---
[ News Summary / Site Index | Current News ]

News Archives : [ 2000 ] [ 2001 ] [ 2002 ] [ 2003 ] [ 2004 ] [ 2005 ] [ 2006 ] [ 2007 ] [ 2008 ] [ 2009 ] [ 2010 ]