| | | | |
| --- | --- | --- | --- |
| | | 2005 News Archive | |
This page contains older news items. For the latest news be sure to visit the home page of UK Karting.
[ News Summary / Site Index | Current News ]

News Archives : [ 2000 ] [ 2001 ] [ 2002 ] [ 2003 ] [ 2004 ] [ 2005 ] [ 2006 ] [ 2007 ] [ 2008 ] [ 2009 ] [ 2010 ]
News Archive
2005 News Items
MSA National Court (23/12)
Having listened to evidence at its hearing on 21 and 22 December, the Motor Sports Association National Court has made the following ruling:
The court has fined Mr. Peter Christodoulou £30,000 after he admitted to modifying kart racing engines in an illegal manner. This followed the removal of four kart engines for inspection during a race meeting at the Rowrah circuit on 5 June 2005. The court heard that the cheating in this case was "very deliberate, very sophisticated and very expensive".
A statement from the court read: "The maximum fine provided for under rule Z 13.7.viii (which was applicable to this case) is one of £36,050. That is what is appropriate for the most serious offence which the evidence established this to be. We do, however, think that it would be right to reduce that amount to reflect the fact that Mr. Christodoulou admitted his guilt, albeit at a late stage. We accordingly impose a fine of £30,000."
All further matters concerning Mr. Christodoulou, including costs, will be dealt with at a later date to be fixed.
The engines modified by Mr. Christodoulou were removed from the karts of his son Adam Christodoulou, a competitor in the Junior Rotax category, and Mini-Max competitors Lewis Reeves, Jack Harvey and Jordan Chamberlain. Matters relating to these four competitors have been adjourned to a later date to be fixed.
[ Top ]

Passion Racing (22/12)

Passion Racing has launched its sonic carb cleaning service, specifically aimed at the Max market. The Dellorto carb is stripped down and every component checked for damage, wear and tear, legal parts and sonic cleaned, the carburettor is then rebuilt using the Dellorto gasket set.
The cost is £27 plus vat and includes the labour, gasket kit and delivery from Passion Racing to the customer. (Not included are extra parts that need to be replaced, but you will be advised of any problems before assembly.) Contact Simon on 01273 493299 for further information on sonic carb cleaning and for other services offered by Passion Racing.
[ Top ]

Scottish 2006 WF Series (22/12)
The 2006 Championship will be held over 6 rounds (best 5 scores to count), 4 at Larkhall and 2 at Crail. The Championship starts on 2nd April at Larkhall, so there's time for the new drivers to get up to speed and hopefully the weather will have warmed up by then. Dates are: 2nd April - Larkhall, 21st May - Crail, 4th June - Larkhall, 16th July - Crail, 6th August - Larkhall, with the last round on 3rd September at Larkhall.
The confirmed championship sponsors are some big names in UK karting: Zoom Kartmart, Saxon Motorsport, Tillet Racing Seats, R3 Laser Alignment and Karting Magazine, all pledging their support to the class, together contributing a total prize fund worth over £1,000.
Prizes at each round are Zoom vouchers of £50, £25 and £10 for 1st, 2nd and 3rd finishers all provided by Zoom Kartmart, and a prize of a Kart chain to the driver with the fastest lap outside of the top 3, provided by Saxon Motorsport.
The overall championship winners will receive:
1st: £250 of Zoom vouchers, provided by Zoom Kartmart, a trophy provided by Briggs & Stratton (TBC) and an R3 laser sprocket alignment tool.
2nd: 12 months subscription to Karting magazine, provided by Karting magazine.
The best novice of the championship will receive a Tillet Ribtec, provided by Tillet Racing Seats.
Registration for the championship is free and registration forms will be available early next year. The cost of each round is the usual club entry fee. Race reports from each round will be submitted to Karting magazine, who are one of the sponsors.
The championship has been submitted to the MSA for approval by the MSA Kart Championship Control Panel and will only be run on condition of this approval. For further information on the Championship or World Formula, contact Jason Toovey via e-mail: jtoovey@hotmail.com, or Zoom Kartmart.
[ Top ]

Cadet Formula WTP (21/12)
Please note that the introduction of the 2006 Cadet Formula WTP class regulations as published in the 2006 MSA Kart Race Yearbook are deferred until further notice.
The published 2005 class regulations must continue to be used in conjunction with the 2006 MSA Competitors' Yearbook regulations.
[ Top ]

Macau International Kart Prix (21/12)

Marco Ardigo took a convincing victory at the Macau International Kart Grand Prix last Sunday. The TonyKart drivers Gary Catt and Marco Ardigo looked certain to take a 1-2 after setting the pace from the first practice sessions, and taking the front row of the starting grid for the Final.
Marco Ardigo took the victory in dominant fashion with a 3.8 second victory over Japanese driver Kota Lee despite the race being red-flagged early on. Gary Catt set the fastest race lap but was unable to complete a TonyKart factory team 1-2 after retiring on lap 16 (of 26) due to a seized engine. Other retirements included Souro Cesetti, Jon Lancaster, Riki Christodoulou, and Jeremy Iglesias.
Davide Fore was due to race but did not travel to the event after deciding to remain with his expectant wife. Gary Catt seized when in 2nd place in the Final with about 10 laps to go. Christo had 2nd spot for the first few laps before being overtaken by Catt. Catt finished an earlier heat right with Ardigo and another heat in 2nd as well, but after a DNF in a heat following a seizure he started the pre-final in 7th, finishing 2nd 1.6 seconds behind Ardigo. Lancaster was 3rd in pre-final (DNF in Final).
Formula A top 10: 1 - Marco Ardigo; 2 - Kota Lee; 3 - Mark Litchfield; 4 - Leonardo Corti; 5 - Michael Cristensen; 6 - Takahide Sugiyama; 7 - Sven Van Koutrik; 8 - Jordan Oakes; 9 - William Thomason and 10 - Sekiguchi Hyuhi.
The Junior category witnessed a commanding victory by Jazeman Firhan Jaafar, with Steel Guilliana in second and Ooi Fei Hoong in third. The Senior Max category saw a close fight between Zahir Ali and Ross Jamison with Zahir eventually being able to build a 1.4 second lead to win the race. Andrew Tang took Cadet honours after setting pole and winning all heats.
Report and images from Mikko Nassi, and further pictures from the 2005 Macau International Kart Grand Prix available here.
[ Top ]

Buckmore Open Practice Dates (20/12)
Buckmore Park Kart Circuit is offering additional open practice dates during the Christmas and New Year period. Owner/Driver practice will be available between 10am and 4pm for both 2 and 4 stroke karts on the following dates:
Tuesday 27th December 2005 - Bank Holiday
Friday 30th December 2005
Saturday 7th January 2006
For further details please contact Buckmore Park on 01634 201562.
Please note the circuit sales office closes at 12 Noon on the 24th December and reopens at 9am on Tuesday 27th December. The Buckmore website is updated daily.
[ Top ]

JICA Drivers (19/12)
Attention all JICA drivers. The Bridgestone JICA Challenge is provisionally set for 2006.
Six rounds (four as warm ups for Stars and S1). Three Sisters; PFI; Rowrah; Clay Pigeon; Kimbolton(?) and Whilton Mill. Prizes will be supplied by (provisionally); Zip Kart - one set of Bridgestones at each round, John Mills Racing, JKH, Simon Wright Racing, Simpson Motorsport, David Charles Racing.
All that's needed are the drivers, without you clubs won't run JICA. Carey Lennox-Lamb would also like to know what other championships you intend to compete in. Contact Carey on 07799 831328, or email: lennoxlamb@aol.com
[ Top ]

24hr Team Endurance Challenge (19/12)

Get ready for the biggest, fastest and most prestigious event on the indoor Karting calendar. With up to 18 teams competing over a gruelling 24hrs, this event will test the stamina and strategy of all teams to the limit. The event is being run in conjunction with Heart Research UK – help raise money for this very worthy cause and have a lot of fun whilst doing it! Entries are open to anybody over 16 years and team entries from corporate or private groups are accepted.
The 24hr endurance challenge takes place on Saturday 14th January 2006 at the Pole Position circuit near Leeds - the green flag drops at 12 noon with the chequered flag going to the team that has completed most laps by 12 noon Sunday 15th!
You must raise over £1500 in sponsorship to get an entry. The event entry includes:
Automatic donation to Heart Research UK
All teams race on a brand new Sodi 270cc GT3 Karts
All safety equipment inc helmet, race suit, gloves
Saturday evening buffet & Sunday breakfast for all drivers
Memento of the event for all drivers
Free entry in the track-side raffle
Top prizes, trophies and awards on offer for the winning team and top fundraising team. For entry information and sponsor forms please call on 0845 12 606 13 or email: 24hr@ppik.co.uk
[ Top ]

CIK Bulletin (16/12)
During its meeting on 9th December 2005 in Monaco, the World Motor Sport Council of the FIA took the following decisions regarding Karting:
Composition of the CIK
The World Council has agreed to add the R.I.A.C., Motorsport Ireland, to the list of ASNs represented within the CIK. It has also approved the composition of the two CIK Working Groups for the forthcoming year. The "Sporting Regulations-Calendar-Championships" Working Group will be chaired by Mr Jaakko Markula (Finnish ASN) and composed of representatives from the Belgian, Monaco, Dutch and Portuguese ASNs, as well as four Manufacturers' representatives, namely: Bridgestone (tyres), Dream Kart (chassis), Sodikart (chassis) and Sumitomo Rubber/Dunlop (tyres). The "Technical-Homologations-Manufacturers" Working Group will be chaired by Mr Laurent Arnaud (head of the CIK-FIA Technical Department) and composed of representatives from the German, French, British and Italian ASNs, of Mr Gabriele Cadringher (FIA Manufacturers' Commission Director) and of three Manufacturers' representatives, namely: Iame (engines), Swiss Hutless (chassis) and Vega (tyres).
Technical Regulations
The World Council has approved the rear protection technical and homologation regulations. These regulations have been drawn up by the CIK-FIA in consultation with the Karting Research Group of the FIA Institute for Safety.
The minimum weights required in the Superkart category have been increased by 5 kilos. The new Snell SA2005 and Snell K2005 standards have been added to the currently allowed helmet standards. All brake systems operating on the front brakes will henceforth be banned from the ICA-Junior category, whereas manually operated front brakes will be reserved for categories without gearboxes.
The World Council has decided to allow the late homologation of hard compound tyres for tyre Manufacturers who have not yet had a CIK-O7 homologation of hard compound tyres.
Invitations to tender
SRW Events, which belongs to the Eurosport Group, has been granted the media and marketing rights of the following 2006 CIK-FIA Championship events: Angerville/F (World Karting Championship and ICA World Cup), Mariembourg/B (Super-ICC World Cup, European ICA-Junior Championship and European ICC Championship), La Conca/I (European FA, Super-ICC and ICC Championships), Varennes sur Allier/F (European FA, Super-ICC and ICC Championships) and Ampfing/D (European FA and ICA Championships). Further to this decision, which was taken after an open tender process, the contract will shortly be finalised.
Within the framework of the invitation to tender issued by the FIA for the supply of tyres in some CIK-FIA Championships, the World Council has decided to designate Vega as exclusive supplier, and a contract will be finalised with this Company in accordance with the tender procedure:
- for the supply of tyres within the framework of the 2006 CIK-FIA Intercontinental A World Cup, of the 2006 CIK-FIA Super-ICC World Cup, of the 2006 CIK-FIA European Intercontinental A Championship (regional Qualifications and Final), of the 2006 CIK-FIA European Super-ICC Championship, of the 2006 CIK-FIA European Intercontinental C Championship and of the 2006 CIK-FIA Intercontinental A Viking Trophy. Tyres supplied by Vega will be the following: FM 10X4.60-5 (front) and FM 11X7.10-5 (rear) for slick tyres, W4 10X4.20-5 and W4 11X6.00-5 for (wet weather) tyres.
- for the supply of tyres within the framework of the 2006 CIK-FIA European ICA-Junior Championship (regional Qualifications and Final) and of the 2006 CIK-FIA ICA-Junior Viking Trophy. Tyres supplied by Vega will be as follows: FH 10X4.60-5 (front) and FH 11X7.10-5 (rear) for slick tyres, W4 10X4.20-5 (front) and W4 11X6.00-5 (rear) for (wet weather) tyres. Vega offers free tyres for each Driver for all the events, as well as prize money and benefits for the best classified Drivers in each event and/or championship. For free and non-qualifying practice, the price proposed by Vega is 154 € (inclusive of tax) per set of slick tyres and 160 € (inclusive of tax) per set of (wet weather) tyres.
Within the framework of the invitation to tender issued by the FIA for the supply of fuel in some of the 2006 CIK-FIA Championships, the World Council has decided to designate Panta as exclusive supplier, and a contract will be finalised with this Company in accordance with the tender procedure for the supply of fuel within the framework of the 2006 CIK-FIA World Karting Championship, of the 2006 CIK-FIA European Formula A Championship, of the 2006 CIK-FIA Super-ICC World Cup, of the 2006 CIK-FIA European Super-ICC Championship, of the 2006 CIK-FIA Intercontinental A World Cup, of the 2006 CIK-FIA European Intercontinental A Championship (regional Qualifications and Final), of the 2006 CIK-FIA European ICA-Junior Championship (regional Qualifications and Final) and of the 2006 CIK-FIA European Intercontinental C Championship. The fuel will be supplied by Panta at the price of 3.60 € (inclusive of tax) per litre.
International Karting Series approved by the FIA
The World Council has approved the following international Karting series: 2006 Rotax Mojo Max Challenge Grand Finals, Rotax Mojo Max Euro Challenge, Rok Cup International Final, WSK International series (Winning Series Karting) and Italian Open Masters.
2005 CIK-FIA European Intercontinental A Championship
Further to the decision of the International Court of Appeal to exclude the Driver Nathanaël Berthon from the Pre-Final of the 2005 CIK-FIA European Intercontinental A Championship, the World Council, called upon to draw the conclusions thereof, has decided to exclude this Driver from the classification of the Final, which he had won and which he had started from the first row on account of the suspensive effect of his appeal. The winner of the European Championship is therefore Britain's James Calado, ahead of the Frenchman Jean-Eric Vergne and of the Italian Alessandro Bressan.
The details of the changed rules and of the new regulations will soon be available on www.cikfia.com
[ Top ]

F1 Stars Of The Future? (15/12)

Alice Powell and Ben Bishop have been asked to attend the upcoming Autosport International show at the Birmingham NEC to receive outstanding driving awards for the talent they had shown in the celebrity Chase The Champ motor racing event.

BRDC Stars of Tomorrow boss and talent spotter Caroline Hoy said; "These two drivers are going to be big stars in the future, we can even see them both going as far as Formula One, Ben has all the ingredients of a top line racing driver such as Jenson Button and would be an excellent marketing tool as he is well spoken and has goods looks, he really needs to be taken on by a team of the highest level now he is moving away from karts." Ben has had offers from a Formula 3 team in South America and also a UK Formula Renault team. Ben commented; "It's an honour to be receiving this award and it's nice to hear that I am being compared to drivers such as Jenson Button and Jamie Green, as regards to my future I am keener on going into Formula Renault as I want to stay in the British Motorsport system. "But Ben wants to make the right decision so would like all racing teams bosses from Formula Renault or Formula BMW to contact his management team at motorsport-management@hotmail.co.uk or call Andy Bishop on 07881497271.
Alice Powell who will be racing at Super One JICA level in the BRDC Stars of Tomorrow series said; "I am lost for words, I am thrilled to be attending the Autosport show as a guest of Caroline Hoy and to receive the award, and regarding the Chase The Champ event my aim wasn't to beat Jamie Green's time it was to beat Riki Christo's time. After many attempts on Saturday I managed to get within 300ths of his time so I knew I had to return on Sunday and when I did actually beat Riki, my new target was Jamie which was much harder, it was very physical trying to find the extra time and I'm not as strong as these older drivers but I did it and boy it felt good! I would like to thank the organisers of the event and say good luck to Dean Burbank who they were raising the money for."
If you want to meet Ben Bishop and Alice Powell you can catch them at the Autosport International show on the Stars of Tomorrow stand on Sunday 15th January 2006.
Pictures are from the recent Chase The Champ fund raising event at the Sutton Circuit near Leicester
[ Top ]

Blingstar Range Launched (14/12)

These workshop/van accessories are a must! Check out www.passionracing.co.uk for details and prices. The products can be supplied in either brushed ali or polished diamond plate.
Go into Shop then to Pit & Paddock on the website and click on Blingstar. The products will make brilliant Christmas presents! Contact Simon at Passion Racing on 01273 493299 for more information.
If you are still struggling to think of a Christmas present for the karter in your life, you will find many gift ideas on the Passion Racing website.
[ Top ]

Warden Law Fun Meeting (14/12)
Karting North East are holding an Open Fun Meeting on Tuesday 27th December. There are classes for Cadets, Mini & Junior Max, Senior Max and Prokarts / World Formula.
Each class gets 3 heats of 12 laps plus a 15 lap final with standing starts based on timed qualifying. . All races are electronically lap scored with full scrutineering, paramedic cover etc. Costs are £30 per kart using your transponder and £40 using KNE. Further details from www.kartingnortheast.com or from the circuit on 0191 521 4050.
[ Top ]

Autosport International At The NEC (13/12)
Formula One drivers David Coulthard, Christian Klien, Vitantonio Liuzzi and Robert Doornbos are the latest top names from the world of motorsport who are rolling up to the NEC, Birmingham, from 12th -15th January for Autosport International, the greatest motorsport show on earth, and they are not just coming for a walkabout - this will be a once in a lifetime chance to challenge celebrities on the Karting Oxford indoor track. The newly confirmed Red Bull drivers for 2006 will be giving the new Red Bull Track Attack, to be launched at the show, their full support. David Coulthard will be at the show on Saturday afternoon, and then attending the 100 Years of Grand Prix Racing Dinner on Saturday night (for tickets call 08705 201201 or visit www.hilton.co.uk/motorsports) and David will be back officially to open the show at 9.00am on Sunday 15th January.
The Autosport International show will launch the Red Bull Track Attack, giving an opportunity for early qualifiers when the competition is launched at the Red Bull Energy Station, located next to the F1 Racing Gallery. What's more, 10 lucky people will be able to pit their wits in a 'just for fun' Karting contest at the show on Saturday afternoon.
Liuzzi will be at the show on Thursday 12th January while Christian Horner, Red Bull Racing's Sporting Director, will meet fans on Saturday 14th January along with Coulthard. Here you have three Karting supremos. Liuzzi was FIA World Karting Champion in 2001; DC spent four years in Karting, winning his first Scottish Junior Karting Championship at the age of 12 before scooping the Open in Junior and Seniors; and Christian Horner began his racing career in karts at just 13. Austrian Christian Klien, who also started his career in Karting in 1996 and Robert Doornbos will be at the show on Sunday 15th January.
The Red Bull Track Attack is aimed at speed freaks who think they've got the skills and stamina to get behind the wheel of a kart and battle it out against hundreds of other budding drivers. Between January and March 2006 the search will be on for the UK's best Karter with qualifiers to be held at tracks across the country. The best of the best will then go head to head with some of the top names in Formula One at a grand finale next May. The final, which is expected to attract thousands of spectators, will be held in a major city centre on a specially designed road track. The competition is open to absolutely anyone over the age of 16, except professional drivers. You don't even need your own kart, just the determination and drive to beat off the competition. So if you believe you can pick up the Red Bull gauntlet make sure you enter the Red Bull Track Attack at Autosport International.
The challenge is on….! If you want to rub shoulders with the greatest drivers in the world, avoid the queues and book online now at Autosport International for tickets to the show, which include entrance to the Live Action Arena at £25.00 for adults and £17.50 for children, or by calling the ticket hotline on 0870 380 2244.
Brand new for 2006 is an exclusive Paddock Pass ticket available at £31. This special pass gives holders access to the new paddock area built backstage in the Live Action Arena where you can get up close to the cars and talk to the drivers. You will also get fast-track entry and priority seating in the Live Action Arena plus the opportunity to watch extra performances from the sidelines. This fantastic offer also includes exclusive access to the Driver Signing Area with the opportunity to obtain autographs from your racing heroes.
[ Top ]

Chase The Champ Shock Result (12/12)

The final weekend of the Chase The Champ event was explosive, with hundreds of karters making their way down to Sutton Circuit in Leicester. The event has brought some big names in motor racing to it, including Jenson Button, Fernando Alonso, Jamie Green and many other drivers from BRDC's Stars of Tomorrow series.
There were two drivers in particular that stood out above the rest, 18 year old Ben Bishop of ARC Motorsport who gave tremendous support to the month long event, he encountered and excelled in all weather conditions and was a worthy recipient of one of the awards. The other driver was Alice Powell from the race series BRDC Stars of Tomorrow, and it was this young lady who provided the shock of the weekend. Alice, who is only 12 years old, made her light weight count and frequently exchanged fastest laps with Ben, but with the latter weighing-in at almost 12 kilos heavier he was disadvantaged particularly on the straights in the karts available, so it was 12 year old Alice Powell who went on to chase and beat the champ, Jamie Green, with a fantastic lap time of 37.976.
The final two days of Chase The Champ were enjoyed by all and everyone commented on what a great weekend and event it had been. UK Karting's award for 'Most Complete Driver' went to Ben Bishop who although having a small weight disadvantage to all the drivers in the top 10, he managed to beat Riki Christodoulou and match Martin Plowman's time. Ben proved that he has a big potential future ahead of him after shining in all conditions and showing some brilliant track craft and kart control, he's likely to be of great interest to many teams in the future.
The event has so far raised £2000 with more expected over the coming weeks and this together with some sponsorship already obtained will enable 13 year old leukaemia sufferer Dean Burbank to realise a dream when he takes his place on the starting grid next year for a season in Rotax Minimax. (Dean is pictured top left with Chase The Champ winner Alice Powell.)
A final word from Ben Bishop who said; "I would first like to say what a great job the people who were running Chase The Champ did, without them this great event wouldn't have taken place and a special thanks to Mark Garrett for keeping me posted on the event and inviting me down for the final weekend. This has been a great experience for me and I have met some great people through this event. I would like to say good luck to Dean Burbank with his season's racing who this event was in aid of. Good Luck Dean!"
The final Chase The Champ leaderboard. Where did you finish?
Photographs courtesy of Chris Walker - www.kartpix.net
[ Top ]

BRDC (12/12)
It is now confirmed that Thomas Arme, winner of the 2005 BRDC Stars of Tomorrow Scholarship, will compete in the BARC Formula Renault Championship with the Mark Burdett Motorsport Team.
Stevie Taddei also winner of the 2005 BRDC Stars of Tomorrow Scholarship and 15 next season will compete in the Ginetta Junior Championship in the factory car.
Last year's Scholarship winner Craig Copeland chose to defer his BRDC Scholarship drive until 2006 and will join Thomas in the Mark Burdett Team.
Both the Ginetta and Formula Renault's will be in the British Racing Green and white colours of the BRDC. Drivers and cars will be on the BRDC Stars of Tomorrow stand at the Autosport Show in January.
BRDC Stars of Tomorrow entry forms.
2006 BRDC Stars of Tomorrow entry forms can be downloaded from www.brdc.co.uk (click on Stars of Tomorrow). You can email them on starsoftomorrow@brdc.co.uk, or call on 01327 850939 and ask for an entry form to be sent out. Registration fee £270 to secure your number.
[ Top ]

Blackbushe - 17th December (09/12)

Go join the fun and camaraderie at the next Camberley Kart Club meeting at the Blackbushe circuit on Saturday 17th December. It's the 2nd of four winter championship rounds (any three to count), and with the final two on the fourth Saturday of January and February there's still time for new entrants to be crowned Camberley Kart Club Winter Champion.
Be quick before you race by getting your entry in now! Contact Elaine Buxton on 01276 512691 or visit the Camberley Kart Club website for a race entry form.
Keep in trim and shed a few pounds before tucking in to the Christmas pudding this winter, and who knows, standing on the top step of that podium on the 17th could be the best Christmas present you'll get this year. Do it now though as time is quickly running out to enter, and you can always do the Christmas shopping the following Saturday, - and probably at Sale Prices too!
[ Top ]

Saxon Motorsport Appointed (09/12)

Sole UK Birel Importer Andy Cox Racing is pleased to announce the appointment of Saxon Motorsport as Birel agents. "We are keen to develop a Birel kart for the Biland market to which Saxon are the importers. Saxon is also based near to the Welsh border and may open new Birel opportunities in Wales "commented Andy Cox.
For more information contact ACR on 01527 889595 or Saxon Motorsport on 01432 350157.
[ Top ]

Wildtracks (09/12)
After the success of the recent club meetings at Wildtracks, near Newmarket in Suffolk, the 3rd and final round this year will be held on Sunday 18th December. The circuit will now be catering for Prokarts alongside their grids for Cadets, Junior TKM, Minimax, Junior Rotax, Senior TKM, 100cc & Senior Rotax classes. Although a non-MSA circuit the club will run in accordance to the 2005 blue book.
To download a race entry form click here or alternatively contact the circuit on 01638 750496. The circuit is still open for owner drivers and corporate bookings on most days of the week, and "business as usual" is the message from the new management team.
[ Top ]

The Open Endurance Championship (09/12)
The Open Endurance Championship announced at the London Kart Show that Kartline Tyres have become a Championship Sponsor for the 2006 season. Kartline will be the Championship's control tyre having proven their suitability after being raced throughout the 2005 season. Kartline will also be supplying a free set of tyres as a prize for each of the eight rounds as well as prizes for the overall Championship. Priced at a very competitive £49.90+ VAT per set they offer outstanding value & being produced by a subsidiary of Goodyear they are manufactured to exacting standards
Also for the 1st round of the Championship a free set of Kartline tyres is being offered to all teams who enter and pay their race deposit of £75 before the 24th February 2006. The Race entry is being held at the 2005 price of £150 per round, making the Championship extremely good value for 4.5hrs of racing.
Whilton Mill will host the majority of the rounds but the Championship will be returning to Daytona Milton Keynes for the second round in April.
[ Top ]

BPKC Summer Championship (08/12)
The final round of the BPKC Summer Championship is fast approaching. Round 8 of the BPKC Summer Championship takes place on Sunday 18th December. With double points on offer and special Christmas fayre, a bumper entry is expected.
Open practice is available between 10am and 4pm on Wednesday 14th December and Saturday 17th December between 10am and 4pm. Overnight parking is available on Friday 16th and Saturday 17th. For further details please contact Sheila Rose, Club Secretary on 01634 661604.
[ Top ]

MSA Launch Training & Recruitment Initiative (08/12)
The Motor Sports Association has unveiled details of a National Motorsport Training Plan – an ambitious five-year programme to increase significantly the numbers of volunteer officials in both two- and four-wheeled motor sport. With partnership funding of £150,000 from the government's Motorsport Development Board and match funding from the MSA's Motor Sports Training Trust, Volunteers in Motorsport represents the first ever centrally co-ordinated activity to address the issues of recruitment, retention, training and development among the essential motor sport volunteer community.
There are currently over 9,000 marshals and a further 3,500 licensed officials registered with the MSA, but in the last four years the number of active marshals has dropped by over 10%. In motor cycling the decline is even sharper, showing falls of around 19%. In creating Volunteers in Motorsport, the MSA has joined forces with its two-wheeled equivalent the Auto Cycle Union (ACU). This was critical in securing government funding and essential to the success of the campaign.
The MSA has always funded an extensive training programme, reaching some 5,000 people a year through seminars and training courses organised by MSA-recognised clubs and led by 120 MSA-licensed instructors. However, there has never been such a national drive to attract new blood. Volunteers in Motorsport will cover four key areas: a recruitment campaign to increase numbers across the sport; a retention strategy to recognise experience, increase motivation and reduce further decline; a national programme to provide relevant, structured and professional training that is accessible to all; and a framework for schemes that recognise personal development and simplify the process of cross-discipline participation. Running parallel to this, the MSA will be looking at marshals' welfare, such as the provision of better facilities, in order to improve the environment for volunteers.
Volunteers in Motorsport, to be launched officially at the Autosport International Show in January, will be implemented by Sue Sanders-Peppitt, who is also responsible for all aspects of spectator safety on Wales Rally GB. It will be operated in conjunction with Allan Dean-Lewis, Head of External Affairs at the MSA, who also co-ordinates the FIA Institute's Safety Training Working Group.
"Everyone knows how important volunteers are to motor sport," says Colin Hilton, Chief Executive of the MSA. "We have had a problem with declining numbers for as long as I can remember, but the response has traditionally been fragmented between clubs and ourselves. We now have an opportunity, thanks not only to government funding but also to the Motor Sport Training Trust, to create a co-ordinated, national approach to this serious issue."
"We do need to recruit new blood into the sport," agrees Sanders-Peppitt. "But the people we already have are essential to the ongoing viability of the sport and are very important to us, so we also need to make sure we can retain them. If we consider that 87% of marshals are male and 99% are white, we can clearly see that our volunteers are not representative of wider society and we must take positive measures to address the issue. I'm really pleased to have the chance to make a difference to something this vital. We will be involving many people from all disciplines and we would welcome everyone's views and comments."
[ Top ]

FIA International Court (07/12)
The Motor Sports Association, governing body of motor sport in the UK, has moved to appoint two new UK judges to the FIA International Court in Paris following Graham Stoker's election to the FIA World Motor Sport Council.
The new UK judges will be Anthony Scrivener QC and Edwin Glasgow QC. Both are leading barristers, acknowledged sports law experts and stewards of the RAC, as well as being long standing motor sport enthusiasts.
Colin Hilton, MSA Chief Executive said: "We are delighted that Anthony Scrivener and Edwin Glasgow will become the new UK judges for the FIA International Court. The MSA strongly supports the important work of the International Court and these appointments emphasise the MSA's commitment to the court's vital voice in solving disputes in motor sport at the highest level."
[ Top ]

BRDC Stars Of Tomorrow Award (06/12)
Attention all BRDC Stars of Tomorrow competitors. The BRDC bosses at Stars of Tomorrow and talent scouts are keeping a close eye on all drivers that come down to Sutton circuit in Leicester for the final week of Chase The Champ. The final day is Sunday 11th December which is also prize day! All of the lap times that drivers put in over the next week are going to be monitored and passed over to BRDC bosses at Stars of Tomorrow. Stars of Tomorrow has launched the careers of some of the best race drivers around today including Lewis Hamilton, Gary Paffett and Martin Plowman, this could be something to aid your future career and with people like Ron Dennis watching over this event you may even get a future with McLaren.
Caroline Hoy from Stars of Tomorrow series said' "I want a BRDC Stars of Tomorrow driver at the top of the list and I will award a £25 Grand Prix Racewear voucher to the fastest driver from the 2005 BRDC Stars of Tomorrow Championship. The competition finishes on Sunday, so don't delay and book yourself in now!"
Call the Chase The Champ hotline on 01455 287078 to get yourself booked in, and for a map and directions go to the Sutton Circuit website.
[ Top ]

Ceramic Bearings (06/12)

Passion Racing has launched the Ceramic Wheel Bearing. These have been used over the past few months with their 100cc team and also with Martin Pierce at the European and World Championships. The wheel bearings fit the extended hubs or the standard wheel arrangement they are available for 17mm stub spindles.
The bearings are stainless steel cage with ceramic ball bearings to reduce friction and drag. They spin 10 times longer than standard type wheel bearings.
Call Simon for details on 01273 493299.
[ Top ]

Chase The Champ (06/12)

There is now going to be an award for the most complete driver of Chase The Champ, a driver who has proved his or herself to be the most complete driver all round.
At the moment the person up for this award is Ben Bishop (pictured left at Kimbolton in June) who has been outstanding in all conditions. Ben has visited the circuit now a few times just to keep his eye on things but every time he has had a go conditions have varied and never been perfect, even his dry time was set in the damp!
This really shows how much talent the 18 year old has. He has also proved himself in wet conditions, but not just normal wet conditions as he's contended with snow, hail and torrential rain! Ben soon proved on that day that he was not just another quick driver in the dry but also fantastically talented in wet and hugely variable conditions. Ben said, "I have really enjoyed coming down to compete in Chase The Champ, the circuit is so challenging and you really have to think what your doing while driving round. I was unlucky when I set my dry time as it was a little damp on circuit which made the kart very tail end happy round some of the corners and I was losing time because of this. Never the less though, it has been great to compete in this event and for such a good cause."
If you think you can better Ben Bishop's performance, then get on down to Sutton circuit in Leicester and prove what you're made of! Call the hotline before you come down to avoid disappointment: Telephone 01455 287078.
[ Top ]

The TAG Is Here (05/12)
For all those who are in possession of a TAG engine - i.e. Leopard 125cc, Vortex 125cc, Fireball 125cc and RR. Extreme 125cc. The race is on.
On 22nd January 2006 the Kent circuit Bayford Meadows, located near Sittingbourne, will be the first sprint race to include TAG engines, approved by the MSA and under the technical regulations of Clubman Karting. They will also be included at Bayford Meadows throughout the summer sprint races - i.e. 23rd April; 28th May; 25th June; 23rd July; 27th August and 24th September.
Arnold Giardino and team want many as possible (minimum 10) to go down to have a race of your own - not to be amongst the TKMs. There's a practice day on Sunday 15th January 2006.
Says Arnold, "This is what we have all been waiting for. Come to Bayford and race your TAG." Further information ring Bayford Meadows 01795 410707 or Arnold 07770326822. For technical regulations visit Clubman Karting.
Please note: For all sprint races a Bayford you must have an MSA competition licence. If you do not have one, you can take an ARKS test at Bayford on Sunday 15th January 2006 at an incentive price. Contact Bayford Meadows and get your ARKS pack or ring Bayford for more details.
[ Top ]

Stars Of Tomorrow (05/12)

A double DVD of the 2005 televised Stars of Tomorrow series is now available exclusively from Karting magazine.
Containing three hours of action from Shenington, Three Sisters, Larkhall, Silverstone, Llandow and Buckmore Park, the DVD set costs £25 including UK P&P and VAT.
Registered series competitors should contact Carolynn Hoy for details of a special reduced price.
[ Top ]

Button Digs Deep (02/12)
Latest news is that Jenson Button has donated a large sum of money to Chase The Champ and he wants fellow racers to get down to the Leicester based circuit regardless of the weather to show off their skills.
Jamie Green impressed the girls from Big Brother 6 with his driving skills when they went down to Chase The Champ.

Can you impress them too?
The Chase The Champ event is entering its final week, the last day which is also prize giving day is Sunday 11th December, but it's not too late to get down and prove yourself. The event has been a great success, which is aimed at helping 13 year old leukaemia sufferer Dean Burbank live his dream of racing karts.

The weather has taken a turn for the worse but don't let that put you off, it never put off the greats like Ayrton Senna, Alain Prost, Michael Schumacher and many more current Formula 1 drivers.
With a brilliant 'wet track' prize up grabs there really is no reason not to take part in this great event held at the Sutton Circuit at Sutton Elms near Broughton Astley in Leicester. Many great racing teams and talent scouts are closely watching this event at this technical circuit, so if you can prove yourself in all conditions you never know who might come knocking at your door.
Get your name noticed amongst some of the best drivers in motorsport and karting, such as; Jamie Green (the champ!), Riki Christodoulou, Ben Bishop, Martin Plowman, James Harridge and many more.
UK Karting are also offering a chance to win a trophy. There will be an award made to the driver who has impressed most in all racing conditions at this Chase The Champ event. Your name and photo of you holding the trophy will appear on the home/front page of karting.co.uk for all talent spotters to see! There's also more UK Karting prizes, and you could become the owner of one of three glass trophies that someone will win, and you don't have to win to win one, if you know what we mean.
The weather forecast for the next week in the Leicester area is for rain, rain and more rain, so here is what you need to do to put yourself in with a chance of acquiring one of these special trophies. Get yourself down to the Sutton Circuit and support the charity event by hiring a kart for £12 for 10 laps. It's a very technical circuit and we know that it's not easy to put in a perfect lap, so…
As we all like a trophy when kart racing and we can't all be as quick as Jamie Green, at the moment - it's a long learning curve isn't it? The track, at best, is likely to be a bit damp for the next week so again there's little chance for most of us to head the leaderboard, although if you do and are still there at the end of the event then you win a ride as a passenger in a Ferrari around the Donington race circuit. But if you are not bang on the pace don't worry, you could still get your hands on an award, in the shape of one of our special 'raindrop' trophies. How? Read on.

In most events you could expect to receive a trophy if you finish in the top 3, and in a few events you might walk away with a trophy by finishing in the top 6, but there's nothing if you finish 7th. Well that's not the case at Sutton Circuit's Chase The Champ running until Sunday 11th December. All times will be logged and at the end of the event if your time is the 7th fastest during that period you will receive a UK Karting sponsored trophy. There are three categories; lightweight, heavyweight and ladies. So what are you waiting for? Get down to the Sutton Circuit now! Mum, Dad, Brothers, Sisters, Aunt, Uncle and Grandad too, you all have got a chance of a prize now. 7th or 11th place! Get on down and help us help young Dean Burbank (pictured left). Where do you stand on the Chase The Champ leaderboard.
And there's more… Nobody wants to win a booby prize, so we are calling this our 2nd prize. Entrants during the above period in each of the three categories who finish in 11th place will win a (very) limited edition of our kart racer mug - just what you need to put your tea in on these cold days, AND a cloth racesuit patch. Wow, we hear you say!
There are many brilliant prizes up for grabs and a presentation day where all prize winners and the public will be invited. There will also be media attending this brilliant event. So go on down and have a go before it's too late to be part of something big. Call the Sutton Circuit now on 01455 287078 and get yourself booked in. Open daily from 10am until late.
Are you on your way to the Sutton Circuit yet? Come on, it's all in a good cause!
Photographs courtesy of Chris Walker - www.kartpix.net
[ Top ]

Biland Super Series (02/12)
The Biland Super Series was announced at the International Kart Show at Donington last weekend. Saxon Motorsport and their sponsors are putting up a prize fund in excess of £10,500. For each round there will be the following prize money:
1st - £1000
2nd - £500
3rd - £250
In addition, the top placed driver not to have previously won money or tyres will receive a new set of tyres.
Provisional tracks and dates are:
1st April 2006 - Buckmore Park
28th May 2006 - Llandow
3rd June 2006 - Whilton Mill
16th July 2006 - Warden Law
2nd September 2006 - Clay Pigeon
29th October 2006 - Llandow
This is one of the best prize funds in UK karting! For anyone buying a Biland at the moment this would give them the opportunity to cover the initial cost, and the cost of the season if they're good enough. There is also the option to hire a kart from Saxon. The prices start at £350 +VAT per race day. For more details contact Saxon on 01432 350157 or e-mail carol@saxon-motorsport.co.uk
[ Top ]

End Of Year Deals From Tal-Ko (02/12)
Kart racers are being offered a once a year chance to buy top notch brand new karts at knock-down prices. Tal-Ko Racing needs to clear its stores ready for shipments of new karts coming in January and are offering karts from Wild Kart and from multi world champions CRG at greatly reduced prices.
Visitors to the London Kart Show (9th - 11th December 05) will be able to buy top of the range premier Racing specification models like CRG Road Rebel "Havana" for £1250 and the Wild Kart "Fighter" for £800. See the Tal-Ko Racing website for information and pictures on these karts. All prices quoted are for rolling chassis complete with Mag wheels but less seat and exclusive of VAT.
Says Tal-Ko's Alan Turney: "These are huge reductions on premium quality karts. We simply have to make space for new 2006 stock so it is a great opportunity for drivers to get a genuine bargain. But once they are sold that's it." The only stipulation is that they must be paid for and taken away from the show. Tal-Ko will also be offering some very special deals on complete Formula TKM 2 & 4-stroke outfits.
[ Top ]

Maxxis Formula TKM Festival (01/12)

A new DVD featuring all the action from this year's Maxxis Formula TKM Festival at Kimbolton has just gone on sale. The DVD, which lasts for around one hour, shows the finals from all of the 2 and 4 stroke classes as well as other action and interviews from the heats and pre-finals.
Also included are some breathtaking on-board shots from a number of karts – probably the best ever seen within kart racing – which help make the DVD very exciting viewing. The DVDs are priced at £19.50 including VAT (but excluding post and packing) and are available from Tal-Ko Racing on 01767 682020.
[ Top ]

Motors TV Kart Series (01/12)
The Motors TV Ultimate Karting Challenge, based at Three Sisters, has received another boost to the ever increasing prize fund, with the announcement that Pi Research will be sponsoring the entire series in 2006.
As part of their commitment, the company will be giving away four new Pi datalogging systems for Karts, worth around £1200 each, one for each of the four classes. An announcement detailing the prizes offered by the individual class sponsors , KKC, Dartford Karting, Tal-Ko, Zip North and Head 2 Head Motorsport, plus some exciting contributions from Motors TV and ARDS, will be made early in the New Year. Alan Taddei of PSC Productions says, "The top three in each class at the end of the season will share in some special prizes. We expect the prize fund to have a value in the region of £18,000 or more by the time we start the series." For further information about the series, and to download a registration form, log on to www.mbkartclub.com or www.pscproductions.co.uk
[ Top ]

Threat To Motor Sport (01/12)
New proposals governing rights of way could have a major impact on motor sport enthusiasts who need access to sites with cars or vans - and it may be too late to do anything about it.
Provisions in a Government Bill going through Parliament seek to remove rights of way for motor vehicles and restrict the recording of new ones. Despite previously proposing a timescale for users of minor highways to check the records and confirm their right of way, the Government is now proposing to backdate the new rules to May this year.
According to LARA, the Land Access and Recreation Association, the result will bear on many motor sport organisers and competitors and others using the countryside for sport and recreation may find that minor roads - including some tarmac roads - which they have been using for years for access to sites for practice days and events are closed to motors. Continuing to use them could result in prosecution.
Tim Stevens from LARA says: "The Government had originally allowed 25 years to sort out the rights of way maps, which are currently in a real mess. At the beginning of this year, the Minister was under pressure to reduce this for motorists, but promised 'a reasonable period of notice', and the Government now threatens to go back on its word by making the regulations retrospective, closing the door even to existing claims. The result will be that recreational users of the countryside who need to use motors for access will now find their rights arbitrarily extinguished and there will be nothing they can do about it."
The move by the Government is an attempt to crack down on so-called scramblers and others who illegally drive or ride where they should not. LARA supports this objective of the legislation, as long as legitimate users are first given the chance to verify their own existing rights. LARA is calling on the Government to keep its promise to allow a period of time for the records to be checked and rights of way verified. As Tim Stevens says: "In not allowing records to be corrected, the Government will only penalise responsible users of country lanes who want to keep within the law. The proposal will have no impact on those who flout rights of way and churn up country lanes."
LARA calls on all who may be affected by these regulations to lobby the Government and their local MP by pointing out how they could lose their established access for legitimate motor sport - not merely on the lanes themselves, but on access roads including some which are tarmac.
[ Top ]

Ben Bishop Offered Formula 3 Drive (01/12)

Racing driver Ben Bishop who lives in Stevenage, Hertfordshire has just been offered the opportunity of a lifetime. Ben who is currently a works driver for ARC Motorsports based at Silverstone is competing in the TKM Extreme Karting Formula. Ben is also one of the fastest drivers in the Chase the Champ event held at Sutton Circuit in Leicester.
After racing in the annual TKM Festival held at Kimbolton in Cambridgeshire, Ben was approached by Prop Car Racing, a South American Formula 3 race team currently running second in that Championship. The team who have many race wins throughout their F3 history was founded by Darcio dos Santos, uncle of Ferrari Formula One ace Rubens Barrichello. In 1995 they were runners up in the South American Formula 3 championship, which they went on to win in 1997. A statement from Prop Car Racing said, "We are looking for British talent, we have always launched great young drivers, and today Prop Car Racing wants Ben Bishop to maintain its tradition".
Ben said, "This is a fantastic opportunity for me to reach the higher levels of motorsport and to fulfil my ultimate dream of racing in Formula One. I am determined to make the most of this opportunity but of course such a drive does not come cheaply and I am currently looking for British based companies who can benefit from backing me in a sponsorship deal". Anyone interested in further information can contact Ben on 07798 663434 or e-mail: benbishop_bb@hotmail.com
[ Top ]

New Karting Courses (30/11)

After many years of Karting, at the highest levels in the UK and Europe, Danny has set up his own driver coaching courses. They are aimed at both the new karter and also the karter that has been in the sport a while and needs the expertise to take him or her to the next level.
The tuition ranges from a one day one-to-one course, to actually running the driver at club meetings or even a full season's championship. All tuition is on a one-to-one basis, you will not be part of a large group. The courses will teach you top level driving techniques and also advice on chassis set up. Danny said; "Lots of drivers will spend huge sums of money on a new chassis, new engine, special carb, new tyres, etc. to find more speed, but many overlook the benefits of professional driver training, a driver can easily find 3-4/10s on a better driving technique, even after a one day course."
Any circuit is covered in the UK or Europe. Go to Danny Cruttenden Motorsport or call 07855 791739 for more details.
[ Top ]

World Rotax Championships (30/11)

Well done to Passion Racing's Martin Pierce 3rd place at the Rotax World Championships in Malaysia. The week long event was certainly gruelling for drivers with well over 30deg temperatures and monsoon conditions on the Friday. Time practice left Martin 2nd in group and 5th overall. Martin had 1 heat win and two 2nds to qualify 3rd for the pre-final, finishing eighth after a clutch problem. The Final of 25 laps was fantastic for Mr Pierce leaving him a close 3rd place. Thanks go to all the team for the season, Martin Pierce finished 4th overall in the European Rotax Max Championships.
Thanks to: Simon Frost - Passion Racing; Ivan Mitchell - Passion Racing; David Gregory - Passion Racing; Tim Swadkin - TSRE (engines); John and Jean - JAG; Tristram Oman - HRS Motorsport (CRG); Martin Collard and the girls - Dartford Karting; Stephen James - Tony James Component Wiring (Pi system) and Paul Saunders - Snap On Tools.
For details and budgets for the Rotax European Championships please call Simon or David 01273 493299 (Passion Racing). Parts can be purchased online from www.passionracing.co.uk
[ Top ]

Former Champ Returns To Shenington (30/11)

Alastair Rushforth (Wantage) will return to Kart racing this weekend at Shenington for the first time in nine years. The 26 year old racing driver will be competing in the Formula TKM Extreme race at the Shenington Kart Racing Club (Nr Banbury) on 4th December.
Shenington Karting Racing Club holds many fond memories for Alastair who was Shenington Junior Club Champion in 1994 and Superprix Team Captain and winner in 1995, 1996 and 1997 before he moved into car racing. His return to Karting this winter is in a bid to keep fit in the way racing drivers prefer – by racing! "I am really looking forward to racing at Shenington again" says Alastair "and meeting up with a lot of old friends and on-track rivals! Over winter I will be keeping fit as I prepare for next year's car racing season and Karting keeps that competitive edge keen as well as being a lot of fun."
Racing his Alastair Rushforth Motorsport prepared Venom Avante Chassis with Game Racing prepared TKM Extreme engine, Alastair is hoping for a top ten finish in his first Kart outing for many years. This year Alastair had a stunning 100% winning record in the CSCC Tin Tops races he contended and is now seeking sponsorship to enable him to contend the 2006 Britcar Production S1 series.
[ Top ]

Chase The Champ (29/11)
There is now a competition for the fastest wet time around the Sutton Circuit with a fantastic prize up for grabs. The winner will have a chance to get taken around the Donington race circuit at high speed by a professional race driver in a Ferrari! You will get a real feel for what racing drivers go through every lap driving at speed and on the limit of adhesion. This will be one roller coaster ride you won't want to miss so get down to the Sutton circuit before 11th December and Chase The Champ. Show your class of driving and you could be in for the thrill of your life.
[ Top ]

2005 Rotax Max World Finals (29/11)
Some fantastic racing saw a spectacular end to the Rotax Max Grand Finals for the 2005 season last Saturday. The beautiful Malaysian island of Langkawi turned on an afternoon to remember for competitors and spectators alike. Every final did not disappoint, as the racing unfolded to see who would be crowned the Senior, Junior and RM1 Champions for the year.
A brief race report can be found here.
[ Top ]

Gearbox Kart GP (28/11)

2006 will see the return of Gearbox Karting's greatest annual event "The MSA British Superkart GP". After a three year absence the British Superkart Racing Club announced the Grand Prix event at the International Kart Show at Donington Park. The event will take place on the very popular Cadwell Park full circuit on 21st, 22nd & 23rd July 2006, and six different classes will feature in the Grand Prix event. Others may be added later. They are:- Division 1 & 2 Superkarts, F250 National, F125 Open, F125 ICC and F210 National.
It is expected that overseas drivers will take part in the Division 1 & 2 Grand Prix events. The plan is to offer a day's testing on the Friday with racing taking place on the Saturday and Sunday. The event will include free and timed practice plus heats, a pre-final and GP races for each of the classes.
Ian Rushforth, the Competitions Manager for the British Superkart Racing Club said; "This is a great day for Gearbox Kart racers up and down the country as it brings back a very much loved event. It is hoped we can start to build the event back up to something like it was in its heyday when we all loved to compete at Silverstone. The event will really suit those gearbox drivers that do not want to race regularly on Long Circuit but may fancy a crack at their Long Circuit counterparts just once in the year at this very special event. It's not just about racing its going to be a real weekend occasion. I really hope that drivers will get behind this concept of an all kart event and support us to the hilt as it is taking a fair commitment financially on our part to put the meeting on."
Ian Rushforth can be contacted via e-mail at the British Superkart Association or visit the BSA website.
[ Top ]

Cystic Fibrosis Kart (28/11)

2004 BDKC Junior runner-up, James Canham who this year graduated to the Senior Rotax category launched his campaign for Cystic Fibrosis awareness at Ellough Park Raceway on Saturday 26th November. The weather was cold, dark and wet however this did not dampen down the good nature of members of the BDKC who donated £63.86 to the Cystic Fibrosis Trust for research in to Cystic Fibrosis, the UK's most common life threatening disease from birth which currently has no cure and a life expectancy of just 31 years for carriers of the faulty CF gene. Since James started the campaign in aid of a close friend who has Cystic Fibrosis he has raised over £166 to date, with £102 being donated online via www.cfkart.co.nr. His aim is to raise £9,000 in 12 months, a high target but achievable.
The kart was on display throughout the race day with fact sheets on Cystic Fibrosis available and the kart certainly got plenty of attention with its eye catching colour scheme. James will race promoting the Cystic Fibrosis Trust throughout the 2006 season and will have the kart at public displays spreading awareness of CF and hopefully raising much needed money for research in to CF. A big thank you to all at BDKC for their efforts on Saturday and to everyone who has donated.
For more information on James' racing and aspirations visit www.cfkart.co.nr, or for more information about the Cystic Fibrosis Trust visit www.cftrust.org.uk.
[ Top ]

2006 Formula TKM Regulations (25/11)

Tal-Ko Racing, organisers of the Formula TKM 2 & 4 stroke classes, has released the 11th issue of their Regulations & Technical Guide for the categories. The 2006 guide contains the latest regulations for all of the TKM classes together with a wealth of information on how to set up the engines and keep them running at their peak.
Contained within the guide is also the engine fiche for the 2-stroke engine and technical detail such as the list of approved spark plugs for 2006. The bound guide book costs just £4.50 and is available from Tal-Ko and from Lodgemark Press.
[ Top ]

BRDC Stars & Formula TKM Join Forces (25/11)

BRDC Stars of Tomorrow is joining forces with Formula TKM to bring a new breed of club based racing to the UK launching the search for the TKM SuperStar.
This is an entirely new concept to encourage more racing at club level which then offers drivers the chance to go on and take part in top level televised events. The series will start in 2006 and will be open to every Junior and Intermediate age Formula TKM driver in the country, though prime entries will come via their local clubs.
It works in two stages. First, clubs right around the country will be invited to hold races within their own club events from which the top drivers will qualify through to the Stars series. The top 'champion' driver from each club will get a free entry. Then at the first four rounds of the Stars Championship a number of local clubs will be invited to send along their top nominated drivers in Junior and Inter category to take part. If there are any places left open on the grid then drivers from other areas can benefit from an entry. At the fifth round in Genk, Belgium, any UK driver in the classes can take part subject to having a National A licence providing an exciting opportunity for youngsters to race abroad. Finally at Buckmore next September will come the final shoot out where the top drivers from each of the five rounds will be invited along to race for the prestigious title of TKM SuperStar.
At the Stars events the grids will be made up of a mixture of Junior and Intermediate drivers racing alongside each other for the same trophies. With their performance so close it will make for great racing. The format of the BRDC Stars of Tomorrow events will be testing on Friday, followed by racing on Saturday and Sunday (heats and finals on both days). All events are covered by an exciting TV package.
The BRDC Stars of Tomorrow series hope that this format will enable those club TKM drivers who are unable, because of budget or time restraints, to commit to a full season of top level events to enjoy racing at prestigious televised events. Says Stars of Tomorrow organiser Carolynn Hoy: "We believe this creates an exciting new opportunity for youngsters in these classes and puts in place a new style of racing which will benefit everyone including local clubs."
Alan Turney, owner of the Formula TKM classes, added: "It is a great boost for the classes and these young drivers. The competition will be very strong and I am sure the final shoot out will be a great race. We must thank Stars for their innovative approach."
Full details are available from BRDC Stars of Tomorrow at British Racing Drivers Club, Silverstone Circuit, Northants, NN12 8TN. Tel 01327 850939 or 01280 706906. E-mail: starsoftomorrow@brdc.co.uk
[ Top ]

MSA National Court (23/11)
The Motor Sports Association National Court met on 8th November to hear three cases and made subsequent rulings on each, the following two concerned Karting.
The court suspended the competition licence of Cadet kart competitor Ben Palmer for 12 months, although this itself was suspended for 12 months pending the future conduct of his father Paul Palmer and that of anyone associated with his team. The court ruled that Mr Palmer had displayed abusive behaviour towards officials after they asked to inspect his son's engine at a kart race meeting at the Kimbolton circuit on 9th October. The court also found Mr Palmer guilty of disobeying officials' instructions, although agreed that no technical infringement could be proved as officials had returned the engine before inspecting it. Mr Palmer was ordered to pay £750 towards costs.
Appeal Hearings - Mr Ronald Tebbs appealed on behalf of his son Ryan Tebbs who was excluded from a kart race at Buckmore Park on 25th September where officials found his engine did not meet the technical regulations. The National Court upheld the exclusion. The appeal fee was forfeit and Mr Tebbs was ordered to pay £250 towards costs.
[ Top ]

Chase The Champ (22/11)

The 'Chase The Champ' event (12th Nov – 11th Dec) is now well into its second week and there's been many visitors to the Sutton Circuit near Broughton Astley in Leicestershire, either showing their karting skills, or just trying their luck with a few laps of the track in support of the fund raising efforts for young leukaemia sufferer Dean Burbank.
Local European F3 Champion Jamie Green (pictured left) has set a fast lap time and over the past days karters and non-karters have been racing around the 620 metre track attempting to get their effort onto the "Top Gear" style leaderboard. One recent visitor was Team Zanardi driver Martin Plowman who managed to break 39 seconds on his first lap, and finishing with a best time of 38.134 seconds.
This week will see Gary Catt and Ben Bishop at the circuit. Can they be the ones to beat Jamie Green, or can you? There are lots of prizes on offer and even if you don't manage to put in a particularly fast lap you'll have fun trying, and most importantly you will be supporting a worthy cause. It costs only £12 for 10 laps.
If you are at the International Kart Show at Donington this weekend then the Sutton Circuit is only about 40 minutes away. You'll be very welcome and may just put yourself in line for one of the many prizes, but if you don't quite manage it on track, get yourself, friends and family some raffle tickets at 50p each, or 5 for £2. The raffle prizes include a home cinema sound system, a Sainsbury's hamper, a luxury Mercedes for the weekend and lots of autographed memorabilia including a DVD signed by everyone's favourite commentator, Mr. Murray Walker.
There's no excuse not to be a part of this fund raising event and help make a dream come true for 13 year old Dean, because if it really is impossible to get to the Sutton Circuit you can purchase raffle prize tickets by calling the circuit on 01455 287078.
Where to now? The Sutton Circuit. The Leaderboard. The list of prizes.
News updates. (Thu.24/11 - AM). Ben Bishop (ARC Motorsports works driver) was down at the circuit on Tuesday with racing pal James Harridge (TKM Extreme). They used their first 10 laps to get used to the track and they both said they were shocked how technical the track was. On their second Chase The Champ 10 laps they started getting to grips with things and had laps times around the 38.5 mark. When they came in they took time to talk to each other and shared notes, and both agreed that this circuit requires smoothness and sensitivity almost like an F1 car. Next time out the lap times really came down with James showing a class of driving so smooth it looked like Mika Hakkinen was on the circuit! James Harridge set a personal best of 38.141 and Ben Bishop's best time was 38.401. Ben said he could not quite get the hairpin corner right and that's where I lost my time, I wanted to get back out and was confident of getting it right but the conditions had changed on the track due to winter frost and I ran out of time, but I will be back and will beat Jamie Green!
Best times were: James Harridge (TKM Extreme) 38.141 seconds and Ben Bishop (ARC Motorsport works driver) 38.401 seconds.
[ Top ]

Biland Engines Discounted (18/11)
For a strictly limited period Saxon Motorsport are offering the Biland SA250 motor for £1600 instead of the normal retail price of £2250. Also, they are offering a part exchange of £600 against any sealed and running Rotax Max engines. The offer includes Senior and Junior motors and for anyone wanting to compete in the F6 Championship with a Junior they are offering to cover the cost of a year's entry fees as well!
For more details call Saxon on 01432 350157, or e-mail: carol@saxon-motorsport.co.uk
[ Top ]

Guy Tipping (18/11)

It is with great sorrow we announce the sudden death of Guy Tipping. 29th October 1959 - 10th November 2005.
Guy was a good driver in his day and a respected and valuable member of the Shark Motorsport team in recent years, and well known to a large number of people in the karting world.
His funeral will take place at 12:00 on Friday 25th November at the Aldershot Crematorium, Guildford Rd, Aldershot, Hampshire, GU12 4BP, and his wife Lorna, and children Charlotte and Ben, extend their welcome to anyone that knew Guy.
[ Top ]

Personalised High-Speed Calendars (18/11)

Looking for a Christmas present with a difference? Or a personalised gift for your sponsors? For a limited period, Chris Hartley Media is producing stylish, personalised desktop calendars for racers and racing teams. Incorporating photography of you or your driver in action, the calendars can be personalised with your name, web address/contact details and any logos. You can even choose the colour scheme.
Presented in a CD calendar case (exterior dimensions: 10 x 126 x 142mm), your calendar will feature a front page plus 12 further calendar pages - one for every month of the year, each containing a different photograph of you or your driver. All you need to do is provide the 12 photographs that you want to feature in the calendar. You can either e-mail these as individual JPEG files, or post them to us for scanning (all photos will be safely returned to you with the completed calendars).
To view some samples of the calendar pages, an example of a CD calendar case and a price list, please click here; or visit www.chrishartley.org and enter the media pages. You will find a link to the 2006 calendar offer on the homepage.
For further information or to place your order, contact Chris Hartley on 07793 004056 or email info@chrishartley.org
[ Top ]

Historic Race Series (18/11)
Launching at the International Kart Show at Donington Park, over the weekend of 26th & 27th November, is the British Historic Kart Racing Championship for 100cc and Gearbox Karts. The 8 round non-MSA series kicks off at East Kirkby, Lincolnshire on 2nd April next year. A spokesman for the series said; "We had a successful pilot event earlier this month at Red Lodge, since when the regulations have been honed and 3 categories created catering for Karts manufactured up until 1982. With suitable Karts readily available for less than £200 and racing on second-hand tyres retrieved from the scrap bins at MSA meetings, this has to be the cheapest form of Karting anywhere."
The series is affiliated to the non racing Historic & Classic Kart Club and details can be found on their stand at both the Donington and London Kart Shows." For more details click here.
[ Top ]

Win £250 Or A Karting Course (18/11)
The Association of British Kart Clubs need two new logos and if you can come up with the best design then you'll win £250, or a Protrain karting course!
One design is to replace the existing ABkC logo and the other will be used to promote the sport's 50th anniversary in 2006. See the December issue of Karting magazine or visit www.kartingmagazine.com/competition.asp for full details, but hurry as entries have to be in by the 30th November.
[ Top ]

Winter Series At Camberley Kart Club (17/11)
Don't let winter get you down! Go and have some fun racing in a 4 round winter series at Camberley Kart Club. There are all the normal CKC classes, with the best 3 rounds to count. Points for Heats and the Finals.
Nominal registration fee of £10. So don't get rusty over the next 4 months, get along to Blackbushe. This technically challenging track will keep you race fit, and ready for your National series in the summer. So don't miss out, come on down say Camberley KC, you will be very welcome.
Saturday 26th November is the first round so time is short. Contact CKC Chair and Competition Secretary Mrs. Elaine Buxton on 01276 512691 for all the details, or visit www.camberley-kartclub.co.uk now.
[ Top ]

Wildtracks – Club Race Meeting (16/11)
Wildtracks, nr Newmarket in Suffolk are running their 2nd club race meeting on Sunday 20th November. The circuit will be catering for Cadets, Junior TKM, Minimax, Junior Rotax, Senior TKM, 100cc & Senior Rotax classes. Although a non MSA circuit the club will run in accordance to the 2005 blue book.
To download a race entry form click here or alternatively contact the circuit on 01638 750496.
The circuit is also open for owner drivers & corporate bookings on most days of the week, "business as usual" is the message from the new management team.
[ Top ]

International Court Of Appeal Decision (16/11)
The FIA International Court of Appeal met in Paris on Monday, 7th November, 2005, in order to examine the appeal introduced by the Fédération Internationale de l'Automobile against the decision of the Italian National Court of Appeal concerning Kart #129, competitor Jean-Yves Berthon, driver Nathanaël Berthon, following the event at La Conca run from 18th to 21st August 2005 and counting towards the 2005 CIK-FIA European Intercontinental A Championship.
Having heard the explanations of both parties and having examined the various documents and other evidence, the Court partially quashed the decision of the Italian National Court of Appeal. As a result, Kart #129 was excluded from the pre final run at La Conca for violation of Articles 1.3, 4.2 and 10 of the Karting Technical Regulations and 2.9.b of the General Prescriptions of the International Sporting Code.
The decision confirms James Calado as CIK-FIA European ICA Champion.
The International Court of Appeal was presided over by Mr José Macedo e Cunha (Portugal), and composed of Mr Harry Duijm (Netherlands), Mr Christian Grosjean (Switzerland) and Mr Vassilis Koussis (Greece). The full text of the International Court of Appeal's decision is available, on request, from the secretariat of the FIA International Court of Appeal in Paris.
[ Top ]

Win A Dyno (15/11)

SportDevices are offering you a chance to win a complete SP1 Engine Dyno (RRP £3500) capable of dynoing engines up to 50hp. The competition is in the form of a quiz with a simple motorsport related multiple choice question.
Quiz entry tickets are on sale now and available by e-mailing quiz@sportdevices.co.uk or call Alistair on 07836 217193. The winning quiz ticket will be drawn at random on Sunday 15th January at the Autosport International Show, and there will also be 10 runner-up prizes of a £50 Dyno voucher. The winning numbers will appear on this website and in Karting magazine.
The dyno can be viewed on the SportDevices website and will be on display at the International Kart Show at Donington, the London Kart Show at Sandown and the Autosport International Show at the NEC together with the latest in Eddy Current and Inertia Dynos and Rolling Roads so go along and discuss your requirements.
[ Top ]

Chase The Champ (15/11)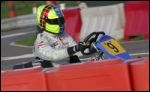 The Sutton Circuit located near Broughton Astley in Leicestershire have a 'Chase The Champ' event running until 11th December, and there's some fantastic prizes to be won.
In support of young Dean Burbank who was diagnosed with Leukaemia at the age of 10 years; Dean's dream to race karts has helped him fight the illness for the past 3 years and he's now awaiting results from his latest bone marrow transplant. Sutton Circuit, along with many supporting people and businesses have organised this event to help make his dream come true. Local European F3 champ Jamie Green has set a fast lap at the circuit and the challenge is to try and beat his time. If you can't beat Jamie's time, can you beat the many celebrities who are also doing a lap for Dean such as 2005 Big Brother stars Eugene, Roberto, Sam, Vanessa and Olaith.
Prize giving day is Sunday 11th December, and to have a chance of collecting one of the many fantastic prizes you will need to get yourself into a kart and around the circuit, both of which you can do for £12 for 10 laps. Jamie Green, the 2004 F3 Euroseries Champ and Mercedes 2005 DTM race driver has set a benchmark time of 38.200; so can anyone better it?
Big Brother's Eugene went around in 41.568 seconds, followed by Roberto 42.988, Sam 44.872 and Vanessa 46.112. Coronation Street's Scot Wright put in a swift 39.585 second lap; Bill star Jack Marsden managed 40.287 seconds; Take Over radio presenters Sharon and Ethan did 44.219 and 39.741seconds respectively. Riki Christo came nearest with a 38.312 second lap, closely follow by Glenn Freeman of Motorsport News on 38.708 seconds.
If you are still unsure about having a go then the following prizes should convince you to enter and help raise funds for young Dean. Prizes include a TAG F1 watch, signed Fernando Alonso cap, to be driven around Donington race circuit at high speed in a Ferarri, Panasonic top of the range camcorder and Panasonic MP3 player, David Lloyd club membership, DVD players, Saks Hair and Beauty gift vouchers, Jamiroquai tour jacket, McLaren team clothing and many more.
Ring Mark for more information on 01162 332128 or 07980 327207.
News updates. (Tue.15/11 - PM). Jamie Green improved his time last Sunday to 38.018 seconds on a dry track. Other new times include Nigel Green (Jamie's brother) at 38.117 seconds; Mark Garrett at 38.288; Formula Renault driver Craig Dolby lapped in 38.738 and Wayne Green went around in 38.279 seconds. The other big news coming out of the Sutton Circuit is that Formula 1 World Champion Fernando Alonso is going along soon to set a time!
(Wed.16/11 - PM). Confirmation received today that rising star Ben Bishop (TKM Extreme) will be going to the Sutton circuit on Tuesday 22nd November to attempt to beat Jamie Green's time. Ben who has also been offered an F3 drive next season has said he can't wait to get down to Sutton circuit in Leicester as he has heard it's a very technical and challenging circuit. Sutton circuit has got a 'Top Gear' style board up for everyone who has come down from the racing world, so you can see how you compare to all the top drivers including Ferdando Alonso and current leaderboard champ Jamie Green! So what are you waiting for? Get yourself to Sutton circuit before the event ends!
[ Top ]

Motors TV Ultimate Karting Challenge (14/11)
MBKC opened up registrations for the Motors TV Ultimate Karting Challenge just over two weeks ago, and already the registrations are flooding in, even at this early stage. Michael Comber from Thrussington in Leicestershire was the first to sign up, racing in the Junior TKM "M" Class, a combined grid for JTKM and Intermediates. Michael entered the October club meeting to get in some early practice for the televised series, and ensure his registration was in at the start to avoid disappointment. Michael's dad, Rob, commented, "It doesn't take too much thinking about when you read how the production will help exploit drivers' sponsorship, and their own profile. The race format, with reverse grids, is unique, which should provide for some fascinating racing, and from what I have seen of the new package of graphics to be incorporated, especially driver photo and video images in a full rundown of every grid position, it's something we simply had to be part of."
Only 34 places in each of the four featured classes are available, with the Cadet, Minimax and Jnr Rotax classes already well subscribed, despite the fact the series is still over four months away. MBKC Chairman, Simon Goodfellow said "we can only accept a maximum of 34 drivers per class. Beyond that, we will have to return registrations and place drivers on a reserve list, and with the number of registrations already in, that looks like happening at some stage."
It will be the first time a club-based series has featured on television, with one hour programmes shown at prime-time every month. Alan Taddei, of PSC Productions says, "The intention is to use the opportunity to promote the sport as a whole. Although the series is based with MBKC at Three Sisters, viewers will be watching from all over the UK, so I want to make sure I mention the other clubs and circuits which may be local to them. Someone that lives in Somerset, thinking the sport might be ideal for their son or daughter, probably wouldn't consider coming into it thinking how great it would be to travel to Wigan every month! However, they would probably be interested to know about Lydd, Clay Pigeon & Llandow, in the same way someone watching in Scotland would want to know about Golspie, Larkhall, Crail & Boyndie, not to mention Warden Law and Rowrah. The chance to promote Karting, not only as an activity, but as a spectator sport, is just too good to miss. As for the drivers who enter the series, it will hopefully provide a platform from which they will find it easier to raise some financial support, particularly with some of the ways we will include their sponsors' details in the programmes."
PSC Productions with MBKC will have a stand to promote the series at the Kart Show in Donington, as well as the Autosport Show at the NEC. For further information and a registration form, go to www.mbkartclub.com or www.pscproductions.co.uk.
[ Top ]

125TaG Kart Racing Opportunity (14/11)
After an absence of 1 year since introducing and supporting a new driver into the world of Kart racing, who has gone on to compete at Super 1; Kemara Ltd is once again offering a great opportunity for the 2006 season.
This time they have two drives available for anyone age 16 and over. Both are in the UK Clubman 125TaG class being run at Forest Edge Kart Club, the home of Clubman Racing, one driver will use the renowned Parilla Leopard engine on a TonyKart chassis whilst the other will use the new PRD Fireball engine on a Biesse chassis. Both drives require some financial commitment but the support of a well equipped race truck with assistance from experienced drivers will guide the drivers towards success.
The hopeful drivers need to be able to get to the Forest Edge circuit which is located just off the A303 in the Hampshire countryside, to the east of the Thruxton circuit. It's within easy reach of London via the M3 then A303, and the South Coast from the M3, A34 then the A303. Please make all original applications by e-mail to opportunity@kemara.co.uk and include your contact details plus a short paragraph explaining why you want to race Karts and why you should be chosen.
The successful drivers and one reserve are expected to be chosen by the end of January 2006 ready for the start of the new season.
[ Top ]

Championship Glory For Stephenson (11/11)

Minimax racer, Conor Stephenson, enjoyed title success last weekend, when he won the Trent Valley club championships in dominant style.
Stephenson went into the final round with only a slender margin over his title rivals. However, the 13-year old proved more than capable of dealing with the pressure - finishing third from grid 16 in the first heat and then recovering from an early accident in the second to take sixth place having been last but one on the opening lap.
After qualifying his Trulli chassis on the second row of the grid, the former northern karting champion then revelled in wet conditions during the final. Starting fourth, he grabbed the lead on lap two, before cruising to a comfortable victory. Stephenson's fifth victory of the season at the circuit was more than enough to secure the club title. "It's great to win such a respected club championship," commented Stephenson, "and I'd like to say a massive thank you to Steve Ogden for making sure the engines were spot on and to everyone at Strawberry Racing, especially Warwick and Paul, for their support and advice."
The TVKC title rounds off a successful second season in Minimax for Stephenson, who also finished 4th in the Stars of Tomorrow championship, which is currently being broadcast on Motors TV. "The results might have been even better," explained Rocket Karting team boss, Phil Stephenson, "if it hadn't been for a bit of a lull in the middle of the year. But we sorted out some performance issues with the kart and it's been great during the last few months. If we can carry that form through into next season, Conor should be challenging for a national title."
Stephenson now plans to contest the TVKC winter championships in Junior Max, while younger brother, Calum, will continue to build his experience with a full time move into W60 Comer Cadets, ahead of a planned attack on the Stars of Tomorrow Championship in 2006.
Issued by Chris Hartley Media. For further information on the Stephenson brothers, visit www.rocketkarting.co.uk
[ Top ]

BPKC Round 7 Summer Championship (10/11)
Round 7 of the Buckmore Park Kart Club Summer Championship takes place on Sunday 20th November and should attract a bumper entry, especially as drivers traditionally return to their local club after the various national championships have finished.
Open practice is available between 10am and 4pm on Wednesday 16th November and Saturday 19th November.
Overnight parking is available on Friday night the 18th and Saturday night the 19th.
For further details please contact Sheila Rose, BPKC Competition Secretary on 01634 661604.
[ Top ]

2006 Karting Calendar (09/11)

Produced by Karting magazine and Chris Walker of Kartpix, this 14" x 10" / 355mm x 254mm calendar for 2006 has 13 superb colour photographs from various European events that have taken place this year. It's a spiral bound calendar that will look good on any wall, and with enough space to make notes and write in your race dates.
An ideal stocking filler this Christmas, (although you'll need a large one), it's available now by telephoning 01689 897123 or buy online from Lodgemark Press at £12 including post and packing.
[ Top ]

The International Kart Show (08/11)
Now in its 17th year the International Kart Show has established itself as the showplace for Kart manufacturers and equipment suppliers from both this country and the rest of Europe. The organisers are extremely pleased to be able to announce that the show is moving to the Exhibition Centre at the world famous Donington Park Grand Prix Circuit. The move has enabled the show to expand, and include the Midlands Motorsport Show. With the additional exhibition space (nearly 40% larger than 2004), a venue with real motor sport heritage, which is easily accessible from the M1 in the centre of the country and free parking, the Donington Park Exhibition Centre is the perfect choice.
Visitors to the show will be able to view the most complete line up of Karting equipment, you could in fact purchase everything needed for the 2006 season, from a pair of gloves to a motor home, all under one roof. As in previous years, there will be a wide range of different makes and classes of Karts, engines and associated equipment on display, with the top UK & European manufacturers represented. For many drivers this will be their first opportunity to view the new equipment for 2006, including; ADE, Birel, M S Karts, M W Karts, Tony Karts, Cosmic, Diablo, Racer, Venox, Intrepid, JKH, Energy, Top Kart, ZIP. The 2006 clothing ranges from many of the major suppliers will be on sale, including some new ranges appearing for the first time. If it's a bargain your' looking for, many manufacturers offer a variety of special show deals and discounts.
At the International Kart Show they feel that it is important to look to the future of Karting, but it is also important not to forget the past. As in previous years the members of the Historic Karting community will be displaying the for-runners of today's karts, but this year there is an additional celebration, it is the 50th anniversary of the Villiers 9E engine. The 9E engine has been in use in gearbox karting since its inception, and to mark this anniversary there will be display of Karts, Road racing and Motor X bikes, put on by the 210 Challenge.
A presentation stage is to be built within the hall and will play host to major championship award ceremonies as well as a number of celebrity interviews and topical forums. The organisers are delighted to be able to announce, 6 times World champion Mike Wilson is to fly over for the show to be on the Delta Karting stand, and will join the many other motor sport celebrities at the show.
The NKF will present their championship awards on the stage Sunday lunchtime, and the Stars of Tomorrow are bringing their race transporter as part of their display, where competitors will be able to register for next season. If you are interested in the Motors TV Ultimate Karting Challenge, they will be filming during the show for Motors TV, and registering drivers for the series. Saxon Motor sport will use the show to launch the new 2006 Biland Super Series, with a first prize of £1000 per round.
Karting Magazine Forum Speakers include; Chris Cowells; Alan Turney/Grahame Butterworth; George Robinson; Robin Knight and Carolynn Hoy.
There has long been a tradition of racing drivers cutting their teeth in karts, and the Midlands Motorsport Show will give the many thousands of karters who visit the International Kart Show the opportunity to make contact with potentially their next step on the motor sport ladder. There will be a number of different styles and formulas represented at the show, and the 750 Motor Club will be using the show to launch their new class for 2006, the Sax Max formula.
Part of the concept of the show has always been to promote motor sport to young people, hence this year admission is free for accompanied children, it is important with the huge variety of interest available that we continue to bring new people into the sport. Not everyone however can be a F1 driver, so it is important to demonstrate the potential career opportunities within motor sport. The Universities represented at the show will hopefully be able to answer most of the questions. Many Kart Clubs have taken up the offer of free space to promote themselves and their circuits, we expected there would be interest, but have been more than pleased by the response.
An additional attraction for visitors to the show is the opportunity to visit the Donington Grand Prix Collection, home to the largest collection of grand prix cars, a must for any motor sport enthusiast, and with the special show discounts there has never been a better opportunity.
The show will open 10am – 5pm Saturday 26th and 10am – 4.30pm Sunday 27th November.
Admission is only £7 Adults, £5 OAPs, Accompanied Children Free.
Free Parking! For more information visit www.kartshow.co.uk
[ Top ]

Daytona KRC (08/11)

Daytona Kart Racing Club's Summer Championship results have now been confirmed and the Champions and runners-up were presented with their trophies at the first round of the club's Winter Series at Sandown Park, Esher in Surrey on Sunday. They were:

Honda Cadet: 1. Stuart Dunk (Champion), 2. Spencer Peacock, 3. Dylan Phibbs.
Club Open Cadet: 1. Jessica Hawkins (Champion), 2. Darrel Jones, 3. Luke Rosewell.
Honda Junior: 1. Ben Deacon (Champion), 2. Jason Thatcher, 3. Alex Morgan.
Junior Royale: 1. Conor Reynolds (Champion), 2. Jamie Haines, 3. Michael Gibbons.
Junior TKM: 1. Michael West (Champion), 2. Alan Hackland, 3. James Pike.
Honda Senior: Oliver Clarke-Williams (Champion), 2. James Butler, 3. Jamie Goddard.
Senior Open: 1 Lee Sherwin (Champion), 2. Tom Ellson, 3. Nick Taig.
The next round of the Winter Championships at Sandown Park is on Sunday 4th December. See www.spkc.tk for an entry form and more details.
[ Top ]

New Radial Brake System (07/11)

British Kart manufacturer ARC have been awarded the UK distributorship of the new Magura 908 Radial brake system which is now fitted as standard to all their CIK style chassis. This 4 piston 4 pad system with floating wave disc has been constantly tested both by top European kart companies along with ARC here in the UK, and so far the system has proven its capabilities providing the driver with later braking efficiency, ease of use as it is self adjusting, and increased pad wear life.
This product, which is designed and manufactured in Germany to the highest standards, can be purchased in a kit which is supplied pre-bleed, designed to fit most applications with disc carriers and calliper mounts being manufactured at present to suit all axle sizes.
For further details contact ARC Motorsports Ltd on 01327 855444 or www.arcmotorsports.co.uk
[ Top ]

CIK-FIA Communiqué (02/11)
During their meetings on 26th and 28th October 2005 in Rome (Italy), the World Motor Sport Council and the General Assembly of the FIA took the following decisions regarding Karting.
CIK-FIA: Presidency and Commission - Mr. Luigi Macaluso (I) has been appointed President of the CIK, and the following 27 countries will be represented within the Commission: Argentina, Australia, Austria, Belgium, Brazil, Canada, China, Czech Republic, Finland (in partnership with Sweden), France, Germany, Greece, Hungary, India, Italy, Japan, Mexico, Monaco, Norway, Netherlands, Poland, Portugal, Spain, Turkey, United Kingdom, United States and Venezuela.
Sporting Regulations - The World Council has adopted a package of additional measures aimed at reducing costs in the 2006 CIK-FIA Championships, Cups and Trophies, including the following:
- the number of "slick" tyres allocated to each Driver per event (including non-qualifying practice) is limited to three sets (instead of four in 2005).
- the number of chassis that each Driver can register at Scrutineering in all Group 2 categories (Super-ICC, ICC, ICA, ICA-Junior and ICC-Sudam) is limited to only one per event; the 2005 regulations (1 chassis + 1 reserve chassis) will remain unchanged for the Group 1 category (Formula A).
- the number of engines which can be registered at Scrutineering and used by each Driver in each event for the ICA-Junior category is limited to two (including non-qualifying practice).
- the principle of designating a single tyre supplier further to a tendering procedure is extended to the Super-ICC category.
- the schedule of practice sessions and races in events with only two categories is reduced to three days (instead of four in 2005).
2006 Calendar - The World Council has adopted the 2006 CIK-FIA European Superkart Championship calendar, which will comprise the following three events: Hockenheim/D (21-23 April 2006); Most/CZ (9-11 June 2006) & - Assen/NL (4-6 August 2006).
Technical Regulations - The World Council has decided to authorise the homologation of a Power valve (exhaust valve) on the future 125cc "long-life" engines. This Power valve, which is opened pneumatically and closed mechanically without any electronic connections, may be fitted on all new generation engines, with the exception of those in the Junior category. The maximum authorised engine speeds (revs) on the racing versions of the future 125 cc engines have been changed to 15,000 rpm in ICA and 16,000 rpm in Formula A; the limit for the Junior engines must be defined at a later date. The racing versions of the future 125cc engines must be fed by a homologated butterfly carburettor, with a maximum diameter of 20mm in Junior, 24mm in ICA and 30mm in Formula A.
[ Top ]

Champion Of Champions (31/10)

A fantastic day's racing (in not such fantastic weather) at Buckmore Park yesterday saw the majority of competitors praising the organisers, Renault and Buckmore for staging an excellent well organised event.
Many hope the event will become a regular part of the kart racing calendar, including Super Libre competitor Scott Malvern. The 17 year old Project One driver, who was vice champion in the 2005 ABkC Super One TKM Extreme National Championship pulled off a last corner overtake on the very rapid Richard Kent which enabled him to seal the victory. Scott commented afterwards, "Richard was very quick all day so I knew I'd have to take him at the last corner so as he couldn't respond. This can be risky but thankfully he was extremely fair and didn't try to turn in". Scott added "that he'd just like to thank the Project One Team and GFR for all their hard work and a very special mention for mechanic Piers". The Super Libre podium consisted of Scott Malvern, Richard Kent and Alex Sharper.
Other results were: Comer Cadet – 1st Sam Jenkins; 2nd Chris Warburton; 3rd Shaun Pirie.
Mini Max – 1st Tom Ingram; 2nd Jack Harvey; 3rd Alex Widdrington.
Junior Gearbox – 1st Thomas Duggan; 2nd Henry Surtees; 3rd Dean Stoneman.
Junior Max – 1st Adam Christodoulou; 2nd Stefan Wilson; 3rd David Sutton.
Senior Max – 1st Ed Cockill; 2nd Dan Holland; 3rd Chris Trott.
Photographs courtesy of Chris Walker - www.kartpix.net
[ Top ]

Daytona Winter Champs (31/10)

Next Sunday, 6th November, sees the start of Daytona Kart Racing Club's Winter Championships - a great opportunity for four-strokers to keep their hand in over the next few months. The club is hoping to attract both familiar and new names from summer series such as F6 and Super One to its excellent track at Sandown Park in Esher.
The winter rounds are going ahead thanks to the continued support of Daytona but larger grids are still absolutely essential if the club is to survive beyond the New Year. The rounds are on Sunday 6th November, Sunday 4th December, Saturday 31st December (finishing in plenty of time for New Year's Eve celebrations to start!) and Sunday 5th February.
Entry fees have been pegged at £40 - but an added bonus is that there will be a discount of £20 - a total of £140 rather than £160 - for those who enter every round up front.
The club's very successful Summer Championships ended last Sunday 30th October, and championship winners are due to be confirmed in the next few days. Victors on the day were: Senior Open: James Pike, Honda Senior: Jamie Goddard, Honda Junior: Jason Thatcher, Junior Royale: Luke Rosewell, Junior TKM: Alan Hackland, Club Open Cadet: Jessica Hawkins, and Honda Cadet: Stuart Dunk.
Winter series entrants can use the 2005 Summer Championship forms - see the club's website at www.spkc.tk - or just turn up on the day.
[ Top ]

FIA World Council (28/10)

Britain has retained its seat on the FIA World Council following this week's vote in Rome.
Chairman of the Motor Sports Council, Graham Stoker (pictured left), will represent the UK in place of Motor Sports Association Chairman, John Grant, who has held the position since 2003. Stoker has been a member of the FIA International Court of Appeal, a position he will now relinquish.
Colin Hilton, MSA Chief Executive, says: "We are delighted that Graham has been elected to the World Council. It is important that the UK is represented in the shaping of the sport on the international stage. Graham has a huge amount to offer, not least his legal skills and experience as a member of the FIA International Court of Appeal and I am sure he will be a very influential member of the Council.
[ Top ]

Karters Graduate To Renault (27/10)
Nine Karting stars got their best taste of the car racing world this week when Renault Sport UK organised them to test its championship-winning cars at Croft. Karting organisers singled out the youngsters who had most impressed during the 2005 season. Six tested Formula Renault single-seaters and three drove Clio Cup cars at last Tuesday's event.
This year's Formula Renault UK Champions Manor Motorsport provided the single-seaters and team manager, Tony Shaw, was extremely impressed with them. "They got to experience the whole thing from having a seat fitting, getting strapped into the car and being surrounded by all types of people like mechanics and engineers," he said. "I bet they felt a lot of pressure but I think they've all been very professional. It's a big step up but they've shown ability in karting and they've soaked up everything we've told them."
Manor brought along former drivers Oliver Jarvis, who won this year's championship, 1997 champion Marc Hynes who went on to beat Jenson Button to the British F3 title in 1999 and 1995 champion and Le Mans winner Guy Smith to help the youngsters make the most of their opportunity. Jarvis said all six had coped very well with some fairly atrocious conditions at the North Yorks circuit. "Aquaplaning is a horrible feeling even for a driver with plenty of experience," said the 21-year-old. "But for those drivers getting into the car for the first time it must have been scary. You can't control it. You've just got to wait until it stops and deal with it then. These drivers all came here willing to learn and with enthusiasm and I was very impressed."
Racing is in the family for 16-year-old Stefan Di Resta (Bathgate, West Lothian) whose brother Paul finished third in last year's Formula Renault UK Championship and 10th in this year's Formula 3 Euroseries. "I get a lot of constructive criticism which is really valuable," said Di Resta jnr, who finished 10th in this year's Renault Formula ICA Championship. "The Formula Renault was a big change from karting. The down force and vibrations made it harder to drive but it's definitely more fun. A few years ago single-seaters wasn't my plan but now I'd like to try it and Formula Renault one of the few classes where a good percentage actually move up into Formula One." Big brother Paul says the most important thing for Stefan is to enjoy the experience. "It's nice to see my brother following in my footsteps," said the 19-year-old. "He's just got to keep it on the track and see if he enjoys it because at this age that's the most important thing." In Formula ICA Di Resta raced against Henry Arundel (Arundel, West Sussex), who came sixth and was also given a test in the Manor car. They were joined by Renault Formula A's 9th-place Tiffany Chittenden (Chiselhurst, Kent), Chris Brown (Peterborough) who finished 13th, Jason Parrott (Crowland, Peterborough) who finished fourth and Riki Christodoulou (Sutton Coldfield) who was vice champion.
ELF Renault Clio Cup's 2004 champions Boulevard Team Racing brought two cars as well as their double champion Paul Rivett: "These cars are not forgiving in the wet so the drivers did extremely well – none of them went off," he said. "It's the first time they've driven anything like this and they've got the hang of it straight away."
Renault Formula ICA champion, Matthew Bell (Morpeth, Northumberland), said driving a Clio has made him think twice about his career. "I didn't expect it to be as quick or as fun," said the 15-year-old. "They just don't look like they've got the acceleration that they do have. I've had a great day. Bell's brother Robert won this year's Nurburgring 1,000kms, the fourth race of the Le Mans Endurance Series, in an Aston Martin DBR9: "He's always followed me around with my mum and dad so he's been at kart tracks himself since he was five or six," said the 26-year-old, who won the Formula Renault Winter Series. "He didn't need any encouragement from me but I've been with him all year and enjoyed it myself. I've made loads of mistakes through the years so if I can help him avoid a few of them I'll be happy."
Renault Formula ICA champion and vice-champion and Danny Cruttenden (Wilmington, Kent) said: ""It was massively different to karts. With the front wheel drive the handling is completely different. It was definitely very exciting. Boulevard has been fantastic. There were a few hairy moments when I misjudged my breaking but nothing massive. Clio is definitely something I'd consider." Formula A winner Mark Litchfield (Rocester, Staffs) added: "The Clio feels quick and more stable than anything else. It's a really fun car to drive."
[ Top ]

Champion of Champions (26/10)
Renault Champion of Champions - Buckmore Park - 28th - 30th October 2005. Organisers of the Champion of Champions event at Buckmore Park this weekend think the competition will be so hot that the track's lap record could fall. Top drivers from the BRDC Stars of Tomorrow and the Super One championships will go head to head at the Kent Circuit this weekend to find out who is the Champion of Champions in each class of karting.
The event was devised by ex-Formula One world champion John Surtees, who is keen to find out who would prevail in a straight fight among drivers from Britain's two leading kart race packages. There could be a career boost for racers who shine at the meeting. Representatives of Renault will be at the circuit watching the action and successful drivers will also get to meet former F1 and sportscar racer Perry McCarthy alias the Original Stig, who will present the prizes in the afternoon.
The current lap record at Buckmore Park stands at 38.28 seconds and is held by Alexander Sims in a JICA kart, set back in 2002. If the weather is good this weekend, organisers are confident that the record will be broken. More than 130 of the top racers in the country will be taking part in the event, so the competition will be fierce.
Circuit owner Bill Sisley added: "It's hard for competitors when a new event is conceived mid-year like this one as. Most teams have allocated their racing budgets before the year even begins".
The event will be the first time karters from the Super Libre class have raced at Buckmore Park. Tiffany Chittenden will be competing in the Super Libre class. The 24 year old said: "It will be great to get out on track with new people at Buckmore Park. I have raced with some of the people in my class in Formula A this year but a lot of the names in my class will be new competition for me. I'm sure I'll do well though because the people I race against in Formula A are some of the top drivers in Europe. The event will provide some hard, close racing". Chittenden's sister Tamsin will compete in the Rotax 125 Max class at the event.
Spectators are welcome on all three days. The entrance fee is free for Friday practice and £6 per adult per day for Saturday and Sunday's action. Accompanied children under the age of 14 get in for free. Full spectator facilities available throughout the weekend and competitors will be able to use the new Renault race centre.
Event timetable: Friday - Practice and scrutineering.
Saturday 10am to 5pm - Three lap practice, ten minutes timed qualifying and two heats per class (ten laps).
Sunday 10am to 5pm - Three lap practice, Pre Finals (15 laps) followed by finals - Cadets (15 laps), Junior (18 laps), Seniors (20 laps) - 10am to 4pm.
(Please note: Clocks go back on Saturday night!).
For more details please contact Buckmore Park Karting Ltd on 01634 201562.
[ Top ]

Team ARC Triumph At O Plate (26/10)

One of senior TKM's most talented drivers Luke Caudle won his first championship last weekend at the Clay Pigeon circuit. Clearly one of the most competitive drivers in TKM Luke has not had the luck and results worthy of his performances this year.
Starting from grid eleven in the final, Caudle was one of four drivers to soon be breaking away from the quality field of competitors. The race clearly lead by Micky Higham closely followed by Shaun Carter came to a catastrophic ending when the bunched up group on the last corner had a coming together, giving Caudle the opportunity he needed to clinch the title.
A happy and proud team boss Graham Orchard says "This was a well deserved victory for Luke who through various misfortunes this year in Super One has not been recognized as a seeded driver despite setting the pace for most of the rounds." Graham also went on to say, "what a boost for all who work for Team ARC and the factory at Silverstone"
ARC have been chasing a title for over 12 years and are certainly a manufacturer to look out for in 2006.
[ Top ]

MB Kart Club (25/10)
MBKC would like to offer congratulations to its members who had success at national level in 2005.
Chris Warburton (No.4 - S1 W-60 Cadet)
Lee Morgan (No.8 - S1 Junior TKM Intermediate)
James Duxbury (No.15 - S1 TKM Extreme)
James Theodore (No.9 - SOT Minimax)
All the above drivers were proudly displaying their new numbers for 2006 at the latest club meeting on the 23rd October 2005. Once again, congratulations and well done from everyone at MBKC.
[ Top ]

ICC Gearbox At G.Y.G In November (25/10)
After a very successful year racing in the heart of North Wales just one of the MBKC dragons remains in its lair, deep in the bowels of hills surrounding the picturesque Glan-y-Gors circuit. Want to release it and take it home with you?
Come and test your mettle in ICC gearbox class on 13 November 2005; the winner takes the last of the famous dragon trophies for 2005 home with them. With more than 30 gear changes a lap, the dragon will breathe fire only for the best.
Glan-y-Gors is less than 100 miles from Birmingham and only 80 miles from Manchester on the A5. For more information and entry form see http://mbkartclub.com
[ Top ]

Paffett & Hamilton Claim Titles (24/10)
The Motor Sports Association, the governing body of UK motor sport, congratulates British drivers Gary Paffett and Lewis Hamilton on their respective title-winning seasons in the international DTM and Formula 3 Euroseries championships.
Gary Paffett yesterday finished third in the final round at the Hockenheim circuit in Germany to become the first ever British driver to win the DTM title. The 24-year-old, racing for the Mercedes-Benz team, registered five victories on his way to the championship.
In front of the same crowd, Lewis Hamilton demonstrated the supremacy he has shown all season to emerge a dominant winner of the F3 Euroseries for the ASM team. At Hockenheim, 20-year-old Lewis won both races to complete a campaign in which he has won 15 out of 20 rounds. His title success follows that of fellow British driver Jamie Green in 2004 and Jamie himself was a front-runner this year in his first DTM season with Mercedes-Benz.
Colin Hilton, MSA Chief Executive, comments: "The achievements of both Gary and Lewis are truly outstanding and a great demonstration of the strength of UK motor sport. What is especially pleasing is that these are two young drivers who began their careers in UK karting. Their success is proof of the talent that the UK is currently producing and it is also a great inspiration for all young drivers currently racing in the junior categories in the UK."
[ Top ]

2006 UK Lakeland 24 Hour (21/10)
The Lakeland UK 24 Hour event at Rowrah over the weekend of 29th & 30th July 2006 has a reduced entry fee of £750 (€1105) for entries received by the end of this year. After this date the entry fee for teams wishing to compete will be £975 (€1440). A £250 (€370) deposit is all that is required to secure an entry.
Cash prizes of £3000 (€4425) to £5500 (€8115), dependant upon number of teams entered, plus prize trophies will be offered. The starting grid will have a maximum of only 40 karts so there's no better time to get your entry in than now. Click on www.cumbriakrc.co.uk for further information, or e-mail: malcolm@markfell.co.uk
[ Top ]

Racing At Rowrah (20/10)
Sunday 13th November - Incorporating the Rowrah Rotax Winter Cup for all Rotax classes (subject to a minimum of 10 entries per class). Practice available all day Saturday. Three heats and a final for all competitors, free tyre draw for all competitors and £50 cash prize for Driver of the Day.
Sunday 11th December - Last round of the Club Championship also incorporating the Rowrah Cadet Winter Cup for all Cadet classes (subject to a minimum of 10 entries per class). Practice available all day Saturday, followed by a Free Christmas Party in the clubhouse on Saturday evening. Three heats and a final for all competitors, free tyre draw for all competitors and a £50 cash prize for Driver of the Day.
Entries to Cumbria KRC Competition Secretary Marion Fell at the normal address.
[ Top ]

Autosport International (20/10)
For the first time ever, Autosport International will welcome multiple World Kart Champion, Davide Foré, to the NEC in Birmingham, 12th -15th January 2006. The Italian Tonykart ace will be flown in especially by his team, Sheffield's Strawberry Racing, who are once again set to present an impressive showcase at the NEC. Joining Foré throughout all four days will be his recently signed Tonykart team mate, Britain's Gary Catt.
Foré will be giving a demonstration of the skills that helped him seal three World Championship crowns on the Karting Oxford indoor kart circuit, in Hall 4, and he will also be appearing on the dedicated Karting stage, alongside Catt.
The 2006 Karts to Cars feature will present a plethora of motor racing stars from the world of saloon and touring cars in the Karting Area. Presented from the BRDC Stars of Tomorrow transporter, the feature is set to include Touring Car legend Tim Harvey, DTM champion-elect Gary Paffett plus SEAT BTCC stars Luke Hines and Jason Plato. Their respective 2005 racing machines will sit alongside the karts in which they started their racing careers.
[ Top ]

Motors TV Ultimate Karting Challenge (19/10)
An exciting brand new project for Junior classes… whatever your plans for 2006, don't miss this!
MBKC, in conjunction with Motors TV and PSC Productions, are pleased to announce a unique Karting challenge series in 2006. Based on a unique racing format, with features designed specifically for television, it promises to give Karting as a sport, much needed promotional exposure, and Junior drivers the opportunity to raise sponsorship based on regular and in-depth television coverage of their class every month.
Check out www.mbkartclub.com for a sneak preview of the promo video.
The first club-based Karting series ever to feature on television, A one hour programme on Motors TV every month will bring the action to a wide audience of motorsport fans, with new graphics featuring still and video driver images ensuring faces can be put to the names.
Some fantastic prizes are still being negotiated with potential sponsors, but with Motors TV supporting the challenge series with prime-time broadcast slots, and the positive feedback received to date from drivers and supporters, it looks set to prove a popular addition to racing at MBKC for all of the Cadet and Junior classes.
Further information is to be released shortly, but set out below are the main features of the challenge and production values.
Classes: W.60 Cadet, Minimax, Junior TKM (inc Inters), Junior Rotax Max.
Race Format: 1 x 15 lap race each month (March-November 2006, 9 events), to be held for each class starting at 2pm on Saturday. (Drivers in each class can pay for practice up to this time and practice beyond this time if they wish to. The amount of time available for Saturday practice will remain the same.
Grid positions each month will be based on current Championship positions in reverse! For example, The Championship leader will start last, 2nd will start alongside on the back row, etc. etc.. For the first round, grid positions will be drawn at random for each driver on the morning of race day. Non-scorers in the championship (reserves racing for the first time) will be gridded up behind championship points scorers by ballot. For the first round everyone will be a non-scorer, grid positions will be drawn by ballot for each driver on the morning of race day.
The Championship leader will have to use bright yellow stickers (to be supplied by the organisers) to cover their front nose cone and nassau panel completely. This is so the leader can be easily identified by the cameras, and a washable yellow bib (the type used in speedway) may also be supplied to cover the chest area of the race suit.
Championship: Championship points will be 34, 33, 32, 31, 30, 29 etc, down to 1, for each round. There will be no dropped scores. What you have scored to date at any time will be your current score in the series.
The Champion (from each class) who scores the highest score in all of the four competing classes, will receive a special "Motors TV Champion of Champions Award" (sponsored by PSC Productions) at the end of the season. This will ensure drivers from each class are paying attention to the racing in the other classes!
All entrants must be members of MBKC in 2006.
Costs: Registration for the challenge series will cost £150, with a monthly entry fee of £20.
Registration: Registration forms with full payment of fee will be accepted on a first come, first served basis only, up to a maximum of 34 drivers per class.
No more than 34 drivers can race in each class. If your championship registration is not one of the first 34, your registration fee will be returned and you will only be placed on the reserve list.
MBKC members at 17th October 2005 will have priority until 1st November. Non members can send in a registration form prior to 1 November, which will be considered in the order it is received once the registrations are opened to non members on 1st November. Don't miss out… act now to register your interest for the most exciting series in club racing. Registration forms will be available from Saturday 22nd October.
Cameras: 3 x main broadcast camera positions, 1 x static camera, 8 onboard cameras (2 per class). A £30,000 investment is to be made in new equipment for the series by PSC Productions.
Production Graphics: Grid positions will include driver images for every position in each class; the top ten drivers will be named in the results graphic for each race, and top 6 drivers in the championship in the championship standings graphic, together with picture image of the championship leader within the graphic. The fastest lap will be featured as a graphic in each class, as will split-times between drivers and other incidental information, including driver profiles. Each class will have full exposure in every programme, with edits in line with demands from the broadcaster regarding advertising timeframes.
Every driver must complete a driver profile sheet with their registration documents, and every driver is encouraged to include as much information as possible about themselves. The more that is known, the more they can talk about you, and particular emphasis will be given to information about your sponsors. The belief is that it is good not only for your sponsor to get a mention, but for everyone else trying to raise sponsorship to show how sponsors are included in the commentary. By all means, call your kart by a sponsor's or team name and the organisers will try and include that in the commentary to help your cause.
No guarantee can be given to mention anything specifically, but the organisers are always open to your requests to include up to date information about your driver and sponsors who are supporting you. Now go have a sneak preview of this exciting new project for Junior classes, and get your entry in soon!
[ Top ]

Are Cars Your Next Step? (17/10)
Advent Motorsport, having specialised in introducing young drivers to car racing over the past 6 years, can offer this transition for anybody interested.
As an ARDS approved instructor, Andrew Crighton, can provide quality tuition utilising a race prepared car with techniques on gear changing, braking etc. Tuition can commence for those of 14 years and above who are seeking to enter any of the new junior circuit racing categories. This can be taken forward to single-seater work as well.
For further information contact Andrew Crighton on 01732 887474 or 07736 070002 or e-mail: info@adventmotorsport.co.uk
[ Top ]

Renault Helps New Talent To Shine (17/10)
Today's elite motorsport championships owe a vote of thanks to the grass roots of the sport – karting, - and now Renault Sport UK is helping to unearth future stars.
Six karters have been selected by Super One organisers to test Formula Renault Cars at Croft with championship-winning team Manor Motorsport. "It's a really big opportunity," said Tiffany Chittenden (Chiselhurst, Kent), who this year put up a strong challenge for the Formula A Championship before a string of DNFs at the end of the year left the 24-year-old in 9th overall. "Formula Renault is definitely the best series. It's the one you've got to be in. It's so close between so many good drivers. Other series have one or two that are good but here the top 10 are really close."
In Formula A Chittenden raced against Chris Brown (Peterborough) who finished 13th, Jason Parrott (Crowland, Peterborough) who finished fourth and Riki Christodoulou (Sutton Coldfield) who was vice champion. All three will join her on the test. "Formula Renault is the obvious next step," said Christodoulou, 17. "I've just passed my driving test last week so road cars are alright but I've never been in a single-seater before. I can't wait to jump into something with that much power."
From Formula ICA Stefan Di Resta (Bathgate, West Lothian), who finished 10th and Henry Arundel (Arundel, West Sussex), who came sixth were selected. "I'm very excited about the opportunity," said Arundel, 17. "I've been to see a Formula Renault race live and I've seen a lot on television. It seems a good link between karting and motorsport and I'd love to go up into single-seaters. Manor is a great team – I'll be learning from the best."
Three karting stars have also been chosen to test Clio Cup cars with 2004's entrant champion Boulevard Team Racing at the North Yorks circuit including Formula ICA champion and vice-champion Matthew Bell (Morpeth, Northumberland) and Danny Cruttenden (Wilmington, Kent). Formula A winner Mark Litchfield (Rocester, Staffs) says driving the Clio could open a whole new career for him. "I've been karting since I was eight," said the 22-year-old who has been twice British champion and also races at international level. "I'm not really interested in single-seaters. I'd rather take the Touring Car route so this is ideal. There's been something in the back of my mind that tells me I need to start moving towards car racing. I just needed something to give me a shove and this may be it."
[ Top ]

Champion Of Champions Meeting (13/10)
Drivers, this is your last chance to enter the Renault Champion of Champions meeting taking place at the Buckmore Park Kart Circuit from Friday 28th to Sunday 30th October 2005.
All competitors are reminded, including seeded drivers, that the closing date for entries is this Friday, the 14th October. All seeded drivers in the relevant classes from Super One and Stars of Tomorrow are guaranteed an entry (if they wish to compete) but their entry forms must be received by Friday 14th October to guarantee a grid slot.
The COC organisers also confirm that drivers who did not finish in the top 15 of the various national championships could be accepted as wild card entries depending on their previous karting results. Non seeded competitors who have already sent in entry forms will be contacted by the BPKC on Friday afternoon 14th October, to confirm whether their entries have been accepted.
[ Top ]

New Mail Order Website (13/10)

GX160PARTS.COM is a new mail order website offering genuine Honda parts to Prokarters at very affordable prices. It offers a simple online ordering system and all prices shown include postage within the UK. Examples of pricing include bag of 10 genuine Honda GX140 Valve Springs for only £15.50, genuine Pulse Pumps for only £43.50, genuine Piston Rings for £13.50 and genuine Con Rods for only £28.50. Parts are constantly being added to the website and anything not listed can usually be supplied on request. The site includes a copy of the Honda Parts Manual to enable Part Numbers to be found and parts easily identified. For further information visit www.gx160parts.com
[ Top ]

Extra Practice Day At Three Sisters (12/10)
Three Sisters circuit have kindly arranged an additional practice day during the forthcoming Autumn half-term break, on Wednesday 26th October, between 9am to 3pm. Would anyone wishing to practice please call the circuit to book (01942 270230) as it is subject to there being sufficient bookings to make it viable.
[ Top ]

Karting-Online.com (10/10)
Teamworks Karting has launched the UK's first internet booking system for indoor & outdoor karting. Customers can now book Karting online at over 30 circuits across the UK by credit card, 24 hours a day. Circuit Operators can add details of their forthcoming Open and Arrive & Drive sessions, and drivers can book online even whilst the sales office is closed! Visit www.karting-online.com for details.
Circuit Owners can contact Teamworks Karting on 0870 900 3020 to create a user account, or visit www.kartingonline.co.uk/tellmemore for more detailed information.
[ Top ]

TKM Star Martyn Lyell (07/10)

Scottish TKM ace Martyn Lyell has proved you don't need to have a dad who is the chief executive of a large multi-national, or a bank robber, to be successful at national Super One level when he secured 2nd place in the Formula TKM Junior Intermediate class last week. Martyn, in his third year of racing, and in only his first year of Super One was delighted that he proved he was so competitive and did so well in what has been a very high quality class this year.
In Super One there are a great many drivers running with teams and with better budgets but Martyn has proved that it is possible to mix it with the best of them on a more modest budget. Running with his dad on a 2004 JKH chassis and a couple of good engines, they tour the country in their 9 year-old van which has been converted for them to sleep in at the track as well as transport the kart and equipment. Living in Scotland, Martyn does a lot of travelling and the van fuel costs are one of his biggest expenses – Buckmore Park in the south of England (raced 3 times this year) costs around £200 each time in diesel.
So far this year Martyn has won 24 races and come second 18 times (heats and finals), has won a round of S1, the Gold Cup at 3 Sisters, the Ace of Clubs and was second in a great race at the TKM Festival. Now the S1 series has finished, Martyn, now sixteen decided to move straight into the TKM Extreme-Senior class, seeking as always to get tougher competition rather than easy successes. He jumps in at the deep end as he intends to have his first senior race at the "0" Plate at Clay Pigeon in two weeks time.
Martyn would like to thank Gordon Finlayson of GFR engines for looking after his engines which were superb; John MacTavish of Kartpics who provide photos for his website as well as part funding a new race suit for next season; Terence Dove of Evenflow driver coaching; Maglin Domestics and Andrew Turner Blacksmiths. Martyn is still looking for sponsors to help him next year as he plans an attack on the TKM S1 Championship for 2006. His supporters can keep in touch with his progress through his website www.martynlyell.co.uk, which includes lots of video footage.
Photographs supplied by John MacTavish - www.kartpics.co.uk
[ Top ]

BPKC Round 6 Summer Championships (06/10)
Round 6 of the Buckmore Park Kart Club Summer Championship takes place on Sunday 16th October and is the last chance for competitors who have entered the Champion of Champions event at the circuit to race at the venue. Apart from the usual classes, the meeting also features the final round of the Rotax Max Challenge.
Open practice is available between 10am and 4pm on Wednesday 12th October and Saturday 15th October. Overnight parking is available on Friday 14th and Saturday 15th October.
For further details contact Sheila Rose, BPKC Competition Secretary on 01634 661604.
[ Top ]

MX5 Scholarship (05/10)

The MX5 scholarship has confirmed today that they will have a stand at the international Kart Show at Donington on 26th and 27th November. The scholarship is an ideal starting place for karters wanting to take the next step in motorsport. Not only will it provide the winner with a season's racing in the Max5 series with championship-winning team Shearspeed, but it will also provide invaluable experience to all entrants as it is the only scholarship that provides seat time and specialist instruction in real race-prepared Mazda MX-5s.
The scholarship is booking up fast, there are only 200 places available. Every entrant will receive a 10% discount card with Redline Motorsport, who will also be accompanying the scholarship on the stand at Donington. The prize is worth well in excess of £12,000 and is unique in British motorsport. No one else can or does provide such an incredible opportunity.
Come and talk to us at the show or visit our website at www.MX5scholarship.co.uk, or you can e-mail the scholarship at enquiries@MX5scolarship.co.uk as well as ring them on 07914 269226.
The MX5 scholarship is also on the Banzai magazine stand at Santa Pod for the Jap Show finale.
[ Top ]

Nick Wright Is 'King of Andalucia' (05/10)

Karting has recently exploded in Spain with kids wanting to emulate their new hero Fernando Alonso, but in the south of Spain the man to emulate is Nick Wright, the 13 year British Junior Rotax driver leading the way in Andalucia.
Well more than leading the way in truth, he has overwhelmed the competition completely, winning all but one of the 12 races so far in the Andalucian Rotax championships and qualifying pole for every round. His points tally is now unbeatable making him this year's Andalucian Junior Rotax Champion. The Spanish motor sport press recently ran the headline "Wright devastates - This season, whoever wants to win some races must request the permission of Nicholas Wright, because his domination is absolute".
The Spanish Federation granted Nicholas a Junior licence in 2004 after he won the Andalucian cadet champs and gained a 2nd in the Nationals during 2003. In his first Junior Rotax race at the tender age of 11 he put his Gillard Kart on pole! His father was expecting a year of gaining experience with less pressure, but as Nick says "winners never quit!" He goes on to say; "I really want to concentrate on JICA next year but I've got to persuade my Dad first…. but it was his fault he put me in a 'trial' Spanish National JICA race last year! It was great and was made even better because Alessandro Manetti came and helped me in the Geruco Motorsport tent"
Andalucia is a real Karting gem, with an international flavour as drivers include Finnish, Danish, Dutch, Swedes as well as Spanish. While the scene is developing over there it is the perfect place for Brits looking for winter testing venues in the sun. The best track by far is Campillos, 40 minutes drive from Malaga airport. The track was constructed this year and held the second round of the Spanish Nationals (ICC, ICA, JICA & Cadet) and is sure to be a future European venue. In fact it is probably one of the best tracks in Europe, 1.6km long and 10m wide - it is sensational. Of course they are used to the Brits in the south of Spain and everybody speaks English or so it seems, and maybe you will bump into Nick and the ART team, and perhaps finally someone can give him a run for his money!
For more information on the Campillos circuit go to www.kartingcampillos.com and notice they haven't any grass yet, - not enough rain you see!
[ Top ]

Quinn's Red Bull Boost (05/10)
Thrice Irish Kart Champion Niall Quinn got the chance every aspiring racing driver would love when he tested on Monday for the Red Bull Junior team in Europe. The test, which is part of his prize for winning the Red Bull King of Karting shoot-out against Ireland's best up and coming drivers, pitched Niall against the best from other European countries for the overall prize of a funded drive in the team next season. With only 16 laps in which to demonstrate his speed he took very well to leaning the track and conditions quickly in a Formula BMW car, improving in all three track sessions and posting a time over half a second quicker than his closest rival.
Impressing the judging team he improved on his outstanding performance on Monday to win the prestigious Red Bull Shoot Out yesterday at the Estroil Circuit in Portugal. Commenting on his 13 lap stint yesterday, Niall said, "I improved my times from Monday and then waited until the others completed theirs, I am delighted with the outcome and this is a huge boost for my ambitions in motorsport." Niall understands the demands on a modern sportsman saying "being a good driver is not everything, you also have to maintain a very high level of fitness and prepare yourself for PR and marketing tasks that are all part of the job now".
The 5 year contract will start next season in the UK, more than likely in the Formula BMW championship and will move to a European series following that. With Red Bulls involvement in F1 now spanning two teams and a commitment to motorsport in many forms the opportunity on offer is a big as it comes for a teenager.
2005 has been a great season with Niall first winning the Irish round of the Red Bull competition, then winning his third national title in the competitive Formula A Karting series followed by this the top prize in Europe for young up and coming drivers. You can follow Niall's progress on the Niall Quinn Racing website.
[ Top ]

Pro-Kart Festival (04/10)

The 29th & 30th October sees the return of the 'Prokart Sprint Festival'. After last year's great success, this year's event has the introduction of endurance racing as well as the sprints and a new 'Petit Le Mans' fun race, and this fabulous weekend has therefore been re-badged the 'Pro-Kart Festival'.
Whilton Mill will once again be the venue as it is perfectly located just off the M1 and right in the centre of the country. There will be a 3 hour endurance on the Saturday as well as the 'Petit Le Mans', which is a 24 minute race and follows the tradition of having a running jump start! The sprints will have 3 classes, Pro, Clubman and Heavy and will take place on the Sunday. The legendry Saturday night entertainment will also not be one to miss!
Last year's Festival attracted more than 65 entries, which was the largest number of Pro-Karts at a single event for over 5 years! Amongst the entrants were many past and present champions of the 4 stroke scene, as well as a few 2 stroke drivers including 2004 TKM champion Ben Cruttenden, and it is rumoured that this year, a few more 2 stroke 'names' are keen to prove their worth against the 4 stroke regulars.
It's hoped that this year, with the addition of Saturday racing this year, numbers can reach over the 100 mark, which would be a real achievement for Pro-Karting. The budget class definitely deserves its place in Karting as the entry level feeder category and has certainly provided a stepping stone for a lot of well established drivers, such as touring car driver Robert Huff and Rotax Max Champion Tristram Oman.
Posters, entry forms and details are all available now, by e-mail to: prokartfestival@hotmail.co.uk, or phone 07725 358709.
[ Top ]

New Rotax Video (04/10)

Blake Choquer, Vice President of BBR Karting in Canada has announced the introduction of the Wrench 2 Win video series. These instructional DVD videos will be helpful to many karters, from the novice to the most experienced racer as it enables them to gain more knowledge and experience about chassis setup, engine tuning (where allowed) and maintenance as well as driving techniques.
When victories are won by the narrowest of margins, having that edge over your competitor can make all the difference in the world. The Wrench 2 Win video series can help you make that step to the next level in driving, performance and kart maintenance. For around £18 you can gain years of experience all on a 50 minute DVD.
The Wrench 2 Win Rotax Max video is the first of 5 karting DVDs to be released. Blake is one of Canada's top Rotax drivers/mechanics who takes you through disassembling and rebuilding the main external components of the engine. The video looks at the following components: Dellorto Carb, Fuel Filter, Power Valve, Exhaust System, Float Arm, Gear Case, Battery, Air Box, Spark Plugs, Kart Maintenance and Mojo Rain Tyres.
If you want to watch a clip of the Wrench 2 Win Rotax DVD or have any questions please visit www.bbrkarting.com or call (from UK) 001 604 530 6392, or send an e-mail to Blake Choquer at bbrkarting@shaw.ca. Before purchasing you need to ensure that your TV and DVD player is NTSC capable, or your DVD player will convert it to PAL.
[ Top ]

2005 TKM 'O' Plate (03/10)
This year's prestigious TKM 'O' Plate event is to be held at the challenging Clay Pigeon circuit over the weekend of 22nd/23rd October, with practice available on Friday.
All TKM classes will be catered for, and a generous prize fund is promised, with Tal-Ko, Paul Carr, Spellfame, JKH and Clay Pigeon Kart Club already donating prizes. All classes are scheduled to have five 12-lap heats and a 20-lap final, making the entry fee very competitive. With interest growing again in the TKM classes, a bumper entry is expected for both top flight Super One drivers and traditional club competitors.
Entry forms can either be obtained from Linda Appleby on 01935 822257 or downloaded from the Clay Pigeon Kart Club website.
[ Top ]

British Karting Stars in World Champs (30/09)
The Motor Sports Association, the UK governing body, congratulates British teenager Oliver Oakes' stunning performance in capturing the Formula A World Karting Championship in Portugal last weekend.
The MSA would also like to extend its congratulations to Jon Lancaster who finished second to complete an excellent British one-two result and to UK chassis manufacturer Gillard Racing Karts for whom Oakes drove to victory in the event, held at Braga, Portugal.
Further reflecting the strength of British karting, it should also be noted that Mark Litchfield, who recently retained his MSA British Short Circuit crown, was a contender for victory before retiring. There were similarly strong showings from fellow British championship front-runners Riki Christodoulou and Gary Catt.
MSA Chief Executive Colin Hilton comments: "This was a quite brilliant result for British karting. We salute Oliver Oakes, Jon Lancaster and Gillard Racing Karts on their terrific achievements. The result, a first-ever one-two for Britain in the World Championships, plus the other fine performances of Mark Litchfield, Riki Christodoulou and Gary Catt underlines the very high level of competition and expertise that exists in karting across the UK."
[ Top ]

Extra Curricula Activity (29/09)
School students from across the country will soon be racing wheel to wheel in the British Schools Karting Championship. The championship, which is being organised by 3T Racing, will see hundreds of 16 – 18 year old school & college students race on Club100's fleet of identical 2-stroke TKM-engined karts early next year. The format is to mirror the immensely popular British Universities Karting Championship which, over the years, has seen thousands of students take to 2-stroke racing.
With the costs being kept to a minimum so as to ensure that every kid can have the chance to race, the British Schools Karting Championship is sure to become a very popular introduction to high performance karting. For more information please visit the championship website www.bskc.co.uk
[ Top ]

New ARKS School (28/09)

4 times National Champion and European race winner Nathan Freke is the chief instructor at a new ARKS school based at Birmingham Wheels Park. The school to be known as Grand Prix Karting ARKS School will conduct ARKS tests and provide training for all abilities from absolute beginner through the test to advanced techniques for experienced drivers, karts will be available for hire for all classes as will helmets and clothing if required.
The ARKS school is a joint venture between Nathan and the Club Grand Prix Academy, and will be complimentary to his existing Century Motorsport kart and car race team, - Nathan is already an MSA ARDS instructor.
A website giving further details can be found at www.starting-karting.com or contact Nathan on 07947 883103; bookings for tests or training courses can be made direct with Grand Prix Karting on 0121 327 7700.
[ Top ]

Formula TKM Youngsters (28/09)
Junior age Formula TKM 2-stroke drivers have been given a double boost with changes to the regulations for 2006 which will give them more speed while easing weight restrictions.
With effect from 1st January, the Junior class will move up to a 20.5mm air restrictor while the Intermediate class will move up to a 23mm restrictor. In both cases this is an increase of 1.5mm on current size. Meanwhile both classes will increase their minimum weight level by 2kg up to 129kg for Juniors and 144kg for Inters. This is in direct response to request from drivers and their parents, struggling to meet the weight limits. Overall the changes will mean a speed increase for the class by up to half a second a lap, depending on the length and nature of the circuit.
Announcing the changes Tal-Ko Racing Managing Director Alan Turney explained: "We have researched the situation extensively and it is quite clear that many youngsters are struggling to make the minimum weight levels. At the same time we recognised that we have previously increased the weight limit without increasing power accordingly. Not only will this change make the karts a little quicker but it will also give them better response for the drivers and that is very important in building their skill levels for the future. We are pleased that the MSA and ABkC have recognised the need for an amendment here in agreeing to this change."
Formula TKM has played a key role in the development of many of today's top UK racing drivers. Jenson Button, Anthony Davidson, Gary Paffett and Robbie Kerr are among the many who took major titles in the class on their way to the top.
[ Top ]

2005 CIK-FIA World Karting Championship (28/09)

For the third time in the history of Karting, 22 years after Terry Fullerton's title and 5 years after that of Colin Brown, the World Champion is British. Seventeen year old Oliver Oakes won the day in Braga, Portugal at the end of a final in which several other Britons were outstanding, and they came very close to monopolising the final podium.
After the pre-final, the Tony Kart team seemed to hold all the cards to prevail in the final because its drivers, Marco Ardigo, Edoardo Mortara and Davide Fore had seemingly finished one-two-three easily. However, the running of the final turned out quite differently, even though the three team drivers managed to lead for the first two laps. England's Mark Litchfield was the first to make a breach in Tony Kart's three-headed fortress and within two small laps he worked his way from fourth to first. A few laps later, he was imitated by Oliver Oakes, with the result that in the tenth lap of the final it was the British duet that called the tune. Oakes soon dislodged Litchfield from the lead and together the two British drivers raced at an impressive pace, so much so that they established a convincing lead over the rest of the field and with the finish in sight, their lead was such that they could hardly be caught up. While the duel seemed full of promise for the final few laps, Litchfield was betrayed by his engine four laps from the finish and this let Oakes fly alone to the world title. Third at a distance, Marco Ardigo was unable to benefit from the second place relinquished by Litchfield as precisely when the Briton retired, Ardigo's engine failed, suffering from overheating due to a perforated water radiator.
The British success of Oliver Oakes (and of his English Gillard chassis) was completed by the second place achieved by 16 years old Jon Lancaster. The experienced Davide Fore (31 years old) finished third, thus mounting the world podium for the seventh time in his career.
Tipped to be among the favourites, the Frenchman Arnaud Kozlinski (Vice-World Champion in 2003 and 2004) and the Belgian Jonathan Thonon played a major part throughout the World Championship except in the final as the Frenchman, who was seventh after the qualifying heats, was eliminated in the first corner after a collision, and the Belgian, who achieved the fastest lap in the timed practice, had to retire because of an overheating engine. Despite Ardigo's retirement within sight of the finish, the Tony Kart team landed the World Cup for Teams.
Photograph courtesy of Chris Walker - www.kartpix.net
[ Top ]

Wildtracks Kart Circuit (27/09)
Wildtracks, near Newmarket in Suffolk is now under new management. Simon Smith has taken charge and is keen to develop both corporate and club racing at the Wildtracks Kart Circuit.
They are already open for Owner Drivers and Corporate bookings, and have dates planned for 3 club rounds on 16th October, 20th November and 18th December. Download a race entry form by clicking here, or alternatively contact the circuit on 01638 750496.
[ Top ]

Champion of Champions (27/09)
Competitor information packs on the Renault Champion of Champions event at Buckmore Park on the 28th/30th October are now available from the Buckmore Park Kart Club. The meeting boasts a prize fund of over £20,000 in cash and goods and will be televised on Motors TV.
Please contact Sheila Rose, Club Secretary on 01634 661604 or Buckmore Park Kart Club Ltd, Maidstone Road, Chatham, Kent ME9 0QG.
[ Top ]

2005 FA World Championships (26/09)

Congratulations to 2005 Formula A World Champion Oliver Oakes, also to Gillard karts and Parilla, who all had an amazing weekend in Braga, Portugal. Well done to runner-up Jon Lancaster, and to all British teams and drivers including Mark Litchfield, James Miller, Gary Catt, Riki Christodoulou and Martin Plowman. A special mention for Tim Gillard, who's literally on top of the world after becoming the first UK manufacturer to win the Formula A World Championships. It's really the icing on the cake for Gillard after his karts won the European Championship last year, and the World Championship and the Junior European Championship this year.
It was a tremendous weekend and a continuing success story for Tillett too, with the first 12 karts of the World Championships using Tillett seats, and all three drivers on the podium using Tillett rib protectors. Visit Tillett Racing Seats for more information on these products.
Photograph courtesy of Chris Walker - www.kartpix.net
[ Top ]

Damage at Three Sisters (26/09)
MBKC are disappointed to announce that severe damage was done to the gantry which houses the starting lights sometime on Saturday evening prior to the club meeting on 25th September 2005. Despite an appeal at drivers briefing on Sunday morning, no one has come forward to admit to the damage or to offer a name, or names of the persons involved.
Please if you have any information at all with regards to this incident, go into the contacts section on the MBKC website and pass any information on to either a director or a committee member.
This can be done anonymously if required, but the club are now going to have to foot the bill for the replacement of the gantry, and any information would be gratefully received.
[ Top ]

Karting Awards (23/09)
Autosport International 2006, 12th-15th January, is honoured to be hosting the championship awards for both the BRDC Stars of Tomorrow and Super One championships for the 2005 season, on Sunday 15th January 2006 at the NEC, Birmingham.
For the first year ever, Haymarket Exhibitions are working in closer partnership with championship organisers to present both award ceremonies on the same day. This new initiative is designed to help those competing in both championships to co-ordinate their visit to the show, whilst delivering over 700 drivers to the Karting Area on Sunday.
The Super One National Kart Championship awards will be held in a private function room off the Atrium with the TKM awards at 11am, MSA awards at 12.15pm and the Rotax awards will be held at 3.30pm.
The BRDC Stars of Tomorrow awards will be presented from the BRDC Stars of Tomorrow transporter in the Karting Area from 1.30pm to 3pm.
To make life even easier for karters, Autosport International will once again be offering an exclusive ticket deal to BRDC Stars of Tomorrow and Super One competitors. Each driver will receive a pair of tickets to attend the show on Sunday 15th January. Included in the exclusive ticket offer for karters is access to the Live Action Arena, presented by Fulda Tyres. The unique 4,500 seater indoor arena, constructed solely for the duration of the show, will now be increased by a staggering 1,000 additional seats.
[ Top ]

PCR 2005 European Champions (21/09)
At the final round of the 2005 European Mojo MAX challenge held at the new Genk kart track, in Belgium, PCR were crowned European Champions with Arnold Neveling in the Junior Class using the PCR MX MAX chassis. PCR drivers dominated the final round of the European Mojo MAX Challenge with both Arnold Neveling (Juniors) and Wesleigh Orr (Seniors) taking the race wins in the finals.
Lee Taylor Worldwide Limited, the UK importers for PCR Karts and Engines would like to extend their congratulations to the two drivers and technicians, Mr Giovanni Musso Piazza and Huey Orr.
The Lee Taylor Worldwide Racing Team, who have taken part in the MSA Super 1 Championship this year, took part in their first European race event at the Final round of the European Mojo Max Challenge with assistance from the PCR factory Team, the driver Lee Taylor managed to post 4th fastest time in both non-qualifying practice sessions, unfortunately due to a broken engine failed to post a qualifying time and had to start all heats from the back of grid which scuppered any chance of matching the results of the factory team.
All drivers were using the PCR MX MAX chassis available from the UK Importers, Lee Taylor Worldwide Limited. For more information on the PCR Chassis range and Team drives for 2006 interested parties should contact Lee Taylor Worldwide Limited on 07904 113 733 or e-mail info@leetayloreurope.com or visit www.leetayloreurope.com. Agents are also required in Scotland and the South of England.
[ Top ]

New European Superkart Champion (20/09)

The British driver John Riley is the new 2005 CIK-FIA European Superkart Champion and succeeds Frenchman Damien Payart in the list of championship winners. The last round of the European Superkart tour was held at Mantorp Park last weekend, as part of the Swedish Touring Car Championship Final (STCC).
Prior to the event four competitors were still in with a chance of winning the title, although it was almost certain that the two main contenders would be John Riley and Damien Payart, and so it proved as neither Austria's Andreas Mairzedt nor Britain's Graham Barker were able to play major parts.
Damien Payart knew before the start that he could not be the sole master of his fate. He knew he had to win both races but, in order to retain his title, it was also necessary that John Riley did not accompany him on either of the two Swedish podiums. The Frenchman accomplished his mission first by taking pole-position in practice, and then by winning both races, but it was not enough as Riley firmly clung to second place in practice and in the races.
However the Briton was not content with just making sure he would finish the race, except for perhaps a few laps before the finish. He led both Finals and even quite matched Payart in Race 1 as both rivals passed each other nearly ten times within a few laps! Their aerodynamic settings were radically different as Riley favoured a high top speed, whereas Payart was much more at ease in the twisty sections thanks to a wing profile generating more downforce.
The Swedish driver Thomas Johansson and Britain's Malcolm Crowe both managed a podium finish, finishing 3rd in Race 1 and Race 2 respectively. Apart from Johansson, a few other Swedes took advantage of this their home event to make their presence felt: Veteran Bobo Westman (62 years old) missed the podium in Race 1 by a whisker and finished 4th within 18 thousands of Johansson, and then Per-Olov Ogeborn did much the same in Race 2 ending up just off the podium. Perhaps the most outstanding achievement of the weekend was that of the only female driver of the field, Monica Strath (S), who finished 6th in Race 1 and 5th in Race 2 after great attacking drives and whose lap times were close to those of the leaders.
Photograph courtesy of Chris Walker - www.kartpix.net
[ Top ]

Renault Champion of Champions (19/09)
The organisers of the Renault Champion of Champions event at Buckmore Park on 28th - 30th October have confirmed that drivers do not have to have taken part in PF International's Kartmasters to enter the Champion of Champions meeting. The Renault Elite League which was revealed last month only refers to Formula Super Libre and JICA and is a separate prize in addition to the fantastic prizes already on offer for the Champion of Champions extravaganza.
For more details please contact Club Secretary, Sheila Rose on 01634 661604.
[ Top ]

The MX-5 Scholarship (16/09)

The 2006 www.mx5scholarship.co.uk award will give a racing newcomer a completely free season of racing a professionally-run Mazda MX-5 in one of Britain's biggest one-make circuit racing series - the MaX5 Championship.
Scholarship places are restricted to 200 competitors, with all drivers undertaking two qualifying rounds before progressing to the semi-final stage and, if they are successful, the 10-driver final. Throughout the scholarship they will receive expert tuition in race driving from professional drivers in 1.6-litre Mazda MX-5 race cars run by MaX5 Championship-winning team Shearspeed Motorsport.
As well as being evaluated on their skills behind the wheel, emphasis will also be placed on how well the driver responds to tuition. All drivers will have an equal chance of success, with no drivers with previous long-circuit car racing experience allowed to enter, ensuring a genuine novice will win a prize which is worth in excess of £12,000.
The scholarship winner will receive a race licence test, racewear provided by Redline Motorsport (who will also provide all 200 entrants with a 10% discount) and use of a Shearspeed car for a full season with all entry fees and costs covered. This unique prize was awarded in 2005 to Andy Cakebread, who has led several of this year's races and lies seventh in the championship standings.
MX-5 Scholarship founder Christian Dick, who won last year's MaX5 Championship and is also leading the 2005 standings, said: "The idea behind the scholarship is to attract more people into motorsport, and the Max5 Championship is the perfect place to learn. It's open to absolutely anyone - we've got drivers from all over the country from all walks of life in the championship."
Andy Cakebread, winner of the 2005 scholarship, said: "It has been a great experience to be driving for a professional operation like Shearspeed. The racing has been superb, and the team couldn't have been more welcoming. I haven't paid a penny for this season, which makes me one of the luckiest drivers around!"
The evaluation rounds will be held at Teesside Autodrome, next February, with the first two rounds costing £150 each to enter and the semi-final £100. The ten finalists will contest the final shoot-out for free. This represents superb value in terms of track time for all competitors.
To enter the scholarship call 07914 269226 or visit www.mx5scholarship.co.uk
[ Top ]

2005 World Karting Championship (16/09)
The CIK-FIA Karting World Championship, to be held along with the CIK-FIA Karting World Cup for Teams, is undoubtedly the highlight of every Karting season. It is a good indication of the will of the FIA to promote young Drivers and Karting and to bring them to the top of the hierarchy of Motor Sport disciplines. With Formula 1, Rallying and Touring Cars, Karting is one of the four disciplines with a real World Championship organised by the FIA.
This year, like in 2000, Portugal and the Braga international circuit have the privilege of hosting the CIK-FIA Karting World Championship from 22nd – 25th September 2005. This will be the penultimate World Championship of the era of 100cc engines before the advent in 2007 of a new generation of karts powered by 'long life' 125cc engines capable of appealing both to leisure Karting enthusiasts and to competition 'pros'.
Five years ago, the Italian Davide Fore was crowned champion at the Braga circuit, ahead of France's Franck Perera and Finland's Heikki Kovalainen. While his two runners-up are now competing in single-seaters (F3 and GP2), Fore has remained faithful to Karting and he's still one of the favourites for this World Championship. There are many potential winners, as shown by the running of the 2005 European Championship, the winner of which only emerged in the last corner of the final lap of the six scheduled races!
On the strength of his clinching the European title a few weeks ago, the Italian Marco Ardigo will be entering this World Championship with quiet confidence. As for the Frenchman Arnaud Kozlinski, he will not passively bide his time, as vice-world champion in 2003 and 2004 he is determined finally to climb on the highest step of the podium this time around. There's no doubt that tipsters will put their money on the drivers who shone in the European Championship, like Oliver Oakes (GB), Jonathan Thonon (B), Jon Lancaster (GB), Henk Waldschmidt (NL), Armand Convers (F), Davide Gaggianesi (I) and Sauro Cesetti (I).
A total of 81 drivers are entered, representing eighteen nations, including five from outside Europe.
The 2005 World Karting Champion Driver will not be the only winner in Braga as the team winner of the World Cup for Teams will also be crowned at this meeting. Seven manufacturers will fight over this Cup: Sodikart will defend their title against Tony Kart, Kosmic, CRG, Maranello, Intrepid and Lenzokart.
Photographs courtesy of Chris Walker - www.kartpix.net
[ Top ]

Birel Chassis' (15/09)

Sole UK Birel Importer ACR would like to congratulate Mark Litchfield (M32ST) and his PF International Team on retaining his Formula A British Championship, a truly fantastic achievement! It was quite a year for the Birel marque with Riki Christo (M32ST Fullerton) finishing in 2nd place and Gary Catt (Birel Rds 1–5 M32ST PFI) finishing 3rd to make it a clean sweep and 2005 a year to remember for Birel in the FA Category.
In ICA Birel karts have dominated the series winning 9 out of 12 finals. In the end it was tight but Matthew Bell (M32ST Team Simpson) was crowned the Champion ahead of Danny Cruttenden (M32ST ACR). Both drivers were the class of the ICA field and ensured a victorious 1 and 2 for the Birel brand in the ICA category.
For more information on Birel chassis or to contact your nearest dealer visit www.andycoxracing.co.uk or call ACR on 01527 889595.
Photograph courtesy of Chris Walker - www.kartpix.net
[ Top ]

Motorsport Safety Fund (15/09)
The world's oldest motor sport venue, Shelsley Walsh, has been celebrating its centenary this year. What better choice for the cover of the Motorsport Safety Fund's 2005 Charity Christmas card, therefore, than a picture by Max Hamblen of Ken Wharton scaling the famous Worcestershire hillclimb in his all-conquering ERA R4D. Snow there may not be, but few such shots sum up the best of British motorsport so succinctly.
The cards are priced at £6.50 for 10, including envelopes, postage and packing and are available from: Motorsport Safety Fund, PO Box 200, Sevenoaks, Kent, TN15 8WZ.
The charity's recently-revised website at www.motorsportsafetyfund.com is much easier to navigate than before and gives full details of the Fund's many useful publications, DVDs, videos, the above-mentioned Christmas Cards, the Motorsport Safety Fund pin badge and how to order them. One can also download a PDF of the twice-yearly newsletter - The Marshal; check out details of the annual Watkins Lecture; view the list of Trustees; and learn how to make a donation to the charity.
[ Top ]

Formula TKM TV Bonanza (14/09)
All the action from Maxxis Formula TKM Festival at Kimbolton. TV coverage of this year's Maxxis Formula TKM Festival at Kimbolton begins this week on Sky Sports marking the start of a three week bonanza of TKM Karting action.
Three programmes have been produced from the August event which will run for three weeks starting 15th September, 22nd and 29th. The programmes will feature as part of the widely viewed RaceWorld programme which appears on SkySports 2, 3 and Xtra. Each programme gets multi repeats and goes to around 200m homes worldwide.
Different classes are highlighted on each programme to provide an excellent array of coverage for this prestigious event – the largest one-make event in the UK which goes from strength to strength.
A DVD featuring all of the coverage will be available from Tal-Ko Racing shortly.
[ Top ]

GYG Prix Perfection (14/09)
MBKC would like to thank everyone involved, officials, drivers and everyone behind the scenes in making the inaugural running of the GYG Prix such a huge success. A truly fantastic atmosphere and a great days racing at what is surely one of the best circuits in the country.
A big thank you also to the sponsors of individual classes: W-60 Cadet - David Higgins; Minimax - Focal Point; Junior TKM - JKH; Junior Rotax - GYG Karting; TKM Extreme - JKH; Rotax Max - Century; Rotax 177 - Griffin Racing; 100 National - Garbetts Meats; Formula Blue - Libre Motorsport.
[ Top ]

The Club100/Playscape Trophy (14/09)

The inaugural Club100/Playscape Trophy will be covered in Track and Racecar magazine and on Karting.co.uk.
Track & Race Car magazine ran a competition earlier this year to find an up and coming driver for this years 2005 Sprint Championship and unearthed the talented Adam Blackmore, who's currently a top 10 regular in Club 100s Lightweight A Finals. Track & Race Car are backing this year's competition, and will be covering the event in the build-up, and will also recount the days event in-depth over several pages of coverage. Track & Race Cars Official website is www.trcmagazine.com
Karting.co.uk will be reporting on the winning drivers' progress with each the L/W and H/W victors having column inches to write up about their progress after each round on this, the news item pages - a great PR opportunity.
For more information on the Club100/Playscape Trophy click here.
[ Top ]

TKM Inters Join Special Stars Race (14/09)
Formula TKM Intermediates are being invited to fill the last few places on the grid for the exciting new addition to the 2005 race calendar – a special race at the Buckmore Park round of the BRDC Stars of Tomorrow series later this month – 24th/25th September.
Formula TKM has been specially asked to take part with one grid of karts in what is expected to be an ultra competitive event, fully backed by Tal-Ko Racing. The Stars round will be featured on TV, and uses a prestigious level of organisation and presentation, and also now featuring a shoot-out between the Juniors and Seniors providing an added boost. Drivers are being offered a superb value package with a total £50 entry fee for Saturday testing and Sunday racing. There will be three heats and a final on Sunday.
Commenting on the news Formula TKM Co-ordinator Grahame Butterworth said: "I am delighted that we will be able to get the Juniors and Inters racing alongside each other at this level. They will use their usual respective weights and restrictors to provide a real high level shoot out which should be very competitive."
Entry forms are available immediately from the Tal-Ko website and entries for Inters close this Friday 16th September. Entries will be on a first come first served basis, though with guaranteed places for the top three finishers from Intermediates at the Kimbolton TKM Festival.
Any questions should be addressed to Grahame Butterworth, Formula TKM Co-ordinator on 01427 875900.
[ Top ]

Super One British Championships (13/09)

Shenington was the venue last Sunday for the final rounds of the Renault-backed B4 Group 2005 MSA British Championships and the meeting saw some close exciting racing, although the overall results produced no surprises.
Formula A saw Mark Litchfield retain his crown, in ICA it was Matthew Bell who left the Oxfordshire circuit as 2005 British Champion, and 14 year old Will Stevens was delighted after winning the Formula JICA Karting Championship with a race to spare.
Image on left is of Mark Litchfield, and the images below show (from left to right); Mark Litchfield, Matthew Bell and Will Stevens. A brief race report on Formula's A, ICA & JICA can be found here.
Photographs courtesy of Chris Walker - www.kartpix.net
[ Top ]

What A Weekend For Stephenson Bros (12/09)

A Scarborough-based family experienced the ups and downs of Karting, with one brother winning the race but the other ending up with a night in hospital, after a visit to P.F. International.
Competing in Minimax, 13-year old Conor Stephenson and 8-year old brother Calum - racing in WTP Cadet - had very mixed fortunes.
Calum was third on the grid for his final qualifying heat and looked to be in good shape for a race win. However a start-line incident saw another kart ploughing into him resulting in a 40mph trip to the tyre barrier. The impact flipped Stephenson straight out of the kart. Despite no obvious injuries, he was taken to hospital for a check up, accompanied by mother, Lesley.
Meanwhile father, Phil, remained at the circuit, with Conor. Despite the immense pressure of not knowing how Calum was, Conor dominated the race to take his fifth victory of the season.
Fortunately Calum was released from hospital the following evening in good health although his kart was badly damaged. Phil Stephenson described the response the family received after the accident as amazing. "We must have had 30 or 40 calls from other competitors and teams and I'd just like to say thank you to everyone that made the effort to phone to make sure that Calum was okay."
To follow the latest escapades of the Stephenson brothers, visit www.rocketkarting.co.uk
[ Top ]

School Team May Come To An End (12/09)

All Hallows School Kart Team has been targeted for the second time in five months by criminals who have now taken three karts in total.
The teams Manager, Stephen Grundy, said "It's sickening, the pupils work hard to prepare the equipment with their parents so they can compete with schools throughout the country, other parents and volunteers work had to raise money and manage administrative duties, but it is all put in jeopardy because someone steals equipment which leaves children heart broken and adults annoyed."
The first incident took place in May prior to the National Championships. A kart, with a Honda 4-stroke engine fitted worth around £2,500 - £3,000 was taken, but the team worked hard and prepared a spare kart in readiness for the event. The second occasion on 8 September was more serious, two karts where taken, one similar to the first fitted with a Honda engine and the second a more high-tech piece of equipment costing in excess of £3,500, in total roughly £8,500 is now lost.
The thieves must have had knowledge of the security system and came prepared on both occasions, managing to remove the karts before security or the police were able to arrive at the scene. It has left AHKT with a financial problem. Stephen said, "We're unable to fund the replacement of these two karts and the children who race them, are, as you could imagine, very upset at the prospect of being unable to race again until the middle of 2006. We have all tried hard to keep the team going; it gives pupils the experience of technology in its practical environment which helps with their studies as well as giving them something to focus on in their spare time. Parents, Volunteers and I, will now consider very carefully if the team has a future, insurance and cost of replacement will exceed our fund raising abilities."
Support has already come from Vi Motorsport who has offered a reward to the person who provides information leading to the arrest of the thieves, but more is needed to save the team. If anyone can help, or would like more information, please contact Stephen on 07753 803387 or the Police on 0845 458 0000, the Crime Number 26080905.
[ Top ]

Historic Karts At Blackbushe (12/09)

As part of the annual Roy Mortara Memorial meeting of Camberley Kart Club on 24th September, there will be a display and on-track demonstration of Historic karts. This is an event organised by the Historic & Classic Kart Club of Great Britain and will feature on-track demonstrations that are to be held during the lunch break, and then again after the Finals. Anyone with a suitable kart (pre 1980) is welcome to participate.
Further details are available on http://groups.msn.com/RetroKarting or ring Jeff Gray on 01252 664028.
[ Top ]

BPKC Round 5 Summer Championships (08/09)
After the August break, the Buckmore Park Kart Club Summer Championship recommences with Round 5 on Sunday 18th September. Apart from the usual classes, there are special races for the Europa Challenge and the annual Senior Rotax Max Phil Wharlow Memorial Shield.
This meeting will be the last chance for Stars of Tomorrow, Rotax Super One drivers and Rotax world qualifier competitors to race at Buckmore before their respective championships visit the venue in late September/October.
Open practice is available on Wednesday 14th September and Saturday 17th September between 10am and 4pm and overnight parking is available on Friday 16th and Saturday 17th September.
For further details contact Sheila Rose, BPKC Competition Secretary on 01634 661604.
[ Top ]

The Club 100 / Playscape Trophy (07/09)

Good at 4-stroke racing, and fancy winning a season in 100cc 2-strokes?

Club 100 is hosting an event at the indoor track at Streatham Kart Raceway where 2 drivers will win a full seasons racing! Interested? Read on:
On Sunday 29th January 2006, Club 100 will host one of the largest one-day events ever, in indoor Karting. There will be 2 separate Sprint events, one for lightweights, one for heavyweights, with the entry list restricted to 50 drivers in each. The heavy class will be for drivers weighing (with suit and helmet) 80kg+. The lights class for drivers under 80kg. The lightweight class is scheduled at 10am-2pm and the heavyweight class is scheduled at 4pm-8pm. Entry is £60 per driver which includes the following format: Practice, 5 race heats and a Final. The top 3 from all the lower finals will qualify onto the back of the grid for the next final, leading up to the Grand Prix 'A' final.
The winner of the A final in both weight categories will win: A full season (10 rounds) in Club 100's Sprint Championship 2006 and 2 free Club100 Test Days.
The runner-up will win: A round of their choice in Club 100s Sprint Championship 2006 and 1 free Club 100 test day.
3rd place will win: 1 free test day.
John Vigor with his Club 100 race management team will be running the event on the day. Full commentary, along with a demonstration of a Club 100 kart will be part of this huge indoor karting event.
Spaces are sold on a first come, first served basis so get your entry in now and you could be driving away with a prize worth over £1500. Contact the Playscape Pro Racing office on 020 8677 8677 and speak to either James Draper or Enver Meyer, or e-mail james@playscape.co.uk. Please ensure you book into the correct weight category. All drivers will be weighed upon arrival.
Please note that Club 100 members (past or present) are not eligible to participate in this event, nor employees of Club 100 and/or Playscape Pro Racing.
[ Top ]

F.Laudato, E.Janis & M.Christensen (07/09)
The end result of the Super ICC World Cup in Sarno last weekend was as expected with Italians filling the first seven places, but pre-race firm favourite Francesco Laudato found the situation a bit trickier than he would have wanted. Although starting from pole in the final he was immediately under tremendous pressure from Benedetti, Cozzaglio and Piccini in the few first laps and was unable to pull out any gap. The fight between his three chasers was to turn to his advantage on lap 8 when Benedetti, Fore and Cozzaglio tangled with each other. While Cozzaglio lost all his chances, Laudato took advantage to keep well ahead of the chasing pack. During the next few laps, Benedetti slowly caught up but so did Roberto Toninelli and it was Toninelli who relieved Benedetti of 2nd place. Despite this fine effort towards the end of the race, which earned him the lap record, Toninelli did not manage to catch Laudato.
In the ICC class, the 'little sister' of Super ICC, Dutchman Dany Bleek won both races, but it was Erik Janis that was crowned European Champion. Janis is the second Czech driver to win a European title in Karting, 25 years after Milan Simak.
The 13 to 15 years old Juniors also fought for the European Championship title in Sarno. The final was action-packed and the lead changed many times. The Dane Michael Christensen came from sixth and ended up winning a race that was lively affair early on with the Czech Groman and the Dutchman Melker up front. Two laps from the finish, there were still 7 drivers neck and neck fighting for victory, but a collision between Groman and Britain's Millroy ended their hopes and aspirations. After a superb overtaking manoeuvre on Frenchman Pic two corners from the finish line, the Dutch driver Melker finished in second place behind Christensen. Top placed Brit was Kazeem Manzur.
Pictured below (from left to right) are Francesco Laudato (I), Erik Janis (CZ) and Kazeem Manzur (GB).
Photographs courtesy of Chris Walker - www.kartpix.net
[ Top ]

Formula TKM Join Special Race (05/09)
Formula TKM 2-stroke drivers are being invited to take part in an exciting new addition to the 2005 race calendar – a special Junior race at the Buckmore Park round of the BRDC Stars of Tomorrow series later this month – 24th/25th September.
Formula TKM has been specially asked to take part with one grid of karts in what is expected to be an ultra competitive event, fully backed by Tal-Ko Racing. The Stars round will be featured on TV, and uses a prestigious level of organisation and presentation.
Drivers are being offered a superb value package with a total £50 entry fee for Saturday testing and Sunday racing. There will be three heats and a final on Sunday. Control tyres and fuel will not be used.
Commenting on the news Tal-Ko Racing boss Alan Turney said: "This is a real bonus event for us and should provide an excellent opportunity for the top Juniors to shine in front of the cameras – and a great shoot out for the front-runners from the Festival. We hope for a very strong entry and of course must say a very big thank you to Stars for the opportunity."
Entry forms are available immediately from the Tal-Ko website and entries close on Wednesday 14th September. Entries will be on a first come first served basis, though with guaranteed places for the top five finishers in the Junior Elite and Festival finals at the Kimbolton TKM Festival.
If any places are left on the grid, the organisers also reserve the right to permit Inters to enter if they wish, running to their normal weight/restrictor specification which is of course fully compatible.
Any questions should be addressed to Nigel Edwards of Stars on 07718 625405 or Grahame Butterworth, Formula TKM Co-ordinator on 01427 875900.
[ Top ]

New Results Service (05/09)

SuperSport Timing are proud to announce that after a period of close collaboration with the team at www.karting.co.uk a new Internet-based results service has just been launched.
Peter Rankin of SuperSport's WinTime Development Team said, "We have always regarded the UK Karting website as a focal point for the whole Karting community, with a very popular Noticeboard, large Marketplace and a Race Results service covering the whole country. We are so pleased to have been working with UK Karting to help with the development of their new ERS+ Results Service giving far more in-depth coverage of the whole race meeting".
The newly launched ERS+ Results offers more detailed information than any other on-line system and will be regularly upgraded to offer more and more features. Next to come will be analysis of every driver's individual lap performance in the same graphical style.
The first race meeting to benefit from this enhanced online reporting was the TKM Festival hosted by the progressive HKRC Club at Kimbolton, who were one of the first clubs to recognise the huge potential of the SuperSport WinTime Club Pro system. Competitors at Kimbolton will all now benefit from improved race-day printouts of their performance as well in the same style as those printed at the Festival.
SuperSport Timing Systems are pleased to announce that any Kart Club in the UK which has ever purchased WinTime Club Pro is entitled to a FREE system upgrade to allow their own club to benefit from the new ERS+ online results on UK Karting.
SuperSport can be contacted via their own website www.supersporttiming.com or in the UK on 01432 860685.
[ Top ]
---
Passion Racing (02/09)

Passion Racing has a new website store running at www.passionracing.co.uk.
The site will gradually be expanded to list the whole range of new and used parts that Passion Racing Team use and stock allowing karters to order on-line.
[ Top ]
---
Rock Island GP (02/09)
The Rock Island Grand Prix, the world's largest Karting street race, will be broadcast live on the Internet on Sunday 4th September by Monks Media.
This year there are more than 400 entries in 15 race classes, coming mainly from across the United States but with several foreign competitors too. Foreign drivers this year include Nick Maddison and Matt Pritiko from Canada; Alexander Sims from the UK; Jean Valerio from Costa Rica; Hugo Carreras of Argentina; and Scott "Skitchy" Barnes from Bermuda.
The Rock Island Grand Prix will again host the Superkarts! USA King of the Streets race. It will co-promote the U.S. Street Grand Prix races for Intercontinental C and Intercontinental A racers with the Snap-on Stars of Karting presented by the Indy Racing League. Its two feature TAG races are the only direct qualifiers to the TAG World Finals. The full day of racing will also include the Briggs & Stratton Rumble at The Rock and Tom Argy Jr. Animal Roundup for Animal motors, as well as a full slate of other 2-stroke, 4-stroke and gearbox events.
The Rock Island Grand Prix is run every September on a temporary circuit set up through the downtown city streets of Rock Island, Illinois. Rock Island is located by the Mississippi River approximately 165 miles west of Chicago. Presenting sponsors are SBC Communications and CJC Investments.
Rock Island Grand Prix festivities will begin on this Labor Day weekend with Opening Ceremonies at about 12 Central Standard Time (17:00 GMT) on Sunday, 4th September, with the first race starting at 12:30 p.m. CST (17:30 GMT). The Monks Media website is www.monksmedia.com.
[ Top ]
---
EKC Prokart Endurance (31/08)

The next EKC Prokart Endurance race meeting will be held at the 1000 metre Barton Stacey kart circuit, just off the A303 near Andover, on Sunday 11th September. It's a minimum 2 drivers per team for this 6 hour race and all teams, old and new, are welcome.
Enjoy some close friendly racing at one of the best tracks in the south, with a variety of high speed straights and precise technical corners. For more information or for an entry form visit www.ekc.prokart.co.uk or contact Sam Bowyer on 02380 863133.
[ Top ]
---
Stolen (31/08)

Can you help Jamie Johnston locate his Kart? It was stolen from the Dartford area in Kent sometime between the evening of Monday 29th August and the afternoon of Tuesday 30th August. It's a blue DK Select chassis with an Ital sistem MV21 air-cooled engine. It was running new rims up front on some SL7s.
Anyone with any information can e-mail: jamie@bethskartclub.com or contact Crimestoppers anonymously on 0800 555 111.
[ Top ]
---
World Cup, European ICC & Junior Champs (30/08)

The 2005 CIK-FIA World Cup for Super-ICC, the European ICC and the European Junior Championships have excellent entry lists for the event this coming weekend at Sarno in Italy with no fewer than 196 drivers. The huge numbers means an extremely busy meeting with 16 qualifying practice sessions, 21 qualifying heats and 6 finals, not to mention preliminary non-qualifying practice and the warm-ups.
The World Cup for the top category of Gearbox Karts at this meeting, Super-ICC, show the importance of the occasion with a likely 47 competitors at the start, that's more than twice as many as in the European Championship. The favourites will be none other than team mates Ennio Gandolfi and Francesco Laudato. The former is the outgoing winner of the World Cup held twelve months ago in Belgium, and the latter recently landed the European Champion title of the category. Those who will try to match them will be Alessandro Piccini (quadruple World Champion), Manuel Cozzaglio, Roberto Toninelli, Sauro Cesetti and a star over many years, Alessandro Manetti. Their Italian-sounding names clearly show where they come from, and whilst they do not really need it, they will have the benefit of home advantage. As regards foreigners, a surprise from the Dutchman Robert Dirks (winner of the World Cup in 2003) or from the Frenchman Arnaud Kozlinski cannot be dismissed.
The 'Second Division' 125cc ICC Gearbox Kart drivers will fight it out for the third and last time this season within the framework of their European Championship. Even though quite a few competitors are still in with a mathematical chance of winning the crown, the struggle for the title will probably come down to a duel between the Czech Erik Janis, the current Championship leader thanks to him mounting the podium four times in as many races, and France's Tony Lavanant.
The third category competing at Sarno will be that of the up-and-coming generation, namely the 13 to 15 years old Juniors, who include amongst their ranks young Kazeem Manzur (GB). They are competing in this event on the 1542 metre circuit close to Mount Vesuvius near Naples because they have successfully gone through the regional qualifications which were simultaneously organised in July at Rudskogen (Norway), Salbris (France) and Sosnova (Czech Republic). These qualifications had enabled the Dane Michael Christensen to stand out ahead of Russia's Evgeny Novikov and Belgium's Laurent Vanthoor in the Northern Region. Those who climbed on to the final podium of the Western Region were Frenchman Charles Pic, the Portuguese driver José Cautela and Adrien Tambay, son of the former Formula 1 driver Patrick Tambay. As for the Central Region, the winner was the Czech Zdenek Groman, ahead of the Italian Marco Zipoli and the German Markus Pommer.
Photograph is of Western Region qualifier Charles Pic (F). Courtesy of Chris Walker - www.kartpix.net
[ Top ]
---
RAFMSA Kart Endurance Team (30/08)
The RAFMSA Kart Endurance Team would like to express their sincere thanks to Mark Rogerson and Serco for coming up with last minute sponsorship thus allowing the team to compete in this year's UK 24hr Race.
The Team faced just about every conceivable hurdle from a problematic chassis to losing their team of mechanics and one of their drivers. However, the remaining crew rose to the challenge and, with the help of Lee Brett and Team BAR, were able to keep the kart going to complete the 24 hours.
By the end of the weekend they had replaced almost everything on the Kart except for the transponder and seat (though even the seat support broke in 3 places.) The Team's dedication and sheer determination to finish paid off although the result was not the one we had strived so hard for.
Said Team Manager John Iddles after the event, "We are now on the lookout for a competitive and reliable chassis to prepare ready for next year's event. Watch this space!"
[ Top ]
---
2006 Rowrah 24 Hour (26/08)
Cumbria Kart Racing Club announce 'The UK Lakeland 24 Hour @ Rowrah 2006'.
To be run in the beautiful English Lake District at the Lakeland Stadium, Rowrah, in August 2006, the starting grid will be limited to 40 teams.
Entries will be for a minimum of 20 teams and a maximum 40 teams. Awards will be as follows: For 20 teams - £3000 cash prize fund plus trophies For 30 teams - £4500 cash prize fund plus trophies For 40 teams - £5500 cash prize fund plus trophies
Entry fees are only £750 per team but be quick off the mark and get your entry in before the end of this year, otherwise from 1st January 2006 it's still a very reasonable £975 per team.
Entry Numbers 1 – 40 are allocated on receipt of entry. Deposit of £250 per team, made payable to CKRC. To reserve your place on the grid for the first UK Lakeland 24 Hour race, or to obtain further details go to www.cumbriakrc.co.uk
[ Top ]
---
Catt Signs For Tony Kart (26/08)


Gary Catt has signed to race for the Tony Kart Racing Team. His first race for his new team will be at the World Karting Championship at Braga in northern Portugal next month. "Obviously signing for the Tony Kart Team is a great opportunity for me and I'm looking forward to the challenge" said Gary. "To drive in the same team as Marco Ardigo and David Fore week in week out is great and I'm sure I will learn a lot from them and improve as a driver. Obviously there isn't much time now before the World Championship so I will be testing as much as possible and hopefully can achieve a good result for the team" he added.
Catt has previously driven a Tony Kart and won the ICA British Championship, also finishing 3rd in the European ICA Championship at Angerville in 2002 under the guidance of Paul Fletcher.
Photographs courtesy of Chris Walker - www.kartpix.net
[ Top ]
---
The Biggest Meeting (25/08)
In 2005 the GYG Prix replaces the popular Dragon Masters as the biggest meeting in Wales. The name has changed but there will be the same friendly atmosphere and exciting track at Glan-y-Gors park in the heart of the Welsh countryside for the meeting on 12th September. In one of the most scenic settings for a kart track in Britain and less than 100 miles from Birmingham and Manchester GYG will be the scene for some highly competitive battles for the famous Dragon trophies.
For information and entry forms visit the MBKC website now.
[ Top ]
---
CIK-FIA European FA & ICA Champs (24/08)
The final event of the European Formula A Championship last weekend at La Conca in Italy always promised to be closely fought, and so it was. So much so that it held the public breathless until the final corner of the final Race 2, which was decisive for the awarding of the 2005 European title.
While the focus of everyone's attention was mainly on the drivers still in a position to win the title, the show was nevertheless partly stolen by Brit Oliver Oakes (pictured) who brilliantly won both races in La Conca. Thanks to his two wins in Italy, he is the only driver to mount the top step of the podium twice in 2005; and in doing so managed to work his way up to fourth place in the final classification of the Championship!
With 3 podiums in 4 races, Marco Ardigo (I) had the psychological and mathematical advantage of starting the event as leader of the provisional classification. Out of the many possible candidates for the title, there were only two left who could challenge Ardigo after the first of the two finals in La Conca, namely Sauro Cesetti (I) and Jon Lancaster (GB). In Race 1, Armand Convers (F) managed to add only one point to his championship total, whereas Jonathan Thonon (B) - with a broken connecting rod, Gary Catt (GB) and Arnaud Kozlinski (F) did not score any.
Between the Italian's Ardigo and Cesetti, tension had gone up a notch before the decisive final as both drivers had clipped each other in the last corner of Race 1 to such an extent that they both lost one place and a handful of points. To ensure that they play fair both drivers were placed under the close supervision of the stewards, and they were to put together a very intense fight in Race 2. Lancaster was betrayed by his engine and his chances of snatching the title were gone, and so it was left to Ardigo and Cesetti to fight it out on their own. In order to land the title, Cesetti had to win the race with Ardigo not finishing higher than sixth. Cesetti took the lead three laps before the end but had to cope with the determination of Oakes, who regained the lead entering the last lap. Cesetti tried a final overtaking manoeuvre in the last corner but veered off the ideal line and fell to fourth place. Oakes was then able to quietly go and clinch his second victory of the day, while Ardigo won the European laurels by finishing second.
The European ICA Championship was also held within the framework of the La Conca meeting. In the final, Nathanaël Berthon (F) crossed the finish line in first place ahead of James Calado (GB). The result is however provisional due to an appeal that Berthon lodged against his disqualification from the pre-final, which was announced by the stewards due to the weight of his Kart not complying with the regulations.
Pictured below (from left to right) are Oliver Oakes (GB), James Calado (GB) and Michael Sedlmeyr (D) No.123, Marco Bellanca (I) No.112 & Benjamin Bailly (B) No.153.
Photographs courtesy of Chris Walker - www.kartpix.net
[ Top ]
---
Interactive Karting Experience (23/08)
Following the resounding success of the new Karting Area in January 2005, Autosport International is set to present an even bigger and better show next 12th-15th January, at the NEC Birmingham. The two-day area is back by popular demand and its perfect positioning adjacent to the booming four-day area has seen over 70% of stands already sold.
The world's top karting companies are already lining up to exhibit. Companies confirmed include Alfano, Anderson, Biz Karts, BMF Leisure UK, City B Marquees, Club 100, Dartford Karting, EMPF, JKH, JLF Designs, Karting Oxford, KKC Kart Components, Market Makers, Mini Moto Racing, Paul Carr Racing, Rage Motorsport, Strawberry Racing, Supersport International, The Awning Company and Zip Kart.
Complete with its own stage and one of the best ever displays of international karting companies and manufacturers, the area will offer everything you could possibly need for the 2006 season. Autosport International also looks forward to welcoming the SuperKart Association to the Karting Area of the show for the first time.
Delighted with the success of last year's show, Karting Oxford immediately signed up to run the kart circuit again in 2006. The show in January will see the Karting Oxford circuit move to the new Activity Hall, Hall 4. Located next to the Driving Experience, the kart circuit will be exactly the same size as in 2005 but will boast a new, challenging layout.
Make sure you don't miss the popular return of the Karting Manufacturers displays throughout Saturday and Sunday, where the top companies will demonstrate their machines at maximum revs.
The Karting Area will also see a welcome return to the Karting stage, kindly hosted by the BRDC Stars of Tomorrow transporter, which will entertain a plethora of Karting and motor racing stars throughout all four days. The popular Karts to Cars feature will also return adjacent to the stage with an exciting new display planned for 2006.
[ Top ]
---
Forest Edge Kart Club (22/08)
To coincide with their new track at Barton Stacey, Forest Edge KC have completely revamped their website. If you fancy taking a look at this challenging circuit then why not go down on Saturday 27th August with a few tools (spade, fork, pickaxe, drill, etc.), as in exchange for you demonstrating the various uses for your tools you will receive a free practice! Yes, it's a work party day.
Looking for immortality? Then you need look no further than FEKC as for a small sum you can name a corner at their new circuit. For this and lots more information check out the FEKC website now. The club welcomes new members and also has an adult Pro Kart and a Cadet Kart available for a nominal fee to anyone that wants a taster of what Karting is like.
[ Top ]
---
European Formula A & ICA Champs (18/08)
From today until 21st August 2005 the 1250 metre La Conca track, situated at Muro Leccese in the heel of the boot of Italy, will be the scene of the third and final event in the CIK-FIA European Formula A Championship and of the CIK-FIA European ICA Championship. In total 24 nationalities will be represented, with France leading the way with 18 drivers in Formula A, and Italy having the majority in Formula ICA with 14 drivers.
As this and each previous event features two finals, four races in the European Formula A Championship have already been run. They were won by four different drivers, which shows how tight the game is in karting's leading category and how fierce the fight for the title will be at La Conca. Each of these four winners, Italy's Marco Ardigo and Sauro Cesetti, Britain's Jon Lancaster and France's Armand Convers, is aiming for the crown, but they are not the only ones still in a position to carry it off. Although failing to win the previous races at Angerville (F) and Mariembourg (B), drivers such as the Belgian Jonathan Thonon, Frenchmen Arnaud Kozlinski, Florian Alfano and Kevin Breysse, Italian Salvatore Gatto and even Britain's Gary Catt still have a mathematical chance of wearing the European crown, although they will have to give an outstanding performance in each of the final two races at La Conca.
In ICA, the title of European Champion will also be hotly contested. La Conca will gather together Europe's best drivers in the category, selected after the regional qualifying events that were held in July on the circuits of Ruskogen in Norway, Sosnova in the Czech Republic and Salbris in France. The top 24 in each of these three qualifying events have been selected for the European grand final. Among the favourites, of course, are the drivers who made it onto the podiums of the different qualifying races, representing a great variety of countries: the northern region saw victory for Sweden's Tommy Prosi ahead of Luxembourg's Samuel Curridor and the Dutchman Stef Dusseldorp, whereas in the western region, Britain's James Calado triumphed over Portugal's Armando Parente and the Spaniard Jaime Alguersauri. The winner of the qualifying round for the central region was the Czech Erik Janis, but he will not be taking part in the European ICA final, because as leader in the provisional classification of the European ICC Championship (his favourite category), he prefers to save himself for the final of that championship, which takes place two weeks later on the Sarno (I) circuit. However, Nicholas Risitano and Kristaps Méters, who finished just behind him in qualifying, will indeed be present at La Conca.
Given that 9 of the last 15 ICA European Championships have been won by French drivers, forecasters should perhaps think of including one of the eleven French starters on their list of potential winners too.
Results from La Conca will be published live on www.cikfia.com.
[ Top ]
---
Calling All TKM 4-Strokes (17/08)
Rissington Kart Club is opening entries to Junior and Senior TKM 4-stroke drivers to compete in next month's Midland Karting Championships.
"We've never had any TKM 4-strokes at the event, but we know from the turnout at the recent TKM Festival and in Super One, that there are plenty of drivers out there. We also know that outside those two championships, the 4-strokes don't get to race around the clubs too often, so this is a chance for them to get in another full weekend of racing," commented club secretary, Julie Dredge. "They'll be made very welcome and they also have the added incentive of trying to become the first ever 4-stroke Midland Champion."
One of the most popular annual meetings on the racing calendar, the two-day event regular attracts over 300 entries and features added entertainment from a number paddock displays and track demonstrations. Previous winners of this prestigious title, include Jenson Button and Nigel Mansell.
This year's event takes place from 3rd – 4th September, with practice sessions on Saturday morning, heats on Saturday afternoon and remaining heats and finals on Sunday. All drivers must have a national A licence and will take part in three heats and a final. The overall entry is filling up fast, but there are still spaces on the grid in all classes, particularly in Junior TKM Intermediate, 125's and 250's.
For more details or an entry form, contact Julie Dredge on 0118 9836070. You can also download a race entry from the club website – www.rissykartclub.com
[ Top ]
---
Motor Sports Association (17/08)
The Motor Sports Association has re-launched its website - www.msauk.org. The new site has been completely redesigned and restructured to offer a much improved service to licence holders, officials, clubs and championships.
[ Top ]
---
2005 Monaco Kart Cup (16/08)
Having been unable to gather the budget necessary for the organisation of the event and for the construction of the temporary circuit on the quays of Monaco harbour, the Automobile Club de Monaco regrets to be forced to cancel the 2005 CIK-FIA Monaco Kart Cup for the Formula A and ICA-Junior categories, which was scheduled for 14, 15 & 16 October 2005.
[ Top ]
---
2006 Formula Ford (15/08)

Team Avenues Systematic are now recruiting drivers for 2006, the crack Formula Ford team responsible for taking 16 year old karter David Mayes to currently 2nd in the championship are now looking for new talent to complement their part sponsored team next year. The team, formed in 2000 to promote young talent of the future is now looking for drivers to follow in the footsteps of young karter David Mayes. Team boss Julian Chaplin-Perkins, part of the engineering team for David Coulthard and Mika Hakkinen at McLaren during the teams world championship winning years 1998 and 1999 said; "Winning is a about teamwork, an all round package, a talented driver, an experienced engineering team and a strong engine package". The team have available David Mayes and Nick Lay's proven pole position and race winning FF1600 chassis next year, all you have to do is drive! (Part sponsored price of £28,000 normally £38,000) and 1 seat available in their works assisted National 'Sigma' (Zetec) UK championship team (Part sponsored price of £59,995 normally £98,900). Any young talented drivers who feel they have the dedication to be part of a winning team should in the first instance contact Julian on 01255 672266 or e-mail julian@aofracing.com to pledge their interest. The team's background and current activities can be found at www.aofracing.com and follow the links to the team's forum.
[ Top ]
---
Vintage and Classic Kart Weekend (15/08)

Jim Coulthard has organised a vintage and classic kart weekend at Rowrah Karting Stadium on 3rd and 4th September 2005. There will be karts from the 60's and 70's attending. Anybody wishing to have a look - please feel free to go along.
If you have a kart which was manufactured pre-1979, you are welcome to bring your kart along and try it out on the track. Cumbria Kart Club will charge £30 per day to use the track. Further details are available on the Classic Kart Collection of Northumbria website, or ring Jim on 01665 714169, or e-mail: coulthardjim@aol.com
[ Top ]
---
Ladies' Day At The Ace Café (12/08)
We know that many female karters are also into bikes and cars and the excellent Ace Cafe in north London is holding its annual and legendary Ladies' Day on Sunday 21st August.
Female motoring enthusiasts have been invited to display their bikes, cars, vans, trucks, classic and vintage machines, while entertainments include firemen to give your own car a hose-down and a live auction featuring some fantastic lots kindly donated by WOMAC's patrons and supporters of the Ace. It's a fun day out and you can meet petrolheadettes who are passionate about their wheels. You can even bring your man and the kids along, too - there will be plenty to do and see.
This year's shindig is raising money for WOMAC (Women On The Move Against Cancer) and the emphasis is on fun. The main theme is to promote women in all forms of motoring, with guests invited from the worlds of drag racing, motor sport, classics and customs - both two-wheeled and four.
Ladies' Day starts around 11am and continues throughout the afternoon. The Ace Café is at Ace Corner, just off the North Circular Road, Stonebridge, London, NW10 7UD. Telephone: 020 8961 1000.
[ Top ]
---
Irish Gearbox GP 2005 - 24th September 2005

Free camping, a free BBQ, free beer and free soft drinks! What more could you want?
The highlight of the Irish Gearbox Calender this year, the Irish Gearbox Grand Prix is being held by the Bishopscourt Kart Club in parallel with Round 6 of the NIKA Championship at the Bishopscourt Motorsports Complex on Saturday 24th September.
The event will consist of races for 125, 210 and 250cc Superkarts with a prize fund of £1000 to be allocated between 125, 210 and Div 1 and 2 250cc Karts. In addition to the main prizes, there will also be prizes for the first non-Ulster gearbox driver to finish in each class.
The Grand Prix is a one day event with practice early morning, so the Bishopscourt Kart Club have laid on free overnight camping and a free BBQ for all campers on the Friday night (23rd September 2005). There will also be free beer and soft drinks available to those over-nighting at Bishopscourt.
Entry forms and regulations are available from Roxanne McFadden, 26 Brookdale, Banbridge, BT32 3FD and entries close on 16th September 2005.
For all enquiries about the circuit, layouts, jetting etc., contact Geoff McBride at editor@acceler8.org.uk
[ Top ]
---
King of Clubs Meeting (10/08)
Camberley Kart Club team drivers would like to thank Camberley Kart Club for their financial support for the recent King of Clubs meet at Whilton Mill. The drivers would also like to thank Peter Brown of Middlesex Karting, the spares trader at Blackbushe, for his support both with spares at cost and technical input on the day. None of the drivers expected support to attend this meeting and both Camberley Kart Club and Peter went that extra mile to contribute to the success of the day. This is a positive example of a grass roots club supporting its members and promoting club karting. Camberley Kart Club has always prided itself on providing friendly competition at its meetings; this excursion to another club allowed members to experience a special meeting where they met and raced against different drivers, which still reflected their club's friendly approach over the weekend. The members who attended thoroughly enjoyed the two days and the club is planning to return next year - thanks to all at Whilton Mill for a great weekend.
[ Top ]
---
European Superkart Championship (10/08)

As in 2004, spectators turned out en masse to watch the Superkarts fighting it out in the second round of their CIK-FIA European Championship at Assen in Holland as part of the Rizla Racing Day events last Sunday.
Whereas twelve months ago the sunshine was very much in evidence, this time the 59 participants had to face up to very changeable weather conditions. Wet-weather tyres were a must during practice, and also in Race 1 after the circuit was drenched by a heavy shower less than five minutes before the start! Only in Race 2 were the karts able to run on slicks, but puddles of water in several corners, and braking zones that were still wet away from the driving line, made the drivers' task particularly difficult.
Although he admits to not being fond of slippery conditions, the Frenchman Damien Payart achieved the best time in qualifying. Another, even bigger, surprise was that the Swede Per-Olov Ogeborn, taking part in the European Championship for the first time, was only 78 thousandths of a second slower than Payart, and the Swedish revelation of the event did not stop there: taking advantage of Payart's retirement (engine failure) in the last but one lap, Ogeborn crossed the finish line of Race 1 as a surprise winner, ahead of John Riley (GB) and Thomas Johansson (S). His dream weekend nevertheless came to an end at the start of Race 2, let down by a loose spark plug wire. Damien Payart, on the other hand, made up for his disappointments in Race 1 by finishing the weekend with a victory, after a brave struggle with Englishmen John Riley and Graham Barker.
Finishing twice in second place at Assen, despite a spin at the start of Race 1, John Riley unquestionably did the best job of the weekend: he has taken over first place in the provisional classification of the European Championship and will go into the final event of the European tour, scheduled for 16th -18th September at Mantorp Park in Sweden, with a clear lead over Andreas Mairzedt (A), Damien Payart (F) and Graham Barker (GB).
The picture shows the podium trio after Race 1. From left to right: Riley (GB), Ogeborn (S) & Johansson (S).
[ Top ]
---
Daytona KC (08/08)
Daytona Kart Club has been saved for another month at least, thanks to the tremendous support shown by karters for the latest round of its Summer Championship yesterday.
More than 40 were at Sandown Park in Esher, Surrey - almost doubling the club's usual entry - and enjoyed a great day's racing. The turnout means the round on Sunday 4th September, again at Sandown, will go ahead. However, the last round at Milton Keynes on 30th October - and consequently plans for a Winter Series - are still very much in doubt unless similar or even greater numbers enter the September round.
The club is reminding four-strokers that 4th September will be the last chance for practice ahead of the F6 round at Sandown on 17th September.
Winners on Sunday were: Honda Cadet - Spencer Peacock; Junior TKM - Michael West; Honda Junior - Jason Thatcher; Junior Royale - Dylan Ip Ting Wah; Honda Senior - Oliver Clarke-Williams and Senior Open - Tom Ellson. Driver of the Day was Dylan Ip Ting Wah and Unluckiest Driver was Marty Fullard.
Show your support and get your entry in early. Contact Club Secretary Ruth Eastwood for more information at Daytona, More Lane, Esher, Surrey KT10 8AN or telephone 01372 471312. Entry forms can be obtained from Ruth or downloaded from www.spkc.tk
[ Top ]
---
Filming At The UK 24hr Event (05/08)
The 2005 UK 24hr event at Whilton Mill will be covered by a video production team, who will be producing a 1-hour highlight programme.
Copies will be made available to the teams in a DVD format, with the potential of television broadcasting at a later stage. The production crew will carry out team interviews during the course of the event for inclusion in the programme, as well as on-kart camera footage.
Team information forms will be distributed on the Friday, which will assist the crew in both pre and post race production and the organisers would ask for the teams co-operation in providing this information.
If teams have any queries regarding this production, please do note hesitate to contact the organisers. E-mail: ikp@24hr-karting.co.uk
[ Top ]
---
Zip Young Guns (03/08)

Following an excellent return to racing in 2005, the world famous Zip Young Guns have European glory firmly in their sights for 2006.
After conquering the continent in the mid 90's, the massively experienced team is planning to take a clutch of JICA drivers over the channel to repeat the feat next year. This dedicated European team will compliment the successful UK team of cadet and JICA drivers. Places in the 2006 Young Guns Euro and UK team are available for ambitious and dedicated drivers and the costs, just like the team, will be very competitive.
For more information contact karting@zipkart.com
[ Top ]
---
Professional Dealers Required (03/08)

Zip Kart are looking for new distributors for their range of international race winning karts. The Zip line-up has karts for almost every class including the all conquering Zip Blade cadet kart, the phenomenal Top Kart Evo which has taken race wins, fastest laps and track records all over the country and the Star kart designed specifically for the World Formula. Professional karting retailers can count on excellent margins, quality proven equipment and full race back up at all Stars and Super One MSA events. 2006 is sure to be an exciting time with new developments already underway. Interested parties should contact karting@zipkart.com
[ Top ]
---
Rounds 9 & 10 – British Champs (02/08)
Rowrah, the fifth venue on the MSA Super One karting calendar, presented mixed conditions for drivers last weekend with wet Saturday qualifying but a warm and dry race day.
A dream was realised at Rowrah by one young lad with the final round still to come when 12 year old Mackenzie Taylor from Ashford in Middlesex lifted the British Super One Formula Cadet title. After arriving at Rowrah with a 4 point lead in the championship he secured pole position for the final and drove a very calculating race to fourth place as all he required was to be 9th or above to lift the title. Currently racing for Fusion Motorspots under the watchful eye of Manager Dan Hazelwood, he also has Leon Soixante to thank for preparing his engines that have never let him down. Mackenzie was involved in a very bad accident last year at the first round of the British WTP Championship, sustaining a lot of damage to his left upper arm that required several operations and skin grafts. The youngster has worked very hard to get back to full fitness and to get the strength back in is arm after the accident. Congratulations Mackenzie Taylor – a 2005 Super One Champion.
In Formula JICA, Championship leader Will Stevens from Hadleigh in Essex endured mixed fortunes. His hopes of a top grid place were dashed in Saturday's wet qualifying conditions when another competitor lost control and took him off track, a broken chain adding to his problems. "It was a difficult weekend but I managed to climb back up the order," said a delighted Stevens after a 3rd and a 1st in the two points scoring finals. He goes into the final round in September determined to clinch the JICA title, but prior to that the JRP driver is looking forward to next week's Kartmasters at PF International, and having won at Kartmasters last year he hopes for another good result whilst acknowledging that the competition will be fierce.
Another front runner to suffer mixed fortunes was Formula ICA Championship leader Matthew Bell from Morpeth. After winning the first final he looked set to wrap up the Championship in the second final when taken out on the last lap, eventually finishing down in 23rd place. However, he still takes a 19 point lead into the final round.
In Formula A there's a new Championship leader in Riki Christodoulou, although after winning both his heats, tyre problems prevented the 16 year old from Sutton Coldfield being able to establish the same kind of form in the two finals, and he finished in 3rd place in both. Still recovering from a broken right shoulder Riki said; "I was OK with the third positions and was far ahead of fourth in the first final to be able to relax," he continued. "The new tyres we used today frustrated me. We must have had a dodgy batch because the Kart felt very weird and handled different; not good." From the last six finals Christo has taken five podium results and his recent form will give him confidence that he can retain his lead on his home circuit of Shenington in the final round.
Images below show (from left to right); Will Stevens, Gary Catt and Matthew Bell. A brief race report on Formula's A, ICA & JICA can be found here.
Photographs courtesy of Chris Walker - www.kartpix.net
[ Top ]
---
Rolling Road Dyno (02/08)

Midlands based race team, Century Motorsport have recently moved into new premises to accommodate their new rolling road Kart Dyno. The Dyna Pro complete with wideband gas analyser is available for hire by the hour, or by the day, with an experienced operator, or for those who prefer and know how - without an operator. All karts from Cadet, through Max and 100cc classes, to all Gearbox classes are catered for, (also bike and quads up to 600bhp). The opportunity to sort out your jetting gremlins, try different exhaust, carb, airbox configurations under controlled conditions, see where your engine gives its power / torque so that you can set your gearing properly - simply set up your power unit without going to the track. Give your driver the edge, for more information or to arrange a booking call Nathan Freke on 07947 883103 or e-mail mail@century-karting.co.uk
In addition Century have for hire their FF1600 race cars for both novices and experienced drivers, for test days and race days, together with in-house ARDS coaching call the above number or e-mail.
[ Top ]
---
One Karting League To Rule Them All (02/08)
Countless championships in UK karting make it practically impossible to single out the best driver … but not for much longer. Renault UK has got together with leading bodies in the sport to create a definitive Elite League where top drivers from national championships will battle it out for the coveted title.
The new league is a coalition of two one-off events, Renault's Champion of Champions, which brings together the best drivers from Super One and Stars of Tomorrow, and Karting Masters - the biggest karting meeting in the country.
The driving force behind the plan is John Surtees, the only World Champion on both two and four wheels. He says it is important to give young drivers a platform to show off their ability. "It's a great day for motorsport," he said. "Karting is the grass roots of motorsport and there's some really exciting drivers coming through. Now you'll be able to see them shine."
Renault UK's Director of Press and PR Tim Jackson added: "Both these events are about finding the elite of Karting so to expand the concept over the two big events is a great opportunity. It adds to both." Kart Masters will take place on 6th & 7th August at PF International Circuit, near Newark, Notts. Champion of Champions' first ever meeting will take place 12 weeks later at Buckmore Park, Kent on 29th & 30th October.
Jackson says linking the two is a great accolade for Champion of Champions' maiden event. "It's very important," he said. "One-off events are all very well and a good idea, but making it stand on its first year is quite a challenge. By having the Elite League we'll make it much more worth while for the drivers taking part. "Everybody involved is trying to raise the profile of karting in this country. At the moment it's a bit of an underground sport. It doesn't get widely covered like it does in Europe, which makes it harder for any young drivers. But from a purely sporting point of view, karting is one of the best forms of motorsport there is. It's got everything. All the big drivers started off karting and it's where the next Formula Renault, Formula 3, World Series, GP2 and F1 drivers are all going to come from."
There will be two Elite League champions – a junior champion from Formula JICA and a senior champion from Formula A, Formula ICA and Formula Super Libre. The winner of each league will be the one with the most points over the two meetings and will be announced at Buckmore Park. The top 20 drivers in each race will get points, with the winner getting 32.
Points allocation: 1st – 32 points; 2nd – 28 points; 3rd – 25; 4th – 22; 5th – 20; 6th – 18; 7th – 16; 8th – 14; 9th – 12; 10th – 11; 11th – 10; 12th – 9; 13th – 8; 14th – 7; 15th – 6; 16th – 5; 17th – 4; 18th – 3; 19th – 2 and 20th – 1 point.
[ Top ]
---
Junior Kart Racing (02/08)
If your kids are looking for some excitement during the school holidays then Playscape Pro Racing may have the answer. A Karting Summer School will be taking place at Playscape Pro Racing's indoor circuit in Streatham, south west London commencing on 10th August.
It is intended to run three rounds on the Wednesday mornings of 10th, 17th & 24th August, for a period of 4 hours each time commencing at 08.45. The Racing School will be run along the lines of their very popular Cadet School and will comprise of some 'Masterclasses' from Karting World Champion 2000 Colin Brown, and visits from Formula BMW Championship leader Sam Bird, along with their own Instructors.
Together with RAC MSA approved video presentations on race rules and driving techniques, they will be encouraging the driver to put into practice what they learn by organising practice followed by a series of 3 heats and finals. Trophies will be awarded in two categories 8-11 years and 11-16 years. Parents will be welcome to stay to spectate at our circuit, where light refreshments will be on sale, or leave your children for collection later.
Places are limited to 30 so please book in early. Cost per child per event will be £40 inc. VAT and will include hire of all equipment and insurances. Book in for 1, 2 or all 3 events. Telephone 020 8677 8677 to reserve your child's place or for further information.
[ Top ]
---
July Club Meeting At Rowrah (02/08)
At the July Rowrah club meeting, the engine of the 1st placed Senior Rotax driver, Brian Lees was sealed for further examination at the request of the organisers.
That technical examination took place on 31st July under the direct supervision of Technical Commissioner, Paul Klaassen, and the engine was deemed to have complied with the regulations in all respects. Thus the provisional results posted at the meeting can now be declared final, and the trophies for the Senior Rotax final will be given out at the next Rowrah meeting on 14th August.
This procedure, which has been used many times before by the club, ensures that all parties can have confidence that equipment used by drivers is not only legal, but seen to be legal.
"I am delighted that Brian's motor has been found to be within the regulations as it not only proves to the outsiders but also to Brian that there can be no doubts over the equipment he used. There is a saying we have which is particularly apt in this and many other cases - If you have nothing to hide, you have nothing to fear" said Iain Blair, Clerk of the Course.
[ Top ]
---
Daytona Kart Club (01/08)
All four-strokers are reminded they can help save Daytona KC from folding by entering the club's meeting at Sandown Park at Esher in Surrey on Sunday, 7th August. The club urgently needs to bump up its grids for that meeting, and the two other Summer Championship dates on 4th September and 30th October, if it is to survive and go ahead with a winter series.
Already karters of all ages and from all classes have said they will go along, but more - in fact as many as possible - are needed. Don't forget that it will also be a golden opportunity to practice ahead of the 17th September F6 round. Daytona KC members are promising a warm welcome and a good day's racing on the excellent and demanding Sandown track. One or two extra awards are also being planned to make the day special and as a 'thank you' to those who have responded to the club's call for support.
More information from Club Secretary Ruth Eastwood, c/o Daytona, More Lane, Esher, Surrey KT10 8AN. Telephone 01372 471312. Entry forms can be downloaded from www.spkc.tk - or you can just turn up on the day.
[ Top ]
---
To All 24Hr Participants (01/08)
FR Components are making available a complete MX racing system with disk, disk carrier, calliper, master cylinder, plus the complete floating system with clamp (no welding needed) for £380 inclusive of vat and p&p.
Isn't it what you've always wanted? Be quick (or quicker) though as this special offer is for the month of August only! All enquiries to www.frcomponents.co.uk or sales@kartcomponents.com
[ Top ]
---
MBKC First Stop Rotax Max Cup (01/08)
There's now less than 4 weeks to go before the biggest Rotax Max event in the north of England. In its fourth year the First Stop Rotax Max Cup will be held at Three Sisters, Wigan by MBKC. In the lead up to the event Three Sisters are offering an additional 2 practice days on Thursday 11 August and Thursday 18 August. Please book early for these days by phoning 01942 270230 as both are subject to receipt of sufficient bookings.
[ Top ]
---
Are Cars Your Next Step? (29/07)
Advent Motorsport, having specialised in introducing young drivers to car racing over the past 6 years, can offer this transition for anybody interested.
As an ARDS approved instructor, Andrew Crighton, can provide quality tuition utilising a race prepared car with techniques on gear changing, braking etc. Tuition can commence for those of 14 years and above who are seeking to enter any of the new junior circuit racing categories. This can be taken forward to single-seater work as well. For further information contact Andrew Crighton on 01732 887474 or 07736 070002 or e-mail info@adventmotorsport.co.uk.
[ Top ]
---
EKC Changes Hands (29/07)
EKC Prokart Endurance Series is under new management. The new team is enthusiastic to get Prokart racing in the south back to a strong position. With many series dying at present this a chance for you the karter to stand up and be counted and get some bigger grids together making for better and closer racing.
The series has run its first two rounds under the new management for all to see the improvements, which have been carried out to improve the series. EKC's home for this year is Barton Stacey nr. Andover. It is EKC's intention to run this series at more than one venue next year, providing we get the support - so let's see you at our next round at Barton on 11th September. For more information e-mail: dave.trueman@tiscali.co.uk or ekcprokart@aol.com
[ Top ]
---
Cumbria Kart Racing Club (29/07)
The following statement has been received from Cumbria Kart Racing Club Ltd regarding the 2005 24 hour endurance race.
"In response to IKP Ltd decision to change venues from Rowrah to Whilton Mill for the 2005 24 hour event, CKRC wish to inform competitors of some facts behind the stated issues.
IKP and CKRC agreed, after a successful 2004 24 hour meeting, to repeat the event in 2005. A verbal agreement and date was agreed between the two parties. CKRC have never been given a criteria from IKP Ltd and agreed only to provide the facility and assist with any help that may be required.
IKP's decision to pull out of Rowrah is based on the following, with a response from CKRC in brackets:
1. - increased circuit costs (the charges for which were given to IKP at the beginning of the year)
2. - increased medical costs (agreed between IKP and the medical team – no consultation with CKRC)
3. - not being allowed to hold firework display at the end of the meeting (a situation beyond our control following a serious complaint from last year)
4. - the cost of properly trained and accredited marshals (we were asked if we could provide the marshals – the lads were asking for £35 for a 8 hour shift – would you stand out all night for that?)
In the last two weeks, we have had to contact IKP to find out what was happening and what requirements were needed from CKRC. Before this IKP had not contacted the Club at all. When this contact from CKRC was made we were informed that there was yet to be a meeting between Paul and Ted and they would let us know what the outcome was. The e-mail with their requirements was not received until 15th July.
The Directors of CKRC feel more than let down over this matter. IKP did not have the decency to contact any member of the CKRC Directors to express concern over any of the above matters. We have made further enquiries and learnt that other equipment needed for the event to take place had not been booked or organised – which sounds as though everything was being left until the very last minute.
No compensation has been offered to CKRC for the loss of this event – obviously a weekend in mid August is a very desirable weekend for lots of organisations and we honoured our verbal agreement with IKP when approached for the hire of the circuit for that weekend.
In conclusion, CKRC stand to make a financial loss through IKP's actions and if any team wish to discuss this matter further you can e-mail CKRC directors via the CKRC website – www.cumbriakrc.co.uk
CKRC wish to announce that for 2006 they will be running their own 24 hour Rowrah event, run by CKRC, to take place in August 2006. The entry fees will be subsidised and a large cash prize fund will be available. Details will be available shortly but you can register your interest via our website."
[ Top ]
---
Floating Brake System (28/07)
Following the arrival of the new MX Race System calliper developed by Kart Components, a floating system for the KC calliper has been developed by FR Components and is available now. The system comes complete with tension joint and clamp to fit any Prokart and there is no need to weld the bracket to the rear tube. It's ideal for endurance kart racers and teams as it allows for later braking, and also helps make for quick brake pad changes.
Now available from FR Components or e-mail: frcomponents@hotmail.co.uk or sales@kartcomponents.com for further information.
[ Top ]
---
Race Directors Required (28/07)

Want to Work as a Race Director at the UK's Busiest Corporate track? The Raceway in Kings Cross, London is always extremely busy and is now looking for two new Race Directors for its large indoor circuit. Prior experience of dealing with clients in a hire-kart environment is preferred but not absolutely necessary as complete training will be given by some of the industry's most experienced Race Directors.
Hours will be mutually flexible and successful applicants will have the potential to earn good money. Initial contact should be to Pedro Fernandes at The Raceway on 020 7833 1000 or by e-mail to enquiries@theraceway.net
[ Top ]
---
Marshalling Positions Available (27/07)
Playscape Pro Racing are looking for experienced karters for Marshalling positions at their indoor circuit in south west London. Can you help?
Playscape Pro Racing Ltd at their Streatham Kart Raceway circuit are currently looking to employ Trackside Marshal staff with a large recruitment drive, employing current and ex-racers who have first-hand experience of how kart circuits operate. It's a hands-on role, requiring initiative and is physically demanding. The hours are flexible, and rota'd on a weekly basis, so the ideal candidate will be able to work long hours. A competitive hourly rate is offered.
Interested? Then please e-mail your CV to enver@playscape.co.uk, or call 020 8677 8677 and ask for either Enver Meyer or James Draper.
[ Top ]
---
Karting Magazine Readers' Letters (27/07)
Win some bubbly! To celebrate the return of a dedicated readers' letters section, Karting magazine have teamed up with the organisers of the London Kart Show to give away a bottle of champagne each month to the writer of the star letter!
Letters can be e-mailed, faxed or posted, just keep them to the point and include your name and contact details. Visit www.kartingmagazine.com for their address information.
[ Top ]
---
Nationwide Agents Required (26/07)

British Kart manufacturer ARC Motorsports Ltd is looking for professional persons to operate as agents, for the retail of ARC racing karts and products. Applicants will ideally have a solid background in kart racing.
This is a unique opportunity, offering the right applicants a chance to grow your business with a dedicated and ambitious motorsport manufacturer. Please contact ARC with your details at the following address: ARC Motorsports Ltd., Unit 2240 Silverstone Technology Park, Silverstone Circuit, Northants, NN12 8GX or e-mail: arcmotorsports@btconnect.com
[ Top ]
---
Lance Yeomans' Memorial Trophy (26/07)
Lance Yeomans will be remembered in a memorial trophy race meeting at Buckmore Park on Sunday 28th August when many Club 100 regulars, friends and supporters take part in a race to raise funds for two charities. Lance was the father of Club 100 regular Ben Yeomans and became very much involved in Ben's racing after being diagnosed with prostrate cancer and forced to give up his work some 6 years ago. Sadly, Lance recently lost his fight for life.
This is your chance to help raise funds by participating in the event and having some fun. All equipment will be supplied, and the event is designed for teams of 2, 3 or 4 drivers, consisting of 4 half-hour and 2 one-hour races on the superb Formula TKM 100cc 2-Stroke racing karts. There are Premier and Clubman classes. If this sounds interesting then call John or Simon at Club 100 on 020 8677 1200 for more information, - but make it soon as spaces are limited.
[ Top ]
---
TKM Festival Drivers (25/07)
With the TKM Festival just around the corner, Karting Supplies is now taking orders on Maxxis SLC Green Label tyres at a bargain price of £108 including VAT. To order your tyres please call on 01638 750496, or e-mail: mark@kartingsupplies.wannado.co.uk
Karting Supplies (KS Race Support) will be trading at the Festival but to get this bargain price (usual price £124.60) please order in advance. "Happy racing and see you at the Festival" says Mark Rowe.
[ Top ]
---
European Superkart Championship (22/07)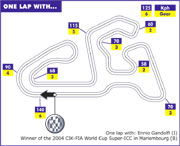 The CIK-FIA European Superkart Championship which was revived in 2002, after a period of 7 years when there was only the respective national competitions for drivers to engage in; is now so successful that the maximum number of 60 entries per event is regularly reached. As in Hockenheim last May, there is a full entry list for Assen over the weekend of 5th-7th August, with some reserve drivers on standby in case of any late withdrawals.
The success of the European Superkart Championship can be attributed to a balanced calendar, appealing circuits and the alignment of the technical rules of most national championships on the CIK-FIA regulations, thus creating a natural bridge between national and international competitions. Superkart is without doubt the most sociable of all kart categories with the teams and drivers getting along almost perfectly both on the track and in the paddocks. With the average age of competitors at around the 40 mark and coupled with their enthusiasm, it has everything to do with this conviviality, and as far as 85% of them are concerned, the important thing is taking part, having fun on prestigious circuits and treating themselves to big thrills for a reasonable budget at the wheel of a kart, the performance of which would make many a racing car green with envy.
Frenchman Damien Payart, 2003 and 2004 European Champion, twice winner in Assen twelve months ago and quadruple French Champion, has a gargantuan appetite for victories and titles. Since the beginning of the 2005 season, the driver-cum-manufacturer (FPE engines bear the signature of the Payart family) has accumulated four wins out of four in the French Championship and quite recently won the Laguna Seca race as a curtain-raiser to the US MotoGP ahead of strong competition from former World Motorcycle Champions Eddie Lawson and Kevin Schwantz. As regards Damien Payart's 2005 season, he finished in fourth and fifth places at the CIK-FIA European Championship opening rounds at the Hockenheim F1 GP circuit in May, but it must be said that the races were held there in driving rain, and the French champion makes no secret about not being too keen on difficult weather conditions, unlike his main British rivals, who seized the opportunity of making a clean sweep of wins in Hockenheim.
Austrian driver Andreas Mairzedt currently leads the provisional classification of the championship going in to this second round, thanks to his two excellent performances in the Hockenheim races, but drivers who are in the best position to challenge reigning champion Damien Payart's supremacy include two British ones, with John Riley and Graham Barker lying in joint 2nd place.
The Assen circuit, which is located about 15 miles south of Groningen in northern Holland, is renowned for being tough on engines, especially if the weather is as hot as it was in 2004, but it could also smile on some outsiders and in particular on Germany's Joachim Breckwoldt and Christian Hennig, Britain's Steve Edwards, France's Emmanuel Vinualès and Antoine Lacoste, Denmark's Poul Petersen or Sweden's Thomas Johansson and Bengt Albertsson.
While Assen has the reputation of being the European 'Mecca' of motorcycles, the TT-Circuit (which is being shortened later this year) is also a special place for Superkarting. Several World Championship events were held there in the past and the CIK-FIA European Championship is back on the fast Dutch circuit to everyone's satisfaction. The many spectators who regularly attend the Rizla+ Racing Day meeting, being held for the 6th time, give to the event a very special character and seem to inspire the drivers more than anywhere else; the show offered by the Superkarts to the 40,000 spectators present in 2004 was tremendous.
Great Britain tops the list of nationalities represented at Assen with 21 drivers, followed by Germany (16), France (11), Sweden (11), Austria (2) and Denmark (2).
[ Top ]
---
Rotax vs TaG in Stiddard Trackside Premier Series (19/07)

Stiddard Trackside Racing are opening up their grids to all 125cc 2 stroke TaG engines for the remainder of the series so that teams and series organisers may evaluate the engine for inclusion in next years championships. All TaG engines will run with open gearing and in their own class, TaG entries will not be eligible for championship points.
Karting Magazine will be attending the next Premier Round, a 3 hour race, to be held at Buckmore Park on the 14th August 2005, to do an article on the comparisons of TaG vs. Rotax.
All teams wishing to compete in either of the Challenge (1.5 hour) or Premier (3 hour) rounds will be required to hold a MSA National B licence as a minimum. For all enquiries see www.tracksideracing.co.uk or please contact Sue Hart @ Trackside Racing on 01795 473 300 or 07837 591 878, or e-mail: sue@tracksidekarting.co.uk
[ Top ]
---
Formula TKM (19/07)
Tal-Ko Racing, controllers of the Formula TKM class, have today issued formal notice to kart manufacturer ARC to cease use of a new type of stub axle for the Formula TKM class.
Tal-Ko will now carry out a full investigation and consideration on the matter before issuing a final notice confirming its findings.
ARC karts will be permitted to race with the original homologated stub axles fitted.
Formula TKM Co-ordinator Grahame Butterworth commented: "We have become aware of a component which does not meet original homologation criteria and have taken action immediately with the co-operation of the manufacturer. We will not make any further statement until our further investigations are completed."
[ Top ]
---
RAF Individual Kart Championship & Series (15/07)
Former Formula 1 and Indycar World Champion Nigel Mansell attended the biggest meeting on the Royal Air Force karting calendar earlier this month at the Little Rissington circuit in Gloucestershire where he presented prizes and trophies and the end of an exciting day's racing. A short race report can be found here.
Fans of Nigel Mansell, and particularly those in Bavaria, Germany, may like to know that Nigel will be joining four other former world champions, 3 from Formula 1 and five-time World Motorcycle Champion Mick Doohan, in a £345,000 DTM cars 'Race of Legends' charity race on Saturday 16th July at the Norisring near Nuremberg. The qualifying session and race will be screened live on Motors TV with coverage due to commence late afternoon BST.
[ Top ]
---
Late Braking News (12/07)
The news that the world renowned manufacturer of arguably the best kart braking systems in the world had gone out of business had brought tears to the eyes of many hardened kart racers but here's something to put the smile back on your face… Kelgate are back!
This will no doubt come as a relief to the thousands of customers around the world who fit and use Kelgate braking systems on their karts. A deal has been struck between former owner, Frank Vasquez and R3 Racing's Roy Tuthill. Frank's engineering company, Addmore Engineering, will manufacture all the machined parts whilst Kelgate Ltd will handle all the assembly.
Both Addmore Engineering and R3 are used to producing products to exacting standards and operate in accordance with ISO9001.Their customer lists include such names as Honda, Ford, Jaguar and British Aerospace to name but a few. Exclusive worldwide rights to market the product rest with R3 Racing who are already well known for their world beating Eagle eye system of laser alignment equipment.
"It is a very exciting addition to the R3 portfolio" said Roy Tuthill; "Both Kelgate and R3 are known throughout the world for quality products and for being amongst the best at what they do. We are very much looking forward to bringing this to the market".
R3 will be appointing Kelgate distributorships within the UK and worldwide, utilising some existing members of their own network. Sales Director, Steve Howlett added, "Although we have an established worldwide network of distributors for R3 Racing products we will be looking at previous customers of Kelgate Ltd who have shown a constant sales record in the past as well as chassis manufacturers who wish to fit the best".
So if you want to be able to brake late into that corner or stop on a six pence, the best brake system in the world is back, to allow you to do so. For further information call R3 Racing on 01296 658300 or e-mail: sales@r3racing.co.uk
[ Top ]
---
Playscape Championships (12/07)
Playscape Pro Racing have now added the Cadet School and Sprint Championships information to their website. These events are proving popular with 40 drivers having competed so far in at least one round of the Cadet School Championship and almost 100 in the Sprint Championship, all taking place at Streatham Raceway, their 450 metre indoor circuit in south west London.
The Cadet School is for youngsters aged 8 to 15 years and the Sprint is reserved by drivers 16 years and older, so if you would like to try one round or more there's still time to reserve your place on the starting grid by telephoning 020 8677 8677, or visit the Playscape website for further information.
[ Top ]
---
Braking Systems (08/07)

Kart Components Manufacturing Ltd. have announced the arrival of their all new MX Race System. This system comes with single pin quick release pads and can be supplied with a circular type lightweight carrier and a 12mm x 200mm cast iron fully vented disc.
Also new to the range is the MX-200 Corporate indoor braking system. This also benefits from single pin quick release pads and also can be supplied with a Heavy Duty circular type carrier and either a Slotted steel or a cast iron heat treated cross drilled 8mm x 200mm disc.
You will find Kart Components have large stocks of spares including seals and pads always available. Contact them for details on 01494 452561 or e-mail: sales@kartcomponents.com.
[ Top ]
---
42nd Anniversary Meeting (08/07)
Round four of the BPKC Summer Championship marks the 42nd anniversary of the circuit and takes place on Sunday 17th July. All ABkC classes are welcome and special sponsored trophies are on offer in most classes. There is still (just) time to get your entries in to club secretary Sheila Rose on 01634 661604.
Open practice will be held on Wednesday 13th and Saturday 16th from 10am to 4pm as usual. Overnight parking will be available on Friday and Saturday nights at £10 per vehicle per night. A full list of fixtures and practice dates can be found on the Buckmore Park website.
[ Top ]
---
Daytona Kart Racing Club (07/07)

Daytona Kart Club members have begun an urgent drive to attract more entries to the club's August meeting - to prevent the club from folding.
Past, present and would-be members, as well as any karters who can lend their support, are being urged to enter for the Sunday 7th August meeting at Sandown Park, Esher in Surrey. It's a great chance to practice before F6 on 17th September too.
In common with many others, Daytona KC (formerly Sandown Park KC) has seen grids dwindle in recent times despite its friendly atmosphere, close racing and two superb tracks at Sandown Park and Milton Keynes. Daytona itself has been of tremendous help by waiving track fees for the past few months but that cannot go on indefinitely.
If the Summer Championship can be saved - rounds are scheduled for 7th August and 4th September at Sandown and 30th October at Milton Keynes - the club could then go ahead with a number of winter rounds.
Chairman Peter Gorman said: "This has been coming for some time but has become more serious recently. Daytona want the club to be successful and have been very generous in supporting us but we need to stand on our own feet. Just 20 or so more entries per meeting would help us at least break even."
More information from Club Secretary Ruth Eastwood, c/o Daytona, More Lane, Esher, Surrey, KT10 8AN or tel: 01372 471312. You can download entry forms from the club website www.spkc.tk, or just turn up on the day.
[ Top ]
---
TeamSport Indoor Karting (06/07)
TeamSport are back in Aldershot (as from 16th July) with an exciting new track layout that offers the promise of even more speed and excitement due to the addition of Indianapolis style banked corners.
The biggest Indoor Karting operator in the UK, TeamSport (previously Go-Karting 4 Fun), have sites located in Southampton, Gosport, Andover and Crawley, and are delighted to be back in Aldershot.
TeamSport's Dominic Gaynor explained: "As well as our regular customers, we are also able offer an ideal setting for companies to thank their clients for their loyalty, or staff for their achievement. There is no better incentive than the promise of a race day, and the fact that regardless of company status, everyone has the chance to be on the front of the grid."
Amongst many well known names and faces to have enjoyed TeamSport's facilities are TV stars of "I'm a celebrity get me out of here" Jordan and Peter Andre, who took time out of their busy schedule to take up the TeamSport challenge at the Crawley circuit, and British Lions rugby coach Sir Clive Woodward and his family visited the Andover location a few months ago, making the most of the various family sessions that TeamSport has to offer.
Do you fancy fighting for a podium place, or simply joining in for a bit of fun? If you do TeamSport is offering a £5 per person discount on the price of a practice session at their brand new Aldershot track until the end of July if you mention the UK Karting website, and they will be further offers throughout the summer. To find out more, call the booking line on 0870 6000 601 or visit the TeamSport website.
[ Top ]
---
Formula TKM Wets Fully Introduced (05/07)
Formula TKM has completed its switch over to new era wet tyres with effect from 1st July, 2005 after a six month period of introduction.
The new red label MAXXIS tyres replace the green label ones, offering the advantage of more grip yet still very long life from a combination of new compound and new style construction. The actual tread pattern still looks the same but the tyre is significantly different.
Tal-Ko Racing has built up massive stocks of the new wet tyres to ensure absolutely no problem in supply with more than 500 sets currently in stock. Says Tal-Ko's Alan Turney: "We have been very pleased with the new tyres and they have become very popular with the drivers. We have received plenty of praise for their performance."
Full information on getting the best from the new tyres can be obtained from the Tal-Ko Racing website on its MAXXIS page. Tyres are available for immediate delivery from Tal-Ko Racing on 01767 682020, or e-mail: info@tal-ko.com
[ Top ]
---
Helen Says Thanks (05/07)

Helen Gardiner would like to thank her sponsors, SuperSport Timing Systems, Driver Hire (Hereward) and Power Engineering for their support in her return after a 6 year break from Kart racing to study at University and Law College.
Helen, missing the Kart racing scene, returned to the sport in the winter of 2004. She decided to enter TKM Extreme due to the low running costs, mechanical simplicity and quality of drivers competing in the class.
With kart and driver improving at each race during 2005, Helen took her first race win at the TVKC Kart Club at the PFI circuit near Grantham, Lincs on 3rd July. Against a very competitive field of drivers including the 2004 JTKM Club champion Helen secured 2nd on the grid for the A-Final. A poor start (her worst of the day) saw her drop back to 6th, before working her way through the field to gain the lead on the 10th lap of the 12 lap race and hold it to the chequered flag.
Helen said "What a day! It's great to race at this circuit as the drivers in TKM Extreme here are all fast, friendly and clean and the club officials and staff do a great job. I'd really like to thank my Father and Peter from SuperSport for all their help with the kart this weekend."
Helen is hoping for more good results, especially at the 2005 Kartmasters (at PFI) and the TKM Festival (at Kimbolton), - she is pictured here with her father, John.
[ Top ]
---
MAXXIS Formula TKM Festival (05/07)
Regulations have now been released for one of the UK's karting highlights, the Maxxis Formula TKM Festival held at Kimbolton in August.
This well established event is the largest one-make Karting event in the UK with a tremendous appeal right across the UK and with overseas drivers as well. It features the Formula TKM 2 and 4 stroke classes with an innovative structure that gives everyone an equal opportunity for success across the complete spread of classes. Novices, veterans and heavyweights get prizes too.
The event takes place at Kimbolton over the weekend of 13th/14th August with testing on the Friday and set-up on Thursday. Off track events include a Saturday night B-B-Q.
Sky TV will include multi-programme coverage of the event on its RaceWorld show and there is an after-event DVD available too.
The special format of the meeting means that every driver is guaranteed a huge amount of driving with practice, timed qualifying which counts for points, three heats, a pre-final and final. And in larger classes there will be C and B finals as well.
The event is regularly used by top teams to spot the stars of the future in motor racing, while at the same time providing great value close and exciting racing for those who look for little more than club sport.
Entry packs are available from Daphne Freeman, 76 Guntons Close, Soham, Ely, Cambs, CB7 5DN. Please enclose a large stamped addressed envelope.
[ Top ]
---
ONFIRE Clothing (04/07)

CKH Racing a Leicestershire based Kart racing team have recently secured exclusive rights to supply the fabulous range of ONFIRE clothing to the Kart Industry.
Chris Hewgill of CKH Racing states; "We are absolutely delighted to be associated with ONFIRE. The founder Alan Pendry and I have been friends for many years and raced motocross together in the early eighties."
Emanating from the world of extreme sports the name ONFIRE represents the euphoria and adrenaline rush found in racing when everything just clicks and winning seems somehow easy. Two ranges are available in both male and female designs, Race Corp and Vintage Coastal. Whichever you choose ONFIRE will always be an expression of who you are and the lifestyle you lead.
The team and ONFIRE awning will be at numerous races this year including Whilton Mill, Shenington and Kimbolton and hopefully at the International Kart Show in November. Anyone wishing to view the range will be made more than welcome. Kit bags, stickers and other accessories will also be available.
Chris and the team can be contacted on 01509 881739 / 07967 900980 or e-mail: ckhracing@btinternet.com
[ Top ]
---
Formula TKM Rule Clarification (04/07)
It has become apparent that there is some uncertainty over the change in rules concerning stub axles for Formula TKM effective 1st January, 2004. Clarification is as follows:
With effect of the latest homologation period starting 1st January, 2004, the rules concerning stub axles have changed.
Prior to that date the stub axles were measured and sealed at homologation. Since that date the criteria has changed. The stub axles must at all times still be fabricated within the UK and be as supplied by the manufacturer homologating the kart. They are still provided for homologation on the sealed chassis.
They must appear and be mounted into the chassis in the same manner offered for homologation and the angle of that chassis mounting must remain at all times as homologated.
In other respects, such as length of axle shaft and its angle, and the drag arm length and attachment holes, the stub axle is free.
These changes are effective on karts of all previous homologation periods.
[ Top ]
---
CIK-FIA European Karting Champs (01/07)

The results of the second event of the CIK-FIA European Karting Championships held in Mariembourg last weekend speak for themselves: Some top class performances and incredibly close racing saw 47 Formula A drivers and 45 ICC drivers all within one second at the end of their respective qualifying practices and there were only 79 thousandths between the first and second placed drivers at the finish of the ICC Race 2 over 19 laps; and 5 different drivers took top step on the podium from the 6 point scoring races of the day.
The only double winner on Belgian soil was the Italian Benedetti, in Super-ICC, as contrary to expectations he won both races ahead of his compatriot Toninelli. The long awaited duel for the title between Laudato and Gandolfi never materialised due the very different performance of their tyres. Arriving as favourite in Mariembourg on the strength of his 2 victories in Angerville, Laudato retains the S-ICC Championship even though he was deprived of victory in Race 2 due to a decision by the stewards after the finish, when he was given a 10-second penalty after incorrectly anticipating the start.
Having totally dominated the first European ICC event, France's Lavanant was not as successful in Mariembourg, and he left with only 5 more points, whereas his main rival for the title, the Czech Erik Janis, did really well by scoring 41 points. After his win in Race 1 and a third place in Race 2 at Mariembourg the young Czech finds himself leading the ICC Championship with only the final round scheduled for 4th September at Sarno in Italy to come. In great shape throughout the Belgian weekend, the Italian Albertini confirmed his fastest practice time by finishing 2nd in Race 1 and by winning Race 2 in spite of constant pressure brought on him by the Dutchman Bleek.
In Formula A, the generation gap was there for all to see. The youngsters Lancaster and Breysse imposed themselves in Race 1, before having to admit defeat to the experienced driver Cesetti in Race 2. In the battle for the FA Championship it was Italy's Ardigo who did best from the weekend after two third places were enough to give him the provisional championship lead. The fight for the title nonetheless remains very close and on 21st August 2005 at La Conca in Italy there will still be about ten competitors with a chance of winning the European laurels!
Formula A - Provisional standings (Top 20) - Marco Ardigo (I) 61 points; Jon Lancaster (GB) 48; Armand Convers (F) 45; Jonathan Thonon(B) 44; Sauro Cesetti (I) 39; Henk Waldschmidt (NL) 36; Salvatore Gatto (I) 36; Kevin Breysse (F) 27; Arnaud Kozlinski (F) 26; Floriano Alfano (F) 26; Gary Catt (GB) 23; Freddie Martin-Dye (GB) 22; 13. Jason Parrott (GB) 21; Miguel Molina (E) 19; Mark Lichfield(GB) 18; Manuel Renaudie (F) 15; Edoardo Mortara (CH) 12; Kevin Estre (F) 10; Nikolaj Bollingtoft (DK) 8; Jules Bianchi (F) & Kévin Cuoco (F) 6.
Photograph of FA podium from Race 1 (Lancaster, Breysse & Ardigo) courtesy of Chris Walker – www.kartpix.net
[ Top ]
---
Pro Am Karting Selby (30/06)
After 15 successful years in Selby, North Yorkshire, Pro Am Karting is shutting down on 30th July 2005 to make way for a new JJB Superstore. The owners are open to offers for the business, trading name, customer database and all equipment if someone would like to continue Yorkshire's longest established circuit at a new venue.
Alternatively if you are setting up a new circuit in the UK, all equipment, karts, computer timing, overalls etc., etc., to start a new circuit are available. For further details e-mail: sj.smith@onetel.net or call Simon Smith on 01757 213636.
[ Top ]
---
PF International T.V Masters (30/06)
Sole U.K Birel Importer Andy Cox Racing is excited to announce the confirmation of Birel Motorsport FA driver's Sauro Cessetti and Jon Lancaster's participation in this years PFI T.V Masters on the 6th and 7th August. Andy Cox Racing would like to invite all Birel owners either entered for the race or as spectators to come and meet the Birel Motorsport drivers and team personnel including Birel boss Mr Ronni Sala.
The International Birel duo will compete in the Super Libre Class in what is expected to be the race of the year. "It was back in March I first thought of the idea and discussed the concept with Nigel Edwards to put to the Trent Valley Kart Club" commented Andy Cox. "In past years we have brought ex World Champion Gianluca Beggio for testing at PFI which drew great attention and so it has always been a personal ambition to see Birel Motorsport drivers race in the UK, and there's no better race than the PFI T.V Masters race".
Both Cessetti and Lancaster enjoyed recent success at Round 2 of the European FA Championships at Mariembourg with Lancaster becoming the youngest driver to win a FA final. In Final 2 Cesseti claimed victory with Lancaster 2nd for a dream Birel 1-2 result.
Of course it will be a special race for Jon Lancaster who returns to what was his home circuit before concentrating on European racing. "It was where I first spotted Jon 3 years ago and where he first tested his Birel Kart on a cold October day" commented Andy Cox " From there with rising success he has now become an official FA Birel driver and now is winning European finals!
The Birel line up in Super Libre will also include PF International drivers Mark Litchfield and Gary Catt who surely must be favourites in their own back yard. Other Birel drivers to watch will be ICA drivers Matt Bell and Dan Cruttenden currently 1st and 2nd in S1 who will graduate up for this Super Libre race.
For more information contact ACR: Telephone 01527 889595 or visit www.andycoxracing.co.uk
[ Top ]
---
Rock Island Grand Prix Kart Races (30/06)
The Rock Island Grand Prix, the world's largest Karting street race, and Monks Media, based in Indianapolis, USA, have announced plans to broadcast this year's event live on the Monks Media internet-based radio station on 4th September. This agreement will allow for race fans around the world to hear the action live as it is happening via the Internet, or to listen later at their convenience.
"As interest in our event spreads across North America and around the world, it only made sense to find a way to do a web cast for those who are interested in hearing our race action," said Roger Ruthhart, head of the Rock Island Grand Prix. This year the Rock Island Grand Prix already has driver commitments from England, Canada, Bermuda, Costa Rica and Malaysia, with discussions continuing with several other foreign teams. The live web cast provides a way for race fans at home - wherever the drivers are from - to follow their progress at "The Rock."
The Rock Island Grand Prix will again host the Superkarts! USA King of the Streets race. It will co-promote the U.S. Street Grand Prix races for Intercontinental C and Intercontinental A racers with the Snap-On Stars of Karting presented by the Indy Racing League. Its two feature TAG races are the only direct qualifiers to the TAG World Finals. The full day of racing will also include the Briggs & Stratton Rumble at The Rock and Tom Argy Jr. Animal Roundup for Animal motors, as well as a full slate of other 2-stroke, 4-stroke and gearbox events.
Rock Island Grand Prix festivities will begin with Opening Ceremonies at about 12 Central Standard Time (18:00 GMT) on Sunday, 4 September, with the first race starting at 12:30 p.m. CST (18:30 GMT). Efforts are ongoing to augment internet radio reports with photos or video. To find out more about Monks Media, please visit its web site at www.monksmedia.com or check out their Kart racing show, "Quicktime Karting" each Thursday at 7 p.m. CST (01:00 GMT).
The Rock Island Grand Prix is run every Labor Day Weekend on a temporary circuit set up through the downtown city streets of Rock Island, Illinois, USA and is an independent event which draws about 400 entries from throughout the United States and Canada, competing for one of Karting's largest purses. It has also hosted racers from Italy, France, Colombia, Bermuda and Mexico. It includes 15 feature pro races in 4-cycle, 2-cycle, TAG and shifter classes.
Fancy a 'Karting holiday'? The Rock Island Grand Prix is hosted by the Downtown Rock Island Arts & Entertainment District which features Jumer's Casino Rock Island, retail shops, excellent restaurants, live entertainment, dinner theatre, art galleries and comedy clubs all within walking distance of the host hotel and pit area. It is located on the Mississippi River three hours west of Chicago in an area known as the Quad-Cities with straddles the river and the Illinois/Iowa border.
[ Top ]
---
Introduction Day At Clay (29/06)
Clay Pigeon Kart Club is holding an introduction day at the popular Dorset circuit on Saturday 9th July 05. Any persons interested in starting (or returning to) Karting will be very welcome.
A small presentation covering what's needed to start off in the sport, various classes, age ranges, some typical costs etc will be laid out by some drivers and officials.
Please ring Derek on 07767 634064 for further details or just go along to the circuit on the A37 between Yeovil and Dorchester between 11.00am and 2.00pm.
[ Top ]
---
Moving Up To Cars? (28/06)
This may be of interest to Kart racers who are going to try to move up to cars through courses such as the Formula BMW scholarship in Valencia or the BRDC at Silverstone.
Roger Orgee has arranged with Llandow circuit to accept 16 year old drivers with a current MSA Kart licence to drive a racing car in order to familiarise themselves with the art of gear changing, clutch control and right foot braking. The plan is to keep costs to an affordable minimum, by using a simple to drive Formula Zip single-seater and restrict running time to short sessions, say 20 minutes, totalling 2 hours and sharing the car with 2-3 drivers.
This is an initiative organised by Roger as a karting father (not as a Formula BMW team manager) with the sole aim of ensuring that young drivers start on a level playing field with their 17 year old colleagues who can drive on the road. Roger plans to start this in July and can be contacted on 01934 852847 or by e-mail to roger@orgee.fsworld.co.uk
[ Top ]
---
Formula TKM MAXXIS Festival 2005 (27/06)
With the annual TKM MAXXIS Festival fast approaching, Tal-Ko Racing are offering varying degrees of support over the three day event. The country's largest single-make Kart race meeting is enormously popular and will once again bring together drivers of all ages and abilities, racing for top honours in the country's most closely contested categories. With drivers all using race Karts powered by the same TKM engines it's always an exciting spectacle, and it's a formula that adds up to very close competitive racing.
Tal-Ko Racing's support ranges from Awning Space to Arrive and Drive Packages, Hire of Engines and Hire of Complete Outfits at the Formula TKM Festival 3 day event on 12th, 13th & 14th August at Kimbolton. With prices to suit all pockets and with the full back up facility of Tal-Ko Racing, ring Tal-Ko Racing on 01767 682020 or e-mail Glenn at info@tal-ko.com for quotes and prices to suit your needs.
[ Top ]
---
Welsh Championships at Llandow (24/06)
Llandow Kart Club is pleased to announce the return of the Welsh Championships on 16th and 17th July 2005. This two-day event will feature timed qualifying, longer heats and finals, a free BBQ, a bar, evening entertainment for parents and children, and prizes for every class. A DVD of the event will also be available.
All ABkC two and four stroke classes are welcome including Junior and Senior Gearbox and Junior and Senior Formula Blue. Entry fees are £75, which includes Saturday morning practice and a BBQ.
Entry packs can be found at the LKC website www.stathan.com and from the South Wales Karting Centre. Tel: 01446 795568.
Special accommodation rates are available at the White Lion Hotel in Llantwit Major for competitors. Tel: 01446 792240.
Entries should be posted to the competition secretary Mrs Julie Lipscomb, 37 Monk Street, Aberdare, Tel: 01685 874814, Fax: 01685 879609 (Evenings only.) All entries must be received by Friday 8th July.
Welsh Internations Team (24/06)
The Selection meetings will take place at the Llandow Kart Club meetings on 26th June and 24th July, and also at the Welsh Championships at Llandow on 16th/17th July.
Competitors wishing to be considered for the Welsh Team should contact Richard Dowers, Team Manager on 07909 844324 in the first instance. A team of six drivers will be selected for each of the following six classes.
1. Cadet
2. Mini-Max (run at Junior Max weight)
3. Senior Honda
4. Senior Rotax
5. Formula Libre
6. 125 Gearbox.
[ Top ]
---
Plowey.com Goes Live (23/06)
Team Zanardi's Martin Plowman has recently launched his official website, www.plowey.com. Originally planned to launch in April, the site was delayed due to Plowman's accident in the first round of the Italian Championship in March.
Now the site has gone live with a special message from Plowman, thanking everyone for their kind calls, e-mails and letters during his recovery. "My family received so many kind messages when I was in hospital and recovering," said Plowman. "I wanted to publicly thank everyone for their support and encouragement, it certainly helped get me back on the track."
Designed and developed by promomoto, the new site will keep supporters up to date with the latest Team Zanardi news, race reports, results and will also feature a photo gallery.
[ Top ]
---
European Karting Championships (22/06)

147 of Europe's top kart racers will be in Belgium this weekend for the second rounds of the Formula A and Formula ICC European Karting Championships, and as it's also the concluding round for Formula Super-ICC a 2005 European Super-ICC Champion will be crowned on Sunday. There are 23 different nationalities represented with Italy leading the way (47 drivers), followed by France (36), Holland (25) and Gt. Britain (10), just one more than the Czech Republic (9). Having begun at Angerville in France last month, the CIK-FIA European Karting Championship arrives in Belgium at the 1366 metre Mariembourg circuit, which over the years has become a Mecca for international Karting, so much so that it will host a CIK-FIA Championship for the 18th time.
For Super-ICC drivers, the top category for 125cc gearbox karts, the 2005 European Championship ends on Belgian territory, it carries World Cup status with the Super-ICC World Cup being held at the beginning of September at Sarno in Italy. With two wins in France, the Italian Francesco Laudato arrives in Mariembourg as the outright favourite. His main rival in the race for the laurels will be his own team-mate, Ennio Gandolfi, racing at a favourite track of his as it was on the Mariembourg circuit 10 months ago that the little Italian landed the 2004 World Cup. In joint second place in the championship and still with a chance of taking the title is another Itialian, Manuel Cozzaglio.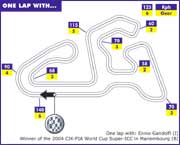 For the other two categories in attendance, Mariembourg is the second round of the European tour which comprises of three events overall. Twice a winner in ICC on his home soil, France's Tony Lavanant is already enjoying a comfortable lead in the provisional classification of the championship but with the best five results out of six to count there is still a lot to play for.
In Formula A, the first event ended with victories shared between Frenchman Armand Convers (pictured) and Italian Marco Ardigo, a result that surprised many as they were considered as outsiders compared to pre-race favourites Davide Fore, Manuel Renaudie, Sauro Cesetti and Arnaud Kozlinski, although the latter was unlucky in Angerville as he was forced to retire from Race 1 when leading. It should continue to prove an interesting confrontation between the established Formula A racers and the up-and-coming generation led by the Dutchman Waldschmidt, the French drivers Alfano and Estre and Britain's Martin-Dye, Lancaster and Christodoulou.
Scrutineering and non-qualifying practice commence tomorrow (Thursday), there's ICC qualifying practice on Friday, with FA & S-ICC on Saturday morning, and this is followed by fifteen qualifying heats in the afternoon. Sunday 26th June sees the final four qualifying heats in the morning and the first of the eight finals for the various classes commencing at 1pm. Live results on Sunday will be published on the CIK-FIA website.
Photograph courtesy of Chris Walker - www.kartpix.net
[ Top ]
---
Rounds 7 & 8 - British Champs (20/06)
The South Lanarkshire circuit was hit by high temperatures on Saturday, followed by heavy rain storms on Sunday morning, but by the Sunday afternoon finals karters in the Group 4/MSA Karting Championships took to the track on slick tyres. A brief race report can be found here.
Photographs courtesy of Chris Walker - www.kartpix.net
[ Top ]
---
Dunkeswell KRC (17/06)
Entry forms for Round 5 of the DKRC Championships on 26th June are available on the Dunkeswell website and some excellent grids are forecast. Nigel Mansell is expected to be in attendance over the weekend with his son Greg, who will be competing in only his second Rotax Max event.
It will be a busy weekend with The Octane Cup also commencing on the 26th June weekend, and there's Round 5 of the Dadson Rotax Max Gentleman's Challenge, a popular ten round race series 'for the more mature driver', taking place too.
The 800 metre circuit is located at Dunkeswell airfield (less than 10 miles from M5 – Jct 27) and is on the southern side of the Blackdown Hills, an area of outstanding natural beauty.
[ Top ]
---

A Summer Prokart (17/06)
Of possible interest to some 4-strokers as summer approaches may be this 'new' Prokart chassis, as it affords a much more comfortable seating position during the hot, hazy days that we are promised will be here soon.
ET Karting have advised they are the sole importers and can offer this luxury style of racing at a very affordable price. Contact them via their website http://www.freewebs.com/etkarting/ for further information (if they have any), or to congratulate them on their innovation, or to place an order?
Could it take off? ET – go home!
[ Top ]
---
Success For Stephenson Brothers (16/06)

Another two Karting brothers are enjoying a successful 2005 season, after they both notched up podium finishes in National Championship events.
Competing in the MiniMax category, 12-year old Conor Stephenson finished third at the latest round of the national Stars of Tomorrow championship this weekend. Racing at Larkhall, he started the final from the front-row of the grid, after taking a win and a third place finish from the qualifying heats. Stephenson then enjoyed an entertaining five-way battle for the lead. The Rocket Karting team driver was lying in fourth place on the final lap, but a determined move into the last corner, saw him claim his second podium finish from the first four rounds of the series. The race will be shown in the Stars of Tomorrow programme on Sky Sports television from Friday 8th July.
There has also been success for Conor's younger brother, Calum Stephenson. The 8-year old who was only old enough to obtain a full race licence at the start of the year has finished on the podium in only his second ever national event. Calum recently finished third in round two of the WTP Formula Cadet Challenge. The younger Stephenson demonstrated his ability to overtake, by rocketing from 14th to 2nd, 18th to 11th and 5th to 1st in the three qualification heats. That put him third on the grid for the final at Shenington. Despite his inexperience, Stephenson held the position all the way to the chequered flag crossing the line just 0.25s behind the race winner.
For further information on the Scarborough brothers, visit www.rocketkarting.co.uk
[ Top ]
---
Stolen Rotax Max (16/06)

A Rotax Max belonging to Ian Harvey was stolen last Sunday evening 12th June from a caravan stored at APEC in Whiffler Road, Norwich.
Equipment stolen was a Rotax Max on a 03 red Gillard 310 chassis fitted with yellow 05 bodywork with DK graphics. The engine number was 780142 JAG seal 005317. Also stolen were two sets of rims one with Wets and one with Slicks, a red tool chest full of tools, and a Bosch box of cordless drill charger and tyre inflator.
A reward is offered for the return of equipment. Would anyone with any information please contact Ian Harvey on 07789 912952, Norfolk Police on 01603 768769, or Crimestoppers anonymously on 0800 555 111.
[ Top ]
---
Banbury Guardian Superprix (16/06)

Banbury karter Marcus Weller is hoping for a good result at this weekend's Banbury Guardian Superprix at the Shenington circuit near Banbury. Weller finished a very respectable fourth in last year's Superprix in his first full competitive year of Karting and is looking to stand on the top step of the podium at this year's event. Marcus is also competing well in the National Championship which last weekend saw him travel all the way to a rainy Cumbria.
The three day Superprix meeting consists of testing on Friday and Saturday and then a very full day of racing on Sunday. The 16 year old, who one month ago made his European debut, will be racing in the Rotax Max category for the highly experienced Promatecme International Motorsport, the team that helped current B.A.R Formula 1 driver Jenson Button through his Formula 3 days.
You can keep track of Marcus and the Promatecme team online at www.promatecme.co.uk or contact the team on 01327858137.
[ Top ]
---
Prokart Endurance Championship (15/06)
The Buckmore round of the 2005 Prokart Endurance Championship on the 26th June, was until earlier this week, full with the maximum grid of 45 starters. Unfortunately, two teams have had to withdraw for personal reasons and subsequently there are now two places available.
Any teams who are interested in taking either of these places, should contact the organisers; Paul Bowler Promotions on 01252 615728 or 07979 241666, or e-mail: pbowlerpro@aol.com
[ Top ]
---
The Max Festival's 100 Lapper (15/06)
The grids are filling up for the Max Festival 30/31st July 2005, but are not full yet. Places are still available for what is being billed the longest sprint event, - 100 laps around Lydd, one compulsory fuel stop, Maxxis HG1 tyres, 170 kg weight limit. Do you think you or your team are the best? If so, get your entries in now to either Lydd International Raceway on 01797 321 895, or Stiddard Trackside Racing on 01795 473 300. A £20 deposit secures your place, balance of entry fee payable mid-July. Other event places are limited so enter now for a chance to win a Rotax engine per class run.
[ Top ]
---
Jenkins Brothers Take Top Steps (15/06)


Bristol brothers Scott and Sam Jenkins posted a historic double victory in Scotland this weekend, with both winning their respective classes at the prestigious Stars of Tomorrow meeting. "Like a double heart attack", said their elated father, Dave Jenkins.
First Scott took the win in JICA after seizing the lead ten laps into the race, then his younger brother Sam did much the same in the Cadet class to score his first major win in Karting. Scott had been struggling with his kart's handling all day, making his win seem even sweeter. "I think the kart came on just at the right time. It's been a very difficult day for the mechanics", said the young driver. The Final started on a wet track which was drying throughout the 21-lap race, which always leads to exciting racing. Scott was lucky to stay ahead of one rival who started on slick tyres and came back from a lap down to take second.
Scott has already won major races and represented his country, but Sam is much nearer the beginning of his career. In the British Championship Cadet class he took the lead halfway in and retained it until the chequered flag despite pressure from at least one rival.
The young racers are spending a well-earned break in Scotland in preparation for their next race on 19th June, also at Larkhall, but this time for the Super One series.
[ Top ]
---
The Octane Cup (14/06)
This Championship commences on 26th June and is to be contested over 5 rounds at Dunkeswell Kart Club with 4 of the 5 rounds to count. It's open to Mini and Junior Max classes and the overall champions in each class will win the fantastic Octane Cup. There are some other great prizes too so make sure you don't miss out on your registration pack. It's free to register!
Race dates: 26th June, 31st July, 28th August SW Champs, 25th September and 30th October.
The prizes in both the MiniMax and Junior Max classes are:
1st - Octane Cup, one day driver tuition by former Formula A World Champion Colin Brown, Tillett chain guard, 1 set SL8's, £100.
2nd - Trophy, 1 set SL8's, £50.
3rd - Trophy, Tillett chain guard, £25.
There will also be trophies for 1st, 2nd and 3rd at each round, plus a trophy and a mystery prize for driver of the day. This championship will be held in conjunction with Dunkeswell Kart Club and run under MSA regulations. Full details of rules and regulations will be supplied in your free registration pack. Register today so you don't miss out on some great racing and some fantastic trophies and prizes. For a registration pack call Abby Jeanes on 01460 68112 or e-mail: abby@peterjeanesracing.co.uk
[ Top ]
---
Half Price Entry For Irish Kart GP (14/06)
The UKC is offering 1/2 price entry to the Irish Kart GP on 28th, 29th, 30th July at Nutts Corner for those travelling from outside Ireland. Free club membership is also available to cover testing on Thursday and Friday. SR's for the event are available at the Ulster Karting Club website.
Contact Peter Rutherdale on 07984 420559 or 02838 882690 or e-mail rutherdale@btinternet.com for more information.
[ Top ]
---
Europa's At Buckmore (13/06)
Round three of the BPKC Summer Championship takes place on Sunday 19th June and plays host to a round of the exciting Europa series. All ABkC classes are welcome and there is still (just) time to get your entries in to club secretary Sheila Rose on 01634 661604.
Open practice will be held on Wednesday 15th and Saturday 18th from 10am to 4pm as usual. A full list of fixtures and practice dates can be found on the Buckmore Park website.
[ Top ]
---
Champion Of Champions Meeting (13/06)
Renault UK has announced its backing for the inaugural Champion of Champions kart meeting with prizes, event and media support. The end of season meeting will be held at Buckmore Park on 28th - 30th October and is open to registered competitors in the 2005 Super One and BRDC Stars of Tomorrow championships. Selected competitors from Cadets, Junior Gearbox, Mini-Max and Junior Max karting classes are also invited to compete.
Renault UK, which already backs the Formula A, ICA and JICA British Karting Championships, will provide prizes for the top three drivers overall in the Champions of Champions event. Formula A, JICA and ICA prizes will be £1,000, £500, and £250 for the top three drivers overall, plus a free registration to the 2006 Formula Renault BARC Championship. Prize money for the other classes will be £500, £250 and £100 for 1st, 2nd and 3rd places, respectively.
In addition, each prize winner will have the opportunity to visit the Renault F1 Team factory at Enstone in Oxfordshire in 2006. Race Centre facilities used to support Formula Renault UK with Michelin and Elf Renault Clio Cup championships will be provided by Renault during the Champion of Champions event.
Tim Jackson, Renault UK Motorsport Manager said: "Renault UK is committed to supporting young drivers on each rung of the motorsport ladder. We have provided prizes and secured media coverage to help make the Champion of Champions meeting an attractive and important arena for the country's leading karters at a time when budgets and options for the following season are being considered."
[ Top ]
---
Red Bull High King of Karting (10/06)
U.K. Importer for Birel, ACR and its Ireland Dealer WGP Motorsport would like to congratulate Birel Formula A driver Niall Quinn of Dunboyne, Co Meath, Ireland for winning the Red Bull High King of Karting. Niall and other established kart racers from all over Ireland took part in qualifying races sponsored by Red Bull in karts, single seaters and saloon cars. Niall fought of stiff competition and will now go on to a training session at Mondello Park with the racing school before taking part in a test with the Red Bull Junior Team at a European venue to be announced. We all wish him the very best of luck with this and his continuing success in the Motorsport Ireland Formula A Kart Championship aboard his Birel M32ST chassis.
[ Top ]
---
New Rotax Max Chainguard (08/06)

The Tillett Chainguard is now available in a new lengthened Rotax Max version which covers the clutch. The price is unchanged from the usual model.
[ Top ]
---
Max Festival Entry Deadline Approaching (07/06)
You only have one week left to get your Early Bird Entries into the Max Festival to take advantage of the discounted rate.
JAG the importers of Rotax are backing the event, and shall be offering Vega Tyres at a reduced rate for the event. Controlled tyres, will be available for purchase on the day.
The event co hosted at Lydd International Raceway in partnership with Stiddard Trackside Racing Limited takes place on the weekend of 30 - 31st July 2005 at Lydd, with grids for Mini, Junior, Senior & Heavies, plus to Endurance Races of 100 laps and a 4 Hour Race.
Fantastic Prizes are on offer, with an Rotax Engine per class up for grabs. (heavies could be included in seniors if grids there are insufficient to support their own.)"
Contact Lydd international on 01797321895 or sue Hart @ Trackside Racing on 01795 473 300 for information or bookings.
[ Top ]
---
Hatrick Harvey Sinks Super One Rivals (07/06)

Bassingham kart racer Jack Harvey took his third major victory this season at the latest round of the MSA Super One Championship at the Rowrah circuit in Cumbria.
The Harvey went into the meeting on a high after snatching victory in his last two Stars of Tomorrow championship meetings. Two disappointing results in the first two Super One meetings meant that a race win was needed to put Harvey back in the title hunt.
After setting the quick times in Friday and Saturday practice Jack knew that he had the pace to challenge the series leaders. The first two heats went well, but in the third heat Jack showed his true form and took victory by almost eight seconds in wet conditions.
A dry track in the final meant some last minute set-up changes to the kart. The extra grip it afforded Jack in the opening laps allowed him to move into the lead and pull out a commanding lead.
"I dropped to fifth at the start and decided to wait for a lap as the tyres came in," explained Jack afterwards. "I managed to take fourth place on the second lap and just made up places over the next few laps and then set a handful of quick times that allowed me to pull out a gap.'
"It gave me some breathing space at the end, although, I was never able to relax. I always knew that the rest of the pack was there to pounce if I let up, so it was a case of keeping everything together to the flag. I'm incredibly happy to have taken another race win," he added.
The result puts Jack within a handful of points of the series lead, giving him a fight to the end of the season for both of the major Rotax Mini-Max Class championships.
A return to the Stars of Tomorrow Championship next weekend sees Jack head up to Scotland to race at the Larkhall circuit.
[ Top ]
---
S1 Championship Leaders' Delight (03/06)
Leading drivers from Renault-sponsored Super One Karting Championships had a taste of what it would be like if their career dreams came true during a behind the scenes day with Renault F1 Team at Silverstone on Wednesday (1st June).
Formula A Championship leader Jason Parrott (Crowland, Peterborough); ICA leader Matthew Bell (Morpeth) and JICA leading driver Lee Bell (High Wycombe), met Renault F1 Team driver Fernando Alonso, who currently leads the Formula One World Championship with four Grand Prix victories so far this year. Along with a select group of leading drivers from Renault's UK motor racing championships, some of whom may become Formula One drivers of the future, the karters toured the paddock and Renault F1 Team garage, taking a close look at the R25 cars in preparation for testing.
They also met former Formula Renault racer Heikki Kovalainen, one of five drivers in the Renault Driver Development programme, and the Renault F1 Team's second test driver. Heikki travelled to the Northampton Grand Prix circuit for testing duties after taking the lead in the GP2 championship, considered the final stepping-stone before Formula One.
Working at the test day was Formula Renault driver Jason Tahinci (Frampton Cotterell, Bristol) who is a test engineer for the Renault F1 Team. He spoke to the karters about technical features of the R25 car and how hundreds of different pieces of information about every part of the car are gathered and analysed during a test.
Jason Parrott said: "It was great to see behind the scenes of how an F1 test works, and see the cars with the bodywork off. It was great to be invited. Coming to the test day makes you want to get to F1 even more, but makes you realise how hard you need to work for it."
Matthew Bell: "It was good to see the inner workings of the car. I was amazed at how small the engine was. I was impressed by the amount of support there was for two cars, and what a large part all the different technical elements play. I was very pleased to have the opportunity to go to the test."
Lee Bell attended during study leave for his GCSE exams. He said: "Everyone who races would like to drive in F1. The test really intrigued me, I'd love to be a part of an F1 team in some way and if I can't drive an F1 car, I'd certainly like to drive a racing car like a Formula Renault or GP2."
The karters will be defending their championship leads when the B4 Group Super One National Kart Championships travel to Larkhall in Scotland on 19th June.
[ Top ]
---
World Formula 'WF' Championship (02/06)

Warden Law will be hosting a six round championship backed by Prosport, Zoom and Karting North East. The first round is this Sunday 5th June, with the final round being held on 6th November 2005. The Championship is open to all World Formula sealed engines. An MSA licence is not required as the series will be run within the current and very popular sprint race series run by Karting North East.
Over £250 will be given in prizes at each round with the final boasting a total prize fund of over £1000 and the chance to use the 'WF' plate at Warden Law for one year. So if you think you have got what it takes to beat some of the best WF drivers in the country, why not register now by phoning KNE on 0191 5214050 or by visiting the KNE website at www.kartingnortheast.com where you can find registration forms, regulations and race dates along with a list of the prizes on offer.
Prizes range from £25 to £100 Zoom gift vouchers, £15 to £80 Prosport gift vouchers, free race entries to following rounds, and more. The outright winner drives away with the 'WF' plate, the Briggs & Stratton Cup, £200 Zoom gift vouchers, £200 Prosport gift vouchers and the use of a Rotax Max outfit supplied and fully supported by Prosport, to include fuel, tyres and race entry for a weekend at a KNE Sprint or an MSA event at any Warden Law meeting.
[ Top ]
---
2005 Super 2 Championships At Rowrah (02/06)
The regs and entry form are now available for this event taking place on the Sunday and Monday (28th/29th) of the August bank holiday weekend, and with about 25 drivers from the IOM already expected you should get your entry in now whilst the grids are still open.
The event will cover the ABkC National Championship for Honda Cadet, Junior and Senior, and the Super 2 Championship for World Formula. Regs and entry form can be downloaded from the Cumbria KRC website.
Friday and Saturday practice (26th/27th August) will be available for this event, and the meeting will also incorporate the Lakeland Challenge for the usual club classes.
[ Top ]
---
Race For Norman (01/06)

Great news for all entrants in the Prokart charity memorial sprint meeting - Race For Norman on 18th June at Red Lodge Karting in Suffolk, in memory of 'Storming' Norman Aley who sadly died in May 2004 - one of Karting's 'good guys'. The event is also raising money to go to Great Ormond Street Hospital - chosen by Norman's widow Sue as a charity that Norman would have been proud to support, as I am sure we all would be.
Race organiser Dudley Simons is pleased to be able to announce that Neil Dodson of 7Kart and Mal Graves of GR8 Karts and Parts Ltd (builders of the 7Kart) have very generously offered to sponsor prizes for the top three places of both the heavy and the standard weight classes of Race For Norman, with an additional prize going to the driver setting the fastest lap time of the meeting.
A big thank you to Neil and Mal for their much appreciated sponsorship, and many thanks also to all the other Karting companies who have donated some excellent prizes for the draw. Tickets are available for the prize draw at just £1 each (full details on the RFN web site), so if you really can't make this event you can still contribute by buying some raffle tickets.
The entrants list is currently still open with places for both the 180kg standard and 195kg heavy classes. The entry fee is just £50 and includes a set of control tyres. The meeting is open to all Prokart owner drivers, not just Norman's racing friends - full entry details, rules and regulations etc can be found at www.race-for-norman.co.uk. There is plenty of space for tents and caravans etc in the camping area for anyone wanting to stay over on the Friday night when there will be a BBQ and 'a bit of a social evening', and there will be bacon, eggs and Alka-Seltzer available for breakfast early on race day. The Red Lodge track side cafe will be open later in the morning and at lunchtime for all those who just can't face breakfast!
To encourage entrants from the various endurance series Dudley has amended the rules and regs to allow team entries with up to 3 drivers per kart. Details on the RFN website.
For all who previously indicated they would take part but haven't got around to completing the entry form yet, now is the time to stake your claim for a place on the starting grid. Dudley is looking forward to hearing from you soon so he can all make this the excellent event it deserves and promises to be. Race For Norman – do it now!
[ Top ]
---
Young Guns Sweep Sisters In Style (31/05)

CADETS - The Zip Young Guns produced a magnificent result at the 3rd round of the Stars of Tomorrow championship at Three Sisters circuit on Sunday. The cadet drivers taking a clean sweep of the podium with an amazing 1-2-3 and their JICA driver mounting the top step of the podium for the second time this season.
After some mixed results in the heats, the cadet Young Guns, Nicholas Cristofaro, James Godbehere and Thomas Balmer lined up 5th, 9th and 10th on the grid respectively for the 15 lap final, and what a final. Each driver made a good start and before long they were line astern in 4th, 5th and 6th place with Godbehere heading the bunch. Three laps later the Zip Young Guns were 1-2-3 and were being roared on by supporters lining the banking. Godbehere, Cristofaro and Balmer were working together nicely and chased by Palmer, the four of them had broken away from the chasing pack. The scene was set for an amazing last lap with all four drivers in with a shout of the win. Nicholas Cristofaro nipped into the lead chased by Godbehere and Balmer and with all three abreast across the line, no-one was really sure who had finished where. When the dust had settled, it was confirmed that Cristofaro took the win ahead of Godbehere and Balmer. A fantastic result for the team and credit must go to the drivers who all drove magnificently. Zip Kart are particularly delighted for Thomas Balmer who was racing in just his 5th national level meeting. To get a podium place at a British Championship meeting is a wonderful effort, well done!
JICA - Oliver Rowland took the win in JICA after a hard fought battle with Matt Truelove. Oliver battled engine problems all day but finally got it sorted for the final and the Sheffield youngster held off a determined effort from Truelove to take his 2nd JICA win of the season. Some spirited celebrations after the race resulted in members of the Zip Young Guns team being soaked by Oliver's 'champagne'.
Zip Kart congratulate all their drivers and are looking forward to Larkhall on the 11/12th June where confidence should be very high.
Seats for the 2006 Championships in the Young Guns team are available and testing has already started. They will be running a team for the following classes: Cadet, JICA, Mini-Max and Junior Max in both Stars and Super One. Interested parties should contact Richard Brunning at sew@zipkart.com or phone 01992 463371.
[ Top ]
---
DK Nimrod Test Days (27/05)
Due to increased demand for their 'Nimrod' TKM chassis, Dartford Karting are holding a series of test days at various circuits around the country. Potential buyers can register their interest by contacting Tony on 07956-292771 to arrange their test.
Both Super 1 'Nimrod' drivers, Paul Janes, number 6 in TKM Extreme, and Joe Morrison, number 9 in TKM Intermediate, are easily within reach of exceeding their current seeded status in this year's National Championships. Morrison also broke the lap record at Three Sisters during the recent Platinum Cup Festival.
Professional advice will be available on each test day to allow drivers the opportunity of exploring the Karts, and their own full potential. With higher profile trackside support imminent, coupled with excellent value for money and proven race results, the Nimrod has the potential to become one of the most popular chassis in TKM racing.
[ Top ]
---
Kart Equipment & Trailer Theft (26/05)
The theft of a trailer and Kart equipment from the forecourt of the Access storage depot in Willow Walk, Bermondsey, London SE1 occurred between 6pm on Saturday 21st May and 9am Sunday 22nd May 2005.
The equipment stolen was a 16ft Dastle box covered trailer in aluminium containing: 2 x Junior Rotax Max Karts (a TonyKart Mitox chassis and a Wright chassis), Solo 100cc Kart with Solo engine, 2 x Wright chassis, 4 x 100cc engines (2 x Solo, 1 Rotax DSD, 1 Rotax DSB), a 20ft x 10ft EZ Up awning with dark blue roof and silver sides (almost brand new).
A Honda GX5000 generator, an air compressor, 2 x Beta tool chests & Beta tools, 2 x Clarkes tool chests containing vast selection of nuts and bolts and miscellaneous spares, 2 x large black plastic chests containing TonyKart and Wright kart spares and an 8ft long aluminium bench (very distinctive, two tier with "aerospace" style round cut-out sides).
Over 20 sets of rims, 2 x green 20 litre fuel cans, bodywork for a Formula Honda race car (blue), a Dell laptop, portable TV, 2 x Shoei helmets, 3 very distinctive blue/silver/black Gearbox make Kart suits, 4 x blue Gearbox make Kart boots, a yellow Sparco bag with 8 pairs of blue Sparco gloves and 4 sets of Nomex underwear.
The A frame of the trailer is marked "NF600".
There is a reward of £1000 offered for information that results in the recovery of the trailer. Please contact Nick Farley on 07970 773797 if you have any information, or phone Crimestoppers anonymously on 0800 555 111.
[ Top ]
---
Staff Required At Playscape (26/05)
Playscape Pro Racing, operators of Streatham Kart Raceway, are looking for a temporary sales consultant to join their existing team. Based at their Streatham circuit in London SW16, the successful candidate will be responsible for handling sales queries relating to this popular indoor circuit. An initial 3-month contract is offered with an immediate start to cover maternity leave but a permanent position may be available at the end of the contract based on performance. A competitive salary is offered dependant upon age and experience. For further information or to apply please contact Martin Howell on 020 8677 8677.
[ Top ]
---
Bank Holiday Open Practice At Lydd (25/05)
Lydd International Raceway will be open for practice on Sunday 29th May and Monday 30th May, 10am to 4pm.
The 1240 metre Lydd circuit is situated near the south coast in Kent and only 20 minutes drive from Romney Sands and about 30 minutes from the ancient town of Rye in neighbouring East Sussex, so why not go down, camp overnight and make a weekend of it. The Heron Bar & Restaurant will be open, and on Sunday evening there will be music to enjoy, the Pit Stop cafe will also be open during the day. The circuit at Lydd can be contacted on 01797 321895.
[ Top ]
---
Live Internet Results (24/05)

Teamworks Karting in Birmingham has recently upgraded their SuperSport Timing System to include LIVE race results across the Internet. Now, colleagues and friends who are unable to attend a race meeting in person are still able to follow the racing from their office desks or living room.
This live results feature is available to anyone using SuperSport Timing, whether, Rental, Corporate or Competition tracks. To see what's happening at Teamworks or other tracks right now, go to www.supersporttiming.com and click on Live Results.
SuperSport Timing can be contacted on 01432 860685.
[ Top ]
---
Max Festival Well Subscribed (23/05)
The Max Festival being co-hosted by Lydd and Trackside Racing on the 30th & 31st July 2005 at Lydd International Raceway is being well received in the Rotax community, with entries flowing in for both the sprint and endurance events. Up for grabs are new Rotax motors for each class and endurance race, also other spot prizes from key sponsors.
Don't delay in registering for the event prior to the deadline of 15th June 2005. Only £20.00 secures your place in this prestigious event. Contact Lydd International on 01797 321 895 or Trackside on 017954 733 00 for further details, or visit www.tracksideracing.co.uk for information, regulations and booking forms.
[ Top ]
---
Charity Karting Challenge 2005 (20/05)
Speedkarting Warrington are sponsoring a charity kart race at their 750 metre indoor circuit with monies raised going to the National Bereavement Partnership, a registered charity focusing on the needs of bereaved people.
This Charity Karting Challenge starts with a thirty minute practice/qualifying session followed by a two-and-a-quarter-hour endurance race that will include driver changes, a refuelling stop, and probably a few stop/go penalties for some too.
Publicity is promised for companies sponsoring a team so here's a unique chance to race with (or against!) your competitors, treat your clients or persuade your suppliers to sponsor you. Entries are open to teams of up to 6 drivers and medals will be awarded to the top three finishers, with the winning team also receiving an engraved plaque. There are only 10 places on the starting grid so be quick with your entry. All equipment will be supplied together with a freshly prepared hotpot for lunch, so although you might go home empty handed if you don't finish in the top three you shouldn't go home with an empty stomach!
The event will commence at 1pm on Wednesday 29th June at the Speedkarting Warrington main arena, a wide circuit that has the largest indoor Karting flyover in Europe, a raised slingshot hairpin and a 'rat-run' option.
All you need to do to enter is get a team of drivers to represent your firm (names can be given on the day), then phone Samantha on 0800 376 6111 to provisionally book, or e-mail your team details to: sam@natbp.org.uk. The cost per team is £300 - a deposit of £150 is required within 3 days of booking and the balance due on the big day. Cheques should be made payable to the 'National Bereavement Partnership' or telephone through your credit card details.
[ Top ]
---
CIK European Championships (18/05)
The first round of the European Championships at Angerville in France last weekend ended France 3 – Italy 3, with the two most represented nations in terms of driver numbers managing three victories each.
In Formula A, Armand Convers (F) won Race 1 and Marco Ardigo (I) took Race 2 but the home crowd were captivated by Arnaud Kozlinskli's exploits on the Sunday. The double vice-World Champion led Race 1 for a long time before his engine betrayed him with 6 laps to go, but then he caught everyone's attention by recovering from the 25th in Race 2 to take second place at the chequered flag. Another to suffer mechanical problems in the first of the two finals was Riki Christodoulou (GB) which meant starting the second final from 31st on the grid and eventually finishing Race 2 in 11th position, two places behind Freddie Martin-Dye (GB).
Formula A - Provisional Standings: Armand Convers (F) 38 points; 2. Marco Ardigo (I) 29; 3. Henkie Waldschmidt (NL) 28; 8. Freddie Martin-Dye (GB) 20; 15. Riki Christodoulou (GB) 5; 17. Mark Litchfield (GB) 3; 18. Jon Lancaster (GB) 3; just ahead of David Fore (I) with 2 points.
In Formula ICC it was Tony Lavanant (F) that proved unbeatable, being fastest in qualifying practice, then winning every one of his four qualifying heats and finishing the weekend with wins in both the Finals. He leads the ICC Championship ahead of Erik Janis (CZ) and Francesco Principe (I).
In Super ICC the Italian's dominated, with three drivers on every podium. Francesco Laudato (I) was twice the victor in the two Finals and he leads the Super ICC Championship ahead of fellow Italian's Ennio Gandolfi and Manuel Cozzaglio in joint second place.
Photographs courtesy of Chris Walker - www.kartpix.net
[ Top ]
---
New Senior Max Lap Record (17/05)
Project One Racing's Dan Holland broke the Buckmore Park Senior Max lap record twice in two heats on his way to winning the second round of the summer series last Sunday, 15th May. Using his Gillard chassis with TSRE prepared motors he set a new time of 39.00 seconds in Heat 3 and would like to thank Gerrard and Maria Cox with Sam Quinlan of Project One Racing, Tim Swadkin (TSRE) for his great motors and mechanic Duncan Tappy, also a special thanks to Steve Tillett for his help.
[ Top ]
---
Jordon Lennox-Lamb Theft (16/05)
JICA driver Jordon Lennox-Lamb has had his van registration no. W1N JL, plus Birel M32 2 helmets, engines, wheels and tyres, Pi system, trolley etc., stolen from the Bedford area today (16th May) at 12 noon. Anyone who has seen this van or has knowledge of its whereabouts is asked to telephone 01234 330450, or report it to Crimestoppers anonymously on 0800 555 111.
[ Top ]
---
Plowman Returns To Racing (16/05)
Team Zanardi's Martin Plowman undertook what was his first race in over seven weeks yesterday (Sunday 15th May) at Angerville, France, for the first round of the CIK/FIA European Championships. The BRDC Rising Star is still recovering from a punctured lung sustained in a horrific accident at the first round of the Italian Championships at Lonato in March.
Despite little testing time to select the correct tyre and chassis combination, Plowman put in a sterling effort to qualify sixth in his group in wet conditions. However, with the other group benefiting from a dry session, when the times from both qualifying groups were merged Plowman saw himself 24th on the grid for heat one.
The Staffordshire teenager proved he'd lost none of his prowess as he carved his way through the field up to fifth in heat one, only for his chain to snap with just four laps to go. The further two heats saw the 17-year-old notch up consistent finishes of ninth and eighth respectively, from 12th on the grid.
Despite a good start from 28th for the pre final, Plowman was involved in a multiple kart crash at the second corner which damaged his chassis and put him out of the race. With his chassis beyond repair, Plowman was forced to use his nominated second chassis but in doing so he incurred a five-second penalty from his finishing position in the final before the race had even started. Although providing an exciting spectacle for the crowds as he worked his way through from the back of the grid, 34th to 18th, with the five-second penalty Plowman's official finishing position was 23rd.
Following the race Plowman commented: "It's great to be back on the race track at last! Although I'm slightly disappointed with the result, I'm just happy to be back out there. I was quite surprised that we were right on the pace with the front-runners, despite being out of action for the last two months. We can certainly take a lot of positive things away with us today, ready for the next round of the French Open Championship at Ostricourt next week. I'd like to thank Dino Chiesa and the rest of the family for their ongoing support."
[ Top ]
---
14 Year-Old Makes Race Car Debut (12/05)

Junior TKM racer, Will Waterman, has made his debut behind the wheel of a 120mph race car - at just 14 years of age. Waterman, currently running fourth in the Super One, put a Ginetta GT4 sportscar through its paces at Bruntingthorpe test track (Leicestershire), as part of an initial assessment of the car.
With a dazzling power-to-weight ratio of 170bhp per tonne, the car will feature in the new Playstation Ginetta GT4 Junior Championship for 14-16 year olds, which is being launched in the summer. The series will give young and upcoming racers the chance to develop their skills as professional racing drivers, by going head-to-head at some of the UK's fastest circuits - including Brands Hatch and Silverstone, for a fraction of the cost of some single-seater championships. Waterman, who is also a front-runner in the Whilton Mill and Rissington Club championships, is hoping to compete in the championship next season.
"It's a bit daunting for anyone to get into a proper racing car for the first time - let alone a young teenager," commented race instructor and AVO Ginetta championship competitor, Ben Elliot, "but Will took it all in his stride and put in some really impressive lap times. There's one corner on the track that if you really know what you're doing - can just about be taken flat-out in fourth gear at 110mph. Halfway into the test, Will started taking it flat out! I've assessed a number of very quick young drivers for the Ginetta GT4 Junior championship and I'd say that Will could get in the car now and finish in the top three."
Waterman is next in action at Lydd International on 22nd May, for round three of the Junior TKM Super One Championship. For more information on the Playstation Ginetta GT4 Junior Championship, visit www.ginettacars.com
[ Top ]
---
2005 TKM Platinum Cup (11/05)
Missed the chance to race or watch at the MBKC TKM Platinum Cup back in March at Three Sisters? Thanks to MotorsTV you can now see the event in full on MotorsTV (channel 413 on Sky) from Sunday. Broadcast across Europe, even if your grandmother lives in Albania she'll be able to watch and at a time to suit. The 2 hour programme covers every heat and final, all the high and lows for every competitor.
Broadcasts are scheduled for 14th May 2005 at 3pm, followed by 3am 15th May, 6pm 15th May 2005, 10pm 16th May, 7am 17th May, 5pm 18th May, and 5am 20th May.
The next MBKC event scheduled for filming by PSC Productions with a free DVD for every competitor is the prestigious Gold Cup on 25th/26th June. All popular classes catered for and featuring gearbox racing on the full 1500m International circuit including a round of the ABkC 250 National Championship. No guarantee of TV coverage yet, see www.mbkartclub.com for details and entry forms.
[ Top ]
---
Equipment Stolen (11/05)
The Stoneman family's Elite Sport Motorhomes Sprinter Van was broken into earlier this week and Dean's Super 1 equipment stolen. Items taken include:
1x Parilla JICA engine - serial number - R1383
1x TM JICA engine - serial number - F330
Also Dean Stoneman's crash helmets: 1x plain white Arai SK5 helmet and 1x Arai SK5 with paint job.
Would anyone with any information please contact Colin Stoneman on 07836 614197, or Thames Valley Police on 0845 8505505 quoting crime number LG9262039/05, or call Crimestoppers anonymously on 0800 555 111.
[ Top ]
---
Superkart News (10/05)
A rain soaked circuit proved the right conditions for Brits' Graham Barker and John Riley in the first two rounds of the European Superkart Championship at Hockenheim. Whilst back home, Richard Ward took the honours at Donington in the Formula 125 UK Cup. A brief report can be found here.
[ Top ]
---
Bilands At Buckmore (09/05)
BPKC are pleased to announce that there will be a Biland grid at the second round of the club championship at Buckmore on 15th May. All the usual ABkC classes will also be represented and entries close on Tuesday 10th. Open practice will be available as usual on Wednesday and Saturday from 10am to 4pm. Enquiries or race entries can be made via the Buckmore Park website or direct to club secretary Sheila Rose on 01634 661604.
[ Top ]
---
Belgium Championships (09/05)

JICA pilot Scott Jenkins from Bristol won the latest round of the Belgium Championships last weekend at the new international Genk circuit.
It rained during his qualifying session so he was only 16th but had a second and first in the heats, then converted a fourth in the pre-final to a final win. "I put it all down to Dean Panrucker's Millennium Motorsport, also my VDK Parilla engines," said the youngster. He is lying third in the Super One points table, second in the French Open Championship and the weekend's win should see Jenkins leading the Belgium series.
Photograph courtesy of Chris Walker.
[ Top ]
---
The International Kart Show (06/05)
Now in its 17th year the International Kart Show has established itself as the showplace for Kart manufacturers and equipment suppliers from both this country and the rest of Europe, and the organisers are extremely pleased to announce that the show is moving to the Exhibition Centre at Donington Park. It's conveniently located close to East Midlands Airport and on the borders of Leicestershire, Nottinghamshire and Derbyshire.
The move presents huge opportunities;
• More exhibition space (nearly 60% larger than 2004)
• A Grand Prix circuit in the back garden
• The opportunity for exhibitors to display Karts in action
• A venue with real motor sport heritage
• Easily accessible from the M1 in the centre of the country
• Free parking, - and the list goes on.
Visitors to the show, being held on the weekend of 26th & 27th November, will have the opportunity to view the most complete line up of Karting equipment. In 2004 there were over 80 exhibitors, with 30 different makes of Karts/engines on display, with all the top UK & European manufacturers represented. There was a huge choice of supporting equipment suppliers, including 17 different companies offering race clothing, giving visitors the complete choice.
Even now there is a buzz within the sport, with top manufacturers already committed to exhibiting and many looking to increase the size of their exhibits, which are on offer thanks to the increase of available space. Those already confirmed include; Andy Cox Racing, Demon Tweeks, Grand Prix Racewear, JAG Engineering, JKH, KKC, Michael Simpson and Strawberry Racing. To book your space or find out more, telephone 01270 585470 or e-mail: enquiries@kartshow.co.uk or (from Monday 9th May) visit the International Kart Show website.
This year it is planned to have two new attractions at the show, the first being live demonstrations around the Melbourne loop, and the second a section of the show offering Kart clubs the opportunity of free space to promote their club/circuit.
[ Top ]
---
Motorsport Safety Fund (05/05)
The Motorsport Safety Fund has put all five of its previous video guides onto a single DVD. The five guides are "Motorsport Marshalling", "First Aid in Motorsport", "Motorsport Rescue", "Motorsport Firefighting" and "It Could Happen To You".
The DVD is available for just £10 (including p&p to UK addresses) by sending a cheque made payable to "Motorsport Safety Fund" to: Motorsport Safety Fund, PO Box 200, Sevenoaks, Kent, TN15 8JL.
Further details on the Motorsport Safety Fund and its products can be found by logging onto www.motorsportsafetyfund.com
[ Top ]
---
Practice At Warden Law Before S1 (04/05) UPDATED
To ensure quality testing time at a circuit that will be unknown to many TKM drivers there will be a dedicated practice day on Thursday 2nd June. Track time will be in sessions of 15 – 20 minutes. No other karts will be allowed onto the circuit and all drivers must be registered for this year's TKM Super One. Normal charges apply, being £30 for non members and £25 for members.
On Wednesday 1st June the usual Owner Driver testing will take place allowing TKM drivers an additional day of testing. The café will be open both days. Further details from the circuit on 0191 521 4050 or visit the Karting North East website. Please note amended date for TKM exclusive practice is now Thursday 2nd June.
[ Top ]
---
British Champs Action At Clay (03/05)
After the third of six scheduled 'double' rounds of the Renault/MSA British Karting Championships at Clay Pigeon over the weekend, Jason Parrott, Matthew Bell and Lee Bell, as Championship leaders in their respective classes, are set to enjoy a fantastic day as guests of Renault UK and the Renault F1 Team at a F1 Silverstone test day next month. To find a brief report on the weekend's events, click here.
Photographs courtesy of Chris Walker - www.kartpix.net
[ Top ]
---
Snell Bounces Back (03/05)

Following a crash at the first round of the Super 1 National Karting Championships at Buckmore Park in Kent, which left him with a cracked rib, Oxfordshire based Junior TKM driver Sam Snell has bounced back in style.
At the second round of the Championships at Fulbeck in Lincolnshire on the 24th April, the young driver, who celebrated his thirteenth birthday the day after his accident, took a heat win against the best 11 to 16 year old drivers in the country and was running in a comfortable 7th position in the A final until mechanical problems intervened.
Better was yet to come when, on Sunday 1st May, Sam entered a charity event in aid of Brazilian children at the Whilton Mill circuit near Daventry in Northamptonshire and came out on top in the Junior TKM class after a gruelling 55 laps of pre-final and final. Martin Brundle was there to present Sam with his trophy and a bevy of Brazilian babes rounded the day off nicely.
Sam would like to thank his Mum and Dad for their sponsorship, Gordon Finlayson of GFR Racing Engines for providing the power to win and A & A Autos of Wheatley for keeping his ancient Karting van on the road.
[ Top ]
---
Wildtracks Summer Championship (29/04)
Wildtracks are holding a 4 round non-MSA summer championship kicking off on Sunday,15th May at their circuit 5 miles north of Newmarket alongside the A11.
All MSA classes will be catered for, and 3 out of 4 rounds are to count so don't worry if you have your holidays booked. Great trophies each round and fantastic prizes for the Championship winners.
Race dates are: 15th May, 26th June, 17th July and 21st August.
For a great day out for all please call Wildtracks Karting on 01638 750496 for your entry form or email mark@kartingsupplies.wanadoo.co.uk
No membership or licence required, entry closes the Wednesday prior to the meeting.
[ Top ]
---
Rotax Max Festival (29/04)
Lydd International Raceway in association with Trackside Racing Limited are pleased to announce the 1st Rotax Max Festival to be held on the weekend of 30th & 31st July 2005, with an open practise day on the Friday 29th July.
The following events will span the two race days, with the 3rd heats and Grand Finals taking place on the Sunday.
Mini Max
Junior Max
Senior Max
Heavies
100 lap Race (Saturday)
4 Hour Endurance Race (Sunday)
George Robinson will be giving a light-hearted talk in the evening of the 30th in the Heron Restaurant at Lydd Circuit.
Dinner & Bar facilities available in the Heron Restaurant on Saturday night with games and entertainment planned.
Free camping on site to registered teams / drivers.
Costs:
Sprinting - £100 (Saturday & Sunday) including Friday practise, Saturday practise, Qualifying, 3 Heats & Finals.
100 lap Race - £120 (Saturday) limited to 32 entries including Friday practise, 30 minute Practise/Qualifying, 100 lap race on Saturday.
4 Hour Endurance Race - £275 (Sunday) limited to 32 entries including Friday practise, 45 minute Practise/Qualifying, 4 hour race on Sunday.
Trophies & Prizes - 1st prize New Rotax Engine per event, plus trophy. 2nd to 5th trophies per event. Spot prizes. Manufacturers Cup - Going to the manufacturer or representative of the manufacturer whose chassis wins the most events. Entries close on 15th June 2005. There will be late entry fee payable of £25 if entries are not fully completed and paid for in full by this date. Entries will be strictly on a first come 1st served basis.
For Sprint Events send £20 to secure your place initially, stating name, address, email, contact phone number, driver, kart chassis & class entered, you will then be sent out an information and registration pack, balance of the entry fee is payable no later than the 15th June 2005. Address applications to Carlos King or Karen Hilder, Lydd International Raceway, Dengemarsh Road, Lydd, Kent, TN29 9JH.
For Endurance Races send £20 to secure your place initially, stating Team Name, Team Contact, address, email, contact phone number, driver, kart chassis & race entered, you will then be sent out an information and registration pack, balance of the entry fee is payable no later than the 15th June 2005. Address applications to Sue Hart, Trackside Racing Limited, Bayford Meadows Kart Circuit, Symmonds Drive, Eurolink Industrial Estate, Sittingbourne, Kent, ME10 3RY.
[ Top ]
---
Matt Bell (29/04)
Following Round Two of the TKM S1 at Fulbeck in Lincolnshire last weekend Matt Bell would like to thank John, Liz and Dave of JKH, Brian Cole of Flex Motorsport and Chris Hawes from JKH Southern for all their assistance in winning the opening two rounds of the 2005 S1 TKM Intermediate Championship.
Brian Cole of Flex Motorsport (07832 384835) supplies Matt with ultra reliable competitive engines whilst Chris Hawes of JKH Southern (07946 585886) provides Matt with technical information and is the Southern stockist for both the JKH and Intrepid Karts. Chris has recently moved to new premises in Welwyn Garden City where he has both a showroom, stores and manufacturing facilities.
[ Top ]
---
Rye House Charity Kart Event (28/04)
Fancy your chances against a former F1 driver? Think you could show some Karting champs the way home? If so this is your chance to enter into one of the biggest charity Kart races in the UK. On Saturday 11th June an assortment of celebrities, karters and enthusiasts will gather at the Rye House Kart circuit in Hoddesdon for this annual event.
Confirmed attendees so far include:
Mike Wilds - Former F1 driver and World Sports Car champion.
Lewis Hamilton - International F3 driver and current leader of the F3 Euro Series, and occasional McLaren test driver.
Mike Conway - Reigning Formula Renault Champ and F3 racer.
Karen White - Former page 3 girl.
This team event for between 2-5 drivers will be held over 2 hours, with a 20 minute practise session beforehand. All Karts will be identical 70mph Pro-Karts. Arrival time is scheduled for 17:30. The charity this event is being held in aid of is CLIC (Challenging Cancer and Leukaemia in Childhood (www.clic.uk.com) and as ever with these things the aim is to raise more than last year!
Of particular interest to the sports car fraternity, up and coming photographer Matt Watkinson (www.mattwatkinson.com) has kindly agreed to donate his services for the event and will be there taking photos all night which will then be available to purchase with all proceeds going to charity.
If you are interested in entering a team or have any questions about the event please contact the organiser, via e-mail at: Myles.Packman@drkw.com
[ Top ]
---
Karting Stars Head To Dorset (27/04)
Britain's top Kart drivers will descend on Clay Pigeon Raceway in Dorset this weekend, 30th April/1st May, for what promises to be a highly eventful and exciting third round of the Renault-sponsored B4 Group British Karting Championships.
With an unusually short gap of only a fortnight since the previous round of the season, this weekend's meeting at Clay Pigeon could well prove to be a turning point for many of the drivers. Not only will they be battling for championship points, but also the chance to attend an exclusive Formula One test day at Silverstone Grand Prix Circuit in Northamptonshire as a guest of Renault UK and the Renault F1 Team. This wonderful opportunity will be open to whichever drivers hold the respective leads of the Renault-backed Formula A, Formula ICA and Formula JICA classes following the conclusion of this weekend's races.
Formula A - In the country's premier Karting category, former champion Gary Catt (Andover, Hampshire) holds a 12-point lead in the driver standings from rising star Jason Parrott (Crowland, Peterborough) while 2003 Formula JICA Champion Riki Christodoulou (Sutton Coldfield, West Midlands) is in third position.
A couple of great points-scoring Finals victories at PF International two weeks ago ensured reigning champion Mark Litchfield (Rocester, Staffordshire) moved into the top five in the title race, while leading lady karter Tiffany Chittenden (Chislehurst, Kent) will be aiming to repeat her excellent performances of a fortnight ago.
Formula ICA - Matthew Bell (Morpeth, Northumberland) almost saw his 100 per cent win record for the 2005 season come to a sudden halt at PF International, but the youngster fought hard to claim victory in both points-scoring Finals and now holds a healthy 25-point lead over nearest rival Daniel Rowbottom (Mamble, Kidderminster).
Things are much tighter a little further down the Formula ICA championship table however, with only eight points separating third placed Benjy Russell (Wisbech, Cambridgeshire) from Henry Arundel (Arundel, West Sussex) and Garry Findlay (Eye, Suffolk) in joint-sixth position.
Formula JICA - The country's number one junior class has seen a real upsurge this year, the huge field of more than 30 karters having provided some great racing during the opening two rounds of the season.
Lee Bell (High Wycombe, Buckinghamshire) will be aiming to increase the eight-point championship lead he took two weeks ago while Will Stevens (Hadleigh, Essex) will be hoping for a return to the dominant form he showed during the opening meeting of the season at Three Sisters. Ollie Millroy (Claygate, Surrey) and Oliver Rowland (Penistone, Sheffield) should also be strong contenders at Clay Pigeon.
Round three of the 2005 British Karting Championship, the halfway point of the season, takes place at Clay Pigeon Raceway in Dorset, approximately 9 miles south of Yeovil on A37, this Saturday, 30th April, and Sunday, 1st May.
[ Top ]
---
Bellisimo Birel! (26/04)

After two rounds of the MSA S1 series Birel frames lead the Formula A and ICA Championships! In FA, 2003 British Champion Gary Catt (M32ST PFI) has made a solid start with a win and 2nd place in Rd 1 at Wigan and with a further 2nd and 3rd place at PF International, Catt looks in good form as does team mate Mark Litchfield (M32ST PFI), at Wigan mark suffered carburetion problems but bounced back at PF International to take two straight wins! Riki Christo (M32ST Fullerton) has graduated to FA this year and with a win at Wigan has shown some electric pace already, at PF International the youngster diced for the lead in the early stages before a technical problem slowed his pace resulting in a sixth place. The PF International drivers Litchfield and Catt continue to be great ambassadors for Birel, young Riki Christo though has shown his appetite for glory making the FA title assault a Birel trio!
FA Championship: 1st: Gary Catt, 3rd Riki Christo, 5th Mark Litchfield.
In 1990 Darren Gibbs opened the season with 5 straight round wins and went onto the Championship, in ICA Matt Bell (M32ST Simpson Int) must have similar ideas as the youngster has dominated with four straight individual final wins. Having moved from up from JICA his pace has been blistering and he now stands clear at the top of the Championship. Benjy Russell (M32ST Team ST) has also made a good start, the returnee from retirement has seen him with good results, a 2nd and a 5th at PF International round now sees him lie in 5th place. Pre-season favourite Dan Cruttenden (M32ST ACR) has had mixed fortunes. After shadowing Matt Bell in the first two rounds he finds himself in 10th position in the Championship after a technical failure at Wigan whilst 2nd and a 9th from the back of the grid. The PF round was not much better, after leading both finals only resulted him a 4th and a 9th with Cruttenden visiting the grass in each final. There is though no doubt, the Birel line up of Bell and Cruttenden will be a force to be reckoned with this season in ICA but Bell certainly looks determined in his first ICA season.
ICA Championship: 1st Matt Bell, 5th Benjy Russell, and 10th Dan Cruttenden.
Next Round: Clay Pigeon 1st May 2005.
[ Top ]
---
European Superkart Championship (26/04)
In 2005, the CIK-FIA European Superkart Championship will comprise of three events, with two races in each. The first event will be held on the German F1 Grand-Prix circuit in Hockenheim on 6th and 7th May. The second event is scheduled for 5th, 6th and 7th August in the Dutch temple of motorbikes, Assen, where last year no fewer than 42,000 spectators saw exciting racing counting towards this European Superkart Championship. The third and final round will be held in Sweden on 16th, 17th and 18th September in Mantorp Park, within the framework of the final of the Swedish Touring Car Championship (STCC), which is always a popular well supported event.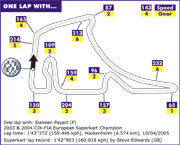 The 2005 European Superkart Championship campaign will start in Hockenheim with 60 drivers from 8 different nations taking part in the season's opener. The reigning double Champion, France's Damien Payart, will put his title on the line but expects to face ever fiercer competition this season, especially from British drivers John Riley, Mark Owens and Steve Edwards. It will also be interesting to follow the debut of the Canadian engine BRC, the switch to Division 1 of Britain's Malcolm Crowe and Gavin Bennett, as well as the first steps in the European Championship of the youngest driver in the category, Emmanuel Vinualès. Vinualès Junior is the son of François (winner of a European Championship event in 2002 and 3rd in the 2003 and 2004 Championship); he caused quite a stir at the beginning of April by winning the opening race of the German series (Superracekart) on the same Hockenheim circuit ahead of strong competition.
One To Watch! Ib Petersen, 40 years of Kart racing! The Karting category for fast Grandads is of course Superkart where the drivers' average age is over 40, - whereas it's under 20 in Formula A, the 100cc World Karting Championship category. This new season is especially important for the Dane Ib Petersen (62 years old) as several years ago he promised himself that he would not end his career before 2005, because 2005 will mark his 40th season of Karting competition! 40 years of an uninterrupted career that he began with a twin-engine McCulloch Kart in 1966, which rapidly gave him the opportunity to travel throughout Europe with his inseparable brother and mechanic, Ole. By their having raced for four decades, the Petersen brothers belong to those enviable and most appreciated characters of the Superkart family. They are a typical example of enthusiasts for whom the sport is above all a pleasure. "We know practically everyone in Superkart and it is a pleasure always renewed to see our friends on the circuits, everywhere in Europe. My brother and I never go on holiday. Racing travels are our own holidays!" Ib explains. Quite frankly, Ib Petersen confesses that he does not race to win but mainly seeks to enjoy himself. "Only Superkart can offer so many sensations for an affordable price. I know that I can't aim to win but there is also competition between the average racers, and whatever my position I always try to beat the guy ahead of me." Among many others, two memories often resurface. "In the early 70's I finished 16th in an event at Silverstone and although at first sight this result may seem modest, it was in the heyday of Superkart, with 180 drivers! More recently, in 1998, I finished 2nd in the Scandinavian countries Championship. It was pure luck (Ib had rightly fitted wet weather tyres unlike most of the others), but even then it is still a good memory!" Yet Ib Petersen is not yet ready to be content with just memories and is already looking ahead to 2006, it would be his 41st season at the age of 63, and he says; "As long as I enjoy racing I will continue!" - and we say: Good for you Ib!
The results of this first round of the CIK-FIA European Superkart Championship in Hockenheim will be published during the event on the CIK-FIA website. Friday 6th May will be dedicated to non-qualifying and qualifying practice. As for the two races, they are scheduled for Saturday 7th May, at 10.40 and 15.35 hours.
[ Top ]
---
Maintaining The MAX DVD (21/04)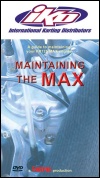 Maintaining The Max DVD producers Fastroc are pleased to announce that Australian based company International Karting Distributors (IKD) have become the sole distributors for the DVD in Australia.
Speaking for Fastroc Neil Ashcroft said, "Since its launch in December and its recent review in Karting magazine the demand for the DVD has been nothing short of fantastic and in the UK, Karting magazine and KKC do a great job in supplying the demand. There has been a lot of interest from Australia and New Zealand and IKD are very well placed to support that demand with an excellent marketing and distribution network already in place." IKD can be contacted via there website www.internationalkarting.com or e-mail them at: intkartdist@bigpond.com
In the UK contact Karting magazine at http://www.kartingmagazine.com/ or KKC www.kkckartshop.com for your copy of the DVD.
[ Top ]
---
MSA Tackles DEFRA (21/04)
The Motor Sports Association has vowed to fight all the way to Brussels to safeguard the future of nearly 50 percent of its sanctioned motor sport events after the government decided to stop subsidies to farmers who allow part of their land to be used, even temporarily, for any form of motor sport.
The MSA has joined forces with the governing body of motor cycle racing (ACU) and other affected parties to challenge the Government's decision, channelling its efforts through the Land Access & Recreation Association (LARA) of which the MSA is a founding member and major funder.
The Single Payment Scheme (SPS) replaces the Common Agricultural Policy and now pays farmers for the land they own, not what they produce. The European Directive on agricultural subsidies does not prohibit motor sports on land eligible for SPS. However, the Department for the Environment, Food and Rural Affairs (DEFRA) has taken the decision, without consultation, to stop these payments to UK landowners if agricultural land is used, even temporarily, for motor sport.
Activities that will be particularly impacted are autograss, autocross, sporting trials, production car trials, 4x4 events and some rallies.
"We believe the current guidance from DEFRA to landowners is incorrect, is inconsistent with EU policy and fundamentally threatens the future of motor sport in this country. The MSA is a founding member and substantial funder of LARA and it is entirely appropriate that the concerted response of all interested parties to this threat is channelled through LARA. We hope to have a successful conclusion to our urgent dialogue with DEFRA, but should the need arise we are prepared to pursue this issue further," said Colin Hilton, Chief Executive of the Motor Sports Association.
[ Top ]
---
UKPollards Site Expanded (20/04)
In response to consumer demand the UKPollards Gx160 product list has been expanded to include an ebook, with online download; a paperback is also available once again and there's a whole raft of new services. Visit www.ukpollards.com for further information on their Gx160 and Rotax Max offerings and a whole lot more.
[ Top ]
---
British Kart Industry Association (20/04)
The Association supports the development of Karting and promotes the British Kart Industry both in the UK and abroad. It provides its members with information, advice, support and assistance on industry and consumer related matters, and its members offer professional advice on the sport and equipment to all with an interest in Karting.
The BKIA represents the Karting industry's manufacturers, retailers, circuits, associated businesses and organisations, and has reported an increase in membership in the past year. If you are involved in the British kart industry, shouldn't you be a member? E-mail: info@bkia.co.uk for further information.
[ Top ]
---
Zip Young Gun Takes First Win (19/04)
On Sunday 17th April, Oliver Rowland became the youngest ever winner of an MSA Super One JICA event. At just 12 years old and in only his 5th JICA race, the Sheffield youngster had a fantastic weekend at his home circuit of PFI. Oliver was competing against 33 other top drivers and he put his TopKart/Parilla outfit on pole position in Saturday timed practice and followed this up on Sunday by winning both heats. After a hard battle in final one he eventually finished 3rd and lined up on the second row for the final race. Oliver didn't have it all his own way in the final and a tremendous battle developed between Oliver, Lee Bell and Ollie Millroy. The Zip Young Gun hit the front with about 8 laps remaining and it was a lead he was never to relinquish. Oliver crossed the finish line with over a second between him and Lee Bell in the runner up position much to the delight of the entire Young Guns team and his family.
Nicholas Cristofaro took an excellent 2nd place in the Cadets (provisionally) while James Godbehere endured a nightmare weekend and could only finish a lowly 22nd after absolutely nothing went right for him.
All at Zip Kart would like to congratulate Oliver on his first win in JICA.
Oliver uses a 2005 Top Kart Evo chassis, Comer and Parilla engines, Bridgestone tyres, Arai helmets and OMP racewear. All available at Zip Kart - 01992 463371 - www.zipkart.com
[ Top ]
---
RAFMSA Kart Championship (19/04)
The RAFMSA has regretfully announced the cancellation of the 2nd round of the RAFMSA Kart Championship that was to be held at the Little Rissington circuit in May. This is due to a rejection of planning permission.
The Championship will continue with the round scheduled for the Crail circuit in June.
[ Top ]
---
British Champs Action At PFI (18/04)
Another weekend of top class racing saw Mark Litchfield take a double win in the Formula A class of the Renault/MSA British Karting Championships, and in Formula ICA Matthew Bell continued his dominance with two more wins to add to his double at the opening round last month. In Formula JICA there was a win apiece for Lee Bell and Oliver Rowland, which was enough to give young Bell the provisional overall lead in the JICA driver standings. A brief race report can be found here.
Round 3 of the Championships take place at the Clay Pigeon Raceway in Dorset on Sunday 1st May and another competitive weekend is in prospect, especially as whoever heads the provisional Formula A, ICA and JICA driver standings after the upcoming event will receive an invitation to be an exclusive guest of Renault UK and the Renault F1 team on Wednesday, 1st June, at Silverstone Grand Prix Circuit, taking a rare behind-the-scenes look at a Formula One test session including a tour of the pit garages and lunch with the Renault F1 team.
Photographs courtesy of Chris Walker - www.kartpix.net
[ Top ]
---
50 Years Of Marshalling (18/04)
In 2007, the British Motorsport Marshals' Club (BMMC) will celebrate its 50th anniversary. To commemorate this event, national treasurer George Copeland hopes to put together a history of the club and the changes which have taken place in 50 years of marshalling.
George intends it to be a fairly light-hearted history of marshalling, but wishes it to be historically accurate. He said: "I need lots more information about the early days, if the history is to make any sense. I would like to hear especially from anyone who remembers the Marshals' Club being formed, the changes this brought about and the views anyone in motorsport as to what purpose the club might fulfil in the future.
"What was marshalling like before the Marshals' Club came along? How quickly did the club make an impression on the marshalling scene? Some people in authority thought that it would become a marshals' union and that there would be strikes and all that went with the worst of unionism at that time. Thankfully, this never was the case. By the time I became involved, many who harboured these suspicions had become the club's greatest supporters."
George would like to contact people with personal memories of the very early days of the BMMC, or who knows how to contact anyone who might. He would also like to hear anecdotes about marshalling occurrences, and stories about interesting characters involved with the BMMC or marshalling in general. Once enough contributions have been received, George plans to organise them. As he said: "I am sure I can rely upon some of our journalist friends to help, if this proves to be beyond my limited literary talents. . ." Should it become worth publishing, all proceeds will go to BMMC club funds, for allocation to suitable marshalling causes.
All contributions should be sent in writing to George W Copeland; E-mail macgwc@aol.com or post to; Long Barn House, Ravenstone, Olney, Bucks. MK46 5AS.
[ Top ]
---
Kartshop At Lydd (15/04)
WMS Kartshop at Lydd is now open for business. They are currently completely revamping the shop to accommodate a massive influx of stock thanks to the help and backing of KKC. They're currently stocking all parts and accessories to suit all aspects, also soon to be taking stock of the complete range of SHIFT Racewear, as well as being southern agents for Redspeed chassis' and stocking all OTK products.
For test days and sales enquiries contact Matt at the shop seven days a week on 01797 321075 or e-mail wavertreemotorsport@yahoo.co.uk and you can be assured they will do their best to help you.
[ Top ]
---
British Championship Karting (15/04)
PF International circuit near Grantham in Lincolnshire plays host to the UK's premier Karting talent this weekend, 16th &17th April, when the Renault-backed B4 Group British Karting Championships resume for the second meeting of the 2005 season.
The opening round at Three Sisters Circuit last month provided some fantastic wheel-to-wheel race action, with two young stars in particular emerging as very real prospects for title glory this season – Formula JICA's Will Stevens (Hadleigh) and Formula ICA's Matthew Bell (Morpeth, Northumberland)
Formula JICA. In the headline junior category of the British Karting Championships, Will Stevens enjoyed a faultless weekend at Three Sisters with a brace of excellent wins in the two points-scoring Finals. Heading to PFI, Stevens holds a maximum 100 points but is still only four clear of chief rival Lee Bell (High Wycombe, Buckinghamshire). Ollie Milroy (Claygate), Scott Jenkins (Winterbourne Dow) and Adam Christodoulou (Shenstone, Lichfield) though, will all be keen to close the gap on Stevens and Bell during round two.
Formula ICA. In Formula ICA, Matthew Bell also achieved two excellent wins at Three Sisters but, unlike Stevens in Formula JICA, Bell completely dominated proceedings – and even overcame a near disastrous collision in Final One to still win by over five seconds. Bell's closest rival at PFI looks set to be Tom Brown (Irchester, Northamptonshire), who is eight points adrift in the title chase, but other names to look out for will be Richard Singleton (Conwy), Jonathan Walker (Blackburn, Lancashire) and Henry Arundel (Arundel, West Sussex).
Formula A. The blue riband class of the British Karting Championships certainly looks very competitive this season with former champion Gary Catt (Andover, Hampshire) currently leading the standings by seven points from 2003 Formula JICA Champion Riki Christodoulou (Sutton Coldfield, West Midlands). Jason Parrott (Crowland, Peterborough) produced two solid points-scoring finishes at Three Sisters, as did David Gregory (Sheffield), therefore both drivers are level-pegging in third position in the championship standings ahead of round two.
[ Top ]
---
New Zanardi Agents (14/04)

Team Racetek Motorsports (TRM) has been appointed as southern agent for the complete range of Zanardi karts. Karts are in stock now and test drives are available. For more details contact Lee on 07754 966952 or email: lee@racetek.freeserve.co.uk, or visit www.soixante.co.uk
[ Top ]
---
Rotax Max Con Rod Failures (13/04)
There have been an abnormally high number of con rod failures recently. Due to the unknown extent of the possible failure rate, the manufacturer, BRP-ROTAX recommend a recall of engines for a con rod replacement. Customers who have purchased engines within the range of engine numbers from 8223982 to 8226247 are advised to contact their Service Centre or JAG Engineering who can advise on how to proceed. All affected engines will have con rods replaced, parts and labour free of charge.
BRP-ROTAX and JAG Engineering the UK importer apologise for any inconvenience caused and hope to rectify the situation as soon as possible.
JAG Engineering may be contacted by telephone on 01892 611805, or by Fax to 01892 611806.
[ Top ]
---
Waterman Set To Educate His Rivals (12/04)

A leading education sector specialist is about to enter the high-speed world of Karting, by supporting Junior TKM racer, Will Waterman. Education Direct is sponsoring the 14-year old in this year's Super One, as well as the Rissington and Whilton Mill club championships.
"Our business is all about strengthening relationships between the education sector and organisations that supply materials to schools, colleges and universities," commented director, Jason Gould. He added, "Helping to further the career of a young British racing driver therefore fits perfectly with our business principles. We've been following Will's career during the past twelve months or so and he's made huge progress. There's every chance that he could become a real star of the future."
Waterman, whose father Neil is a manager at the Red Bull Racing Formula One team, has enjoyed a bright start to the season, with three wins from five races and a heat win in the opening round of this year's Super One at Buckmore Park.
As the UK's leading direct marketing agency for the education sector, Education Direct offers clients an unrivalled suite of specialist services, including list rental, marketing software and call centre, as well as a comprehensive mailing service.
You can follow the progress of Will Waterman in this year's British Championships by visiting his website at www.willwaterman.org
[ Top ]
---
Karting TV Show (11/04)
Fantom Films Limited, a new Media Production Company based in the Midlands, UK is looking for people to take part in a new TV show about Karting. Applicants must be 16 years or over, but younger karters don't worry, your chance may come soon too!
Further details about the show will be available after applying, but in the first instance please e-mail stuart@fantomfilms.co.uk with your name, address, phone number, e-mail and a brief summary of your Karting credentials. No past TV experience is necessary but feel free to include any you may have had. Ideal candidates are easy-going off track but competitive on it and can express themselves in a clear and precise way. Specifically they are looking for those that compete at the higher levels of competitive Karting.
Due to the early stage of the show's development, actual filming dates are not yet available. However they envisage commitment to require just a few days in total either late this year or early next year.
[ Top ]
---
UK Pro Kart Team Sprint Challenge (08/04)
Stretton Circuit challenge the best Pro Kart sprint drivers in the country to take part in the inaugural race of this new format. Teams of 3 from each circuit will race over 6 hours to find the top trio of sprint drivers.
The format is simple. 3 karts, 3 drivers, 6 hours. Racing takes the form of a relay race. Drivers enter the pits to change, swap the transponder into the next kart and off you go. 24 teams of top drivers racing to be crowned UK Team Sprint Champions.
Stretton have always looked at new and exciting ways to race and feel that this format is a great opportunity for the sprint racers to stretch their legs. Team sprinting is a totally new form of racing. Initially, entries will be restricted so that each circuit has the opportunity to enter a team(s). Team colours will be openly encouraged and an award for the best turned out team will also be made.
Bank Holiday Monday 30th May - Race day format.

8.00am - 9.30am. - Sign on
9.30am - 11.00am. - Qualipractice
11.30am - 5.30pm. - Race
6.00pm. - Presentations
Qualipractice. Qualipractice gives each driver the opportunity to practice and qualify. The grid will be formed by the fastest time set by any of the team karts. Only one kart per team will be allowed out at a time but teams are free to change karts as many times as they wish (just swap the transponder) and go for the fastest lap.
Race. You decide who goes out and when, the only stipulation being that each driver must go out at least once. If you loose a kart along the way, simply swap the transponder onto the next one and get racing again. During the course of the race, you decide your own strategy and call your team mates in to change.
Represent your circuit at Stretton on 30th May and be the first to be crowned UK Team Sprint Champions. For more information, e-mail: nick@stretton2000.com
[ Top ]
---
Le Mans and UK 24hr Events (08/04)
With the sad demise of the European Endurance Championship, the promoters of the Le Mans 24hr race and the UK 24hr race at Rowrah, (culminating in the 2005 Euro Cup) are keen to fill the remaining available places at both events, with any teams that are still interested in competing in a 24hr race this year. The UK 24hr race has just 7 places left and there are 10 places available for the 24hr Le Mans event.
Interested teams should call Bob Pope 01642 231117 for Le Mans. Details for the UK 24hr race are available on www.24hr-karting.co.uk or phone Ted Poole on 02380 463467 or Paul Bowler on 01252 615728.
[ Top ]
---
New Open Endurance Championship (07/04)
An exciting new endurance championship is to take place at Whilton Mill circuit, with the first round scheduled for Sunday 17th April, with classes for Senior Max, ProMax, ThunderKart, Biland, WRK and ProKart, there will also be an Open Class allowing various non-gearbox classes. All races will be 4.5hours duration. Offering superb value at £150 per round, the championship will be run over 5 races.
Series Clerk of the Course Andrew Hornsey said "In a short space of time, with the support of many teams, Whilton Mill and myself have managed to arrange the championship. It will not only give newcomers in various types of kart the chance take the first step into owner driver endurance karting, but will allow more experienced teams the chance to race against teams with both equal and similar equipment."
A test session is planned for Sunday 10th April, and teams booking into the first round will get the test session for just £20.
For further information, call Andrew Hornsey on 07976 134762, or email him at andrew_hornsey@yahoo.co.uk, or visit www.openendurancechampionship.co.uk (due shortly).
[ Top ]
---
World Motor Sports Council (07/04)
During its meeting on 30th March 2005 in Paris, the World Motor Sport Council of the FIA took the following decisions regarding Karting:
The Sporting Regulations governing the future World Cup for the ICA category to be organised as from 2006 within the framework of the CIK-FIA World Karting Championship have been approved. Eligible drivers will be the finalists of CIK-FIA continental Championships for the ICA category, the top 15 classified in the CIK-FIA Viking Trophy for the ICA category, as well as the top 3 classified in the Zone Championships recognised by the CIK-FIA and the top 3 classified in national Championships organised for the ICA category.
The method of calculation of the final classifications of the CIK-FIA European Championships held over several events (Formula A, Super- ICC, ICC and Superkart) is modified with immediate application: 80% of the results (rounded up or down to the nearest figure) will henceforth be taken into consideration for the drawing up of the final classification, instead of the rule retaining 50% of the results + 1 event. In other words, for the final classifications of the European Formula A, ICC and Superkart Championships, the 5 best results (out of 6, the maximum possible number of results) of each driver will be retained; in Super-ICC, the 3 best results (out of a possible total of 4) will be retained.
As regards drivers' international licences, a grade D will be introduced as from 2006 for specific events (generally World Formula and endurance races) held for equipment with a power of less than 15HP. As for the minimum age required for the granting of grades C-Junior and B international licences, it will no longer be strictly based on the date of the applicant's 13th or 15th birthday; it will also be based on the following criterion: reaching one's 13th or 15th birthday during the first six months of the competition year. This rule will be introduced on 1st January 2006.
[ Top ]
---
BPKC Summer Championship (06/04)
The first round of the BPKC Summer Championship gets underway on Sunday 17th April. Open practice will be available on Wednesday 13th and Saturday 16th from 10am to 4pm. This meeting also includes a round of the Dadson Gentleman's Challenge for senior Rotax. Be sure to get your entries in by the closing date. You can download these direct from the Buckmore Park website or phone club secretary Sheila Rose on 01634 661604.
[ Top ]
---
European 24hr Championship (05/04)
The organisers have regretfully announced that the entire European 24 hour series is being cancelled. This has been done because of the general lack of entries into the series. The promoters would like to see all potential entrants take up places in either or both the other two 24 hour series being promoted, Le Mans and Rowrah, and wish them all well.
[ Top ]
---
Lydd Raceway Kart Shop (04/04)
Wavertree Racing (Matt Napolitano and family) have taken on the lease of the Lydd Raceway Kart Shop as of 1st April 2005. There have been many changes at the circuit over the last few years and the latest is the full renovation and stocking of the kart shop.
Another announcement regarding the services being offered will follow, but needless to say they have some amazing plans that will finally allow the Lydd kart shop to realise its full potential. Until a separate business number is announced, if you have any questions about the shop, please contact the circuit on 01797 321895.
Carlos King and all at the circuit are very excited about this joining of forces and wish Wavertree Racing all the success in the coming season and beyond.
[ Top ]
---
Karting Yearbook 2005 (31/03)

It's here! The eagerly awaited Karting Yearbook 2005 has now been published and is a fantastic reference guide crammed with around 350 photographs and profiles of over 500 drivers. The 416 page A5 book edited by Stephen McCormack and Andrea McGuire covers all MSA competitions from 2004 with special coverage of the Stars of Tomorrow and Super 1 championships as well as sections on WTP, NKRA, NKA, Superkarts and F6. Each ABkC club has its own section in the book with details of officials, track guide, directions, 2004 club champions and season review. A comprehensive 2005 fixture list, summary of UK karting classes and much more are also contained in this superb publication. Order your copy now from Karting magazine.
[ Top ]
---
Formula TKM (29/03)
A Formula TKM rule clarification has been issued, effective 1st April 2005, regarding rear axle ride height. Further information and details can be found at www.tal-ko.com
[ Top ]
---
Plowman Injured In Italy (28/03)
Britain's Martin Plowman suffered serious injury as a result of a first heat accident in Round One of the Italian Open International Kart Championship at Lonato on Saturday 26th March.
After qualifying sixth, Plowman started the first race well. Two to three laps into the heat, Plowman went off on the notoriously fast first corner, on what was believed to be water left on the track following an accident the previous lap. His kart hit the fence and also struck a driver standing behind the fence, who was involved in the previous lap's accident.
Upon arrival at the Desemzano Hospital at Lonato, it was discovered that an unknown object had gone through Plowman's rib protector and suit, puncturing a 2.5-inch hole in his lung on the right hand side. Plowman underwent emergency surgery on Saturday night and is now comfortable.
Mark Plowman, Martin's dad, commented: "Everyone has been so fantastic, the hospital staff and the doctors have been simply amazing. So many people have taken the trouble to come to the hospital and see if Plowey is OK, the support and care has been truly overwhelming and touching. We'd like to thank everyone for their warm wishes."
"Plowey's much more comfortable and is now just concentrating on getting better. He will be kept in hospital for the next four days or so, until the chest drain is removed. He'll then have to stay in Italy for another two or three weeks, under the expert care of his Team Zanardi manager Dino Chiesa, so he can fully recover before flying home."
[ Top ]
---
2005 CIA-FIA World Karting Championship (23/03)
The FIA is inviting any entity interested in exploiting certain audiovisual rights relating to the 2005 CIK-FIA Karting World Championship for drivers (a single event, to take place from 22nd-25th September 2005 in Braga, Portugal), to submit a bid in response to the publicly issued invitation to tender, before the closing date of 4th June 2005.
The procedure to follow for submitting such bids is accessible on the FIA website.
[ Top ]
---
BS Spec Helmets (21/03)
The Kart Shop at Buckmore have recently taken delivery of a large consignment of helmets to BS6658 Type A specification. These helmets are becoming increasingly difficult to find as many of the major manufacturers are testing their helmets to the EEC specification ECE 22-05 which is not accepted for racing purposes.
The helmets are available in all sizes and priced from £85. Ring the shop on 01634 672256 for more information.
[ Top ]
---
ARC Motorsports Ltd. (18/03)

Being established for over fourteen years, ARC is one of the UK's leading Kart manufacturers specialising in the development of true British Karts for British circuits.
Following on from the launch of the new 2005 range of ARC Karts at the Telford Kart Show last year ARC bring you their new website to coincide with their fresh new image. Developed by promomoto, the new site provides visitors with the facility of viewing the full range of ARC Karts online via the innovative showroom facility along with information on their race team and Silverstone showroom.
Experience for yourself the 'new' ARC at: www.arcmotorsport.co.uk
[ Top ]
---
Karter Launches Supporter's Club (17/03)

Minimax racer, Conor Stephenson, has taken the innovative step of launching his own supporter's club, to help fund his career. Targeting businesses, the club will offer companies PR support, discounts on professional marketing and design services and advertising space on Stephenson's kart and race-truck for a small monthly membership fee. Members will also be entered into a free monthly draw, with prizes including tickets for British Touring car races, F1 merchandise and new-release computer games.
"Rather than just asking companies for straight sponsorship, we thought the supporter's club would allow them to become more involved with the team," commented Stephenson's father - Rocket Karting team owner, Phil Stephenson. "We've tried to include as many business-related benefits as possible, so that supporter's can immediately see that they can get something more than a couple of stickers on the kart in return for their investment."
Stephenson continued his excellent start to the 2005 season, with a dominant performance in the final round of the PFI winter championships earlier this month. Racing against a strong field of 35 drivers, he won both heats to qualify on pole for the final. The reigning Northern NKRA champion retained his advantage in the final and soaked up race-long pressure from four other racers to take the chequered flag. The result gave Stephenson second place in the overall championship.
Stephenson is now preparing for his second season of British Championship competition, with the first round of the 2005 campaign scheduled for 20th March at Clay Pigeon. Further information on the new supporter's club can be found at www.rocketkarting.co.uk
[ Top ]
---
Special Formula TKM Events (17/03)
Tal-Ko Racing are backing two special Formula TKM events taking place this Spring as part of its continued promotion of the Formula TKM classes. The first event takes place at the Three Sisters circuit at Wigan this Sunday where the meeting will feature the two stroke TKM classes. There are two grids of Seniors and another of Juniors/Inters.
The second is at Clay Pigeon in Dorset on 10th April where the Formula TKM Challenge will feature two and four stroke TKM classes. In both cases Tal-Ko will be providing assistance with special awards.
Apart from being an event in itself, the Clay Pigeon one will also be a useful warm up for the Formula TKM ABkC 'O' plate titles which will be held there on 22nd/23rd October. These events are of course in addition to the massive Maxxis Formula TKM Festival which will take place at Kimbolton on 12th/13th/14th August. Entry packs for this event will be released soon.
Further information for the above events can be obtained from the organising clubs or from the Tal-Ko website.
A rule clarification was issued earlier today reference 'Formula TKM 4-stroke rules 2005, rule 46 cooling'. Please note that radiators as supplied from Tal-Ko may have the top mounting brackets either welded or riveted in place. This is due to a change in manufacturing method and both are acceptable. In addition it is permitted to carry out external repairs including welding/brazing to the radiator and its brackets to repair damage. It is not permitted to replace the radiator core.
[ Top ]
---
New Indoor Championship (17/03)
The 2005 Playscape Pro Racing Sprint Championship' at the Streatham Kart Raceway gets underway on 1st May and it's only £35 per round to enter.
Each driver gets 5 heats, and at least one final, and the winner of each round wins a free test on a Club 100 Kart. The overall winner of the Championship gets an entry into the final race of the Club 100 Sprint Series, at Buckmore Park, on 27th November.
The first race is on 1st May, between 6-10pm, and all the races of the 6 Round Championship are on the first Sunday of each month through until October: Round 1 - 1st May; Round 2 - 5th June; Round 3 - 3rd July; Round 4 - 7th August; Round 5 - 4th September and Round 6 - 2nd October. If you sign up to all 6 rounds you get a free 30 minute test on the indoor circuit too.
A Press area is being set up for journalists to interview each of the racers and gather information for the drivers' profile page that's scheduled for the Playscape website, as well as for the race reports. A press conference will also take place for the top 3, with a full transcript of the interviews being placed on the website. Inside the Press area will be photos available for purchase on the day too. Trophies will be awarded at the end of the race, and full race commentary will be provided to help enhance the atmosphere, - and being indoors you're guaranteed to keep dry!
Former World Kart Champion Colin Brown will set a benchmark lap-time, and drivers who beat it get the race event for free! Spaces are limited, so call Enver now on 020 8677 8677 or e-mail enver@playscape.co.uk to book your seat in the 2005 Playscape Pro Racing Sprint Championship.
[ Top ]
---
The TKM Platinum Cup (16/03)
Exciting weekend of TKM racing in prospect with the TKM Platinum Cup coming to Three Sisters, 20 March. With 12 of the 30 Junior TKM competitors coming straight from the first round of the National Championship last weekend, competition will be fierce. The TKM Extreme entry of 55 is headed up by the National Open Champion, Ryan Cole. All the TKM action will be recorded on DVD, with a copy for each competitor.
Practice is available Friday, save £10 by booking at least 24 hours in advance with the circuit on 01942 270230. Watch the website http://mbkartclub.com for the programme due to be published Thursday.
[ Top ]
---
ABkC Four Stroke Championship (16/03)
Since the announcement that the Super 2 series for 4 stroke karts would not run in 2005, there has been some concern that allocated numbers wouldn't be aired and no numbers could be allocated for 2006.
However, a resolution has been found with Cumbria KRC offering to run a one-venue, one weekend Championship event on Sunday 28th and Monday 29th of the August Bank Holiday at Rowrah – the same date that the Super 2 series was scheduled to visit. The event traditionally runs as two separate race meetings with championship points awarded for both meetings. The ABkC titles will apply to Honda only, whilst WF will be eligible for S2 numbers with Ratpro sanction.
In addition to this, Cumbria KRC usually adds up the points from both days with the highest points scorers in each class over the two days being awarded the Lakeland Challenge Trophy. It is on this basis that the National Championship will be decided, and also the 1 to 9 privileged numbers in each class. The meeting is envisaged to cover Honda Cadet, Junior, Senior and World Formula and has had the blessing of both Roger Abbey-Taylor, organiser of the Super 2 series, and the ABkC.
A spokesperson for Cumbria KRC said "We were determined that the momentum of the series should not be lost in 2005, as it can be difficult to return from such a position. With the meeting going ahead as part of our normal club event, we feel we can enhance both the club and championship elements and the competitors will have to travel only once to race their championship. If you add the stunning setting of the Lake District in late summer, everyone wins. By keeping the numbers and the classes alive in 2005, the series can be truly resurgent in 2006 with the possibility of the MSA reaching further into grass-roots karting."
Cumbria KRC are hoping to put a Honda grid on at their 14th August club meeting if enough entries, so get yours in now to marion@markfell.co.uk
[ Top ]
---
Last Round Of The Winter Championship (15/03)
This weekend Buckmore Park hosts the final round of the BPKC winter championship, which of course means that the Summer series is just four weeks away.
There will be open practice as usual on the Saturday preceding the meeting and if you have been hibernating over the cold winter months, this could be just the opportunity to get some testing done before the summer campaign. Full details are available on the Buckmore Park website or via club secretary Sheila Rose on 01634 661604.
[ Top ]
---
Two Arrive & Drive Championships (14/03)

Fast Track Karting in Hull have announced two different Arrive and Drive Championships for 2005. Starting in April is the Fast Track Grand Prix Championship which follows the 11 European F1 rounds. Each round consists of 3 heats and a Final for each driver with points being given at each round in the same manner as F1 races. Prizes are given at each event and at the end of all 11 rounds the top three will win Single Seater driving days at Silverstone. Entry for each round is just £20.
Later in the summer is the Fast Track Endurance Championship. Held over 6 rounds with points and prizes again awarded at each, the overall winning team will win the chance to drive a Ferrari at Silverstone. Entry for each event is £160 per team.
All equipment is provided for all events, and the fleet of karts is thoroughly maintained to ensure a level playing field. For further information go to the Fast Track Karting website or email info@ukfasttrack.com
[ Top ]
---
MaxJet Software (11/03)

HRS Motorsport is now the UK importer for the revised 2005 MaxJet software.
The 2005 HRS software includes the K27 and K98 needles. This is a new version which has been developed and optimized for the UK, covering Senior, Junior & Mini Rotax Max, with free upgrades and support available to existing MaxJet customers. HRS MaxJet software for PC, Palm and Pocket PC costs £39.95 + vat and p&p. Race Jet weather pods and palms are also available.
Contact HRS by telephone on 0191 5238942 or the HRS website or by e-mail to info@hrsmotorsport.com for further details.
[ Top ]
---
The Brazilian Cup (09/03)

How many times have you asked yourself: Where in Britain could I sit on the grid surrounded by stunning Brazilian grid girls? Well here's the answer: Whilton Mill on Sunday 1st May 2005, (with practice available on 30th April).
The Brazilian Cup is scheduled to take place on Bank Holiday Monday at the Northamptonshire circuit in aid of the Brazilian charity 'Children In Hunger' and it's there that you could meet Brazilian drivers from F3, and possibly F1 (subject to availability). A three race championship is being organised in Sao Paolo and the winner will be racing in the Brazilian Cup at Whilton Mill, along with a Brazilian team. So practice your Portuguese and go to www.childreninhunger.org.uk for your entry form and further details. This promises to be the event of the year with some fantastic prizes promised for the winners, and for those who don't. There'll be prizes for the best novice and the slowest too.
This event is in aid of starving children in Brazil who with your help will go a long way to feeding and educating them. Sponsors donating prizes include: DW Racing, Williams Motorsport, Evenflow and Spelfame Karting, and if you think you might be interested in helping sponsor this event too then contact Andrew Hull at andrew@crestmoor.co.uk or call 020 8366 1133.
For more information visit www.childreninhunger.org.uk or www.whiltonmillkartclub.co.uk
[ Top ]
---
24hr Le Mans - Circuit Alain Prost (08/03)
Over the weekend of 2nd/3rd July 2005 the Alain Prost Circuit in Le Mans will host another 24 hour kart endurance race organised by Bob Pope, and this popular annual event is now open to all owner driver Pro-Kart teams, so call now to reserve your place on the grid and join the top teams at this prestigious event.
Enter both Le Mans & British 24hr and receive 10% discount from both events, and the possibility of walking away with the 2005 Euro Cup Champions tag and £1500 cash.
It's a 15th year celebration event this year and spaces are limited so book now to avoid disappointment, telephone +44 (0)1642 231117.
[ Top ]
---
Three Sisters British Champs Action (07/03)
The Renault/MSA British Karting Championships opening round at the weekend produced some exciting racing and saw Gary Gatt and Riki Christodoulou take a win apiece in Formula A. Matthew Bell made a perfect start with a double win in Formula ICA, and young Will Stevens couldn't have wished for better after taking maximum points in Formula JICA. A brief race report can be found here.
[ Top ]
---
Hanley To Compete In FR2000 (07/03)

Brit Ben Hanley, triple Italian 'Winter Cup' Kart race winner, will compete in the 2005 Italian Formula Renault 2000 Championship with the Italian team 'Cram Competition'. Ben has already tested with the team and shown very good pace, the first official Championship test is taking place this week (8th/9th March) at the Vallelunga circuit located 20 miles north of the Italian capital city Rome.
[ Top ]
---
Rissy Launches New Website (04/03)
Rissington Kart Club has launched a new website which it hopes will set new standards within the sport. "We've made significant improvements to the circuit and facilities at Rissington over the past few seasons and have big plans for 2005. Ultimately, we want to be regarded as the best kart club in the country. We needed a website which reflected that and we're absolutely delighted with the result," said competitions secretary, Julie Dredge.
In addition to detailed event information for racers and spectators, the site includes a comprehensive championship archive, a market place page for private advertisers and a guide to Karting, to help encourage newcomers into the sport.
The site also features a competitions page, offering an array of fantastic prizes each month. To launch the new site, Rissington are offering visitors the chance to win a pair of tickets for the opening British Touring Car event of the season, at Donington Park on Sunday 10th April.
Chris Hartley, who has managed the development of the new website for Rissington, commented: "The previous site was packed with useful information and we were keen to retain that level of detail, but we've concentrated on improving the functionality, the quality of the design and the ease with which visitors can locate the information they require."
Launched today, the new site retains its previous address at www.rissykartclub.com
The club has also announced a new initiative for this season, whereby it will offer novices half-price race entries. Open exclusively to Rissington members, the scheme will be available to novices who race at the club, for each of the five meetings that lead up to their licence upgrade.
Drivers wishing to find out more should contact competition secretary, Julie Dredge, whose details can be found on the new Rissington website.
[ Top ]
---
Warden Law KC 'O' Plate (04/03)
Warden Law Kart Club are holding their Cadet '0' Plate meeting over the weekend of 2nd & 3rd April with classes for WTP, Comer and Honda. Testing coincides with the school holidays and so is available at the circuit all week prior to the meeting.
Full details are available from the Warden Law Kart Club website and entries should be sent to WLKC Competition Secretary Anne Laws no later than 21st March.
[ Top ]
---
Monza Kart Arrives (03/03)

The Monza Line made by Birel has arrived at sole UK Birel Importer ACR. The Monza Kart is chosen from the library of Birel frames, which in the Monza's case has already completed its evolution successfully. It is presented along side the Birel Motorsport range as an introduction to Birel quality but at a competitive price. The Kart is CIK homologated and consists of 32mm tubing and is available in 100cc or 125cc versions, both feature the highly effective brake system from the Motorsport range. The frame design easily suits the Rotax Max or 125 ICC categories whilst its frame construction would also accommodate an in board driven engine such as the Biland.
The Monza has been given its own identity with the frame colour set in metallic silver and is supplied with Freeline orange pods which are complemented with the Lucky design orange and blue Monza decals as standard. Optional accessories such as the Monza racing suit are also available. Aluminium wheels are supplied as standard along with an engine mount and the Freeline 320mm flat top Monza steering wheel.
Prices start from £1380 + VAT. For more information contact ACR on 01527 889595 or to view a Monza near you call ACR'S dealers: Pro Sport 0191 492 6014 or Dartford Karting 01322 222645 or WGP Motorsport 02838 832003.
[ Top ]
---
British Championship Karting (01/03)
Three Sisters circuit near Wigan is the venue for the opening round of the 2005 B4 Group British Kart Championships this coming weekend, 5th & 6th March, and hopes are high of a fantastic year in the Renault-sponsored Formula A, ICA and JICA classes.
As Britain's top three Karting classes, Formula A, ICA and JICA are where potential Formula One drivers of the future can be discovered and where young stars ply their trade and gain valuable track experience before embarking on a career in car racing.
Last year, British Championship Karting provided some of the closest circuit racing of any kind and if recent winter championships and testing sessions are anything to go by we're all in for a truly classic season's action in 2005.
Formula A. Reigning Formula A Champion Mark Litchfield (Rocester, Staffordshire) will be aiming to start 2005 exactly the same way he began last season, with a winning double at the ultra-fast Three Sisters circuit.
Litchfield will be challenged hard by former champions Gary Catt (Thruxton) and Chris Rogers (Waltham Cross, Hertfordshire), although Formula A newcomers Craig Copeland (Sturminster Marshall, Dorset), the reigning Formula JICA Champion, Riki Christodoulou (Sutton Coldfield, West Midlands), 2003 Formula JICA Champion, and fellow hot-shoe Freddie Martin-Dye (Shamley Green, Surrey) will all be up at the front.
Formula ICA. Like Litchfield in Formula A, 2004 Formula ICA Champion Chris Lamare (Inkberrow, Worcestershire) started last year in winning ways but he shared the Three Sisters spoils with Charlie Bruce-White (Salisbury, Wiltshire) so expect both to be strong contenders this time around.
Danny Cruttenden (Wilmington, Kent), Chris Chubb (Sutton Coldfield, West Midlands) and Tom Brown (Irchester, Northamptonshire) will undoubtedly be among the front-runners although great things are also expected of Formula JICA graduates Daniel Rowbottom (Mamble, Kidderminster) and Matthew Bell (Morpeth, Northumberland).
Formula JICA. With champion Craig Copeland (Sturminster Marshall, Dorset) having graduated to Formula A this season, the scene is set in Formula JICA for a new star to shine. Lee Bell (High Wycombe, Buckinghamshire) had an impressive showing at Three Sisters this time last year after scoring a brace of podiums and will certainly be a favourite.
Adam Christodoulou (Shenstone, Lichfield), cousin of Riki, is also one to watch but it's yet to be seen whether the teenager will actually compete in the opening round of the championship. He's currently embroiled in an appeal regarding a rule infringement while racing in a rival karting series during 2004 and the outcome is still unknown.
[ Top ]
---
Bob Pope Proffers £1500 (28/02)
The accumulative winners of the Le Man 24hr and the UK 24hr will be crowned 2005 Euro Cup Champions and will receive not only an impressive trophy but also a £1500 cash prize. Competition will be stiff as many big named teams including Team X are already entered for both events and places remaining for the UK 24hr are now down to about 8. With renewed interest from many overseas teams, it is likely that the event will be fully booked within the next few weeks.
[ Top ]
---
New Transponder Holder (28/02)

Traditional transponder holders are awkward to fit to the back of a kart seat because the bolts protrude into the space occupied by the driver. Tillett Racing Seats have developed a Transponder Holder that easily fits to the back of the seat. Because of the extended sides you can fit these with rivets or bolts or even cable ties. They are available from most of the kart trade.
[ Top ]
---
Race At Rowrah Before Stars (25/02)
Competitors in the Stars of Tomorrow series are reminded that Round 1 takes place a couple of weeks after the next clubbie (13th March) at the circuit. With no testing permitted in the week before the Stars event, a race entry is a must, but places are filling so please be quick.
Get your entry in now to Marion Fell at the usual address, or download an entry form from www.cumbriakrc.co.uk and send it in.
You wouldn't want to miss out on the Champions favourite circuit!
[ Top ]
---
ABkC 100cc 0 Plate Championship (25/02)
Picking winners for this weekend's ABkC 100cc 0 Plate at Three Sisters is an impossible task, given the quality field entered for the meeting, but here goes anyway. On last year's Super 1 form, British Champion Mark Litchfield must be a favourite in a nineteen strong Formula A grid. Both he and team-mate Gary Catt were amongst the fastest at the recent Garda Winter Cup, both betrayed by their engines in the final. Freddie Martin-Dye just missed out on an ICA win at the Super 1, and having now moved up to Formula A will be out to prove a point. On his day David Gregory can beat all of these, whilst local Nik Goodfellow is having a one off return to the formula and has shown pace in testing. Craig Copeland won the last Super 1 in JICA, and is likely to prove just as fast in Formula A.
ICA is even more open but Richard Singleton has shown great pace in the Super Libre Winter Series. Another finally deciding to move up is Stefan di Resta who along with Daniel Rowbottom should be amongst the fastest newcomers. But class regulars Danny Cruttenden and Charlie Bruce White will have experience on their side in the twenty-six strong field with Jason Moore one more tip for the top this year.
If everything goes well Justin Edgar must be favourite in 100 National, but with twenty-five lining up there are lots of others waiting in the wings. A massive junior grid of thirty-four eager youngsters are prepared for battle, many on a learning curve and using the meeting as a test for the following weekend's Super 1 opener. Adam Christodoulou is racing under appeal and will face stiff opposition from Nigel Moore, Will Stevens, Matt Bell, Ben Cooper, Kazeem Manzur, Jordon Lennox-Lamb, Oliver Rowland and Richard Bradley to mention just a few.
There are also Super ICC and WTP Cadet support classes to entertain. More details on the MB Kart Club website.
[ Top ]
---
NKF Gearbox Championship (24/02)
The Super ICC, ICC UK and Junior Gearbox Championship kicks off at Rowrah circuit on the weekend of 12th/13th of March and race entries close on the 4th March.
Details are available from Marion Fell on 01229 463748 or Sue Fairless on 015395 62256. Practice is available at the circuit on Friday 11th March by pre-booking only.
[ Top ]
---
New Retail Management Opportunity (24/02)

Trackside Karting Limited is currently looking for a retail manager to manage their newly refurbished Kart Shop at Bayford Meadows Circuit situated in Sittingbourne, Kent. Someone with solid karting experience, who is computer literate and has a will to succeed shall be well rewarded.
With both new investment into the company, and a new online shop coming soon, Trackside will soon be able to service all your karting requirements both at and away from the track.
Send CV's to Bob Stiddard in the first instance to: bob@tracksidekarting.co.uk
[ Top ]
---
New WSKC Website (24/02)
West of Scotland Kart Club has just released its new website. With the club hosting various top level meetings this year at their Larkhall circuit near Hamilton in Strathclyde, this new site will provide a good information base about the circuit.
[ Top ]
---
UK Birel Team Line Up (23/02)

Ahead of the O Plate at Wigan this weekend and the first MSA round on 6th March, ACR is pleased to announce its team MSA drivers for the 2005 season. In the JICA class former WTP Champion Jordan Lennox Lamb (M32ST) will represent and he's already started well with a second and a third in warm up races so far. Although jumping straight from WTP to JICA the youngster from Bedford will surely impress in his first JICA season. Image supplied by Chris Walker - www.kartpix.net
A choice of enthusiasm and experience will show in the ICA selection. Firas Bilbesi (M32ST) a returnee to karting from his earlier Junior Britain days will make his ICA debut in 2005. Having contested some Max races during 2004 he has graduated to ICA and has completed some good closed season testing and is looking forward to his first S1 ICA season. The very experienced Danny Cruttenden (M32ST) will partner him. Danny will make his debut for ACR and the Birel marque at the O Plate. Having finished 2nd in ICA S1 in 2004 he surely has to be a favourite for the title in 2005. Pre-season testing has produced good lap times and the Kent youngster is quietly confident after putting the Birel M32ST through its paces at PF International earlier this month.
In FA, former ICA driver Kevin Baines (M32ST) makes a return to 100cc racing. After experiencing two seasons in Max, Kevin decided that his preference is 100cc. FA has always been his ambition so in 2005 he will realize this and although being amongst the highest competition in the UK, the Woking based driver is looking forward to his inaugural FA season.
[ Top ]
---
Hat Trick Hanley (23/02)

World No.1 Kart driver Ben Hanley won the prestigious Winter Cup race at the Italian 'Garda' circuit for the third time in five years last weekend. The winter cup event is the first race of the year to attract all the major manufacturers and works drivers, and this year was no exemption with a record entry of 320. Hanley not only won the race, but set a record by becoming the only driver ever to win the race three times (2001/2004/2005), and also the first driver to win in consecutive years.
After winning the semi-final Hanley started the final on the front row, the 28 lap race became a tense affair when on lap 5 it started to lightly rain, Ben made the most of the tricky conditions and after 14 laps when the rain stopped he had built up a lead of around 3 seconds. Hanley had led from the start but by lap 27 he had been caught by local driver Davide Fore, inevitably at the last corner of the last lap Fore had not found a way past and pushed Hanley past the final corner, thereby crossing the finish line ahead. The race officials gave Fore a ten second penalty for his last corner actions, which dropped him back to fourth and Hanley deservedly took the win.
Images supplied by Chris Walker - www.kartpix.net
[ Top ]
---
Stretton Circuit 2005 Sprint Series (22/02)
Entries for the 2005 series will be accepted at this Sunday's open kart practice session. Club membership and race entry forms will be available.
The practice session starts at 8.30am and will run through until 1.00pm. Full copies of the regulations are available on request. It is also proposed to run an Open endurance race on 27th March. Sprint series race dates can be found here, or for further information please log on to the Stretton Club Championships web pages.
[ Top ]
---
Renault MSA British Championship Karting (22/02)
Formula A. An ultra-competitive Championship is expected this season.
British Championship Karting's Blue Riband category, the Renault-sponsored Formula A class, looks set for a vintage season of action this year following confirmation of the 2005 driver registration list.
Reigning champion Mark Litchfield (Rocester, Staffordshire) returns to defend the number one plate with former Formula A title winners Gary Catt (Thruxton, Hampshire) and Chris Rogers (Waltham Cross, Hertfordshire) both aiming to become champion once again. Consistent front-runner Jason Parrott (Crowland, Peterborough) has signed to race in Formula A for another year with Jason Edgar (Cleator, Cumbria) and David Gregory (Sheffield) all returning to the premier British Championship class.
But all of them will have their work cut out to quell the challenge of the new faces to Formula A this season, most notably reigning Formula JICA Champion Craig Copeland (Sturminster Marshall, Dorset), 2003 Formula JICA Champion Riki Christodoulou (Sutton Coldfield, West Midlands) and teenage hot-shoe Freddie Martin-Dye (Shamley Green, Surrey).
Formula A this season will also see a strong female presence with ex-Formula 100 National competitor Tiffany Chittenden (Chislehurst, London) moving up to the top class alongside Araminta 'Minty' Ward (Barnstone, Nottinghamshire) and Hannah Sedden, in all making a total of 29 drivers who have registered to take part in the Formula A category of the 2005 British Karting Championships.
Formula ICA. Forty-plus competitors set to make ICA season a classic.
Having originally announced his decision to withdraw from the ranks of Karting after winning the Formula ICA title last year, Chris Lamare (Inkberrow, Worcestershire) makes a welcome return to the Renault-sponsored class in 2005. The reigning champion will be joined by 40 other hungry competitors, all of whom will be focused solely on one thing - to win the coveted Formula ICA category of the British Karting Championships.
Danny Cruttenden (Wilmington, Kent) returns to the category once again and will be joined be fellow ICA regulars Chris Chubb (Sutton Coldfield, West Midlands), Tom Brown (Irchester, Northamptonshire) and Charlie Bruce-White (Salisbury, Wiltshire). Furthermore, the likes of Jonathan Miller (Foxton, Cambridge), Andrew Jarman (Furzton, Milton Keynes), Jake Rosenzweig (Salisbury, Wiltshire) and Raymie Eastwood (Belfast, Northern Ireland) all return to this most hotly-contested of classes.
Among the names to watch out for graduating from the ranks of junior level karting are Daniel Rowbottom (Mamble, Kidderminster), Garry Findlay (Eye, Suffolk), Matthew Bell (Morpeth, Northumberland), Tom Armour (Hornchurch, Essex) and Richard Singleton, and with 41 competitors registered ahead of the start of the season, Formula ICA is likely to provide an absolutely incredible year of race action.
Formula JICA. Preparing for a bumper season with 42 confirmed signings.
British Championship Karting's premier junior class, the Renault-sponsored Formula JICA category, promises to deliver some incredible action this season with a stunning 42 youngsters having registered to take part in the 2005 title chase. The figure dwarfs the dozen or so drivers who took part in Formula JICA last year and while the action was no less exciting, a decision by the organisers of Super One Karting to reduce the lower age limit of Formula JICA has truly paid dividends in attracting more youngsters to the Championship.
With reigning champion Craig Copeland (Sturminster Marshall, Dorset) having graduated to Formula A, a brand new title winner will be crowned in 2005 but it's anyone's guess who'll end the season in September as Formula JICA Champion. Adam Christodoulou (Shenstone, Litchfield), runner-up last year, will undoubtedly begin the year as one of the title favourites but there are plenty of other names who'll be at the sharp end throughout the season, including front-runner Lee Bell (High Wycombe, Buckinghamshire).
Due to the reduced lower age limit, several young stars from the Formula Cadet series have moved into Formula JICA ahead of the new season including the likes of hot-shoes Jordan Lennox-Lamb (Bedford), Jimmy Galloway (Sidcup, London) and Oliver Rowland (Penistone, South Yorkshire).
Mike Adams (Poole, Dorset) returns for another season of JICA action and will be joined on the grid by a brace of young female competitors, Alice Powell (Sarsden, Oxon) and Laura Tillett. There are 42 competitors registered ahead of the start of the season and the Formula JICA class looks set for a truly memorable season.
The Renault sponsored Formula A, ICA and JICA classes all commence their six-round 2005 British Karting Championships at Three Sisters, Wigan, on Saturday 6th March.
[ Top ]
---
Latest CRG Karts From Tal-Ko (21/02)
CRG UK distributors Tal-Ko Racing, will shortly be taking delivery of the latest 2005 specification CRG Road Rebel karts code named "Havana" which have been fine tuned for the UK kart market. These karts are based on the multi world championship winning CRG Road Rebel chassis, but with a number of changes to specification to make them ideally suited to the UK circuits, tyres and conditions.
CRG offers karts for just about every class racing in this country including MAX, JICA & the TKM 4-stroke classes. The karts are superbly produced to the highest standards by the Italian-based company regarded as the Ferrari of the Karting world.
Tal-Ko Racing has more than 10 years experience with the CRG range and carries a massive stock of spare parts for CRG and CRG VanKart. The company has however recently sold off the rights to the CRG Tal-Ko Monza Cadet kart which it homologated two years ago to HRS Motorsport.
Full details on all CRG karts from Tal-Ko Racing at 01767 682020 or on the web at www.tal-ko.com
[ Top ]
---
Kerb Riders Save The Day (18/02)

Even the best drivers occasionally find themselves forced across the kerbs and with more and more circuits installing very severe kerbing many karters are turning to Kartsmart Kerb Riders to safeguard against DNFs and expensive damage. Considering a quality chain and sprocket can cost as much as £50, an inexpensive Kartsmart Kerb Rider can save the day.
Kartsmart Kerb Riders are made from ultra tough 10mm polypropylene and unlike thin plastic or metal sprocket protectors they will not bend. Accurately drilled for easy installation they are available in a range of sizes to suit most sprockets. You can even choose a colour that matches your kart's livery! For the serious competitor there is also a lightweight version available.
Please contact Dartford Karting, Zoom Karts or KKC for further details.
[ Top ]
---
2005 TKM Challenge at Clay (18/02)
Clay Pigeon have announced several significant developments for this meeting to be held on Sunday, 10th April 2005. There is now a considerable prize fund being offered with generous donations from the likes of Silverstone circuit, Tal-Ko and Paul Carr Racing, with several others in the pipeline. Prizes will be awarded for both results and in a draw so everyone has a chance of winning.
The meeting is now officially supported by Tal-Ko Racing, who expect to be present on the day to offer help and advice for both the 2 and 4 stroke categories.
With the recent announcement that Clay has secured the 2 and 4 stroke 'O' plates for later in the season, this is the ideal opportunity for all TKM classes to enjoy the challenging Dorset circuit. Ring Roger Fell on 01823 480775 for further information.
These developments are in line with Clay Pigeon placing a strong emphasis on TKM for the 2005 season, encouraging healthy grids at both club meetings and premier events at the circuit.
[ Top ]
---
Tyre Changing (17/02)
Three videos from Jeff Johnson to help in the process of fitting, removing and changing tyres. Four wheels, tyres off and tyres on all within a minute, - when the weather's a bit warmer that it is at the moment of course. Not bad for an old geezer! (Jeff's words, not ours!)
Have a look and see want you make of Jeff's performance. A potential BAFTA nominee?
[ Top ]
---
Touring Car Squad Backs Karting Ace (16/02)

A leading British Touring Car team is lending its support to 13-year old Kart racer, Jake Farndon.
VLR (Vic Lee Racing) – who have won titles in British, Asian and Danish touring cars - have sponsored Farndon to compete in this year's Stars of Tomorrow Championship, which he will contest in the Junior Gearbox class.
The Coventry-based driver was recently voted "Best Up and Coming Junior Driver" by Rissington Kart Club after winning the Minimax Club Championship in his debut season of junior class racing. It was Farndon's second successive club title, following victory in the 2003 Cadet Championship.
Vic Lee, team principal of VLR - which also runs cars for Soper Sport in Formula BMW - commented: "Jake is so enthusiastic, he volunteers to come to our factory for work experience every day after school and on weekends when he's not racing. It's terrific that he wants to learn about every aspect of the sport at such an early age. Jake's had an incredibly successful start to his Karting career and we'll certainly be keeping an eye on him for the future."
Farndon's assault on this year's British title begins on 27th March, when Stars of Tomorrow visits Rowrah. The Junior Gearbox Championship takes in five further events, including a July race around Silverstone's Stowe circuit.
[ Top ]
---
National Open Championship (14/02)
The prestigious ABkC National Open Championship for 0 plates in Formula A, ICA, JICA and 100 National, and the MBKC Winter Cup for W60 Cadet and Super ICC will be screened on Motors TV on 17th March. Not just a highlights only programme but a full 90 minutes of coverage of the event is planned. Entries for the 27th February event at Three Sisters, Wigan remain open until 20th February only, so visit the MBKC website or call Kath on 01257 253742 or Simon on 01695 682032 now.
[ Top ]
---
Practice At Buckmore Park (11/02)
BPKC are holding round two of the Winter Championship on Sunday 20th February, with practice available on Wednesday 16th and Saturday 19th from 10am to 4pm. This will be the last opportunity for Super One TKM competitors to test on the circuit (new kerb layout) before the Super One meeting in March. It is also half term week and therefore a good opportunity for the cadets and juniors to get some midweek testing. For full details, go to the Buckmore Park website or phone club secretary Sheila Rose on 01634 661604.
[ Top ]
---
Boyes Move To The Wright Side (11/02)

Prokart Engineering are pleased to have appointed Boyes Lane Racing as the north east agent for the Wright R2 Prokart. They will be competing at PF International and Warden Law over the coming months and look forward to meeting friends and customers both old and new.
For sales, service and further information contact Andy Metcalfe on 01964623459 or e-mail: andy@boyeslaneracing.co.uk
[ Top ]
---
New Kerb Layout At Buckmore Park (11/02)
Following recent examples of severe kerb abuse at Buckmore Park, the circuit in consultation with the MSA have revised the layout at two critical and fast sections of the circuit. The fast downhill right hander, known as Symes Sweep has long been the subject of kerb abuse and the new design will ensure that the tarmac is again used. The kerb is narrower and has a raised back kerb as can be seen in the picture below on the right.
Another similar revision has been made to the fast left hander around the clubhouse (Cafe Curve) and this too has a large raised kerb on the inside, and is illustrated on the left below.
[ Top ]
---
MBKC TKM Platinum Cup (10/02)
The North's most exciting TKM event - TKM Platinum Cup will be held on 20th March 2005 on the exhilarating Three Sisters Circuit, Wigan. MBKC is attracting excellent grids of TKM Extreme and Juniors/Inters, and invite you to come and join them at this special meeting with huge trophies and a commemorative DVD of all the TKM racing.
To enter for TKM Extreme or a combined class for Junior TKM and Intermediate visit the Manchester & Buxton Kart Club website or call Kath on 01257 253742 or Simon on 01695 682032.
[ Top ]
---
Family Problems? Need Help? (09/02)
Is Karting causing a family rift?
If the answer is yes, BBC television is looking to find families who are passionate about Karting and you may be able to assist them. But before you all rush, they want families where this obsession for all things Karting is causing problems for them, - for example, perhaps one member of the family feels left out because of the others' obsession.
If this sounds like you and you would like to contribute to a new BBC 2 show that involves a mystery celebrity agony aunt solving people's problems then e-mail: caroline.clayton@bbc.co.uk or contact Caroline on 020 8225 6797 for further information.
[ Top ]
---
Clay Pro-Kart Championships (09/02)
Entries are now being accepted for the Premdor sponsored 2005 Clay Pigeon Endurance Karting Championships that commence on 20th February. Dependant on which you enter, the events consist of either 9 x 6 hour or 9 x 3 hour races, with the best 8 results counting towards the Championships.
With all fuel supplied and a cash prize fund for the top 5 finishers in each event the Championships are expected to be well supported. So what are you waiting for? Further information from Clay Pigeon Raceway or telephone: 01935 83713.
[ Top ]
---
The Race Drivers' Academy (08/02)
The first Foundation Degree Course FDSc in Sports Performance (Motorsport Driving) is announced by The Race Drivers Academy.
Geared to race driver specific subjects and launching in conjunction with the University of Bath and Silverstone Motorsport Academy the FDSc Sports Performance (Motorsport Driving) is a three year part-time course which requires compulsory University attendance for 2x2 week periods per year in April and July respectively. Based at the University of Bath with driver coaching and practical experience provided by Silverstone Motorsport Academy this unique course is a result of a partnership between the University of Bath and The Race Drivers Academy.
The RDA is only too well aware that drivers may only want to drive and drive and drive, a factor that the degree calendar caters for! However parents will, and indeed driver sponsors may see the benefits of this tailored academic course. To this end the FDSc degree is designed to fit with and enhance a driver's programme yet provide the educational development and security that a work related qualification provides. Qualifying for ECTS (European Credit Transfer Scheme) credits the FDSc will provide the driver with a career related qualification and a 1-2 year step, subject to choice, on the way to a full degree.
Due to take its first student intake in 2005, the first module of a six module course will be held in April at the University of Bath. A driver himself Seb King, Managing director of The Race Drivers Academy said "This is a breakthrough the very first Foundation Degree in Motorsport Driving, which in turn will provide ECTS credits towards a full degree which we are currently planning as a next step".
The RDA modules are not new, already existing as short courses and drivers from the Silverstone BRDC Formula Ford Championship are to undergo two day physiological, psychological and nutritional assessments delivered by the RDA in conjunction with The Human Performance Fitness Centre, University of Bath.
Simone Lewis the Sports Development Manager at The University of Bath comments: "We are delighted to be the first University to offer a Foundation Degree in Sports Performance (Motorsport Driving). We have a good working relationship with the RDA and jointly developed the course modules and will shortly be opening our doors for enrolment".
For further information please contact either Seb King on 01761 452367 or Mike Callan on 01225 383533.
[ Top ]
---
Rotax Max Challenge (03/02)
3,700 drivers worldwide participated in the qualifiers for the Rotax Max Challenge World Finals, held recently at the 1281 metre long Gran Karting Club in Lanzarote.
Sixty-six seniors – using the RM1 two speed kart – and thirty-two juniors – on identical CRG Junior Max karts – participated from thirty-nine nations.
During the course of the week about 7,000 litres of fuel was burnt by the karts, and 1,300 tyres used.
The BRP-Rotax company supplied all equipment including 100 tool kits for the mechanics, 500kg of ballast and 250 seats of different sizes.
Four containers weighing about 20 tons were brought to the island in the Canaries.
230 hotel rooms were booked by Rotax and all the drivers had to do was bring their suits and helmets.
Thirty members of the international press were also present.
This year's British qualifier rounds will be held at Whilton Mill on 26th June, Clay Pigeon on 14th August and Buckmore Park on 16th October. For the first time in the UK, the Mojo tyres will be used. The venue of the 2005 World Final is due to be announced in March.
[ Top ]
---
Cadet W60 Engine Oil (02/02)
As per MSA regulations there will be 2 types of oil available from the beginning of February. These are synthetic oils meeting the requirements of the JASO FC standard to ensure that the exhaust emissions meet the standard set down by the MSA. These oils are supplied with a marker to enable identification at both club and national level racing.
As from 1st March 2005 these two oils will be the only types of engine lubricant legal for racing in the W60 cadet class. They are:

Kart Tech FC, produced by Elf – retail price £11.89 + VAT per litre.
Super FC, produced by Shell – retail price £12.25 + VAT per litre.
Both products have been extensively track and dyno tested and have been approved by the UK Comer distributor as suitable for use with the Comer W60 engine. These oils will be distributed by both Atol and Zip Kart. Marker testing kits will be available to clubs and scrutineers at cost price.
[ Top ]
---
European 24hr Endurance Championship (01/02)

The organisers of The European 24hr Endurance Championship are proud to announce that all races will be covered by Sky Sports. It was confirmed last week that Sky Sports shall be recording all three events and there will also be a professional DVD compilation of the series at the end. Each programme will be aired within two weeks of the event, and be for approximately one hour in total, during a dedicated 2 hour motor racing show.
This is the first time that Karting has got so much peak time coverage on Sky and it's predicted that it will help boost grids in all 3 events, in Holland, UK and Belgium. See the Euro 24 Karting website for further details.
[ Top ]
---
MP Digs In To Help (01/02)
Work has started this week on building a new Karting circuit in Brentwood which will put the town on the national Karting map and giving a helping hand with the construction work was Brentwood and Ongar Member of Parliament, Mr Eric Pickles.
Director of Brentwood Karting Raceways, Mr Giles Murray, said: "The construction teams started work this week on what will be the widest Karting circuit in the country which will allow drivers to have multiple karts overtaking simultaneously and safely. The new track will be 750 metres long and will have the capacity for up to 15 karts to race in any one event. Despite the fact that construction work stops at weekends so that the track can be used by customers who have made bookings for this circuit, we are still expecting to be open for business by Friday 18th February which will be a fantastic achievement. The total cost of the project is in the region of £150,000 and we believe that investment will be worthwhile as we will be providing Brentwood with a first class Karting circuit that will be the envy of circuits around the country.
"We were pleased to welcome Brentwood and Ongar Member of Parliament, Mr Eric Pickles, along to help start the construction work as he has been a long standing supporter of the circuit, presenting prizes at our awards events and charity races."
Brentwood and Ongar Member of Parliament, Mr Eric Pickles, said: "Karting is an increasingly popular leisure pursuit and Brentwood Karting Raceways circuit at Warley Gap is ideally suited with easy access to the M25, A12 and A128. The new track is impressive and has been designed with the local environment in mind so that traffic and noise are minimised while at the same time providing a massive boost for the leisure industry here in Brentwood. I was pleased to lend a helping hand with the start of the construction work and look forward to returning in the late Spring to see the finished circuit in use."
[ Top ]
---
Open Practice at Buckmore (31/01)
Buckmore have arranged an extra date for Open Practice for four stroke classes only, on Saturday 5th February from 10am to 4pm. This session includes a test day for Formula 6 classes. Full details are on the Buckmore Park website or call the club on 01634 661604.
[ Top ]
---
Whilton Mill Competitors Hit (31/01)
A number of competitors at Whilton Mill suffered from a spate of thefts over the weekend, and one of those to have lost equipment was Miles Brough who was there with his son Kit, and due to compete in Rotax Junior yesterday.
Between checking-in to the Marriott Courtyard in Flore on Saturday after finishing testing at about 5:30 pm and on leaving to go out for dinner at about 7:00 pm, they discovered that the side door on their locked and deadlocked van had been prised open with a jemmy or tyre lever. The van was parked in a lit car park within 20 yards of the main hotel reception entrance. Amongst items stolen were a Sealy generator, Sealy air compressor, tool chest complete with all tools, an Arai SK5 (white) in a helmet bag with 5 visors, Quiksilver clothing bag containing Sparco, AlpineStars and Shift racewear and a black briefcase containing engine logbooks, race license and all set-up and data sheets generated in the past year's racing and testing.
Anyone who may have noticed anything unusual at either scene should contact Northampton Police crime desk at Weston Favell on telephone no. 01604 700700 and ask for PC495 Marshall. Crime number for this theft is ND9123-04.
Items were also stolen from a van parked at The Premier Lodge Hotel in Weedon according to the police officer attending at Flore. Both this and the Marriott are recommended local hotels for Whilton Mill and it looks like competitors were targeted and more incidents may come to light.
[ Top ]
---
National Motor Sports Qualification (31/01)

The first UK national qualification in Motorsports Incident Marshalling was awarded on 14th January at the Autosport International Exhibition at the NEC Birmingham.
Andrew Pickering, a student from Myerscough College near Preston, Lancashire, has four years experience working as a marshal, one of the loyal army of motor sports enthusiasts who give up their time to work unpaid (and unqualified), without whom the events could not take place. By achieving OCNW Level 2 Certificate in Incident Marshalling in Motorsports, he has had his interest and commitment to the sport formally recognised. The certificate was presented by legendary BTCC star David Leslie and Colin Hilton, Chief Executive of the Motor Sports Association. Also present was Phil Wilkinson, Chief Executive of the awarding body OCNW.
"It is a real milestone to see the first student come through," said Colin Hilton. "There has been a great deal of work by all parties to achieve a recognised qualification and I hope that this is only the first of many to come through the system. Motor sport volunteers are an essential element of our sport and while it will always be a voluntary role, official recognition of volunteers' achievements should bring them wider benefit in everyday life."
Phil Wilkinson commented: "I think everyone appreciates the significance of the award being presented here today. What I was impressed by was the speed with which the qualification was developed and formally accredited. It can only be a good thing for the motor sports industry that there's a framework of regulated qualifications."
The recipient of the award, Mr Pickering, remarked: "I'm thrilled to have had the chance to expand my experiences with this course, you don't always appreciate the theory behind things when you're out there on the track. I'm looking forward to starting the higher level course in September." When asked whether he would recommend others to take this course, Andrew replied "I think this is a great qualification for anyone serious about working in motor sport."
The OCNW was established in 1975, and is one of the UK's leading national awarding bodies and works in partnership with Universities, Colleges of FE, Schools and private and voluntary training organisations. For more information contact Abdul Hamid on 01524 845 046 or e-mail: a.hamid@lancaster.ac.uk
[ Top ]
---
Zip Young Guns (28/01)
The world renowned Zip Young Guns team is looking for a Cadet and a JICA driver to complete their 2005 team line-up. Competing at all Stars of Tomorrow and Super 1 rounds, plus selected one-off races, the 10 time British Championship winning team is once again aiming for the titles.
The Young Guns will be headed by multi-World, European and British Championship winning race engineer Grant Munro. Grant will be ably assisted by some very experienced people including Jim Paffett, Richard Brunning and team boss Martin Hines.
The Zip Young Guns team has been instrumental in launching the careers of some of Britain's top drivers. Stars like David Coulthard, Anthony Davidson, Gary Paffett, Jason Plato, Luke Hines and Lewis Hamilton to name but a few have all raced under the Young Guns banner.
To reserve your place in the Zip Young Guns team, e-mail: sew@zipkart.com or call Richard Brunning on 01992 463371 to discuss your requirements.
[ Top ]
---
More Racing At WildTracks (27/01)
After the success of their first meeting WildTracks have announced they will be running a regular monthly meeting for all classes, with both MSA and non-MSA welcomed. At the circuit located near Newmarket there's on-site catering, a fully stocked spares shop, with overnight camping and test days also available. The next meeting will be on Sunday 20th February, so for some good racing and great atmosphere, enter now!
Call WildTracks Karting on 01638 750496 for entry or more information. WildTracks - just off A11/A14 near Newmarket.
[ Top ]
---
Champions Look Forward To New Season (26/01)
Formula A. British Karting Champion Mark Litchfield (Rocester, Staffordshire) has confirmed he will return to the Formula A class of the Renault-sponsored domestic championships this year to defend the title he won in such dominant fashion in 2004. With five points-scoring Finals victories and three other podium finishes to his credit during the season, Litchfield elected to sit-out the final meeting of the year at Larkhall in order to preserve his championship lead and avoid any unnecessary points penalties which could have threatened his title bid. As it turned out, Litchfield's absence meant he won the Formula A crown by 24 points from nearest rival David Gregory (Sheffield), the latter having won the final race of the season to cement the runner-up spot in the championship.
Commenting on his title-winning season and looking ahead to his championship defence, Litchfield said: "Last season was great and I was delighted to become British Karting Champion, following the long line of big names who have won the title in the past. The 2005 season will be a great challenge with some established names and new faces to Formula A – I can't wait for the first round in March." Litchfield will line-up against the likes of Formula A regulars Gary Catt (Andover, Hampshire) and Jason Parrott (Peterborough) this year, while 2003 British Junior Karting Champion (Formula JICA) Riki Christodoulou (Sutton Coldfield, West Midlands) steps up to Formula A along with reigning JICA titlist Craig Copeland (Wimborne, Dorset).
Formula ICA. Chris Lamare (Inkberrow, Worcestershire), the 2004 Formula ICA Karting Champion, has decided to return to the Renault-backed class of the MSA British Karting Championships this year with the aim of defending the title he won so unexpectedly last September. Heading into the final meeting of the season at Larkhall in Scotland, Lamare knew he stood a chance of winning the prestigious title but all bets were on the immensely talented Freddie Martin-Dye (Shamley Green, Guildford) to return south of the border with the ICA crown.
In one of the closest season finales in Formula ICA history, Lamare won the championship by just a single point from Martin-Dye – the latter having crossed the line in fifth position during the last race of the year thinking he had done enough to take the title. Unfortunately for Martin-Dye, under the category's double 'drop-score' ruling he lost out on the Championship to Lamare who, in turn, had put in a tremendous performance on Scottish soil to finish second in the penultimate points-scoring Final of 2004 and then going on to win the second of the weekend's Finals. Lamare topped the championship table with 447 points, a mere point ahead of Martin-Dye, while former British Junior Karting Champion Riki Christodoulou (Sutton Coldfield, West Midlands) tied on 444 points with Danny Cruttenden (Wilmington, Kent).
Speaking on his successful title campaign of 2004, Lamare commented: "We knew there was a chance of winning the title but didn't expect to. I was absolutely delighted when it was finally confirmed I'd become Formula ICA Champion. I hope to retain the number one plate this year although I'm sure it'll be very difficult against some tough opposition."
Formula JICA. Dorset's 15-year old Craig Copeland (Wimborne) will graduate to the pinnacle of British Championship Karting – Formula A - this year, having won the British Junior title last season by nine points from nearest rival Adam Christodoulou (Shenstone, Lichfield). Copeland, one of the most talented youngsters in British Karting, began his Formula JICA campaign last year in superb fashion by taking a hat trick of consecutive victories during the opening three points-scoring Finals of the season.
Rival Lee Bell (High Wycombe, Buckinghamshire) broke Copeland's stranglehold on the top step of the podium during the second points scoring Final at PF International circuit near Grantham, Lincolnshire, but a further win for the Dorset ace, along with four other podiums, saw him take a deserved title triumph – and he's now hoping to do the same in Formula A.
The teenager will certainly have his work cut out this year against the likes of reigning Formula A Champion Mark Litchfield (Rocester, Staffordshire), ex-Formula A Champion Gary Catt (Andover, Hampshire) and 2003 Formula JICA Champion Riki Christodoulou (Sutton Coldfield, West Midlands). But for Copeland, the strength of competition will only serve as a bigger incentive to get to winning ways as soon as possible – at the expense of some of the most famous faces in British Championship Karting.
He commented: "We're sure it'll be a big step to Formula A but I'm confident in my ability and I want to start winning races as soon as possible. It'll be tough against experienced Formula A drivers like Mark Litchfield and Gary Catt, and then there are new faces to the class like Riki Christodoulou, but I hope it'll be a strong season – I'm looking forward to it."
The opening rounds of the Renault-sponsored British Karting Championships for the Formula A, Formula ICA and Formula JICA classes takes place on Sunday, 6th March, at Three Sisters circuit near Wigan.
[ Top ]
---
Coni Systems' New Partnership (26/01)

UK based Motorsport Systems Manufacturer Coni Systems, have developed a new functionally rich sports timing system and entered a partnership with Irish Software Company Inis Motorsport Ltd who have developed a multi suite event management package to compliment the hardware. The product which uses the latest technology brings event management, sports timing and new safety features together, and is said to be significantly ahead of the competition at this time. The combined product will be marketed under the banner Sigma Sports Management Systems.
The overall system which, has been in design for some time, was launched at Europe's largest motorsport show, the Autosport International in Birmingham last week, where interest in the new system was impressive. Speaking at the launch, Anthony Herring, MD of Coni Systems Ltd, said, "Having just completed the system during 2004, this project represents a significant lift for our team which we will have to strengthen as a result. He added that "we already have confirmed sales of the product along with requests for demonstrations in 15 different countries including the USA".
Next on the agenda is the International Kart Show in the USA in February where the Motorsport Industry Association, of which the new venture is a member, is arranging presentations to industry leaders of the new product. This will be followed with outings at the two largest trade shows in the world the PMI in the USA and the Japanese Motor show. For more information contact Coni Systems on +44 (0)1625 415 120 or e-mail: info@conisystems.com
[ Top ]
---
AMB Transponder Holders (25/01)

Due to popular demand Kartsmart have developed an elegant holder to simplify the mounting of AMB TranX160 transponders to the rear of kart seats (as required by the new 2005 MSA regulations). The Kartsmart transponder holder is constructed of strong, lightweight carbon-look plastic and fits both sizes of TranX160, retaining the supplied AMB holder and R-Clip fitting. Please contact Dartford Karting, Zoomkarts or KKC for further details.
Also, due to many customer requests, Kartsmart are happy to announce that their complete range of chainguards will also be available in Kartsmart 'trademark' carbon-look finish. This includes chainguards developed specifically to fit the Rotax Max, Direct Drive, TKM 2-Stroke, ProKart, Honda Cadet, Comer Cadet, Gearbox, Biland and (soon to be released) TKM 4-Stroke.
In addition, as there is significant interest for Kartsmart products from overseas customers, Kartsmart are now looking for distributors outside the UK. Please email info@kartsmart.co.uk for further details.
[ Top ]
---
Surtees Honours British Champions (24/01)
John Surtees MBE, the only person in history to win both Formula One and Motor Cycle World Championships, was guest of honour at the Motor Sports Association's prestigious Night of Champions awards ceremony at the Royal Automobile Club on London's Pall Mall on Friday 21st January. The event, held annually to celebrate the winners of British motor sport championships, was sponsored for the first time by the MSA's new insurance underwriter Brit Insurance.
ITV's F1 pundit Tony Jardine compèred the ceremony and Surtees, winner of seven motor cycle world crowns plus the 1964 F1 title for Ferrari, presented the trophies. Receiving the first award of the night from 70-year-old Surtees was 11-year-old Jimmy Galloway, the new British Cadet Kart Champion. He was followed onto the stage by Craig Copeland, Mark Litchfield and John Riley, winners of karting's British Junior, Short Circuit and Long Circuit titles respectively.
The breadth of top class motor sport available in Britain is incredible and many of the prized awards presented by the MSA underlined the diverse series organised by motor clubs across the country. Colin Hilton, Chief Executive of the Motor Sports Association, says: "The MSA's Night of Champions reflects the sheer depth of UK motor sport. There is no hierarchy as all are British champions in their respective events. From an 11-year-old with dreams of becoming a Formula One hero through to a 60-year-old grandfather of seven – all disciplines and ages are represented.
"I sincerely thank our distinguished guest John Surtees for lending his valued support to British motor sport's most prestigious awards ceremony and adding considerably to the evening of all our winners and guests."
[ Top ]
---
Matchams (24/01)
Matchams Kart Club is getting up and running again. The circuit near Ringwood on the Dorset/Hampshire border has been taken over by Ray and George Lovell who have worked to upgrade the facilities and improve the track surface. There are plans to open the long circuit with the help of members and to hold a presentation ceremony at the track on 13th February. This will also act as an Open Day where both members and prospective members can view the circuit and its facilities, join the club and hopefully practise in the afternoon. More details will be available soon on the Matchams Karting website or can be obtained by phoning 07851 73 00 00.
[ Top ]
---
Max Finals In Lanzarote (21/01)

The 5th Rotax Max Challenge Grand Finals are currently taking place at the Gran Karting Club, Lanzarote, Canary Islands, with 66 drivers from 41 countries are taking part in the RM1 class, and 31 youngsters from 27 countries in the Junior class, with all drivers racing on identical equipment in their class. This fifth annual event brings together the winners of the 41 national Rotax Max Challenges and the winners of the Rotax Euro and Asia Challenge who are provided with flights and accommodation to attend these 2004 Grand Finals, with a chassis, tyres, petrol, tool box and trolley also supplied free of charge.
The first heats yesterday had Swiss driver Ken Allermann (picture courtesy of Sportimage Communications) fastest with a best lap of 49.78 seconds around the 1,281km circuit, closely followed by Brit Tristram Oman on 49.89 seconds. Unfortunately Tristram suffered understeer in his first heat earlier this morning and finished in 23rd place, but later provisionally finished 3rd in his second heat of today.
The events run through until Saturday 22nd January with the Junior final scheduled to take place at 14.30, and the RM1 final due off at 16.00. After prize-giving at 17.00 there's a Grand Final Beach Barbecue at 20.00. Wish you were there?
Results can be found here, courtesy of Graham Smith. N.B. Some of the times shown as 'Fastest Lap' in the Finals may be incorrect, but all other information is right.
[ Top ]
---
Renault Formula One Test Visit (20/01)
Front-runners from the Renault-sponsored classes of the British Karting Championships, along with those from the Formula Renault UK Championship with Michelin, ELF Renault Clio Cup and the Formula Renault BARC Championship all need to be on form from the off this year – that is if they hope to be given the amazing opportunity to sample life behind the scenes at an exclusive F1 test.
Renault UK and the Renault F1 Team are to give eight lucky drivers the chance to attend a Formula One test session, at Silverstone Grand Prix Circuit in Northamptonshire, as exclusive guests. Scheduled to take place on Wednesday, 1st June, the test is expected to see Renault F1 Team drivers Fernando Alonso and Giancarlo Fisichella putting the latest Renault Formula One car through its paces. Along with watching the team in action, the lucky guests will also have an exclusive tour of the pit garages and take lunch with the Renault F1 Team.
Individual leaders of the Formula A, Formula ICA and Formula JICA classes at the half-way point of the British Championship Karting season - round three at Clay Pigeon, will be invited along together with the 'Graduate Cup' leader from Formula Renault UK and whoever heads the Formula Renault UK and Renault Clio Cup standings respectively after round four at Thruxton, and also the points leaders of the FR2000 and Club classes in Formula Renault BARC, after round four of their championship at Pembrey.
Renault UK Motorsport Manager Tim Jackson said: "I'm delighted to be able to confirm our Formula Renault BARC Championship leaders will be joining the others for the first time and have an extremely rare glimpse behind the scenes of a working Formula One team. These tests are always popular occasions and it's something for the drivers to fight for as soon as their respective seasons begin."
[ Top ]
---
ABkC O Plates – 27th February (19/01)
Entries open for MBKC Winter Cup 27th February 2005. ABkC O plates for FA, ICA, JICA, 100 National and Winter Cup for W.60 Cadet and SuperICC.
Take on the challenge of the demanding but exhilarating Valley circuit at 3 Sisters. Take on the challenge of competing against the top rung of UK karters in this one round Open Championship. Take on the challenge of 1 chassis/2 engines before Super 1. Entry packs are now available on-line at http://mbkartclub.com or call Kath on 01257 253742 or Simon on 01695 682032.
[ Top ]
---
Incentive For Karting Front-Runners (18/01)
Top drivers from the Renault UK-backed Formula A, Formula ICA and Formula JICA classes of the British Karting Championships will not only be aiming for title glory in 2005 – they now have the chance to impress in a bid to secure a place on a specially-arranged Formula Renault UK test day at Croft Circuit in October.
The initiative, announced last Thursday at the opening of the Autosport International Show at Birmingham's NEC, has been arranged by Renault Sport UK and multiple champion team Manor Motorsport with the aim of giving the cream of British karting talent an opportunity to experience a Formula Renault car for the first time. In conjunction with leading weekly publication Motorsport News, a yet-to-be-determined panel of experts will keep a keen eye on the 2005 karting season with great interest before deciding who will receive an invitation to the test day.
Speaking on behalf of Manor Motorsport, team manager Tony Shaw said: "We've been in discussion with Renault Sport UK for some time regarding the viability of doing this and it was always something we thought was a very good idea. To give young karters an introduction to a car as good as a Formula Renault at this stage of their careers is a fantastic opportunity and I'm certain it'll cement the fact in their minds Formula Renault is the route to take if they seriously hope to learn the necessary skills to make it in F3 and beyond."
An additional group of karters will also receive an invitation to attend the Croft test day, provisionally scheduled for Tuesday, 25th October, but this time with the chance of sampling a Renault Clio Cup race car instead of the single-seater. Drivers will not, however, be permitted to drive both the Formula Renault car and the Clio Cup racer.
Formula Renault UK and ELF Renault Clio Cup Championship Manager Simon North commented: "Along with Manor Motorsport we have worked hard to arrange this special test day as we see it as an essential step for talented young karters who wish to sample a racing car for the first time. The Formula Renault 2000 car and Renault Clio Cup racer are class leading in their respective fields and they provide an ideal proving ground for careers in single-seater and saloon car racing respectively. Every competitor in Formula A, Formula ICA and Formula JICA stands a chance of being invited to the test if they impress us enough during 2005."
[ Top ]
---
UK 24Hr and Le Mans 24Hr (17/01)
The IKP, organisers of the annual UK 24hr endurance event, and Bob Pope, promoter of the 24hr Le Mans race, have teamed up for 2005. Despite previous intimations, the Le Mans race will be open to owner-driver ProKart teams and as a result, a 10% discount on entries into the Le Mans race is being offered to any team competing in the UK 24hr event. Similarly, any team entering Le Mans, will be eligible to a 10% discount in the UK 24hr race.
Teams competing in both events will be able to contest the Euro Cup 2005, which will be awarded to the team achieving the best result from both of these prestigious events and crowning them the 'best of the best' in Europe. This of course will be in addition to the splendid array of prizes and trophies, which are already on offer at both Rowrah and Le Mans.
The above has resulted in many teams entered for the UK 24hr event now considering a Le Mans entry. With Bob Pope having also block booked 10 places for Rowrah, thereby reducing the remaining places down to less than 12 out of the 40 permissible entries, be quick with your entries.
Details on the Le Mans 24hr, the UK 24hr race are available from the Teesside Karting and IKP websites. Further details about the Euro Cup 2005 will be available shortly.
[ Top ]
---
Century At Show (14/01)
Century Motorsport and Eurokart will be exhibiting the Octane Max Kart and Pavesi ICC gearbox engines at the Autosport Show this Saturday and Sunday. The stand will be manned by Nathan Freke, the only British driver to win an FIA/CIK European Championship round in 2004, and he will be available to discuss the coming season's championships with drivers looking to drive for a top team in any class of Karting. Century will also be representing the Superkart Association and Nathan will be pleased to offer advice on all aspects of Superkarting. Find him on Stand K35.
Nathan Freke raced in a charity Kart event at the Autosport Show on Thursday as team mate to Champ Car superstar AJ Almandinger, and former F3 driver from Sweden Tommy Johansson, the team showed exceptional skill and speed to win the event by a considerable margin over the more fancied 100cc Karting hotshots and other celebrity drivers, proving once again that gearbox drivers are every part the equal of their direct drive counterparts.
[ Top ]
---
CRG & HRS (12/01)

HRS Motorsport are pleased to announce that 5 times world champion and CRG Team Manager Danilo Rossi will be their guest on the HRS Motorsport stand at the Autosport show Birmingham this coming weekend. If you have any questions or need help and advice on any of the CRG products go along and ask the experts at the HRS Motorsport – CRG Stand no. K550.
If you can't make the show but want to see, or test the new 2005 CRG Road Rebel Kart, contact Tristram Oman on 0191 5238942 or e-mail: tristram@hrsmotorsport.com. Test drives are available in Mini, Junior and Senior Max.
[ Top ]
---
MBKC To Race At GYG (12/01)
MBKC plans to run a 9 meeting championship in 2005 at Glan y Gors Park nr Corwen in Wales. This will be separate to the championship MBKC run at Three Sisters, Wigan and open to all MBKC members. Non-members are welcome to race at all race meeting.
The plan is subject to ratification by a special general meeting of the MBKC membership in late January. "Drivers who race at GYG enjoy the unique family atmosphere" said MBKC chairman Simon Goodfellow and "MBKC intends to retain this and give drivers in the North West the best choice of Kart racing experiences in the country. Three Sisters offers the highest level of competition and is complimentary to GYG. Both circuits saw 25%+ growth in competitor numbers in 2004 and we will be working hard to achieve continued growth at both in 2005".
To join MBKC or for more information on classes and race dates see the Manchester & Buxton Kart Club website.
[ Top ]
---
ABkC / Super One Changes (11/01)
Drivers in the CIK classes racing in British events will be limited to one chassis and two engines this year, following decisions from the Super One organisers and the Association of British Kart Clubs. Super One's Neil Hann said: "We always try to follow the CIK regulations as closely as possible, and they will limit the chassis and engines in all their Championships this year, we will do the same. If a chassis is written off beyond repair, a driver may be able to continue with a spare at the discretion of the chief scrutineer, as in all the other classes." MBKC, holding the ABkC O Plate Championship for these classes at Three Sisters on 27th February, will do the same. Chairman Simon Goodfellow said: "It is vital to Karting that the best combination of driver, team, engine, kart and tyres wins. The reduction in equipment that can be used makes the British Championship classes accessible to all the best drivers - this is good for drivers and good for Karting. With engines freely available for hire any driver who believes he can compete with the best can enter our ABkC National Open Championship."
Previously drivers in Formula A, ICA and JICA could scrutineer two chassis and three engines and usually the second chassis was set up for wet weather use. The change is the first part of a cost-cutting exercise by the CIK and the change should especially benefit the smaller and 'Dad and lad' teams.
The CIK will allow two chassis and three engines to be registered from the start of practice for their European and World championships but the race chassis and two engines must be nominated before the first official warm-up. The spare chassis can be used later, but with escalating and draconian penalties.
Other Super One changes for the season include giving more points for the timed practice session in Rotax, and TKM if there are sufficient entries to trigger the timed session. Neil Hann said: "In effect timed practice will have points equivalent to a fourth heat this year."
[ Top ]
---
Where To Start? (11/01)
Kemara Racing are looking to give a youngster the chance to race competitively by providing a limited level of support to him/her and their parents to get them started. After the success of the last driver to be taken under the wings of the Kemara Racing Team, who has now moved on to compete at Super 1, there is an opportunity for a new driver to compete at one of the best circuits in the country where the facilities are continuing to improve after an amazing first season.
Kemara Racing Team have an opening for a budding, enthusiastic driver who is aged 16 or over, can fund their racing but doesn't know where to start. Do you think that all this set up talk is a black art? Can you get to the Forest Edge circuit which is just off the A303 to the East of Andover? If this sounds like you please email to: opportunity@kemara.co.uk with your contact details, name and age to arrange an exploratory discussion. You would be driving a quality TonyKart chassis with a successful race proven engine, and driving tuition will be provided by a Championship winning driver! This could be your one chance.
[ Top ]
---
Rotax Race At Wildtracks (10/01)
Wildtracks are having their first race on Sunday 23rd January and all MSA and non -MSA are welcome, it gives people the chance to visit the circuit and for Wildtracks to get ready for forthcoming MSA events. Classes are dependant on numbers but should include; Mini/Jnr Max, Snr Max & Max Heavy.
The meeting will run to the Blue Book with full medical back up, so for a great day racing and great trophies call Mark Rowe on 01638-750496 now.
[ Top ]
---
Young Driver Scholarship (10/01)
Saxon Motorsport have launched their 2005 Young Driver Circuit Racing Scholarship aimed at under 24's looking to make the graduation into tin top circuit racing.
The successful candidate will receive a full expenses paid season in the UK VW Racing Cup – Britain's fastest growing saloon car championship – and a comprehensive driver training programme. For more information and on-line application go to www.saxonmotorsport.co.uk/scholarship.htm
[ Top ]
---
World Cup SICC Birel Kart (07/01)

Sole UK Importer ACR proudly announce that World Cup Winner Ennio Gandolfi's SICC Birel kart will be on display at Autosport International next week. The full range of Birels will be on show including the new Motorsport 2005 M and Q series along with the new Monza line kart made by Birel. For the rental market there will be an opportunity to see the Birel N35 with its innovative pod protection system. Team manager Gianluca Beggio will be in attendance as well as FA driver Jon Lancaster The ACR/ Birel stand is located in Hall 6 stand number K602. For more information contact ACR on 01527 889595 or email: andycox@andycoxracing.co.uk
[ Top ]
---
Cadet Oil Delay (07/01)
The MSA have advised that there is a delay on announcing approved oil types for 2005. The MSA's John Ryan said: "The 2004 Comer W60 regulations for oil must be applied for 2005 until further notice. The MSA are still waiting for finalisation of the specified list of approved oils which is anticipated during the Spring." The 2004 regulations state that the engine lubricant must be a synthetic oil meeting the requirements of the JASO FC standard, whilst the 2005 regulations were changed to add that at least two oil types will be specified, which will have a trace marker to ensure compliance.
The exact wording of the 2005 regulations:- Engine lubricant must be a synthetic oil meeting the requirements of the JASO FC standard to ensure that the exhaust emissions meet the standards set down by the MSA. From 1.1.2005 at least 2 oil types will be specified. These oils will be supplied with a trace indicator to enable identification by analysis.
[ Top ]
---
Are You A Weekend Dad? (06/01)
A BBC TV documentary series is looking for separated or divorced fathers who want to improve the time spent with their children. "Weekend Dad" is a BBC documentary series which will look at how non-resident parents can make spending time with their children a better experience all round.
They hope to start filming with some families from January and if you 'fit the bill' you'll be given the free services of one of Britain's top family experts. So if you would like to take part please call 0870 010 8306 for a confidential chat or e-mail: contact@bbc.co.uk.
[ Top ]
---
HRS & CRG At NEC (05/01)

HRS Motorsport will be at the NEC Autosport show in Birmingham from 13th - 16th January with the new range of CRG karts and accessories. Help and advice from the HRS team will be available for all drivers regardless of experience or age.
If you can't make the show but want to see, or test the new 2005 CRG Road Rebel Kart, contact Tristram Oman on 0191 5238942 or e-mail: tristram@hrsmotorsport.com. Test drives are available in Mini, Junior and Senior Max.
[ Top ]
---
BPKC Winter Championship (04/01)
Buckmore Park Kart Club are pleased to announce the start of a short 3 round Winter Championship at Buckmore Park. Round 1 takes place on the Sunday 16th January with pre race open practice available on Saturday 8th, Wednesday 12th and Saturday 15th. This is also an ideal opportunity for TKM drivers to get in some circuit practice before the first round of Super One in March.
Full details from club secretary Sheila Rose and a new direct dial telephone number for your address books; 01634 661604. Details and entry forms can also be obtained from the Buckmore Park website.
[ Top ]
---
[ News Summary / Site Index | Current News ]

News Archives : [ 2000 ] [ 2001 ] [ 2002 ] [ 2003 ] [ 2004 ] [ 2005 ] [ 2006 ] [ 2007 ] [ 2008 ] [ 2009 ] [ 2010 ]
---