This page contains older news items. For the latest news be sure to visit the home page of UK Karting.
[ News Summary / Site Index | Current News ]

News Archives : [ 2000 ] [ 2001 ] [ 2002 ] [ 2003 ] [ 2004 ] [ 2005 ] [ 2006 ] [ 2007 ] [ 2008 ] [ 2009 ] [ 2010 ]
News Archive
2002 News Items
M.S.A. Give Green Light (31/12)
The Motor Sports Association have given Max the go-ahead for long circuit racing in 2003 and the British Superkart Association have put together a six race club championship for Rotax Max at circuits including Pembrey, Lydden Hill and Silverstone. Race dates can be found here.
[ Top ]
---
New Level 2 Track (31/12)
Kylemore Indoor Karting, Dublin's only indoor karting arena that was established in 1992, has now added a second 360 metre track, to be known as Level 2 track. The new track, which is due to open in mid-January has cost over £350,000 (550,000 Euros) to complete. Building work on the extension to the premises commenced 10 months ago while interior work on the second level track, which criss-crosses the original track began last July and has taken six months to complete. The original 30,000 sq ft premises has been extended to give over 56,000 sq ft of track area. The new track will feature underpasses, flyovers and a series of climbs and downhill sections, which will make it one of the finest in Europe.
[ Top ]
---
2002 MBKC Champions (23/12)
Congratulations to all Manchester and Buxton Kart Club Champions in 2002.
Cadet Joseph Boullen, Junior TKM Rossi, Inter TKM Jonathan Neville, Senior TKM Dan Holland, Rotax Max Paul Pendlebury, Rotax Max 172 Tony Hughes, 100 National Simon McHugh, National 125 Peter Mitchell, 125 Open Jeremy Bates & 250 National John Bishop.
Everyone at the club looks forward to celebrating your achievements at the MBKC award ceremony 1st February 2003. For details including final positions in all championships visit http://mbkartclub.com/champions2002.html
[ Top ]
---
Trulli Kart (23/12)
HRS Motorsport in Sunderland have been appointed as sole UK distributor for the Trulli kart.
[ Top ]
---
Jon Daltrey (20/12)
It is with regret we report the sad news that Jon Daltrey who raced in Rotax Max and was the British champion in 1998 in 100C, multiple Midlands champion and the winner of the world champs qualifying round to race in Puerto Rico, has died.
At the young age of 25 years, he died in his sleep on Sunday 8th December. One of the top drivers in his time he will be sadly missed by not only his family, but his many fans and friends around the country too.
His funeral takes place today (20th December) in Swindon, Wiltshire. Contact telephone numbers are available to anyone wishing to contact the family.
[ Top ]
---
Girl Power Revs Up (19/12)
Top British female drivers spanning the last decade will join together at Autosport International 2003 - in association with the Daily Telegraph - to try to encourage more women into motorsport. Barbara Armstrong, Vicki Butler-Henderson, Louise Goodman and Penny Mallory will head the line up in this ladies karting challenge to be staged on the Daytona kart circuit in Hall 11, on Friday 10 January at 12.00 noon in the new National Motorsport area.
Throwing down the gauntlet for the juniors will be 14-year-old karter Serena Hampton, who has made an impression on the competition in the Junior Max class after racing for the first time in Champions of the Future in 2002. Sarah Wilson, who will join the MN backed Stars of Tomorrow - Racing with the BRDC national kart championship in 2003, will also be hoping to drive rings around the celebrities. The 14-year-old already boasts an impressive race CV and is a former Warden Law and Rowrah Junior TKM Champion and reigning Super 2, NKF and Rowrah Junior TKM Champion.
Fully supporting the event, Louise Goodman from ITV's F1 programme comments: "Whether you are male or female karting is undoubtedly the best place for any competitor to start."
Daytona Karting has generously donated an exclusive driving event for up to 20 drivers at one of Daytona's five venues across the UK for the Race of Amazons winner's nominated charity.
[ Top ]
---
NEC Launch for 7Kart (17/12)
7Kart Ltd will be launching its 7Kart Components Division and showcasing the 7TDB Prokart in the new National Motorsport area at Autosport International 2003, from 9th - 12th January at the NEC in Birmingham.
Supplying quality karting parts and equipment, 7Kart Components is a company run by karters, for karters. Neil Dodson, Managing Director comments: "Our aim is to provide a quality service and deliver a massive range of components 'on time', at competitive prices. Stocked lines are set to include Alfano, Kartsmart, KG, R3, Ridolfi, WildKart and many more."
7Kart Components will also feature an on-line shop during January 2003, providing an efficient and easy to use one-stop distribution service. A visit to the 7Kart stand should get you all the professional advice you need and you'll also be able to benefit from some exclusive Show offers too.
[ Top ]
---
Sandown Thong Race (16/12)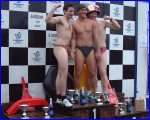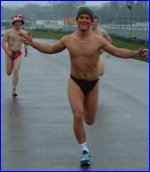 What started out as a wind-up some weeks ago, finished yesterday with David Bright, Jeff Johnson and Sean Durcan running a lap of a damp Sandown Park kart circuit each wearing underpants and little else. This preceded the day's main event, a 6 hour enduro won by David Bright Racing. The thought of seeing the three running around in thongs may have kept many away but around £700 was raised for Childline, the children's charity.
On the basis that most things get smaller when cold, JJ and Brighty felt they had every reason to question Sean over the disappearance of the paper towels!
Anyone wishing to support the efforts of the boys can contact Dave Bright on mcgeeracing@hotmail.com
[ Top ]
---
Winter Wonderland for Lancaster (13/12)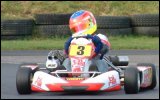 Jon Lancaster powered his way to victory and fastest lap in the first round of the JICA Winter Series at the Three Sisters Circuit in Wigan. It made up for his disappointment from his previous win the week before at the PF International Club race in which he was excluded after being underweight by just 1 gramme! Birel U.K Importer Andy Cox Racing was over the moon with the result; "This is the first race win for a Birel driver in JICA since 1996, when then JICA driver Tom Sisley won the Champions of the Future round at Buckmore Park. Jon and his engineer Mark have worked hard over the last month since changing to our chassis and Jon's performances in testing and racing have been fantastic, we are very pleased with the progress and so are the Birel factory in Italy," commented Andy Cox.
[ Top ]
---
Fairmont Winner (11/12)
Fairmont Insurance Services Group Ltd in conjunction with 'Stars of Tomorrow' have great pleasure in announcing that Daryl McDonald has won the 2003 Fairmont Scholarship. The other three karters in contention for the award were; Thomas Brown, Ross Curnow and Oliver Turvey.
The four members of the judging panel had a tough time: "It was an extremely difficult job that was set the panel" said Paula Hamilton "and on one occasion Carolynn Hoy from 'Stars of Tomorrow' thought that we all might be getting close to blows!"
"Speaking for myself and I am certain that this goes for all the judging panel" said Carolynn Hoy, "I always feel a little down after the decision because I have one ecstatic boy but three devastated ones. They all worked so hard but there can only be one winner."
Well done Daryl and best of luck for 2003.
[ Top ]
---
Test A TXRM - Date Changed! (11/12)
Dream Karts International, sole importer of the French GoKart chassis have changed their test day at Bayford Meadows to Wednesday 18th December 2002. Anyone interested in a test drive on either a junior or senior Max should contact them on 0208 518 7744 or 07870 564503/2 for further details or just turn up on the day.
[ Top ]
---
Fees Fixed For 2003 (11/12)
Cumbria Kart Racing Club maintain their reputation for value for money racing by again offering competitive fees at one of the best drivers' venues in the UK.
The fees are: Membership; £40 (single) with £30 for each subsequent family member at the same address. Race Fees; Member £30, Non-Member £40. Practice Fees; Member £15, Non-Member £25.
[ Top ]
---
Charity Event (10/12)
Sunday 26th January is the date for a 2 hour endurance race in aid of The Anthony Nolan Trust - a leukaemia charity founded in 1974 as the first register of volunteers willing to donate bone marrow in circumstances where a match cannot be found within a patient's family. The event is being held at Lakeside Karting, Thurrock, Essex using Biz twin-engined prokarts on the full 900m circuit.
This is a Pro Am event for a very worthwhile cause. Up to 15 teams will be competing and each team will feature a driver from the world of professional motorsport. Teams interested in racing should contact Bronwen Nicholls at the Trust - Tel. 01371 811205 or e-mail bronwen.nicholls@popmail.anthonynolan.org.uk
Would any professional drivers interested in racing please contact Simon Jones at Lakeside Karting 01708 863070.
[ Top ]
---
F6 Champ Tests FF (10/12)
19 year old Andy Wills, who became Rochester Motor Club's 'Formula 6' Senior Prokart '0' Plate champion earlier this season, is testing with the Formula Ford Winter Series 2002 championship winning team Team Jato Motorsport at Donington Park on 12th & 19th December 2002. "This is a dream come true" says Andy, who was run by Jeff Harris in karts, "and I hope to join Jeff's and Derek Phibb's winning team next season".
Jeff Harris's son James who won "Best Newcomer" award at Brands Hatch this November for the Formula Ford Winter Series 2002 Championship will also be testing with the team. Anyone else interested in testing at Donington with Team Jato Motorsport should call Jeff Harris on 020 8669 9223 or 07958 725432.
[ Top ]
---
Karts 'n' Parts Appeal (09/12)
The F1 Junior Karting Club of Clydebank, in Glasgow are launching an appeal to the nations karters! They are asking for any karters who have any old items of equipment that they no longer require to donate them to the Club. The appeal is to aid children who could not otherwise afford it, to have a chance to try outdoor karting. So if you have a chassis that you no longer need or perhaps you have retired from the sport and would like to help kids have their first outdoor kart experience then call us now.
If you have a spare set of tyres, tools, an odd engine or two then please contact them, they will also gladly accept suits and helmets if you have them. Looking for all items for Cadets, Honda Twins, TKM or Rotax and they can collect anywhere nationwide, or you can send the items to the address below.
For those that live in the Central belt area of Scotland, the club is currently raffling a pair of tickets to a Westlife concert in Glasgow, on the 8th July 2003, the package includes a chauffeur driven luxury car to collect you from home and deliver you to the SECC for the concert. Thereafter the same car and driver will collect you at the end of the concert and return you safely home. The price for raffle tickets is £1.00 each which can be purchased by contacting the club on the numbers listed below, postal order and cheque payments accepted. All proceeds from this raffle will go to aid the kids in their attempt to raise funds to buy equipment to go outdoor karting.
Contact: David O'Neill, 112 Ralston Avenue, Crookston, Glasgow, G52 3NB, telephone 0141 882 4193. Or phone Dave MacHendrie on 0141 642 0488.
[ Top ]
---
Fairmont Scholarship (06/12)
Successful motor sports photographer Paula Hamilton was recently selected by Karting magazine to represent the publication on the judging panel to decide which young karter would win the prestigious "Fairmont Scholarship 2003". This meeting took place at Motorsports House on Tuesday 3rd December 2002, and the winner will be officially announced this coming Wednesday. "I was deeply honoured to be asked by Mark Burgess, the magazine's Managing Editor, to represent the magazine on the panel of four and it was a privilege to judge the four candidates with Tim Bowdler - Editor of Motorsport News, John Ryan of the MSA and Rob Kluths from Fairmont Insurance", said Paula.
As one of Karting magazine's principal photographers, Paula has decided to put down her camera at certain race weekends in 2003 and be photographed herself when she competes in the John Cooper Challenge for the new award winning Mini. A successful racer from years gone by, whose winning ways date back to the 70's, Paula has a future ambition to be the oldest woman ever to race in the British Touring Car Championship. "I already have a couple of companies joining me as sponsors" says Paula, "but if any other organisation or individual wishes to come on board then myself and fellow competitor Liz Biagioni, who finished 3rd in her last 750 Motor Club race at Mallory Park in October, feel confident that they can blow the men away". An interesting thought!
[ Top ]
---
New Concept Series (03/12)
England Internations team manager & Karting magazine photojournalist, Martin Capenhurst, is to launch a 3 round winter series based upon the successful format of the Internations Challenge.
A totally new concept to any series run before it is supported by Karting magazine and intends to make team racing available to all drivers, clubs and manufacturers. 6 classes are catered for including Max, Pro Kart and Honda & Comer Cadet. For further information click here or telephone 0116 2883506.
[ Top ]
---
Rotax Max Vega Wets (30/11)
J.A.G., as co-promoter with the ABkC, for the Formula Rotax Max kart class has informed us that the latest batch of Vega W2 wet weather tyres, marked JAG, have been supplied with a faster compound than earlier batches. The difference in lap times is about 3 to 4 seconds. This seems to have occurred due to misunderstandings between the importers and Vega. However the importers have assured JAG that the change in compound is permanent and will be supplied from now on.
The ABkC regrets this sudden change due to circumstances outside its control, and in all normal situations would give several months notice of a change in compound. However because of the quantity of new tyres now available and the non-availability of the earlier tyre, the change will have to be treated as force majeure and the MSA have given permission for the tyres to be used, subject to satisfactory monitoring this weekend. In any case the new tyre performance is substantially better for wet weather racing than the current tyre. It should be noted that the price per set has been reduced to £100 plus VAT, substantially less than previous.
J.A.G., on behalf of the importers, would like to apologise to all competitors and to the ABkC. They are offering that anyone that has recently purchased a set of the earlier compound, which has not been used, may exchange them for the latest compound so long as proof of purchase is shown. They have also made arrangements for sufficient quantity of the new compound wet tyre to be delivered to Shenington and PF International for the meetings this weekend. These will be restricted to one set per competitor and will be available at the new price of £100 plus VAT.
The ABkC anticipates that the same new compound Vega W2 will be supplied for use in 2003 for the Formula 100 National class. Until the end of the year however only the Vega W2 marked GB is eligible in 100 National. Further investigation on this will be taking place.
[ Top ]
---
Hairpin Found (29/11)

On Sunday 24th November an intrepid team of Manchester & Buxton KC miners lead by the old Cumbrian hand Iain Blair found a new circuit at 3 Sisters. The new Hairpin circuit was very well received by drivers, providing a different challenge from the existing circuits. Subject to MSA approval the club will be using this circuit alongside the Valley, Club, Perimeter and International circuits; 5 circuits each with there own unique challenges. The first three are used for all karts, the Perimeter and International circuits are used for gearbox classes. For a complete list of the circuits to be used in 2003 click here.
[ Top ]
---
Kart Parts Donated (29/11)
A High School & Sixth Form College karting team attended the International Kart Show at Telford over the weekend of 23rd & 24th November, setting themselves a challenge to assemble a kart from donated parts during the course of the weekend. Several of the exhibitors at the Kart Show supported the initiative with donations.
Sandbach High School & Sixth Form College would like to thank all the following for their donations of parts to the school karting team. Century Race Preparation, Delta Karting, Hasse, James Brobin, JKH Karting, John Mills Racing, Kartal Motorsport, Kartell, LRG Karts, Rega Motorsports, Saxon, Swiss Hutless UK, Tabor Racing, Tal-Ko & Zip Kart. Thanks to their generosity, the team is now well on the way to having a new kart for the next season of racing.
[ Top ]
---
New Karting Videos (26/11)
Tal-Ko has the first release of new 2002 karting action from both the MAXXIS Formula TKM Festival at Kimbolton and the Elf Hill House Hammond Super 1 series. Both videos feature the footage from the Sports Unlimited TV coverage of the racing including interviews, on-boards and race action. The S1 coverage features all classes in both juniors and seniors.
The videos come in VHS form in sleeved covers and both are available immediately from Tal-Ko, - ideal for Christmas. For full details call 01767 682020 or email info@tal-ko.com
[ Top ]
---
Top Racing Stars At NEC (25/11)
The National Motorsport area is attracting some top racing stars and set to appear on the Motorsport News stand, the focal point of the new National Motorsport area at Autosport International 2003, will be one of the UK's most successful karters - Lewis Hamilton. Lewis will be chatting to visitors about how he tackled the transition from karting, into single-seaters and clinch third place in Formula Renault in 2002.
Another British karter turned BTCC ace, Gareth Howell, will also be roaring into the National Exhibition Centre in Birmingham in January. Gareth graduated from junior karting, where he bagged a number of titles at home and in Europe, at the end of the 1996 season. Since then he has gone on to scoop up the silverware in the saloon car arena, firstly in the Ford Credit Fiesta Zetec-S Championship - where he was crowned the youngest ever championship race winner - to the heady heights of the BTCC. Having first made his debut in Touring Cars during 2000, where he clinched his first podium, Gareth went on to compete in his first full season the following year. This season has seen Gareth go from strength to strength competing in the BTCC Independent Racers Cup as one of Team Atomic Kitten's top drivers. Hear what he has to say about the challenges of advancing in the sport and driving within one of the most competitive arenas in British Motorsport.
Putting a point over for the fairer sex will be Serena Hampton who has truly impressed in Junior Max in Champions of the Future this year. Although the 14-year-old only started racing for her licence last year, Serena has proved she is "one of the boys" by her continual promising form in what was only her first year of national, junior kart racing this season. Serena will be found on the Motorsport News stand where she will be talking about the pros and cons of racing within a male dominated sport and, most importantly, how easy it is for anyone to get started.
[ Top ]
---
Hines Beats Schumacher (21/11)
ZipKart founder, Martin Hines, has been awarded the prestigious 2002 Autocar Award for Motor Sport. The Autocar Awards recognise the best of the best in the motor industry and are widely regarded as being the most influential within the motor industry and across Europe.
Winner: Martin Hines, ZipKart. Runners up: Michael Schumacher, Audi Le Mans team, Kimi Raikkonen.
[ Top ]
---
Cumbria Kart Racing Club (20/11)
There has been a change of date for the Cumbria KRC Annual General Meeting due to the venue now being unavailable on the originally stated date.
Please note that the meeting will now take place on Tuesday 10th December at 7:30pm in the Washington Central Hotel, Workington. All members are welcome and encouraged to attend and voice their opinion on how this members' club is run.
[ Top ]
---
2003 SRS Scholarship (20/11)
The Silverstone Racing School are running a competition to win a fully sponsored drive in the 2003 BRDC Single Seater Championship - the recognised 'first step' on the single seater racing ladder. Tutored by some of best instructors around, one in five entrants will go through to a final assessment stage before the winner is selected. Have you the aptitude, ability and a determination to succeed? More information here.
[ Top ]
---
The GameFrame (18/10)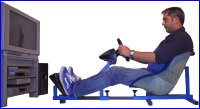 The best modern driving games are designed to be played with a steering wheel and pedals, but as any real racing driver will tell you, to be competitive you have to be comfortable and in total control, and you can't be quick when you're balancing the wheel pod on your lap and the pedal box is creeping away from you on the carpet! So the new GameFrame complete with a Tillett race seat looks to be the answer.
Sitting in the correct position with the controls firmly secured is very important, so kart racer Ian Berry and chassis designer & engineer Ted Poole have come up with the new GameFrame, the latest must-have accessory for driving games fanatics. It's a frame that the driver sits in, complete with adjustable steering wheel and pedal box supports, that can be used with a Sony Playstation, X-Box or a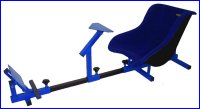 PC. Serious gamers who already have their own wheel and pedals will be pleased to know that the GameFrame will work with any of the set-ups currently available.
At £199 (until 24th December) plus delivery, the GameFrame is half the price of similar driving stations and is unique because it folds away to the size of a small chair, taking up minimal space. It can then be easily stored in a cupboard or even hung on the wall. For more information contact: Ian Berry on 01483 281 955 or 07774 933 812 or Ted Poole on 02380 463 467.
[ Top ]
---
New Racing For Buttons Website (18/10)
Racing For Buttons currently based at Rowrah in Cumbria are about to enter their fourth year of operation and as the scheme has been so successful the natural progression was inevitable. Aimed at 7 to 12 years olds, RFB caters for kids throughout the whole region (approx. 60 mile radius) and as such there has been an increasing demand for up to date information.
Through popular request RFB are delighted to announce the launch of their brand new website. There's news and information on the Cumbria based scheme regarding its activities and the kids involved. Promised future developments include online market place and discussion forums. Find out more at www.racingforbuttons.co.uk
[ Top ]
---
Manx GP & Junior GP 2003 (18/10)
The IOM Kart Racing Association are already making plans for the most exciting round-the-houses event for karts, the 2003 Manx Grand Prix, due to take place in Peel on the west coast of the island at the end of June. In addition, they are also putting plans in place for the 2nd Manx Junior Grand Prix. The junior event (open to Cadets and Juniors) will be held at the 1350 metre Jurby race circuit near Ramsey on Sunday 29th June 2003, following the conclusion of the Peel event on the Saturday. If you would like more information about these events either go along and see them at the International Kart Show in Telford this coming weekend, or alternatively email the Isle of Man Kart Racing Association at; iomkarting@manx.net
[ Top ]
---
ABkC AGM (14/11)
The Association of British Kart Clubs will be holding its Annual General Meeting on Saturday 23rd November, starting at 2 p.m. The venue is the Kart Show at Telford's International Centre with access from the M54 exit Junction 4.
Each of the thirty member clubs may send up to two voting delegates, but everyone interested is welcome to attend. After the elections for the 2003 Steering Group there will be an opportunity for an informal question and answer session on any aspect of karting. Refreshments will be available from 1.30 p.m. Entry to the Kart Show is not necessary to attend the meeting.
[ Top ]
---
Bravo Beggio! (13/11)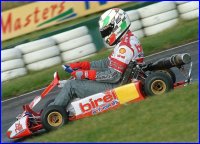 Team members from Birel Motorsport arrived at a very wet PFI International last Friday, 8th November. It was Gianluca Beggio's first visit to the UK arranged by the UK importer Andy Cox Racing to demonstrate the new 2003 Birel chassis to existing Birel owners and numerous prospective buyers. Owner drivers had come from as far as Northern Ireland and some owners had even flown in for the test from Ireland. They weren't to be disappointed, Beggio was quick in the rain and it was an amazing sight to see his skills and professionalism on and off the track. Birel mechanics Mariano and Fumagali honed the set up to perfection.
Saturday dawned with clear skies and before long the track was dry, Beggio was even more awesome in the dry aboard the new Birel R32SR posting quicker and quicker times throughout the day ending up on 44.85 secs. Advice was given to other Birel owners on set up and Beggio signed autographs on anything from crash helmets to petrol tanks!
"A successful couple of days" commented Andy Cox, "Ronnie Sala, team manager of Birel Motorsport was impressed with everyone's preparation and participation in this event that could now become an annual event in the future". Andy Cox Racing would like to thank everyone who attended and for those requiring more information on the 2003 Range of Birel karts he can be contacted at andycox@andycoxracing.co.uk or tel: 01527 63984.
[ Top ]
---
Glasgow Junior Kart Club (12/11)
The F1 Junior Karting Club based at Scot Kart in Clydebank has announced it will shortly have five new Cadet class karts for beginners, this means that they will be able to offer a full range of karting experiences for 8 -16 year olds. It's usually £12.50 per session but juniors will get their first drive free. Why not go along and try it! Telephone 0141 882 4193 for further information.
[ Top ]
---
Buckmore's £1M Clubhouse (08/11)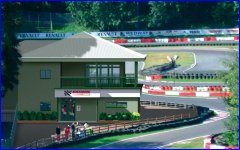 Contractors have started Buckmore Park's new £1M Clubhouse, which features the very latest in design technology. Both floors of the multi-functional two-storey building are to be fully equipped with state of the art facilities.
The ground floor specification includes an 85 seat cafeteria/restaurant, product display arena (suitable for up to 180 guests), toilets, showers, changing rooms, medical room, outside viewing terrace and access to the circuit via a new corporate pit lane. Audio/visual facilities include a bank of monitors displaying lap by lap race action as well as links to terrestrial and satellite TV.
The first floor, designed primarily for corporate and group use, incorporates a 200 seat conference room, toilets, full catering facilities and corporate bar. Large folding acoustic screens allow the room to be divided into smaller hospitality suites/meeting rooms which are bathed in natural light and have access to a balcony offering outstanding panoramic views of the circuit. Audio/visual equipment includes a large plasma screen, built in sound system as well as provision for ISDN Internet access. The building is due for completion in Spring 2003.
Circuit owner Bill Sisley says "the new building will benefit all Buckmore's customers and is only part of our long term development plan. As soon as the Clubhouse is finished we will move on to our next project - a Paddock Facilities building which will provide all owner/drivers with up-to-date facilities including a heated scrutineering bay, technical room, medical centre, fast food cafeteria, toilets and showers". For more details on Buckmore's future developments contact Bill Sisley on 01634 201562 ext 206.
[ Top ]
---
BES T-Cars Scholarship (07/11)
The majority of the final ten top drivers in the BES T-Car Scholarship come from a Karting background and now travel to Castle Combe in Wiltshire on 13th November for track assessment and driver interviews. The winner of the scholarship will be announced on the day and can expect a lot of media attention as the top prize is a fully paid drive in the 2003 BRSCC T-Cars Championship, which has an approximate value of £30,000.
The ten finalists are; Edward Cockill, Matthew Bastin, Craig Dolby, Oliver Turvey, Sarah Wilson, Grant Rees, Linda Rose, Daryl McDonald, Ruth Senior and William Cox. Good luck to them all.
[ Top ]
---
Beggio's Karts Arrive (06/11)
Ahead of this week's test at PFI, Birel importer Andy Cox Racing has received Gianluca Beggio's karts in preparation for the test. "The 2003 chassis has some interesting features commented Andy Cox, I just hope we have some dry weather this weekend to test them properly!" Testing is due to commence this Friday morning, 8th November and anyone intending to be at the circuit should telephone 01527 63984 or email andycox@andycoxracing.co.uk to confirm their attendance.
[ Top ]
---
Single Seater Racing (06/11)
Silverstone Race School are hosting the famous 5-Day Race Intensive Course between 19-23 November 2002. The course is well renowned world-wide for providing the most comprehensive race tuition program that progresses through to a FFord race at the end. Interested karters who want to get one of the few remaining places are being offered entry at a reduced cost on this final course for 2002, saving over 18% on the usual price. Call 01327 320412 or email race@octagon.com for further information or to book your place today.
[ Top ]
---
SRT's Biland Test (01/11)
It was cold and it was wet, but it was great fun. There was a good turnout at the East Midlands' Sutton Circuit last Monday for SRT Karting's demonstration of the new Biland engine and all who tested it had the same thing to say; Wow!
The test lasted for 2 hours, with new drivers hopping in and out of the seat every 10 minutes or so and the kart ran without a hitch until 5 minutes before the end of the session when one of the drivers crunched the right hand track rod and hub, so bringing the test to an abrupt halt. Some of the more impressive runs of the day came from Jamie Green and Geoff Deacon (Sutton Circuit's owner) both putting in quick circuit times in the wet on slicks. Further test days at Sutton and Stretton circuits in Leicestershire have been promised, - hopefully without gale force winds and sheeting rain next time. Anyone wanting to test the Biland can contact SRT Karting on 0116 2210475.
[ Top ]
---
Win A Rotax Max Outfit (30/10)
Visitors to this year's International Kart Show will have the opportunity to enter the free Karting magazine competition to win a complete Rotax Max outfit, in association with Dartford Karting.
The show has this year moved to the International Centre, Telford, and will have more than twice the area of recent shows. The show has received great support from the Karting trade, and visitors will have their first viewing of many new Karts. With the cancellation of the London show, the International Kart Show is probably your best opportunity of visiting a dedicated Kart show and viewing next year's equipment now. For more details visit www.kartshow.com
[ Top ]
---
Test A Max (23/10)
BRM importer BKC Karting, in conjunction with Sexton Motorsport, are inviting all interested parties to test drive the BRM chassis at Lydd International Raceway on Wednesday 30th October 2002. Karts available for testing will be mini Max, junior Max and senior Max. For any further information or to reserve your test please contact either: Karen Dodds - 01202 666557 or Rob Dodds - 07889 793035 or Piers Sexton - 07763 841459.
[ Top ]
---
Elf HHH S1 Kart Champs On TV (18/10)
Coverage of the final rounds of the Elf Hill House Hammond S1 Kart championships gets underway shortly on Sky Sports 2 & 3. The last junior round at Buckmore Park will start its multi appearances on 29th October within the Sports Unlimited programme. The seniors in their last rain drenched round at Rissington start on 5th November.
A compilation tape of this year's racing will be available later in the year.
[ Top ]
---
New Strawberry Website (18/10)
Strawberry Racing have launched their new website displaying TonyKart, Kosmic and Trulli equipment, and Vortex engines and spares. There's news and information on the South Yorkshire based company and promised future developments include online shopping. Find out more at www.strawberryracing.co.uk
[ Top ]
---
Birel and Beggio at PFI (17/10)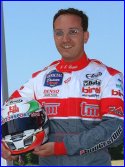 The sole UK importer for the Birel range of Karts, Andy Cox Racing Ltd., are pleased to announce the arrival of key members from Birel Spa at PF International on the 8th & 9th November 2002. PFI will be the venue to demonstrate the new Birel chassis for 2003 homologation and will be driven by 5 times World Champion Gianluca Beggio.
The two days are also an invitation for any Max or 100cc Birel owners to come to PFI and test alongside Beggio in their own karts. Also in attendance will be Birel Motorsport boss Ronnie Sala, and for technical information for drivers top mechanics Mariano de Faveri and Fumagali from the official Birel Motorsport Team.
Andy Cox is thrilled to have pulled off the arrangement of the test "This is unprecedented opportunity for users of Birel Karts to actually ask questions and receive advice from key people from the Birel Spa factory, as well as seeing a World Champion drive at PFI. Although the days are to be held on normal PFI open practice days we are keen for as many Birel owners to come and test their own karts and have owner drivers even coming over from Ireland already! I hope this commitment shown by Birel Spa's attendance in the UK signifies their intention for the Birel brand to grow in the UK market in the 2003."
Karting magazine will also be in attendance and will be publishing a feature due for release in December. Testing will commence on Friday 8th November at 10.00am. For further track information and testing fees please contact the circuit operator, Kartsport on 01636 626424. Any drivers requiring hotel accommodation can contact Chris Steele at the Old Barn Hotel, Grantham 01400 250909. For all other information or confirmation of your attendance contact Andy Cox Racing 01527 63984 or email andycox@andycoxracing.co.uk
[ Top ]
---
World Superkart Challenge (16/10)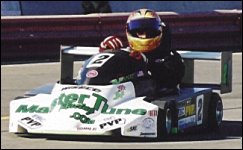 On 21st & 22nd September, 2002, the World Superkart Challenge Series was run in Laguna Seca, California, as a support race to the American LeMans Series and it saw young Cory Fancy, 19, take 1st place in Sunday's 250cc Single ICE Class final.
A delighted Loren Fancy, the father and crew chief of Cory, highly praised the part the MasterTune played, saying; "I want to let everyone know that Master Tune is a great option to have on a kart. We have been using one for almost 2 years and it has worked without fail, I don't even own a jet. Master Tune is not just a tuning device but a hassle and time saving device in the pits. No changing jets at the last minute etc. with all the mess and fuss. We just keep track of how many turns at what time of the day, i.e. air density, and go to the grid. If we get it wrong the race is not hampered by the wrong jet choice, just make a tune adjustment, just like the thousands of 100cc racers do. We had a rough time at Laguna with major motor breakage (cylinders cracking and pulling off the cases) we had our hands full trying to put motors together and breaking in pistons, thus missing hot lap practice time etc. the end result being no jet data at that track, but no problem, we set the Master Tune to a safe setting and let the driver go from there. We had very very little practice but still finished every race lap both days and finished first on Sunday, that would have been much more difficult without the Master Tune." Further information on the MasterTune is available at www.mastertuneracing.com
[ Top ]
---
Super Two Championship (15/10)
The Super Two ABkC National Championship will include Honda Cadet, Junior and Senior classes with Libre Invitation and TKM 4-Stroke Junior and Senior classes. Running at the same meetings though no part of the Super Two will be the Formula TKM 2-Stroke Challenge including Junior, Intermediate and Senior classes.
2003 provisional dates are: 13th April at Llandow, 1st June at Larkhall, 10th August Clay Pigeon, 24th & 25th August Rowrah, and 28th September Fulbeck, with two more additional rounds to be announced soon.
[ Top ]
---
New 1300 Metre Circuit (15/10)
Brooklands Grand Prix Academy in Weybridge, Surrey has announced the completion of its international 1300 metre kart circuit and its modern clubhouse, both of which are now open. Brooklands have also acted to clarify their position following false industry rumours. A recent substantial investment into the track and facilities has seen them take delivery of 20 new Biz twin engine pro karts and the fleet will be complemented with a further delivery of 20 new Biz single engine karts at the end of October 2002.
This new and exciting circuit is intended to give every driver a real challenge and Brooklands are gearing up for an exciting future, including the hosting of a round of Champions of the Future in 2003.
Open practice sessions for 4 stroke owner/drivers are currently running every Friday. Telephone 01932 855880 for information and availability.
[ Top ]
---
Rotax Max British Champion (15/10)
Congratulations to Tristram Oman of H.R.S. Motorsport for winning the 2002 Rotax Max S1 series on a TonyKart chassis with of course H.R.S. prepared engines.
[ Top ]
---
Competing In Europe (14/10)
At present, a competition licence issued by any European Union country (also by Andorra, Iceland, Monaco, Norway, San Marino or Switzerland) and bearing the EU flag is valid for any British event, providing the holder complies with all the requirements for that event. Such a competitor is subject to Motor Sports Association regulations while competing in any British event.
Similarly, any British competition licence holder of National A grade or higher is entitled to compete in events within the 21 countries (15 European Union members, plus the 7 listed above), providing he or she complies with the requirements of the event and the regulations of the relevant national governing body.
The effect is that many national events can attract competitors from the 21 countries, without those events being listed on the FIA International Calendar.
The FIA World Motor Sport Council recently amended its International Sporting Code, so that the privileges described above will, from 1 January 2003, be available at National level only to "professional competitors".
However, for the year 2003 only, the FIA General Assembly has agreed a 'half-way house'. Further information and the full text of the MSA briefing can be found at www.msauk.org
[ Top ]
---
New East London Showroom (14/10)
Dream Karts International the sole UK importer and distributor for the "GoKart" range of chassis have announced the opening of their new workshop / showroom at Fairways Business Park in Lammas Road, Leyton. They will be offering a large range of services including spares, sales, service, repairs and race support. Contact Peter or Dominic on 020 8518 7744.
[ Top ]
---
F1 Junior Kart Club (14/10)
Having finally settled in their new home at Scot Kart in Clydebank, Glasgow, the club meets every Sunday morning to offer boys and girls the opportunity to try their hand at becoming the F1 drivers of the future. The club has negotiated a package where for £12.50 kids can spend two hours of racing and endurance tests competing with many other budding Schumacher's and Coultard's. Helmets and suits are provided.
Current membership is in the region of 28 drivers with a normal average of 15 every Sunday morning. Run by the parents this club has now been in existence for nearly two years at a variety of tracks, but have hopefully settled at Scot Kart, John Knox Street, Clydebank Glasgow. For further information call Mrs Catherine O'Neill on 0141 882 4193, alternatively call Scot Kart on 0141 641 0222.
[ Top ]
---
Final Round For Best Of British (11/10)
The very best Kart racers from around the country will be hoping to take another step toward a career in Formula One, as they contest the final round of the British Karting Championships this weekend.
The climax to the season is taking place on Sunday, (13th October) at Rissington Kart Circuit, between Stow-on-the-Wold and Burford.
With 100cc and 125cc two-stroke Karts capable of hitting 90mph and a circuit that offers plenty of overtaking opportunities, this promises to be a spectacular event. Drivers from around the UK - including a number of local racers - will be fighting for a place on the podium in one of the most important meetings of the season. The powerful Formula A, Formula ICA, Formula TKM and Formula Rotax Max categories all being contested in a full day of wheel-to-wheel action.
Rissington kart circuit is near Upper Rissington and is signposted off the A424 to Burford, ten minutes from Stow-on-the-Wold. Admission is just £5 per vehicle and spectators benefit from full race commentary, excellent trackside vantage points and refreshment facilities. Unfortunately, no pets are allowed. Racing is expected to run from 10.45am until approximately 4.30pm.
[ Top ]
---
TKM 4-Stroke National Champs (11/10)
The new Formula TKM 4-stroke classes have been given a major boost by their inclusion within the Elf Hill House Hammond Super 1 National Championships for 2003. Junior and senior TKM 4-strokes will race within the new TKM only section of the Super 1 series which kicks off next Spring. It is the first time ever that 4-stroke engines have been included in the top level S1 series and reinforces the growing significance of these new style high tech engines which will be introduced into world level karting within a couple of years.
Alan Turney of Tal-Ko, the company which designed and makes the engines, said: "This is very good news for the class and creates a major new opportunity for drivers who want to combine racing at the top level with the very latest technology and superb reliability. We want to give drivers every chance to race at different levels and in different equipment but knowing that they have exactly the same engine and performance as the next driver. That is what they have with the 4-stroke which uses sealed power units." But he adds: "We must also stress our wholehearted and continued commitment to our TKM BT82 2-stroke engine used as the basis for the UK's largest category and which will have our long-term support. It has already produced two F1 drivers and we hope many more."
Tal-Ko will be offering a full spares and technical back-up at the new TKM S1 series rounds for 2003. In the meantime the company is holding special test days to give drivers the chance of sampling the TKM 4-stroke engine. Those interested should contact Tal-Ko at 01767 682020 or email to info@formulatkm.com
Dates for the S1 Formula TKM series in 2003 are: 22nd & 23rd March at Rowrah, 19th & 20th April Kimbolton, 3rd & 4th May Buckmore Park, 21st & 22nd June Clay Pigeon, 20th & 21st September Lydd, and 11th & 12th October Whilton Mill.
[ Top ]
---
Super Two/Honda Challenge Awards (08/10)
The Lucky Strike B.A.R. Honda Formula One team played host to the Honda kart champions on Saturday 5th October at their splendid facility in Brackley near Silverstone, Northamptonshire.
The Awards day out for the karters which comprised Honda Cadets, Juniors, Seniors and Libres, included a factory tour for some 90 people and a look over one of the F1 cars just back from testing at Barcelona in the hands of Anthony Davidson, this was followed by a question and answer session with Anthony with everyone fascinated to hear about his transition from karts to cars, his first F1 race in the Minardi and his test role at BAR.
Willem Toet, the BAR aerodynamicist gave a presentation on the use of the wind tunnel and computational fluid dynamics and then everyone moved into the presentation of the Awards by Anthony Davidson. The top nine in each class won engraved salvers and a symbolic number plate to recognise their right to a single digit race number in 2003.There were special prizes from the main series sponsors Dunlop, RG Racing, RPM Engines and Caliba. It was a fine finale to the season and a chance to see the range of Honda competition interests from Karting to F1.
The Calendar and Registration Forms for the 2003 Super Two / Honda Challenge will be released on the Ratpro website in about a week.
[ Top ]
---
Combined Winter Grids For ProMax (07/10)
Hot on the heels of a successful summer season for both the EKC British Endurance Championship and the equally successful Buckmore / Bayford SE Promax Challenge, the two series have combined grids for the winter. Round 1 is at Bayford Meadows on the 12th October and with an entry approaching 28 already, there should certainly be an exciting start to the series. Lydd has also been added to the calendar to add some extra interest. The Buckmore / Bayford SE Promax Challenge ends at Buckmore on 22nd March 2003, but due to the start of their 2003 Summer Championship the EKC Winter Championship finishes one round earlier on 1st February at Bayford.
[ Top ]
---
Biland Challenge Final (07/10)
Four British drivers have been invited to join more than 60 others for the first Intercontinental Four Stroke Kart Final at Ales in the South of France, taking place over the weekend of 6th - 8th December. The lucky ones were the top four of 'The Biland Championship' run by Formula 6. The final comprises timed qualifying, three heats (9 laps) for each driver and a B final, a prefinal of 18 laps and a final of 25 laps of a new circuit at Ales. Arranged by Team Biland of Switzerland, all accommodation and fares are paid by the organisers for the competing drivers and seventeen countries are represented including France, Finland, Greece, Portugal, Rumania, the Benelux countries and many others from Europe, and from further afield; Canada, Brazil, Taiwan, Malaysia and Australia.
[ Top ]
---
Honda Cadet Championship (07/10)
Buckmore Park & Bayford Meadows, in Association with Formula 6 have announced the launch of the Winter South East Honda Cadet Championship. Suitable for both Novice and Full plate drivers, this two circuit championship consisting of 6 rounds starts at Buckmore on the 20th October and has three rounds at each circuit, with the final race taking place at Bayford on 26th January 2003. For an entry form and registration details contact Sheila Rose at Buckmore.
[ Top ]
---
Lakeside Launch Day (04/10)
Tuesday 24th September was a momentous day for Lakeside Karting Centre. The circuit decided to mark the official opening day by inviting members of the press and media as well as racing car drivers to an action packed racing event. The event was attended by 72 members of the National and Local Press including The Guardian, Meridian TV and Essex FM. The attendees were split into teams of four and were given a briefing and tour of the circuit before embarking on a 15 minute practice followed by a one hour endurance event where the teams competed against each other.
Highlights of the day included a demonstration drive by Mr. Colin Stancombe who managed to reach speeds of up to 80mph in his Renault Clio touring car. Lakeside were also honoured to have Justin Keen, F3000 competitor and regular KL Minardi Asiatech F1 team test driver demonstrate his skills at the wheel of a 100mph racing kart. The centre's adult kart tutor Mr. Jay Howard, 3 times UK National Kart Champion was also on hand to provide help and advice to novice and expert alike.
Interviewed after the event, Mr. Jon O'Neill, Business Manager from Business to Business Life said "I've never raced at 70mph in such a tiny machine before. I can highly recommend this experience to anyone who needs to de-stress at the end of a busy week." Justin Keen also commented "This is without doubt the most challenging and entertaining kart circuit I have ever visited." After prize giving and a speech by Mr. Michael Anthony, head of Sales and Marketing, everyone enjoyed a buffet and drinks.
Lakeside Karting Centre offers pre booked and arrive and drive karting for all ages from 9 years. The centre is also pioneering professional driver training for both adults and children at all levels. Contact Lakeside Karting Centre on 01708 863070 or visit www.lakeside-karting.com
[ Top ]
---
Expansion For Top UK Kart Champs (03/10)
The UK's premier Karting championship has announced plans for major expansion and re-organisation in 2003 to cope with the ever increasing number of competitors who want to race at the highest levels. The Elf Hill House Hammond S1 Series will be split into three sections next year to provide 18 rounds of top level national racing at circuits throughout the country.
Currently the series has four qualification rounds and then splits into Junior and Senior sections with a mixture of classes. For next year there will be no qualification events and the split will be quite different into three parallel race series:
The MSA British Championship series will include the top junior and senior Hill House Hammond MSA British title classes along with Cadets, ICA and 100 National.
The ABkC Formula TKM series will include classes for junior, intermediate and senior TKM 2 stroke karts, as well as junior and senior classes for the new TKM 4-stroke engine.
The ABkC Rotax series will be for the three Rotax classes for juniors and seniors.
Inclusion of the TKM four-strokes marks the first time that four-stroke engines have ever been included at top national championship level. In itself it is a further expansion of the series. Series organiser Neil Hann commented: "We have talked at length to teams and drivers to understand their needs. We have made these changes to allow the series to grow in line with the demands of our competitors. We stress that each series is seen as running in parallel with the emphasis on equal billing for all. What this does is to allow us more championship events and the ability to cater for more drivers within a suitably controlled meeting. Each class has different needs and we feel we can better assist in the smooth running of events by taking this approach."
TV coverage for the series will remain with full details to be announced later once full schedules are in place. A schedule of events has been drafted and will be announced within a couple of weeks following confirmation of the international Karting calendar.
[ Top ]
---
Gearbox Finale (02/10)
The final round of Super 4 will take place at Little Rissington this weekend and with 3 of the titles still to be decided the racing should be very tense. In 125 Open, Nathan Freke and Noel Brennan both need to win the meeting to take the title, with Nick Smith looking to consolidate 3rd place. Junior champion Frank Wathall makes his debut in 125 Open as a guest. In 125 National 3 drivers can win the title; Lee Stamp, Matthew Bett, and Lee Harpham, in what should turn out to be a fascinating race. 250 National also has a 3 way battle between Mally Witts, Neil Burroughs and Andrew Walker, any one can win the title. Racing starts at 10.45am so go and have a look at what will be a fine day's racing.
[ Top ]
---
Forest Edge Circuit Changes (01/10)
The sand has gone - Yippee, the fence has gone - Yippee, the trees have gone - Yippee, and the track is wider - Yippee!
After surveying the members and racers at Forest Edge the club have just completed the following changes to the track on its site in Ringwood, Hampshire. The sand run off areas around the circuit have been removed and replaced with more engine friendly bark chippings all the way around the 1100 metre circuit. The long post and rail fence, recently installed by the club's landlords, has been entirely removed from Foster's Straight leaving a wide run off area for those leaving the Parabolica prematurely.
The trees and undergrowth that were close the track on the exit of Bridge have been removed by permission of the landlords and English Nature and the old track curbing at Club has been removed to make the track wider at the first bend - 4 karts in to 2 may now go!
This has all helped make the track better for overtaking, safer to drive and with better visibility for spectators too. Those wishing to try the new Forest Edge should contact Peter Bryceson for more details or entry forms. Tel. 01256 893663.
[ Top ]
---
Full Grid Expected For Charity Race (01/10)
The Pro-Am Charity Karting Challenge scheduled for 27th October is predicted to start with a full grid, event organisers RacingLines International announced that with over half of the 25 entries filled the remaining karts will be oversubscribed as the event at Rye House Kart Raceway draws closer.
"We immediately had a massive surge of interest and this has really kept up" explained Project Director Noel Bradford, "in the last week we have seen things go crazy with the website and event hotline surprisingly busy." "We have had enquiries from around the world and we are quietly confident that the grid will be full" continued Bradford; "The £400 per team entry fee includes all the safety gear, insurance and a huge after race party at the luxurious Briggens House Hotel."
The event will see teams of up to 6 amateur drivers joined by a professional racer, drawn from series such as Formula One, British and European Touring Cars, Formula Three, British Superbikes and ASCAR, in a four hour non-stop endurance race for a large cash donation to the winners nominated charity. "The professional driver line up is looking to be impressive with the majority of the 2002 British Champions taking part in the event" observed Bradford; "and we are working on those that are not yet committed to the event."
Anyone wanting to enter a team is urged to act quickly as the remaining entries are on a strictly first come first served basis. For entry information visit the official event website at www.charitykarting.org or call the event hotline on 0870-7651240.
[ Top ]
---
Junior Gearbox (25/09)
Following the decision to include Junior Gearbox in Champions of the Future, Century Race Preparation will be offering test days in their demonstrator karts to give drivers a chance to try the class before making choices for 2003. Interested racers can contact Century on 01562 632032 or 07710 232813, or mail@century-karting.co.uk to arrange a test.
[ Top ]
---
Karting On TV (20/09)
The ABkC O Plate Championship from Clay Pigeon will be broadcast tomorrow (21st September) on Channel 4 at 10:30am in a dedicated half-hour show, there will also be highlights of the event in Sky Sports programme The Fastrax starting in October. The TKM 0 plate championship from Shenington will be on The Fastrax first broadcast on Tuesday 24th September, Sky Sports 3 at 6.00pm.
[ Top ]
---
Biland for Birel (18/09)
Sole UK importers of the Birel chassis Andy Cox Racing has been appointed as a Midland dealer for the Biland four stroke engine. In conjunction with this appointment Andy Cox Racing will be holding test drives at Whilton Mill throughout October and November aboard the Birel/Biland combination. In 2003 the company will offer the Biland engine available with the choice of two new Birel chassis designs as a complete package. For more information contact Andy Cox Racing Ltd: 01527 63984 or andycox@andycoxracing.co.uk
[ Top ]
---
T-Cars Scholarship (17/09)
One lucky teenager will be racing on Britain's top motor racing circuits in a purpose built 100mph racing saloon next year absolutely free, an if they've got what it takes they may be just a step or two away from following some of the top drivers who cut their teeth in the T-Cars programme.
Martin Lewis, Managing Director of Building Environmental Services Plc, and founder of the Scholarship, has confirmed that one lucky winner will be lining up on the T-Cars grid next season. That commitment extends to the provision of a fully prepared car run by a professional team in a prize worth over £30,000! The B.E.S. T-Cars Scholarship has the added support of the UK's leading kart publication, Karting magazine, through which anyone born between 1st May 1986 and 1st February 1989 inclusive may enter. Entrants must also be at least 4'9" tall and be able to drive a car with a manual gearbox.

The winner of the 2003 B.E.S. T-Cars Scholarship in association with Karting magazine will receive the exclusive use of a professionally prepared and run T-Car for the 2003 BRSCC T-Cars Championship and official practice sessions. Race entries and mechanical repairs are also taken care of, all the scholarship winner is liable for is accident damage, which must be insured against and testing carried out over and above the official sessions. Among the drivers who began their successful racing career in T-Cars are Tom Boardman, who is racing in the Production class of the BTCC, Tom Chilton jumped straight into the Touring class of the BTCC this season to become the youngest ever competitor in the championship and finished on the podium in his first BTCC weekend!
Or maybe single seaters is more your cup up tea? Formula Ford Zetec racers Tom Kimber-Smith and Stuart Hall are former T-Cars rivals, Ben Reeves is now racing in Formula Renault, Ryan Lewis is competing in Formula Palmer Audi while Oliver Playle is in Formula Renault and will shortly be moving into British Formula 3. Full details of how to enter this once in a lifetime chance to make your dreams come true, are available in the October issue of Karting magazine out now! Telephone 01689 897123 to order your copy.
[ Top ]
---
Quality Drivers Wanted (17/09)
Lakeside Karting have a media launch coming up at their newly built Essex track and are seeking some quality drivers to take part in a 90 minute team endurance race next Tuesday, 24th September. On offer to suitable candidates is some racing in Biz Prokarts, a buffet and drinks, - all free of charge! You will need your own race kit and must be at least 17 years of age. All interested in attending should either e-mail info@lakeside-karting.com or telephone 01708 863070 for a chance to be on the grid.
[ Top ]
---
Stolen Kart - Reward (16/09)
A cash reward of £250 is being offered for information leading to the recovery of an Anderson Cadet Kart stolen on 10th September from Sandal, Wakefield, West Yorkshire. It has a Honda engine serial no: 5689323, chassis serial no: HAN01376, and had blue spoilers etc with various stickers. Racing no. 88. Well known at SYKC and Tockwith Motor Club. Tel: John / Ann. 01924 892154 daytime or 01924 254209 evenings.
[ Top ]
---
WTP Now At P.F.I. (11/09)
Trent Valley Kart Club has agreed to run the Cadet Formula WTP class as part of their line up for their 6th October club meeting at the Lincolnshire circuit near Brandon. This is not a championship round, so any cadet driver with a WTP engine can enter and it will run as its own class. As with all classes at P.F.I. get your entry in early to avoid disappointment due to the large number of drivers. More information can be obtained from T.V.K.C. or JM Racing. There should be some great racing.
[ Top ]
---
TKM Festival On TV (11/09)
Coverage of the MAXXIS Formula TKM Festival at Kimbolton began on Sky Sports channels 2 and 3 this week within the Sports Unlimited programme. The stations will be showing multi repeats of the coverage over a three week period with three different programmes being screened covering the full range of events at the Kimbolton festival held last month. Later the Sports Unlimited programme will also be screened to many other countries around the world.
[ Top ]
---
Derrick On Course (11/09)

Hampshire kart racer Chris Derrick is now well on his way to winning his sixth karting championship in a row, after completing back to back wins in the 2 Counties Championship, Chris extended his overall lead in the seven round series which the three times Matcham's champion has now won two years in a row. Winning the title for the third time has only been achieved once before in the championships long history.
On Chris's National Championship campaign he is currently lying third in the Victory Racewear Formula Blue G.T. Series and third also in the N.K.R.A Formula Blue National Qualifiers after a superb second place at the super fast Lydd circuit, keeping the Chandler's Ford racer as Hampshire's no1 driver in Formula Blue, and helped by current sponsors Peter Green Furnishings, Abbey Park Cars, Argonaut Powder Coating and Foxcraft Engineering. An exciting new sponsorship package has just been announced with Rock Oil whose range of products is sold by Andy Cox Racing and Chris has the highest praise for his sponsors, acknowledging that none of these results would have been possible without the tremendous amount of help and support they have all given.
[ Top ]
---
Live Action Arena (09/09)
As Autosport International 2003 roars in to the NEC in Birmingham from 9th to 12th January 2003, one of the biggest attractions will undoubtedly be Karting's debut in the Live Action Arena.
Although plans are in their infancy, it is expected that Karting will feature with appearances and demonstrations from some of the most talented karters the UK has to offer. Ian France, Group Show Manager, Haymarket International comments: "We are very excited at the opportunity to raise the profile of Karting in the Live Action Arena, where performances take place in front of 4,500 visitors, five times a day over the weekend and twice on the trade days. We also have exciting plans to stage races involving both national championships. We want to do all we can to showcase Karting as the grass-roots starting point in motorsport."
[ Top ]
---
Important Technical Clarification for Formula TKM (05/09)
Rule 5.18 states that the engine should be at cold (ambient) temperature when volume measurement readings are taken. The Formula TKM Co-ordinator has clarified that when volume measurement readings are being taken the engine and relevant test equipment including oil should be at a temperature between -5C and +50C. Readings taken at any point within this scale will be acceptable as a definitive measure of the volume. This clarification takes immediate effect.
[ Top ]
---
Maximum Grids Expected (04/09)
Buckmore Park's 2 stroke Summer Championship kicks off again after its summer break on Sunday 15th September. The meeting not only features Buckmore's normal ABkC classes but also a round of the Rotax Max Challenge. It will also be the last chance for competitors to practice and race at the Kent circuit before the Junior Super One round in early October. Maximum entries are expected in all classes. Additional practice is available on Wednesday 11th and Saturday 14th September. For more details and entry forms contact the club secretary, Mrs Sheila Rose on 01634 201562 ext 210 or email to chris@buckmore.co.uk
[ Top ]
---
Well Done Boys (30/08)
Century Race Preparation would like to congratulate the winners of the 125 Gearbox class winners at the Nutts Corner round of Super 4 last weekend. 125 National winner Matt Campbell, and Nathan Freke the 125 Open winner of both heats and the final which follows his GP win at Pembrey, Gold Cup win at 3 Sisters, and lap record setting wins at Silverstone, all on the Pavesi engines. Drivers considering 125 Gearbox and seeking success in either National or Open classes can contact Century on 01562 632032 or mail@century-karting.co.uk
[ Top ]
---
Updated (28/08)
Zoom Karts have updated and improved their online store and website. More user friendly and much easier to use, the site store now features even more products and monthly online offers. See for yourself at www.zoomkarts.com
[ Top ]
---
100 National (22/08)
Super 1 supremo Neil Hann returned from holiday this week to review the reaction from the ABkC proposals not to hold 100 National Super 1 and O Plate championships in 2003. He said: "I want to make it clear that whilst I was present at the meeting where the proposals were made, I am now putting on hold any decision not to run 100 National in next year's Super 1 pending further discussions with interested parties." Several prominent kart traders had reacted against the proposals claiming they already had made significant investments in the class for next year. The 100cc air or water cooled rotary valve engines used in 100 National are not permitted to be the latest model types as used in Formula A, but since many manufacturers did not do a full re-design, in practice many of the engines used in both classes are identical this year. 100 National is a budget class with drivers only permitted one chassis and two engines for a race meeting, whereas ICA and Formula A are permitted two chassis and three engines, but entries in 100 National have been declining especially at club level.
[ Top ]
---
Midland Karting Championships (21/08)
Some of the very best British Kart racing talent will be in action at Rissington Kart Club at the end of the month, to contest the annual Midland Karting Championships.
A number of rising motor racing stars will be hoping to add the prestigious title to their CV during the two-day event, held at the Gloucestershire circuit from 31st August - 1st September. The most famous winner of the title is current F1 star, Jenson Button, who dominated the Formula Cadet category between 1989 and 1991. A massive entry of around 300 drivers is expected to contest the 2002 event, including Charlie Bruce-White, Sam Hill and Paul Wilson, who currently lie first, second and third in the 100cc powered Formula TKM British Championship. Other big names include Paul Kennings, leader of the British Formula 250 gearbox series and Formula 125 gearbox racer, Nathan Freke, who recently won the British Kart GP held at Pembrey, in Wales.
Free practice and heats take place on Saturday, with the remaining heats and finals making up Sunday's programme. Spectators benefit from full race commentary and unrestricted viewing of the action. There will also be a number of displays and some paddock entertainment to enjoy between races. Admission is charged at just £5 per vehicle. Unfortunately no dogs are allowed. The circuit is near Upper Rissington and is signposted from the A424 to Burford, just ten minutes from Stow on the Wold. For full directions and event information, visit www.rissykartclub.com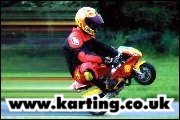 Visitors are also set to discover that size doesn't matter, when expert Pocketbike racers make a guest appearance at the Championships on the Sunday. Wiltshire based outfit, Minimoto Racing, will be entertaining the crowds on their scaled down machines, during a special track demonstration around the circuit. Despite their size, these high-revving two stroke machines are no toys, hitting top speeds of well over 60mph. Minimoto Racing will also be putting their tiny bikes on display in the Rissington paddock throughout the second day and spectators are invited to view these incredible machines close-up and a number of experienced riders will be on hand to answer questions. "It will be a real treat to see the pocketbikes in action," said resident circuit commentator, Chris Hartley. "Karting has a solid reputation as the breeding ground for Formula One stars and I don't see why the next Carl Fogarty couldn't come from Minimoto."
Remote Control Challenge. As well as enjoying the spectacle of some superb racing at this weekend's Midland Karting Championships, visitors will be able to enjoy the thrill of competing themselves, with the Remote Control Challenge. The club is inviting spectators, drivers and team members to bring along their own remote control cars and tackle a specially set up course in the race paddock this weekend. Anybody wishing to put their skills to the test will have their times recorded and the fastest three entrants over the course of the weekend will receive prizes. The Remote Control Challenge is designed to bring an element of fun to the event and is just one of a number of special paddock displays that will be entertaining the crowds between races.
[ Top ]
---
Gearbox Champs (20/08)
The UK's premier Gearbox National Championship makes a welcome return to the Nutts Corner circuit near Belfast this coming weekend with all of the titles still up for grabs. A good entry is predicted with all of the top runners in the championships going to the popular County Antrim circuit, plus there's local Irish interest in the Guest drivers allowed in the Super 4 format. The racing will be fast and furious on a circuit which is different to any short circuit found in the UK mainland. In the 125 classes Nathan Freke and Noel Brennan will be trying to gain supremacy in the Open class, as will Matthew Bett and Lee Stamp in the National Class. In 250 National, Andrew Walker, Neil Burroughs will be the main protagonists. Frank Wrathall, Jason Dredge will be the contenders in Junior Gearbox, and 250E driver Greg Roberts is making the journey from Guernsey in the Channel Islands.
Competitors should note that at the moment access to the circuit will not be available before 9 pm 22nd August.
[ Top ]
---
CDRom for Max (14/08)
The Rotax MAX gets the multimedia treatment and appears on a new CDRom from UKPollards, the team that produced the popular internationally sold Honda Gx160 engine CDRom.
The subject this time is 'Gas-Flowing the Max - for Open Racing'. It covers theory and practical tuning work with CAD, photo-animation, digital photos and tech talk, principles of tuning, step by step guides to what can and cannot and what should not be done to your Rotax Max engine.
It's another comprehensive reference work from Brian Pollard and our only minor gripe is it could perhaps be a little more user friendly, but it's all about technical information more than pretty presentation and if you want to see a vast array of actual Max engine parts in cross-section, utilising the power of modern digital photography then you should buy this CDRom. If you just want to read in-depth texts covering two-stroke tuning theory and practise, then this production is made just for you, or if you want to shortcut the learning process of two-stroke gas flowing and tuning then look no further, you need this CDRom and its here and waiting now! Visit www.ukpollards.com/rotax for more details.
[ Top ]
---
Kart Chassis Setup Technology (13/08)
The Kart Chassis Setup Technology book furnishes comprehensive details on chassis setup and teaches a racer the easiest and best way to prepare a kart for competition. The book includes: Understanding a kart chassis - how torsional flex influences handling; Chassis & handling dynamics - what affects handling and weight transfer; Front end geometry - the principles of caster, camber, toe, Ackerman, steering axis and scrub radius, and how they affect kart handling; Chassis baseline setup - kart scaling and weight distribution, and proper seat positioning; Tyres - theory, use, compounds, pressures, reading tyres; Track tuning and adjustment - dialling in the chassis at the track, plus other setups and adjustments. Whether a competitor is racing 2-Stoke or 4-Stroke, sprint or endurance, this book will help maximize a kart's handling and performance.
E-mail enquiries to info@ssapubl.com or telephone 001 714 639 7681 or order on the Internet at www.stevesmithautosports.com Kart Chassis Setup Technology is available for US$21.95 plus US$7.00 for shipping from Steve Smith Autosports, P.O. Box 11631, Dept. UK, Santa Ana, CA 92711, USA.
[ Top ]
---
Congratulations (12/08)
The new 125 Europa class A had a successful return to racing at Rissington on 4th August with 2001 champion Neil Adlington taking a close win from Oliver Hookway. Go to race report.
[ Top ]
---
Busy Times For Karting2000 (12/08)
Working closely with the crime concern trust and youth inclusion groups in and around Manchester, Karting2000 are helping youngsters educate themselves via NVQ and City and Guild courses (motor maintenance) that are run on a daily basis. There's also a bus project course whereby disaffected young people refurbish buses and ambulances in a new 26,000 square foot building across the road from the main Karting2000 track, with the vehicles later being shipped out to third world countries. A major part of the course concerns the mechanics of karts both 2 stroke and 4 stroke with a great deal of hands on experience and tuition on driving technique and theory.
Early last year Karting2000 opened an indoor track in the busy holiday resort of Gt. Yarmouth and more recently took over Manchester based Indoor Karting UK and the business continues to expand, with increasing staff numbers helping run three kart fleets. As a result of the minimum age limit for use of the karts being lowered from 16 to 11 years, the company are now experiencing an increase in the number of children's parties and groups of young people being catered for. More info at www.karting2000.co.uk
[ Top ]
---
Maxxis Formula TKM Festival (07/08)
More than 200 top Formula TKM drivers from around the country will be heading to the Kimbolton kart track this weekend (10th & 11th August) for the UK's largest one make race event, the MAXXIS Formula TKM Festival. The TKM Festival brings together drivers from 11 years old right through to those in their 50's competing for some of the most closely fought titles in British motorsport, and among them will be many junior drivers with their sights firmly set on following in the wheel tracks of the many Grand Prix drivers like Michael Schumacher, David Coulthard and Jenson Button who all started their careers in karting.
This is the sixth year of this prestigious Festival of racing which is backed by Tal-Ko, the UK's largest manufacturer of kart racing engines and by Maxxis Tyres, a world leader in specialist tyres. The event is organised by the Hunts Kart Racing Club and will be featured on TV around the world. Racing at Kimbolton is mainly for Formula TKM karts powered by the 100cc 2-stroke TKM BT82 engines capable of propelling the machines at up to 80mph. Also racing will be junior and senior classes for the new TKM 4-stroke. Says Formula TKM organiser Grahame Butterworth: "The Kimbolton Festival has become a high point in the British karting calendar, highlighted all the more by the opportunity for drivers to be spotted for fast-track selection through into racing cars. We are expecting some fantastic racing. "
Late entries will still be accepted in the event for some classes where extras can be placed in easily. Kimbolton track is situated a mile north of Kimbolton and clearly signposted. Racing starts on Saturday lunchtime and goes right through Sunday with the finals Sunday afternoon. Admission costs just £3 with accompanied children free.
[ Top ]
---
Rotax Scottish Open Festival (06/08)
The West of Scotland Kart Club is to run an additional meeting at their Larkhall circuit near Hamilton for all Rotax classes, i.e. Mini Max, Junior Max, Senior Max, Over 30 years and Heavyweight, over the weekend of 21st & 22nd September 2002.
It's intended to have 3 heats of 10 laps on Saturday with a Sunday final over 15 laps. There'll also be timed practice and Formula 1 type qualifying for a 25 lap (SR Plate) Grand Prix that boasts prize money of approximately £1000 per class, plus additional prizes. So don't delay, get your entry in today. If any drivers want to race and are not registered for Rotax, please contact Bill Hay for the Rotax Festival regulations and entry forms.
[ Top ]
---
New MSA Chairman - Elect (03/08)
The Motor Sports Association (MSA), the national governing body of motor sport in the UK, has appointed John Grant as Chairman-Elect. Grant takes up the position of MSA Vice-Chairman with immediate effect, and will take over from the present Chairman, Michael Limb, on his retirement in December this year. Shortly after the announcement, John Grant gave a brief interview to explain his views on his forthcoming role. Read the Interview...
[ Top ]
---
Superkarts at Donington (01/08)
Superkarts are at the Donington Park Gold Cup meeting over the weekend of 9th, 10th & 11th August with the action commencing at 9am each day. The home crowd should have plenty to cheer about around the Grand Prix circuit with 27 Brits expected to start. 15 in Division 2 (250cc single cylinder) and 12 in the Division 1 (250cc twin cylinders) events, including former multiple World Superkart Champion Martin Hines, out to show that even after being out of competitive Superkarting for almost 9 years he has still got what it takes to compete at the top. Will he succeed?
Besides the 2002 European Superkart Championship, this action packed weekend includes rounds of Formula Palmer Audi, Formula Renault, Euro F3000, the Kumho BMW Championship and more. Minardi F1 will be in attendance with their 2-seater Formula 1 car for demonstrations, passenger rides and F1 pit stops, and on Sunday 'Thunder in the Park 2' has many familiar faces from the world of motor sport such as 1996 F1 World Champion Damon Hill, Minardi Chairman Paul Stoddart and ITV F1 pundit Tony Jardine.
If you still want more there's bouncy castles and face painting too! For ticket and further information see; www.donington-park.co.uk Tickets are available from any Ticketmaster outlet and also by telephoning the credit card sales line on 0870 4000 699.
[ Top ]
---
Formula 6 O Plate (30/07)
Congratulations to Tommy Truscott, Rhys Jenkins and Bradley Smith, who in the recent Formula 6 Honda Cadet O plate meeting at Buckmore Park managed a 1-2-3 for Mectech Motorsport.
[ Top ]
---
ABkC O Plate Meeting (29/07)
The popular Clay Pigeon Kart Circuit with the support of Super 1 organisers is hosting the ABkC Open Championships for Rotax Max, Rotax Junior UK and Formula Cadet on 24th & 25th August. Support races include a class for Rotax Max veterans. The meeting is open to all holders of National A licences and will be televised by Channel 4. A minimum of £500 is up for grabs in each class plus a special Lotus deal for the winner of the Formula Rotax Max senior class. The winner of each ABkC class has the use of the O, or zero, number plate for the following year.
Stop Press: Clay Pigeon has been awarded the 2003 ABkC O Plate meeting for Formula TKM, Junior TKM, Intermediate, Formula A and Intercontinental A.
[ Top ]
---
Strawberry At PFI (26/07)
All those attending the Kartmasters meeting next month will find Strawberry Racing with a full range of karts and some special prices too. Importers for TonyKart, Kosmic, Trulli Karts and Vortex engines, they will be at the Paul Fletcher International kart circuit on 2nd, 3rd & 4th August.
[ Top ]
---
New Premises (22/07)
Karting Direct has moved to new offices in Lincolnshire and all mail should now be directed to Karting Direct, PO Box 165, Market Rasen, LN7 6WZ. This leading online supplier of kart racing spares and accessories can be contacted by e-mail at postmaster@kartingdirect.co.uk or via their website at www.kartingdirect.co.uk Office hours are Monday to Thursday 9am to 5.30pm and Friday 9am to 5pm, tel: 01472 859982 or fax: 01472 859983.
[ Top ]
---
What A Deal (18/07)
To encourage new drivers onto the long circuits, the British Superkart Association are offering a special deal to drivers who have not competed on the long circuits in 125cc. The deal is a free entry to the Mallory Park meeting 18th August and only £20 to enter the Snetterton meeting 12th / 13th October. This is too good an opportunity to miss, so dip your toe into the water for free or next to free, you might regret it if you don't. Contact Ian Rushforth on 01509 620702 for more details, all you need is a kart and the b****!
[ Top ]
---
Gearbox Test Day (17/07)
There will be a gearbox test day at Shenington on Thursday 15th August with karts supplied by Century Race Prep, Shrewley Kart Shop and NJR Motorsport. Karts available to test will include Junior Gearbox, 125 Open / National, 125 Europa Class A and 250 National. To book a session, or discuss your options please call one of the following; Century 01562 632032, Shrewley 01295 678188, NJR 01992 440461.
[ Top ]
---
Congratulations (17/07)
Project One Racing would like to congratulate Bill Casson on winning the Honda Cadet 'O' Plate at Clay Pigeon last weekend. Anybody who would like to test the Project One Honda Cadet kart should contact Clive Freke at Century Race Preparation on 01562 632032 or Gerard Cox on 01634 579092.
[ Top ]
---
ParaKart 2002 (12/07)
This will be the first of an intended annual international Karting event for disabled drivers. Due to take place at the popular 760 metre Karting Almancil circuit near Faro in Portugal, all the Karts will be fitted with hand controls. Dates are 11th, 12th & 13th October 2002. The Karts are competition twin-engine 400cc karts with purpose built controls. Drivers are expected to come from all over Europe for the event, including some ex-motor racing drivers injured in their sport. Further information on the track and event can be found at www.parakart.net, where you'll also find a Driver Entry Form.
The event was the idea of David Player, and with the assistance of Jean-Francois Escriva, Managing Director of the Almancil Karting circuit, - ParaKart 2002 was born. An ex Royal Engineer, David served in the British Army for 5 years before joining his father's business in Portugal, but in 1991 he suffered a broken neck whilst diving in a shallow lake. Now a tetraplegic and wheelchair bound, he runs his own business called Wheeling Around The Algarve. The company caters for other disabled people who want to enjoy 'normal' holidays and leisure facilities in southern Portugal. David can be e-mailed at dave@player.pt
[ Top ]
---
Anniversary Meeting (10/07)
Buckmore Park are holding their 39th Anniversary race meeting on Sunday 21st July. The meeting is sponsored by Fairmont Insurance Services Group and as well as all the usual ABKC classes, the event incorporates the "O" plate meeting for Formula 6 Honda Cadets and Juniors.
[ Top ]
---
August Sizzlers At Nutts (10/07)
All those considering travelling to the Nutts Corner Motorsports Centre next month will be pleased to know that the Ulster Karting Club have finalised special travel details with StenaLine who are providing unbeatable deals from both Stranraer to Belfast and Holyhead to Dun Laoghaire.

There's the Irish Kart Gran Prix on 10th & 11th and a round of the Total / Hill House Hammond British Championships (Super 4 series) two weeks later on 24th & 25th. The Boal Carparks supported Irish Gran Prix is Ireland's largest karting extravaganza with Ireland's top drivers in all the classes, but it's the StenaLine & Northern Ireland Events Company supported Super 4 series event on 24th & 25th August that will be the big one when the UK and Ireland's fastest drivers and their machines converge on the Co. Antrim circuit.
Gary Magennis, Chairperson of the Ulster Karting Club, said: "The assistance we have received from StenaLine, in conjunction with the support from the Northern Ireland Events Company, has been very important. StenaLine's support and the ferry package deals on offer has made the province even more attractive for drivers who are considering coming over to compete at Nutt's Corner. Without this combined support the Ulster Karting Club simply could not have brought this spectacle to the public of Northern Ireland. With two major kart racing events and a motorcycle event in between, Dundrod is the place to be in August."
Full event and travel details for competitors are available on the club's website www.ulsterkartingclub.com and on the series web site www.super4.co.uk
[ Top ]
---
Johnny's Racing Driver Search (08/07)
Former British Grand Prix winner Johnny Herbert has launched a nationwide search to discover new driving talent and there's a £60,000 prize awaiting the winner of his Search for a Star competition.
In one of the largest ever motor sport initiatives to find the Grand Prix stars of tomorrow Johnny has launched Search for a Star in conjunction with BBC's Top Gear Magazine and the Johnny Herbert Rockingham Experience, the UK's newest and fastest driving experience. For the overall winner there's a fantastic fully paid motor sport season competing in the Avon Junior Formula Ford Championship, worth £60,000 which is recognised as one of the key racing formulas in terms of developing young driver talent. The prize package includes 18 test days, 12 races (eight meetings with four double headers), technical training, extensive driver training, PR and Marketing support, presentation skills training as well as physical training.
The driver assessment will all take place at the awesome Rockingham circuit, in Northamptonshire developed at a cost of over £50 million and featuring Britain's only banked oval track as well as two infield circuits with seven different driving configurations. Says Johnny, "This is a really fabulous opportunity for every budding Grand Prix driver to find out if they really have got what it takes to succeed in the world of motor sport and emulate their F1 heroes. I'm absolutely behind this project 100%, it's my way of putting something back into the sport which has been very good to me over the years".
If you want to know more about Search for a Star please call the special entry hotline on 01536 271272 or visit the website: www.jhrockinghamexperience.co.uk
[ Top ]
---
Europa Demo (08/07)
New 125 Europa demonstration dates at Whilton Mill circuit are 10th & 24th July. Please check before setting off. For full details ring either NJR or RPM Motorsports.
[ Top ]
---
Manx Kart Grand Prix (08/07)
Many competitors wish to congratulate the winners and express their thanks to the committee and officials for the excellent organisation and also to the people of the Isle of Man, especially those that put up with the karters racing past their front door at regular intervals. Pictures from the event that took place on 26th - 29th June can be seen at www.iomracing.com Nice shot of Karl Hulme in Gallery 1, - have the brakes just failed?
[ Top ]
---
KCB - Major Open Day (05/07)
Representatives from the UK's commercial karting sectors are being invited to an open meeting launching the new Kart Control Board and setting down its plans for the future of the sport. The meeting, being held at the Jaguar Visitor Centre, Birmingham on July 25, follows a meeting there last year where after open discussion there was overwhelming support for moving forward with the Kart Control Board concept.
The Motorsports Association, National Karting Association, British Kart Industry Association, Association of Race Kart Schools, Association of British Kart Clubs, BKIA circuit owners group and others have been involved in two years of talks to reach this stage. Commented KCB Chairman Colin Hilton: "This is a meeting which has great significance to the whole development of karting in the future within the commercial and sporting arena. Extensive discussions have been taking place with a view to bringing together the whole sport. A year ago we held an open meeting for the industry which brought a very positive response providing the mandate to proceed. We have now taken that forward and with the full backing and support of the MSA, NKA and other national groups, launched the Kart Control Board. Now we want to share with you our thoughts and set out the guidelines which we believe should be adopted across all commercial karting. Safety, organisation, medical cover, insurance, licences, training, promotion, they are all issues we have addressed. The meeting is a positive step forwards for the whole industry and for the sport in general."
Representatives of a wide variety of commercial sectors are invited to intend, including circuit owners and operators, manufacturers and suppliers. Details as follows:
Date: Thursday, 25th July 2002. Venue: Jaguar Cars Ltd, Visitor Centre, Castle Bromwich, Birmingham J5, M6 (A452). Time: 2pm (Tea/coffee will be served from 1.30pm)
Those planning to go must notify their attendance in advance either e-mailing to info@kartcontrolboard.org or faxing to 01753 682938, or ringing John Ryan on 01753 681736.
[ Top ]
---
CIK-FIA World Champs (01/07)
Britain's Ben Hanley took his place on the first row of the grid for the 2nd Round of the Formula Super A World Championship last weekend after excellent qualifying heats, finishing 4th, 5th and then 1st in his three heats at the Mika Salo circuit in Alahärmä, Finland last Saturday. Pole sitter was Italian Ronnie Quintarelli with Marco Ardigo another Italian in third place. Briton John Byrne led series 2 qualifying beating Frenchman Jean Robert and Darren Bressaglia from Luxembourg.
On race day both Mike Salo and Mika Häkkinen were in attendance at the circuit and it was Ronnie Quintarelli who became double - or actually triple - winner, as the second race was driven in two parts due to a sudden heavy rain shower. Quintarelli mastered the race both on dry and wet convincingly. Starting from pole in all of the three races Quintarelli took an early lead in each. After a tight battle into the first corner, the Italian was usually able to get away from his fellow competitors. Said a smiling Quintarelli afterwards, "I am very satisfied. The kart was excellent on both dry and wet. I like this track, as it is very demanding for the driver, and for the kart. We managed to do everything right, starting with the qualifying practice and the qualifying heats. These three wins are just the topping on the cake and they are very good for us, when we think about the championship."
In race one and just behind Quintarelli, Ben Hanley was able to keep his second place early on, even managing to make a bit of a gap on his pursuers, but it wasn't to be his day. Asmer, who had started from 10th place on the grid made good progress and overtook Hanley for second place, and it was soon after that engine problems led to the Briton retiring. The Italian Davide Fore, who rolled his kart in Saturday's qualifying heats, was making his way up the order and took third position at the finish. Briton John Byrne finished 8th.
The second race in Formula Super A had some added excitement as rain started to fall. It only took eight laps before the heavens opened and it really started to pour. With Quintarelli leading, the race had to be stopped to allow drivers to change to wets. Hanley had spun in the wet conditions too early before the race was stopped and was not allowed to restart. The race continued half an hour later as a wet race and finished with Quintarelli again leading them all home, followed by Finland's Jussi Kohtala in 2nd, Italian Marco Ardigo 3rd and John Byrne 9th.
Next round: Braga, Portugal over the 10th/11th August weekend.
[ Top ]
---
Karting Fun Night (28/06)
It's the time of the year again when DJ Motorsports have another of their Karting fun nights at Buckmore Park for teams of 2 drivers racing twin engine Prokarts. On Monday evening 8th July a full driver briefing and practice session will be followed by a 1 hour endurance race, with driver changes every 15 minutes.
Your family & friends put up with your karting so here's the chance to let them have a go, and there's a special 'family team' class too. With no experience necessary it should certainly be a fun night! For more information call 01634 719791 anytime or e-mail: fun@djmotorsport.co.uk
[ Top ]
---
Manx Junior Kart GP (27/06)
This coming Sunday, 30th June sees the 1st Manx Junior Kart Grand Prix taking place at Jurby race circuit, Isle of Man. This event, sponsored by C & C Limited, will be a tremendous opportunity to see some of the racing stars of the future take to the track, racing at speeds of up to 60mph. With over 30 young competitors taking part from both the Isle of Man and the UK, it promises to be a great day. In fact, the racing is often so close that it makes Formula 1 look positively boring! The action starts at 11am, and best of all, entry is free!
[ Top ]
---
Road Rebel (26/06)
The Kart Shop at Buckmore Park has been appointed as an agent for the World Championship winning range of CRG karts. They have a Road Rebel and a Maximo on display in their shop and can arrange test drives in Senior Rotax form for suitably experienced drivers. They hold a full stock of spare parts for both these models. They also continue as agents for the LRG range of karts.
[ Top ]
---
Jobs Galore! (21/06)
Octagon Motorsports Ltd have the following positions to fill at their various Karting venues.
Permanent positions at Daytona Raceway
Engineering Team Leader - £20,000 pa Experienced engineer required to supervise kart maintenance at our busiest kart track. Must be able to work under pressure and have a responsible and organised attitude to work. An ideal candidate would be a good team player, flexible and hardworking. This is a busy venue and so enthusiasm and a positive approach is essential.
Admin Assistant - £10,000 pa You will be assisting with daily admin duties in the office, and assisting with event organisation & customer service. You must be flexible, of smart appearance and have excellent communications skills.
Daytona Sandown and Daytona Milton Keynes
Engineers - up to £13,000 pa You will be assisting in the maintenance of the kart fleet to required standards. Some experience of working as a mechanic preferred, although full training given. You must be a good team player and flexible, willing to work one day at the weekend. This is a small, but busy venue and so enthusiasm and a positive approach is essential.
If you would like to be part of the Daytona team, send your CV, quoting salary details, to: Yvonne White, Octagon Motorsports Ltd, Brands Hatch, Fawkham, Longfield, Kent, DA3 8NG Tel. 01474 872331 / Fax. 01474 879259. Email: yvonne.white@octagon.com
The following fixed-term positions are available at all circuits, please call the venue for an Application Form:

Receptionists - from £5 per hour (fixed-term contract) We need people who are friendly, flexible and willing to do a little bit of everything! Duties include dealing with walk-in customers, taking bookings, using the switchboard, issuing race-wear etc. Good communication skills are essential.
Race Directors - from £7 per hour after training We are looking for confident, outgoing, presentable people with good communication skills to front our corporate events. You will be required to co-ordinate the Track Team with responsibility for all on-track activities. Training will be provided.
Track Marshals - from £4.20 per hour Following a successful induction procedure, you will participate in a training programme to ensure that Daytona standards are maintained at all times, both on track and throughout the venue as a whole. Evening and weekend shifts available.
Catering Assistants - from £4.50 per hour Working within a small but professional team providing corporate, hospitality and retail catering for large and small groups. You will be enthusiastic and willing to learn. Food hygiene certificate preferred, but not essential.
Contact your local Daytona venue for an Application Form. All Daytona venues can be found in the Tracks Directory at www.karting.co.uk/tracks/
[ Top ]
---
South West Championships - SW Plate (21/06)
This year's South West Championships to be held at Dunkeswell in Devon promises to be a Bank Holiday bonanza. Hosted by Dunkeswell KRC the two-day event on 24th & 25th August will be sponsored by the UK petrol company JET. The event kicks off on Saturday 24th with timed practice and qualifier for Sunday's 15 lap heats and up to 20 lap finals.
In addition to all the race excitement there will be a Saturday night hog roast, bar, BBQ and disco in the marquee including entertainment for the kids throughout the day. Stunt flights and parachute displays will take place during the breaks along with other activities still to be announced. Free camping is available from Thursday to Monday inclusive making this a great opportunity for drivers to enjoy a weekends racing and have a longer break in Devon at the same time. Large entries are expected for the weekend's racing which is open to all ABkC classes and there will be plenty of trophies up for grabs including the all important - SW plate 2002.
More details and entry forms are available from the news section on the Dunks web site www.dunkskrc.co.uk Telephone 0871 871 1400 or Fax: 0871 871 6399. You can also email the club on email@kartrace.co.uk with your name and postal address and they will send you an entry form by post if requested.
[ Top ]
---
Europa A Class (20/06)
The new Formula 125 Europa class commences on 4th August 2002 at Rissington. This will be the start of a 6 round championship at circuits Dunkeswell (25th August), Kimbolton (8th September), Whilton Mill (22nd September), Forest Edge (6th October) and Shenington (20th October). An '0' plate meeting is also planned. For full details call NJR on 07000 4 KARTS or RPM Motorsport on 01920 460800 for a brochure and details of test days.
[ Top ]
---
New CKC Website (19/06)
Camberley Kart Club have launched their new website at www.camberley-kartclub.co.uk with contact details, directions to the track, race/practice dates, full race results, championship table information and a circuit diagram complete with animated kart, - it's a bit slow through The Esses though!
[ Top ]
---
Ulster Road Race (18/06)
The Ulster Karting Club's Alan Cahoon Hyundai Dealers Carrickfergus road race is scheduled for Tuesday 23rd July and will once again see the fastest drivers in the country take on one of Britain's fastest road races. Classes will include the incredible 160mph 250cc Superkarts and the event will take in the Scotch Quarter and Marine Highway areas with roads closing at 5.30.
Ireland's largest karting extravaganza, the Irish Kart Gran Prix will be held at Nutts Corner on 10th & 11th August with drivers in all the gearbox and non gearbox classes competing for the GP plates, and with the StenaLine and NI Events Company supported round of the British Championship series for gearbox karts on 24th & 25th August, the summer is action packed on the kart racing front. Full details are also available on the club's web site www.ulsterkartingclub.com
[ Top ]
---
Record Sales (18/06)
| | |
| --- | --- |
| | SuperSport Timing Systems have announced record levels of sales over the last few months following the launch of the Grafix-QUAD Kart Racing timing system at the AutoSport Show in January. The Grafix-QUAD software is proving a real hit with circuit operators and drivers alike with it's easy to understand displays but with an extensive range of information presented over 4 different computer monitors (or televisions) running from just one computer. |
The system is capable of some very advanced features including split lap times (as seen in Formula-1), Pit Stop timing and TeamScreen, a feature unique to SuperSport which gives every team in an Endurance race their own monitor which shows information specific to their team! The combination of extensive features, ease of use and the SuperSport industry-benchmark free backup and support is proving a hit with circuit operators in the UK and worldwide with systems recently installed in England, Scotland, Ireland, Wales, Sweden, the Philippines, Greece and many now being installed in the USA. SuperSport have recently set up a dedicated sales, support and installation team in the USA, such is the demand in the United States.
By Autumn 2002, SuperSport will be launching a new package for the leisure and competition markets. Based upon the existing system, WinTime-XP has been designed to work reliably on the latest Windows XP operating system without the embarrassing "system crashes" experienced by some Windows-based timing systems. Although still providing rock-solid stability with it's central core server being based on the DOS platform it will function on any version of Windows including W95, W98, W98SE, W2000, W-ME, Windows NT as well as Windows XP. The system incorporates many features never seen before, and the SuperSport team worldwide are eagerly awaiting its launch.
SuperSport are also MSA approved to issue competence certificates for MSA timekeeping licences in the UK for use in conjunction with the Software.
Further details and information are to follow, but SuperSport are confident that Wintime-XP along with the existing Grafix-QUAD software will further cement SuperSport's reputation and client base worldwide. Further details on all SuperSport products can be obtained by calling 01432-860685 or by email at supersport@vossnet.co.uk
[ Top ]
---
European Superkart Championship (17/06)
Without a proper international championship since 1995, the 250cc Superkart class will this season have a genuine CIK-FIA European Championship. Superkarts (previously known as Formula E and ICE) are powered by 250cc single-cylinder engines (Division 2) or 250cc twin-cylinder engines (Division 1) with 5 or 6 sequential gears. Due to their performance level Superkarts compete almost exclusively on car race tracks and three prestigious circuits are proposed for the 2002 European Championship; the Nürburgring in Germany, Donington Park in England and the Bugatti course at Le Mans in France.
Each event will comprise of two races and already the maximum number of 60 entrants has been reached for the first of the three rounds championship at Nürburgring on 12th, 13th & 14th July. Nine nations will be represented and the entry list features many leading drivers from the German (21 entrants), British (19), French (7) and Swedish (6) series', including several former World Champions crowned in the 1980 's and 1990 's. It's likely to be a good advert for kart racing as it will form part of the popular Truck Grand Prix (FIA European Truck Racing Cup) event at the circuit, which last year was attended by no less than 200,000 spectators!
The 2002 CIK-FIK European Superkart Championship then moves on Donington Park on 09th, 10th & 11th August 2002, and this second round event will be part of a meeting that features a round of the Euro 3000 Series (international F3000 series approved by the FIA). The third and final stage of the championship is scheduled for 18th, 19th & 20th October 2002 on the Le Mans/Bugatti circuit.
[ Top ]
---
500Km Enduro (17/06)
The annual Bayford Meadows 500km Pro-Kart endurance race will take place at the Sittingbourne circuit on Sunday 04 August this year. This 454 lap event normally takes just over 7 hours to complete and provides a real test of stamina around the technically demanding Bayford Meadows circuit. Entrants will be divided into three classes: Modern - for contemporary Pro-Karts; Pre'99 - for chassis' built before 1999; and Heavy - which will run at 192 kilos and also has the option of running the Dunlop SL1 slicks. Trophies will be awarded for each class. For further details please contact the circuit on 01795 410707.
[ Top ]
---
Alfanalyse Update (14/06)
Holden Software Ltd, and REGA Motorsport have announced a major new update release to Alfanalyse. Since its launch at the beginning of this year, Alfanalyse has set the standard for download software designed to be used with the AlfanoTM Pro. The FREE update, available to registered users, provides comprehensive additional functions. The update include: 1) Download Append, this effectively gets around the 99 lap limit in 'normal mode' and enables Endurance teams to record the data from a full race. 2) Split Sectors, helpful where tracks are fitted with more than 1 magnetic strip. 3) Multiple Simultaneous Alfano Support, allowing download of data from multiple Alfano's enabling direct comparisons useful if there is more than one Kart in your team as you will be able to compare and overlay session data from each Kart and Driver. 4) Record Mode, perfect for working out optimum gearing or to analyse specific corner speeds.
Stuart Hirst of Holden Software Ltd, developers of Alfanalyse said, "This is the most significant update to Alfanalyse since its UK launch at the end of January. We have been able to produce a product that has been directly influenced by our customer's requirements and the feedback that they have generously provided. We will continue to value that feedback and deliver real value in to the market." Colin Smith of REGA Motorsport the UK Distributor of Alfanalyse said, "The commitment made to customers that there would be ongoing development of Alfanalyse, has been proven over and over since its UK launch. With this update, Alfanalyse maintains its position as the ultimate download product for the Alfano, and even though the considerable investment in the product continues, I'm pleased that we have been able to maintain its price point - making it even better value for new and existing customers".
Alfanalyse comes complete with a quality anodised aluminum download 'pen' and registered users benefit from free product updates and free technical support. Call REGA Motorsport on 01422 348800 for further info. Alfanalyse is available ex-stock from the following Authorised Resellers: Zip North, Dream Karts, KKC, BKC Karting, CAT Racing Services and NI Kart in Northern Ireland.
[ Top ]
---
Back For The 5 Nations (14/06)
WGP Motorsport has announced the return to karting of Chris Guy from Templepatrick, Northern Ireland. Chris will be taking part in selected events commencing with the Five Nations Championships at the end of June using a Birel R31S Motorsport Chassis prepared by WGP Motorsport using Andy Cox Racing prepared engines. Nutts Corner circuit is a firm favourite for Chris and has been the venue for many Championship victories. Chris says 'The Birel package offers an excellent chance of a good result'. David Haire from Lisburn has started to realise his potential in the Junior Max Class after a heat win at the last NIKA Round, and he led the final until an incident demoted him to fourth. WGP Motorsport wish all Birel Drivers the best of luck in the up and coming events.
[ Top ]
---
Rising To The Top (12/06)
British Racing Drivers Club 'Rising Star Driver' Ben Hanley added his name to an elite list of drivers over the 1st/2nd June weekend, when claiming pole position and finishing second at the first round of the Formula Super 'A' Karting World Championships in Belgium. First place went to thirty year old Alessandro Manetti, while thirty-two year old Gianluca Beggio finished third. Racing against the world's best professional kart drivers, some of who have twenty years driving experience, the seventeen-year-old continued to prove he has what it takes to go all the way in the world of motorsport. Having been crowned British Karting champion in 2000, and vice European Karting champion in 2001, the next goal was Formula Super 'A' world championships for 2002, which comprises of factory paid drivers and the highest ranked drivers from around the world.
Ben said "the ultimate dream of any sports person is to be able to compete in their world championships, and having worked so hard to get to this position I want to prove I can adapt to different situations and remain composed, even when pitched against the best." In 2001 Ben became only the fourth British driver in twelve years to become a European champion, and his second place at the opening round of this years world championship re-wrote the history books again, the last British licence holder to finish as high was back in 1977. Renault formula one driver Jenson Button won the Formula Super 'A' European Championship in 1997.
The next round of the championship is at a relatively new circuit in Finland, the Mika Salo circuit. It will be the first time the top drivers have visited the venue. Ben said; "I have never been to Finland before, but the initial reports sound good, the track sounds challenging and the weather should be good. I will be looking to replicate my performance from Belgium, and collect some more points towards the championship". Ben would like to thank the following for their continued support: TNT, Cartwright Trailers, BRDC, Bridgestone, Lucky Design and the team Maranello/Maxter/Nodtune.
Its possible to keep up-to-date with Ben's progress at: www.benhanley.co.uk or by contacting Paul Ibbotson on 07860 220222. Photographs are available from Chris Walker Photographic 01522 810271.
[ Top ]
---
Smile Please (11/06)
Hope all you long circuit Rotax Max drivers were smiling because some of you are in tomorrow's Motorsports News. Pictures and write up from Pembry and Cadwell Park.
[ Top ]
---
Congratulations (11/06)
Congratulations to Andrew Twiss from JKH for winning the Max UK Cup at Wigan. Andrew on his JKH Max set the fastest time in timed practice, pole position for the pre final, then went on to win the main final and also set the fastest time of the day. Well done too to Manchester and Buxton KC for a well organised event with some great prizes and excellent trophies.
Swiss Hutless UK congratulate Simon Pym and Rob Taylor on their fine performances at Kimbolton in the 125 Gearbox class. Simon Pym had a 1st and 2nd in his heats and then walked the final by a massive 27 Seconds on the brand new 125 Turbo 50mm chassis. Rob Taylor also had fine finishes in both the April and May 125 National Gearbox finals by outright wins, and finished a good 2nd in the June race making it a 1 - 2 for the Swiss Hutless Turbo chassis. If you would like further information on the Swiss Hutless Chassis, please contact Swiss Hutless UK directly on 07956 - 635040.
[ Top ]
---
WTP '0' Plate (10/06)
After a round of the WTP Challenge at Rowrah yesterday it was decided to run the WTP commercial '0' Plate alongside the ABkC '0' Plate, thus the first WTP '0' Plate will be run at Rowrah on 11th August.
[ Top ]
---
Sub 46 Seconds (10/06)
Round 4 of the Super 2 National 4 stroke Championship at Bayford Meadows on Monday 4th June saw the Libre class break the circuit's outright lap record and the 46.00 secs barrier in each of the Heats and the Final.
45.95 secs. Heat 1 Nigel Hughes - Haase/EcoMoto. 45.87 secs. Heat 2 James Harris - MS/EcoMoto. 45.83 secs. Heat 3 James Harris - MS/EcoMoto. 45.68 secs. Final James Harris - MS/EcoMoto. For further information on the Super 2 National 4 Stroke Championship see www.ratpro.co.uk and for further information on the 250cc 30hp EcoMoto engine see www.ecomoto.co.uk
[ Top ]
---
Teamworks Karting Relocation (07/06)
The Bishopsgate circuit is now closed and will be relocating to new premises in 2003. The Bishopsgate Goodsyard site on the edge of the City of London where the circuit was constructed is the proposed route for the extension of the East London Underground line and the site is now being cleared, therefore no further race events can be run. Teamworks Karting would like to thank all customers and supporters over the last 18 months. Their ProKart team will continue in the Daytona Championship and are entered in the Le Mans 24-hr event in July. Teamworks will be contacting all groups booked as soon as possible but should you need to reach them please either e-mail: mail@teamworkskarting.com or call 0870 900 30 20.
[ Top ]
---
L/C Rotax (05/06)
After another very successful long circuit at Cadwell Park on 3rd June, Kevin Rootes has been asked to attend the committee meeting on behalf of Rotax Max drivers to map out the future of the Rotax on long circuits. Please e-mail Kevin on kevin.rootes@virgin.net with your views and thoughts for him to forward on, to help ensure that everyone can enjoy close racing on the well organised long circuits.
[ Top ]
---
New For Old (29/05)
Do you own an AMB160 transponder at least 12 months old? If you do and would like to swap it for a brand new one then a Gloucestershire based company want to hear from you. There's no catch and no strings attached, just a straight swap, old for new! Call Justin on 01452 85 55 66 for further information.
[ Top ]
---
Rissy Smooths It Over (28/05)
| | |
| --- | --- |
| | Racers at Rissington Kart Club are about to get a smooth ride, as committee members, officials and volunteers work towards the completion of a complete resurface of the Gloucestershire circuit, in time for the 1st-2nd June race meeting. This latest improvement is part of an ongoing commitment to making Rissington one of the UK's leading kart clubs and follows recent investments in new tyre walls and a brand new toilet block. |
| | |
| --- | --- |
| Circuit manager, Kevin Busby, who has helped to co-ordinate the resurfacing, commented; "From a racer's point of view, Rissy has long since had a reputation as one of the best circuits around; but over the past few seasons we've invested a significant amount of time and money in improving the quality of service we offer members and visitors. From track facilities to the way our events are run and presented, we're aiming to achieve standards of professionalism that are second to none." | |
Although the new surface will be used for Saturday practice, Avon Junior Formula Ford team principal, Peter Chambers, will officially open the newly improved circuit on Sunday morning. To mark the occasion, Peter Chambers Motor Racing will be bringing along some of their glorious 1800cc Formula Ford Mygales, which will be on display throughout the day. Peter will also be on hand to offer advice and support to young racers, interested in pursuing a single-seater career. A former kart racer himself, Peter is this year sponsoring Rissington's TKM Premier championship. As well as providing the top three trophies at each round, Peter Chambers Motor Racing is awarding the superb prize of a free Formula Ford test for the top three finishers in the 2002 series. For further information on next weekend's event, visit www.rissykartclub.com
[ Top ]
---
Second KNE Circuit (28/05)
Karting North East have opened an indoor circuit in Newcastle city centre. The centre is the first in the UK to use Frank Eglem corporate karts and will be targeting young drivers as well as group bookings. The big plus is that this new circuit will release track time at Warden Law for owner drivers to enjoy exclusive testing sessions at the outdoor circuit.
[ Top ]
---
Last Few Days (28/05)
Only a few days left to get your entry in for Cadwell Park long circuit Rotax Max racing, on Sunday 2nd June. Call Ian Rushforth on 01509 620702 to express you entry. Be there, you know you want to!
[ Top ]
---
Victory for John Byrne (24/05)
| | |
| --- | --- |
| | British driver John Byrne won the third round of the FA Open Italian Championships held at the Corridonia Circuit on his Vortex powered Trulli kart. The win pushes him to second overall in the championship. After struggling earlier in the season with the standard Bridgestone tyres his team, Team Koene, is starting to get results, and all three drivers of the team, John Byrne, Carlo van Dam and Marjolein Wilberink did very well over the last weekend. John's next race will be the FSA World Championships in Mariembourg, Belgium held on 31st May to 2nd June. |
[ Top ]
---
4-Stroke Karting at Sandown (24/05)
Sandown Park Kart Club are proposing to run a class for Endurance Prokart at their monthly MSA sprint meetings. They are also running a 4 stroke kart festival event on 11th August with grids for all 4 stroke classes. Any interested drivers should contact SPKC on 01372 471336.
[ Top ]
---
New Services from Oxford Karting (23/05)
Oxford Karting have launched a range of new services for racers. For testing and race days they have a range of packages from simple awning space right through to mechanics, hospitality and catering. The new shop at the Oxford Stadium track also has a range of TKM 2 and 4 stroke, CRG, Parolin and Pro Karts available, as well as parts and all the latest racewear. If you are looking for a kart or advice you can contact Oxford Karting on 01865 717134 or 07932 710459, or drop in for a chat and a coffee.
[ Top ]
---
Clubman at Forest Edge (21/05)
The Junior Clubman Class have been invited to compete at Forest Edge on 1st & 2nd June in the Southern Championships and would like to extend this invitation to all 1998 homologated list piston port engined karts to compete in this prestigious event, including all Yamaha drivers. Use of a 19mm restrictor and the Maxxis HG2 tyres is all that is required, but please check the class regulations on the web site below. The Senior Clubman drivers are also expected to be there so anyone looking at what class to join can see both the juniors and seniors in action. For further details see www.clubmankarting.co.uk.
[ Top ]
---
National Motorsport Launch (16/05)
Autosport International is to create a new National Motorsport area at the 2003 Show taking place at Birmingham's NEC from 9th to 12 January 2003. Supported by Motorsport News, the area will be aimed at club competitors and those keen to discover the various forms of affordable and entry level motorsport. It will cover the expanding industries of karting, national and overseas domestic championships and club motorsport.
Gavin Brown, Managing Director of Haymarket Exhibitions Ltd said "By consolidating the various facets of the national motorsport industry to one place within the show allows us to promote this as 'the' place to find out about how to become involved in motorsport and about the different championships that are available. So whether you are new in to the world of motorsport or looking to develop your expertise, this is the place to go."
Motorsport News, will enhance this area with its own stand providing advice and a platform that will enable visitors to have a chance to chat to drivers from many forms of national motorsport including karting champions and up and coming young drivers. Contained within the 'National Motorsport' area will of course be Karting, covering all categories of karting from across the world. Exhibitors will include manufacturers, teams, championship organisers, circuits and accessories. There will also be a Constructors Pavilion and a Club Motorsport area.
Grahame Butterworth from the British Kart Industry Association welcomed the news saying: "This is a positive step which will help bring closer together the karting industry with its potential new customers and those drivers moving on to full size cars. I think Haymarket Exhibitions are to be congratulated on the way they have listened to the needs of the industry at a time when the sport is continuing to develop, mature and grow."
89,500 motorsport enthusiasts, including 19,500 trade visitors from home and abroad, made it to Autosport International in 2002. The chance to rub shoulders with F1 drivers, exclusive access to the F1 grid and more than 700 state of the art exhibition stands will help the new 'National Motorsport' area in its popularity. For further information on the show contact the Autosport Team on 0208 267 8300, Fax 0208 267 8350, website: http://www.autosport-international.com or e-mail: autosport.international@haynet.com
[ Top ]
---
Happy Birthday (15/05)
Andy Cox Racing celebrates ten years of business later this month. Since 1992 the company has grown from strength to strength becoming Sole distributors for many products such as Freeline, Champion Plugs, Rock Oil and Motorquality accessories. Pride of place of the companies achievements was securing in 1995 the Sole Importer contract for the legendary Italian Birel range of Chassis.
As well as its commercial activities boss Andy Cox has also enjoyed success with his engine tuning and preparation both in Europe and the U.K as well as running Junior and Senior teams in Super One, working over the years with Leighton Walker, Michael Conway, Tom Sisley, Chris Trott to name but a few. To celebrate its ten years in business Andy Cox Racing is currently in negotiations with a World Champion Birel driver to race at the T.V Masters at P.F in August - watch this space!
[ Top ]
---
First Stop Max Cup (15/05)
MBKC will be hosting the First Stop Rotax Max Cup at Three Sisters, Wigan on 8th/9th June 2002. First Stop's support means that prizes include the biggest cups ever and Formula 1 factory and test day visits. Entries need to be in by 25th May. Information and entry forms can be found at; http://mbkartclub.com/RMCup.html
[ Top ]
---
WTP Championship (14/05)
Entries for the upcoming 2002 WTP Championship are now being taken. This five round series is expected to attract a lot of support and entry forms have already been sent out to owners. If you have not received yours and would like a copy, or if you require any further information contact JM Racing - but hurry the closing date is 20th May 2002.
[ Top ]
---
Stolen Rotax Max Karts (13/05)
| | |
| --- | --- |
| | Last Saturday evening 11th May a garage in Ware, Hertfordshire was broken into and a trailer containing two Rotax Max Karts was stolen. The trailer itself is unique. The base is galvanised and has a black sticker with the name "Sovereign Trailers." The box is approx 8 by 4 feet and is made of wood. The trailer was designed for an alternative use and therefore has extensive metal work around the outside, which is unusual. |
The Karts stolen were a BRM Mk7 chassis finished in blue metallic paint, has all blue plastics and old style silver exhaust: Max Engine Serial no. 765822, JAG Seal No. 004590 and chassis No. C267, and a BRM Mk5 chassis, finished in identical blue metallic paint, has blue side pods with silver nose and nassau panel: Max Engine Serial no. 772532, JAG Seal No. 002710 and chassis No. C214.
Any information on the whereabouts of this equipment would be much appreciated. Please telephone either Dom Hume on 0776 468 3997, Daniel Cureton on 07985 443 739 or your local Police Station.
[ Top ]
---
Customers' Benefit (13/05)
Major works at Daytona Silverstone designed to improve Silverstone Circuit for the British Formula One Grand Prix, have also greatly improved the Karting venue and will have a direct benefit for all using the Daytona facility.
The improvements include; a redesign of the indoor circuit incorporating a 50m straight and high-speed corners with improved run off areas allowing an increase in overtaking opportunities; heated spectator area with enhanced viewing of the indoor circuit; construction of a new purpose-built two storey Workshop & Race Control building and exclusive customer parking.
[ Top ]
---
Southern Championships (10/05)
The Forest Edge Kart Club near Bournemouth play host to the Southern Championships on 1st & 2nd June. The format will be; Saturday morning practice, followed by 2 heats and a pre-final in the afternoon. Sunday will have three heats and a final. The amalgamation of both days' scores will determine the Southern Champion. Entry forms can be obtained from Joy Bryceson on 01256 893663 or visit www.fekc.co.uk and for all those that like to party, there's a BBQ and Disco on Saturday evening.
[ Top ]
---
DYNOmite Debut (10/05)
Land & Sea, Inc. of Rockingham County, New Hampshire, USA has introduced a new versatile DYNOmite "Pro" Small Engine Stand & Console. While this modular engine stand still includes a vibration isolated universal engine plate (as did their earlier stands), the "Pro" also accepts an optional eddy current reaction cradle frame. The universal engine plate makes testing or developing kart and motorcycle engines quick and easy, but reaction cradle testing eliminates inertial torque errors, and is a must for testing very small displacement but high RPM engines. The "mini" console, similar to Land & Sea's popular Automotive "Pro" console, mounts on special vibration isolators and is even removable for wall mounting purposes. Other new features include a workspace for a laptop computer, ports for installing cabling and your DYNOmite Data Acquisition Computer, an analogue tachometer is built in, along with illuminated rocker control switching. Provisions have also been allowed for mounting their optional DYNOmite throttle and load controls. The dyno stand itself is manufactured with a heavy gauge metal foundation that houses two storage shelves and integral battery holder, plus heavy duty 3 ½" wheels keep it portable and easy to store. For more information e-mail Land & Sea, Inc. at sales@land-and-sea.com or visit www.land-and-sea.com
[ Top ]
---
Gearbox Champs (09/05)
The National Gearbox Championships, Super 4 moves to Fulbeck in Lincolnshire this weekend and with another strong entry the standard of racing will be high, with several current and previous national champions on show. The biggest grids are in 125 National and 250 National, with high quality racing expected in 125 Open. Spectators are welcomed and can expect good value for money when racing starts at 10 am. For directions to the circuit click here.
[ Top ]
---
New TKM Trader (09/05)
Apollo Kart Racing Engines are now TKM dealers. All BT82 engine parts are kept in stock ready for next day dispatch or collection at fantastic prices, along with all chassis components for the TKM classes. Their special offer on full BT82 rebuilds is still available so keep an eye on their website which will soon have a fully updated price list. www.apollokartracingengines.co.uk
[ Top ]
---
Max At Cadwell (09/05)
Following a very successful meeting at Pembrey, Rotax Max racing has got the go ahead at Cadwell Park on 2nd June. Phone Kevin Rootes on 01892 835915 or Ian Rushforth on 01509 620702 for an entry form.
[ Top ]
---
New Shark Shop (09/05)
Shark Motorsport has opened a retail premises in Camberley. Open Monday to Fridays from 8am to 5pm, visit them at Unit 2, Helix Business Park, Camberley, Surrey, or call 01276 66311 for further information on Karts, clothing and accessories.
[ Top ]
---
New TonyKart Importer (01/05)
Sheffield based Strawberry Racing has bought the rights to import TonyKarts, Trulli Karts, Kosmic Karts and Vortex engines from Mike O'Neill and can be contacted now on 0114 2889933. A new website for karting parts and clothing is promised shortly.
[ Top ]
---
Daytona MK (01/05)
With Daytona Juniors moving to Silverstone, the circuit at Milton Keynes will no longer be split in two on Saturday mornings from the beginning of June. The result being that the full 1360 metre International track will be available for Senior practice and open to ProKart, ProMax and ThunderKart drivers, as well as pre-booked hire drivers. The latter will be run in sessions, thus guaranteeing some owner-driver only track time. Further information from Daytona International on 01908 695694 or email: mk@daytona.co.uk
[ Top ]
---
World Championships (29/04)
The 2002 CIK-FIA World Championship has 14 teams entered for the events taking place in Belgium, Finland, Portugal, France and Italy. Two venues being used for the first time which are sure to delight the 28 drivers and all involved are, the Mika Salo circuit in Finland with its ultra-modern facilities, and the southern Italian La Conca circuit also with excellent facilities. There will be two races at each of the five events and all results by driver and team will count.
Davide Fore of Italy and Marko Asmer from Estonia make up one of the TonyKart teams attempting to repeat last year's victory and lead the TonyKart Racing Team to another team World Championship. One of the teams hoping to beat them to it is Maranello Kart, with Britain's 2001 European Formula A vice champion Ben Hanley and Italian Ennio Gandolfi.
Tecno, who have been associated with many top drivers in the past including Jenson Button, are back at the highest level of competition and aiming to make their presence felt with two French drivers. Team Koene on the Trulli chassis will have Briton John Byrne and Dutchman Carlo van Dam (2001 European Formula A champion) as its drivers. Many well known teams such as Birel and CRG are expected to put up a bold show even though Team CRG will be without 2001 world champion driver Vitantonio Liuzzi. There's also three new teams making their World Championship debut this year.
Event venues and dates are; Mariembourg in Belgium on 01 & 02 June, Alaharma, Finland on 29 & 30 June, Braga, Portugal on 10 & 11 August, Salbris, France on 07 & 08 September and Muro Luccese, Italy on 26 & 27 October.
[ Top ]
---
Longer Hours (29/04)
The Kart Shop at Buckmore has extended its opening hours to assist the owner driver who has difficulty visiting the shop during normal hours. For the summer months the shop will be open from 9am to 6pm Monday, Tuesday and Wednesday and from 9am to 8pm on Thursdays. Fridays and Saturdays remain at 9am to 5pm and Sundays 10am to 2pm except for race days when it opens from 7am to at least 5pm. The Thursday late night is intended to help those racing at the weekend make their purchases in advance. A full stock of consumables including tyres is stocked as well as Racewear and Rotax, TKM and Cadet spares.
[ Top ]
---
Swiss Hutless UK (29/04)
Would like to congratulate their Northern Ireland Driver Gary Blair for his recent success in the Easter Championship at Nutts Corner where he finished 2nd along with an outright win and several consistent fastest Laps in the Ulster Championship. With this recent success Gary is looking forward to a strong season ahead. For further advice or assistance contact Swiss Hutless UK on 07956 635040.
[ Top ]
---
European Championships (22/04)
The CIK-FIA has 210 drivers registered in its 2002 European Formula A, Intercontinental C (ICC) and Super-Intercontinental C (Super ICC) Championships with a total of 28 nations represented. Italy are best represented across the Championships with 44 drivers, four times as many as Great Britain whose entrants include Nik Goodfellow, Ian Johnstone, Simon Short and James Wright.
The creation of a Formula A World Cup event due to take place in Italy on 26th & 27th October 2002 has brought about an increase in entries over the previous year, and in ICC many of the 68 drivers are making their international debut. The new Super ICC, the top 125cc gearbox class also has increased numbers compared to 2001 entries in the old Formula C.
The opening of the Championships is scheduled for Ampfing in Germany on 10th, 11th & 12th May, and from there it's on to southern Italy and Sarno-Napoli on 26th, 27th & 28th July. The final round will take place in Mariembourg in Belgium on 20th, 21st & 22nd September 2002. In addition to the preliminary stages with practice, qualifying heats and second chance heats, each event will comprise of two races with the best 4 results (of a possible 6) counting towards the Championship.
[ Top ]
---
British Junior Kart Championships (19/04)
Britain's top junior karting championship gets underway this weekend (20th/21st April) as the youngsters with their sights set on making it to Formula One converge on the Rowrah track in Cumbria. The Elf Hill House Hammond S1 British Kart Championships kicked off with seniors last weekend and now switches over to the juniors with a record entry across five classes in the 14 round S1 series.
The Elf fuel name once more goes on the series as a result of branding decisions at the Total Fina Elf Group which is focusing rallying activity on the Total brand, with car, bike and kart track events on Elf, including F1. New sponsors this year include Motorsports News and the famous Lotus car brand, joining long time backers such as Tal-Ko.
Once again the series is split into senior and junior groups with top Hill House Hammond MSA titles at stake in both categories along with a full spread of other classes including Formula TKM, Rotax Max, ICA, National and Cadets. A new TV deal this year brings coverage for the series within the control of Frank Johns appearing on the Sports Unlimited programme on Sky satellite channels in the UK and right around the world. First coverage for Seniors is expected to be 7 May, with Juniors on 14 May. Says series spokesman Grahame Butterworth: "The Elf Hill House Hammond series is bigger and stronger than ever this year. In particular the junior section has shown real growth with packed grids. It will make for some great racing."
[ Top ]
---
Any Old Gear? (19/04)
Apollo Kart Racing Engines are desperately trying to help school kart teams by finding equipment for them. There are currently many teams on the brink of closure because they simply cannot afford any more equipment, but what we might regard as no longer any use for us at MSA level may well have many more laps left at schools' level, tyres, old chassis', old engines even if damaged may all help, odd wheels too, literally anything that is of some use would be greatly appreciated. So come on everyone, clear your garages, trailers, etc., of anything you may have that's now surplus to your requirements and contact Stuart or Sally on info@apollokartracingengines.co.uk All donations greatly appreciated by the schools. Apollo Kart Racing Engines are BT82 re-builders and a Rotax battery retailer. Visit their site at www.apollokartracingengines.co.uk
[ Top ]
---
Baa Baa (19/04)
Black Sheep Racing are pleased to announce that they are now a Tal-Ko dealer and will be carrying CRG and TKM 4-stroke spares and tyres at all the S2, TKM Kimbolton Festival, TKM Shenington 'O' Plate and Fulbeck meetings. Orders can also be placed over the Internet. Visit their website for further details. www.blacksheepracing.com
[ Top ]
---
Three Sisters '0' Plate (16/04)
| | |
| --- | --- |
| | With the ABkC gearbox 0 plate being held on the Club Circuit at Three Sisters, Wigan on 8th & 9th June, the Manchester & Buxton KC meeting on 28th April is the last opportunity before the 0 plate meeting to practice/race on this circuit. At the MBKC May meeting gearbox classes will be using the full international circuit (over the hill). For entries see http://mbkartclub.com or contact competition secretary Kath Bott; Tel: 01257 252722, Fax: 01257 254810. |
[ Top ]
---
New Premises (16/04)
REGA Motorsport, Northern Agents for Dream Karts and the Alfanalyse distributor for the UK and Ireland, has moved into new premises in Halifax, West Yorkshire. The new building provides a showroom area, office space, storage and workshop facilities of over 1200 sq. ft. A new telecomms system has been installed to provide two lines and fast Internet access. Colin Smith, of REGA Motorsport, said, "We are delighted that this move gives us the opportunity to expand our business further. The move to larger premises is a direct result of the growth in business the company has experienced over the last 12 months and the new showroom and workshop facility will further enhance the service levels we can offer our customers and gives us the room to further develop the servicing and maintenance of customers Karts". The new address and contact details are: REGA Motorsport, Unit 16, Hanson Lane Enterprise Centre, Hanson Lane, Halifax, West Yorkshire, HX1 5PG. Tel: 01422 348800 / 348885, Fax: 08701 382696, Email: info@regamotorsport.com
[ Top ]
---
Karting But Not As We Know It (16/04)
The creators of Channel 4's 'Scrapheap Challenge' and TLC's 'Junkyard Wars' are now urgently looking for European teams, in particular from France and Italy, to compete in a new Kart-Cross TV show that will go by the name of 'Full Metal Challenge'. It's a competition between teams of mechanics and drivers from around the world with the main emphasis being on the fun of engineering, problem solving and working as a team. Men and women of all ages (over 18) who are keen engineers / mechanics / drivers, will get together in teams of 3 to build exciting and original vehicles to compete around a specially designed arena. The competition will test the versatility, durability and clever design of the vehicles as well as the skills and character of the team members!
All expenses will be paid including travel to the area in England, accommodation, etc., with each team being given 3000 Euros (approximately £1835) to build their vehicle using any combination of old and new parts. Sadly, teams do not get to binge on any unspent money, nor keep the finished article! The machine building phase will take place during May/June (most teams are building during a couple of weekends), with the actual competition rounds taking place during July / August that will be televised for the Discovery Channel.
To apply, all you need to do is fill out one of the application forms from the website for each of the 3 members of your team and make a quick home movie of the team working together, - keep it clean please! Team applications are being accepted throughout April 2002, but places are limited so be quick. Further information can be found at http://www.fullmetalchallenge.com
[ Top ]
---
Warden Law (15/04)
Please note that the following arrangements have been made with regard to the Super 2, Super 4 & Honda Challenge event taking place on 21st April.
The gates to the circuit area will officially open at 2.30pm on Friday 19th April. The official practice session is being run by the circuit owner Karting North East but has had to be limited due to prior commitments of the circuit. Exclusive practice available to competitors will be from 2pm until 7pm on Saturday 20th April. Competitors may be able to practice at other times during the day but may not have exclusive use of the track. Scrutineering and signing-on will begin at 5.30pm on Saturday 20th. Anyone wishing to reserve a pitbay (£20 with electric hook up, £15 without) should telephone Ann Laws, Competition Secretary on (0191) 2730830.
[ Top ]
---
Stock Clearance (12/04)
Ferrari Racing is on the move and over the next few weeks stock is being cleared prior to their change of address. Everything has got to go (except the kitchen sink) and there are some bargains to be had. Existing telephone numbers 020 8427 3301/3247 still apply, or seek out Bruno in the stockroom, or wherever he is, on his mobile 07831 366939.
[ Top ]
---
T-Shirt, Fleece or Lotus? (12/04)
Ellough Park Raceway has announced some great prizes, courtesy of Lotus Cars, for its summer Pro Kart enduro series with the winning team receiving a "Day Out at Lotus" and up to four drivers going to the Group Lotus headquarters at Hethel near Norwich. After some demonstration laps by Gavin Kershaw, (winner of TV's "sideways challenge"), they will get to drive the amazing Lotus Elise around the two mile test track, followed by a factory tour to see the cars being built. This first prize cannot be bought and has been arranged just for Ellough Park Raceway. Runner-up team drivers will all receive Lotus fleeces and the third placed team will receive T-shirts.
The first round has just taken place, but the scoring system allows teams to drop one result so there is still a chance to win! If you are interested in competing call either Nick Gill on 01603 486655 or Stuart Weavers on 01502 717718.
[ Top ]
---
New Look (11/04)
Britain's top karting championships get underway this weekend (13th/14th April) with a new look to the long standing S1 series that has helped find Grand Prix stars like David Coulthard, Johnny Herbert and Jenson Button. The Elf Hill House Hammond S1 British Kart Championships kicks off with the seniors at the PFI circuit near Grantham, Lincolnshire as the first of a 14 round charge to find Britain's karting talent. The Elf fuel name once more goes on the series as a result of branding decisions at the Total Fina Elf Group which is focusing rallying activity on the Total brand, with car, bike and kart track events on Elf, including F1.
Once again the series is split into senior and junior groups with top Hill House Hammond MSA titles at stake in both categories along with a full spread of other classes including Formula TKM, Rotax Max, ICA, National and Cadets. A new TV deal this year brings coverage for the series within the control of Frank Johns appearing on the Sports Unlimited programme on Sky satellite channels in the UK and right around the world. Says series spokesman Grahame Butterworth: "The Elf Hill House Hammond series will be bigger and stronger than ever this year. We look forward to some excellent racing on the way to these most prestigious of all karting titles."
[ Top ]
---
Reports & Results (09/04)
Some close and exciting racing took place at Nutts Corner (Ulster Championships) on 1st & 2nd April, and at Bayford Meadows (MSA British Endurance Kart Championship, 2nd Round) on 6th April. The results and reports can be found here.
[ Top ]
---
Yamaha Drivers (09/04)
With the demise of the Yamaha class there has been a lot of good equipment either being sold off or put in to the back of garages, but this does not have to happen, and nor do you need to buy new equipment! At Forest Edge on 7th April the Junior Clubman Class were pleased to welcome a Yamaha driver into the fold. As the Yamaha engine is a (1998 Homologated) Piston Port engine they only have to run with a 19mm restrictor and Maxxis HG2 tyres to be eligible.
All Yamaha drivers wanting to compete at Hullavington or Dunkeswell, can simply enter as a Junior Clubman, comply with the regulations and enjoy a day's racing. For more information please contact karting@kemara.co.uk or visit www.planetkarting.co.uk, or if Hullavington and Dunkeswell are too far south for you, contact Gary at yamaha@teamlgw.co.uk for other possibilities.
[ Top ]
---
Experience Cadwell Park (08/04)
A Cadwell Park 'Full Circuit' practice evening has been arranged for 31st May 2002 between 5.00pm and 8.00pm. Open to everyone, the costs will be £25 plus £5 club membership per driver. Juniors must have a parent or guardian with them and will only be allowed out in the junior class. Please note that this is not a race but a chance to experience the thrill of Cadwell Park. Anyone who wishes to take part should contact Keith on 01526 321449 or by e-mail at parker@kppms.freeserve.co.uk
[ Top ]
---
BKIA Expands (08/04)
The British Kart Industry Association has launched a new division to represent circuit owners and operators throughout the UK. The BKIA Circuit Owners & Operators Group, will represent the interests and needs of circuits in line with the fast changing and developing requirements of commercial karting.
The group has a specific seat on the MSA-backed Kart Control Board which will initially be held by Bill Sisley of Buckmore Park, who has been nominated as first Chairman of this important circuit group. BKIA Chairman Alan Turney commented: "We have recognised the need for such a body in the light of many situations happening within karting at present. There is a clear need to bring together the various circuits and operators to provide a cohesive and well thought out approach." Bill Sisley added: "The time is right for all of us to get together to mould the shape of commercial karting in the future. We can provide a much more powerful and solid voice if we speak as one to smooth the way for the future. This sector has grown far faster than the sporting side and we need to both encourage and guide it in the appropriate direction for the benefit of ourselves, drivers and the sport at large."
Membership of the group will be £175 for the year. It is only open to circuit owners and/or those who commercially operate at them. Traditional karting clubs will not be eligible for membership. Full details from the BKIA at Tudor Lodge, Belshaw Lane, Belton, Nr Doncaster DN9 1PF
[ Top ]
---
ABkC Gearbox Champs (04/04)
This weekend will see the cream of British Kart racing participating in the first round of the ABkC National Gearbox Championships, the Super4, at Shenington Circuit near Banbury. There's a bumper entry this year with over 40 entries in National 125cc and similar numbers in 250 National and the 210 class. An innovation in the premier 125 Open class this year is timed practice as requested by the drivers, following the format used for ICA in Super 1. With former champion Mark Fell and top driver Paul Ozanne moving on this year's title looks to be a fight between 'O' Plate Noel Brennan, Nathan Freke, Peter Connors, Mark Gillibrand, and Nick Smith returning to the full series after a period of absence. 125 National will be spiced by the arrival of top 100cc veteran Phil Hill who will race a 125 for the first time at Shenington against current champion Carl Millington. In 250 National the competition will be between 250 International champion John Riley, who switches class, and former champions Don Kennedy and Mally Wits amongst others. The other classes racing will be 250E, 210 (with the biggest grids seen for several years) and Junior Gearbox. The racing is likely to be fast and furious and as good as anything seen in other National Championships, so come along and watch the action. For directions to the circuit click here.
[ Top ]
---
New Circuit & Kart Club (03/04)
Dragon Kart Club will be holding a test weekend on the 13th & 14th April at their brand new 1100 metre circuit at Glan y Gors Park, near Betws y Coed, north Wales. Location details available at www.gygkarting.co.uk or telephone Glan y Gors Park on 01490 420770 and the Dragon Kart Club on 01606 883956. A fast undulating circuit with some challenging corners!
[ Top ]
---
WTP At Lydd (03/04)
Lydd International Raceway are to hold a Cadet club once a month focusing on the WTP and Honda Classes. Also Kent Kart Racing Club are to accept WTP's on their grid for the 12th May race. All interested in either the cadet club or racing WTP's at Lydd International Raceway should telephone the circuit on 01797 321895.
[ Top ]
---
Testing Times Ahead (02/04)
Last year's Formula A vice European Champion Ben Hanley will be competing in the Formula Super 'A' World Championship along with selected Italian/International race events with the Italian works Maranello race team. Ben will continue to receive support from Bridgestone Motorsport during 2002 as he did throughout 2001, and will conduct various test days with the tyre manufacturer commencing on 3rd & 4th April at Mariembourg.
After the tyre test at the beginning of April, Ben will move on to Italy to begin development work with the Maranello race team and also engine manufacturers Maxter, who will supply the engines to the Maranello team. Ben's association with sponsors TNT, MAN and Cartwright Trailers will continue through 2002.
[ Top ]
---
CRG Team-Up With Tal-Ko (02/04)
| | |
| --- | --- |
| | Italian world champion kart manufacturer CRG has teamed up with UK-based Tal-Ko to build sales of the TKM 4-stroke kart race engine around the globe. CRG which operates its own engine brand under the Maxter name, is putting its full weight behind the new trend-setting TKM engine after carrying out a test on the power unit fitted to one of its Road Rebel karts. The test, carried out by CRG Formula Super A works driver Giuseppe Palmieri, showed the TKM engine to be only around 1.5 seconds a lap slower than the fastest FSA times around the Italian South Garda track. Impressed with the performance of the unit, CRG are joining forces with Tal-Ko to offer the engine to its world-wide agents as a real alternative to current 100cc power units. |
Commenting on the engine CRG boss Giancarlo Tinini said: "The TKM engine performed very well and was easy to fit. It makes much more sense for us to work with this engine than try to compete. TKM has taken a big step forward in developing this engine and mastering 4-stroke technology." At the same time the two companies have started discussions on the next era of TKM 4-strokes, a 250cc engine with four valves and computed to produce well over 30BHP - a prime contender for victory at world championship level.
The existing TKM 4-stroke has now been on sale for a year in the UK where it has already sold in excess of 100 units with sales growing fast both in the home market and overseas. A number of overseas distributors have already been appointed and this arrangement does not interfere with these countries. The engine is 200cc, two valve, revs to 12,000rpm and has a soft rev limiter built into the ignition. At a fraction under 19BHP the engine has a huge amount of low and mid range torque and has been built to F1 levels of technology. It is ultra small and light and therefore able to be bolted straight onto any traditional 100cc kart. It has a very low noise level and exceptionally long life with at least 100 hours between any rebuilds. The engine is fully sealed to prevent any tuning and keep running costs to a minimum. Full details and prices are available from Tal-Ko at +44 (0)1767 682020 Fax +44 (0)1767 691622 or e-mail info@tal-ko.com
[ Top ]
---
New Essex Outdoor Kart Circuit (02/04)
Lakeside Karting's £1.5m multifunction karting centre opened on the Bank Holiday weekend and is destined to be the fastest and best-equipped complex in Essex. Situated on the doorstep of Lakeside Shopping Centre it will cater for everyone aged 9 and over and is the only circuit in the county where you can drive a 75mph 400cc twin engine Pro-Kart. Work started on the circuit in December 2001 and is on target to open it's gates to the public within the next couple of weeks. "Essex and the South East has a high demand for karting but lacks the quality facilities many people require" comments circuit Director Giles Murray. "Lakeside Karting has taken this into consideration and aims to provide the public with one of the best circuits in the country".
Designing the circuit was the forte of some of the best racing brains in the country including input from the MSA (Motor Sports Association). Ex-European racing driver and circuit Director Chris Tucker comments "having raced all over Europe at some of the best circuits in the world, when designing the circuit we incorporated a lot of the factors that I know make a good racing circuit". The fleet of karts has been supplied by Biz Karts "we supply karts to most of the UK and European kart racing circuits" comments Paul Scutchings of Biz Kart management, "after driving the brand new track at Lakeside Karting, I was most impressed at the design and speed that the circuit enables you to achieve, and I believe that it will certainly be one of the most demanding and exciting outdoor circuits in the UK". Besides karting, the complex offers off-road driving, oval racing and a radically designed clubhouse offering customers panoramic views of the circuit, catering facilities and conference rooms which are available for conference hire and stand-alone events. Telephone 01708 863070 for further information.
[ Top ]
---
Cadet WTP Owners (28/03)
Camberley Kart Club will be holding a race for the new cadet WTP engine at their next club round at Blackbushe on 27th April. All enquires to Competition Secretary Tony Cope. Telephone 01252 540758 for more details and an entry form.
[ Top ]
---
Thanks Anne (27/03)
A big thank you from all who took part to Anne Laws and everyone at Lincolnshire Kart Racing Club (Fulbeck) for running a very small but cosy Junior Yamaha grid last Sunday. If you have a desire to keep this class running, e-mail: yamaha@teamlgw.co.uk
[ Top ]
---
Gearbox Karters (26/03)
A device that adjusts a carburettor whilst you drive, eliminating the need to change a main jet, forever. MasterTune (Patent Pending) has been flow-tested in England by Mike Hemingway of UK Racing Spares Ltd., a company dedicated to the preparation of Aprilia Grand Prix motorcycles.
No more guessing in the morning or on the starting grid. So long as you have enough clearance at the bottom of the carburettor the standard plug and main jet come out and a new oversized, re-designed jet goes in, and the new plug is installed. As simple as that. The whole assembly takes ½" on the bottom of the carburettor. Just what you've always wanted? Find out more at http://www.mastertuneracing.com
[ Top ]
---
Cancellation (26/03)
The first round of the Thruxton Pro Kart Championship, scheduled for 31st March has reluctantly been cancelled. The combination of a late date change to avoid clashing with Sandown, combined with the Easter weekend preventing some prospective teams from being able to attend, has resulted in a potentially poor turnout. The scheduled second round on 12th May will take place and interest is very encouraging with around 20 teams to date intending to take part. With this in mind, Thruxton have a full day test session put aside on 27th April, and to allow teams to concentrate on chassis set-up the organisers have fixed the gearing for the first round at 20/73. For further information contact Thruxton on 01264 882222, or email adrian@thruxtonracing.co.uk
[ Top ]
---
Mari Pro-Kart (26/03)
Boyes Lane Racing have been appointed main agents for the Mari-Prokart by the UK importers of the Italian Mari chassis, JM Racing. Testing is available and all those interested or for general enquiries please contact Andy Metcalf on 01964 623459 or 07730487014, or visit www.boyeslaneracing.s5.com
[ Top ]
---
Refurbishment Finished (26/03)
The Circuit based in Deeside near Chester has just put the finishing touches to their new track extension and refurbishment. Established in 1989 The Circuit has been one of the longest running indoor karting centres in Europe and boasted one the largest tracks. The track has now been extended to 750 meters and includes 3 new exciting race features. These include new Indy style banked corners, a 70m darkened Monaco Tunnel and an outdoor section that returns indoors to rejoin the main track.
With the newly installed Grafix Quad Timing system from Superport Software drivers now have a wealth of information on their driving abilities, especially useful for Enduro events as the timing system provides real time graphs of kart and driver performance! For more information please call The Circuit Raceline on 01244 531652 or visit their website at www.thecircuit.co.uk
[ Top ]
---
Ulster Karters Have Their Say (25/03)
Attendees at the Ulster Karting Club's AGM heard brief details about the first ever strategic plan for the future of 2 and 4 wheeled motorsport. The plan has been developed by a working group comprising the local governing bodies of Motor Cycling, Car Sports and Karting and is being co-ordinated by The Sports Council Northern Ireland (SCNI). Kart racing is well recognised in the plan as an integral part of motorsport which provides a great number of potential Formula 1 drivers. Representatives of the sport have been involved over the past 6 months in the creation of the overall plan for the future and it's now your chance to have your say before the specific kart racing feeder plan is finalised which sets out the 5 year plan for the sport.
The strategic plan is now available for public consultation which basically means if you have any comments on the generic plan they need to be made to SCNI by 12 April. There are various ways of doing this. You can either access the plan on Sports Council's web site www.sportni.org (click on the link to the plan when it's name appears in the home page, and then click the document link in the home page for the plan). Alternatively, leave your details on the 2 & 4 wheel motor sport hotline on 028 90 381222. If you have an interest in the future of your sport then do have a read at the plan and comment as you see fit. A copy of the plan will hopefully be available to read at the Ulster Championships meeting on Easter Monday and Tuesday at Nutts Corner Motorsports centre.
[ Top ]
---
Hi-Di-Hi (25/03)
Good news for all registered drivers of the Dadson Rotax Gent's Challenge as the winner of the Challenge will receive a 4 day family holiday to Butlins. There's also a cup for the Gentleman of the Challenge sponsored by ACS Motor Services. The 20 registered drivers for the series and are now looking forward to the first round at Lydd International Raceway on 7th April 2002. All those not yet registered ought to be quick (and not just on track), you have only until 31st March to register. Contact Tony Cowlam on 07957316006 for a form.
[ Top ]
---
Satisfactory Conclusion (25/03)
Matchams Kart Club has reached a satisfactory conclusion to it's earlier insurance restrictions and will now be operating test days by pre-booking on Fridays, Saturdays, and Sundays from April to October, and Saturdays and Sundays from November to March. Testing open to current MKC membership holders and to MSA licence holders. Further details and any enquiries to Matchams Kart Club on 01425 473305 or e-mail MatchamsPark@aol.com
[ Top ]
---
Europa Karts (25/03)
As no Europa race events are currently planned for 2002 and there are probably a good number of Europa owners wanting to race, we are advised that Whilton Mill would be willing to include Europa class along with an existing class, or if enough interest a Europa only race. If you have a Europa Kart and want to race you should contact Peter Copeland via e-mail: peter.mx5@talkgas.net or ring John Conway 01527 543306 who will co-ordinate and advise dates where possible.
[ Top ]
---
Track Two For Dublin (25/03)
Building work has commenced on a second track at Kylemore Indoor Karting, Dublin's only indoor track. The new track will be 360 metres and will crisscross part of the original track, giving three levels at one point. When the two tracks are joined it allows for an overall track length of 720 metres.
[ Top ]
---
CRG Expand UK Operations With Tal-Ko (20/03)
World champion kart manufacturer CRG has announced plans for a major expansion of its presence in the UK in association with its exclusive distributor, Tal-Ko. The Italian-based company has itself undergone major changes over the past couple of years. Now stronger than ever and buoyed up by its world title success, the company is setting forward on a plan which will not only increase its presence in this country, but also create an exciting stepping stone for up and coming drivers into Europe. The starting point in the plan is a search for top-line race teams and drivers to use CRG karts in the UK across a range of classes including JICA, Formula TKM 4 Stroke, ICA, 100 National, Rotax Max and Formula A. Says CRG boss Giancarlo Tinini: "We have our best ever range of karts which have beaten the world. Now we want to make it easier for every driver to make use of the best from CRG."
Tal-Ko boss Alan Turney has just returned from Italy following meetings with CRG where many plans were finalised including:
Creation of a special test day for potential CRG drivers to be held within the next few weeks.
Planned visits by top CRG technical staff with Tal-Ko to give help to UK drivers & race teams
Creation of a nationwide search for young drivers who could be offered works supported drives in Europe 2003.
A step up in on-event support for CRG drivers at Super 1 and Champions events.
Says Alan Turney: "We really want to make the CRG name fly over here. It is a superbly successful and quality brand backed of course by its own Maxter engine brand. The time has now come for us to really establish the CRG brand in the UK." Drivers and race teams interested in being invited to the tests events should immediately contact Alan Turney or Glenn Dear at Tal-Ko on 01767 682020, fax 01767 691622, or email info@crgkarts.co.uk
[ Top ]
---
Shopping For A Kart? (19/03)
Part of the St. Patrick's Day Parade in Chicago last Sunday! Click Here for the photo...
[ Top ]
---
Formula 6 (15/03)
132 Formula 6 member/drivers enjoyed the season's opener at Buckmore Park in Kent earlier this month. Currently over one hundred and seventy drivers are registered for the 2002 Formula 6 South East Championship series, comprising of 28 Honda Cadets, 18 Honda Junior Prokarts and 23 Honda Senior Prokarts. In addition the F6 Junior Royale has 20, F6 Junior Standard 17 and the Senior Prokart Heavy16. F6 Senior Open have over a dozen in their own right but also 12 Biland. For more information ring Roger Sheffield on 07710 288074 or visit the F6 website at http://www.f6karting.com/
[ Top ]
---
Super 4 (15/03)
The Super 4 Total Hill House Hammond ABkC Gearbox Championship organised by Highlight Karting is shaping up for a record-breaking season with over 40 National 125 drivers already registered and 250 National is also likely to have large grids for this season's Championship. 125 Open will have timed qualifying for the first time and Junior Gearbox is now with a choice of TM or Honda 85cc engines.
Despite the disappointment of losing the Cadwell event scheduled for the June Bank Holiday weekend, the slightly reduced Championship still features Fulbeck, Rowrah, Nutts Corner and Rissington, with the first round at Shenington on the 7th April. All those interested in joining in the Championship can find more information on the Super 4 website at www.super4.co.uk or by contacting Lesley Allen on 01295-678116.
[ Top ]
---
Cool Power (13/03)
Zoom Karts in Hull are now the main importers into Great Britain of Cool Power 4-Stroke Racing Oil. This oil has quite a following with many top class drivers including Adam Willis the Honda Challenge Senior Championship winner using it, along with engine preparation specialists RMP Dyno-Tech and HPE. For further information about this race winning oil for the Honda GX160 & 120 engines contact Zoom Karts on 01482 321 753 or e-mail: user@zoomkarts.com
[ Top ]
---
Kart Expo 2002 (13/03)
The kart shows that we have known and enjoyed over the years have reflected the evolution of the various aspects of the sport and have proved to be an invaluable forum for their industry to meet during the winter, but in spite of karting's 44 years of history in this country there has never been a stand alone kart show in London, until now that is! The country's most densely populated region and the epicentre of corporate, leisure and competition karting in the south is on course to experience a kart show in the impressive halls of the 'Ally Pally'. Ambitious plans are all coming together and the date and place for your diary is 14th & 15th December 2002 at Alexandra Palace, north London.
Response from the trade has been described as phenomenal with both the major corporate karting companies seeing the potential benefit in attracting a local public to their venues, and equally, the serious karting manufacturer can exhibit to their customers. The organisers have budgeted to provide inexpensive stand space in order to attract the maximum number of small and large karting companies alike. They have many innovative ideas as to maximise public awareness including raffles and prize draws. Ticket prices are likely to be £8 for adults and £4 for children when booked in advance, with tickets being available for purchase from next month. For further information and to reserve stand space, please e-mail: dkr@talk21.com
[ Top ]
---
Taking Shape (13/03)
Despite some truly appalling weather, construction has commenced at Rowrah for the erection of the new clubhouse/admin facility. Steelwork has been erected allowing building of the ground floor facility first, and more steelwork will be installed later to allow construction of the upper floor. This will take the upper floor of the building back into the banking by the same width as the existing steelwork. The building will be 16m wide by 21.7m deep (including the clubhouse upper floor).
The ground floor will comprise of lapscoring/race control, signing-on office, stewards/clerks office and a store room. The upper floor will have a canteen, showers and toilets, and the front of the building will be glazed to offer a view of the whole track. Construction of the lapscoring part should be complete in time for the S1 qualifier on 24th March, the rest of the ground floor soon afterwards, and the complete building should be finished by early Summer. For plans of the building, go to www.cumbriakrc.co.uk/club.htm
[ Top ]
---
Drackart (13/03)
CC Karting advise they are now the sole UK importer of the Spanish Drackart Discovery for Max and all 100cc classes. For more see www.cckarting.co.uk or call 07946 528842.
[ Top ]
---
Where To Start? (12/03)
Kemara Karting are looking to give some youngsters the opportunity to race competitively by providing a limited level of support to both them and their parents to get them started. The idea is to offer some support to younger drivers who may not get many opportunities to race, not because of a lack of money but because their parents may not know what to do or really know how to get started. Many don't want to pay money out on a fad but have children who would like to start karting but need some help, especially in the first year, when they don't really know whether they will like it or not.
Enter Kemara Karting, who have an opening for two Junior drivers with a budget. One seat is available in the Junior Clubman class and there is one seat in Junior TKM. Both drivers will initially have the possibility of competing at Forest Edge, Hullavington, Dunkeswell and in the NKRA. Drivers and parents interested should contact karting@kemara.co.uk in the first instance with details of experience, age, location, preferred class and telephone number.
[ Top ]
---
First Win (12/03)
The first round of the 8 round Trackside Karting EcoMoto/Rotax Max 1.5 hour Endurance Series at Bayford Meadows on 10th March was won outright by Steve Lang and Simon Horabin racing as Team Ecotastic on their EcoMoto powered Wright chassis. Invicta Karting have drives available in the ABkC sanctioned Super Two for drivers with suitable budgets. For further information e-mail barry@invictakarting.co.uk or call 07973-542414.
[ Top ]
---
165 Challenge 2002 (12/03)
The 100 National Heavyweight championship continues in 2002 with a few minor changes. The number of rounds have been reduced from 9 to 6 with both the Warden Law and the double header at Rowrah gone. In addition Fulbeck has been replaced with Whilton Mill. As well as dropping rounds from the season a change in scoring is also due to be made, rather than drop a meeting you can drop your worst three heats and your worst final. Further details including the rules and regulations are available on www.165challenge.co.uk
Competition is once again likely to be intense, for the second year running the last round decided the championship (and this time by just 1 point) Chris Bone, 2001 champion and Paul Napolitano, 2000 champion, are both confirmed entrants as are most of the top 10 from 2001. Anyone interested in taking part during the 2002 season should in the first instance contact Les Mitchell on 01388 601765 or 07771 684132. Registration fees have been kept at £100 and must be with Les by 5th April latest.
[ Top ]
---
T-Cars Scholarship (12/03)
After the BRSCC received a number of calls from drivers unable to make the initial round at Silverstone and from Super 1 Qualifiers at Buckmore Park last weekend, the sponsors have decided to run an additional qualifier at Langbaurgh on Sunday 17th March, 2002. For details of entry to the Competition, please see www.t-cars.org.uk or contact co-ordinator@t-cars.org.uk for further information.
[ Top ]
---
100 Registrations (08/03)
Organisers are pleased to report that registrations for the Super Two and Formula TKM 2-Stroke Challenge continue to arrive and have now reached 100, yet the series' are still not known to many racers. The Super Two ABkC National Four Stroke Championship includes the Honda Challenge for Cadets, Juniors and Junior Heavyweights, Seniors plus the Libre Invitation class that currently includes EcoMoto and Biland. In addition there is the Formula TKM 4-Stroke Championship for Juniors and Seniors and the Formula TKM 2-Stroke Challenge for Juniors, Intermediates and Seniors. Visit www.ratpro.co.uk or phone Roger Abbey-Taylor on 01784 462 624 for more information.
[ Top ]
---
Larkhall Back On Track (07/03)
The West of Scotland Kart Club are pleased to announce that the circuit is now available for weekend practice and will be open between 10.00 and 18.00 on available days, specific exceptions are 11th & 12th May (Champions of the Future), 15th & 16th June and 20th & 21st July (Super One). Club race dates can be found by clicking here or on the WSKC site at http://www.wskc.co.uk
A training day for Marshals will take place on Saturday 9th March at the Summerlee Raceway and at intervals thereafter, all those interested in assisting the club should contact Kate on 01324 813601 or e-mail: katehaywskc@yahoo.co.uk
[ Top ]
---
Caliba Support (07/03)
Caliba, the Karting seats and steering wheels division of Astrali have announced their backing for the 2002 Super Two Championship. Caliba support will involve individual Driver of the Day awards of steering wheels and seats at each event for Cadets and Juniors competing in the Honda Challenge, TKM 4-Stroke and TKM 2-Stroke classes, culminating with the Caliba Award for the Senior Overall Championship Winner of a " Five Day Intensive Course in Racing" under the expertise of the Silverstone Race School. This overall championship award will be based on a points system with the leading driver at each event being identified by a prestigious decal on the kart, - 'The Yellow Jersey of Karting'.
[ Top ]
---
New Cadet Class (05/03)
As from 1st March 2002 the new Cadet Formula WTP class is fully approved by the MSA, and this exciting new cadet formula is taking shape with a six round UK Cup already planned. Clubs already applied for their N1.3 include Wombwell, Warden Law and Rowrah and with an anticipated full grid for the 24th March meeting at Fulbeck it's time to get those entries in to Mrs Ann Laws (LKRC) as soon as possible, telephone 01912 722989 or e-mail: ann@lkrc.freeserve.co.uk With the first batch of engines arrived and finding their way to their new owners, watch this space for more details.
[ Top ]
---
T Cars Scholarship (05/03)
Karting enthusiast, Martin Lewis of Building Environmental Services has underwritten the most valuable prize to be offered within Junior Motorsport in 2002. Martin's son Ryan competed in the BRSCC promoted T Cars series since its inception in 1999 and Martin was so impressed by the T Car formula and the opportunities it had created for his son to progress in car racing that he decided to create a Scholarship in order to enable one lucky driver per season to compete in this Junior circuit racing category.
T Cars can be the way forward for many young drivers with ability to progress into car racing. Karting can hardly afford to lose drivers in this day and age and all kart clubs are competing to attract drivers rather than lose them, but for the many talented youngsters between the ages of 14 and 16 who have grown at a faster rate than their contemporaries and who end up being a too tall or a too heavy, T Cars offers them an opportunity to find an alternative way forward.
Motorsport News asked all kart clubs in the UK to nominate two drivers who would be invited to compete for the Building Environmental Services sponsored T Car drive in 2002. This competition has been organised and the opening stages are to be held on the 9th March 2002 at Daytona Silverstone and Daytona Manchester. Full details are available on the BRSCC organised website dedicated to T Cars and any interested competitors should log on urgently to www.t-cars.org.uk where they will find times and dates of the competition. The challenge is open to any driver who can demonstrate some degree of competition experience, maybe through Indoor, Outdoor leisure or MSA events or alternatively through minicross, or autograss type racing. The value of the prize to the winner will be a substantially sponsored season with a budget of £20,000.
[ Top ]
---
Helping A London Child (01/03)
Monday evening 18th March will see the CSF Compaq Corporate Karting Championship Grand Final at the Teamworks Karting venue close by the City of London. City brokers, dealers, lawyers, IT consultants and other professionals will exchange their office suits for racesuits as the 3-driver teams aim at a huge prize fund of around £10,000 with all looking to beat pre-race favourites Barclays Capital. Race commentator will be Capital Radio DJ Mick Brown, with prizes for the winners awarded by Mike Cohen - Director of CSF, and Tony Diprose, the Harlequins and England forward.
Spectators are welcomed, as all proceeds from the event will be donated to Help A London Child. There will be a charity auction during the evening. More information from Teamworks Karting on 0870 900 3020.
[ Top ]
---
MSA British Endurance Kart Championship (27/02)
The MSA 2002 British Endurance Kart Championship kicks off this coming weekend and the BEKC are looking forward to the launch of the 2002 season. The first of this year's MSA ProMax Endurance Events takes place at Buckmore Park on Sunday 3rd March. The morning will be set-up and practice, followed by a 4 hour endurance race in the afternoon.
The Championship is supported by JAG Engineering who will be in attendance throughout the series, and with the recent confirmation of sponsorship from Motorsport News and Putoline Oil the series is set for a promising season. This 9 round championship has two remaining entries available for this weekend and those wishing to be on the grid for the first round can obtain further information by telephoning 02380 471117. Be there, you know you want to!
[ Top ]
---
ProMax Winter Series (27/02)
The first round of the combined Buckmore Park / Bayford Meadows Promax 3 hour Endurance Winter Series takes place at Bayford Meadows on 9th March. The second and final round of this short, sharp series is on 27th March at Buckmore Park. The main summer series of six rounds (alternating between the two circuits) starts in April and full details are available from Buckmore Park (01634 201562 ext 201) or Bayford Meadows (01795 410707) www.buckmore.co.uk or www.bayfordkarting.co.uk
[ Top ]
---
Single Seater Challenge (26/02)
If you race in Formula TKM and have the desire to win a free test in a Formula Ford single seater, recognised as the way forward up the motor sport ladder, then you must enter the TKM class this year at Rissy. Rissy is delighted to offer this fantastic opportunity to the 1st three drivers in this year's TKM Premier championship.
Peter Chambers Motor Racing, who own and manage a modern Formula Ford 1800 Zetec Racing Team catering for Avon Junior and Slick 50 Premier Championships have agreed to sponsor the TKM Premier class at Little Rissington during the year 2002. They will be providing the 1st, 2nd & 3rd place trophies at each club round and also for the championship. The cherry on top of the cake is the award of a free test in one of the team's Formula Ford Mygales for the 1st three in the championship. This is not an opportunity which becomes available very often, and could be your chance to prove your talent to the right parties.
Team owner Peter Chambers began his motorsport career at Little Rissington, and is keen to put something back to the grass roots from where he progressed from. He has appreciated the amount of work which goes on behind the scenes which gave him the opportunity to enjoy his sport and also to learn the basics of motor racing. He is now in a position to help other youngsters to get out on to the track and to show what they can do. Peter intends to attend the rounds at Rissington to offer advice and support to young racers and hopes that he can help talented drivers step up to single-seater racing.
Victory Racewear have also agreed to provide additional prizes dependent on the size of entries, so there is even more reason to enter, now! Race Entry and Membership Forms are available on-line at http://www.rissykartclub.com The first race of the season is this weekend, 3rd March with practice on Saturday 2nd.
[ Top ]
---
Junior Clubman (26/02)
Everyone in the Junior Clubman Class extends their hand in friendship to the Yamaha Class drivers. It is always a shame when any class ceases to have enough entries to survive. However the Junior Clubman Class regulations allow the Chassis used in the Yamaha Class, and all piston port engines up to and including the 1998 Homologated list, with a 19mm restrictor, or a Parilla Leopard engine, bolt on to your chassis and away you go again. This exciting class is growing with club championships already being run at Forest Edge and Hullavington, with the prospect of Dunkeswell, Camberley and Rissington if there are enough entries. There is an NKRA National championship again this year with the first round being held at Dunkeswell at the end of March. The Leopard engines are available from Bruno Ferrari on 020 8427 3301 or e-mail: bruno@ferrari-racing.net as well as other outlets. For more information contact karting@kemara.co.uk and for NKRA information go to www.planetkarting.co.uk
[ Top ]
---
Tal-Ko Help For Yamaha Drivers (25/02)
Yamaha drivers left with equipment following the collapse of the class have been offered a special deal on TKM 2 and 4 stroke karts and engines from Tal-Ko, the UK's largest kart racing engine manufacturer. Alan Turney, boss of Tal-Ko said: "I fully understand the reasons for dropping this small class but of course I feel very sorry for the drivers who are left stranded at this late stage in preparations for the year. We want to try to help them." Tal-Ko will offer all Yamaha drivers a 10 per cent discount on the price of new TKM 2 and 4 stroke engines and karts bought direct from the factory. The offer applies only to private sales and to those drivers then registering to compete in any of the TKM classes at the Super 1 or Super 2 national championships.
In addition the company will make possible a test day for Yamaha drivers to try out the karts and engines which are used in the most popular class in the UK, Formula TKM. Added Alan: "We just want to offer a helping hand to young drivers who have been hit by this bombshell." Full details from Tal-Ko on 01767 682020 or e-mail info@tal-ko.com
[ Top ]
---
Commentator's Corner (25/02)
Rissington Kart Club has been busy updating its hugely popular website during the closed season and has recently announced the launch of an exciting new innovation called "Commentator's Corner". The page is designed to give drivers and teams that visit Rissington, no matter how infrequently, the opportunity to communicate up-to-the minute information about themselves to regular circuit commentator, Chris Hartley. Chris commented; "It's a great opportunity for drivers and teams to gain useful publicity for themselves and their sponsors. The more I know about the drivers who race at Rissy, the more I can talk about them and the more they'll get noticed."
Visitors to the site can use an online 'Commentator's Information Sheet' to pass on details about their racing career, recent results and future plans. The site also features a Q&A section and a profile of the budding Murray Walker. To access Commentator's Corner, simply visit www.rissykartclub.com
[ Top ]
---
Did It Darren? (25/02)
The overall winner in Rotax Max of the first Super One qualifying round held at Lydd yesterday was Darren Rayfield, who has raced for the past two seasons with Team Screamin' Soco Racing in the British Endurance Championships. Did all that endurance experience make it an easier task to complete three heats and a final?
[ Top ]
---
KKRC (25/02)
Kent Kart Racing Club have announced that Carlos King has purchased the freehold of the property. This has paved the way for a series of exciting modifications and additional services, with work already completed on the expansion and resurfacing of Pit B (no more sticky tar!), as well as the circuit. There are many more improvements planned over the next five years that would make Lydd International Raceway one of the top circuits in the country. It is hoped that as the facilities are upgraded, the chance of a European round being negotiated currently could be held within the near future.
[ Top ]
---
Kart Driver Fined (25/02)
A pleasant time finally turned rather unpleasant for karter David Frankum when he was fined £450 as a result being stopped by police.
34 year old Mr. Frankum from Tilehurst near Reading, Berkshire had enjoyed a few drinks at a barbecue when he noticed friends had taken his kart, and with a lookout at each end were driving it up and down the road. Frankum immediately told his friends to stop and jumped in the kart to drive it back to his house close by, but he had travelled less than 10 metres before a police car ordered him to stop and the officer found him to be over the drink-drive limit. After admitting driving while over the permitted limit Mr. Frankum was allowed to keep his driving licence after his lawyer told the Court that his business would fold if he lost it.
[ Top ]
---
Re-Opening Soon (22/02)
The Raceway - Kings Cross, London's largest and fastest indoor Kart Circuit is pleased to announce its imminent re-opening. The whole facility has been completely re-built including a longer track, new bar and state of the art conferencing ability. Peter Rankin, The Raceway's Corporate Event Director said "After our neighbours fire caused extensive damage to our facility we had the opportunity to start with a 'clean sheet'. The new facility once again sets the standard for a Corporate Hospitality Venue, and, at the same time incorporates, what we believe to be, the finest driver's circuit". Full details will be announced in the National Press and on this website soon.
[ Top ]
---
Save Our Class (22/02)
A plea from Gary Wright to all Junior Yamaha fans. E-mail yamaha@teamlgw.co.uk if you are interested in keeping this class alive.
[ Top ]
---
Euro GT Challenge (21/02)
A Rotax Max European Endurance Championship has just been finalised with rounds at Silverstone, Veldhoven in Holland and Spa Francorchamps in Belgium. There is considerable interest in this 3 round mini-championship with points scored at the Silverstone event counting towards both the UK series and the European Championship on the same day. Dates are expected to be released next week and 10-15 teams only from each country will be competing. Further information from Graham Morris on 01795 439705, e-mail: graham@gtchallenge.com or visit http://www.gtchallenge.com
[ Top ]
---
Qualifiers Begin (21/02)
Britain's premier karting championships get underway this weekend (24th Feb) as the search begins for the 2002 karting hopefuls looking for fame in the Total Hill House Hammond S1 National Kart Championships. A record entry of nearly 600 has underlined the need for qualification rounds in many classes with the first taking place over the weekend at Lydd. More qualification rounds follow to determine the top 48 racers in popular classes like Formula TKM, Rotax Max and Cadets who will move on into the full series. The start of the full series is on 13th/14th April at PF International with a further 13 rounds during the course of the year building to an action packed calendar for the top titles in British karting.
Most prestigious of all the titles are those for the Hill House Hammond MSA British Junior and Senior Kart Championships. Juniors will see a flock of new youngsters hoping for success while at senior level last year's masterful winner Chris Rogers is back to see if he can do it all again. Once again the Total fuel and lubricants brand and the Hill House Hammond insurance services company are the title sponsors for the series which will be featured on TV.
[ Top ]
---
Corporate Final (21/02)
The final of the Teamworks Karting Corporate Championship sponsored by CSF & Compaq draws closer after the 6th round took place on Monday 18th February. Team that have qualified for the final on Monday 18th March include Barclays Capital, OST Business Rules, CSF, Tullet & Tokyo, GNI, IBM, HR Owen and Woolworths.
The national Press will cover the final and there's a huge prize fund totalling in excess of £11,000 with prizes donated by Omega, CSF, Optix, Veuve Clicquot and Teamworks Karting. The event is scheduled to run from 18.00 – 22.00pm and entry is free for spectators. Don't miss out on the 2002 Championship! Teamworks are now taking enquiries and further information can be obtained by phoning them on 0870 900 30 20 or e-mail: mail@teamworkskarting.com
[ Top ]
---
Eighty Six Pass (20/02)
Trackside Racing in conjunction with Bayford Meadows Karting Circuit and the MSA conducted a total of 86 ARKS tests on Saturday 9th February 2001, and a British record was made when all passed at the same place and time, each earning their first Kart License. A total of £500 was raised by Dr. S. Ebb who kindly donated a percentage of the medical fees to charity. Trackside Racing can arrange ARKS tests for other karters wishing to take part in their races and more information can be obtained on 01795 473300 or e-mail: mail@tracksidekarting.co.uk
[ Top ]
---
MSA BEKC (18/02)
The organisers of the MSA British Endurance Kart Championship, which this year has changed the kart technical specification to ProMax, are pleased to announce that the series is to be sponsored by Motorsport News.
Motorsport News with a circulation of 40,000 is "The Voice of British Motorsport", published every Wednesday, and reporting in detail on all forms of motorsport at all levels, but with particular emphasis on the "grass roots" of the sport at National and Club level. Published by the famed Haymarket Magazines Ltd group, which also produces "Autosport" and "Motorsport" magazines and of course the Autosort International Show at the NEC each January, it is hoped that this backing will give endurance karting in the UK more credibility, and a bigger following and understanding.
The icing on this already very tasty cake is the announcement of the prize for the winning team at the end of the series is a drive in a National Superstox race car at a real Short Circuit Race meeting. Something different, and an opportunity to find out about a very well established but often overlooked part of British Motorsport. How many of you know that Derek Warwick, ex-Formula One, World Sportscar champ, one time British Touring Car driver, and team owner, started his career in stock cars on short ovals? Information on the MSA British Endurance Kart Championship can be found at http://www.karting.co.uk/aDS/BEKC2002.html
[ Top ]
---
South Yorkshire KC (18/02)
A new season and a new system gets under way for the summer series points scoring at South Yorkshire Kart Club. Unlike in previous years where final points scores have been made up of the eight rounds run with the lowest being a dropped score and not counted, in 2002 all the rounds will count and will now include a ninth month, March. March in this year will also be the final round of the Winter series, so for some drivers it will be doubly important to be on the grid March the 10th 2002. See you there! Website at: http://www.sykc.co.uk
[ Top ]
---
Max Owners (18/02)
Rotax Max drivers have been invited on to long circuits by Ian Rushford following a successful day at Lydden Hill. All those interested can contact Kevin Rootes on 01892 835915 or email; kjrootes@netscapeonline.co.uk for more information.
[ Top ]
---
Thruxton (18/02)
The new kart circuit at Thruxton race track in Hampshire (opened in October 2001) will be organising an owner/driver Prokart Championship this year. The circuit, the first purpose built track to be located in central southern England, is 1100m long and incorporates a flyover, the first for an outdoor UK track. Further information from the circuit on 01264 882222.
[ Top ]
---
Forest Edge KC (15/02)
With a new season about to get underway the Forest Edge Kart Club at Barnsfield Heath, near Bournemouth in Dorset has announced an addition to their regular programme. From the first round on 3rd March they will be holding a Junior Clubman Class Championship in addition to the Honda & Comer Cadets, Junior and Senior TKM, 125 Rotax, 125 gearbox and 250 gearbox Championships. An open invitation is extended to everyone to see and drive the circuit with its considerable improvements that should further enhance the exciting racing that is seen every first Sunday in the month. The circuit is open for its first practice day on Saturday 16th February, gates open at 09.30. Be there!
[ Top ]
---
Sponsor Announced (15/02)
Endurance Karting is about to get a big boost in the credibility stakes as the ProMax MSA British Endurance Championship announces it has obtained the backing of Motorsport News as sponsor of the 2002 series. More details will be given at this weekend's shakedown meeting at Clay Pigeon on Saturday 16th February. http://www.karting.co.uk/aDS/BEKC2002.html
[ Top ]
---
Glan-y-Gors Park (14/02)
Karting magazine would like to apologise for the confusion that will undoubtedly be caused by their article in the latest issue concerning a new MSA licenced (subject to approval) circuit in North Wales. The circuit that is being extended is Glan-y-Gors Park at Cerrigydrudion, near Betws-y-Coed and not the circuit mentioned in the article. The 800m circuit at Glan-y-Gors Park is currently being extended to 1100m and is aiming to gain MSA approval to hold regular MSA meetings on the second weekend of the month starting April.
Most classes will be welcomed when racing gets underway including 125 Gearbox and 100 National (water-cooled only) and especially Junior Rotax Max. A new club Dragon Kart Club is currently being set up to run the race meetings. Glan-y-Gors Park is also used by the charity X-treme Disabled Motorsport (XDM) to run their off-road courses for disabled persons. The correct contact details are Glan-y-Gors Park, Cerrigydrudion, Corwen, Conwy LL21 0RU, tel: 01490 420770, fax: 01490 420702, web: www.gygkarting.co.uk Dragon Kart Club can be contacted c/o Unit 27, Wharf Industrial Estate, Wharf Street, Warrington, Cheshire WA1 2HT, tel: 01606 883956. The correct details and location map will appear in the next issue of Karting magazine.
[ Top ]
---
Drive a Diablo (12/02)
| | |
| --- | --- |
| | Karting Direct, the UK's leading online retailer of kart racing spares and accessories is holding another prize draw. It's open to anyone, all you have to do is place a carriage paid order online before the end of April. Each time you order, your receipt number is put into the draw. Add a set of tyres and you get two bonus entries as well! |
The prize? A day out at one of the countries fastest racing circuits, driving not one but six superb SuperCars, including this Lamborghini Diablo. See www.kartingdirect.co.uk for more details.
[ Top ]
---
International Kart Show (11/02)
The International Kart Show 2002, will be taking place at the International Centre, Telford, on the 23rd & 24th November, 2002. After taking time to listen to the various views and opinions with regards to the Shows' future the organisers believe they have secured the right date and venue and the package they are now able to offer will take the Kart Show forward. The modern International Centre, Telford is used to staging major exhibitions and with three exhibition halls twice the size of Trentham Gardens and various conference suits and meeting rooms, the extra space and facilities mean that there will be over 90 stands available within the one hall, with the Karting Magazine forums just off the foyer.
As the Show dates clashed with the start of many winter series in previous years, this earlier date will mean that many more drivers should have the opportunity to attend. There's accommodation on site and the town centre is only 5 minutes walk from the Show. The town of Telford is in the heart of the country, well serviced by the motorway, the station is a short ride away, and Birmingham International airport is reasonably close by too. For more information visit; www.kartshow.co.uk
[ Top ]
---
The Circuit in Chester (11/02)
| | |
| --- | --- |
| | Are pleased to be the latest to upgrade their timing system to the new SuperSport Grafix-Quad system. The system, designed to provide a clearer display for first-time viewers and more comprehensive information for experienced racers, proved a hit on the first night of operation with the owners of The Circuit in Chester reporting that drivers and spectators were "glued to the monitors" all night during their heats, a Grand Prix race meeting. |
The Grafix-Quad system provides four high-colour computer-monitor displays all running from one computer thereby reducing costs and with the SuperSport timing system already used by over 90% of all UK circuits, circuit operators have nothing new to learn as the new displays simply "bolt on" to their existing system and instantly provide spectators with the most comprehensive information available. Circuit owners can contact SuperSport for more information either by email at supersport@vossnet.co.uk or by telephone on 01432 860685. For more information about The Circuit in Chester, email info@thecircuit.co.uk or call 01244 531652.
[ Top ]
---
PCR Agent (11/02)
Washington Motorsport are pleased to announce that they are agents for the PCR chassis for the Rotax Max class. For more information call Andy Washington on 01258 471189 or 07813 718961 or e-mail: washmotorsport@aol.com
[ Top ]
---
Single Seater Experience (08/02)
Daytona Silverstone will be hosting a Rotax Max Open Race on the Stowe circuit for owner drivers on 23rd May 2002 at 6 pm. The Stowe circuit provides drivers will excellent drafting opportunities down the high-speed straights and the race will run to a sprint format with practice laps, 3 heats and a final. See http://www.karting.co.uk/events/EventList.asp?GroupID=1#40 and contact Daytona. The winner of this race will receive a single seater experience at Silverstone.
[ Top ]
---
Larkhall (08/02)
The West of Scotland Kart Club has regrettably announced that the Summerlee Raceway circuit will be closed for practice until further notice. The closure for practice/testing is necessary due to difficulties in securing further insurance cover for the track. Race days continue as planned and can be seen at; http://www.karting.co.uk/events/EventList.asp?GroupID=2#39
[ Top ]
---
Championship Event Practice (07/02)
Three Sisters uniquely offers three different kart racing circuits, and Manchester and Buxton Kart Club will be using all three for club meeting in 2002. For practice before a championship event in 2002 select a club meeting which runs on the same circuit.
Super 1 Qualifier - Club Circuit, as is club meeting just a week before on 24th February
Super 1 Seniors - Valley Circuit, as is club meeting on 24th March
C of F - Club Circuit, as are club meetings on 24th February, 26th April, 23rd June
ABkC 0 plate gearbox classes - Gearbox Circuit, as are club meetings on 24th March, 26th May
Rotax Max UK Cup - Valley Circuit, as are club meetings on 24th March, 26th May
The circuit also organises Friday practice on the Friday preceding all Club meetings on the circuit to be used at the meeting, to ensure sessions are run book, call ARDS on 01942 270230.
See the Events Calendar for Manchester & Buxton KC dates at; http://www.karting.co.uk/events/EventList.asp?GroupID=2#37 For more information, membership and entries see; http://mbkartclub.com
[ Top ]
---
Revolution Kart School (05/02)
A new Cadet School has just been launched by Revolution Karting, located in Mile End Park, east London. Aimed at teaching youngsters the basics of kart driving and mechanics the course is aimed at the 8 to 12 age group and is intended to run throughout the year. Each part of the course will be for 2 hours on Saturday mornings over a period of 4 weeks and includes a presentation by a leading Karting expert who will guide all those attending on the steps needed to progress. Once the course is over the cadets will receive a Revolution Driving Licence that allows for discounted karting sessions throughout the year, all for a cost of £5 per week. More information from Revolution Karting on 020 7538 5195.
[ Top ]
---
Biland Engines (05/02)
Deavinsons of Rye House Kart Raceway have announced that more than 50 Biland engines have now been sold. The 28HP 4-stroke Biland engine is eligible to race with Formula 6, GT Challenge Enduro series, Super 2 (subject to class regulations) and at many MSA approved monthly kart circuit race meetings. Further details available from F6 on 07710 288074, the GT Challenge Enduro series on 01795 439705 and Super 2 on 01784 46262. Or call Deavinsons on 01992 460895 or visit www.deavinsons.co.uk or www.kart-power.com
[ Top ]
---
The Sun Shines On GT Challenge (01/02)
The GT Challenge stand at the Autosport International Show totally eclipsed the competition, thanks, in part, to the appearance of The Sun's Page 3 model, Jade, explains competition organizer Graham Morris. Jade certainly created quite a stir with crowds of visitors and photographers keen to meet her said Morris.

The British Rotax-Max GT Challenge Endurance Championship is about to embark on its fourth year of competition with more participants than ever. The 2002 series will have over 30 karts on the grid at ten events held at seven UK race tracks, Morris confirms.
Morris is currently negotiating a sponsorship package with a national company and promises to significantly raise the profile of the competition. The involvement of The Sun and Page 3 is just one example of how we intend to generate interest in the series and provide sponsors and promoters with a rewarding experience. The more money we attract into the GT Challenge the more we can offer competitors. As an example of this Morris confirmed that the winning team in the 2002 Championship will be rewarded with a free drive in the next years competition to include all drives, tyres, entry fees etc, for the entire series. In addition, the first ten Championship registration bonds received for the 2002 series will be entered into a draw with the prize being a signed, limited edition, historic motorsport racing print valued at between £400-500. GT Challenge can be contacted on 01795 439705 or visit their website at www.gtchallenge.com.

[ Top ]
---
British 24 Hour (31/01)
Teesside Karting are organising a 24 hour event to be held over the weekend of 25th & 26th May 2002 for Pro-Max, TKM 4 Strokes, Twins (both owner and hire) and Thunderkarts. There is also a free practice day on 24th May for all entrants. For further information and bookings telephone 01642 231117 or visit www.teessidekarting.co.uk.
[ Top ]
---
Over 35's Rotax Challenge (31/01)
The over 35's Gentlemen's Max Challenge has announced a sponsor for the series. It will now be known as the Team Dadson Gentlemen's Challenge and at each round there will be a tyre draw for competitors who have entered that round. Dannie Pennell of Team Dadson comes in for thanks for his contribution to the series as the organisers look forward to some great racing this year. Contact Tony Cowlam on 020 8669 1700 (weekday daytime) or 07957 316006 (evenings) for more details.
[ Top ]
---
Test A Pro-Max (29/01)
DreamKarts are holding a test day at Bayford Meadows on Wednesday 6th February and any team or individual keen to experience what Pro-Max is all about then this is a dedicated day for you. All your questions answered about tyres, engines and general maintenance and plenty of time in the kart. All serious enquiries should contact Matthew to be booked in. Tel: - 020 8361 5885 (Office), 07771 546727 (Mobile) or e-mail: dreamkarts@yahoo.com
[ Top ]
---
Grand Prix Series (28/01)
Since the launch of Trackside's Grand Prix Series at the Autosport Show, they report a fantastic interest and response for their two championships running in the coming year. The popular Trackside Rotax Max Challenge now in its third year and run at Bayford Meadows, and Trackside's Rotax Max Grand Prix Series, a roaming championship visiting Lydd International, Clay Pigeon, Buckmore Park, Ellough Park and Bayford Meadows. The Trackside Rotax Max Challenge is a morning practice with qualifying followed by a one and a half hour race, with the same format again in the afternoon. Teams can enter either AM or PM races and EcoMoto's are also welcome. The Grand Prix events will consist of a two-hour set-up and practice session with timed qualifying, followed by a three-hour race.
All senior Max competitors racing at MSA approved circuits will from 1st March be required to hold a minimum of a national B licence and be a member of the club running the championship. With this in mind Trackside have arranged for a subsidised ARKS test and a doctor to be on site on Saturday 9th February at Bayford Meadows, allowing drivers entered in either series to gain their race licences. Telephone 01795 473300 for further details.
[ Top ]
---
BRM International (28/01)
BKC Karting based in Dorset are pleased to announce that they are the new sole UK Importer of the BRM chassis. The range includes Cadet, 100cc, Rotax & 125 Gearbox. They will be competing in Super 1's and Champs using the BRM. BKC hold in stock new & second-hand chassis' as well as a full range of spares. For further information contact Rob Dodds on 01202 666557 or email on bkckartracing@hotmail.com
[ Top ]
---
S1 Registration (22/01)
Super One registrations have exceeded all records and currently stand at 575+. Places are still available in TKM Intermediate, JICA & FA. Qualification will be as follows:
24th February. Lydd - Rotax Max, 100 National, Jnr Rotax.
3rd March. Three Sisters - Cadets, Jnr TKM, TKM.
10th March. Buckmore - Cadets, Jnr TKM, TKM.
24th March. - Rowrah - Rotax Max, 100 National, Jnr Rotax Max.
ICA. Qualification will take place at the rounds using their timed practice. The top 48 in timed practice will go forward to the heats. The remainder will receive a 50% refund of their entry fee, but will take no further part in the event. E-mail for further information: kartman@kartman.worldonline.co.uk
[ Top ]
---
Top Kart (22/01)
Midlands kart racing team Century Race Preparation have been appointed as official agents for the World, European, and British Championship winning Top Karts. Century will be running these karts in the 125 classes at Super 4 and in the Rotax Max classes at Super 1, Champions of the Future, and club racing. They will also be looking for drivers with sensible budgets to contest the GT1 Challenge. Drivers wishing to test a Top Kart or talk about racing at any level can contact Century on 07710 232813 or e-mail mail@century-karting.co.uk
[ Top ]
---
Alfanalyse (22/01)
REGA Motorsport, the official Alfanalyse distributor for the UK and Ireland, reports terrific interest in the new Alfanalyse software, due to start shipping at the end of January 2002. With many orders already placed, production capacity has had to be increased to meet the demand. The software was demonstrated at The International Kart Show in December and Autosport in January and will be seen at the Belfast Kart Show on 26th & 27th January. The software takes full advantage of the functions available in the Alfano Pro™ . Easy to use, utilizing user-selected criteria, information can be built up on optimum performance, including sessions and sequential laps, times, revs, temp, conditions, speeds, and circuit definitions. Graphs can be produced and overlaid and reports can be printed and saved for ongoing reference. Users will be able to 'connect' with the Alfanalyse website for updates and developments. Colin Smith, of REGA Motorsport, said, "We are delighted at the reaction we have had from members of the UK and overseas Karting community. We believe that the software and the interactive environment built around it, will bring great benefits to all Karters, clubman and International entrants alike." REGA Motorsport will be appointing a selective number of resellers for the UK and Ireland prior to the first deliveries of product at the end of January. Resellers already appointed include KKC, Dream Karts and Cat Racing Services. Stuart Hirst, of Alfanalyse said, " We are extreamly happy with the overwhelming response we've have had since the shows and feel reassured that REGA Motosport will handling UK and Ireland distribution. There are many diverse and exciting developments planned for the Alfanalyse product over the coming months which will be announced both in the press and on our website." Holden Consulting, developers of Alfanalyse will be appointing additional international distributors to supply product in to other worldwide markets and plans to have multilingual software versions in the near future. For further information contact Colin Smith on 01422 316315 or e-mail: colin@regamotorsport.com
[ Top ]
---
Ultimate Machine Combat (22/01)
Fancy a gas-guzzling, testosterone-charged challenge. Metal mayhem is about to unfold, have you got what it takes? RDF Media are looking for brilliant teams to engage in 'Ultimate Machine Combat' – the new TV show from the creators of Channel 4's 'Scrapheap Challenge'.
Can you build the ultimate fighting vehicle, in just one month? Machines and drivers from all over the world will be pushed to the edge of their limits and beyond, in the greatest gear-busting, wheel-churning, engine-munching challenge the planet has ever seen! If your heart isn't made of metal and your veins don't run with oil – give up now! But if this sounds like you, go straight to: www.ultimatemachinecombat.tv You'll find everything you need to know about the show and how to apply. Go on - you know you want to.
[ Top ]
---
Estonia 24 Hour Race (17/01)
There will be 30 Pro Kart teams travelling to Estonia with Teesside Karting for a 24 Hour Prokart Endurance Race in June 2002. Estonia is celebrating 50 years of Kart racing by holding the race in the medieval city of Tallinn. Formerly a part of the Soviet Union, Estonia regained independence in September 1991 and visitors to this beautiful capital city will find the people friendly and the cost of living low. The racing promises to be an exciting challenge but there are only 30 Hire Kart teams travelling so book early! See www.teessidekarting.co.uk for more details or telephone 01642 231117.
[ Top ]
---
Lodge Road (17/01)
Lodge Road Kart Centre start their race meetings on 10th February 2002, with classes for Pro-Kart, Rotax Max, (junior & senior), Pro-Max, Comer Cadets and Honda Cadets (junior & senior). Corporate karts also available for hire for race day. For more information contact Nick on 01526 344566.
[ Top ]
---
Another Kart Boot Sale (17/01)
Teesside Karting will be holding a Karting 'boot sale' on Saturday 23rd March and the 'Longest, Fastest' kart track in the UK will be available on the day to test that newly bought bargain. On sale will be karts and spares for karts past and present. Items available will include 20 Prokarts priced at from £400 to £800 each. So clear out the garage, load up those karting spares and make some money for the new season. Entrance is free to sellers and buyers. Call 01642 23117 for more details, or visit www.teessidekarting.co.uk to see the exact location.
[ Top ]
---
New Timing System A Hit (15/01)
SuperSport Timing Systems are well known in the UK with over 90% of all circuits using their system for the timing and scoring of Arrive and Drive, Corporate Race Meetings and MSA-type club race meetings. Since SuperSport developed the first mass-market system (for use by Tom Walkinshaw of TWR) their systems have been market leaders in the UK and very popular around the world with hundreds of installations in the USA, Europe and even Asia.
Until now, most timing systems have relied on drivers and spectators reading the same monitor displays as the staff of a race circuit or on expensive LED scoreboards. No one had specifically designed a system to present the race information to the drivers and spectators, who often were first-time users of a racetrack and un-familiar with the vast information on display. At the other end of the scale, there was a lack of extra information for the hardened endurance racer looking to use extra information to help his/her team to victory. Until now...
SuperSport used the 2002 Autosport Show at the National Exhibition Centre to launch GRAFIX-QUAD. SuperSport has been working closely with The Raceway at Kings Cross, London (one of the UK's largest, popular and most successful indoor circuits) to develop a system specifically for the end-user, the drivers and spectators. The display system breaks a number of previous precedents. Firstly, to ensure clarity of display, it is spread across four different monitors. Expense is kept to a minimum though, because all of these monitors are driven from just one inexpensive PC! The advantage of using four monitors is obvious upon first viewing. The information can be spread out over a bigger area, meaning clearer, brighter information, able to be viewed from a greater distance by a greater number of people.
The new GRAFIX-QUAD system is Windows based, but does not sacrifice any of the stability of the existing DOS-based software which retains all of the advantages of being immune to system crashes. The users and operators of the system have nothing new to learn, a great advantage to the circuit operator who's staff see no difference in the way they work. The system was warmly greeted by visitors to the trade days at Autosport and SuperSport took an unprecedented number of orders, so visitors to Kart tracks across the UK and Worldwide could soon be seeing vastly improved information displays at their favourite circuits. As the system was developed in conjunction with The Raceway it will come as no surprise that The Raceway took delivery of System No.1 on the opening day of the show and many other installations will be taking place now as the SuperSport engineers attempt to keep up with the high level of orders.
SuperSport are also proud to announce the launch of Beta testing of Phase Two of the GRAFIX display system GRAFIX-TEAMSCREEN. The Raceway is currently installing the system and it will be available to other circuits after final "live" testing within the next 6 to 8 weeks. Using an idea most often seen by viewers of Formula 1, each and every team in the spectator area can take advantage of their own monitor. Displaying information which relates directly to their team they can make decisions on their race strategy which up until now would have been guesswork. Based upon the same "Multi-Screen" technology used by the basic GRAFIX-QUAD setup, the system is relatively inexpensive for a circuit operator who wants to provide the ultimate in user-friendly information display for their customers. The first GRAFIX-TEAMSCREEN system, at The Raceway, will be driving 25 monitors for the maximum of 25 teams which The Raceway runs indoors, but the system has been designed to accommodate a maximum of 48 teams.
A number of provisional orders have also been taken for Phase 2 of GRAFIX-TEAMSCREEN. The basic GRAFIX-QUAD system costs under £1000 for the software and also allows circuit operators to increase their revenue by displaying "rolling adverts" on all monitors whenever a race is not being run. Information about the system can be obtained from SuperSport Timing Systems on (+44) 01432 860685 or at supersport@vossnet.co.uk
[ Top ]
---
Kart Boot Sale (15/01)
The South Wales Karting Centre at Llandow near Cardiff will be holding a kart boot sale on Saturday 26th January 2002. If you need to stock up on spares, need extra space in the garage or want to choose from a good selection of nearly new and used TKM, Prokart, Cadet or Rotax Max karts, be sure to make a note of the date. Contact Ken Denscombe on 01446 795568 for further details.
[ Top ]
---
Swiss Hutless (15/01)
Swiss Hutless UK are very pleased to report that they can supply chassis for the Biland 4-Stroke class, and that rumours otherwise are incorrect. Early indications of sales in this class are favourable, and they are looking forward to more chassis requirements for this new, up and coming class. Contact Swiss Hutless UK for further details on Tel/Fax -0208-421-6252 or 07956 635040.
[ Top ]
---
New Control Board (12/01)
British kart racing has moved forward with the official formation and sanctioning of the Kart Control Board, a new body dedicated to bringing all aspects of kart racing closer together. Its official formation comes just in time for 2002. Plans to be introduced over the coming months will help pull together traditional MSA club racing and the rapidly growing commercial sector.
The Motor Sports Association has played a key role in bringing the Board to life and MSA Chief Executive Colin Hilton is the first Chairman of the Kart Control Board. Two years ago, various individuals in karting got together to discuss the possibility of working together. A series of meetings finished with a public meeting in Birmingham last summer, which gave the go-ahead to the broad principles of what had been discussed. Since then, detail work has seen many aspects finalised, often after lengthy discussion and careful blending of ideas. Many factors have now been set in motion, with others about to be finalised, including a major set of guidelines for those involved in karting.
Safety and consolidation of sectors have been key factors in the development of the Board. Points already in place include: Creation of a forum for all sectors of the sport to take part in discussion and exchange ideas. Establishment of a working link between commercial circuits and kart schools to develop new opportunities for novice drivers to train and gain signatures outside the current ARKS scheme. It will make it easier for new drivers to gain as MSA licence if they wish. Creation of a new Association of Race Kart Schools/Kart Control Board ProRacer Card, which can be used to record completion of events and which will indicate the experience of drivers. The MSA has created a new Promoter Permit, which can be used by commercial circuits to run a new form of MSA-approved race meetings to defined standards and with MSA insurance cover.
Work continues to finalise a set of safety guidelines for all circuits (still under development), which will also restrict novice drivers getting into high performance karts without experience. Commenting on progress to date, Colin Hilton said: "We have made excellent movement in many directions and tackled some very big questions. We still have much more ground to cover, but I am pleased at the way we have progressed and look forward to continued success." The Kart Control Board aims to provide good representation for those in various sectors of karting. Council members are: ABkC (Graham Smith), ARKS (Gary Chapman), BKIA (Grahame Butterworth), the circuits (Bill Sisley), the MSA (Colin Hilton), the Kart Committee of the Motor Sports Council (Steve Chapman), Nat4SKRA (Roger Sheffield), and NKA (Keith Barton). The Secretary is Paul Gladstone (MSA). Any questions can be addressed to Paul Gladstone at the MSA or e-mail: info@kartcontrolboard.co.uk
[ Top ]
---
Over 35's Rotax Challenge (12/01)
Organisers of the 'Gentleman's Rotax Challenge' have announced that they will run a 7 round series for the over 35's commencing at Lydd on 7th April. Further rounds take place at Ellough Park, Clay Pigeon, Llandow, Forest Edge and Dunkeswell, before returning to Lydd for the final round on 6th October 2002. Further information and a registration form are available from Tony Cowlam on 020 8669 1700 (Mon to Fri daytime) or 07957 316006 (evenings) or e-mail: tonyangela@acowlam.freeserve.co.uk
[ Top ]
---
Lydd Lap Record (12/01)
David Florey set a new lap record at Lydd using an Arrow AX7 kart and TM engines in Formula Libra on his way to winning the final on 4th November. A time of 38.61 was set, shaving over 1/10th off the previous best. David, an engineer from London who prepares his own engines said; " The kart and engine set-up was great making it very easy to drive – with new tyres I think low 38's are possible. Not bad for this time of year."
[ Top ]
---
Uniroyal Talent Competition (04/01)
Uniroyal, the world famous tyre manufacturer, is launching a nationwide search for motor racing talent in a £25,000 competition being launched at the Autosport International Show. Two top prizes will offer enthusiasts the opportunity to race in the famous Spa 25-hour race. Runner up prizes offer four more drives in races at circuits in the UK. Prior to that all 18 selected finalists will take part in a special talent trial at a top kart racing circuit driving the new TKM 4-stroke karts to determine the six who will go for final training into the race cars.
Uniroyal are launching this amazing package of prizes as part of a major promotion to launch its new Uniroyal Team Challenge race series which will take place for the first time in 2002. The Uniroyal Team Challenge offers endurance racing for teams of drivers in races usually between 4-6 hours. Every team drives a specially designed mid-engine car fitted with a glass-fibre body looking like the traditional VW Beetle. This type of racing first started in Belgium five years ago and is now hugely successful there and spreading into the UK for the first time. The competition is being run from the Uniroyal Team Challenge stand at Autosport International (Birmingham NEC stand 1040, January 10-13) where the new race series will receive its official send-off for 2002.
Says Uniroyal Marketing Manager Tim Bailey: "This is a tremendous opportunity for anyone who has ever wanted to race. Not only a day's race tuition in high speed karts, but then full driver training in cars and the chance to race either in the UK or at the Spa Francorchamps circuit, one of the most famous circuits in the world. "Team Challenge is designed to make motor sports more accessible and affordable so what better way to promote the series than to offer the chance of racing to everyone at the show." All entrants have to do is complete a simple entry form on the stand. The competition is open to anyone, with or without race experience, but they must hold a full UK car driving licence.
Following the competition, step one will be the random selection of 18 finalists. They will be invited to a special test event at a British kart circuit where they will drive the very fast and exciting newly introduced TKM 4-stroke karts. From this day six drivers will be picked by the judges for the next step. Two drivers will be chosen for the ultimate prize to join the Uniroyal team at Spa in July for the 25 hour race. The remaining four will join the Uniroyal team racing at Snetterton or Rockingham in UK races. All will receive race car training and assessment to gain their race MSA licence.
Adds Tim Bailey: "Even for experienced drivers the chance to drive at Spa in a 25 hour race would be a dream come true so for a novice this is a fantastic opportunity. We know we are going to give the ride of a life-time to enthusiasts and we hope we may find some budding stars of the future at the same time."
Would be entrants should e-mail the following details before midnight Sunday 13th January 2002. Name, address, telephone number and age, and also state if an MSA licence holder or not. You must hold a current car road driving licence to compete! E-mail contact: info@uniroyalteamchallenge.co.uk
[ Top ]
---
TonyKart/Billand (04/01)
From March 2002 O'Neill Racing are expecting to be able to supply a new TonyKart Mitox for use with the Biland 4-stroke engine. Telephone O'Neill Racing on 01753 573960 for further details.
[ Top ]
---
Brooklands (04/01)
Work has begun on a track extension at Brooklands Grand Prix Academy that will more than double the length of the current 540 metre outdoor kart circuit, and it is expected to be completed by the end of next month. A modular building containing showers, changing rooms, toilets, catering facilities and offices will also be evident, as will a new fleet of Pro-Karts. For further information telephone 01932 886695 or visit their web site at www.grandprix-s.co.uk Brooklands, the birthplace of British motor sport.
[ Top ]
---
[ News Summary / Site Index | Current News ]

News Archives : [ 2000 ] [ 2001 ] [ 2002 ] [ 2003 ] [ 2004 ] [ 2005 ] [ 2006 ] [ 2007 ] [ 2008 ] [ 2009 ] [ 2010 ]