Lydd International Raceway is holding a karting open practice day on Bank Holiday Monday (3rd January 2005). Though the circuit is generally closed on Mondays the circuit will be open for testing on this Bank Holiday as it's unavailable on the Saturday and Sunday.
Carlos King and all at LIR take this opportunity to wish all their customers a very happy and prosperous New Year.
Stolen from a locked workshop at Chatburn near Clitheroe in Lancashire, Tony Frankland's CAT chassis, with black plastics, novice plates no.77, carbon effect nassau panel chassis number 1606, also senior Rotax Max engine number 537329. If anyone has any information on the above please contact Chris Cattermole at Cat Racing on 01200 423360 or 07968 984659, or call Crimestoppers anonymously on 0800 555111.
a) Clarification: Competitors Yearbook N.14.9 seat reinforcements. The fitment of the mandatory reinforcements for the upper seat supports do not need to be permanently attached to the actual seat by anything more than the main securing bolt for the support. In effect the reinforcement can be used in a similar fashion as a large washer providing the correct materials and specifications are used as specified in N14.9 of the 2005 MSA Competitors Yearbook. Please refer to the photo below for a typical example. A 51mm washer, 1.5mm thick, will comply with the regulations. It is not a requirement for any additional seat stays or the lower seat mountings to have this reinforcement.
b) The 2005 World Formula UK Regulations were approved by the MSA on 24th December 2004 and are available on the ABkC website. Clubs must reference these in S.R.'s.
c) Kart Race Yearbook: Formula Rotax MiniMax There is a drafting error in the 2005 Kart Race Yearbook. Replace B.4.4.3 with the following with immediate effect. All parts of the carburettor including the body are to be unmodified and run as supplied by Rotax. The carburettor must have VHSB 34 (cast in body) QD or QS (stamped on body). All parts must comply with the official fiche. The only adjustments allowed are the main jet, external air screw, throttle stop adjustment screw, and needle position on the five grooves provided. Needle jet atomiser FN 266. Choke jet 60. Idle jet 30, idle jet emulsion tube 30. Needle K27. Float needle valve 150. Slide 40. Floats 5.2gr. Atomiser Type 2. The venturi must have 34 cast and 12.5 or 8.5 stamped on the top of the venturi. Throttle cable and adjusters are free. It is permitted to use a single length of vent tube looped across the two air vents of the carburettor with a hole or slot cut in the side of the vent tube at the top of the loop.
d) Kart Race Yearbook: Formula Rotax 125 Max C.2.4.2 Formula Rotax Junior UK B.1.4.2 Formula Rotax Mini Max B.4.4.3
Dellorto VHSB 34 QD/QS Carburettor. Rotax will introduce a new alternative needle K98 (Rotax part no. 261191). The new K98 needle will be legal for racing from 1st February 2005. The K98 needle may be used as an alternative to the K27 needle in all Rotax Max classes.
e) Amendments to the Honda classes engine technical regulations are expected early in 2005.
Following the signing of another top level driver for 2005, Team Simpson International have a position available for a hard working, committed individual for the up coming season. The position will cover most weekends and some midweek days both in the UK and Europe.
Mechanics interested in joining one of the most successful teams in the UK are invited to forward their CV and contact details to Michael Simpson at sales@msms.co.uk
Additional dates for owner/driver open practice have been scheduled over the Christmas and New Year period as follows:
Monday 27th December & Thursday 30th December 2004
Sunday 2nd January & Saturday 8th January 2005
All dates are from 10 am to 4pm and are open to all classes. In the interests of safety, sessions may be run.
Take advantage of the holiday season to do some serious testing at Llandow. The track is open every day between Boxing Day and 2nd January for practice and the following prices apply:
Compared to normal prices:

| | | |
| --- | --- | --- |
| No loyalty card: | Full Day £35 | Half Day £25 |
| With loyalty card: | Full Day £30 | Half Day £20 |
Call the circuit on 01446 795568 and ask for Ian or Henry for more details.
[ Top ]
---
Fantastic Jade Sale (23/12)
Jade Karts are having a spectacular sale day on Thursday 30th December from 9am - 6.pm. Sale includes many spares, second-hand complete Karts, racewear, etc.. Go along and discuss your 2005 requirements. Orders taken for new Karts. Regular customers and new customers are very welcome.
Jade Karts, Edgehill, Banbury (3 miles from Shenington) Tel: 01295 678188. Wishing all customers a very merry Christmas and a happy New Year.
[ Top ]
---
Philip Gough Racing (23/12)

Philip Gough Racing have been appointed agents for a new range of karts, KZH engines and accessories for the 2002 European FA Champions - Mach1Kart, by UK Importers Exploit Karting Technology Ltd. The PGR team will be present at club meetings at Whilton Mill, Shenington and Kimbolton in 2005 with regular team drivers Rossano Bhandal (Zip Blade Comer Cadet), Jake Parsons (Mach1Kart Junior Rotax) and Philip Gough (Mach1Kart Rotax Max).
Watling JCB Ltd continue their support of Philip Gough with new sponsor ProSport, the importers of SHIFT race clothing (Tel: 01914 926014) also backing the young team, with data logging from Coni Systems & Digatron.
Philip Gough Racing can be contacted through their website www.philipgoughracing.com for more information on Mach1Kart and their trackside services.
[ Top ]
---
Warden Law Meeting (22/12)
Help yourself burn off a few calories by getting along to the Warden Law circuit as Karting North East are running a Fun Sprint meeting on Wednesday 29th December. Classes include Cadet, Mini, Junior and Senior Max, ProKart & World Formula. Details from 0191 521 4050.
[ Top ]
---
Autosport International 2005 (22/12)
How many great names in motorsport began their career in Karting? Answer, countless, and many of the stars of today will be at the Autosport International Show at the NEC, Birmingham 13th -16th January, including former karters and new Red Bull F1 signing David Coulthard, BTCC ace Jason Plato and Williams F1's Mark Webber to name but a few.
A host of top Karting stars from across the globe will also be paying a visit to the new Karting area in Hall 20 at Autosport International, including five times World Champion Gianluca Beggio, former World Champion Colin Brown, Jon Lancaster and Team Zanardi driver Martin Plowman, who was recently crowned the Asia Pacific Champion in Japan. In addition over 750 of Britain's best young racing drivers from the Super One, Super Four and BRDC Stars of Tomorrow Championships will be visiting the show to be presented with their silverware for the 2004 season.
If you have always dreamed of being the next Jenson Button but never known how to get started, then head for the new Karting Area. With more exhibitors than ever before and tons of experts on hand, the new Karting Area is the biggest ever seen at Autosport International. Karting companies and championships from across Europe will flock to the NEC in January to offer the best equipment and advice available and to help you on the road to victory. For the best advice on how to start Kart racing visit the Association of British Kart Clubs stand. Experts will be on hand to explain the different classes and championships and where best to begin. You can also collect a free brochure from the stand, which contains everything you need to know to get you on the track.
'Karts to Cars' will be a brand new feature presented in the new Karting area. This unique display will demonstrate how karters can progress through to the higher echelons of racing and will boast championship-winning karts from a host of top drivers across the spectrum of world-class motorsport, alongside their current racing chariots. Already confirmed are Gary Paffett's 2004 Mercedes-Benz DTM and his 1996 Championship-winning JICA kart. Former British Formula Renault and multiple Kart Champion, Lewis Hamilton's 2004 Manor Motorsport Euro F3 car will also line up alongside his MSA Cadet Championship winning kart, also from 1996.
No matter what your size of budget available, there is a Karting class and championship to match. Your best bet in pursuing your motor racing dream is to talk to drivers competing in the category you are most interested. The Motor Sports Association (MSA), the governing body of motor sport in the UK, will have 'Advocates' on its stand, on Saturday 15th January. Comprising people who are directly involved in motor sport, the Advocates will be able to help visitors who want to get involved in motor sport - as a helper, organiser, official, marshal or competitor. Advice could range from providing them with contact details for their local motor club to suggesting what equipment to purchase.
For the first time, there are a limited number of AAA passes with exclusive access to the autograph area to meet top drivers and personalities, as well as Page 3 girls, Michelle Marsh and Lucy Pinder along with VIP seats in the Live Action Arena. The number of AAA passes costing £30.00 is limited so you need to pre-book by calling the ticket hotline on 0870 902 0444 or book on-line at www.autosport-international.com
To pre-book regular tickets for Saturday and Sunday (15th & 16th January) and avoid the queues, call the ticket hotline on 0870 902 0444 or book on-line at www.autosport-international.com. Ticket prices with access to both the show and the Live Action Arena in association with Fulda Tyres and British Eurosport are available at £25 for adults and £17.50 for children. Entry to the show only is £18 for adults and £10 for children.
[ Top ]
---
Top Hat TV (21/12)
Top Hat TV Productions are presenting a 10 round Pro Kart Championship with 4 rounds to be televised. Open to all aged 17 years and over, it's a hire-kart championship that will take place at the Essex Raceways' circuits at Lakeside at Brentwood Park.
Limited to 25 drivers only, entrants are required to compete in all 10 rounds and you could see yourself on TV if you hurry. Closing date for entries is 20th January 2005. Click here for more information.
[ Top ]
---
Maintaining The MAX (20/12)

Following the fantastically successful launch of 'Maintaining The MAX' at the London Kart Show, Fastroc are pleased to announce that KKC and Karting magazine have become stockists of this ground breaking DVD. You can now buy directly from both companies websites. www.kkckartshop.com and www.kartingmagazine.com. In addition, due to significant interest from Australia, New Zealand and Mainland Europe for the DVD Fastroc are also looking for both National & International stockists. Contact Fastroc via their website for details at www.fastroc.co.uk.
[ Top ]
---
Rotax & ProKart Chainguards (17/12)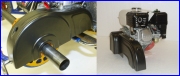 Kartsmart have recently launched their range of 2005 MSA regulation chain guards.
Developed in conjunction with the Kartsmart race team the guards were designed by karters for karters and this is evident by the quick release brackets that allow removal or refitting in less than a second. They also feature lightweight ABS plastic construction and simple fitting instructions.
The range currently comprises three models. There is a version for Rotax Max Senior, Junior and Mini which also fits most 2 stroke direct drive karts. Prokarters and Cadets have the choice of inboard and outboard clutch/sprocket flavours. The chain guards are sleek and streamlined whilst still conforming to the new 2005 MSA regulations and are available in plain black or carbon look finishes. Available from most large dealers or call 01483 860732 for your nearest stockist.
[ Top ]
---
The Racing Partnership Commences (16/12)
The creation of The Racing Partnership has evolved from the vision developed by a group of like minded parents of successful national kart racers contemplating the transition from karts to single seater racing cars.
Facing the task of securing substantial budgets in order to participate in single seater racing cars comes as a culture shock for all but the wealthiest of kart racing parents, The group, led by Roger Orgee, himself an ex F3000 driver and team owner, has explored thoroughly the various permutations of possible team structures, incorporating ideas from the world of karts and cars, resulting in the format adopted by The Racing Partnership.
The Racing Partnership operates as a true partnership, giving more control to the driver over their equipment. The driver owns the car, pays for his own insurance, the engine rebuilds when he requires and for the parts he needs. Simply, the driver pays for his own race car, and at the end of the season there is a tangible, tax efficient, asset to realize. In many cases this opportunity was found to be more appealing to a sponsor.
The Racing Partnership provides the driver with top class management, quality engineering and mechanical skills, transporter and all logistical support. Consumables, such as tyres, gears and equipment are part of the running costs which are genuinely equal for each team member and paid for on a race by race basis. Typical budgets quoted by traditionally operated teams can be trimmed by at least a third offering a far more manageable cash flow and the added benefit of a car that can be financed across the season to keep cost to a minimum.
Said Roger Orgee, "We believe The Formula BMW UK Championship provides an ideal platform for talent to be recognized and the high profile backing from the manufacturer gives the young driver more support than any other single seater formula." To discuss The Racing Partnership's opportunities please contact Roger Orgee on 01934 852847.
[ Top ]
---
Kart Seat Washers (15/12)

Current CIK regulations and new UK regulations effective January 2005 require that all kart seats must comprise a metal or nylon reinforcement at their upper anchorage points between the seat supports and the seat. Reinforcement must have a minimum thickness of 1.5 mm and a minimum surface of 20 sq. cm. All supports must be bolted or welded at each end.
Tillett have just what you need. A new anti penetration nylon washer by Tillett Racing Seats conforms to the new CIK and MSA seat mounting regulations and is available now at £5 + vat including postage to UK addresses, for a pack of 20 washers. Call 01795 420312 to order or buy online at the Tillet Racing Seats website.
[ Top ]
---
2005 TonyKart Venox Test Drives (14/12)
Do you want to test the brand new 2005 TonyKart Venox? If so, The Kart Shop at Buckmore will be holding two test days over the New Year period. Mini and Junior Max will be on Sunday 2nd January, and Senior Max will be on Saturday 8th January both at Buckmore Park. Please contact the shop on 01634 672256 if you are interested and to book a time. Serious enquiries from MSA licence holders only please.
[ Top ]
---
New TrackTeach CD Titles (14/12)
Lydd and Forest Edge circuits have been added to the TrackTeach library, with Rye House now under development.
TrackTeach is an interactive guide aimed at helping teach karters the racing lines round kart or race tracks. Also available are kart guides of Buckmore Park, Clay Pigeon and Shenington, with a race car guide of Pembrey also available. More circuits are on the way. TrackTeach is sold by Lodgemark Press and can be purchased at the Karting magazine online shop or for further sales outlets and more details visit the TrackTeach website.
The software offers, for each corner: written instructions; detailed maps; a set of informative pictures and up to six videos. Also included in the corners section is an overview of the circuit and pit entry and exit. Other facilities are: the circuit logo that, when clicked, launches the circuit's website; Local facilities, including accommodation and nearby petrol stations; circuit information, including contacts, lap records, directions, distances and useful websites and help on how the application works; An "Extras" section, which offers text documents in A4, A5 or PDF format and finally there's often bonus video footage available too.
[ Top ]
---
Final Round of Buckmore Championship (13/12)
Double points are on offer for the final round of the BPKC Summer Championship at Buckmore Park this weekend (19th December). Practice is available as usual on Wednesday 15th and Saturday the 18th from 10am to 4pm.
Additional dates for owner/driver open practice have been scheduled over the Christmas and New Year and these dates are as follows: 27th December, 30th December, 2nd January and 8th January. All dates are from 10 am to 4pm and are open to all classes. In the interests of safety, sessions may be run.
[ Top ]
---
Record Month For SuperSport Timing (13/12)

SuperSport Timing has been supplying Timing, Scoring and Circuit Management systems for over 25 years, and with 90% of all rental and corporate circuits in the UK, a fast-growing user base in the USA, and installations in countries all over the world from Portugal to the Philippines and from New Zealand to New York, they are probably the world leader in the supply of this type of system.
Until now, SuperSport has never published details of installations and relied very much on word-of-mouth and trade shows to announce new products and enhanced services. Earlier this month minor improvements were made to its website and a 'Latest News' page introduced on which existing and potential clients can see details of the latest high-profile installations and read about the latest product improvements and launches. This 'Latest News' page will be constantly updated and will regularly feature full in-depth case studies of SuperSport installations.
SuperSport continues to go from strength to strength with November 2004 being the most successful month in its history, and with several product upgrades imminent and two more trade shows (after the successes at the International Kart Show, Telford) in the next two months (AutoSport at the NEC, UK, and Kart Expo in Chicago, USA) the company is looking forward to 2005 with ever increasing optimism. To keep up to date with the latest products, product releases and general news visit the SuperSport website and click on "Latest News".
[ Top ]
---
International Karting Commission (CIK-FIA) (13/12)
The World Motor Sport Council met in Monaco on 10th December 2004, resulting in the following decisions being taken:
Approval for the establishment of an Advisory Group to liaise with the Karting industry. The group will consist of Michael Schumacher, Peter Kaiser, Peter de Bruijn, Vittorio Loriga and Vincent Caro.
Following the request of the World Motor Sport Council to reduce costs in Karting, regulations have been amended and now limit the equipment used per event to one chassis, two engines and two sets of tyres per driver.
For 2007, one engine will be allowed per event, using the new generation of 2-stroke 125cc engines.
[ Top ]
---
Russell Anderson Appointed (10/12)
Russell Anderson, the Chairman of the Association of British Kart Clubs (ABkC), has been appointed the UK's chief representative on the governing body of world Karting, the FIA's Commission Internationale de Karting (CIK). Russell was nominated to the CIK by the Motor Sports Association and news of his appointment is a major boost for Karting across the UK.
Russell's appointment means that not only will British Karting continue to have a vital say in decisions being taken at world level, but its views will be presented by one of its most knowledgeable minds. He will also keep up to date the MSA's newly-formed Kart Regional Committee – set up to discuss UK Karting matters and make proposals to safeguard the sport's interests nationally.
Colin Hilton, Chief Executive of the MSA, says: "I am delighted that Russell has been appointed UK delegate on the CIK. He is a highly respected and influential figure in Karting circles and his knowledge and experience make him an excellent asset to the CIK."
Having started racing karts in 1959, Russell has devoted his life to the sport, going on to become a successful team manager and constructor, predominantly in long circuit gearbox Karting. Russell has been Chairman of the ABkC for four years and attended his first CIK meeting as an official member of the Commission at the FIA in Paris on Thursday 25 November.
"I must thank the MSA for nominating me to the CIK," comments Russell. "This shows the MSA understands how important it is to have someone who works in the field acting as a link between UK and international Karting. It is a good step for this country that someone who is on the ground and a link between clubs and competitors to the MSA is now also involved with the CIK. I believe I fulfil that criterion."
Russell adds: "Currently I sense a fresh breeze running through the CIK and look forward to taking up my role and keeping this country in touch with what is happening internationally and vice versa. The CIK sets the parameters for world, European and national championships. With the new structure that has recently been put in place, important matters can now be discussed in full and communication is a lot better."
[ Top ]
---
Maintaining The MAX (09/12)
Its here! Fastroc are launching 'Maintaining The MAX' at the London Kart Show. This hour long DVD on maintaining all the main non-sealed parts of the Rotax FR125 MAX engine goes on sale from Saturday 11th December.
It includes the stripping and reassembly of the carburettor, clutch, power valve, balance gears, starter motor, cylinder head and reed block. Priced at £35 inc it's great value for money. Sold directly and through distributors this is a must have for all serious competitors in MAX engined karts.
"We are very excited here at Fastroc to present this DVD" said a spokesman. "We believe that this will not only help people maintain the MAX but also help them at the track." For more details and to purchase the DVD contact Fastroc Ltd. via their website at www.fastroc.co.uk
[ Top ]
---

Alpinestars Racewear (09/12)
For those waiting to see the new Alpinestars kart clothing, the David Charles Group have just taken delivery of the new range of Alpinestars 2005 kart racewear, including the fantastic new KMX-5 suit. Visit the Alpinestars website to view the new range. Order now for Christmas on 01235 511009, or visit the David Charles Group stand at the London Kart Show this weekend.
[ Top ]
---
Event In Memory of Norman Aley (09/12)

After Norman's sudden death in May 2004 a minutes' silence was held at numerous Pro Kart meetings across the south and east where Norman was a regular competitor in both sprint and endurance races. Somehow a minutes' silence didn't seem enough and it was suggested that a race should be held in Norman's memory, to celebrate his life and the sport he loved.
Well it's been organised! There will be a Pro Kart sprint meeting at Red Lodge Karting in Suffolk on Saturday 18th June 2005. The meeting is open to all of Norman's racing colleagues and anyone else who would like to join in. The race fee is £45 for early entrants and includes a set of control tyres.
As well as being a great day's racing we will be raising money for Great Ormond Street Hospital - chosen by Norman's widow Sue as a cause that Norman would have been proud to be associated with. There will be a prize draw - with some excellent prizes donated from many Karting industry companies. Register your interest now and join in on what promises to be an enjoyable day's racing. For more information go to - www.race-for-norman.co.uk
[ Top ]
---
The Euro 24 Hour Series On Sky TV (08/12)
The promoters of the first ever European 24 hour Endurance Karting Championship, that is being contested over three rounds in three countries, are currently in negotiations with the producers of World Motor Sports aired on Sky TV. The promoters are overjoyed with the recognition and interest that the series has generated to date. Race days are:

Amsterdam, Netherlands - 14th & 15th May 2005
Lydd International Raceway, Kent, UK - 30th & 31st July 2005
Spa Francorchamps, Belgium - 1st & 2nd October 2005
Entries open on Saturday 11th December at the London Kart Show, and the Euro 24 Karting website is due to go live on Saturday as well, to coincide with the Kart Show at Sandown Park. The website will have online booking facilities, team & driver profiles, technical specifications about engines to be supplied, rules & regulations, plus lots more. Maxxis tyres have been awarded the contract for the series, and the karts will be racing on controlled Maxxis HG1's.
See www.euro24karting.com for further details from 11th December 2004, or the European 24 Hour Endurance Karting Championship stand at The Kart Show at Sandown Park.
[ Top ]
---
Formula TKM Classes (08/12)

Tal-Ko Racing have published a complete new format combined regulations and technical guide for both its 2 and 4-stroke Formula TKM classes.
The new guide combines all of this information together with a full copy of the engine fiche for the TKM BT82 2-stroke engine to provide a complete database and running guide for drivers and tuners. The 48 page guide offers much vital information including torque settings, special tools and full kart homologation list, and is available exclusively from Tal-Ko Racing on 01767 682020 at £4.50p.
[ Top ]
---
Birel + WF for £1799 (08/12)

Another special package is being offered by Pro-Sport, the north of England Birel dealer. It comes in the form of a Birel chassis and Briggs & Stratton engine for the World Formula class, and anyone looking to compete in the WF class can get a full rolling set-up ready to race for only £1799, but you'll need to be quick as the offers ends on 31st December 2004. Contact Pro-Sport on 0191 4926014 or click here for further information.
[ Top ]
---
Tal-Ko Racing Special Offers (07/12)
Kart racers are being offered a once a year chance to buy top notch brand new karts at knock-down prices. Tal-Ko Racing needs to clear its stores ready for shipments of new karts coming in January and are offering a small range of karts from multi world champions CRG at greatly reduced prices.
Visitors to this weekend's London Kart Show will be able to buy top of the range premier racing specification models like CRG Road Rebels for £1350 the superb CRG VanKart for just £1050 and CRG Monza Cadet karts for £650. All prices quoted are for rolling chassis complete less seat and exclusive of VAT.
Says Tal-Ko's Alan Turney: "These are huge reductions on premium quality karts. We simply have to make space for new stock so it is a great opportunity for drivers to get a genuine bargain. But once they are sold that's it."
The only stipulation is that they must be paid for and taken away from the show. Tal-Ko will also be offering some very special deals on complete Formula TKM 2 & 4-stroke outfits.
[ Top ]
---
2004 International Kart Show (07/12)
Visitors to the show last weekend were treated to a record number of over 80 exhibitors, displaying 28 different chassis from throughout Europe, and almost as many engines. Many other ancillaries and associated products were on display from the new chain guards, to dynamometers and motorhomes.
Several competitions took place during the show and all were extremely popular, with prizes ranging from T-shirts to engine rebuilds and even a new chassis. Exhibitors reported brisk sales, with many already reserving their space for 2005.
Many National Championships & Associations were represented, including the Stars of Tomorrow, British Superkarts, and Super 2, with several holding their awards at the show. Mr George Robinson reported that the enthusiasm for the Forums was unabated, and the feedback from those who attended was extremely positive.
[ Top ]
---
Attention All Drivers (06/12)

A new book called the Karting Yearbook 2005 is being produced by Parrs Wood Press that will include information on all ABKC Clubs as well as all MSA Series and Club Championships for 2004. An innovative and exciting plan is to include a Driver Profile Section, which is open to all National A & B Kart licence holders who have competed at MSA Club level, as well as all karters who competed in any MSA National Race Series for 2004.
If you have competed in any of the above, go to www.kartingyearbook.co.uk and you will find details of how to be included. Don't miss this chance of having your picture and profile included in the first ever Karting Yearbook!
[ Top ]
---
Libre Motorsport + Birel (03/12)

Pro-Sport the northern Birel distributors in conjunction with the UK importer ACR and Birel spa have appointed Libre Motorsport as an agent for the North West area. Mark Cornwell will be heading up the operation and a shop will be opening soon in Southport, Lancashire that will supply the full range of Birel Karts and accessories. Libre will also be offering race support at national events as well as their local tracks. Mark has already confirmed that they will be in attendance at all of the Wigan and Glan-y-Gors races during 2005.
John Dryden, Pro-Sports MD commented that, "it's important to make sure we have local support for Birel drivers, this is the reason we have decided to set up local agents where we feel that we have not had enough presence. Now existing and potential Birel drivers can be assured that they will have support on hand in the North West area. Libre Motorsports appointment is one of the first moves we have made towards strengthening the support network for Birel drivers for 2005. We wish Libre the very best of success in business and on the track and hope that the added support in the North West area encourages more drivers to taste the Birel success."
[ Top ]
---
New Ultra-Lite Cradle (03/12)

Made from tough polypropylene to withstand kart vibration and all the weather can throw at it, the Ultra-Lite battery cradle and voltage monitor was originally designed for the Rotax Max but can be used in other classes too. The cradle is designed to fit on to the back or side of most of the popular kart seats and is available from Pro-Sport Motorsport on 0191 492 6014. Prices start from £22.95 including fitting kit. Click here for more information.
[ Top ]
---
Lee Taylor Worldwide (02/12)
Lee Taylor Worldwide Limited (LTW), northern agents for PCR Karts and engines, are looking for drivers to compete in the 2005 Super 1 and Stars of Tomorrow championships. LTW have drives available for drivers in all MSA Super 1 classes and also Rotax Super 1 classes. Ogden Motorsport the 2004 Rotax champions will be the official engine supplier to the team for the Rotax Max classes.
Team owner Lee Taylor commented: "2004 has been used as a year of testing and development with the new PCR MX chassis and also the new PCR cadet chassis at both Glan-y-Gors and Three Sisters club meetings, with the addition of 2004 Champions Ogden Motorsport as Rotax engine supplier for 2005 plans are in place for a very successful 2005 season racing at British championship level."
One driver already confirmed for 2005 is Nicky Taylor who will be competing in the ICA class using the both PCR MX chassis and PCR Read Valve engines. Any parties interested in 2005 drives or PCR Chassis and Engines should contact Lee Taylor Worldwide Ltd on 07748 964 381 or e-mail: leeworldwide@aol.com
[ Top ]
---
London Kart Show (02/12)
This year's London Kart Show has a total of 4 prize draws which visitors can enter free of charge, and up for grabs are 2 racesuits courtesy of Passion Racing and Michael Simpson Motorsport, along with boots, rib protector and gloves from Dartford Karting, Freeminds Racing and David Charles Group. Fusion Motorsport have also announced that they will be giving away an Arai Race Helmet and a free Test Day in a Sodikart.
To top it all off one lucky winner could be leaving with a Mini Moto under their arm as Project One Racing will be holding a raffle in aid of Kent Air Ambulance.
In addition to the prize draws London Kart Show boasts the biggest selection of free Masterclasses ever seen at a Karting exhibition. Alex Coombs, organiser of London Kart Show said "The response has been overwhelming on the show this year, we are now on target for 60 exhibits and this along with the free Masterclass programme makes the London Kart Show the one not to be missed".
The London Kart Show is on the 11-12 December 2004 at Sandown Park Exhibition Centre and is open from 10.00am until 5.30pm daily. Full details are available on the London Kart Show website or call 01444 246446. Tickets are available on the door at a cost of £5.00 per adult and £4.00 for concessions with parking at the venue free.
[ Top ]
---
Shift Racewear (01/12)
The Kart Shop at Buckmore are delighted to announce that they have been appointed southern agents for the superb range of Shift racewear. As well as stocking the range of suits, gloves and boots at our showroom, we shall be having a VAT free promotion on the Shift range and Arai helmets at the London Kart Show. All enquiries to 01634 672256.
[ Top ]
---
2005 ProKart Enduro Champs (01/12)
The form for entry into selective rounds of the 2005 ProKart Endurance Championship, is now available on the PB Promotions website.
There's been a great deal of interest already in this popular series which commences on 27th March 2005 at Sandown Park, and with rounds being held at four different venues the likelihood is that some could quickly become oversubscribed.
[ Top ]
---
Maxxis Formula TKM Festival (01/12)

All the action from the 2004 Maxxis Formula TKM Festival at Kimbolton is now available on DVD – just in time for Christmas. The DVD with full colour sleeve, features coverage from all of the classes as used on the Sky Sports Race World programme coverage. With a running time of around 50 minutes the coverage captures the excitement of the racing together with some of the flavour of this largest one make race meeting in the UK.
The DVD will go on sale at this weekend's International Kart Show at Telford on the Tal-Ko Racing stand. Price is just £19.50 including VAT. The DVD can also be ordered direct from Tal-Ko Racing on 01767 682020.
[ Top ]
---
Asia Pacific Championship (30/11)
Team Zanardi's Martin Plowman was crowned the CIK/FIA Asia Pacific Champion last Sunday, 28th November, after one of the closest finals ever seen at Suzuka, according to race officials. It was a particularly good day for Britain with Plowman also setting the fastest lap of the final and fellow countryman Ben Hanley finishing just outside the podium, in fourth, in this coveted international championship.
Staffordshire teenager Plowman was on flying form all weekend, qualifying third and going on to take a fifth and a pair of third place finishes in the heats and also setting the fastest lap in heat two. A fantastic start from fourth (finishing place in pre final) for the final saw Plowman charge through to lead the pack by the third corner only to be pushed wide and drop down to fifth. After passing and re-passing third placed Frenchman Julien Courtigne several times, Plowman finally managed to make a break for it and begin to reign in the 1.5-second gap to reach the top duo, setting the fastest lap of the final in the process. Within just four laps, Plowman caught and passed Japan's Hironobu Yasuda for second and then Hiroshi Umegaki (J) for the lead one lap later. Mayhem ensued for the remaining six laps as the lead changed hands between the trio at virtually every corner, with Plowman returning to the front half a dozen times before he was pushed wide and dropped back to sixth. With one lap to go, Plowman clawed his way back to second and began to reel in the current leader, Umegaki. Although defending well, Umegaki left enough space for Plowman to get his nose up the inside with three corners to go to take the lead and the Asian Pacific Championship title.
Delighted with his result, Plowman commented: "My heart was in my mouth for much the latter part of the race! I lost count of the number of times the lead changed and it was amazingly close out there, but I really did enjoy the challenge. I couldn't believe my luck when I was pushed back to sixth with just two laps to go and thought it was all over, but I kept my head down and just kept telling myself I could still win the race. I gave my everything to secure this result for Team Zanardi and I feel it's a remarkable achievement in only our third official outing. I'd like to thank Dino Chiesa and the team for their outstanding efforts this weekend – I couldn't have done it without them. This really is a special victory for us all."
[ Top ]
---
The International Kart Show (29/11)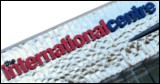 For those who are new to the sport the International Kart Show will give a real taste of the excitement and the technology taken from F1 that's now being used within Karting.
Visitors to the show will have the opportunity to view the most complete line up of Karting equipment; with over 30 different makes of Kart/engines on display, with representatives of many major manufacturers flying in from Europe to be at the show. If it's components or accessories that you are looking for, there is a huge choice, with everything from bodywork to complete data logging equipment. There are 17 different companies offering race clothing, giving visitors the complete choice. A number of companies will be offering a variety of motor sport merchandise, including race awnings, and even a race transporter. Together with the presentation stage and the various conference suites being used for the Karting magazine forums etc., it makes it the place to be for anyone interested in Karting.
The show is open from 9.30am to 5pm Saturday 4th December and from 9.30am to 4.30pm Sunday 5th December. Admission is £6 adult's and £3 concessions (all tickets available on the door.) For more information visit www.kartshow.co.uk
[ Top ]
---
VanSpeed European Rotax Victory (26/11)
Fresh from their European Rotax Challenge victory in Braga last month, VanSpeed have appointed CK Motorsport as their sole UK importer and distributor. For more information and details on VanSpeed Racing Karts, e-mail: info@ckmotorsport.co.uk
[ Top ]
---
New Scorpion Products (24/11)
Scorpion Engineering, one of the leading Rotax Max approved centres in the South, will be promoting their services and specialized tools at the International Kart Show, Telford on 4th & 5th December.
Four brand new products to go with their existing range of professional servicing aids will be launched, including a carburettor jet holder, a float level gauge, an exhaust spring puller and their own version of a remote starting system for the Rotax Max. Special show prices will apply and every visitor to their stand will have a chance to win a free engine service offered as the prize to a free entry draw. The opportunity will be there to discuss your Max servicing requirements with the faces behind the company and to get answers on engine related topics. Scorpion Engineering can be contacted on 02392 611122 or e-mail: info@scorpionengineering.co.uk
[ Top ]
---
The Euro 24 Hour Series (23/11)
The European 24hr Endurance Karting Championship have announced the dates for the forthcoming 3 round championship.

Amsterdam, Netherlands - 14th & 15th May 2005.
Lydd International Raceway, England - 30th & 31st July 2005.
Spa Francorchamps, Belgium - 1st & 2nd October 2005.

Bookings open at 10am on 11th December 2004 when the website goes live to coincide with the London Kart Show at Sandown Park. The website will have online booking facilities, team & driver profiles, technical specifications about engines to be supplied, rules & regulations, plus lots more.
Teams looking at entering will also be able to get Information Packs from the Trackside Karting stand at the London Kart Show at Sandown Park, where the Championship Trophy will be on display. A fantastic tyre sponsorship deal is in place, details will be published on the website. See www.euro24karting.com for further details from 11th December 2004.
[ Top ]
---
Andy Cox Racing at NEC (18/11)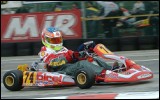 ACR/Birel are pleased to announce that 5 times World Champion Gianluca Beggio will be in attendance on all days of Autosport International at the NEC, Birmingham.
Now retired and enjoying his role as Team Manager for Birel Motorsport, Beggio will be available for autographs and questions for any budding potential Champions visiting the ACR/Birel stand. Also in attendance will be Jon Lancaster, Birel's official driver for the CIK 2005 FA European and World Championship.
Both Beggio and Lancaster will demonstrate the latest karts from the Birel 2005 range on the Indoor Kart circuit over the Autosport weekend – a rare opportunity to see such professionals in action! For more information please contact ACR on 01527 63984 or email: andycox@andycoxracing.co.uk. (Photos courtesy of Chris Walker).
[ Top ]
---
Stanley Outpaces World Champion (17/11)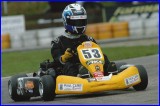 Following a recent endurance event, TKM racer Philip Stanley can proudly claim that he's quicker than a world champion.
Renault F1 development driver, Heikki Kovalainen – winner of this year's Dallara World Series with Nissan – recently took part in a one-hour endurance race at the Daytona circuit in Buckinghamshire. The Finn posted a fastest time of 22.30 seconds - 0.15s slower than Stanley's lap record.
The 16-year old, who made his Super One debut in Junior TKM Intermediate this year, works as a part-time marshall at the circuit to help pay for his racing. "I first met Heikki when he was guest of honour at the Midland Championships in 2003. After he'd finished the race, I told him about my lap record and he congratulated me by giving me a signed Renault F1 cap," commented Stanley. I've now got my eye on the vacant seat at Williams for next season; provided they can sort me out with a decent apartment in Monaco!" he joked.
A former Kart racer, Kovalainen is planning to step up to Grand Prix racing in 2006, after being retained as an official Renault F1 team development driver, following a successful test earlier this year.
With several top-six finishes in this year's Super One and a driver of the day award at September's Midland Championships, Stanley plans to contest Senior Rotax at national level in 2005. For information on the commercial benefits of supporting Philip Stanley, contact Chris Hartley Motorsport Publicity on 07793 004056 or e-mail: info@chrishartley.org
[ Top ]
---
Take Part In A New BBC1 Show (16/11)
BBC television are looking for lively, fun families involved in Karting who might be interested in being involved in a new BBC 1 series about family life. It's a light-hearted documentary series called 'Family Contract' and if the following sounds anything like your family then this could be the show for you, and your chance to have your say.
Mums & Dads - are you a parent juggling work and family life? Does life revolve around the kids clubs & hobbies?
Kids - ever wish your mum and dad didn't nag as much? Do your brothers and sisters drive you mad?
Interested? Want more information? Call Vicky on 020 8576 3201 or email: vicky.west@bbc.co.uk
[ Top ]
---
Win A VIP Weekend (15/11)
Kart Promotions are giving one lucky winner and a guest a weekend to remember at the International Kart Show Telford.
They will receive: Tickets for both days to the Kart Show; One night's accommodation (twin room) in the newly opened International Hotel, attached to the centre; Lunch at the Show; A guided tour of the show to meet the various Karting celebrities, and it'll be free to enter too. Just click this link to the International Kart Show website and go to the competition page.
This year the show looks like being the best yet, with the exhibition area being increased to nearly 80,000 sq. ft, to accommodate the demand from the Karting trade. That is without the conference suits being used throughout the show, for various seminars and presentations, and don't forget the stage. With a list of over 70 exhibitors, making up a Who's Who in Karting, it is definitely an event not to be missed.
[ Top ]
---
BPKC Race Meeting (11/11)
With Super One now over for the year the Buckmore Park Kart Club are anticipating a record entry for round seven of the Summer Championship on the 21st November. Entries in some classes are likely to be over subscribed and are taken on a 'first come, first served' basis. To avoid disappointment, you should ensure your entry is submitted in good time to club secretary Sheila Rose (01634 201562 ext 210). The club run all ABKC classes including Honda Cadet. Normal open practice sessions are available on Wednesday 17th and Saturday 20th. Full details are on the Buckmore website.
[ Top ]
---
24-Hour On Again In 2005 (10/11)
The IKP have announced that the 2005 UK 24-hour race will return to Rowrah for next year's event. The weekend of the 19th, 20th & 21st August is now confirmed and entry forms are available on the 24-hour website www.24hr-karting.co.uk
[ Top ]
---
2005 Rotax Max Euro Challenge (10/11)
Roland Geidel – MMC, will be flying in from Spain to the International Kart Show Telford, on the 4th & 5th of December to launch the Rotax Max Euro Challenge. There is to be four rounds, taking place in France, Belgium, Germany and the UK, and Roland will be presenting the details on the UK round at the show.
The International Kart Show was established 16 years ago, to promote Karting and give the Karting trade its own showplace. Sixteen years on it still stands by the same principles, and is now firmly established as the number one exhibition within the sport. With an unprecedented list of chassis, engine and associated equipment manufacturers/distributors, which in this line up can only be seen at Telford. More information at www.kartshow.co.uk
[ Top ]
---
Waterman Scores Maiden Victory (09/11)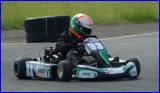 Moreton-in-Marsh karter, Will Waterman, is celebrating after taking his first ever outright race victory last Sunday, 7th November. The 13-year old won a thrilling Junior 100cc race in the final meeting of the year at Rissington Kart Club, near Stow-on-the-Wold. After overcoming changeable weather conditions in the heats, Waterman qualified third on the grid for the final and charged into an early lead at the end of lap one. He then became embroiled in a highly-entertaining battle with four other drivers, including 2002 club champion, Will Miller (Sandhurst) and newly-crowned champion, Marcus Allen (Moreton-in-Marsh). Waterman lost and regained the lead several times, with one outstanding move seeing him out-braking two drivers to leap from third to first in one move. During the closing stages, Waterman's extra speed and his decisive handling of backmarkers enabled him to break clear of the pack and secure a comfortable victory.
A delighted Waterman commented: "I was determined that I was going to win today. Over the past two years, I've won plenty of heats, had pole positions and set fastest laps, but it's never quite worked out for us in race finals. I've really developed as a driver since completing my first season in the British Championships and can't wait to get back out there now I've got that first win under my belt."
Waterman made his debut in the 100cc Junior TKM category last year and was voted Rissington Kart Club's best up and coming driver of 2003. In addition to Sunday's victory, the Kingham Hill School pupil recently secured his second consecutive podium finish in the prestigious Midland Karting Championships, against 30 of the best young racers from around the country. Following a short winter break, Waterman will begin testing in January, in preparation for his second British Championship campaign, which begins in Spring 2005 and takes in six of the UK's leading kart circuits.
[ Top ]
---
London Kart Show (04/11)
There are now 12 chassis manufacturers committed to this year's London Kart Show including Tony Kart, Trulli, Dynamite, & Gillard, and drivers will be able to discuss new developments for 2005 as well as learn from the chassis distributors the support packages that are on offer during race meetings.
Originally launched purely for Karting, the show has quite naturally and unintentionally become more than that with exhibitors such as Formula BMW, T-Cars, Mini Cooper and Formula Renault being represented. This has slightly changed the focus and The London Kart Show now profiles start up motor racing as well as being representative of Karting at both owner-driver and corporate level.
The show on Saturday 11th & Sunday 12th December 2004 at the Sandown Park Exhibition Centre, Esher, Surrey is a must for anyone who wants to get involved in Karting or discover the 'next step' in motor racing. For more information please visit www.londonkartshow.co.uk or telephone the ticket hotline on 01444 246446.
[ Top ]
---
Magnetic Jet Holder (03/11)

Looking for a Christmas stocking filler? Then look no further than HRS Motorsport in Sunderland who have a jet holder that will carry up to 20 jets, and is stamped from jet size 140 through to 188. The holder also has a useful magnetic rear so that it can be placed onto the surface of an open tool box.

Cost is £25 plus vat, or for a Jet Holder with Jets it's £84.95 plus vat, with free postage to all UK mainland addresses. To order please call HRS Motorsport on 0191 5238942 or e-mail info@hrsmotorsport.com
[ Top ]
---
British Championship Calendar (01/11)
Rowrah circuit in Cumbria has been added to the Renault MSA British Championship Karting calendar for the 2005 season with the headline Formula A, Formula ICA and Formula JICA categories set to begin on 5th/6th March at Three Sisters circuit, near Wigan. The inclusion of Rowrah sees Lydd International Raceway lose its place on the calendar, while other changes see Scotland's Larkhall Circuit move to a more favourable mid-season date from its position as the season-closing venue this year.
Following the opening meeting of the season at Three Sisters, the Renault-backed Formula A, Formula ICA and Formula JICA classes will head to PF International, near Grantham, on 16th/17th April before the third meeting of the year at the Clay Pigeon circuit, Dorset, on 30th April/1st May. Larkhall's new position on the calendar kicks off the second half of the Super One season on 18th/19th June, before the fifth meeting of the year at Rowrah on 30th/31st July. Shenington circuit near Banbury, meanwhile, will host the final round of the highly anticipated 2005 season on 10th/11th September.
In addition, Renault Sport UK will kick the season off in style by taking its impressive Race Centre to Three Sisters, near Wigan, for the first time. The manufacturer was applauded by Formula A, Formula ICA and Formula JICA regulars for its efforts during the Clay Pigeon round earlier this year and it aims to continue building on the relationship it has developed with the UK's premier Karting classes.
Renault Sport UK is also delighted to announce the 2005 British Championship Karting awards ceremony will take place at Renault F1 Team headquarters at Enstone, Oxfordshire, and the Formula A, Formula ICA and Formula JICA Champions will each receive a factory tour as part of their prize.
[ Top ]
---
Weight, Power and Tyre Boost (29/10)
Formula TKM, the UK's leading kart racing category, has announced confirmation of two important changes to regulations coming into force for 2005.
Firstly the Intermediate class for youngsters between the ages of 11 and 16 has been given a 4kg increase in minimum weight which will help the many taller drivers within the class who have struggled to make the weight. At the same time the inlet restrictor has been increased in size to compensate for the extra weight by boosting power.
Secondly all classes, including the TKM 4-stroke classes, will now run on a revised specification MAXXIS wet tyre. The new tyres use a similar tread pattern to before but uses a new method of construction and new softer compound for better wet weather grip but still with long life. The new tyre is easily distinguished by red labels and is available immediately from Tal-Ko Racing, controllers of the class.
Tal-Ko Racing Managing Director Alan Turney said: "These are small but important changes to the classes which have been largely instigated by drivers within them. We have around 15 years of successful racing in Formula TKM behind us and we want to continue at the forefront of the sport and produce some more superstars like Jenson Button and Anthony Davidson!"
[ Top ]
---
Bridgestone Partners World Formula (28/10)
Bridgestone are delighted that their tyres have been selected for the FIA World Formula. This new formula is the first step in creating a world budget international Karting formula that also caters for the world's environmental concerns.
Bridgestone's sole distributors Zip Kart will be pleased to work closely with the ABkC to promote this exciting new formula for both junior and senior ranks.
[ Top ]
---
World Indoor Kart Championship (26/10)
The world's most popular form of competitive motorsport will crown its 1st World Champion Driver in 2005!
Racingschools.com presents, the 2005 JC's Glass Indoor Kart World Championship! For the first time, the best indoor kart drivers from the USA, Canada, UK, Germany, Austria, Netherlands, France, Brazil, Italy, and all corners of the world, will meet in a race for the highest honour in the sport, the title of "Indoor Kart World Champion". The 4 day event, which will take place on 28th-31st July, 2005 in Phoenix, Arizona, USA, has been long awaited by indoor kart drivers worldwide.
The 2005 JC's Glass Indoor Kart World Championship is designed to be the most accessible, convenient and affordable world championship type event in the world of auto-racing. Unlike other regular forms of racing, it doesn't require huge time and financial commitments, as there is no need to own any equipment. A US$650 entry fee covers all racing related costs for the competitors. All equally prepared karts and equipment are provided, and drivers just need to focus on the best part of racing: the driving. The healthy prize package is unheard of in indoor karting. Valued at over US$11000, it includes US$4000 in cash to be awarded to the winners, a high-end Formula 2000 racing school program at the Derek Daly Academy in Las Vegas, and sponsorship for next year's IKWC event. And, in the true spirit of indoor kart racing, anyone (over 16 years old) is welcome to enter the competition, regardless of experience level.
The format of the competition consists of a straight points-race through 5 races. The first 4 races, (each 1 hour long) will determine the top 25 point scoring drivers who will be on the grid for the big 1.5 hour World Championship Grand Prix Final. Also included, are 3 practice sessions before the first race. Drivers may purchase as much additional practice sessions as needed before and during the event.
Info on the JC's Glass Indoor kart World Championship by Racingschools.com can be found at www.indoorkartworldchampionship.com
[ Top ]
---
Donington Superkarts Meeting (20/10)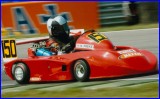 Although the weather was not too kind, all those spectating at the Donington FIA / CIK European Championship meeting were treated to a fine display of kart racing last Saturday and Sunday. With 60 Superkarts (Division 1 - 250cc Twins & Division 2 - 250cc Singles) on the grid it was quite a spectacle, and an excellent weekend for Kidderminster's multiple British Champion Kart Racer, Nathan Freke, who excelled in the final race of the day in wet weather on Sunday. On his F1/Gas Gas 250cc single cylinder outfit he opened a 24 second gap over his nearest Division 2 rival, and took first place on the track, finishing in front of all Division 1 twins that sport 30% more power.
The result gave Nathan the overall win for the meeting, his first win at this level, and makes him the only British driver to win a European Championship meeting of any kind this year, and also gives him 3rd place in the European Division 2 Superkart Championships. This was the biggest win of Nathan's career to date, and means that he will be seeded 3rd for the 2005 European Championships should funding be available to compete.
[ Top ]
---
Trackside's Last Rounds At Buckmore (18/10)
Trackside Karting's last rounds of both the GP Premier Series 1.5 hour & 3 hour races, and the Challenge Series 1.5 hours will be held on Saturday 23rd and Sunday 24th October 2004, respectively. For further information and entry forms, call Sue Hart at Bayford Meadows 01795473300 or email mail@tracksidekarting.co.uk. This is a great opportunity for teams looking at competing next year in this prestigious event to size up the competition and get a feel for the event.
Teams looking at competing next year are strongly advised to register early as grids are expecting to be over subscribed. Watch the website further details www.tracksideracing.co.uk or call the shop on 017954 473 300.
[ Top ]
---
Tyre Inflation Rings (15/10)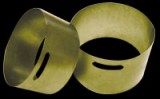 New lightweight, durable, tyre inflation rings. This really is a must have item for all serious karters. Used to stop distortion when inflating new tyres, the bands ensure that the inflated diameters are identical and the pressure needed to pop the tyre over the bead is significantly lower. A simple, yet incredibly effective tool! Finished is galvanised no-rust steel to give a long life. Available from Zip Kart on 01992 463371 or e-mail: sales@zipkart.com

[ Top ]
---
Llandow O Plate (15/10)
Time is running out for drivers wishing to enter the ABkC 'O Plate' event for TKM and Honda classes (excluding Cadets) at the Llandow circuit in South Wales, which takes place on the weekend of 23rd and 24th October.
The Club want to remind potential entries that this is a two day event and that the entry fee includes a full day of practice on Saturday as well as Sunday's racing, and with entries due to close very soon, eligible drivers hoping to race need to contact the Competitions secretary Julie Lipscomb on 01685 874814 as soon as possible. All control tyre and fuel forms for the TKM classes are supplied with the main entry pack. Eligible classes: Junior, Intermediate and Senior TKM, Junior and Senior TKM 4-Stroke, Junior and Senior Honda and Bilands.
[ Top ]
---
Rotax Max Stolen (14/10)
Thieves broke in to a locked garage in Southend, Essex and stole a Rotax Max Snr class, CAT Racing chassis number: 1594. Rotax Max FR125 engine (number withheld), red chassis, white side pods, red front bumper, white/red nose cone. Black plates with number 24, and brand new, never used, Vega slicks, ready for use at October's Buckmore Park meeting.
Please contact Chris on 07711 526980 or e-mail: karting@zambas.co.uk with any information.
[ Top ]
---
European Superkart Championships (12/10)
The last round of the European Superkart Championships takes place this coming weekend (16th/17th) at Donington Park in Derbyshire.
A total of 60 Superkarts are expected on the grids for what is the only international meeting in the UK this year. There's open practice and timed qualifying on Saturday, and timed qualifying and 2 races on Sunday. With the Karts having pit garages it will be possible for spectators to see the machines being prepared, and anybody who wants to have a chat would be warmly welcomed in many of the camps. These Karts will be averaging over 100mph round the circuit. All the top European and UK drivers are on the entry list and the many Brits racing at the weekend include Martin Hines in Division 1 and Andrew Agnew in Division 2.
For karters wanting a closer look at the circuit there's a test day at Donington on Thursday which is open to all Gearbox Karts, the cost is £100 and bookings can be made with Donington direct on 01332 810048.
[ Top ]
---
Brand New Scholarship Opportunity (06/10)
Fresh from his victory at Oulton Park in Cheshire last weekend, SheardSpeed team owner Paul Sheard is offering a chance to win a full season's racing in the Sheardspeed team for the Max5 Championship in 2005.
Costing less than 'three track days', you could find yourself leading the championship with the winning 'Shearspeed' team. Based upon the original Mazda MX5 championship that was run in the UK in 1990/91, Max5 racing is having a successful series this year and has achieved Championship status for 2005 through the BARC.
With limited availability and only the first 200 applicants accepted, early application is recommended. Just click on this MX5Scholarship link for more information!
[ Top ]
---
Buckmore October Club Round (05/10)
The BPKC Club Championship round on Sunday 17th October features not only a round of the national WTP Championship but also classes for junior and senior four stroke TKM. Practice is available on Wednesday 13th October and Saturday 16th between 10am and 4pm and overnight parking is available on Friday 15th and Saturday 16th October. For more details contact Sheila Rose on 01634 201562 ext 210.
[ Top ]
---
Revised Karting Structure Finalised (04/10)
Following discussions between the Association of British Kart Clubs (ABkC) and the Motor Sports Association (MSA), the revised administrative structure for Karting in the UK will come into force with immediate effect.
The ABkC Steering Group has been expanded to include not only representatives of the kart clubs, but also panels of experts to consider specific fields of interest, for example direct drive, gearbox, commercial and championships. The chairmen of these panels will be joined by representatives of kart clubs and the MSA to form the Kart Regional Committee. Decisions taken by that committee will influence directly regulations in the 'Gold Book', Karting's Race Yearbook. The Regional Committee will make recommendations to the MSA Kart Sporting Committee which, after approval by the Motor Sports Council, will be incorporated into the 'Blue Book'.
The Kart Control Board, originally set up to bring the sport and the commercial operators closer together and provide guidance on codes of practice for safety, has achieved its initial objectives. However, the KCB will continue to provide a link between the two sides, creating a forum for open discussion.
"The MSA will continue its role in the governance of the sport," affirms Colin Hilton, MSA Chief Executive. "We have recognised the importance of consultation with all parties and the ABkC forms the core of the karting community. The new structure will assist us greatly in governing the sport and will also help the sport to develop and progress."
"In the previous structure, we often felt we were on the outside, bombarding the MSA with our requirements," explains Russell Anderson, Chairman of the ABkC. "Now we are part of the decision-making process, it is up to us to make sure that the filtration of the message from the Kart Regional Committee is taken on to the next level. We are sure that this is the right way forward for Karting and I am delighted that it has been well received."
"Having announced the initial outline of the restructure at the start of the year, we have had quite a lot of 'fine tuning' to undertake before it was fully in place," says Bruce Goddard, MSA Business Development Director. "One of my challenges is to make sure that the kart community feels like a genuine part of the overall MSA and I'm sure this revised structure will help us to achieve this."
[ Top ]
---
The British Grand Prix (04/10)
The Motor Sports Association, as the governing body of UK motor sport, is greatly concerned at the announcement made last week that the British Grand Prix will not appear on the provisional 2005 Formula One calendar to be presented to the FIA World Motor Sports Council for ratification on 13th October.
John Grant, Chairman of the MSA, says that the MSA will continue to work urgently with the parties involved to seek a financial solution and that, as a member of the FIA World Motor Sport Council, he will argue strongly that the British Grand Prix should be retained on the F1 calendar. "It is not just the British fans who want to see a Grand Prix at Silverstone," says Grant. "For the majority of the race teams, their sponsors and the vehicle manufacturers involved in F1, it is important to be able to promote their products in the major established markets such as Britain, as well as in the newer, emerging economies. It has also become clear over the last few years that the circuit at Silverstone provides one of the best racing spectacles of the F1 season for worldwide TV audiences with its fast, challenging corners and superb overtaking opportunities."
"It is widely acknowledged that the British Grand Prix makes a significant direct contribution to the UK economy each year and that it is an important flagship for the hugely successful British motor sports industry. We seem to have arrived in the situation where a funding shortfall of some £2-3 million a year is standing in the way of retaining an iconic event which is vital for our sport, which directly contributes some £40 million a year to the local economy and the Government's tax revenues, and which is needed to sustain the prestige of an industry that is responsible for international trade worth in excess of £3 billion pounds annually. With a bit of goodwill, we are hopeful that a constructive solution can be found to the benefit of British motor sport, the British economy and F1. There is still time to work this out, and the MSA will work urgently with all the relevant parties to help retain the British Grand Prix at Silverstone for the foreseeable future."
[ Top ]
---
Regulation Changes (30/09)
Chain Guard Protection. ABkC's September News was incorrect in stating that the new chain guard protection regulation only applies to direct drive karts. In fact it will apply to all karts, stating that from 2005 chain guards must fully cover the sprockets and chains down to at least the level of the bottom of the rear axle.
Rotax class changes for 2005. From 1st January 2005 only spark plugs on a nominated list may be used in Rotax Max, Rotax Junior UK and MiniMax. The preliminary list is shown below, others may be added by J.A.G. by way of an official bulletin. Another change for 2005 is that the Mikuni fuel pump must be fitted to the bottom of the standard air box bracket. A clarification has already been issued, with immediate effect, to state that the carburettor needle jet atomiser FN 266 must have four rows of four holes cross-drilled through the tube. Spark plugs permitted are:
Denso: IW24, IW27, IW29, IW31
Champion: QN84, QN86.
NGK: BR8 EG, BR9 EG, BR10 EG, B8 EG, B9 EG, B10 EG, B8 EGV, B9 EGV, B10 EGV, BR8 EIX, BR9 EIX, BR10 EIX.
World Formula Tyres. The ABkC anticipates an announcement during the month of October regarding the tyres chosen for the World Formula UK class, for three years from 2005.
[ Top ]
---
European 24-Hour Endurance Series (29/09)
Trackside Karting Ltd in conjunction with Frank Eglem of Eglem Karts & Parts in Holland have announced the first 24 Hour European Endurance Championship, to be hosted in three countries, England, Holland and Belgium or France, with the winning team going away with the coveted title of European Champions. Engines will be all supplied from one race engine builder and the tyres will be controlled and supplied through the championship organisers, thus ensuring the most level playing field in Pro-Karting yet. For further information contact Peter Wraight at Trackside Karting on 01795 473300. Dates will be announced shortly.
[ Top ]
---
Super 4 ABkC National Gearbox (29/09)
The Association of British Kart Clubs has re-allocated its national gearbox class championships to the BRDC Stars of Tomorrow and to the Northern Karting Federation for 2005. The current contract holders, Highlight Karting, are withdrawing as the Super 4 series promoter at the end of this year, leaving a year of their contract to be re-allocated.
The ABkC invited bids from promoters to keep the classes together as one series, and two bids were received, but the steering group decided that more benefits would be gained by using existing championships. BRDC Stars of Tomorrow will promote the Super ICC and Junior Gearbox ABkC national series, whilst NKF will promote the ICC UK and 250 National classes. Lesley Allen, who has been a Super 4 organiser for eleven years, announced her resignation earlier this year due to pressure of work, and said: "I'm very disappointed that the ABkC didn't accept one of the proposals to keep the series all together, and I just hope that gearbox karting can thrive in the new format. It's been a very successful series with a really great atmosphere at the events over the years." NKF Chairman Malcolm Fell explained his position: "We were asked by the ABkC to promote the ICC UK and 250 National classes, which we have accepted. Our existing ICC series is very strong anyway, but we intend to work hard to build up 250 National using established circuits that the drivers like. We are asking drivers for constructive comments." Carolynn Hoy of the BRDC Stars of Tomorrow confirmed that there would now be no upper age limit on the new Super ICC class drivers. She added: "We are absolutely delighted the ABkC have awarded us these two national championships. It should make for a really good year and Super ICC will complement our Junior Gearbox class."
[ Top ]
---
Trackside Karting (28/09)
With great excitement Trackside Karting have announced the involvement of Stiddard Accountants in the development of its 2005 programme and beyond. Stiddard Accountants are a local accountancy practice with offices in Sittingbourne and Bexley, and the added investment into both the business and race series will see both sides grow substantially over the next few years. For further details of Trackside Karting with Eglem Karts and the TR Stiddard Rotax Endurance Series, please call Peter Wraight on 01795 473300 or visit the Trackside Karting website.
[ Top ]
---
Pro-Kart Sprint Festival (27/09)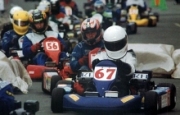 A fun weekend with some great racing is in store for all entering the Pro-Kart Sprint Festival being held at Whilton Mill over the weekend of 30th & 31st October, and with entry open to all drivers with a Pro-Kart and registrations pouring in it could easily be the biggest pro-kart event for years.
The event is being organised by Paul (T-bag) Granger and will consist of 3 x 15 lap heats and a 20 lap final for each class. These will be for the Sprint specification pro-karts with Dunlop tyres and 175Kg minimum weight; Endurance specification with Bridgestone tyres and 180Kg minimum weight; a Clubman class running on either Dunlops or Bridgestones with a 175Kg minimum weight and intended for drivers not having previously held an MSA licence; and for those at 30 years of age and over there's a Gentlemen/Heavy class with a 190Kg minimum weight and again using either Dunlops or Bridgestones. From 6pm to 9pm on Saturday there's practice, followed by Saturday night entertainment that includes a beer tent and karaoke! What more could a pro-kart racer want?
A commemorative medal and t-shirt will be given to all who take part and excellent trophies are promised. Further information and entry forms are available from Paul on 07971 236627 or e-mail: granger_msport@hotmail.com
[ Top ]
---
Motor Sports Council (24/09)
Graham Stoker, chairman of the Motor Sports Council, has outlined his objectives for the governance of UK motor sport over the next twelve months. In a letter to the Council members, Stoker – who was elected chairman at the start of the year – proposed changes and improvements in the operation of the UK sporting commission and these suggestions were endorsed at last week's Council meeting.
The role of the Motor Sports Council has always been to govern UK motor sport and formulate the rules, promote safety standards and oversee the dispute resolution and appeals process. Now, however, Council will also consider the policy direction of the sport, the quality and development of British motor sport and ensure that the UK's views are presented at the FIA World Council. Council will also for the first time approve the calendar for the MSA British Championships.
To accommodate the expanded remit, Stoker has extended Council meetings to allow time for adequate discussion and debate and Council members will be invited to provide periodic reports on the direction of the sport and the issues to be addressed from their respective committees. Home country representatives will also report on the important issues in Wales, Scotland and Northern Ireland. "Our aim should be to fulfil a similar function to the World Motor Sport Council, but at the national level," says Stoker. "We have often referred to Council as the 'Parliament' of motor sport, but I don't think that people really know what that means. Council is the 'Sporting Commission', responsible not only for the regulations, but also for the strategic thinking about the development of the sport. It is a tremendously important role and I hope that refocusing our energies will help us to deliver even greater progress."
[ Top ]
---
Pro-Kart and Pro-Max Enduros (23/09)
With both summer championships now successfully concluded, Bayford Meadows have announced details of their winter championships. Pro-Kart endurance drivers will enjoy a 6 round winter series which kicks off with a 5 hour race on Sunday 10th October, followed by five 3 hour races through until March. The South Eastern Pro-Max competitors will visit Ellough Park for their first round on the 9th October with subsequent rounds at Bayford and Buckmore.
For further details about either championship, call Sarah on 01795 410707 or visit the Bayford website.
[ Top ]
---
2004 Karting World Championship (21/09)
Karting's flagship event, the CIK-FIA World Championship, is being held this coming weekend (24th – 26th September 2004) at the La Conca circuit in Muro Leccese, southern Italy. It's not the first time the 1250 metre Italian circuit has hosted the World Championship Final as it did so in 2002, when still held over five rounds. Since last year, the format of this Championship changed and it was reduced to one single event.
Who is likely to follow in the footsteps of Vitantonio Liuzzi (Italy), Giedo Van der Garde (Netherlands) and Wade Grant Cunningham (New Zealand), the World Champions of the last three years. It's will be a closely fought battle and appears more open than ever this year, and bookmakers would be hard pressed to find to find a favourite amongst Nick de Bruijn (the recently crowned European Champion), Ennio Gandolfi (125cc gearbox World Cup winner), Sauro Cesetti (2004 European Vice-Champion), Arnaud Kozlinski (2003 World Vice-Champion), Bas Lammers (2003 European Champion), Ben Hanley (3rd in the 2003 World Championship), Manuel Renaudie (unlucky loser of the 2003 World Championship) and former World Champions such as Davide Fore and Alessandro Manetti. There can always be a surprise too, as was the case twelve months ago when New Zealander Cunningham got everything right to take the win. There are 94 entries from twenty countries and four continents. As in previous years the country with the largest number of competitors is Italy with 26 drivers, over 25% of the entrants. France, the UK, Finland and Brazil come next as regards the number of national competitors.
This World Championship for Drivers will also be the setting for the World Cup for Teams, in which 11 teams are entered: PDB Racing Team, Birel Motorsport, Tony Kart Racing Team (the current title holder), Sodikart, Intrepid Kart Technology, Kosmic Racing, Maranello Kart, Swiss Hutless International, Rambo Racing, CRG and CRG SpA.
All the results of the World Championship will be available on the website of the CIK-FIA: www.cikfia.com, and for those with satellite television, the World Championship Final is scheduled to be broadcast live on RAI SAT late afternoon on Sunday 26 September 2004.
[ Top ]
---
Birel & Briggs At Pro-Sport (17/09)

Pro-Sport UK have been appointed a World Formula distributor and official sealing agent and have recently taken delivery of a new chassis developed in conjunction with Birel to comply with the 2005 regulations set by Briggs and Stratton. The new chassis incorporates all the features needed to adhere to the regulations for the World Formula series in 2005 and combines all the latest features used by the current range of Birel Motorsport chassis. Pro-Sport took delivery of 7 of the first 10 in production and all have been sold with very encouraging feedback from customers. The first chassis raced achieved a win in its second outing within a grid of 18 karts.
Pro-Sport's John Dryden said; "Despite some negative feedback initially about the World Formula, the grids around our local tracks have increased and the testing we have done prior to accepting a distributor agreement has convinced us that this class has a great future. The engines we have tested have ran perfectly and been very reliable. Our local club at Warden Law have now decided to run the World Formula as part or their MSA series for the remainder of the year as so many people have expressed an interest in the class."
To launch the new chassis Pro-Sport have some very special deals for the first 15 chassis' sold; they will be offering a complete outfit ready to run for £1995 plus vat. Anyone wishing to test drive or order an outfit should contact John on 0191 492 6014 or email sales@sos.am
[ Top ]
---
The London Cup (15/09)
The London Cup has been re-instated as one of Rye House's premier race weekends and will take place on 30th & 31st October. After a 2 year absence, the event hosted by MSW and supported by several top sponsors, has already attracting a top class provisional grid. Catering for several classes and boasting not only a very substantial prize fund, but various other attractions, it will be a fantastic meeting for all of those lucky enough to gain entry.
The event consists of Saturday testing and qualifying with racing all day Sunday. There will be classes for Super Libre, Senior Rotax Max, Senior Rotax Max Heavy, Junior Rotax Max, Mini Rotax Max and JICA. The huge prize fund estimated at £5000 includes; Vouchers, race wear, free testing, lubricants, free entry to Autosport for every entry, and much much more! There's also a free raffle to win a Rotax Max engine.
The London Cup annual Trophy will be displayed in the Motorsport World Clubhouse, and the top 5 drivers in each class will receive a prize. Motorsport World are offering free overnight camping and will also organise a B-B-Q as well as other hospitality attractions on the night. Costs including controlled tyres are: Super Libre - £245 including YGBs, Junior/Mini Max - £190 inc SL8s, Senior Max - £190 inc SL7s, JICA - £245 inc YGBs, Club Member Super Libre - £235 inc YGBs, Club Member Rotax - £180 inc SL7/8s, and Club Member JICA - £235 inc YGBs.
Application forms are available online at www.rye-house.co.uk but be quick because all entrants will be given free raffle ticket(s) to win a Rotax FR125 Max engine. The sooner entry is confirmed, the more tickets each entrant will receive, thus increasing their chance of winning!
[ Top ]
---
MSA British Kart Championships (14/09)
21 year old Mark Litchfield thought it better to be safe than sorry and chose not to compete at Larkhall last weekend, but he will still be the 2004 Formula A champion having done enough to secure the title in the previous rounds. Chris Rogers and David Gregory took the wins in this final round of the season.
Another 21 year old, Chris Lamare, came out on top in the tightest finish ever in Formula ICA, and he may have young Freddie Martin-Dye to thank for his sporting behaviour earlier in the season. Freddie and Chris took one win apiece in each of the two Larkhall finals.
By finishing second in the first of the two finals, Dorset kart ace Craig Copeland had done enough to secure the Junior ICA crown and so to protect his position did not appear for the second final which was won by Matthew Bell. Adam Batch won the first of the two points scoring finals.
Congratulations to the winners, commiserations to those that didn't achieve all they had hoped for, and a big pat on the back to everyone for taking part. A brief race report can be found here. Full results for all heats and the finals at Larkhall are to be found in the Results section.
[ Top ]
---
Race For RNIB At Silverstone (13/09)
Step out on the grid and take part in a Karting Challenge at Silverstone, the home of the British Grand Prix, to raise funds for the Royal National Institute of the Blind (RNIB).
This is a chance for you and your friends to race and raise money for money for a national charity on Saturday 13th & Sunday 14th November 2004 at Silverstone Karting Circuit near Northampton. Prizes will be awarded for the fastest lap of the day! So why not throw down the gauntlet and challenge seven friends or colleagues to a Karting race at this prestigious venue? Or alternatively why not compete against seven other eager drivers and push yourself to your personal limit? It is hoped that the event will raise over £40,000 for RNIB which will go towards some of the vital services the charity provides to help support blind and partially sighted people.
RNIB Event Manager and driving challenge organiser Rebecca Taylor says: "This is a great event which we hope will raise much needed funds for our charity. We would like to say a huge thank-you to everyone who has agreed to take part so far." Get you entry in now or for more information, contact Rebecca Taylor on 01462 441467 or email rebecca.taylor@rnib.org.uk
[ Top ]
---
Lammers Into Formula Renault (13/09)
Dutch ace Bas Lammers, the 2003 European Formula A Karting Champion, is the first confirmed driver for the 2004 Formula Renault UK Winter Championship with Michelin, having put pen to paper with leading team Manor Motorsport.
The Sheffield outfit, one of the true front-runners in Formula Renault UK for many years, has been working for some time on attempting to sign Lammers and the team is thrilled to have agreed terms with the 18-year old from Roosendaal in the Netherlands. Speaking on the deal, Manor Motorsport team manager Tony Shaw commented: "We're absolutely delighted to have Bas in the team for the Winter Championship, his signing really is a major boost for us as his record in European karting speaks for itself. We've been in contact with him for some time now and we're all ecstatic this deal has come to fruition. "It's fantastic for Formula Renault UK, as well as ourselves, to have attracted someone of Bas' calibre for the winter races, it really does underline the regard in which this series is held. It'll obviously be a steep learning curve for Bas but I'm confident he'll go very well indeed."
After winning Dutch national Karting titles in 1996 and 1998, Lammers went on to race in the Cadet class of the European Championships in 1999. A year later, he won yet another junior national title in the Netherlands before winning the Dutch Formula A Championship in 2001. His European-level Formula A career also began in 2001 and after finishing third overall, and then fifth overall the following season, the teenage sensation won the highly prestigious European Formula A crown in 2003. He then went on to make his car racing debut the following year at Zandvoort in a Formula Renault 2000 car before competing in the Benelux Racing League in a 325hp saloon car.
Lammers himself is very much looking forward to competing in November's Formula Renault UK Winter Championship with Michelin. He added: "This is a great opportunity for me to drive for Manor Motorsport, I'm very pleased to have the chance of joining such a professional team with an impressive motorsport history. We visited Manor's workshop in August and it was very impressive to see, with a fantastic atmosphere. I can't wait to drive my first miles for the team and I'm focused on achieving some good results during the Formula Renault UK winter series."
The Formula Renault UK Winter Championship with Michelin takes place at Pembrey, Wales, on 6th November and Croft Circuit, North Yorkshire, on 13th November.
[ Top ]
---
Last Chance To Practice & Race At Buckmore (10/09)
The BPKC 2-Stroke Club meeting on Sunday 19th September will be the last chance for Stars of Tomorrow and Super One Rotax drivers to practice and race at Buckmore before their respective rounds in late September and early October. It will also be the last chance for WTP drivers to race at Buckmore before their round in late October. Open practice will be available on Wednesday 15th (10am to 4pm) and Saturday 18th (10am to 4pm). Overnight parking is also available on Friday 17th and Saturday 18th. Further details from Sheila Rose, Competition Secretary on 01634 201562 ext 210.
[ Top ]
---
2004 'O' Plate At Warden Law (10/09)
Chris Hogben and Karl Bakker of CK Motorsport, the sole UK Importer of G.P. Racing products, congratulate Dennis Gorman (Senior Max) on his 'O' Plate victory at Warden Law.
[ Top ]
---
NatSKA At Kart Show (08/09)
The National Association of School and Youth Group Karting (NatSKA), will be present at this years International Kart Show at Telford on the 4th & 5th of December 2004 to promote the organisation and its aims to potential new members. NatSKA offers a 'grass roots' entry to motor sport with a number of Kart classes designed to offer varying opportunities to budding racers with limited budgets.
Kart specifications are not as onerous as those in MSA classes and many take the opportunity to use engines and chassis from older MSA homologations, thereby reducing running costs. Natska has around 12 meetings per year organised at many of the well known tracks throughout the UK. These meetings are sanctioned by the MSA and conducted by MSA officials, safety being of paramount importance. Classes range from self built Honda 90 powered machines to TKM BT82s, Comers, GX160s, Class 8 (Libra) and new this year - Rotax Max. Race entries cost around £20 per day and more than one driver is allowed per kart. Schools' racing is designed to be cheap and enjoyable but can be very competitive, with the highlight being the Annual National Championships.
Being a registered not for profit charity, Natska is interested in contacting any company that would encourage grass roots racing through sponsorship of their Championships and PR at the Kart Show. They already have the support of Radne Racing from Sweden and hope that British based companies will take an interest. Contact Gareth Bott for further information.
[ Top ]
---
European Kart Movies (07/09)
'Camera on Board', a Luxembourg based company specialising in motor sports all over Europe have a number of Karting videos and DVDs available that include Michael Schumacher's kart centre in Kerpen, Germany, and a 24 hour kart endurance event held at Spa Francorchamps in Belgium earlier this year.
Mention the UK Karting website if ordering the 2004 Spa Francorchamps DVD or video and pay only 22 Euros (approx. £15) plus postage. See the Jet Class Group website for further information.
[ Top ]
---
Wallstar Challenge Update (03/09)
The three event Wallstar Challenge (reported here on 04/08) due to commence at Mallory on 19th September now has an added option for those that want to try Long Circuit racing but do not have the equipment.
To help any competitors who may be interested in the offer of £30 Superkart racing but do not have the equipment, Nathan Freke and Century Motorsport are offering a special hire deal on 125cc Karts for the 3 meetings at Mallory, Cadwell Park, and Mallory again. The prices will include the use of a kart, complete and ready to go for long circuit, including slick tyres. This opportunity will give those who would like to drive on a car circuit but do not have the kit the chance to do so for a very low price. There are a limited number of outfits available and Century can be contacted on 01562 632032 or 07710 232813.
[ Top ]
---
Pitt Back In The Race (02/09)
UK Birel importer Andy Cox has teamed up with its north of England Birel dealer Pro-Sport to help re-kit 13 year old Mini Max driver James Pitt.
James's Birel R32SP was stolen earlier this year (as reported here on 23rd July) and for a time it looked like his racing was over. "We couldn't see James on the sidelines and he is now the proud owner of one of the new range of Birel M series chassis" commented Andy Cox. "I can't wait to get out on the track again, I have really missed it" said James. To avoid a repeat situation the kart will now be stored in a secret location!
[ Top ]
---
Larkhall Hosts Final Round (02/09)
Two of the country's most hotly-contested classes will be decided over the weekend of 11th/12th September when the final meeting of the 2004 British Championship Karting season takes place at Larkhall circuit near Glasgow, Scotland.
While the BTE Lawline/Renault MSA British Kart Championship (Formula A) has already gone the way of Mark Litchfield (Rocester, Staffordshire), the BTE Lawline/Renault MSA British Junior Kart Championship (Formula JICA) and BTE Lawline/Renault ABkC ICA Championship (Formula ICA) are both finely poised with some tremendous action expected at Larkhall.
During the fifth meeting of the season at Shenington, near Banbury, at the end of July, Litchfield eased to the Formula A crown with a brace of fourth place finishes enough to secure him the most prestigious title in British Championship Karting. Even though the destiny of the blue riband class has been decided, there will be no lack of action in Formula A with race winners Jeremy Metcalfe (Fleet) and David Gregory (Sheffield) keen to finish the season on a winning note, as will be 2003 champion Gary Catt (Thruxton, Hampshire) and front-runner Jason Parrott (Crowland, Peterborough).
In Formula JICA, the battle is really on with Craig Copeland (Wimborne, Dorset), Adam Christodoulou (Shenstone, Litchfield) and Lee Bell (High Wycombe) all in with a fantastic chance of following in the wheel-tracks of current Formula ICA race-winner Riki Christodoulou (Four Oaks, Sutton Coldfield), who is the reigning JICA Champion. For the Christodoulou family a title success for Adam, who is Riki's cousin, would be a well deserved and highly emotional achievement but both Copeland and Bell have both shown throughout the year they also have the qualities and the pace to be worthy champions.
The Formula ICA season will also go down to the wire at Larkhall with Danny Cruttenden (Wilmington) currently heading the standings by just nine points from Freddie Martin-Dye (Shamley Green, Surrey) with Riki Christodoulou a mere four points further adrift in third. Chris Lamare (Inkberrow, Worcestershire) and Tom Brown (Irchester) are both within reach of the championship front-runners while early-season points leader Jon Lancaster (Pudsey, Leeds) has his work cut out for a good finish to the season after disappointing outings during the last two meetings at Shenington and Clay Pigeon, near Wigan.
[ Top ]
---
New TrackTeach Guides Under Development (01/09)
TrackTeach has announced the development of two new guides, covering the new Forest Edge Kart Club circuit at Barton Stacey and Lydd International Raceway.
TrackTeach computer software is an interactive guide aimed at helping to teach karters the racing lines round kart or race tracks. Currently available are kart guides of Buckmore Park, Clay Pigeon and Shenington, with more circuits are on the way. TrackTeach is sold by Lodgemark Press and can be purchased at the Karting magazine online shop site, or for further sales outlets and more details visit the TrackTeach website.
The main part of the software concentrates on one corner at a time, displaying written instructions and a choice of a map, a set of pictures showing various aspects of that corner or up to six videos of that corner. Also available is: Overview of the circuit; pit details; the circuit logo (click to launch the circuit's website); local facilities, including accommodation and nearby petrol stations; circuit information, including contacts, lap records, directions, distances and useful websites and help on how the application works. There is also an "Extras" section which offers text documents in various formats and there's often bonus video footage too.
[ Top ]
---
Rotax Max 'O' Plate at Warden Law (31/08)
Testing is available on Wednesday, Thursday and Friday for the Rotax Max 'O' plate at Warden Law this coming weekend. Contact Karting Northeast on 0191 5214050 for more details.
[ Top ]
---
Stroud To Guest (28/08)
Aaran Stroud, current joint points leader in the Motorsport News backed BRDC Formula Ford championship, is to be guest of honour at next weekend's Midland Karting Championships (4th & 5th September). The 19-year old, who competed in Formula ICA before moving into single-seaters, plans to run a number of demonstration laps in his 1.8 litre, 160bhp race-winning machine. He will also be on hand to offer advice to any karters who are considering the transition to cars.
However, Aaran's main duty will be to award a special prize to his driver of the day: Courtesy of the Silverstone Race School, the winner will be invited to Silverstone, to benefit from an intensive one-to-one driver tuition in a Lotus Elise. Mick Chalmers of Rissington Kart Club, the event organisers, commented; "We're really pleased that Aaran and the Silverstone Race School are supporting this year's championship. Aaran knows all about the highs and lows of trying to progress from karts to cars, so he's in an excellent position to give our young drivers some good, honest advice."
Aaran's first season of car racing harvested 4th place in the 2002 BRDC Formula Ford championship. He then moved into BARC Formula Renaults for 2003 and ran second in the championship, before being forced to withdraw due to a lack of funds. Aaran rejoined the BRDC Formula Ford championship earlier this year and a successful season has so far harvested two wins, five podiums and four pole positions.
The Midland Karting Championships takes place at Little Rissington circuit, near Stow-on-the-Wold and is traditionally one of the most popular single-weekend championships on the calendar. Last year's event attracted a record entry of 309 drivers – all looking to follow in the footsteps of Jenson Button and Nigel Mansell, who won the title three times each during their karting careers.
[ Top ]
---
R3 Products Demonstration (27/08)
A representative from R3 Racing will be demonstrating their full range of products at Forest Edge, Barton Stacey on Sunday 5th September, to be found in the BKC Awning/Shop. Some of the products on display will be the Eagle Eye range, the Rotax Battery Check and the Chain Wheel Aligner. They will also be available to answer any questions that you have on the products.
[ Top ]
---
Tyre Treatments (25/08)
The MSA are carrying out an evaluation programme after a means of testing for illegal treatments was demonstrated to them. The aim would be to introduce this after meeting judicial requirements, although the equipment is not cheap. The initial demonstration was convincing enough to show that claims of such practices being undetectable are false.
[ Top ]
---
125 Europa Regulation Change (20/08)
2005 sees a change in the regulations for the 125 Europa gearbox class to enable more prospective competitors the opportunity to race in this exciting, close racing, low budget formula. The new regulations will permit the use of any MSA approved gearbox chassis, new or used, (R/H motor mount only) for racing in the 125 Europa Class.
A Europa Motor Package will soon be available consisting of a sealed engine with electric start, carburettor, complete exhaust system, battery and wiring loom. Competitors will be required to use all of the supplied parts to be eligible for the racing. An engine Log Book will also be supplied for keeping record of the engine seals for scrutineering purposes. As usual with Europa owners all their details will be kept on file to keep them up to date on events by e-mail and RPM's quarterly publication 'Europa Kart News'. Complete ready to race Europa outfits built with the superb TopKart chassis will still be available.
As many already know Europa racing has always been very close, sealed engines with no further tuning allowed gives emphasis to driver ability rather than ultimate engine power. The six speed Europa engines are similar to ICC specification, they produce around 38bhp and have proved to have very equal performance with excellent reliability. One annual full service and one or two new pistons to maintain optimum performance is the normal service required for a full seasons racing. Europa's race on control tyres from LeCont, the slicks have proved to show outstanding grip with excellent durability and will last for several races.
There will be approximately 15 specific Europa race meetings during 2005 and a National Championship series (Europa Challenge). As usual, most events will be in the southern part of the country. Unlike other gearbox classes Europa's also race at some short circuits like Buckmore Park or Whilton Mill, and Rye House circuit welcomes Europa Karts at all of their monthly club meetings.
The price of the complete Europa Motor Package will be announced in September. For further enquiries and copies of the 2005 regulations please contact Russell or Lee at RPM Motorsport Ltd on 01920 460800 or through the Europa website.
[ Top ]
---
New Club Software A Hit (19/08)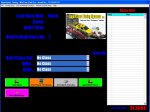 For the last 6 months the team at SuperSport Software has been busy developing a new package aimed specifically at Kart Racing Clubs. For many years now most clubs have been using software designed in the late 80's or early 90's which can be both difficult to use and lacking in some features essential to the successful running of a modern-day club. The new package, WinTime Club Pro, is Windows-XP based and particular emphasis has been placed on making this software easy for operators to use on a sometimes-frantic race-day!
The system handles qualifying, heats, finals, grid calculations, separate grid and championship points, controls hired transponders as well as driver-owned, and can produce a series of reports at the end of race day including a "trophy report" and a "Commentary" race-report which is great for producing magazine articles as it details every important change of position, fastest lap etc which occurred during a race. The system also displays a "Virtual Commentator", in real-time, which helps a commentator using the PA system to produce a fluid running-commentary for spectators. WinTime Club Pro also automatically produces the standard UK Karting website "Enhanced Results Service" file and even emails it directly without intervention from the user.
The first installation of the new system was completed for the August meeting of Hoddesdon Kart Club (at Rye House) and was received well by all who saw it (including a particularly glowing report from the MSA Steward!) The team from SuperSport are scheduled to install four more systems in September, two in the UK and two in the USA. For further details contact SuperSport on 01432 860685.
[ Top ]
---
Stolen Karts (18/08)
Sometime during the evening of 16th and early hours of 17th August the following items were stolen from the Castle Combe area.
1 x Project One Evo2 (01) Kart Junior TKM engine (JC tuned), metallic purple chassis, Tillett 1/4 covered blue fabric seat (new), anodised gold steering wheel with black suede trim, blue bodywork with Alchemede/SwiftCooper logo stickers, small damage hole on front nose right in the middle. On almost brand new slicks, on novice plates (No. 66) almost brand new set of wets on black rims with distinguishable bright yellow dust caps. Immaculate condition. (Engine, chassis and TKM No to follow) last raced at Dunkswell 25/07/04 and tested at Shenington 12/08/04.
1 x Tony Kart 93 Cadet with Comer S60 engine, newly powdered coated in metallic blue, the kart was also immaculate (just rebuilt) lots of new bits. Slicks only done one run, a brand new Tillett blue seat with blue fabric that was specially made and is not commercially available! Brand new white bodywork with Alfano sticker on each side pod. Again on novice plates No 9.
1 x red kart trolley, with Clay Pigeon sticker on front leg.
Should anyone see or come across this equipment or have any information which could help recover it please contact Alan on 01249 783000 or 07977413026 or e-mail swiftcooper@aol.com or contact Crimestoppers anonymously on 0800 555 111.
[ Top ]
---
JKH Brake (13/08)
A statement has been issued by Kart Chassis manufacturer JKH in order to rectify a safety related problem to brake systems fitted to karts built and supplied by JKH. Persons using the JKH WILD Kart Brake system fitted to JKH chassis' (including the Dynamite V3 & V4 TKM chassis) must ensure that the grub screw on the master cylinder is secured with Locktite and securely in place.
There is also a modification to the locating pin and any customer with this brake will be issued with a replacement part, free of charge. Please contact JKH on Tel.: 01829 771271, or send a fax with address details to: 01829 771788, or e-mail to john@jkhonline.co.uk
c
The Biggest Cups For The Best Drivers (10/08)
Entry is open until Saturday 22nd August for the FirstStop Rotax Max Cup on 29th August 2003, being held at 3 Sisters, Wigan by Manchester & Buxton Kart Club. Go and race on the fastest Kart circuit in Britain for the biggest cups in Karting! For more details see the MBKC website.
There are lots of other prizes including Bridgestone merchandise, tyres, vouchers, free race entries, and DVDs of the day's racing. For the first time PSC Productions will cover all heats and finals for Rotax Max Cup classes on DVD. Racing also available for all MBKC club championship classes.
[ Top ]
---
N.K.R.A. Grand Finals (10/08)
Clay Pigeon Kart Club hosts the 2004 National Kart Racing Association Championships Finals with a two day meeting on Saturday 21st & Sunday 22nd August. These 'Clubman' Championships include drivers who have qualified from Regional Championships in Scotland, the North & the South of England.
Before the racing commences on Saturday the Regional Area winners will be presented with their Trophies, after which racing will commence to find the Overall Champion in each Class. With eleven of the Regional Champions, plus five previous class Champions already entered the racing will be intense. The 4 x 12 lap heats, 15 lap B Finals & 25 lap A Finals over 2 days, will provide every chance for the best drivers to prevail. The Clubman principal, however, is maintained with the scoring system giving equal emphasis to Heats & Finals Results. The standard of trophies, with £5,000 spent, will be of the highest seen anywhere this year. Good luck to all competitors!
[ Top ]
---
Irish Kart Grand Prix (10/08)
The 2004 Irish Kart GP took place last weekend at the Nutts Corner Motorsport Centre and the Ulster Kart Club promoted event was a terrific success. The event is being broadcast on Ulster Television in September in two RPM programmes. A race report can be found here. Thanks go to the huge team of marshals, organisers and medics for their efforts.
[ Top ]
---
New Circuit Opening (09/08)
Teamworks Karting Birmingham opens this October in the heart of the West Midlands, just a few minutes walk from the Bullring. The track builds on Teamworks Karting's experience of its first circuit, which opened in 2001 in Central London, and their experience of managing event sales for 19 indoor and outdoor circuits across the South-East of England. The new Birmingham circuit has been designed to provide much-needed corporate hospitality for Birmingham's thriving corporate market, as well as attracting shoppers and passers by to the new Bullring retail centre, a few minutes walk away.
Teamworks Karting pioneered the use of Bowman/Asmo hybrid electric karts in 2001, and continues to make great strides in supporting the use of electric technology for corporate racing. The 500m indoor circuit features new charging technology, with a state-of-the-art SuperSport timing system. The circuit also features four conference rooms available for private hire for groups of 8 to 150 people, together with licensed catering, free parking and other facilities more reminiscent of a high-class hotel or city gym than the usual fare for a Kart circuit.
Suitable for all abilities, the Teamworks Karting concept is adaptable for group bookings of up to 100 drivers, individual enthusiasts and beginners alike. Teamworks Karting delivers a unique atmosphere where the whole experience is enjoyable, not just the Karting. Open from 10.00am to 11.00pm, seven days a week, Teamworks Karting Birmingham is now taking bookings from 5th October 2004.
[ Top ]
---
Brisk Plugs Are Here (09/08)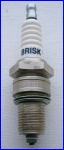 JRP-Intrepid UK has received the first batch of Brisk spark plugs from the Czech Republic. The plugs arrived late this week and already over half of the initial stock of 2000 has been sold!
The performance that this plug offers has been shown by the results that the JRP team have been achieving at both Club and British Championship level using Brisk spark plugs, winning the Kartmasters at PF, leading Stars of Tomorrow in Minimax, winning numerous club events and setting many lap records. It is also now the preferred choice of nearly all the front running drivers in Minimax, Junior Max and Senior Max at British Championship Level. The plug design that JRP Intrepid UK has received is the ZC and ZS range of spark plugs, which has a unique and patented tip design creating the potential for a spark to occur across the whole perimeter of the auxiliary electrode (360 degree). The Brisk ZC and ZS spark plugs are available in 08, 10, 12 and 14 heat ranges and retail from £14.95 +VAT. Telephone 01795 477011 or visit the JRP website for more information. Orders are now being taken and trade enquiries are welcomed.
[ Top ]
---
Pro-Sport and Shift (06/08)

Pro-Sport in conjunction with Shift are supporting the winner of last years TKM Festival, Mike Comber. Mike will be supplied with the latest jet suit, boots, gloves and accessories after seeing the news item on the UK Karting website and making contact with Pro-Sport. He asked if they would help him with some Shift clothing and after contacting Shift a deal was agreed to supply him with Shift race wear.
John Dryden of Pro-Sport commented, "Mike is obviously a talented driver and as a company we have very little exposure to the TKM scene, so we thought the collaboration was an ideal way to help a young driver while raising the profile of our company and the Shift brand." The latest Shift catalogue is available by calling Pro-Sport on 0191 4926014.
[ Top ]
---
2004 European Championships (06/08)
On 20th, 21st & 22nd August 2004 the 2004 CIK-FIA European Formula A and JICA Championships Finals, as well as the 4-Stroke Braga Trophy Final are being held at the 1174 metre Braga circuit in northern Portugal.
After the previous events in May in Sarno (Italy) and in June in Varennes sur Allier (France), the third and final round of the 2004 European Formula A Championship takes places in Portugal with the battle for the top 100cc Karting category, the Formula A crown, surely between the two drivers who have shared the victories in the four races held so far (every event comprises of two races), the Dutchman Nick de Bruijn and the Italian Sauro Cesetti. These two drivers hold the top two positions in the provisional classification of the Championship and it should be a straight fight between them for the European title, and with the Portuguese event approaching, Nick de Bruijn (son of Peter de Bruijn, the 1980 Karting World Champion ahead of none less than Ayrton Senna) holds a slender three-point lead over Sauro Cesetti. There's a chance that the Finn Teemu Nyman, the Italian Davide Fore as well as France's Johan Besnault and Manuel Renaudie could still grab the crown but with a gap of over thirty points, their chances of winning are at best only mathematical.
Braga will also be the setting of the CIK-FIA European ICA-Junior Championship Final, with 70 drivers aged 13 to 15 years old, selected for this Final further to regional qualifying events. These qualifying events, all held in July, were won by Finland's Valtteri Bottas (Northern Region), the Frenchman Jules Bianchi (Western Region) and the Austrian Philip Eng (Central Region).
Once again all the results of the European Championships will be available on the website of the CIK-FIA.
[ Top ]
---
Southern Champs Change (05/08)
Due to an extra large numbers of holiday commitments by competitors and to maximise the numbers competing, the Southern Championships has a change of format and will now only be a one-day event instead of two. Saturday 14th August will now be a normal practice, all day, with sessions for all classes plus pre ARKS novice sessions - all are welcome. Normal times and practice fees apply.
Sunday 15th August will be the Southern Championships coupled with a normal club round; normal club entry fees will apply. The winners from the finals will be crowned 2004 Southern Champions and awarded the coveted SC1 plates. Please remember entries close this Saturday 7th August and entry forms are available on the FEKC website or by telephoning 01256 893663.
Those competitors who have already entered the Southern Championship and paid the combined fee should contact Joy Bryceson either prior to the event or at the event to arrange transfer of the combined fee. Joy can be contacted on the above number.
[ Top ]
---
Wallstar Challenge (04/08)
The Wallstar Challenge is a three event challenge to Short Circuit F125 Super drivers that have not so far tried Long Circuit racing. The Challenge is over three events at Mallory on 19th September, at Cadwell Park on 9th October and Mallory again on 31st October and will be heavily supported by HRM Boilers Ltd, makers of the world renowned Wallstar Oil fired Domestic Heating Boiler. So, if you have not taken part in Long Circuit racing before then this is your opportunity to go and join in the Challenge for just £30 entry fee per event. The Wallstar Challenge will be incorporated into the BSA F125 Super Championships. All you have to do to qualify is go and race with the equipment you use on short circuit; it's that simple.
Naturally you will have to comply with L/C regulations in respect to leathers etc., but if you don't have a set of leathers don't let that put you off as the organisers may be able to loan you a pair at no cost at all. Limited places will be available for this fantastic offer so if you are interested then contact Ian Rushforth on 01509 620702 for more information or e-mail: ian.rushforth@superkart.org.uk
[ Top ]
---
Well Done Guys (03/08)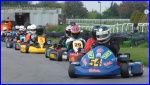 Congratulations to Daytona series leaders Team X on winning the PB Promotions/Daytona Karting 12 hour Prokart event, also to Team Tec for nearly making it a BIZ 1-2. Last month's Sandown Park 6 hour event did finish with a BIZ 1-2 with Team X and Team X2, as well as grabbing Pole and Fastest Lap. Information on the BIZ JK1R endurance race Prokart is available on the BIZ website or by calling 020 8443 3300.
[ Top ]
---
Endurance Racing At Barton Stacey (02/08)
Sue and Ted Poole have announced dates for a 2004 'EKC' Prokart/WF Endurance Championship to be held at Barton Stacey, the splendid new 1000 metre Forest Edge KC circuit near Andover in Hampshire.
The Championship will consist of 6 x 2.25 hour round to be held over 3 dates commencing in September with each day's racing made up of two 2.25 hour races. Sporting and technical regulations will be as per the 2004 Red book and specific race regulations are available by request. Race dates can be found in the Events Calendar.
The 2004 Championship is a forerunner to an 8 round, 6 hour Championship due to commence in March next year.
[ Top ]
---
Top TKM Racers Head For Kimbolton (30/07)
More than 250 top racers from all over the UK and some from overseas, will merge on the Kimbolton kart racing circuit next weekend, 7th & 8th August, for the country's biggest single make kart race meeting of the year. The MAXXIS Formula TKM Festival brings together drivers of all ages and abilities racing for top honours in the country's most closely contested categories.
The drivers all use race karts powered by the same TKM engines, so finding extra fractions of a second in performance really counts. That's a formula that adds up to incredibly close and competitive racing, and it's not surprising therefore that top racing drivers like Jenson Button and Anthony Davidson from F1, Carl Breeze from Touring Cars and latest F1 hot property Gary Paffett, are all ex champions in the TKM classes.
With five main classes across all ages from juniors through to veterans, the action starts Saturday morning and will run right through to the finals on Sunday afternoon - all covered by Sky TV for three programmes on Race World. With around 50 TKM 4-strokes and over 200 TKM 2-strokes the grids will be packed with a minimum of six sessions on the circuit for every driver counting towards the final trophies.
Says Tal-Ko Racing's Alan Turney: "We are delighted at the increased entry with more than 100 in the Extreme senior class alone. It confirms the continued success and strength of the class and this event."
The event is organised by the Hunts Kart Racing Club and backed by MAXXIS, a world leader in the manufacture of specialist tyres, and Tal-Ko Racing the UK's largest manufacturer of kart race engines. Spectators are welcome at the track, located just outside Kimbolton close to the Cambridgeshire/Bedfordshire border.
[ Top ]
---
Pro-Sport Open In Gateshead (29/07)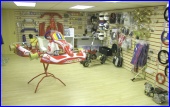 Pro-Sport the northern Birel distributor has opened a retail store and workshop on Team Valley next to Newcastle. "We wanted something different that customers could walk in and see most of the products they see in catalogues," said owner John Dryden. "Our customer base is very varied from the serious racers that generally know exactly what they are looking for to the complete novice who needs advice on chassis, class type and all the accessories necessary to start Karting."
The shop gives the novice the opportunity to see and try everything in one location whilst letting the serious racer access the latest products. They have large stocks of the parts to service most classes but tend to specialise on the Rotax Max, WTP, Honda and World Formula. The full range of Birel chassis are on show as well as the full range of Birel and Shift clothing and accessories. All products are available by mail-order 5 days a week, but there are plans to move this to 6 days.
The new workshop is equipped to do engine rebuilds for most classes and to service and set up most chassis types. John added, "The new facility combined with our race support gives us a more rounded service to our customers." Contact John on 0191 4926014 or e-mail sales@sos.am
[ Top ]
---
Double Double Whammy (28/07)
An impressive weekend for karting cousins Riki and Adam Christodoulou at the Shenington circuit near Banbury in Oxfordshire saw them achieve 4 pole positions and 4 victories between them in Formula ICA and JICA, whilst Mark Litchfield has secured the Formula A title without needing to score in the final round in September at Larkhall in Scotland.
A brief race report can be found here. Full results for all heats and finals are to be found in the Results section.
[ Top ]
---
Get Into Pole Position (27/07)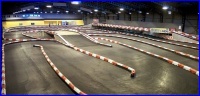 With circuits in both Leeds and Bradford, Pole Position Indoor Karting Centres are West Yorkshire's premier Karting venue and the Leeds track is now rated as one of the best in the country, says Ben Hyland of Pole Position. It is the UK's first indoor circuit that boasts: bridge, tunnel, underpass, high spec tarmac and an elevated pit area. This track is the perfect place to learn new Karting skills or to expand on existing racing techniques as you experience corners and gradients like no other.
Pole Position is looking forward to seeing more racers returning to indoor kart racing and this track has already proved a challenge to karters, single seat drivers and rally drivers alike. There will soon be competitive league nights, membership schemes as well as the 'hot lap' competition where drivers can win great prizes each month.
If you email Ben at polemarketing@btconnect.com quoting this news piece you can expect some special offers on Arrive & Drive or Corporate and Group bookings throughout July and August.
[ Top ]
---
Pro-Sport UK Appointed (26/07)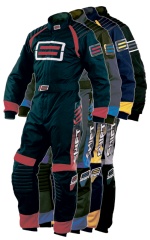 Shift, the Karting Arm of Fox Racing, have appointed Pro-Sport UK as distributor. Shift has produced a very innovative range of Karting and leisurewear with their Jet Kart suits in particular already being very popular as the level of protection it offers is much higher than most traditional Kart suits. The ventilation system the suit employs makes it one of the coolest to wear and helps maintain driver comfort.
Two boots styles are offered, the Jet Kart shoe which is the premium shoe and the Apex boot that offers high quality at a competitive price. Three glove types are now available, the Jet glove which represents the mid range glove, the Apex glove that represents the entry level glove and the new P1 glove that was designed from gloves used in Formula One. All gloves come in a wide range of size and colours to complement the jet kart suit range. There's also a Commando rib vest offering a high level of protection to the ribs and back while being light and unobtrusive.
The range of leisure wear that Shift produce is very comprehensive from leather jackets to jeans, belts, wallets and much more. Pro-Sport have a complete stock of the Shift range at their retail showroom near Newcastle, however if you can't make the trip you can order a catalogue and Pro-Sport can deliver next day. Telephone 0191 4926014 or e-mail sales@sos.am for a catalogue and/or further information.
[ Top ]
---
Stolen MiniMax (23/07)
Taken from their garage in the Coventry on Tuesday or Wednesday 20th/21st July, was a Birel R32 Minimax, chassis 422818, Force engine No. 787543, seal 003707, with race number 38 and marked up with Pitt Team racing stickers. Yet again thieves have hit the Pitt family who lost all of their cadet equipment at Little Rissington earlier this year, although fortunately they did not have the Minimax then. Said Karen Pitt, "We have now lost our Minimax but this time from our own garage. This equipment is not covered by our insurance and this will finally end our racing as we cannot afford to replace everything again."
They delayed their holiday so they could race at Shenington last weekend but within 24 hours of leaving their garage had been broken into and their equipment stolen. Should anyone come across this equipment or be offered a 'too good to be true deal' on a Max, please contact Karen or Andrew on 02476714771 or 07771554013 or email at karen@pittk.fsnet.co.uk or contact Crimestoppers anonymously on 0800 555 111.
[ Top ]
---
2004 Monaco Kart Cup (23/07)
The current and ongoing redevelopment work of the 'Darse Sud' and 'Quai Albert 1er' sections of the Monaco Formula One Grand Prix circuit will unfortunately not permit the organisation of the 2004 CIK-FIA Monaco Kart Cup that was originally scheduled for 8th-10th October 2004 for the Formula A and ICA-Junior categories.
Consequently, the Automobile Club de Monaco has postponed to 2005 the 9th running of the event, to be held on a circuit which will then be completely modified in comparison with the previously used course.
[ Top ]
---
Richard Set To Test (22/07)
One of Britain's top Junior Karters is set to test the water in the leap to racing cars in August. Young Richard Bond will be attending the Formula BMW Scholarship weekend, which is a two-day program that assesses driver ability, fitness and the all round future possibilities of a driver's career. Richard has also been seen with his father at Silverstone in discussion with top BMW teams.
Altosport Driver Management, the company that now oversees the management and career of Richard, commented; "This is a good move for Richard or any other Karters looking to move up to cars, at 15 you can do this or stay on in Karts until you are ready, Richard is very mature and I think he will adapt well to cars, and even be a front runner in his first year in BMW. The Championship is very professional and many Karters have found it a dream to move into, the Press and the Media involvement is second to none and it has the characteristics a driver needs to progress." Further information on Richard's career and progress can be found on both the Altosport website and Richard's own site.
[ Top ]
---
European Superkart Championship (21/07)
The forthcoming CIK-FIA European Superkart event in Assen in the Netherlands over the weekend of 30th July-1st August will set a new record for entries. The Championship, which was relaunched in 2002, will have no less than 79 Superkarts on the grid in Assen with drivers coming from 10 different countries. The Superkarts will be racing within the framework of 'Rizla Racing Days', a very popular sporting occasion in the Netherlands that attracted over 40,000 spectators in 2003 and which has the distinction of bringing together events for cars, bikes and karts.
The 2004 European Championship comprises of three events for Division 1 Superkarts (two-cylinder engines or twin engines) and two events for Division 2 Superkarts (single cylinder engines). Division 1 has already contested its first event this season, it taking place in May on the French F1 Grand Prix Circuit at Magny-Cours. Assen will provide the second stage of Division 1's European tour, as well as the first outing for Division 2. Each of the two divisions will contest its final event on 16th-17th October, at Donington Park in Derbyshire, England.
The obvious favourite in Division 1 at Assen is Frenchman Damien Payart, the reigning European Champion. After winning both of the races run at Magny-Cours, Payart is already well on the way to retaining his title. His main rival ought to be Britain's Mark Owens, provided that he can put an end to his current run of bad luck. Featuring amongst the outsiders are the multiple British Champion John Riley, Benjamin Mahé from France, Sweden's Thomas Johansson, Denmark's Poul Petersen (former double World Champion) and Germany's Joachim Breckwoldt and Christian Hennig (the youngest in the category).
Historically, Division 2 has often been the exclusive preserve of British drivers. This year again, Andrew Agnew (2003 Champion), Malcolm Crowe, Peter Lazzari, Matthew Bett and Gavin Bennett are the favourites. Nevertheless, serious competition can be expected from the German drivers, such as Guido Kleinemeyer, Thomas Kracht, Thomas Wagner and Michael Sadurski, who are very well acquainted with the Assen circuit since they regularly race there in International Superracekart Series events.
Results from Assen will be available during the event on the CIK-FIA website.
[ Top ]
---
Freeminds Rib Protectors (20/07)
Long time Kart racer Ian Berry is importing the high quality Freeminds Racing 'Brave' rib protectors. Having bought one himself while racing in Italy in 2003, he thought it was so good that he did a deal with the manufacturer to bring them into the UK in bulk. They are now available in five sizes to suit kids and adults.
Anyone requiring further information or interested in buying one can contact Ian at ib@ianberry.com or telephone 01483 281 955. He also has a website, www.ianberry.com that features a dramatic crash video of a driver (David Lewis) that coincidently (and luckily!) bought a 'Brave' rib protector the previous week and therefore suffered no injuries in the incident. It'll still make you cringe though! Definitely worth a look.
[ Top ]
---
Rye House Raceway (20/07)
Paul Deavin of Deavinsons has arranged for Kevin O'Malley of Motorsport World Limited (MSW) to take over the management of Rye House Kart Raceway and its various operations, with a view to an outright purchase in the future. Kevin is the driving force behind the revival of Hoddesdon Kart Club and he fully intends to continue the expansion of the facilities and services at Rye House.
Paul Deavin will continue to be the sole importer of Vega tyres and other products and will continue to produce Deavinsons Karts and spare parts. Deavinsons Karts and parts can still be purchased from the shop at Rye House and will also be available via the Internet or mail order. Paul can be contacted by e-mail at info@deavinsons.co.uk
[ Top ]
---
New Spark Plugs At JRP (19/07)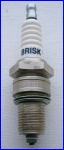 JRP Intrepid UK Ltd has announced its appointment as the UK & Ireland sole importer and distributor for the Brisk range of spark plugs from the Czech Republic.
Following extensive engine testing in both the UK and in the Czech Republic, a range of spark plugs have been developed which significantly reduces lap times for all kart engines. Rumours of the performance advantage offered by this new type of spark plug have been circulating the pits up and down the country over the last few months. This has been emphasised by the results that the JRP team have been achieving at both Club and British Championship level using Brisk spark plugs, leading Stars of Tomorrow in Minimax, winning numerous club events and setting many lap records.
The core product that JRP Intrepid UK will be importing is the ZC and ZS range of spark plugs, which has a unique and patented tip design creating the potential for a spark to occur across the whole perimeter of the auxiliary electrode (3600). The spark thus occurs in the region of the combustion chamber which has the richest mixture, producing more consistent and complete combustion of the fuel/air mixture which increases engine power. The Brisk ZC and ZS spark plugs will be available late September in a variety of heat ranges and retail from £14.95 +VAT. Telephone 01795 477011 or visit the JRP website for more information. Orders are now being taken and trade enquiries are welcomed.
[ Top ]
---
Super 1 At Shenington (16/07)
Shenington Kart Racing Circuit near Banbury in Oxfordshire is gearing up for the penultimate round of the British Championship season over the weekend of 24th/25th July, with the Formula A, Formula JICA and Formula ICA classes all poised for some exciting action.
Mark Litchfield (Rocester, Staffordshire) leads the BTE Lawline/Renault MSA British Kart Championship by a highly comfortable 58 points and with next weekend's visit to Shenington and then one more round, at Larkhall in Scotland, to go he looks the strong favourite to win the prestigious Formula A title. David Gregory (Sheffield), however, took two fantastic victories during last month's fourth round of the season at Clay Pigeon and is now pushing hard in joint-second position in the championship standings alongside Jeremy Metcalfe (Fleet).
In the BTE Lawline/Renault ABkC ICA Championship, Danny Cruttenden (Wilmington) heads the standings thanks to a combination of a brace of podiums in the points-scoring Finals at Clay Pigeon and also an uncharacteristically poor weekend for Jon Lancaster (Pudsey, Leeds). The 2003 Formula ICA Vice-Champion now leads Lancaster by 12 points as the series heads to Shenington with Chris Lamare (Inkberrow, Worcestershire), double-Finals winner at Clay Pigeon, in third and Freddie Martin-Dye (Shamley Green, Surrey) in fourth position.
The battle for the BTE Lawline/Renault MSA British Junior Kart Championship has been incredibly tight all season between front-runners Craig Copeland (Wimborne, Dorset) and Lee Bell (High Wycombe, Buckinghamshire). Formula JICA really is proving to be too close to call but it's Copeland who currently has a six-point lead over Bell with Adam Christodoulou (Shenstone, Lichfield) a further six points adrift in third position.
[ Top ]
---
R3 Racing (15/07)
Well known for Karting alignment, chassis tools and battery accessories, R3 Racing has launched it's new website featuring downloads of all instruction manuals for their products, plus a list of all distributors worldwide and links to their sites. There is now an online shop for those who do not have a distributor in their country plus links to the other R3 company websites.
[ Top ]
---
Double Dutch At Kartmasters (14/07)

Both the MSA and the PF organisers have now confirmed that Swiss Hutless star drivers, Bas Lammers (2003 Formula A European Champion) & Randy Bakker (current 2004 3rd place contender in the European Championship), will contend the Super Libre race at Kartmasters on 31st July & 1st August. For 2004, Kartmasters has the status of a full international meeting, and for the Super Libre race, high grip Vega France tyres will be used. The image on the left shows Bas Lammers and Swiss Hutless team chief Nic de Cola during their last visit to the PF circuit in December 2003. Although Bas joined Tony Kart in early 2004 he is now back with Swiss Hutless.
Also in the Swiss Hutless Team at PF will be Alex Sharper, who was one of only 6 British qualifiers for the European ICA Championship at Levalanet in France on the 11th July. Alex will be contesting the 100 National GP title at PF, currently he lies 3rd in the 2004 Super One 100 National title chase.
[ Top ]
---
Roll Up, Roll Up (14/07)
Camberley Kart Club have a working party on Saturday 17th July at their track on Blackbushe Airport, near Camberley and the Club is appealing for helpers.
The working party is for general track maintenance and improvement before their race meeting on the following Saturday 23rd July. So if you don't mind getting your hands dirty and can spare a few hours this coming Saturday get yourself down to the Surrey circuit as all assistance will be welcomed, and if you can bring along some general gardening tools to use it would be useful too. Help one of the oldest Kart Clubs around and you will be rewarded with a day's free practice at the track. Further information from Steve Bird at sjbird@ntlworld.com
[ Top ]
---
Exploring The Honda Gx160 Engine (12/07)
A new double DVD set on the Honda Gx160 engine is now available from the UKPollards team. The DVDs are designed for beginners of engine mechanics, and break the tasks of stripping, examining and assembling the engine into sixteen chapters of 'bitesize chunks'. The two DVDs contain some of the clearest digital images ever used to describe the internal workings and maintenance procedures of a four-stroke engine.
The DVDs would be an ideal starting point for schools, colleges, clubs and organisations interested in training budding mechanics, so if you would like to 'Explore the Gx160 engine' this product is for you. Screenshots of the DVD set and a demo video for free download can be seen by visiting the UK Pollards website.
[ Top ]
---
Christo At Euro Qualifiers (07/07)
Team Riki Christodoulou have travelled to the south of France and the Lavelanet circuit this week for qualification heats in order to ease their way into the European Championship due to take place at Mariembourg, Belgium on 5th September. The defending JICA Champion embarks on his first ICA Euro meeting this season in what is the annual highpoint of the Karting calendar. The proceedings at Lavelanet begin tomorrow with Open testing, continuing on Friday through to qualification heats on Saturday and the finals on Sunday. The aim of the meeting is to finish in the top 26 and ensure entry to Mariembourg. Two other similar 'heats' are also occurring this weekend for the different regions of Europe and the top drivers from the UK have to gather near the Pyrenees just south of Toulouse to survive the cut to Belgium.
Riki tested at the facility just over a month ago and was happy with his lap-times. The circuit itself does not have the best infrastructure but the layout involves a quick and lengthy track that the 15 year old enjoys. "I think I have a good chance here," he remarked. "I have beaten a few of the European guys at the Italian Open series so I more or less know what to expect. The track is good even if the building and surroundings are not that great. It is not really like any course in the UK. It is long with a 50+ laptime and some nice fast corners."
80 entrants will be vying for the 26 positions this weekend and Team Christo will be using their Birel TM Kart to try and top the classification. "We used the Birel with the Italian team when we made appearances in their Championship and I am happy with the Kart so we have it this weekend" he said.
[ Top ]
---
Kart At Santa Pod Raceway (06/07)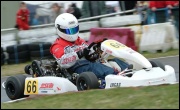 Paul Granger has been given permission by Santa Pod Drag Strip to run his MSkart SA250 Biland Kart this Saturday on a 'Run What Ya Brung' day at the drag strip located near Wellingborough in Northamptonshire.
He's anticipating some high speeds with low gearing as in the Isle of Man, around the streets of Peel, the Biland has been recorded at around 100mph. It will probably be quite difficult off the line as it would stall if he just 'floored it', but it should give the cars a run for their money. They've worked out the Biland produces about 300bhp/tonne and there's not too many cars with a figure like that, especially at the price!
Some harder Dunlop SL1s for less rolling resistance, narrow rims, high tyre pressures, no lead, and a run with a 'Big Foot' nassau panel are all in the plan. Should be very interesting!
[ Top ]
---
NKRA Championships (06/07)
Hoddesdon Kart Club have announced that they have joined the NKRA. This means that any club members who join HKC on or before 18th July (the date of their next race meeting) are eligible to enter the NKRA Grand Finale race at Clay Pigeon on 21st/22nd August. This National Championship is very popular and winners will of course have the honour of carrying the '1' plate. HKC are also hoping to host a round of the NKRA Championships next year.
NKRA information can be obtained by e-mailing: nkra@planetkarting.co.uk and HKC info from Penny Jones at: penny.a@jonesp23.fsnet.co.uk
[ Top ]
---
TrackTeach CD (05/07)
TrackTeach computer software is an interactive guide aimed at helping teach karters the racing lines round kart or race tracks. Currently available are kart guides of Buckmore Park, Clay Pigeon and Shenington, with a race car guide of Pembrey also available. More circuits are on the way. TrackTeach is sold by Lodgemark Press and can be purchased at the Karting magazine online shop or for further sales outlets and more details visit the TrackTeach website.
The main part of the software is split into two sections. The right-hand side displays written instructions. The left-hand side displays either: A map of a particular corner, a set of pictures showing various aspects of that corner or up to six videos of that corner. Other information available from this main section is as follows: Easy access to all corners; Overview of the circuit; Pit entry and exit; The circuit logo, that when clicked on launches the circuit's website; Local facilities, including accommodation and nearby petrol stations; Circuit information, including contacts, lap records, directions, distances and useful websites and help on how the application works. There is also an "Extras" section, which offers text documents in A4, A5 or PDF format and there's often bonus video footage available too.
[ Top ]
---
Karting At Silverstone (02/07)
July 24/25th marks a return to the famous Silverstone venue for karting, but not in the form of Long Circuit karting as has happened in years gone by, but with 100cc karting on the Stowe kart circuit. The event is a 'toe in the water' exercise for the Stars of Tomorrow Championship supported by the British Racing Drivers Club. The Stowe circuit is approximately 1.3Km long and will provide some fast racing, the infra structure and facilities as expected will be excellent so everything is in place to showcase Karting again at Silverstone.
The event is open to Stars Mini Max & Junior Max drivers and invited Super One Senior Max drivers. Entries have been rolling in but there are still some places for additional entries. If you require details please contact starsoftomorrow@brdc.co.uk, the closing date is 16th July.
The event has backing from the BRDC who have fully aligned their support to the Stars of Tomorrow karting championship this year and have exciting plans to develop karting at Silverstone. If the event is successful then plans are already in place to run a round of the 2005 Stars Championship at the venue and a qualifying round of the Rotax Max European Championship. Beyond this Stars of Tomorrow and the BRDC are discussing the feasibility of building a purpose built kart facility in the grounds of Silverstone - a fantastic prospect for Karting in the UK and one which will no doubt gain momentum following this inaugural event at Silverstone on 24/25th July.
Please forward your entries to the BRDC if you wish to race at Silverstone, or go along and witness a piece of history in the making.
[ Top ]
---
Developments At Birel (02/07)

Sole UK Importer ACR has announced the introduction of the Birel chassis AR30C, which is to be used in the new "World Formula" category. The AR30C conforms to the World Formula CIK regulations and is also being registered with the MSA in the U.K. The A30C is presented in the traditional Birel Motorsport colours and is fitted with the Birel Motorsport CIK homologated braking system as well as the new CIK08 Freeline bodywork in blue. "We have had numerous requests from clients for a Birel chassis for this category, naturally it is important to have a presence in every Formula possible offering a high quality chassis with race winning performance. We are confident that the AR30C will set the standard in World Formula" commented Andy Cox. For more information or to locate your nearest Birel dealer contact ACR: 01527 63984 or email: andycox@andycoxracing.co.uk or visit www.andycoxracing.co.uk.
With summer arriving and holidays soon starting ACR is to offer exclusively through its Birel dealer "Kart Tek" based near Whilton Mill circuit the opportunity of test-drives of the Birel Cadet L3 and Max range Q31SP and R32SP. Commencing from the 15th July 2004 test drives are only available with a prior booking with Kart Tek. Tests will available every Wednesday at Whilton Mill with some evening sessions also available. For more information or to make a booking contact Kart Tek on 01327 349615.
[ Top ]
---
Irish Kart GP (02/07)
The Ulster Karting Club are offering half price entry and free club membership to any visitors wishing to enter the Irish Kart GP on Friday and Saturday 06th & 07th Aug 2004 at Nutts Corner Motor Sports Circuit. Reduced price ferry crossings are also available. SR's for the event and further information can be found on the UKC web site.
[ Top ]
---
Formula BMW Drive (01/07)
Team SWR-Pioneer has one seat available for the second half of its 2004 Formula BMW UK Championship campaign that would suit a karter wishing to do a half season, or to prepare themselves for a leap into single seaters. Interested drivers are invited to contact Team Principal Trevor Powell at the team office on + 44 (0) 1278 671836 or info@swromegaland.com as soon as possible, as the team intends to have the vacant seat filled in time for rounds 11 and 12 of the series at Croft on 24/25th July.
"This is a great opportunity for any driver who would like to use the rest of the 2004 season as preparation for a 2005 campaign, or perhaps for a driver who has not been able to finance a full season to demonstrate their talents in the ten races remaining and budgets are negotiable" said Powell. In its first season of competition, Team SWR has already secured a string of eight consecutive top ten finishes, as well as taking class victories, fighting for podium positions and entering into a sponsorship partnership with world-leading electronics company Pioneer, so this is a chance for drivers to step straight into a front-running team that has already amassed substantial experience of the BMW FB2 chassis.
[ Top ]
---
The Ultimate Guide To Karting (01/07)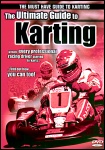 Just in at Lodgemark Press, the publishers of Karting magazine, is a new DVD, 'The Ultimate Guide to Karting'.
Produced by respected cameraman Gary Williams, the DVD is aimed primarily at attracting and helping newcomers to Karting but also has plenty for those in the sport as well, much like the early 1990s Duke video 'This is Karting'. The various Karting classes are explained and there is an insiders look at the young hopefuls on the first rung of the motorsport ladder, and at those stars who have made it from Karting to the top. Other features include corner by corner racecraft techniques and on-board footage. The opening sequence is available to view by following this link.
[ Top ]
---
The London Kart Show (30/06)
The second London Kart Show will take place on the 11th & 12th December 2004 at Sandown Park Exhibition Centre in Esher, Surrey, and with exhibitor numbers already up on last year the organisers are anticipating that the show will become the UK's largest Karting exhibition. Committed exhibitors include: - Tal-Ko Racing, KKC, Bayford Meadows Kart Circuit, Project One Racing, Passion Racing (Redspeed), Buckmore Park Karting, F6, Club 100, Karting Magazine and Michael Simpson Motorsport offering a diverse range of products to the visitor. Karting Magazine is supporting the show's Masterclasses and this programme has also grown as a result of their popularity last year.
A number of clubs will also be presenting their awards at the show and The London Kart Show is quickly establishing itself as a showcase for this exciting growth sport.
[ Top ]
---
UK 24hr At Rowrah (29/06)
The new website for the 24 hour extravaganza at Rowrah in August is now live at www.24hr-karting.co.uk. The site now features a section for teams wishing to participate, but who may lack the necessary equipment or expertise. They can now contact any one of four organisations, whom are already entering works teams into the event and have the capacity to provide a second kart in a variety of different packages. The website will be continually enhanced as the event grows ever nearer and team managers are encouraged to register their team details on the interactive section the site.
An impressive number of individual hits for the site have already been recorded and with only a few places remaining, any teams interested in competing in this prestigious event should contact the IKP to avoid disappointment.
[ Top ]
---
New Scottish Indoor Karting Circuit (25/06)
Xtreme Karting are opening a 30,000 sq. ft. indoor Karting centre in Falkirk in September with a brand new fleet of 30 indoor racing karts and are looking for staff to fill a number of positions there. The following jobs are currently available at this new location:
Circuit Managers / Mechanic / Race Marshals / Receptionists.
Further information and an application form can be obtained on the Xtreme Karting website. All applications should be submitted by Monday 12th July 2004 latest.
[ Top ]
---
Buckmore's Birthday Meeting (24/06)
The 41st anniversary meeting at Buckmore Park Kart Circuit on the 18th July will be a golden opportunity for local drivers to pick up some extra championship points and even some extra special silverware. With many Super One competitors away this month the canny driver can use this as a chance to bank some bonus points for the Summer Championship. Open practice will be available as usual on the Wednesday and Saturday preceding the race from 10am to 4pm and overnight camping can be arranged. If you have been putting off the chance to race at Buckmore, this could be the perfect opportunity to race at the circuit.
Full details and entry forms can be found on the Buckmore website or by telephone to club secretary Sheila Rose on 01634 201562 ext 210.
[ Top ]
---
Super One Round On TV In July (24/06)
Action from the fourth round of the BTE Lawline/Renault MSA Super One Karting Championships is to be screened during a special one-hour programme broadcast on digital satellite channel Motors TV next month. The BTE Lawline/Renault MSA British Kart Championship (Formula A) and BTE Lawline/Renault MSA British Junior Kart Championship (Formula JICA) will be the main feature of the broadcast although it's likely there will also be footage from the BTE Lawline/Renault ABkC ICA Championship (Formula ICA).
The first showing will be at 18.00 on Thursday, 8th July, with repeat screenings on the 9th, 14th, 16th, 17th and 21st July. The announcement of the one-hour show is a major boost to British karting's premier classes which are where British Formula One stars, such as Jenson Button, earned their stripes.
Terrestrial Boost As Super One Features On ITV1
In addition, action from the Three Sisters, Clay Pigeon and Larkhall rounds of the Formula A, Formula JICA and Formula ICA Championships will also feature on terrestrial TV this year with inclusion on ITV1's established Motorsport UK magazine show.
Karting's inclusion in the programme, which regularly broadcasts the latest action from the Formula Renault UK Championship and ELF/BTE Lawline Renault Clio Cup to well over four million viewers, is a major plus-point and has come thanks to Renault UK's involvement with Formula A, Formula JICA and Formula ICA as a joint-headline sponsor.
Three Sisters action from the opening Super One round of the year is scheduled for broadcast on Motorsport UK on 15th August, while the Clay Pigeon round is set to be screened alongside the Formula Renault UK races from Croft on 5th September. Furthermore, the season-ending Larkhall Super One meeting - which takes place in September - will be shown on Motorsport UK on 3rd October in addition to Renault Clio Cup action from August's races at Brands Hatch Indy Circuit.
[ Top ]
---
ABkC 'O' Plate (23/06)
Regulations, entry forms, tyre and fuel order forms for the 2004 ABkC 'O' Plate taking place at Rowrah on 15th August are now available online on the Cumbria KRC website. Alternatively, contact Marion Fell at 50 Newton Road, Dalton-in-Furness, LA15 8NF or Tel/Fax: 01229 463748.
[ Top ]
---
Prokart Engineering Ltd (22/06)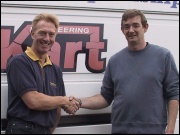 The well known Hampshire based business Prokart Engineering has been sold. Ted Poole is advising all customers that as from the end of June the business will be under the new ownership of Jeff Johnson. Ted has decided to concentrate his efforts on promoting and organising endurance race events while also expanding his Gameracer project, and would like to thank all his customers for their continued support over the past 8 years whilst wishing everyone well in their future racing endeavours.
Jeff Johnson will operate the Prokart Engineering business from his Sunbury workshop with the continued supply of the Wright R2 chassis, endurance trick bits, and all general Kart spares. Jeff's existing engine-servicing facility (Johnson Motorsport) will be amalgamated into the Prokart Engineering business. All Prokart Engineering enquiries should now be directed to Jeff on 01932 780314 or 07967 358862 (mobile), or e-mail: info@prokart.co.uk
[ Top ]
---
Mixed Fortunes At Clay Pigeon (21/06)
Some heavy rain showers contributed to mixed fortunes for many involved in Super 1 last weekend. The best podium places overall went to David Gregory in Formula A, Chris Lamare in ICA and young Adam Christodoulou in JICA. A brief race report can be found here. Full results for all heats and finals are to be found in the Results section.
[ Top ]
---
Dunks South West Champs (16/06)
On 28th & 29th August 2004 Dunkeswell Kart Club are hosting the South West Championship for all MSA classes. Team Dadson are hoping to get a 175 Rotax class at this event, for which they will sponsor (subject to enough race entries). They can offer awning space for any competitor who wishes to compete in this event, and a vast amount of race back-up as well. Any 175 Rotax competitors requiring more event information, and all who would like to enter for this great weekend's racing, should contact Dannie Pennall on 01708252900 or 07778835565.
[ Top ]
---
New Circuit Opening (15/06)
Teamworks Karting has announced its plans to open a brand new state-of-the-art kart circuit in a prestigious West Midlands location, this Autumn. In June, planning approval was recommended for the development of a 50,000 square foot facility, which will feature Teamworks Karting's trademark karts, branding and set-up from its City of London circuit. The circuit will create up to 40 new jobs, and recruitment is already underway. More details at www.teamworkskarting.com/jobs
Teamworks Karting's first circuit in Bishopsgate, London, featured the fastest indoor karts in the UK, and backed by a highly-motivated management team of City professionals, the circuit was designed to offer faster, yet safer racing in a clean, corporate-focused environment. The success of this circuit, which was fully booked before it even opened, has led to Teamworks Karting developing a business plan to roll out its unique brand to circuits across the UK. The West Midlands circuit will be the first new opening, scheduled for September 2004, to be followed by two more circuit openings in 2005.
[ Top ]
---
British Karting Championships (11/06)
Clay Pigeon near Yeovil hosts the fourth round of the BTE Lawline/Renault MSA Super One British Karting Championships a week tomorrow as the UK's premier Karting hot-shoes prepare to resume battle following a six-week break.
In the BTE Lawline/Renault MSA British Kart Championship - or Formula A as it's more widely known - Mark Litchfield (Rocester, Staffordshire) will be aiming to consolidate his solid lead in the driver standings which was boosted last time out after taking a brace of wins at Lydd International Raceway in Kent.
With just a single point separating BTE Lawline/Renault MSA British Junior Kart Championship leader Lee Bell (High Wycombe, Buckinghamshire) and Craig Copeland (Sturminster Marshall, Dorset), the Formula JICA class looks set to be another close-fought affair between the two main title protagonists. But while all eyes will be on local racer Copeland, expect fellow Formula JICA front-runners Adam Christodoulou (Woodend, Litchfield) and Richard Singleton (Conway) to put up a strong fight in their attempt to close up the championship chase.
In the BTE Lawline/Renault ABkC ICA Championship, Jon Lancaster (Pudsey, Leeds) currently heads the standings but Formula ICA is already proving to be a highly unpredictable category this season with any one of 10 drivers in with a chance of victory on any given weekend. While Lancaster's consistency has reaped rewards so far, he'll have his work cut out at Clay Pigeon to fend off the likes of Freddie Martin-Dye (Shamley Green, Surrey), Chris Lamare (Inkberrow, Worcestershire) and reigning Formula JICA Champion Riki Christodoulou (Four Oaks, Sutton Coldfield) - the latter hoping to put right what has been, so far, a tricky season.
The fourth round of the BTE Lawline/Renault MSA Super One British Kart Championships takes place at Clay Pigeon, near Yeovil in Dorset, on 19th/20th July. In addition to the usual fast-paced action, the event will also feature a strong presence from joint-championship sponsor Renault with Formula Renault UK and Renault Clio Cup cars on display.
[ Top ]
---
Karting At Autosport International (11/06)
Karting at Autosport International, 13-16 January 2005, is set to move to form a dedicated Karting area in Hall 20 of the NEC, Birmingham. The brand new location of this pivotal section of the Show will offer Karting companies the opportunity to exhibit on all four days or just the two public days on Saturday and Sunday. The new two-day section will be created adjacent to the four-day section, forming what is hoped will be the biggest Karting area seen at Autosport International.
Jade Karts have signed up for the Show and Mark Allen comments: "We are delighted to be returning to Autosport International. The new package offered us the ideal solution, as we know this is the Show not to be missed! We particularly look forward to getting some of our own two-stroke karts out onto the indoor kart circuit in manufacturer displays, which should provide a real spectacle for the crowds!"
A host of new initiatives will also be introduced aimed at attracting more Karters from both the racing and corporate sectors. In addition to each competitor of both Stars of Tomorrow and Super One receiving a pair of free tickets for the Saturday and Sunday, special ticket offers will be arranged with top UK circuits and clubs.
[ Top ]
---
MAXXIS Formula TKM Festival (09/06)
Regulation packs for the MAXXIS Formula TKM Festival at Kimbolton have now been posted to more than 400 karters for what looks set to be another bumper event with entries already pouring in.
The regulation booklets have been sent to all of this year's S1 TKM competitors as well as those who took part in the Festival last year and to TKM F6 drivers. Further packs have also been sent to those requesting them. Any other drivers who want packs should send a 42p stamped addressed large A4 size envelope to Daphne Freeman, 76 Guntons Close, Soham, Ely, Cambridgeshire, CB7 5DN. Entries should also be sent to this address.
This year's event continues the ultra successful revised format from last year and includes timed qualifying for all drivers counting for points, three heats and a pre-final and final. Drivers get a huge amount of track time for their money. The prize fund tops £5000 and the event will be featured on Sky TV and around the world to more than 200m homes. Classes racing include the three main 2-stroke classes as well as veterans and heavyweights. Four-strokes will also race in Junior and Senior sections.
The event takes place over the weekend of 7th & 8th August with testing on the Friday.
[ Top ]
---
JKH Appoint Mach-Tech Motorsport (09/06)
JKH have announced the appointment of Mach-Tech Motorsport as official distributors. Stocking the full range of chassis and options together with genuine JKH spare parts they can service both existing and new customers requirements via mail order and/or their new showroom premises in Oldham. John Hoyle, MD of JKH said "I am delighted that we have appointed Mach-Tech Motorsport to our distribution channel. We have built up an enviable reputation for producing championship winning chassis' and Mach-Tech have both the experience and dedication to make a significant contribution to our continued success."
Mark Clutton, principal of Mach-Tech Motorsport added " Our appointment is a natural progression of our business relationship and the many years experience that we have, winning with JKH chassis. We are supplying and supporting JKH products exclusively and will be offering full support and back-up to new and existing customers."
To celebrate the announcement, Mach-Tech is offering the first five customers a complete JKH CIK Homologated Rolling Chassis at a saving of over £400. They can be contacted on Tel/Fax: 01706 841110 or e-mail: info@machtechmotorsport.co.uk
[ Top ]
---
Race At Buckmore Before S1 (08/06)
The Buckmore race meeting on 20th June will be the very last opportunity for some pre Super One practice at this challenging circuit due to date clashes before the October round. Open practice will be held on Wednesday 16th and Saturday 19th as usual. This round is also an ideal chance for WTP and Rotax classes to hone their skills and set-up pre Super One. Details and entry forms from Sheila Rose on 01634 201562 ext 210.
[ Top ]
---
Drivers Get Behind The Scenes (08/06)
Front-running drivers from the Formula Renault UK Championship, ELF/BTE Lawline Renault Clio Cup and BTE Lawline/Renault Super One Karting Championships were special guests of the Renault F1 Team during an official Formula One test session at Silverstone Grand Prix Circuit, Northamptonshire, last Thursday 3rd June.
Super One Karting stars Lee Bell (High Wycombe) and Jon Lancaster (Pudsey, Leeds) were joined by other Renault Championship leaders for a rare and exclusive opportunity to see behind the scenes of a top Formula One team, all made possible by Renault UK Motorsport Manager Tim Jackson. Not only did the guests get an opportunity to see behind the scenes courtesy of a full guided tour of the pit garages, they also met Renault F1's Monaco Grand Prix-winning Italian driver Jarno Trulli.
Speaking on the visit, Formula Renault UK Championship leader and ex Karting star Mike Conway said: "It was a very enjoyable day and it was very interesting to see so much of the inside workings of a Grand Prix-winning team like Renault F1. "We received good access to the pit-garages and it was great to be able to get so close to the cars. It was a real boost for me personally as Formula One is obviously where I want to be in the near future. I want to take this opportunity to thank Renault UK and Renault F1 for making the visit possible."
Formula Renault UK and ELF/BTE Lawline Renault Clio Cup Championship Manager Simon North said: "The day with the Renault F1 Team was a rare chance for some of our top drivers to see behind the scenes of a working Formula One team at an official test session. I'm delighted all of the drivers we invited enjoyed themselves and found the day a real benefit. We're pleased to be able to allow opportunities such as this for some of our competitors, whether they be from Formula Renault, Clio Cup or Karting, as Formula One is obviously the pinnacle of motorsport and where most young drivers aim to progress to."
[ Top ]
---
BAR F1 Guests (07/06)

Danny Cruttenden and his Cousin Ben were VIP guests of BAR F1 last Thursday 3rd June at the official F1 test day at Silverstone circuit. Danny and Ben had special pit, garage and hospitality passes for the day and spent most of the day actually in the BAR garage with Jenson Button the pit crew and other privileged guests.
The day was a fabulous insight, for the two Karting stars, into a behind the scenes look at how a top F1 team operates. "It was a special day for us" said Danny, " we were made very welcome, and to get so close to the action was amazing, Jenson is my favourite F1 driver and to watch him test and work with his team was great. I'd like to thank BAR's Ron Meadows and his team for a great day."
[ Top ]
---
CIK-FIA European Superkarts (25/05)
With 46 participants on the starting grid, the first round of the CIK-FIA European Superkart Championship (Division 1) looked very promising in Magny-Cours last weekend.
The European title-holder, Frenchman Damien Payart (PVP-FPE), won both the races held on the French F1 Grand-Prix circuit by a very comfortable margin at an average speed of over 95mph. His equipment proved extremely reliable throughout a weekend which was very hard on the Superkarts. The first competitors to suffer the consequences of this turned out to be the only three drivers capable of giving Payart some serious competition. After taking the lead from Payart in Race 1, British driver Mark Owens (ADE-FPE) was let down by a connecting rod in his engine, and in Race 2 Mark was the victim of his ignition failing in the warm-up lap. France's Alex Sébastia (EMA-FPE), who was second for a long time in Race 2 after having led on the first lap, retired half way through the race, also with an ignition failure. The young German Peter Elkmann (PVP-SGM), who brilliantly qualified in pole position, failed to finish both Race 1 (transmission) and Race 2 (puncture). There was a big scrap for the other two places on the podium of Race 1 and after a big effort on the final lap, François Vinualès (Nissag-Rotax) managed to snatch second place from Poul Petersen (PVP-Rotax) and Thomas Johansson (Anderson-FPE). In Race 2, Sébastien Mahé (PVP-Rotax) and John Riley (Anderson-Rotax) made up for their misadventures in Race 1 (engines problems for the former, a spin for the latter) by working their way up to the podium.
The CIK-FIA European Superkart Championship will continue on 1st August 2004 on the Assen circuit in the Netherlands. The full results of Magny-Cours are available on www.cikfia.com
[ Top ]
---
Practice at Barton Stacey (24/05)
The EKC in association with FEKC are pleased to announce the opening of the new 1000 metre circuit at Barton Stacey for a dedicated Prokart and WF practice day on Sunday 30th May. The circuit will be open for practice from 10am until 5pm. For further information contact Ted or Sue on 02380 471117.
[ Top ]
---
Llandow Circuit Open (20/05)
The Llandow Kart Club has had a late change in its circuit diary and as a result the track will be open to Stars of Tomorrow competitors for testing this coming weekend (22nd & 23rd May).
Several SoT teams have already contacted the circuit regarding testing availability and were told that the track will be closed, however that is no longer the case and the track will be open on both Saturday and Sunday from 10am - 5pm. The Club wishes to apologise for any inconvenience caused and any SoT drivers wishing to test should contact the circuit on 01446 795568.
The Club would also like to thank those Stars of Tomorrow competitors who joined the most recent round of the Club Championship. The visiting SoT drivers did very well with overall class wins going to Thomas Wear (Cadet Comer), Richard Singleton (Junior Rotax) and Sam Smithson (Mini Max).
[ Top ]
---
Future Stars At Renault F1 Test (18/05)
Renault UK has confirmed its list of young up-and-coming drivers who will attend an official Formula One tyre test at Silverstone Grand Prix Circuit next month as exclusive guests of the Renault F1 Team, and three of the most-talented drivers from the ranks of Super One Karting are being invited to attend this exclusive test as part of the Renault UK guest list.
These are Mark Litchfield (Rocester, Staffordshire), leader of the BTE Lawline/Renault MSA British Kart Championship, Jon Lancaster (Pudsey, Leeds), leader of the BTE Lawline/Renault ABkC ICA Championship, and Lee Bell (High Wycombe, Buckinghamshire) who heads the BTE Lawline/Renault MSA British Junior Kart Championship by a single-point.
In addition, Formula Renault UK Championship leader Mike Conway (Sevenoaks, Kent) will be joined by Canadian ace Sean McIntosh, who currently heads the category's 'Graduate Cup', and ELF/BTE Lawline Renault Clio Cup championship leader Ed Pead (Werrington, Peterborough).
All six of the lucky drivers will enjoy a tour of the pit-garages and will watch drivers Fernando Alonso, Jarno Trulli and Franck Montagny in action on circuit before taking lunch as an exclusive guest of the Renault F1 Team and Renault UK. The visit will take place on Thursday, 3rd June at the world-famous Northamptonshire venue. Tim Jackson, Renault UK Motorsport Manager, said: "This is a wonderful opportunity for the invited drivers to get an extremely rare glimpse behind the scenes of a working Formula One team in action. We're delighted to be able to offer this chance once again."
Neil Hann, series organiser of the BTE Lawline/Renault Formula A, Formula JICA and Formula ICA Championships, added: "Renault UK's sponsorship of Formula A, Formula JICA and Formula ICA this season has been fantastic news for Super One Karting and this Formula One test visit only goes to underline the importance of the partnership we have established."
[ Top ]
---
Win A World Formula Engine (17/05)
The June issue of Karting magazine contains an interview with Neil Garrison of Zoom Karts, the UK distributor for the Briggs & Stratton World Formula engine, and a free competition to win a complete engine worth £699 + VAT! Full entry details in the magazine or you can enter via their website: www.kartingmagazine.com
[ Top ]
---
Hoddesdon Kart Club (14/05)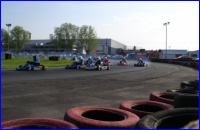 Remember Stadium flat out on lap 1, through the elbow, down to the hairpin, then right and down the back straight, - whoa! Pylon is now a left-hander, and that's not all that's new at the Hertfordshire circuit. Hoddesdon Kart Club Ltd is bringing MSA race meetings back to Rye Park as from 20th June 2004 and then on the 3rd Sunday of each month for the rest of the season.
There will be races for all classes subject to decent grids - and that's up to you, so come on, you know you want to!! For more information call Penny on 07970 484265 or fax for details on 01582 454511 or e-mail: penny.a@jonesp23.fsnet.co.uk
Penny is a 100cc veteran and is keen to see a strong 100 Libre grid. So come on all of you with good engines dying from lack of use. Dust 'em off and let 'em out!

Download Forms: (Word Documents)
[ Top ]
---
Zoom To Support British 24hr (13/05)
Zoom Karts have agreed to support the UK 24hr Endurance event at Rowrah in Cumbria on 21st/22nd August following a series of discussions with event promoters IKP Ltd. Zoom will be providing a number of race prizes as well as a discount on tyres for all the registered teams. Full details of the discounts will be given to teams in late June and a detailed list of the prize distribution will be available shortly.
[ Top ]
---
Knockhill F3 Meeting (13/05)
One current 125 Gearbox Karter in Nathan Freke, and 2 ex 125 Gearbox Karters, Chris Grieve, and Stuart Gough will be racing in the Formula 3 meeting at Knockhill near Dunfermline this weekend, and the Scottish National Motorsport Centre will also see Nelson Piquet Jnr competing in the F3 race.
Popular Gearbox Karter Nathan Freke will be having his 2nd outing in the Century Motorsport 470bhp TVR Tuscan, whilst Grieve and Gough will be racing Legends, and National Formula Ford respectively. These three racers are proof that it's not only direct drive Karting that provides a path into topflight motor sport, and all three look forward to meeting any Karters who want to come along for a chat.
[ Top ]
---
New Thunderkart EnduroSprint (12/05)
A new team series has been added to DJ Motorsport's popular race events calendar with a 6 round Thunderkart team challenge commencing in 3 weeks time, on Tuesday evening 1st June.
This new monthly event is for teams of 2 drivers and consists of practice, a 45 minute endurance race and 2 sprint heats. All equipment is supplied at a cost of £57.50 per driver and a fun evening and friendly competition is forecast. There's a race director who will ensure that everyone is pointing the right way (at least at the start), and in case you feint when standing on the winners rostrum there will be medical support in attendance as well. Compete in the Championship season or just a one off race, it's up to you.
Other Tuesday evening dates will be 1st June, 6th July, 7th September, 5th October, 2nd November and 7th December 2004. Further information is available by calling 01634 719791 or visit the DJ Motorsport website.
[ Top ]
---
Litchfield Continues FA Dominance (11/05)
Another dominant performance at Lydd last weekend saw Mark Litchfield increase his Championship lead in Formula A. Some close racing in Formulas ICA and JICA saw four different winners of the four finals, one of whom was Lee Bell in JICA Final Two who came through the field from last on the grid to first at the chequered flag. A brief race report can be found here.
[ Top ]
---
Camberley Work Party (11/05)
This Saturday, 15th May will see a work party at Blackbushe Airport. Camberley Kart Club are asking for volunteers to go along and help with some general maintenance and track enhancements that need to be accomplished prior to track resurfacing.
Refreshments will be provided and a reward, for those who give up their time to help keep this great little club running! So come on down, just bring yourself and some general garden tools, and some 'wellies' might be a good idea too. All welcome! For further information and times please contact Steve Bird on e-mail: sjbird@ntlworld.com
[ Top ]
---
European Superkart Champs (10/05)
Karting and the international CIK-FIA championships are not reserved for kids in short trousers and for young candidates seeking a professional Motor Sport career as is proved by the European Superkart Championship: its average age is 42 years old and its age bracket ranges from 21 to 61, the 'cadet' being the German Christian Hennig and the eldest driver being Sweden's ever young Bobo Westman.
The European Superkart Championship will comprise of three events in 2004, including Magny-Cours in France (21-23 May), Assen in the Netherlands (30 July-1st August) and Donington Park in England (16-17 October). Each of the three events will concern Division 1 (twin-cylinder engines), whereas Division 2 (single-cylinder) will compete in Assen and Donington only. The first round of the season is therefore scheduled for the Magny-Cours circuit, within the framework of a Formula Nissan event. 47 drivers are entered, and for Division 1 it constitutes a record since the revival of the CIK-FIA European Superkart Championship in 2002.
The European title-holder, Damien Payart, puts his title on the line to spearhead the generation of drivers who are under 30 years old, with Britain's Mark Owens and the Germans Peter Elkmann and Christian Hennig. Opposing the younger competitors, the 45 years olds and over will try to exploit their considerable experience in the category, especially the former double World Champion Poul Petersen from Denmark, Germany's Joachim Breckwoldt, the British driver Steve Edwards and the Frenchman François Vinualès. Standing between these two generations, the French driver Benjamin Mahé, Britain's John Riley and the Swede Thomas Johansson are all determined to repeat the good results they achieved at the end of the 2003 season. There are also two ladies on the entry list, namely Virginie Barandon of France and Kristin Breckwoldt of Germany. This season will see Britain's Andrew Agnew's brave Division 2 (single-cylinder) kart taking up the challenge against the more powerful twin-cylinders.
The Magny-Cours results will be available during the event on the CIK-FIA website.
[ Top ]
---
Llandow Kart Club (10/05)
Despite the recent theft that has left several drivers on the sidelines for the foreseeable future, the Llandow Kart Club are once again offering a large prize fund in two pre-selected classes at their next Club meeting on May 16th.
After receiving an overwhelming response to the new initiative last month, when both 'prize winning' classes (Senior Rotax and Senior ProKart) had their biggest grids of the season to date, the new prize fund looks set to continue for the balance of the season.
In May, drivers in Junior TKM Four-Stroke and Cadet Honda will be eligible for prizes and any competitors wishing to participate in what are trying times for the Club should contact Julie Lipscomb on 01685 874814 (evenings only).
[ Top ]
---
Super One On ITV-1 (07/05)
Confirmation of Motorsport UK's return to ITV1 screens at the end of May brings with it some fantastic news for the Super One Karting Championships which are to be featured on the popular magazine programme on three occasions this year. The BTE Lawline/Renault MSA British Kart Championship (Formula A), BTE Lawline/Renault MSA British Junior Kart Championship (Formula JICA) and BTE Lawline/Renault ABkC ICA Championship (Formula ICA), will all receive coverage on Britain's number one commercial TV channel through broadcasts in August, September and October.
Motorsport UK, which is dedicated to TOCA Tour support races such as the Formula Renault UK Championship and ELF/BTE Lawline Renault Clio Cup, has seen increased viewing figures year-on-year since its inauguration. Last year, for example, the Renault championships achieved best-ever figures of four million Motorsport UK viewers. BTE Lawline/Renault Super One Karting is already featured on digital satellite channel Sky Sports as part of the Race World programme but the addition of Super One to ITV1 scheduling is a major coup for British karting. The first screening, which will feature action from March's opening meeting of the season at Three Sisters, is scheduled for broadcast at 01.00 hours on Sunday, 15th August. Meanwhile, footage from June's Clay Pigeon round and the final meeting of the season at Larkhall will be shown on 5th September and 3rd October respectively.
Neil Hann, series organiser of the BTE Lawline/Renault Formula A, Formula JICA and Formula ICA Championships, commented: "This is great news for the karting classes in question and comes directly as a result of having Renault UK on board as a sponsor for Formula A, Formula JICA and Formula ICA. To be featured on ITV1 is a tremendous boost for Super One and for the karting to be shown alongside the likes of Formula Renault UK and the ELF/BTE Lawline Renault Clio Cup in the Motorsport UK package is a major boost to drivers, teams and sponsors."
[ Top ]
---
Half-Price Entry (06/05)
Cumbria Kart Racing Club are offering a unique deal for their 13th June meeting. All Novices and drivers who haven't raced at the track before will benefit from half priced race entry, making entry fees £17.50 for members and £22.50 for non members.
In addition, Cumbria KRC are introducing a special offer for an emerging class. They will offer half price entry fees for World Formula karts at the June meeting that will consist of three 12 lap heats and a 15 lap final racing separately from other classes. Six definite entries are needed to put this event on, and if they get 10 or more, they will give out a special trophy - the 2004 World Formula Cup.
The club already has a World Formula kart as part of the Racing for Buttons scheme that is being used by older kids, but this will be the first time they've raced in anger at the circuit. Come on, be the first to be the best. Entries by 7th June to Marion Fell at 50 Newton Road, Dalton in Furness, Cumbria, LA15 8NF or fax to 01229 463748.
[ Top ]
---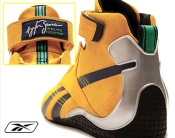 Senna F1 Racing Boot (06/05)
To coincide with the 10th anniversary of the death of this great racing driver, Reebok are to launch a race boot in the yellow, green and blue colours that are synonymous with Ayrton Senna and his homeland. Co-created with the Ayrton Senna Foundation these mid-cut boots go on sale on 1st June at a price of £70. Further information can be found on the Reebok website.
[ Top ]


---
Super Two Brings Heatwave (05/05)
Round four of the Super Two ABkC Four Stroke Championship took place at the Sandown Park Kart Club circuit in hot sunshine over the May Bank Holiday. Jay Taylor (Trulli Honda) continued his dominance of the Cadet class but there was a new victor in Juniors with Linda Playfair (MS Honda) scoring her first win at national level. The Scottish theme continued in Seniors with a win for Grant Murray (MBM Honda). Paul Granger (MS Biland) won again in the Libre class and the World Formula winner was Paul Wilkins (RPM Briggs & Stratton).
[ Top ]
---
British Karting Championships (04/05)
A clutch of Formula A challengers will have their sights set on Mark Litchfield's 25-point championship lead next weekend, 8th/9th May, during round three of the BTE Lawline/Renault Super One Karting Championships at Lydd in Kent - the Formula JICA championship, meanwhile, sees just a single point separating Lee Bell and Craig Copeland in the standings.
Litchfield's (Rocester, Staffordshire) clean sweep of Formula A ended in the second final of round two at a wet PF International Circuit, Grantham, when David Gregory (Sheffield) pipped him for victory after a spirited tussle. The championship leader is only two points shy of the maximum available after a brace of rounds with Jamie Croxford (Wotton Fields, Northants), Jeremy Metcalfe (Fleet), and Alexander Sims (Pinchbeck) all hoping to close the gap.
In Formula JICA, Lee Bell (High Wycombe) heads to Lydd with the slimmest of championship leads over Craig Copeland (Wimborne). Bell's first Formula JICA win in Final Two at PF International followed a string of podium finishes, while Copeland finished a disappointing sixth in Final Two after winning the first three races of the season.
Jon Lancaster (Pudsey, Leeds) took the top step of the podium for the first time in Final Two of the BTE Lawline/Renault ABkC ICA Championship at PFI following three other podium finishes. His consistency has rewarded him with a 19-point lead in the title chase ahead of a tight pack headed by Charlie Bruce-White (Winterbourne Gunner, Salisbury), Freddie Martin-Dye (Shamley Green, Surrey), and Chris Lamare (Inkberrow, Worcs). Behind them, winner of Final One at PFI, Riki Christodolou (Four Oaks, Sutton Coldfield), and PFI podium finishers Simon Andrews (Helensburgh) and Chris Chubb (Sutton Coldfield) will be keen to move up the championship table.
Not only will the battle be on for Championship points at Lydd, drivers from the Formula A, Formula JICA and Formula ICA classes will also be vying for an exclusive spot on Renault UK's guest list at an upcoming Formula One tyre test at Silverstone in Northamptonshire. The respective leaders of the three categories, post-Lydd, will be invited by Renault UK to join the Renault F1 Team at the special test day on Thursday, 3rd June.
[ Top ]
---
Rock Island Grand Prix (04/05)
The Rock Island Grand Prix, the world's largest karting street race, has announced its line-up of classes for 4th-5th September 2004. It is again sanctioned by the FIA/CIK and is on the international calendar. Competitors in the CIK Intercontinental C and Intercontinental A classes will compete for the prestigious World Street Championship. The races are sponsored by SBC Communications and WHBF-TV.
"We are challenging worldwide competitors to compete against each other in the world's greatest street race," said Roger Ruthhart, president of the Rock Island Grand Prix, adding a number of foreign teams have already indicated plans to attend. "A street race is a unique experience. Because it is a temporary circuit, there can be no advance practice. Teams must show up prepared to hit the proper setup and find the best lines around the track after only a few short practice sessions. A street course is a great equalizer. It's just like racing Formula 1 but on a smaller scale. Winning either the ICC or ICA World Street Championship, at one of the world's premier events, is a major honour for any team."
"The Rock Island Grand Prix is the premier street race in the country and we are excited to be a highlight of this great event. We look forward to some great racing and best of all, a fun weekend," said Dave Klaus, Motorsports marketing coordinator for Briggs & Stratton. For the fourth year, "The Rock" will host the Superkarts! USA "King of the Streets" race sponsored by Bondurant SuperKart School, which will feature the top North American ICC gearbox racers. This year's race will run under SKUSA rules, but will be open to approved non-SKUSA licensed drivers.
Rock Island is located in an area known as the Quad-Cities on the Mississippi River. The area has a population of 375,000 and welcomes karters with open arms. The Quad-Cities features three riverboat casinos and a great variety of entertainment and attractions. The Downtown Rock Island Arts & Entertainment District, which hosts the race weekend, is a great spot to go after a day of racing. It features a casino boat, a number of top restaurants, coffee houses, night spots, comedy clubs and dinner theatre all within walking distance of the pit area and the host hotel. Live outdoor entertainment is featured on the Great River Plaza throughout race weekend.
Information on this exciting motorsports event is available by visiting www.rockislandgrandprix.com or by calling the Grand Prix office at +1 309 292 8133 or e-mailing grandprix@qconline.com for race and entry information.
[ Top ]
---
Buckmore S1 Weekend Practice (30/04)
Date clashes later in the season limit the chances of practice at Buckmore Park. The race weekend in May could be the last chance to prepare yourself for the Super One round later in the season. Open practice is arranged for Wednesday 12th May and Saturday 15th May from 10am to 4pm. Round two of the BPKC summer championship follows on Sunday 16th May. This is also a golden opportunity for those drivers competing in the Rotax Gentlemans Challenge to get some practice.
Race entry forms can be obtained from club secretary Sheila Rose on 01634 201562 ext 210, or you can download them direct from the Buckmore Park website.
[ Top ]
---
Bayford Meadows Circuit (30/04)
The Bayford Meadows Kart Circuit has recently launched its new look website. For all current circuit information, race reports, circuit calendar and regularly updated news please visit www.bayfordkarting.co.uk
Bayford Meadows Kart Club is looking to attract Heavyweight Senior Rotax drivers to compete at its MSA Sprint meetings, which are held on the 4th Sunday of every month. The club is hoping that with sufficient interest the class will have its own grid and championship. To help launch the new class, special prizes will be awarded at the meetings. The next two rounds are on 23rd May and 22nd June. For further information or to enter please contact the circuit on 01795 410707.
[ Top ]
---
Internations Challenge (30/04)
With the extremely congested fixture list the ABkC Internations Challenge meeting has been unable to find a date which enables every nation to take part in 2004. ABkC co-ordinator Steve Chapman said: "The teams involved from England, Scotland, Wales, Northern and Southern Ireland are all naturally disappointed but they are looking forward to setting a date as soon as possible for the 2005 meeting which will take place in Scotland."
The Internations Challenge was first run in 1996. It is the only inter nation race series that combines two stroke, four stroke and gearbox classes. Each nation provides a five driver team to compete in Cadet, Mini Max, Prokart Twin, Rotax Max,100 Libre and 125 Gearbox. Held over three days each nations' points are accumulated from heats and finals to determine the overall Internations Challenge champions. Each year a different nation plays host to what is one of the most exciting events you could wish to see. Combining the national colours of the drivers uniforms with an abundance of flags makes this the most colourful meeting in the Karting calendar. Drivers who are interested in taking part in 2005 are encouraged to contact the ABkC for details of their countries' challenge organiser, e-mail: secretary@abkc.org.uk
[ Top ]
---
Motorsport Safety Fund (29/04)
A new leaflet for Kart marshals from the Motorsport Safety Fund is now available. Known as a 'z' leaflet it contains comprehensive guidance aimed specifically at Kart activities and it folds to a very small convenient pocket size.
The Motorsport Safety Fund is a registered charity formed to help improve safety in motorsport. It does this mainly through the Watkins Lecture and the publications and videos produced for distribution to all motorsport organisations, both home and abroad. Further information can be found on the MSF website and copies of the Kart marshalling leaflet can be obtained by post from Motorsport Safety Fund, PO Box 239, West Malling, Kent ME19 4BL (50 copies for £10 donation incl post.)
[ Top ]
---
Charity Tribute Dinner (29/04)
A John Surtees charity dinner function is to take place at Sywell Aerodrome near Northampton on Tuesday 29th June 2004 in support of NARA - The Breathing Charity.
There will be a VIP guest list of motor racing personalities with displays of cars and motorcycles that have been part of John's career and the organisers hope to raise funds for those suffering from severe respiratory problems. If you would like to support this event please contact NARA at Moulton Business Centre, Redhouse Road, Northampton NN3 6AQ or phone 01604 497550. Tickets are £60 per person and tables set at 8 seats.
[ Top ]
---
Lydd International Raceway (28/04)
The Kent Kart Racing Club race meeting at Lydd this coming weekend, 1st-2nd May, will include grids for Libre and 100 National for those contesting the Super 1 Championship at the circuit later in the month. The meeting should produce some excellent racing for the many drivers and it's also a good opportunity for those competing in MSA Super 1 classes at the track the following weekend. For further information contact Lydd International Raceway before 9pm on Friday, telephone 01797 321895 (day) or 01797 362474 (evenings).
[ Top ]
---
Daytona Jobs, Jobs, Jobs (26/04)
Following last years management buyout of Daytona by Jim and Charles Graham, their plans to expand the activities at all three venues are coming on apace. As a result, Daytona has a number of vacancies across the venues.
Daytona Sandown Park has full-time vacancies for an Assistant Operations Manager and also for Sales Assistants. Applicants for the Assistant Ops position should be based in the Esher area or be prepared to relocate. A dynamic responsible person to take on this challenging role is required and although experience in the Karting industry is not required, a mature outlook, smart appearance and a positive attitude to customer service definitely is. The primary Sales Assistants role will be booking drivers into race events, meeting and greeting customers at Reception and handling telephone and e-mail enquiries. Candidates will need to be good communicators and have a positive approach to customer service, some evening and weekend work is required and full training will be given.
There are also vacancies for full-time and part-time Race Directors, Race Marshals, Receptionists, Café and Bar Staff at all three Daytona venues. If any of these positions interest you and you would like more information, contact your local Daytona circuit or click here for the Daytona website.
[ Top ]
---
Thieves Strike At Llandow (23/04)
Another break-in, and another group of karters out of the sport. The Welsh circuit has fallen victim to the latest string of night-time raids, with the low lives getting away with a dozen karts, generators and tools during the course of last Wednesday night. Proprietor Ken Denscombe said, "They've taken mostly junior karts. That makes me very angry. It's something the children look forward to each month, it's going to be so heartbreaking for those youngsters."
The Llandow Kart Club has decided to take affirmative action by setting up the National Database of Stolen Karting Equipment. "We have seen a massive increase in theft all around the country, and we intend to make it very difficult for these people to sell on stolen karting equipment" said Club Secretary Peter Jones, "The club will collate serial numbers and descriptions and mail these out to Clubs, Scrutineers, Technical Officials and anyone else who wants to keep an eye out for stolen equipment."
[ Top ]
---
Forest Edge KC (23/04)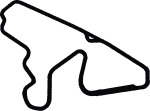 Forest Edge Kart Club is proud to say that their new circuit at Barton Stacey in Hampshire is now operational and the first test day will be held on Sunday, 25th April 2004.
Please be aware that the newsletter recently sent to club members stated that it would be a 2 day practice, but unfortunately on Saturday 24th April there is a need for a further work party in order to get minor things finished for Sunday.
It has been a long time in the making with plenty of obstacles in our path, but the tarmac is finally down said an FEKC spokesperson, the circuit promises to be one of the best in the country with a total length of 1000m, eleven corners, each one very different and a 300m straight for gearbox, and probably the largest tarmac pit area of any kart club in the UK.
For further information about forthcoming race meetings please check the Forest Edge KC website.
[ Top ]
---
Championship Leaders Bonus (22/04)
Drivers from the BTE Lawline/Renault Super One Karting Championships, along with those from the Formula Renault UK Championship and the ELF/BTE Lawline Renault Clio Cup, will have the opportunity to attend a special Formula One test session at Silverstone on Thursday, 3rd June, as exclusive guests of Renault UK and the Renault F1 Team.
The amazing chance will fall to the respective points leaders in the BTE Lawline/Renault MSA British Kart Championship, BTE Lawline/Renault MSA British Junior Kart Championship and the BTE Lawline/Renault ABkC ICA Championship after round three of the year at Lydd (8th-9th May).
Those lucky enough to be invited to the Formula One test will enjoy a tour of the Renault F1 Team garage and will watch drivers Fernando Alonso, Jarno Trulli and Franck Montagny in action on circuit before taking lunch as a guest of Renault UK and the Renault F1 Team. Tim Jackson, Renault UK Motorsport Manager, commented: "This is a wonderful opportunity for the invited drivers to get an extremely rare glimpse behind the scenes of a working Formula One team. We're delighted to be able to offer this chance once again and I'm sure this announcement will prove to be a major bonus for the drivers in the Renault-backed Super One Karting Championships."
Series organiser of the BTE Lawline/Renault Formula A, Formula JICA and Formula ICA Championships, Neil Hann, added: "Whoever leads each of the three Renault-backed classes after Lydd will get what could prove to be a once-in-a-lifetime opportunity and, as with last year, this announcement is sure to get the paddock buzzing. Renault UK's sponsorship of Formula A, Formula JICA and Formula ICA this season has been fantastic news for Super One Karting and this Formula One test visit only goes to underline the importance of the partnership we have established."
[ Top ]
---
2004 European Championships (22/04)
Entries for the first round of this year's European Championships in Sarno, Italy next month (14th-16th May) total 194 drivers over the 3 classes; Formula ICC, Super ICC and Formula A. Brits include Gary Catt, David Gregory, Ben Hanley, Mark Litchfield, Jeremy Metcalfe, James Miller, Oli Oakes, Martin Plowman, Peter Rees & Alex Sims, all competing in Formula A. We wish them all the best.
[ Top ]
---
A Record Month (14/04)
The UK Karting website achieved a record 49,389 unique visitors during the month of March 2004, consolidating its position as the No. 1 Karting site in the UK and Europe. Our thanks to everyone for helping make the site a popular place for newcomers and experienced Karters alike.
Are you advertising your business to almost 50,000 individuals each month? Are your products and services being seen? Contact us for more information on how you can share in the success.
[ Top ]
---
Nathan & Andy (14/04)
Nathan Freke has been taken under the wing of Andy Martin of F1 Karts to compete in the full MSA British Division 2 250cc Long Circuit Championship and the European Championship with full works support. He was pleased to easily qualify for the main series on Monday at Darley Moor after encountering a few teething problems.
Following the collapse of his funding to compete in the TVR Tuscan Challenge Series, Nathan has secured backing to participate in the Silverstone round of the series this coming weekend. He will be racing under the banner of Silverstone TVR - a new dealership, Osborne & Sons TVR Insurance, and run by Century Motorsport in conjunction with Pete Osborne Racing. This meeting is on the same card as the British F3 series and will generate some real fast and furious racing.
Just to prove that he rarely sits still, Nathan has also recently passed his instructors test to become a licensed ARDS instructor.
[ Top ]
---
Super 2 At Daytona MK (13/04)
Records fell when Super Two hit Daytona International at the Easter Double Header.
A new unofficial lap record for Daytona was set by Paul Granger (MS Biland) on his way to winning the Libre final on both days. The new World Formula class provided close racing with wins for Sean Durcan (RPM B&S) and Paul Wilkins (RPM B&S). In the Honda classes, the Cadet winner was Jay Taylor (Trulli Honda) on both days after some very close racing, the Junior victories went to Chris Archer (MS Honda) and Martyn Lyell (7Kart Honda) and the double Senior winner was Darren Stacey (7Kart Honda). The historic first Rotax 175 race at Daytona went to Winston Bent (Tony Rotax), with Steven Chapman (Tony Rotax) the victor on the second day.
[ Top ]
---
'SHIFT' In Team Christodoulou Linkup (13/04)
Riki Christodoulou's status as one of Britain's brightest Karting talents continues to be confirmed. At the beginning of this month the 15 year won his first ICA British Championship final and this week can reveal that he has the backing of the SHIFT clothing company. The 2003 JICA British number one has linked up with the firm who support athletes at the highest level in motocross and other off-road disciplines and will wear SHIFT racing gear as well as the company's line of causal clothing at meetings throughout the remainder of this season.
"This is a great deal for us and we are happy to be with someone like SHIFT," remarked a Team Christodoulou spokesperson. "Riki received a lot of attention when he wore the new clothing at the last round of the British Championship and we hope this relationship will be as beneficial for SHIFT as it will be for us." SHIFT will be represented not only by Riki's attire but also with decals on the Kart and logos on the driver's website. The SHIFT brand is owned by the world-renowned Fox label. MD of Fox Europe, Ian Calvesbert, commented on the deal: "We are proud to be associated with Riki as we have learned of his achievements and seen his potential and believe he is one of the best young Karters around. At SHIFT we only want to be affiliated with the top athletes and professionals. We principally had our interests in Motocross and the US scene but now we are branching out to other motorsports such as KART, NASCAR and of course Karting. We see Riki as an important part of our plans in Europe and have started a relationship that we hope will run for years to come; we like to look long-term with our deals."
Team Christodoulou's next meeting takes place this coming weekend with the third round of the Italian Open Championship, Riki finished second the last time he participated in the series several weeks ago at Lonato.
[ Top ]
---
Karting Fun Race (13/04)
DJ Motorsports are once again holding a Karting fun race, on Sunday morning 25th April at Buckmore Park.
It's a full one hour hire-kart endurance race using Buckmore Park's fleet of twin engine prokarts and is for teams of two drivers. This popular event has a compulsory driver change every 15 minutes and caters for everyone aged 17 years or over (14 or over if in possession of a valid MSA licence), and it has brought some interesting racing partnerships together in the past with mother & daughter and granddad & grandson teams, besides the usual friends and family alliances all hoping to grab a trophy when the chequered flag is waved. For further details and entry call 01634 719791 any time between 9am & 9pm, 7 days a week.
[ Top ]
---
Pre-Season Testing at Buckmore (08/04)
Open practice at Buckmore Park is to be held on Wednesday 14th and Saturday 17th (both during the school holidays) and is the last chance to get in some testing at this demanding circuit before the Summer Series gets underway on the 18th April. Due to the Easter break race entries are being accepted until Tuesday 13th April.
Buckmore will also be hosting the following National Championships and Challenges.
16th May - Rotax Gentleman's Challenge
20th June - Europa Challenge
25th & 26th September - BRDC Stars of Tomorrow
9th & 10th October - Rotax Super One Final Round
17th October - WTP Challenge
[ Top ]
---
FEKC Almost There (07/04)
Forest Edge Kart Club's new circuit at Barton Stacey will see kart practicing for the first time on the weekend of 24th or 25th of April (date to be confirmed), and they will be racing for the first time on the Sunday 2nd May.
It has been a long time in the making with plenty of obstacles along the way, but the Tarmac is going down at long last. The circuit promises the be one of the best in the country with a total length of 1000m, eleven corners, each one very different and a 300m straight for gearbox, and probably the largest tarmac pit area of any Kart Club in the UK.
However there is still plenty of work to be done and all help and volunteers will be much appreciated. Working parties are imminent so please check the Forest Edge KC website regularly for updates and information.
[ Top ]
---
Llandow Spring Madness (07/04)
Llandow Kart Club will be running a special event for Senior Max and Senior ProKarts at their Sunday 18th April meeting with a huge prize fund in both classes, and using their new six race format. Get your entries in early to Julie Lipscomb, Competition Secretary, 37 Monk Street, Aberdare, Mid Glamorgan CF44 7RF. Tel & Fax: 01685 874814 (evenings only.)
[ Top ]
---
Super One At PF International (06/04)
Rain couldn't dampen Super One at PF International last weekend and was welcomed by some competitors, and it helped spring a few surprises. Mark Litchfield found himself off the top step of the podium for the first time this season in Formula A as did Craig Copeland in JICA, whilst current Formula ICA Championship leader Jon Lancaster enjoyed his first win of the season, as did Riki Christodoulou in the first final. A brief race report can be found here.
[ Top ]
---
Devastation For Karting Families (05/04)
Junior Max driver Aaron Steele who is competing in the Super One on a GP suffered a major career setback after awaking last Sunday morning to find all his equipment had been stolen; Kart, motors, tools, ancillaries, even Aaron's bike and some old chains. All were taken from a secure workshop in the rear garden of their home. The loss could not have happened at a worse time in Aaron's flourishing career with his family already struggling to fund his racing. Said Aaron's father Kevin Steele, "The low-life that stole this equipment probably do not know that what they have stolen as it's really of no use to them, a GP unlike say a Tony Kart is quite a rare beast and will not just blend in, ours was very distinctive fitted with both carbon seat and floorpan, Alfano steering wheel, and bodywork with graphics looking quite battered after the 1st round of the Super One at Clay."
The family are in possession of the log books for the motors so thieves cannot get them rebuilt and the theft is being notified to JAG Engineering as well as all race venues. Identification information: Kart GP6 Chassis number 0170. Junior Max Motors: Serial no 770866 seal number 003137 & serial no. 784518 seal number 002696. The Steele family would appreciate hearing from anyone with any information and Kevin Steel can be contacted by e-mail at; ksmotorsport@msn.com
Again on Saturday night thieves stole a significant amount of equipment from Little Rissington, including Adam Pitt's (Cadet No. 39) Kart and all tools, spares and equipment. The kart is a Zip Puma, chassis No. 180, blue with black pods and race number 39. Two Comer W60 engines, both Soixante racing, UK0035, seal 000971 and GB0258, seal 000618 were also taken. The transponder ID number is 1306200 and the kart was fitted with an Alfano Pro. In addition socket sets, a tool box, tracking disks, chains, sprockets, slicks, wets and all of the other items you would expect to run a competitive cadet kart were taken. None of this equipment was insured.
Any information regarding any of the above would be gratefully received. Adam's father Andrew said; "This may well be the end of our karting after three years spent putting it all together. Please remember, if you are offered equipment at prices that are too good to be true, it has probably been stolen! To the engine sealers and tracks where the transponder may surface, please call the police immediately if any of the above numbered items appear." He added, "Thank you to all of the people who offered us equipment and support on Sunday morning and for the calls we have had since. I am sorry if we seemed a little ungrateful, we were all a little too upset to think things through rationally." The Pitt family can be contacted by e-mail at karen@pittk.fsnet.co.uk
Others to suffer losses recently include Dave Tansley whose Arrow AX8 30/32 Kart with Senior Rotax Max was engine stolen from Rissington Kart circuit sometime between 10pm on Saturday 3rd April and 6am on Sunday 4th April. The Kart is purple with white Arrow bodywork and is fitted with an Alfano and lightweight fuel tank. Chassis number A7311. Engine serial number is 782061, seal number 005905JAG. If anyone has any information regarding the whereabouts of this kit, or is offered it for sale, please e-mail; dtansley@deloitte.co.uk or call Dave on 07899 066168.
A few days earlier on 1st April an opportunistic thief stole a Merc Vito van (MK53 VMO) from Tockwith village. The van was sign-written "Tockwith Motorsport" and it contained Nigel Moore's Birel rolling chassis (number 410840). Race number 3 with Simpson pod stickers as well as the usual Super 1 stickers. A quantity of Snap-On tools were also in the van along with a white and purple girls bike. Once again any information would be greatly appreciated; please telephone Carol Moore on 01423 358501.
Anyone with information that they wish to leave anonymously can do so by calling Crimestoppers free on 0800 555 111. Further advice about contacting Crimestoppers can be found on their website.
[ Top ]
---
Super Two & Rotax 175 Champs (31/03)
Wins in the new World Formula class for Paul Wilkins (RPM) and in Rotax 175 for Dean Bednarek (Tony) saw them both off to a good start in their respective championships last Sunday, 28th March. In the Honda classes Cadet Elliot Rice (Project One), Junior Mark Hobson (7Kart) and Senior Darren Stacey (7Kart) all secured wins to get their season off to a flying start. The Libre winner was Paul Granger (MS Biland).
Next round is at Daytona-Milton Keynes over the Easter weekend, 10th & 11th April.
[ Top ]
---
British Championship Resumes (29/03)
Formula A Championship leader Mark Litchfield (Rocester, Staffordshire) and Formula JICA pace setter Craig Copeland (Wimborne) will be aiming to continue winning ways when round two of the BTE Lawline/Renault Super One Karting Championships take place at PF International Circuit near Grantham this weekend, Sunday, 4th April. Both drivers enjoyed faultless starts to their respective BTE Lawline/Renault MSA British Kart Championship and BTE Lawline/Renault British Junior Kart Championship campaigns during the season-opening event at Three Sisters, Wigan, last month and will be aiming to build on the perfect points tallies achieved after taking a brace of wins each. Litchfield is likely to be pushed hard in the Formula A class by reigning champion Gary Catt (Thruxton, Hampshire) - who endured an uncharacteristically poor weekend during round one - and Alexander Sims (Pinchbeck, Lincolnshire) who is currently second in the standings.
Meanwhile, in Formula JICA, Copeland will be expecting to continue his tremendous form although Lee Bell (High Wycombe) and Richard Singleton (Conway) should provide some fierce competition. Singleton, in particular, proved to be a revelation at Three Sisters having only registered to compete in the championship at the 11th hour.
In the BTE Lawline/Renault ABkC ICA Championship, Jon Lancaster heads the standings following a solid display during the opening meeting of the season but Freddie Martin-Dye (Shamley Green, Surrey) will be hoping for better luck after technical problems robbed him of the chance to win during the opening round of the season. Martin-Dye's regular sparring partner Riki Christodolou (Four Oaks, Sutton Coldfield), the reigning Formula JICA Champion, didn't get his Formula ICA career off to the best of starts at Three Sisters and will be keen to make amends at PF International on Sunday - the scene of his 2003 title triumph.
Highlights of last month's Three Sisters meeting will be screened on Sky Sports 3 at 19.00 on Thursday, 1st April.
[ Top ]
---
Buckmore Kart Sale (26/03)
Following the replacement of the fleet at Buckmore, they have the following karts available for immediate sale.

36 Biz Thunderkarts with tuned 390cc engines. The karts can be supplied with either lightweight or heavy (corporate) bodywork. For full details, click this link.
6 LRG Promax karts with Junior Max engines. As used in the SE Promax Championship. For details click this link.
3 100cc Junior TKM Karts as used at the Sisley Kart School. Details available by clicking here.
[ Top ]
---
Rowrah Date Change (25/03)
With the first round of Stars of Tomorrow taking place on Rowrah's normal April club date, the club meeting has been moved to the first Sunday of April 2004.
The meeting will now take place on Sunday 4th April and should be an ideal opportunity for Stars competitors to get some raceday practice in before the season opener. With the meeting being close to Easter, junior drivers can expect some goodies to bring some Easter cheer. Get your entries in now for the club and Stars events. Contact Marion on 01229 463748 or e-mail: marion@markfell.co.uk
[ Top ]
---
WTP Grid at Clay? (22/03)
South West WTP have announced that they hope to have a WTP grid at the next race at Clay Pigeon on 11th April 2004. All entrants should contact the Competition Secretary at CPKC, Linda Appleby on 01935 822257 between 6-9pm, or download an entry form from the Clay Pigeon website.
SouthWest WTP is a pressure group set up by drivers and parents to encourage all MSA events to have a full and separate WTP grid at all kart races. They wish to encourage all WTP karters who are either resident in the South West or go there to race, to contact them so that they can try, with the assistance of the existing clubs, to have some large scale regional races. Look at the South West WTP website for further information and contact them at info@southwestwtp.co.uk
[ Top ]
---
Daytona Kart Sale (18/03)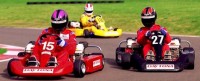 Daytona are selling a fleet of twins 25 twin-engined prokarts at £750 plus VAT each. Well maintained and in good condition, they are Biz 2002 3 axle bearing twin Gx160 engines 1/2 wraparound, Kelgate hydraulic brakes, black Tillett seats, flipover pedals, lightweight Ackerman steering, roller taper bearing stub axles, fitted with Duro tyres.
Only enquiries for the whole fleet can be considered, and interested parties may inspect/test the karts at Daytona Sandown Park. E-mail Guy at guy.sheffield@daytona.co.uk or call him on 0845 644 5502.
[ Top ]
---
It's Hanley Again (17/03)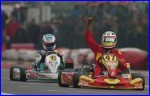 Ben Hanley last weekend won the 15th Margutti Trophy in Parma Italy and became the first ever driver to win the Winter Cup (Garda) and Margutti Trophy (Parma), the two big season opening races, in the same year. Ben came under pressure from Davide Fore during the last two laps of the race, but even a last lap punt was not enough to prevent Hanley taking his second major win this year.
[ Top ]
---
Adam Neave Memorial Race (16/03)
It has been nearly a year since Adam Neave of Thundercats Racing suddenly passed away. He was well known in the Thunderkart endurance series, and also many knew him from the Sandown ProKart series as well.
As a memorial to Adam, a race will be run in his memory on Monday 3rd May 2004 at Daytona International, Milton Keynes. The race will be run to the Daytona Open Championship regulations, and will be directed by Andrew Hornsey. The event can run up to 40 karts on a first come first served basis. The proceeds from this event will go to Adam's favourite charities: Cats Protection, and the Northern Newfoundland Welfare Society.
"I know that many people were touched by Adam's enthusiasm and willingness to help anybody, and I wanted to give people the chance to get together in memory of him, for a good cause", said Tim Jordan of Thundercats Racing.
All those that would like to take part in this event should contact Andrew Hornsey at Daytona on 01908 234 662.
[ Top ]
---
Super One on TV (15/03)
Television coverage of Britain's three premier karting classes is scheduled to begin on Sky Sports in less than three week's time as part of the Race World programme. The BTE Lawline/Renault MSA British Kart Championship, BTE Lawline/Renault British Junior Kart Championship and BTE Lawline/Renault ABkC ICA Championship will be featured on the prime-time show at 19.00 on Thursday, 1st April. At this stage it's still yet to be confirmed which of the four Sky Sports channels will carry the broadcast.
Race action from the recent season-opening rounds at Three Sisters, near Wigan, will be featured and there will also be coverage of the Formula 100 National and Formula Cadet categories from the same event. Details of subsequent TV broadcasts throughout the course of the year will be outlined on the Renault Sport website.
[ Top ]
---
Equipment Stolen (10/03)
Rissington Kart Club member Will Miller, Junior TKM no. 98, and his family were left shocked after a break-in at the family's home following last Sundays Rissington meeting.
Their Sandhurst home was broken into in the early hours of Monday morning 8th March; ignition keys were taken and their red Volkswagen van parked outside was stolen, with the thieves driving away the van at around 5.30am. At some point all equipment inside the van was off-loaded, as it was empty when later found burnt out at Blackbushe airfield on the Hampshire/Surrey border.
The Volkswagen Transporter van was red with gold 'W & G Mechanical Services' lettering on it and the kart equipment included a Venom Attack chassis serial number 17402 Plate number 06824, and four BT82 engines serial numbers, 5555, 4086, 3764 & 5536.
Would anyone with any information please contact Will's father Graham on either 079600 95837 or 01276 32503 and leave a message, or ring Crimestoppers anonymously on 0800 555 111.
[ Top ]
---
Lodgemark Shop Launch (09/03)
Lodgemark Press, publishers of the popular monthly Karting magazine have added a shop to their Internet presence. In addition to being able to submit classified adverts, buy single issues of Karting magazine and 6 & 12 month subscriptions, it's also possible to purchase books, videos, CD Roms and DVDs from their complete range now online.
Some recent additions to their stock include the superbly illustrated Birel book 'Birel 40 Years of Kart Technology and History'; the '2003 Ultimate Karting Challenge' video which includes edited highlights of all 13 classes at Rissi's Midland Championships, and action from Skysports' coverage of the '2003 TKM Super 1' on DVD.
To see other titles and for further information visit the Karting magazine website shop.
[ Top ]
---
Plowman Picked For Membership (09/03)
Top British karter Martin Plowman, from Tamworth, has been selected from a host of young drivers to join the BRDC as a 'Rising Star'.
Plowman's potential was recognised by the panel of judges after he dominated the French International Open Formula 'A' class last year to become the first ever Brit to clinch the prestigious CIK/FIA crown. The Tamworth teenager, aged just 16, finished off a near perfect season by finishing sixth in the World Karting Championships. Delighted with the award, Plowman said: "It is a privilege to be selected to become a member of the British Drivers' Racing Club by the Rising Stars committee. Membership to this truly unique club can only help me progress through the ranks of karting and into cars. It is sure to have an impact on my career and I am extremely grateful for the recognition and support."
Potential candidates are selected for Rising Star membership by BRDC 'scouts' who select a small number of karters and young racing drivers. The BRDC Rising Star scheme offers future champions help, training and the opportunity to enjoy the vast benefits of the Club for a five-year period.
Plowman now joins an impressive list of top British drivers already part of the Rising Stars scheme, including BAR F1 official test driver Anthony Davidson; British F3 Champion Robbie Kerr; McLaren/Autosport BRDC Young Driver of the Year Alex Lloyd; Formula Renault star Susie Stoddart and F3 ace Danny Watts, and will proudly display the BRDC Rising Star badges on his race suit and kart this season as he prepares to defend his French Championship crown and also contest the Italian, European and World Championships.
[ Top ]
---
Fine Starts In Season Opener (08/03)
An excellent start for some but disappointment for others in the BTE Lawline/Renault events at the Three Sisters circuit near Wigan in Lancashire yesterday. For brief race reports and points table click here.
[ Top ]
---
AbkC Gearbox Championships (08/03)
The 2004 season of Super 4 Gearbox Racing is fast approaching with Championship rounds starting at the beginning of April. Registrations need to be in very soon now to receive registration packs in time for the first rounds.
The 125 ICC class is likely to be the most popular, with 125 Super, 250 National and Junior Gearbox all showing well. The Europa class makes a welcome return to Super 4 racing over 6 rounds and there's a special 4 round series for a 250 Open category competing at the main rounds.
For further information on the Super 4 e-mail: lesley@super4.co.uk
[ Top ]
---
JICA Grid for SoT (05/03)
BRDC Stars of Tomorrow are to include a grid for JICA in 2004. After discussions with Colin Hilton, Neil Hann, Paul Fletcher and the BRDC it was decided that in order for the class to survive, more than the six races provided by Super 1 was needed. The BRDC Stars of Tomorrow will provide a further seven races to boost the class and hope with encouragement overseas drivers will visit the Championship during the year. The future of the Junior Intercontinental A (JICA) category has been bolstered by a new series that boasts a prize of £25,000 for the winner to put towards a drive in Zip Formula in 2005.
Zipkart boss Martin Hines, one of the driving forces behind the £25,000 prize for JICA, has called for existing and potential drivers in the class to pledge their support to the new series as soon as they can. "If they want this to work, the drivers have to come and support the people who are trying to do it," he said. "There's a month until the first round and it is down to them to enter. The most important thing is to pay their entry fee to Super One now."
Because the package has come together so fast, the JICA class at this weekend's opening Super One round will not count towards the new series. The first points scoring round will be the Super One event at PF International on 4th April, followed by the BRDC Stars of Tomorrow season opener at Rowrah on 11th April.
E-mail BRDC Stars of Tomorrow or telephone 01327 850934 for further information.
[ Top ]
---
Season Starts At Three Sisters (03/03)
This coming weekend signals the hugely anticipated opening races in the UK's three premier karting classes - Formula A, Formula JICA and Formula ICA - at Three Sisters Circuit near Wigan with almost 80 young drivers from the cream of domestic karting registered to take part in this MSA British Super One Kart series. With backing from legal services specialist BTE Lawline and motoring giant Renault UK, the 2004 Formula A, Formula JICA and Formula ICA championships are expecting to be the best in their respective histories with many of the country's top karters returning or stepping up to one of the three categories in question.
Formula A - Reigning champion Gary Catt (Thruxton, Hampshire) returns to defend his title in the BTE Lawline/Renault MSA British Kart Championship and will be joined by Vice-Champion Mark Litchfield (Rocester, Staffordshire), 2002 champion Mark Rochford (Charlton Musgrove, Somerset) and former title winner Chris Rogers (Waltham Cross, Hertfordshire). Other notable names likely to be at the front throughout the season include current ABkC ICA Champion Jason Edgar (Cleator, Cumbria), Jason Parrott (Crowland, Peterborough) and Alexander Sims (Pinchbeck, Lincolnshire). A total of 33 drivers are expected to enter qualifying for round one at Three Sisters.
Formula ICA - The 2004 BTE Lawline/Renault ABkC ICA Championship sees a plethora of star names graduating from the junior classes including the likes of reigning Formula JICA Champion Riki Christodoulou (Four Oaks, Sutton Coldfield), JICA Vice-Champion Freddie Martin-Dye (Shamley Green, Surrey) and ex-JICA competitor Jon Lancaster (Pudsey, West Yorkshire). Last season's ICA Vice-Champion Danny Cruttenden (Wilmington, Kent) returns and must surely be one of the favourites for the 2004 title with Chris Chubb (Streetly, Sutton Coldfield) and Sam Hill (Almandsbury, Bristol) also remaining in the category. A total of 32 karters are currently entered for the 2004 ICA championship.
Formula JICA - Even though the BTE Lawline/Renault MSA British Junior Kart Championship field is currently half that of its senior Super One neighbours, it isn't to say the racing will be any less action packed or exciting. Adam Christodoulou (Shenstone, Litchfield), cousin of ICA competitor Riki, is the main 'name' to make a move to Formula JICA this season and will be gunning for title glory alongside regulars Adam Batch (Swanland, East Yorkshire), Daniel Rowbottom (Mamble, Kidderminster) and Tom Armour (Emerson Park, Hornchurch).
[ Top ]
---
BTE Lawline Become Joint Sponsor (03/03)
Britain's top three karting classes are to be jointly sponsored throughout 2004 by Renault UK and BTE Lawline after the specialist legal services company announced its involvement with the series. Speaking ahead of the new season, which begins at Three Sisters near Wigan on 6th/7th March, BTE Lawline sales director Tony Instrall said: "This partnership makes perfect sense as it brings together two brands inter-linked through dedication to, and passion for, motor racing. I'm delighted to confirm our status as joint-headline sponsor of the BTE Lawline/Renault Championships."
During 2004 the top three UK karting classes - Formula A, Formula JICA and Formula ICA - will be respectively titled:
BTE Lawline/Renault MSA British Kart Championship.
BTE Lawline/Renault MSA British Junior Kart Championship.
BTE Lawline/Renault ABkC ICA Championship.
The partnership between BTE Lawline and Renault UK creates one of the most powerful alliances in national motorsport and will bring Britain's top emerging young drivers from Formula A, Formula JICA and Formula ICA closer to the country's leading single-seater series, the Formula Renault UK Championship, and the top one-make saloon car championship, the ELF/BTE Lawline Renault Clio Cup.
[ Top ]
---
Robin Subaru Prokart Engine (02/03)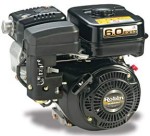 SRT have been testing an OHC 169cc - 5.7hp Robin Subaru engined Prokart and took it to Stretton 2000 in Leicester on Sunday the 22nd February to sort out gearing comparisons and lap times compared to the GX160 karts. Their aim was to assess the engines for entry into the open endurance held at Daytona Milton Keynes.
There were a number of owner-drivers already practising when SRT set about their testing and setting, and as the morning progressed and the snow flurries fell the Kart began to create quite a stir. Many questions and statements of "what are those - they look nice!"; "Its quick what cc are those?"; "Isn't it quiet!"; "how much are they?"; "do they fit straight onto a Prokart Chassis", were replied to but following further discussion on the UKK Notice Board, here are the answers to some of the questions.
1. It's a Robin SUBARU (FUJI) engine.
2. It's a Chain Driven Overhead Cam engine.
3. It fits on a Prokart chassis
4. In theory because of it being overhead Cam and the tighter tolerances, it should be very reliable. They have had no issues and it has run continuously for 7 hours and 5 hours on the track. The Oil samples show very little (none to be exact) signs of any metal particles.
5. It is effectively the next generation engine that will replace the GX and other Mower/Generator Engines of the slant OHV format. If mowers and gennies are developing surely karting should to.
6. They are noticeably quieter.
7. They are as fast - if not slightly faster.
8. They are slightly more expensive, due to the tighter tolerances implemented.
9. The tighter tolerances enables these engines to pass all the new emission laws, namely EPA phase 2 and CARB Tier II emission Regulations.
Our aim, says Dave Pickup of SRT, is to remove the regulator, fit pulse pumps, set the cam followers and seal them off the shelf so they are all the same (and for corporate karts just remove the regulator), and we have the full support of Redbreast Robin (the importer) when it comes to warranty. Anyone wanting more information should send an e-mail requesting an information pack.
[ Top ]
---
Buckmore Park Hospitality (01/03)
DJ Motorsport Hospitality are offering quality hospitality for teams, drivers, their guests, sponsors or family in the new first floor suites of the Buckmore Park Kart Circuit clubhouse during all BPKC club race meetings.
The first floor of the facility provides individuals and smaller parties the opportunity to enjoy a relaxed, informal atmosphere in the comfort of the Terrace Club. A complimentary quality buffet is included as well as superb views of the karts as they speed through Café Curve and onto the Sisley start/finish straight. The Terrace Club balcony offers unparalleled views of virtually the whole circuit ensuring you see all of the action.
With halogen lighting, full air conditioning guaranteeing warmth in winter and cool in summer together with access to the Terrace Club balcony area the VIP hospitality is a relaxed and unique opportunity to impress a sponsor, entertain driver guests or family on race day. The Terrace Club allows you to experience professional hospitality facilities at a realistic price without the hassle of having to hire the whole suite and the taking up of valuable race day time.
Details and further information can be obtained by e-mailing DJ Motorsport Hospitality or visiting www.theterraceclub.co.uk
[ Top ]
---
Super Two Filming in 2004 (01/03)
The Super Two Series has secured the services of PSC Productions to film the double headers at Daytona Milton Keynes and Rowrah in 2004. The company will produce a DVD for each of the four days racing featuring all the 'A' finals in full, not just edited highlights. Each production will be filmed using two broadcast cameras and one static cam and will include an opening title sequence, full commentary, driver interviews, grid graphics, driver split times, fastest laps and results as well as driver information and photos flashed on screen. Each production will be edited to DVD and can be ordered immediately after each round has finished.
[ Top ]
---
Clay Pigeon Rotax Challenge (01/03)
James Clarkson would like to thank Richard Case of RCA Electricals for lending him an engine for race day of the Rotax Winter Challenge meeting at Clay Pigeon on 29th February. The engine helped James put his kart on pole for the final, eventually finishing third. James would also like to thank Pete Thomas, John Tarrant of JVC Tuning and Kingsley Beck.
[ Top ]
---
Comer Cadet W60 Regulations (27/02)
The following amendment needs to be made to Page 6 of the Kart Race Year Book, A1.4, replacing the sentence beginning engine lubricant:
Engine lubricant must be a synthetic oil meeting the requirements of the JASO FC standard to ensure that the engine exhaust emissions meet the standards set down by the MSA. 'JASO FC' is to be clearly marked on the lubricant container and is available from the majority of oil product manufacturers.
Amendments have also been made to the Rotax Max fiche and copies of the fiche are available from the MSA sales department.
[ Top ]
---
2003 (08) CIK Bodywork (27/02)
Definitions: References to N refer to the 2004 Competitors Yearbook. 08 homologation CIK bodywork is the bodywork homologated for the period 2003 to 2008 (sometimes referred to as "2003 CIK homologated bodywork"). When CIK classes are referenced, this means Formula A, ICA and JICA.
Guidance For The Use Of '08' Bodywork
1) Modification of 08 sidepods (all classes). To meet with CIK regulations the 08 homologation sidepods may not be modified except as follows: a) The mounting bars may be shortened and re-drilled in order to reduce the width of the kart. b) Holes of a maximum of M8 diameter may be drilled in the inside and top plastic face for fitments. c) A hole may be drilled for starter access, even if not in use. 2) Clarification of wet conditions when using 08 sidepods. When wet weather tyres are fitted, they may be inside the sidepods except for variants with ends that are not of the closed-off variety (please refer to pictures below).
3) Mixing of bodywork types. N.14.15 Non-CIK Classes: The reference to 2003 CIK homologated bodywork (N14.15) is intended to make reference to the side pods and mounting attachments only. You are permitted to use a non-homologated front Nassau panel and front fairing providing they meet MSA regulations. The side pods and the front fairing may be from different manufacturers. All classes: When using a 08 front fairing that does not meet MSA regulations, CIK regulations will apply and matching homologation fitments must be used. Use of plastic clamps only, without two metal uprights or a metal centre clamping block, on 08 front fairing is not permitted, N.14.13.2 will still apply. When using a CIK 08 front fairing with its front panel then it is permitted for the front panel to protrude beyond the front bumper. CIK Classes: Kart Race Yearbook B.2.3.2, C.1.3.2 & C.3.3.2 is clarified to mean that any 08 bodywork set may be used with any post-2003 homologated kart chassis, so long as the matching 08 homologated fitments are used. 4) Width of sidepods (CIK Classes) The maximum 40mm gap permitted may be measured at the minimum point between the sidepod and the plane of the front to rear wheels/tyres. 5) Transponder fitment: Amend Kart Race Yearbook Appendix 4, Replace F.2 with: "F. 2 The transponder must be fitted in an approximately upright position (i.e. with the R clip to the top), on the back of the seat fitted at a height of 25 cm +/- 5 cm, or on the left side of the kart as follows." Note: Having the transponder on the back of the seat may give a disadvantage across the finishing line. With effect from 1.1.2005 the only acceptable position will be the back of the seat. 6) Kart Race Yearbook, Appendix 4, D.6.2 amendment: Replace the second sentence with : "Lateral bodywork and front fairings must never cut the plane through the top of the front and rear tyres."
[ Top ]
---
Lakeside Prokart & WF Enduro (25/02)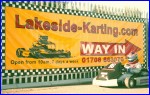 Lakeside have a pre-season warm up day next Tuesday, 2nd March, and the circuit is available from 10am right through till 10pm, it'll be the last chance for teams to test before the Lakeside Endurance Championship kicks off on Sunday 7th March, with an 8am sign-on. The series is open to standard Gx160 Prokarts and World Formula engined karts. Costs are as shown on the practice/testing page and all 4-stroke classes are welcome on test days. It's a great opportunity for drivers/teams to try the Essex circuit if they haven't been before.
For those not in the know, the Championship runs over 9 rounds of 3-hr races running alternately clockwise and anti-clockwise on the first Sunday of the month. First prize is a trackday in a race TVR Tuscan & hot laps in a 2-seat Tuscan provided by CDL Racing, and they will also provide tickets for rounds of the British GT Championship. Additional prizes are being provided by 7Kart Components and kartinsurance.com
Anyone interested in testing or racing can contact Simon for further information on e-mail: simon@lakeside-karting.com or take a look at the new owner/driver website.
[ Top ]
---
BRDC Stars of Tomorrow (25/02)
Numbers for the four classes are looking good and entries will continue to be accepted until each is full. There are still 8 places left in Cadet, 9 in Mini Max, 3 in Junior Max and 10 in Junior Gearbox. So don't leave it much longer if you don't want to be disappointed!
The Championship has a new Secretary, Carol Jeffs, who has been looking after BRDC Championships for 14 years. Carol has mostly car racing experience, although she helped run the British Kart Grand Prix when it ran at Silverstone previously. You can reach her in the mornings at Silverstone on 01327 850 934 or e-mail: carol.jeffs@brdc.co.uk
Further Championship prizes have been added to the already impressive list and now include; a complete Mini Max outfit, two free test days at Buckmore Park, a family holiday in the sun for 4 and top to toe race wear.
[ Top ]
---
Lydd Kart Shop (23/02)
Due to the rapid expansion of Lydd International Raceway and the amount of professional Karting events booked, circuit owner Carlos King has been reviewing the Kart shop operation there. In the past LIR has tried various methods to make sure that the shop is stocked with the basic supplies needed to get the karter out of trouble. "It's now very clear that there is a massive opportunity going to waste, and what is needed is dedicated attention that will create a thriving enterprise/business in it's own right", said Carlos, and he has made the decision that the job is best suited to a professional and dedicated Karting supplier or a knowledgeable individual that wants to make his/her mark on the Karting scene. Therefore the Kart shop is to be separated from the parent company and a leasehold option is now being offered on the business.
Carlos added, "This is a fantastic opportunity for a group or individual to take advantage of the expansion at Lydd International Raceway, and aid in the implementation of professional services, as well as create niche markets of their own, which currently the existing management do not have the time or expertise to offer the full service at this time."
Any interested parties should contact the circuit on 01797 321895 to book an appointment to discuss further.
[ Top ]
---
W60 Engine Found Illegal (20/02)
As a result of a W60 engine at Shenington on 1st February 2004 being found illegal, Grice Racing is to have its Comer W60 sealing rights removed for a period of 3 months commencing from 1st March 2004.
Grice Racing illustrated that an incorrect figure could have been obtained through the use of a secondary adaptor and a misalignment problem from the digital degree wheel potentiometer to the crankshaft. A review panel concluded that this was not necessarily thought to be an act of deliberate cheating and deemed a 3-month ban a suitable punishment for this sealing of a non compliant engine.
[ Top ]
---
F6 February 2004 (20/02)
The 2004 F6 season gets underway on Saturday 21st with over one hundred and fifty drivers taking part in Round 1 and the F6 "O" Plate Meeting at Lydd International Raceway. F6 Championship race dates can be found here.
For those competing, or observing, there are full grids of 24 each in F6 Cadet (Honda Cadet), Junior TKM4/ and Senior Prokarts. There are 20 Senior Bilands but only 5 of the 8 registered Intermediate Bilands. Encouragingly, there are also 11 Cadet Rookies with numbers expected to rise during the year as new cadet drivers join in. There's about a dozen in each of Senior TKM4/, Prokart Heavies, Junior Twins and Junior Royales.
The Lydd track is open for practice today (Friday) between 10am and 4pm and no doubt will be busy. It will be cold and windy (it's rarely not at Lydd) but the hope is that the season starts with a 'Formula 6 Day' dry and bright at least. Good luck to all the Competitors and the Organisers, they have a lot to get through, and may everyone enjoy a safe day's racing!
[ Top ]
---
Northern Challenge Boom (18/02)
The Northern Karting Federation Championship is enjoying bumper entries to its ICC class with 32 drivers registered so far. With a maximum of 40 drivers allowed and the first round at Rissi on the 7th March, places are filling fast. Book your place now for the UK's premier Clubman Championship.
Junior Gearbox is also showing well with nine drivers committing to the series, mirroring the interest shown in Stars of Tomorrow. Cadet, Junior and Senior entries can be taken right up until the first round of the respective series. Race dates can be found here. Contact Marion Fell on 01229 463748 for a registration form.
[ Top ]
---
The Future of Karting (18/02)
The Motor Sports Association (MSA), in consultation with the Association of British Kart Clubs (ABkC), has unveiled a new structure for the administration and governance of Karting in the UK. A clear and simplified mechanism will facilitate a closer dialogue between all parties involved in the running of the sport.
The creation of the Kart Regional Committee (KRC) represents a significant development. Based on the existing ABkC Steering Group, the KRC will be further widened to ensure representation from every area of the sport. The KRC will then engage in two-way dialogue with the MSA Kart Committee, providing grass roots karting with a direct route into the legislative process for the first time, before new regulations are taken to the Motor Sports Council.
As part of the restructure, the Kart Control Board (KCB) will be wound up. The KCB has achieved its original objectives of bringing the leisure and competition sides of karting closer together, including the establishment of a Common Code of Practice and the introduction of the 'pro-karts' scheme for commercial karting.
"There is no doubt that the previous structure was unclear to many people and did not permit proper communication between the relevant parties," acknowledges Russell Anderson, Chairman of the ABkC. "This revised format enables closer interaction between the clubs and the Kart Committee, encourages communication from the grass roots right through to the top and represents a significant step by exercising control of the class regulations within the umbrella of the MSA."
"The MSA is not setting aside its responsibility in terms of the regulatory, judicial and safety aspects of the sport," explains Colin Hilton, Chief Executive of the Motor Sports Association. "What we are doing is giving the karting community the opportunity for its voice and opinions to be heard before matters go before Council. I am confident that the new configuration will address these issues and enable the sport to develop and grow."
"Karters represent 17% of MSA licence holders and 10% of MSA permitted events relate to karting," says Bruce Goddard, the Motor Sports Association's Business Development Director. "However, the karting community has sometimes felt like a poor relation of the MSA and while this has never been true, we must acknowledge that the previous structure was not ideal. We believe that the revised framework offers karting, and all those associated with it, a say in the running of their sport."
Rod Taylor, Chairman of the MSA Kart Committee also welcomes the move. "It is probably long overdue," he concedes. "Because you can participate from eight years old, karting can be a feeder for all disciplines, not just single seaters. We need to look at initiatives to make the sport cheaper and easier to understand, which will encourage more people to participate."
The proposed format is detailed on the diagram below.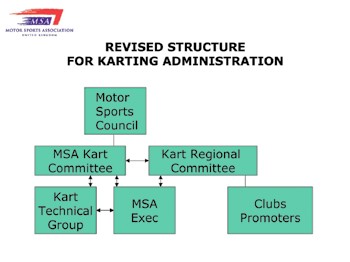 [ Top ]
---
Racing for Marie Curie (17/02)
The Kelsey Cup sponsored by Racing Green Cars takes place on Saturday 8th May 2004 and is proving exceptionally popular. 35 teams are destined to do battle at Buckmore Park and contestants include European FIA Top Fuel Dragster Champion Smax Smith, Super One Champ Daniel Faulkner, a host of Club 100 front runners, Buckmore Park's Star Pupil (you know who you are!) and various Thunder Kart and Hire-Kart Champions, all at the awesome Kent circuit.
Various car clubs will be attending with their stunning classics and customised cars and the day starts with an early morning breakfast and cruise to the circuit from the Grasshopper Inn, Westerham. Once the kart racing has finished there will be a Car Show with B-B-Q and live entertainment following into the early evening. It's all for a good cause - all profits will be donated to the Marie Curie Cancer Care charity! So go see what all the fuss is about and join in what should be an enjoyable day! Racing Green Cars, Jaguar, Red Bull, the TA and Sealey Tools are backing the event for Marie Curie Cancer Care. For more information see: www.kelseycup.co.uk
[ Top ]
---
"Select" a "Birel" (12/12)

Sole Birel U.K importer Andy Cox Racing is pleased to announce Dartford Karting as their new exclusive Birel agent for the South East. On confirming the deal, Andy Cox commented "It is an idea that DK owner Martin Collard and I have been working on for some time. Martin wanted to expand his Kart chassis line up and we needed a professional agent in the South East to distribute for us."
The appointment will allow prospective and current Birel owners to one stop shop at Dartford. There will be Birel chassis's on show in the DK shop for customers to view, and Birel spares available off the shelf. This will create valuable support for owners and new opportunities for the Birel chassis in the South East market. For more information contact ACR on 01527 63984 or www.andycoxracing.co.uk or DK on 01322 292212.
[ Top ]
---
Italian Garda Winter Cup (12/12)
Junior British Karting Champion Riki Christodoulou kicks off his 2004 racing season in earnest this weekend by travelling to Brescia, Italy, to take part in the Garda Winter Cup. The 15 year old, now competing in the senior ICA class often against much older and more experienced drivers, is looking for his second consecutive national crown this year as well as honours across the continent in Belgian, French, Italian and European Championships.
The first major outing for Team Christo will take place at South Garda at the end of this week for the prestigious Italian competition. Midlands born Christodoulou has been running his Kart through its paces for the last two days in southern Europe, an intense testing schedule that will continue through to qualification on Friday and the races over the weekend.
So far the Brit has been amongst the fastest four or five drivers from a massive entry list numbering over one hundred. In warm and sunny conditions with newly laid asphalt and slight modifications to the Garda circuit, Christo has returned from a small holiday break keen to start his '04 campaign on the right note and with a speed justifying his growing reputation as one of Britain's brightest young motor racing stars.
"We've just come back from holiday and Riki said he was going to grab the bull by the horns, which he has done so far," remarked father and team boss Rick Christodoulou. "We are pleased with the pace Riki is setting and with the amount of other drivers here is it great to see that we are one of the fastest. We still have one more day of testing to go and some people may not have yet shown their cards but we are pretty optimistic of a good result. We are trying not to get too over-confident but he is driving well and we're consistently working on the handling of the Kart to gain a few more tenths. The conditions in Italy have been good and now we are looking forward to Friday."
[ Top ]
---
Iron Maiden Championship (10/02)
Following the success of last years' inaugural ladies only sprint meeting, the hire kart club has been bombarded with requests to do it again. Always keen to go one better, the club has arranged a three round championship using Buckmore Park's ever popular hire Prokarts. Feedback from the last race was split roughly fifty/fifty, half favouring a sprint format and the remainder suggesting an enduro format. The new series should keep everyone happy as the format consists of two sprint heats per driver, then a quick tyre warm up leads to a thirty minute enduro. The series is suitable for novice or experienced drivers alike. Minimum age is 17, except for MSA licence holders who are eligible from 14yrs (minimum height 5').
All rounds will be held on a Tuesday evening and are spread through the season. Round one is scheduled for 23rd March, with round 2 on the 20th July and the final race on 19th October. Entry fee is £69 inclusive of kart and all equipment. Places are strictly limited to 30, but one-off entries are very welcome. Trophies will be presented at each race and Championship trophies will be presented at the Annual Awards evening in January. Will you be Buckmore's first "Iron Maiden"? Details can be found on the Buckmore Park website.
[ Top ]
---
Rowrah 24hr Site Visit (09/02)
Ted Poole and Paul Bowler travelled up to Rowrah last weekend in preparation for the 24hr event in August. Having struggled through a horrific blizzard, which nearly put paid to the weekend, they arrived at the hotel to be confronted with a situation, which gave rise to concern as event promoters. Rumour has it that the town of Cockermouth is descended upon every Friday and Saturday evening, by hundreds of scantily clad unaccompanied girls frequenting the local nightclubs, and may well prove to be a distraction or even a safety issue with regard to the August event. The promoters therefore felt obliged to bring this matter to your attention.

On a rather more serious note, three important issues came out of the weekend.

1.) The Globe hotel is one of the largest in the area. When they tried to book the hotel, it was already fully occupied for the weekend of the 20/21 August, which has subsequently had a knock-on effect on many of the other hotels in the area. They are currently trying to block book another hotel, but please be aware that accommodation may become a rarity and they suggest that you investigate this issue as a matter of priority.
2.) After consultation with the track/club, and precise measurement of the track's length and width, it has been agreed that to remain within the recommendations regarding the number of entrants, a reduction of three (down from 60 to 57 entrants) be applied. With 3 more deposits received this morning and a block booking still pending, it means that very few places now remain.
3.) Finally the club have received numerous enquiries regarding practice days and organised events, particularly from interested Prokart teams north of the border. Subsequently it was the clubs intention to hold, on their only free date this year, a weekend practice/race on the 6th June. They have now asked the IKP to co-promote and run a practice day on the Saturday and a 6 hr race on the Sunday, although this is still subject to confirmation.
4.) Last but not least, both Ted and Paul want to thank Malcolm Fell for his hospitality at the weekend and for his unprecedented enthusiasm and support for the forthcoming event in August.
[ Top ]
---
Hill House Hammond Re-Organisation (06/02)
The re-branding and re-organisation of the Hill House Hammond insurance business will have a minimal effect on the successful continuation of the Super 1 National Kart Championship. The company, which announced the changes yesterday, has already agreed to continue its support of the series which has helped find superstars like David Coulthard and Jenson Button.
The three pronged series gets underway shortly with another record entry.
[ Top ]
---
Kart Traders & Kart Racers (06/02)
The 2004 Little Rissington Kart Club programme is currently being put together and Rissi KC are offering Kart traders the opportunity to advertise themselves for as little as £40 per half page; and after receiving enquiries from Kart racers wanting to have their sponsors name in the programme, Rissi KC have made limited space available to karters at the same low cost.
To grab yourself a half page or for further information, call Deb or Mike on 01684 299292 (Evenings), 01242 678585 (Day), or e-mail: mikekarting@aol.com
[ Top ]
---
Bayford Meadows Circuit (05/02)
The Bayford Meadows 2004 race calendar has been released and will see the Kent circuit host in excess of 50 MSA licensed events throughout the year.
Endurance events are planned for Rotax Max, ProMax and Pro-Kart classes as well as continuing the successful, well attended monthly Sprint meetings that feature timed qualifying. Off circuit the new Project One building is now in operation and competitor facilities are being further enhanced with the near completion of a new toilet and shower block. For further details on any of the planned events please contact the circuit on 01795 410707.
[ Top ]
---
KKRC At Lydd (05/02)
With the 2004 season approaching, the Lydd International Raceway based Kent Kart Racing Club are offering complementary Club membership to Libre drivers in order to promote the grids in this class (as per the Gold book) for the Club Championship. Call the circuit 01797 321895 for more information and race entries.
[ Top ]
---
TKM 4-Stroke Championship Boost (04/02)
The Formula TKM 4-stroke classes have been granted their own independent national championship at Super One level following their successful introduction last year, and with entries still coming in for this year's Championship the organisers are going to leave the cut off date open to allow last minute decisions into the series. "We already have twice the number of juniors as last year so we are moving forwards nicely" said Tal-Ko Racing MD Alan Turney. "The separation of the S1 and S2 series will I believe allow drivers to make their own choices on which direction to head without the burden of too many events."
In the senior class, last year's top two drivers Chris Needham and Chris Walsh are back to re-join battle along with others including former national TKM 2-stroke champion, Carl Willoughby. Meantime the popular Formula 6 series also has an excellent entry, further reinforcing the steady growth of the TKM 4-stroke classes.
The Elf Hill House Hammond TKM S1 series kicks off at Buckmore Park on 13th/14th March, with six rounds around the country. Registrations details are available from Sonja Game at 01869 320157.
[ Top ]
---
Buckmore Super One TKM (03/02)
Round two of the BPKC winter championship on the 15th February will be the last chance for Super One TKM contenders to get in some practice before round one in March. Open practice has been arranged for Wednesday 11th and Saturday 14th February from 10am to 4pm. Overnight parking is available as usual and full details can be supplied by telephoning 01634 201562 ext 210, or can be viewed on the website http://www.buckmore.co.uk
[ Top ]
---
Publicity Boost For Kart Racers (02/02)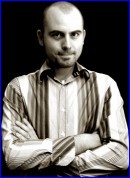 Rising motorsport commentator, Chris Hartley, has launched a dynamic marketing and PR service aimed specifically at young racing drivers.
Combining over 14 years involvement in motorsport with his experience as a marketing professional, Chris will work closely with upcoming drivers to raise their profile and boost their chances of attracting sponsorship, as well as interest from leading motorsport teams. "Being a quick driver isn't enough to guarantee long-term success," commented Chris, "The main problem is that there are hundreds of good racers out there, all trying to make their way to the top. So if you want to make an impression and draw financial support, you need to stand out from the pack. More than ever before, drivers have got to know how to market themselves properly; otherwise they risk having a motorsport career that passes unnoticed."
Chris Hartley Motorsport Publicity offers a diverse range of services, from PR support and media skills training, to the design and production of driver websites, CD-ROMs, portfolios and sponsorship development, and, as Chris explains, these services are available to karters at a heavily reduced rate; "When people are already spending a small fortune on their racing, it's not feasible to expect them to fork out the kind of money that many PR- and advertising agencies charge. The driving force behind this venture is my belief that individuals should be able to benefit from professional marketing support, without having to pay excessive fees."
A former karter, Chris is a regular commentator at the Rissington and Shenington circuits, as well as the Elf Hill House Hammond Super 4 series. He's also an increasingly familiar voice at famous high-speed venues such as Silverstone, Thruxton and Donington Park. Away from the smell of burning rubber, Chris has worked within the marketing industry since graduating from university in 1997. For more information on Chris Hartley Motorsport Publicity, contact Chris on 077930 04 05 6 or visit www.chrishartley.org
[ Top ]
---
4 Stroke Open Practice (27/01)
Primarily for Formula 6 club members, but open to all owners of four stroke karts, Buckmore Park have arranged an open practice day purely for four stroke classes on Saturday 7th February from 10am to 4pm. The cost is £35 and payable on arrival. All karts must comply with current MSA regulations as must drivers' safety wear. The day will be run in sessions, will be fully marshalled and medical backup is included. In the event of bad weather, please check with the circuit (from 9am) on 01634 201562 ext 201 or check the newspage of the Buckmore Park website for up to date information.
[ Top ]
---
Millionaire Maker 'Fast' Freddie (26/01)
Hill House Hammond/Renault ABkC Formula ICA Championship sensation Freddie Martin-Dye (Shamley Green, Guildford) is well on course to making his father Phil a very rich man with an ambitious wager, worth an incredible £1 million, still very much a racing certainty.
The teenage ace, who last year finished runner-up in the Hill House Hammond/Renault MSA British Junior Kart Championships, is viewed as such a hot prospect for motor racing glory that dad Phil opted to place a £1,000 bet with leading bookmaker William Hill stating 'Fast' Freddie would win a Formula One Grand Prix on or before his 27th birthday. Since Phil placed the heavyweight flutter around eight years ago, when Freddie was just seven years old, the likelihood of his 15-year old son making the bet pay dividends has only increased with success against Karting's elite.
Now the Surrey teenager is preparing hard for his debut season in the highly regarded Hill House Hammond/Renault ABkC Formula ICA category - one of the final steps on the ladder before a move into single-seater car racing.
Speaking on the wager Phil Martin-Dye said: "It is quite a rare and ambitious bet, although we're still highly confident it can come off. The main reason I initially did this, naively, was because I thought we could approach sponsors with the idea if they backed Freddie they could eventually end up making a share of the £1 million. It generated plenty of publicity at the time. The bet will work if Freddie manages to get into Formula One and win a Grand Prix on or before his 27th birthday. It's certainly possible and we're going to do all we can to make sure William Hill has to give us this major payout!"
William Hill spokesman Graham Sharpe commented: "It was a bold bet when it was struck all those years ago and Freddie looks like he's certainly on the right track to making his father a lot of money - good luck to them we say. This is possibly the equivalent of when we offered extravagant odds on man walking on the moon in the 1960's which then, of course, happened a few years later. It would be a fantastic achievement for Freddie to get to Formula One and this is certainly one of the more unusual bets William Hill has ever taken. Hopefully I'll be retired by the time it comes true though!"
[ Top ]
---
Mark's Marathon (26/01)
Former British Kart Champion and current car racer Mark Fell is to compete in the London Marathon to raise funds for charity Marie Curie Cancer Care. Mark has been working hard to be ready for the race in just under 12 weeks time, as well as finalising plans for his 2004 racing campaign. He is now almost half-way towards achieving his aim of raising over £2000 for the Charity and is hoping as many people as possible will put their hands into their pockets and give a little (or a lot) for a great cause. Pledges can be made through Mark, contact details at www.markfell.co.uk or through the personalised webpage specially set up by Marie Curie for him at www.justgiving.com/supportmark
[ Top ]
---
JICA Champ Prepares For ICA (22/01)
Karting hot-shot Riki Christodoulou (Sutton Coldfield, West Midlands) is all set to continue his head-to-head rivalry with fellow teenage superstars Freddie Martin-Dye (Shamley Green, Guildford) and Jon Lancaster (Pudsey, Leeds) this season after the trio were all confirmed as graduates to the 2004 Hill House Hammond/Renault ABkC Formula ICA Championship. Reigning Hill House Hammond/Renault MSA British Junior Kart Champion Christodoulou enjoyed wheel-to-wheel battles with his two main rivals all season long in 2003. The three 15-year olds are expected to produce some tremendous racing in Formula ICA this season while also duelling with more experienced class competitors such as Chris Chubb, Sam Hill and 2003 Formula ICA Vice-Champion Danny Cruttenden.
Having looked closely at the country's premier junior single-seater category - the Formula Renault UK Championship - as he places one eye on his future racing career, Riki opted to remain in karting for at least the coming season and the news he'll be joined by his two major rivals is a huge boost for fans of Formula ICA and karting in general. "After some thinking we felt it might be a little too early to move into single-seaters and I'm more than happy to stay karting for another year", said Christodoulou, "There are still things for me to learn - Formula ICA karts are faster and I'll race against much older drivers, making the racing more physical. I am already feeling good with the quicker engine and we had a really positive test last week in the cold, lapping at the pace of the current British Champion (Jason Edgar), so the early signs are encouraging."
Surrey ace Martin-Dye, who only missed out on the 2003 British Junior Kart title by two points, is keen to get the season underway with winter testing currently going very well. Freddie commented: "Formula ICA is obviously a step-up and so I think the competition will be good which is why I'd expect myself, Riki and Jon to probably be a bit more spread out than we were in juniors. I think we'll have a good year but it all depends on how the first couple of rounds go. If I can get some good results early on, there's no reason why we shouldn't expect to be in the title hunt but I will be battling some experienced drivers which will make things quite tough."
Jon Lancaster, who was third overall in the 2003 British Formula JICA Championship, is confident he can register some impressive results in Formula ICA, particularly on the back of the recent announcement he's secured 'factory' backing from Italian karting giant Birel. Renault's link to the ELF/Hill House Hammond Super One Series is further boosted in the Lancaster camp with sponsorship also coming from Tim Sugden, owner of the Tim Sugden Motorsport team in the ELF Renault Hill House Hammond Clio Cup. Speaking ahead of the coming season Lancaster said: "We're really looking forward to the new season and it will be good to continue racing with Riki and Freddie. But to be honest I'm trying to focus on the championship as a whole as there will be a lot of experienced ICA karters out there. I'm confident I can do well but it will be hard work. We had some good results in juniors but engine problems did cost me quite badly so hopefully that won't be an issue this year. I'm looking forward to the start of the championship now - it should be a great season."
Registrations for the Hill House Hammond/Renault ABkC Formula ICA Championship currently stand at 24 drivers.
[ Top ]
---
BRDC Announces Major New Awards (21/01)

From 2004 two drivers will be chosen annually from a shortlist of six successful Junior Max or Junior Gearbox drivers to have a fully funded drive in the BRDC Single Seater Championship (Formula Ford) in the following season. The chosen drivers will also benefit from an intensive driver training at the Silverstone Racing School.
Ray Bellm, the new BRDC Chairman is fully aware of the importance that karting plays in the development of driver skills and, that many talented drivers are lost when making the jump to cars. A bewildering choice of formulae and huge budgets mean that many talented drivers simply drop out of motor sport at the age of sixteen. However, in 2005 two drivers will not only enjoy full financial support but, along with all the BRDC Stars of Tomorrow youngsters, will have access to the immense wealth of experience and advice the BRDC can offer. The BRDC are committed to supporting young British drivers and to providing a development route to progress their careers and develop their abilities and ambitions into Formula One or one of the other international major formulas. The announcement of these fully funded drives is the second part of the jigsaw that we have put in place as the BRDC continues its review of the Young Driver programme.
Drivers will be chosen from six candidates put forward by the BRDC Stars of Tomorrow Team, and be assessed by the BRDC Young Drivers panel. The two successful drivers will be required to sign contracts with the BRDC who will guide them through their careers. These prizes worth £25,000 each will be the biggest in karting, not only because of the financial commitment, but because these drivers will race with the endorsement of the most influential motor racing club in the world. Everyone will be watching!
[ Top ]
---
Super One In 2004 (15/01)
Several major names from the top ranks of British karting have already confirmed their participation in the newly branded 2004 Hill House Hammond/Renault Super One MSA British Championships. Across the three classes jointly sponsored by Renault UK and Hill House Hammond - Formula A, Formula JICA and Formula ICA - there are a total of 46 karters now registered with many more confirmations expected over the coming weeks.
In the 'Blue Riband' Formula A category there's fantastic news as reigning champion Gary Catt will be joined in the thick of the action once again by series runner-up Mark Litchfield and 2002 title-winning arch-rival Mark Rochford. Front-running aces David Gregory, Benjy Russell, and Alexander Sims will also line-up alongside ex-Formula ICA competitor Jeremy Metcalfe, reigning ICA Champion Jason Edgar and ex-Formula JICA star James McCarthy.
Formula ICA, meanwhile, will see a whole host of star names graduating from the Formula JICA class including reigning Formula JICA Champion Riki Christodoulou, Freddie Martin-Dye and Jon Lancaster. Formula ICA Vice-Champion Danny Cruttenden will make his return to the category alongside fellow regulars Chris Chubb, Sam Hill and John Joe Walsh.
Daniel Rowbottom, Tom Armour, Garry Findlay and Andrew Maybin have all confirmed their respective returns to Formula JICA and will be joined in the category by Craig Copeland and Adam Christodoulou, cousin of 2003 JICA Champion Riki.
Pre-event news from the Hill House Hammond/Renault Super One MSA British Karting Championships will be regularly added to this website along with post-race reports following each meeting of the six-round series.
[ Top ]
---
Rotax Max Euro Challenge (14/01)
No UK meeting in 2004, but the Rotax Max Euro Challenge is now a reality. Each race meeting will see a 'European Regional Rotax Max Champion' crowned, and the overall Championship winner will be awarded the title of 'European Rotax Max Champion'. The European Champion and Vice Champion will also be invited to the Rotax Max Grand Finals in 2004.
Race classes are; FR125 Junior Max, FR125 Max & RM-1 and race meetings are scheduled for Pomposa in Italy from 05 - 07 March; Eindhoven in Holland from 28 - 30 May; Bruck in Austria from 30 July to 01 August and lastly, Braga in Portugal from 22 - 24 October.
More information is available from Roland Geidel, Championship Co-ordinator, via e-mail to: info@rgmmc.com
[ Top ]
---
Brooklands Grand Prix Academy (14/01)
Due to the acquisition by Daimler Chrysler Ltd of the Brooklands central area, the popular Brooklands Kart circuit and multi-activity venue has ceased to trade. Brooklands Grand Prix Academy will be selling off all equipment and an inventory should be available on the BGPA website within the next few days. For any further enquiries please contact info@bgpa.co.uk
[ Top ]
---
Buckmore Paddock Building (13/01)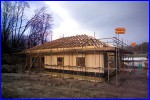 Construction of the new paddock facilities building at Buckmore Park is currently ahead of schedule and will be in operation by early March (in time for the first round of Super One). No more trekking around the circuit perimeter for toilets, food etc as the new building will provide toilets, showers, hot and cold food, a medical centre and heated scrutineering bay. See photo for details. Also pictured is an artist's visualisation of the pedestrian bridge which will be constructed later this year and will link the paddock to the main clubhouse. The circuit has also extended the paddock with a brand new area of tarmac 65m x 10m on a level surface at the top of the existing paddock.